For nearly as many decades as living memory can contain, for a couple of weeks in August, the area surrounding Monterey, CA, has played host to the most spectacular display of vintage vehicles anywhere in the world. As we have seen earlier this week, the 2021 selection of pre-war classics is nothing short of spectacular. While that same weekend is designated in Detroit for the muscle-car centric Woodward Dream Cruise, and though fans of American classics may also faithfully attend our Auburn Fall or Hershey events, which both occur later in the year, Monterey still offers a surprising selection of classics, both American and European, all without reserve.
That description also characterizes the all-out, no-compromise nature of the cars on our list today, which all share a common quality. Far from mere standard models, these examples either are top of the line, performance variants from the factory, or dream variants, modified from new by marque experts, sometimes even in-period. Here is the first of a series of profiles highlighting a diverse list of high-performance vehicles all offered without reserve at RM Sotheby's Monterey 2021 auction: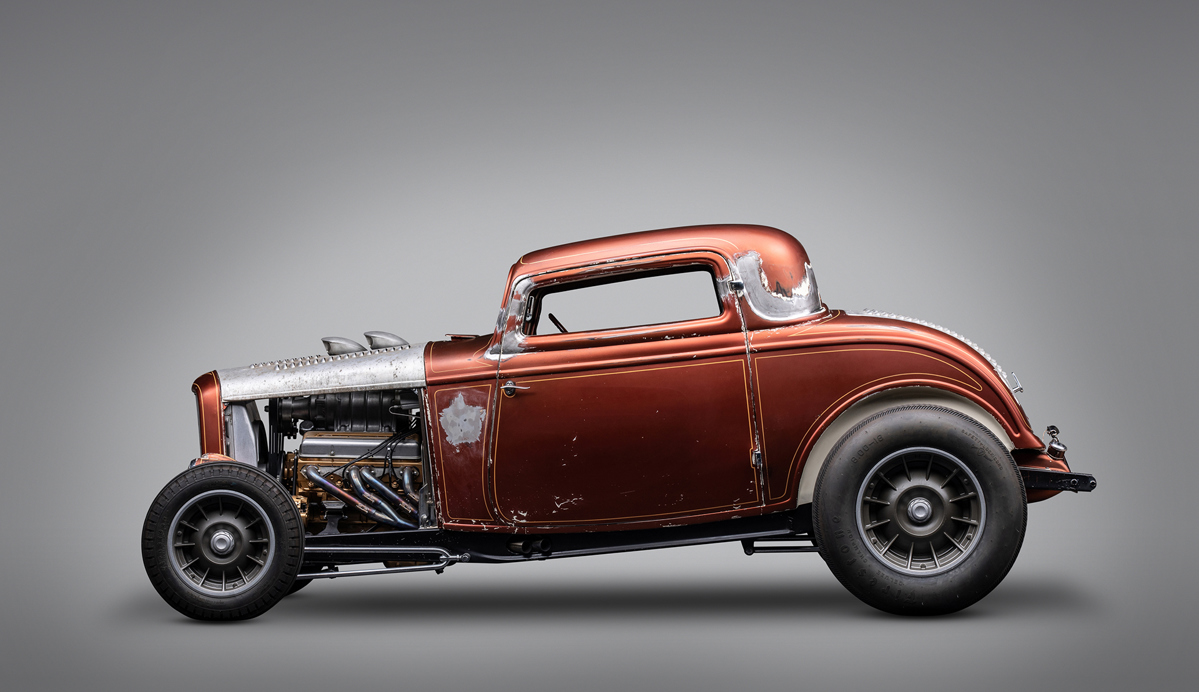 1932 Ford "Fender-Less" Three-Window Coupe
Estimate: $75,000 - $100,000 USD | Offered Without Reserve
The Paul Andrews Estate Collection
Part of the near-universal appeal of no reserve auctions is the opportunity to pick up a performance bargain. This is the same ethos that drove post-war hot rodders into scrap collections and swap meets, all in hopes of discovering a diamond in the junkyard. That same spirit survived until the 21st century, inspiring skilled craftsmen like Chris Andrews, Bobby Walden, Steve Moal, and Austin Speed Shop to create this open-wheel "Fender-Less" Three-Window Coupe. This unique build was even blessed by modern rodding icon Chip Foose, who flew to Texas to complete the louvered aluminum fender and the one-of-a-kind billet air cleaners which crown it, finally sanding them down to fit the brushed aesthetic. This distressed aesthetic was completed with an expert paintjob courtesy of Ray Hill, who opted not to conceal the expert bodywork executed by Walden. This is a modern custom that had been executed by experts at the top of their creative strength and made to look like a classic 1960s-era hot rod.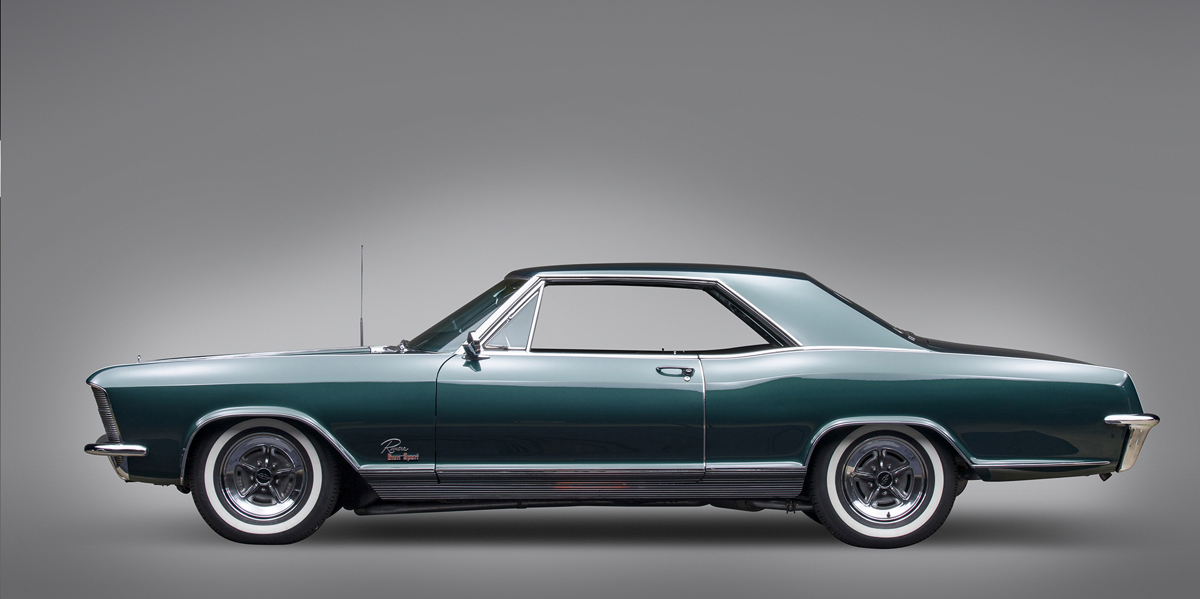 1965 Buick Riviera Gran Sport
Estimate: $50,000 - $60,000 USD | Offered Without Reserve
The Paul Andrews Estate Collection
Of course, performance was also on offer in the 1960s via Detroit's "Big Three" automakers; one just had to know where to look. The Buick brand, which had enjoyed possibly its greatest period of success in the 1910s courtesy of company manager Walter P. Chrysler, experienced a significant resurgence in the post-war era. With a pillarless design courtesy of General Motors design chief Bill Mitchell, arguably his most singular styling effort, the Riviera became a beloved model for those who wished for high-output performance without any of the difficulty of post-war hot rodding. With this example's Verde Green-over-green interior with carpets retaining much of their original luster, one can imagine that the choice was easy for anyone who wished for powerful American luxury and could also afford the original $4,318 price tag. Today, collectors favor the Gran Sport variant of the Riviera for its 425-cu. in. Super Wildcat V-8 providing 360 horsepower; this example is believed to be one of a mere 3,354 Gran Sport Riviera coupes built by Buick in 1965.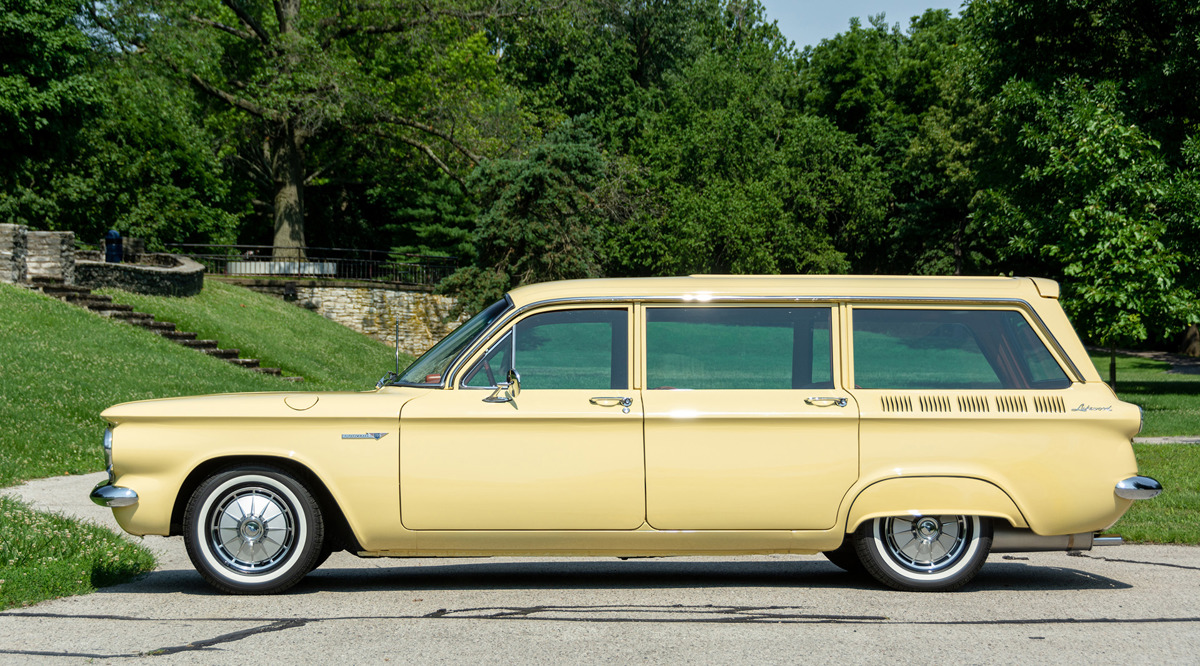 1961 Chevrolet Corvair Lakewood 700 Custom
Estimate: $40,000 - $50,000 USD | Offered Without Reserve
Another American classic with the heart of a hot rod, this first-generation, estate-style Corvair Lakewood was put together under the direction of expert Corvair enthusiast Don Magas. Having tastefully upgraded the 80-horsepower stock powerplant to a 110 horsepower, 164-cu. in. flat-six engine and after Magas media blasted this example, he took it to Arone Restorations of Homer City, PA, who smoothed all body panels, installed new floors, and sourced all stainless accessories. The handsome brown Naugahyde interior features a selection of choice Corvair components, including seat bottom tufting inspired by a 1966 Corvair, paired with backrest tufting inspired by the 1963 models, and topped off by 1964 armrests. Magas improved the rear-engine Corvair's handling as well, upgrading the front lower control arms to add a factory roll bar, as well as installing a 1964-spec transverse leaf spring which compliments the coils—all adding up to a custom Corvair, which is in many ways better than new.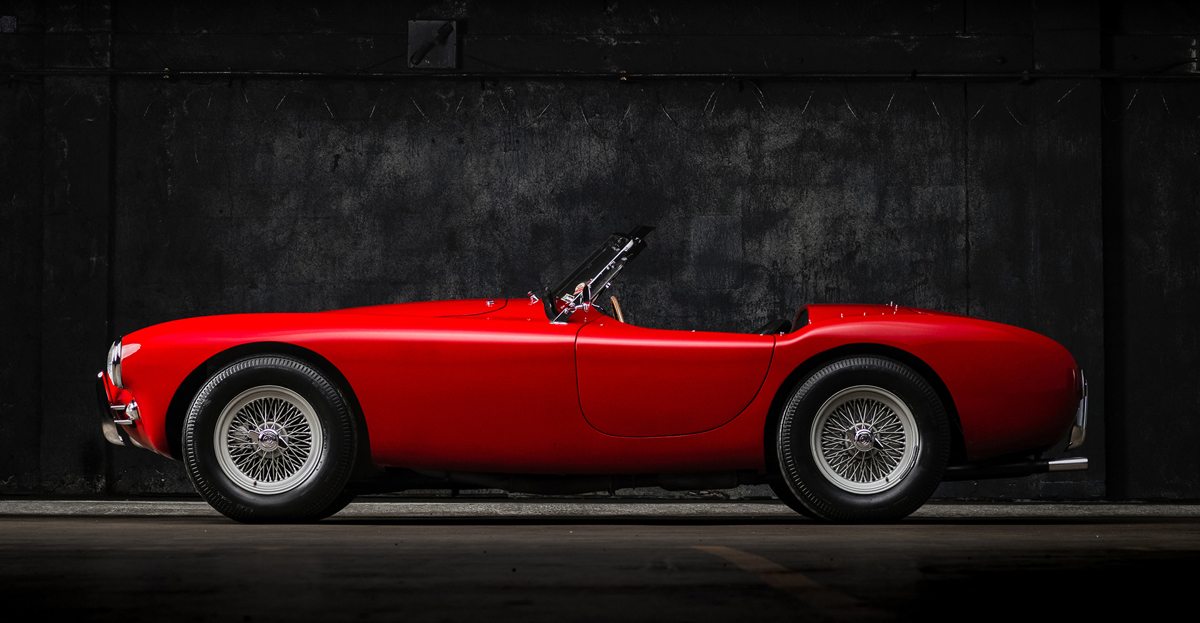 1963 AC Ace 2.6 'Ruddspeed'
Estimate: $300,000 - $375,000 USD | Offered Without Reserve
The Feldman Collection
An exceptionally uncommon example, and but one figurehead of the exceptional collection of cars carrying the Auto Carriers, Ltd. brand, all carefully chosen and cared for by marque expert Jim Feldman. In many ways, this upgraded AC Ace stands as the missing link in the evolution to the Shelby Cobra. While Carroll Shelby began his business modifying British roadsters in his Southern California facility, the AC factory was also producing a limited number of their own upgrades, installing the pushrod-powered, overhead-valve 2.6-litre inline-six-cylinder engine shared with the Ford Zephyr and Zodiac, without spoiling the original John Tojeiro -designed chassis setup. Cobra fans will notice that the seats and windscreen are shared between both models. This rare 'Ruddspeed'-tuned AC Ace is classic British motoring at its finest; the thirtieth example of only thirty-seven ever made.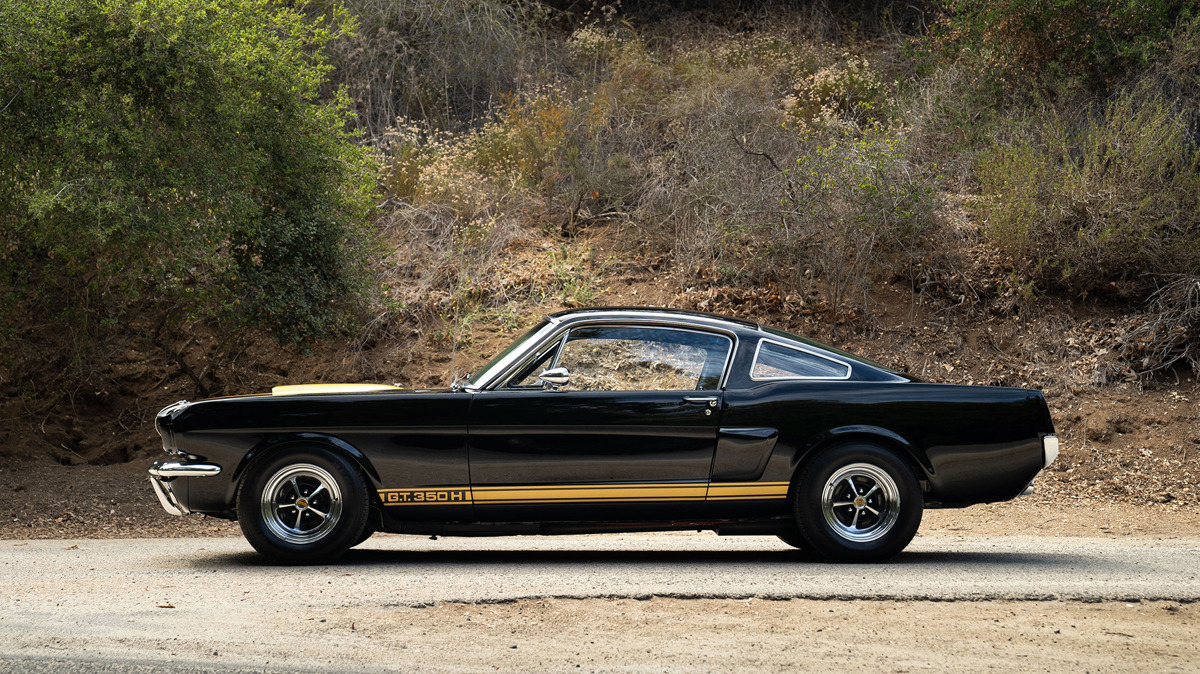 1966 Shelby GT350 H
Estimate: $250,000 - $300,000 USD | Offered Without Reserve
Anyone lucky enough to visit the Hertz Rent-a-Car company in the mid-1960s had an option that would be astonishing today: A rare Shelby-branded Mustang, available to rent and ready to race. The earliest participants in Hertz's "Rent-A-Racer" program faced an even more tantalizing choice, as the first batch of GT350 H coupes from Carroll Shelby featured the ultimate driver's tool—a four-speed transmission. A mere 85 of these uncommon manual transmission coupes were made before Hertz advised Shelby that their customers would be more suited to automatics only. The recent recipient of a meticulous restoration courtesy of Southern California Cobra expert Steve Beck of Checkpoint Automotive, completed in October 2020, this example still wears its correct and confidential VIN, confirmed by the Shelby American Automobile Club, matching the proper numbers stamped into the Cobra hi-riser 289-cu. in. V-8 engine. An icon of American freedom, now available for purchase.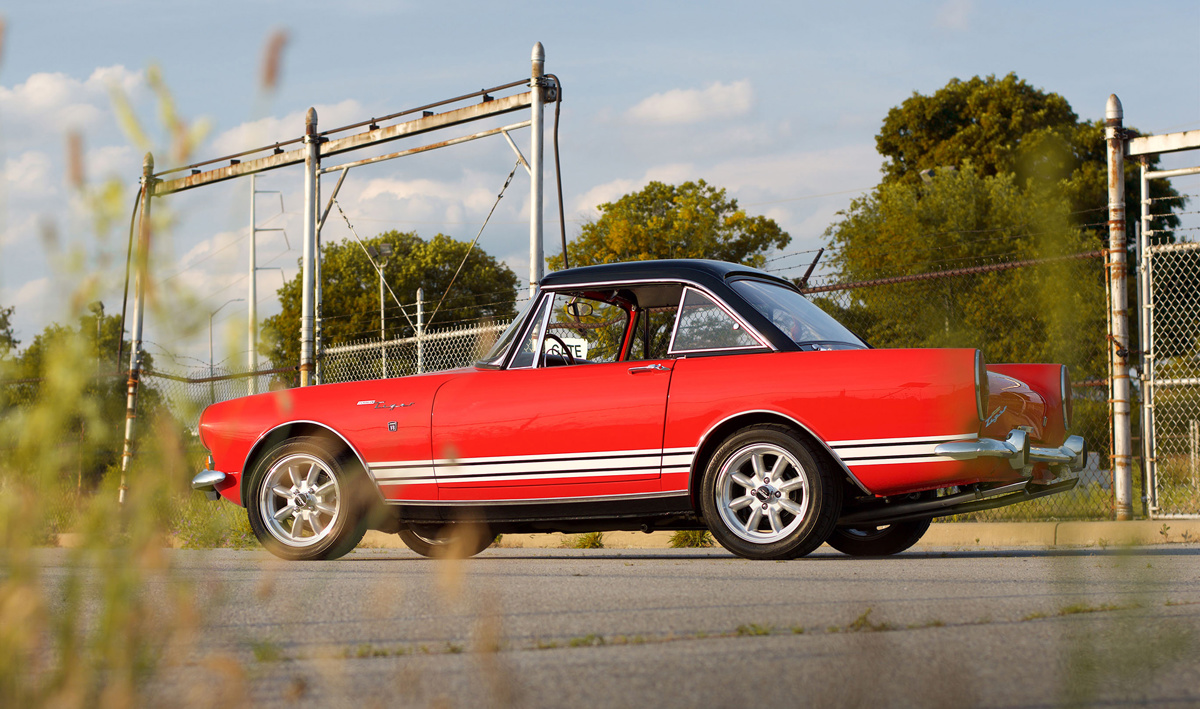 1967 Sunbeam Tiger Mk II
Estimate: $150,000 - $175,000 USD | Offered Without Reserve
Many manufacturers on both sides of the Atlantic took notice of Carroll Shelby's success with the Cobra and GT350 and endeavored to follow the same formula. Also combining a high-performance American engine with a relatively lightweight British roadster, the Sunbeam Tiger had the benefit of being developed not by a mere Shelby imitator, but by Carroll Shelby himself. Taking his expertise from re-engineering the Tojeiro chassis on the AC Ace, Shelby set to work swapping in a Ford 289 cu.-in. V-8 engine into the nimble Alpine, developing the 210-horsepower Tiger in the process. This example is well-equipped with the factory Alpine hardtop along with a folding soft convertible top. With Tiger production ceasing once Chrysler purchased Sunbeam's parent company, this Mk II is one of a mere 537 ever made of this potent combination.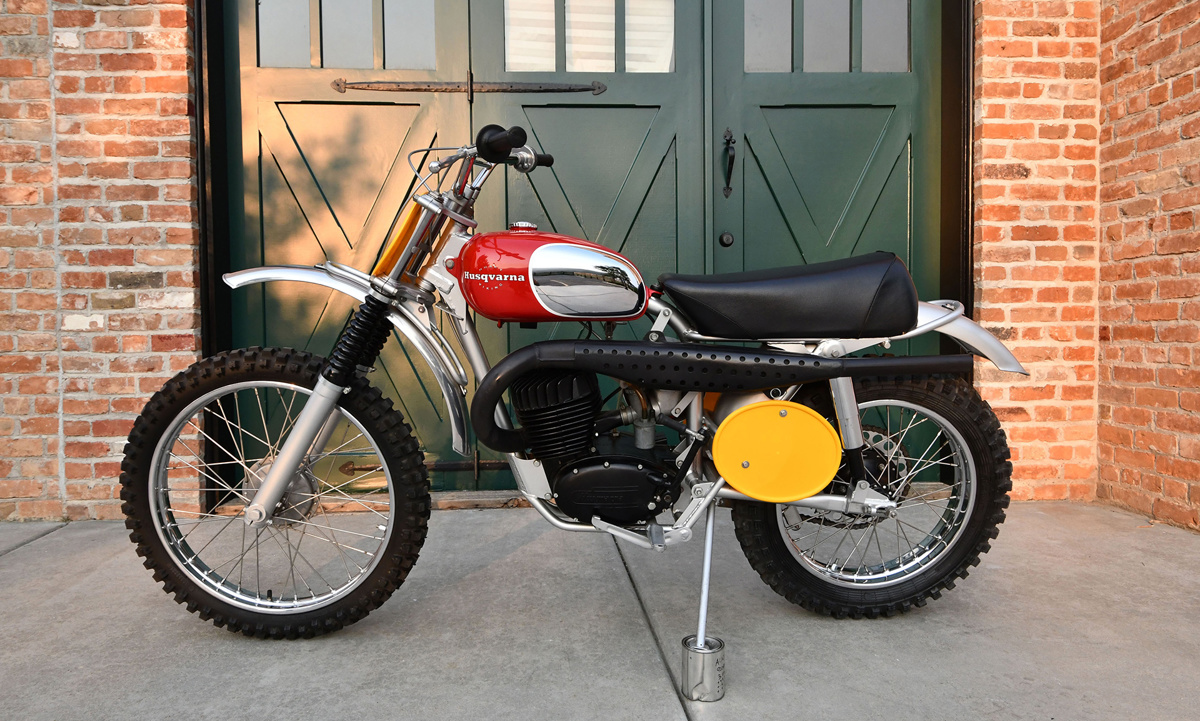 1968 Husqvarna Viking 360
Estimate: $80,000 - $100,000 USD | Offered Without Reserve
The mid-1960s offered much for American automotive thrill seekers, but some inspired souls were not satisfied with four-wheel road cars. During that decade, a racing format was imported from Europe, seemingly tailor-made for the open terrain of the U.S.A. Dubbed "motocross," a portmanteau between the French word for motorcycles and "cross-country" to denote the off-road trails on which it took place, the style of sport was promoted directly by Edison Dye, the official U.S. importer for Husqvarna. This example competed in-period, with the late, great two-time world champion Bengt Åberg piloting. Åberg's team went on to win the Trophée des Nations for Sweden in 1968, but after the third race in Santa Cruz, he had to find a different motorcycle because this example was purchased by Steve McQueen's Solar Productions.
1973 BMW 3.0 CS
Estimate: $150,000 - $200,000 USD | Offered Without Reserve
In the early 1970s, new regulations for the American market hampered both performance and aesthetics of the sporting automobiles imported to the country. As nearly five decades have passed, some enthusiasts have decided to resurrect these great nameplates, giving these European examples the power that continental customers enjoyed. This build started with an E9-series platform, one of the most delicate designs ever delivered by BMW. Power was upgraded courtesy of an "M"-branded S38B38 motor and a rebuilt five-speed transmission from a European-spec M5. The engine itself was further modified, with Koala Motorsports of Ohio adding a 3.8-liter stroker kit, custom connecting rods and piston heads from Memphis Motorworks. Handling was improved courtesy of a limited-slip differential from an E30 M3. With several additional accessories and small tweaks, this is an educated enthusiast's vision of the ultimate driving machine, modernized for our current age.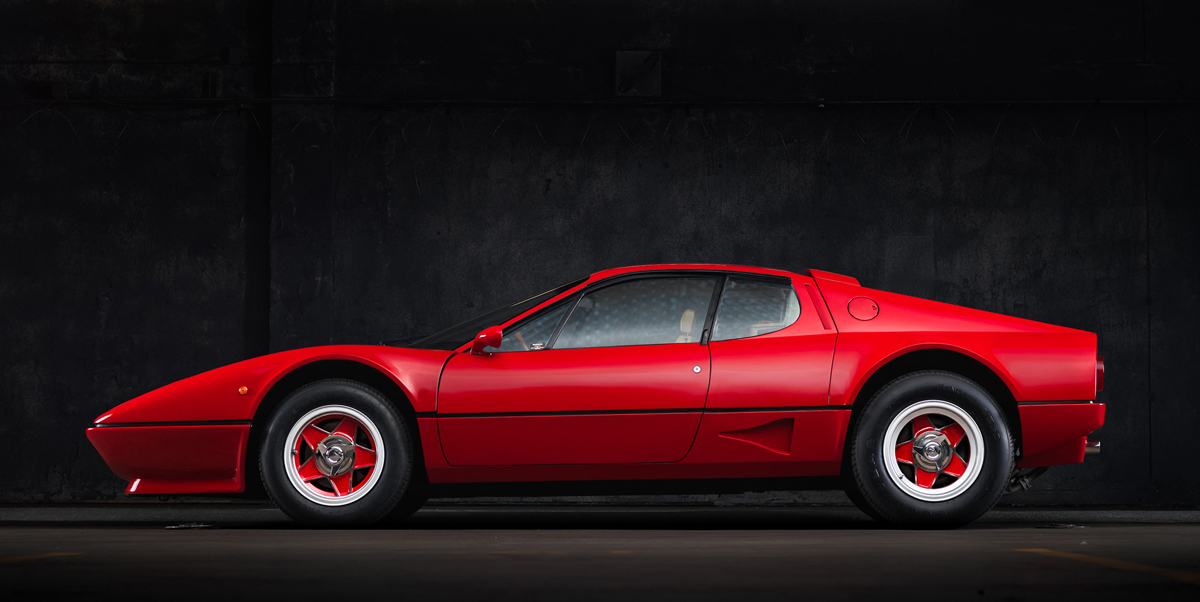 1979 Ferrari 512 BB
Estimate: $225,000 - $325,000 USD | Offered Without Reserve
Another noteworthy sports coupe from the 1970s, many Ferrari fans are no doubt familiar with the 512 BB for its two-tone, red-over-black paint scheme and mid-mounted, dry-sump, 5.0-liter flat-12 engine. As opposed to the fuel-injected 512 BBi, which Ferrari released worldwide in 1981, this example features the last carbureted engine ever released on a Ferrari road car. Once again, American regulations were the cause, pushing enterprising Ferrari collectors to pursue other options to secure this twelve-cylinder powered road car in its most classic configuration. The first U.S. owner of this Italian-market example was none other than noted Ferrari dealer Ron Tonkin, who added it to his personal collection, and in 1984 specified the lower body cladding on this example be painted in matching Rosso Corsa; perfectly pairing with its color-matched wheels and tan interior.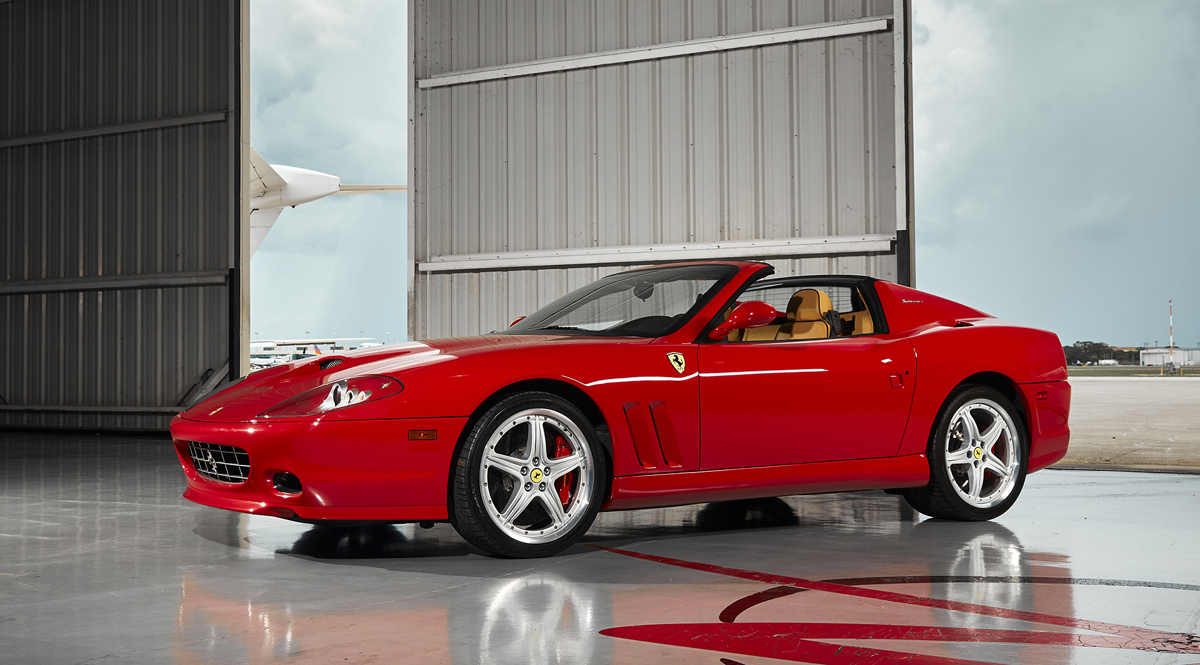 2005 Ferrari Superamerica
Estimate: $225,000 - $275,000 USD | Offered Without Reserve
The Fox Collection
The last example on today's rendition of outstanding lots offered without reserve is this intriguing option, an exclusive open-top Ferrari Superamerica. Though Ferrari had previously offered a top-end variant of their modern grand tourer with the 550 Barchetta, that car was more geared towards cruising in optimal weather. With its showstopping "Revocromico" hardtop, which rotates 180 degrees from closed, the Superamerica offers its occupants the choice of truly open or closed travel. Classiche-certified in 2018 and accompanied by its official Red Book, this Superamerica sat on the upper tier of all Ferrari offerings at the time. One of a mere 559 ever made, few Ferrari motor cars offer this blend of twelve-cylinder power and genuine exclusivity.