Ferrari have had as long a relationship with Formula One as anyone. Harking back to the days of the first single-seater class in 1947. Starting with the European Grand Prix Championships in the 1920s and 1930s, it was not until the post-war period that the FIA created a World Drivers' Championship, and with that in 1950, the highest echelon of motor car racing. Whilst many teams and marques have come and gone throughout the history of what is considered the world's preeminent racing series, there has been one evergreen team: Scuderia Ferrari. Partaking in every single championship since the sport's inception, the Prancing Horse has been the one constant presence.  
Though four decades divide these two race-used cars from Scuderia Ferrari, the commonalities between both are profound. Both were created with the best technology of the day to allow a courageous driver to extract as much performance as possible while putting their lives on the line in the process. In the case of these two cars, the pilots were two of the greatest racers of their respective eras, Michael Schumacher and Alfonso de Portago.
This then introduces us to these fine racing Ferraris to be presented in Monterey, from 18 to 20 August. These two iconic machines will form part of the star-studded array of astonishing collectibles crossing the block at RM Sotheby's flagship Monterey auction, held at the Portola Hotel & Spa next week.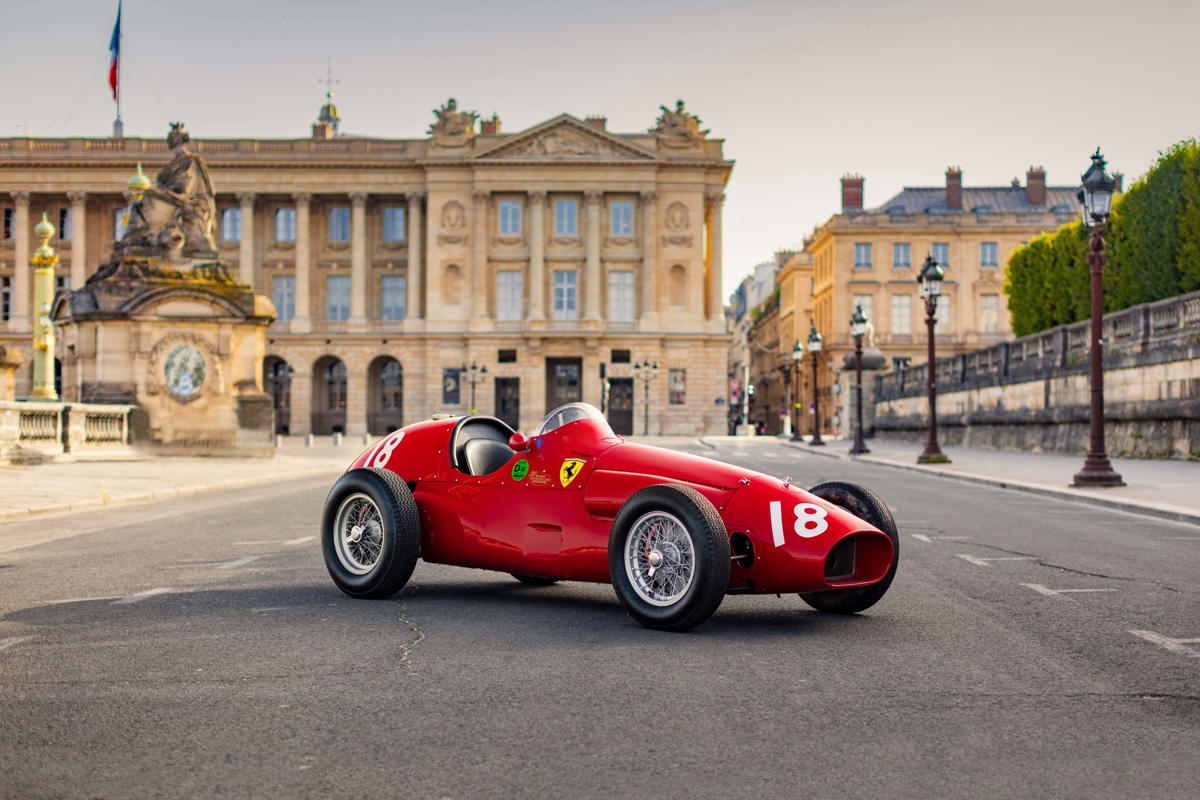 1954 Ferrari 625 F1
Estimate: $3,000,000 - $4,000,000 USD
An early part of Ferrari's success in Formula One, this was the sister car to Ferrari's first World Championship-winning car which took Alberto Ascari to successive championships in 1952 and 1953. Being the very first Ferrari the Ecurie Francorchamps privateer team raced with, there can be no doubt the significance of this fine example in the wider sphere of motorsport. Through young engineer Aurelio Lampredi's genius in his updating of the 2.5 litre inline-four, this machine was able to hit an astonishing 149-mph in-period.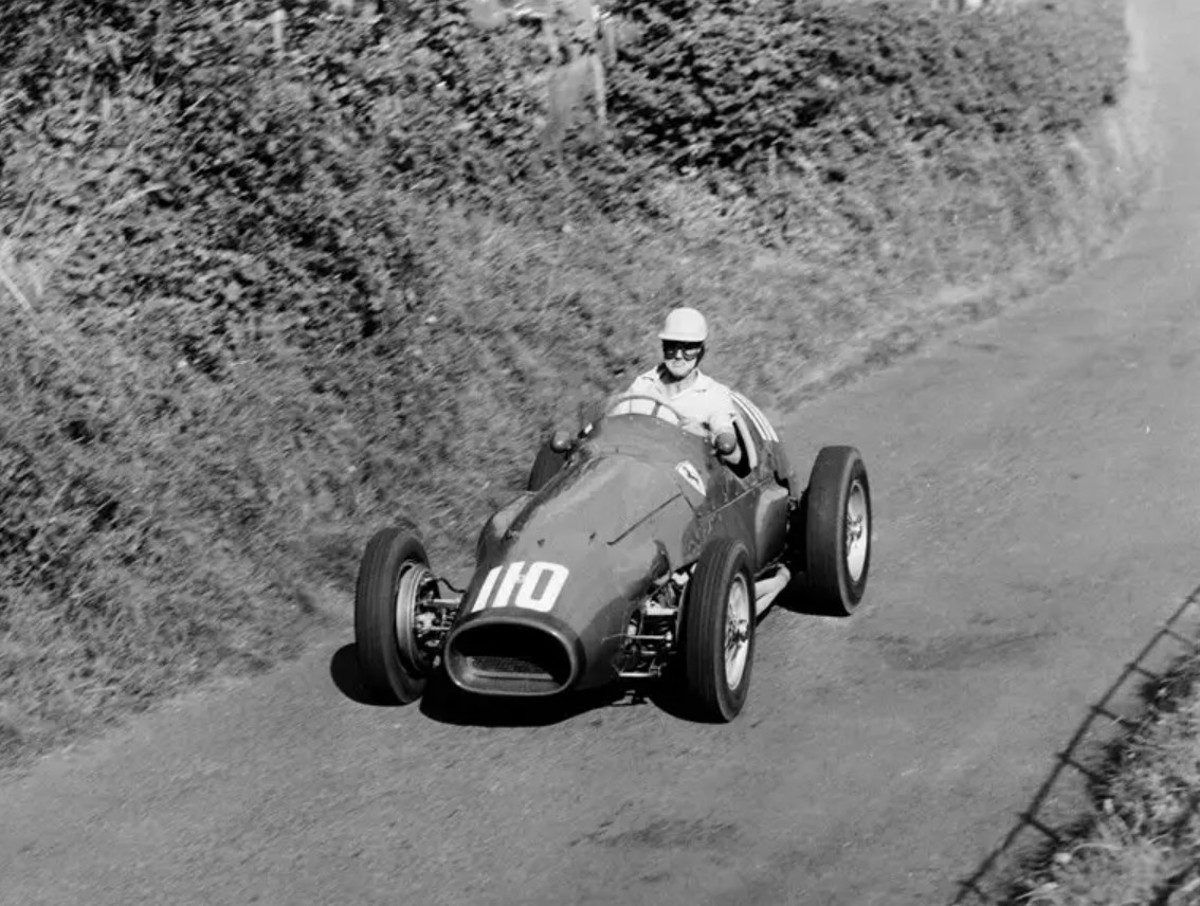 Ian Sievewright at Shelsley Walsh, England, August 1964. Courtesy of Marcel Massini
Chassis number 0540 was sold new to Marquis Alfonso de Portago Cabeza de Vaca, a true legend in every sense of the word. Whether that be competing in the Olympic bobsleigh team or jockeying in the famous Grand National horse race in Britain, and then eventually turning his hand to motor racing after a chat with US importer Luigi Chinetti, he truly lived life to the fullest before his untimely death in the Mille Miglia in 1957, aged just 28 years old.  
This 625 F1 was later advertised in the popular motorsport publication Road & Track in 1960, which led to it ending up in the hands of Ian Sievewright in the UK. Sievewright campaigned the 625 in various local races and hillclimbs in the UK, including the Shelsley Walsh national speed hillclimb in England in 1964. In 1967, it was sold to Pierre Bardinon for his Mas du Clos collection, one of, if not the greatest Ferrari stables. Joining a prestigious garage of near 300 Ferraris in his collection, it is believed Enzo Ferrari once said there was no need to build a Ferrari Museum as there was already one in Bardinon's chateau.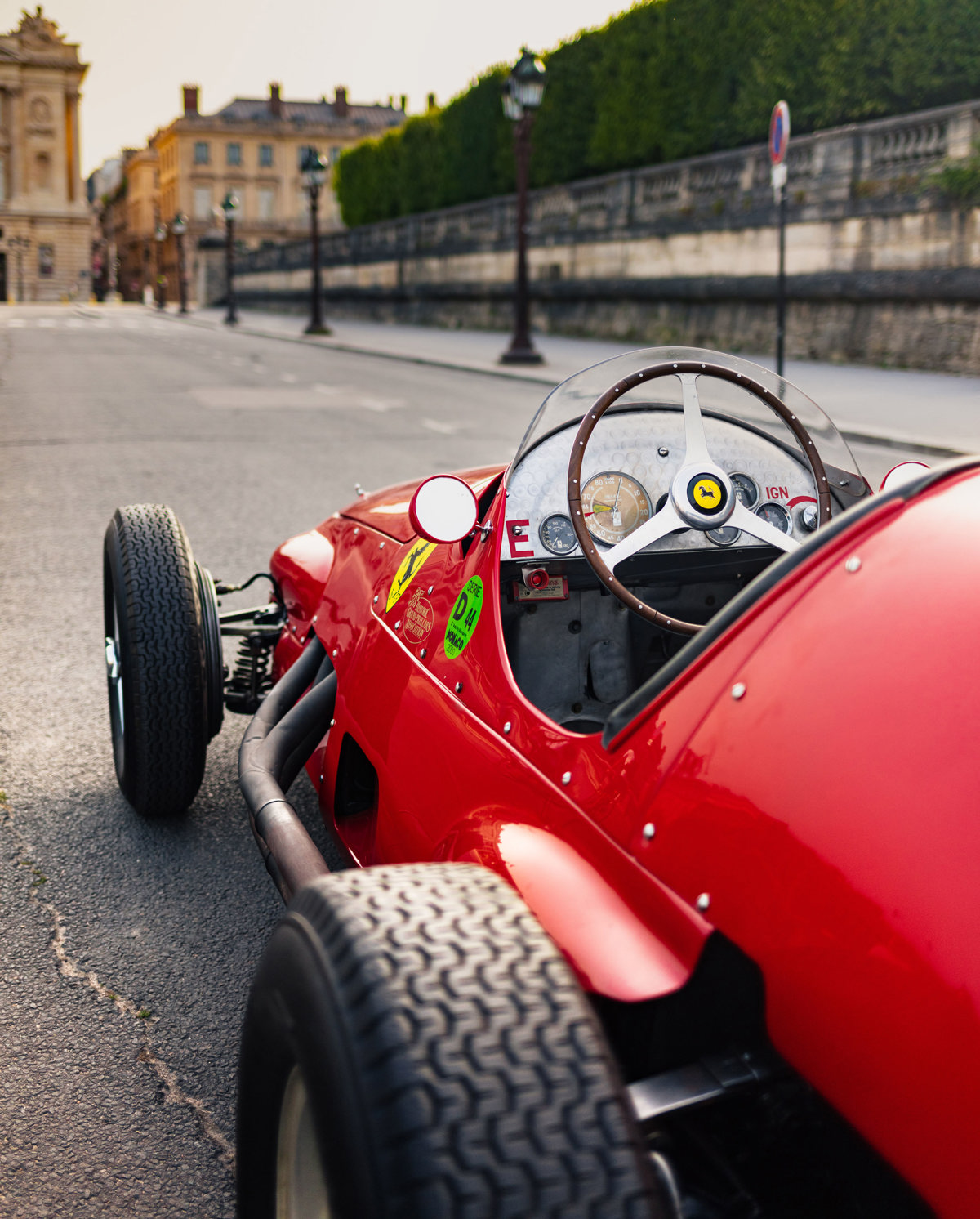 This matching-numbers example, emerging from nearly two decades of single ownership, is an unparalleled offering. It is eligible for a whole host of exclusive events, where this 625 would be cordially welcomed to say the least. Classiche certification and a Massini report underline this example as one of the finest 625s to ever be offered at auction. Ready to join its next collection, this Ferrari would certainly form the cornerstone of a stable of prancing horses or vintage Formula One racers.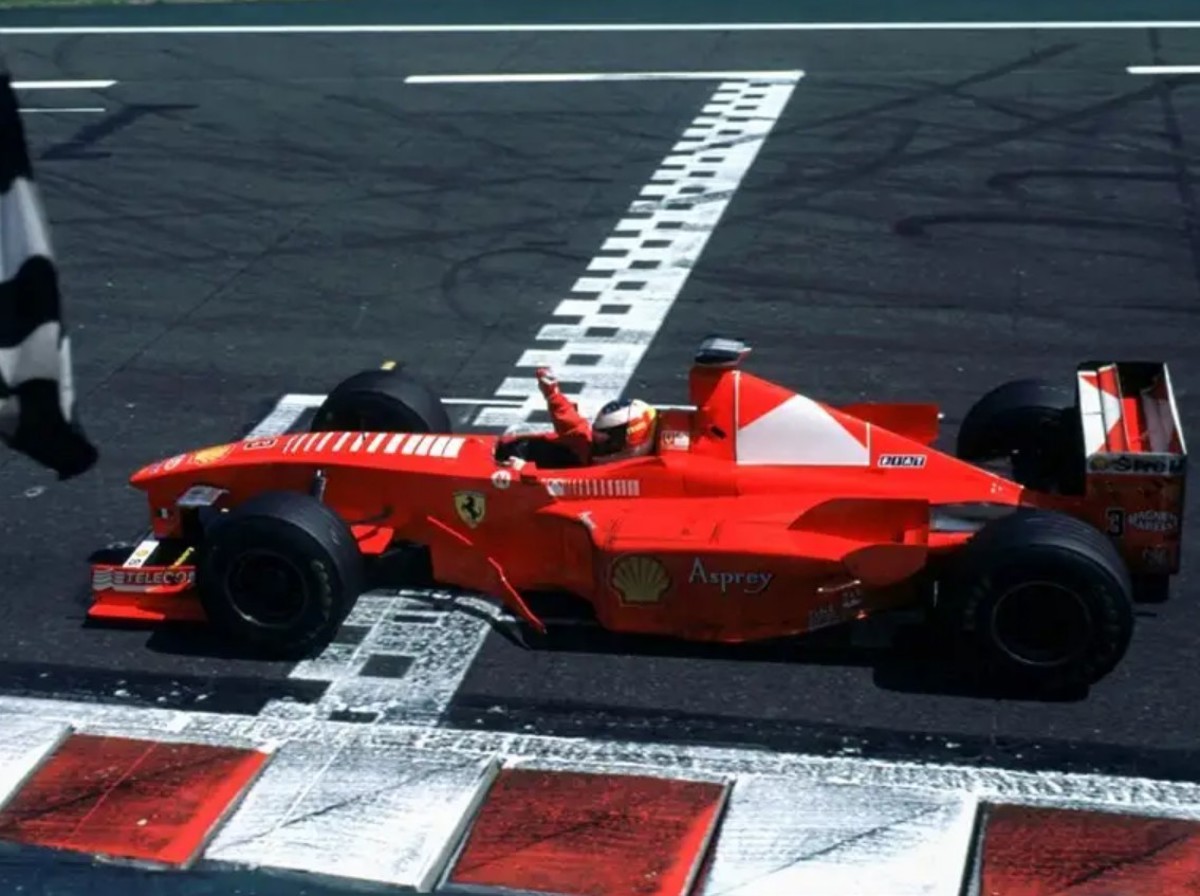 Michael Schumacher crosses the finish line in pole position to claim victory at the 1998 French Grand Prix. Courtesy of Girardo & Co Archive
1998 Ferrari F300
Estimate: $6,000,000 - $8,000,000 USD
Many consider Michael Schumacher to be the greatest driver of all time, and the late 1990s saw the German ascending to the height of his prowess in Formula One. Whilst there is no doubt Schumacher is a supremely talented driver, there must be a perfect match between man and machine to produce the record Schumacher and Ferrari held.  When all was said and done, he claimed a remarkable seven drivers' titles and 72 Grand Prix victories. Schumacher bettered icons like Sir Stirling Moss, Ayrton Senna, and Jackie Stewart in pure percentage terms. His seven drivers' titles inspired many F1 experts at the time to claim that it was an unbeatable record, and that remains true with Sir Lewis Hamilton yet to surpass his seven-time World Championship record.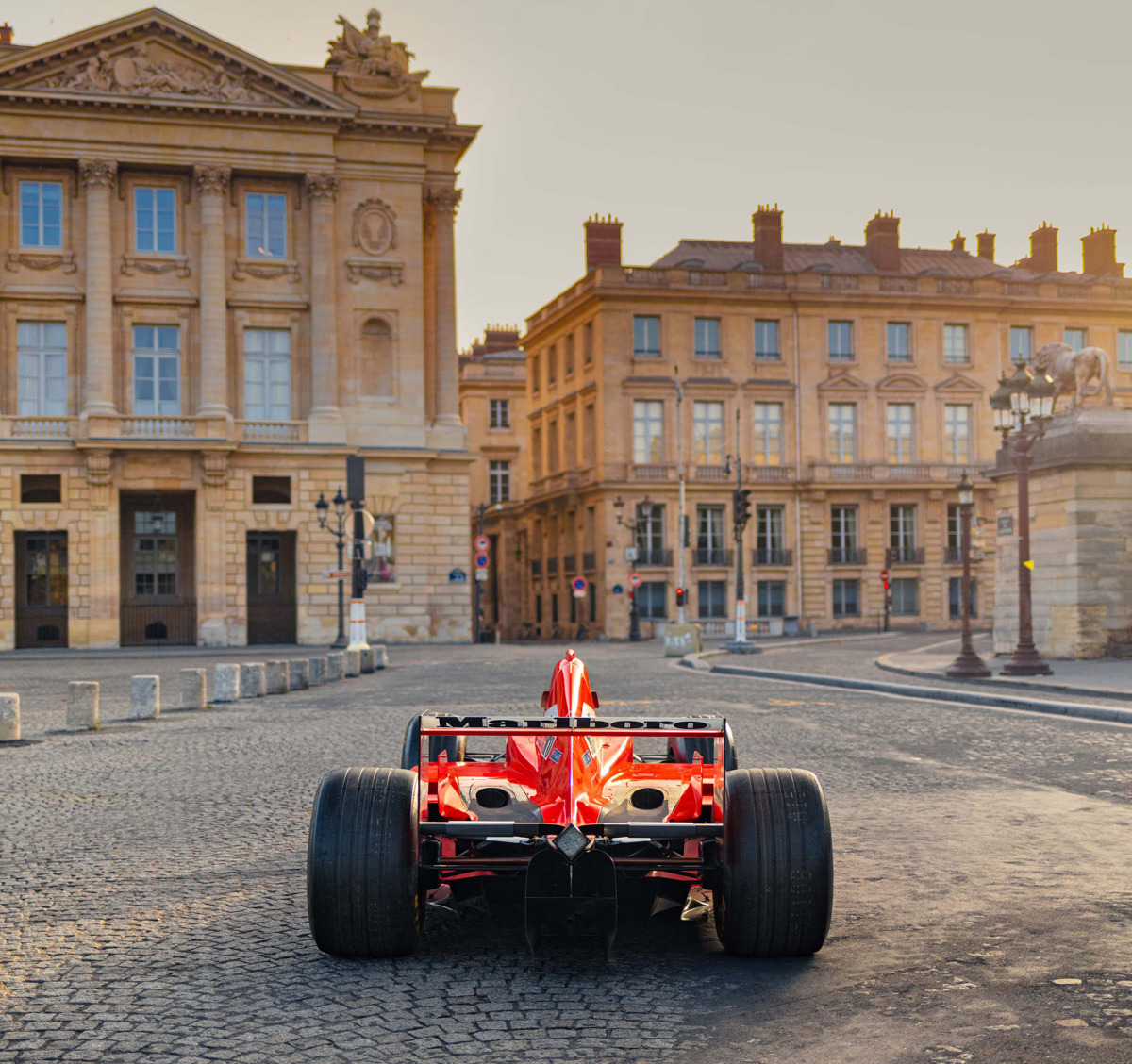 Scuderia Ferrari was led by Ferrari technical director Ross Brawn and designer Rory Byrne. Their era produced some of the most impressive racing machines ever made. Technical innovations included a new 800-horsepower, 3.0 litre V-10 that revved all the way to 17,500 rpm, and it certainly screams unlike any F1 racer of today. Combine this with tighter packaging of the key engine components in the rear and "periscope" style exhaust and seven-speed sequential gearbox and you have an incredible feat of engineering. This F300 set the stage for Schumacher's superlative performance at the turn of the millennium with the Scuderia.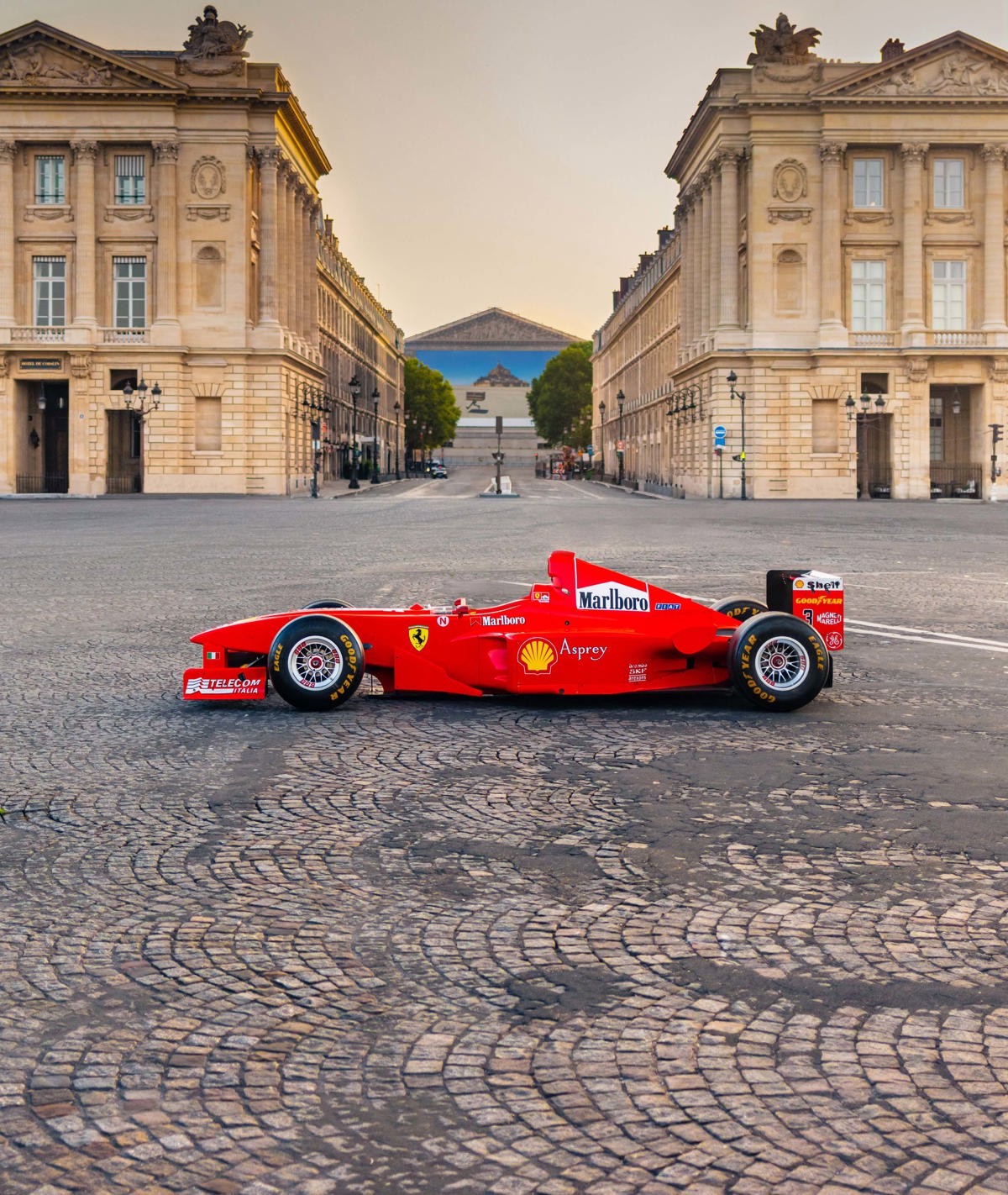 Chassis number 187 was initially used as a spare chassis for the Monaco GP before then coming into its own, winning three consecutive Grands Prix in Canada, France, and Great Britain, followed by the victory in Italy at Monza after a brief hiatus later in the season. This gave 187 a perfect, 100% win record. An unfortunate DNF in another chassis in the final race of the season meant the Scuderia finished second to McLaren in both drivers' and constructors' championships, much to the disappointment of the Tifosi.
This Ferrari F300 represents a highlight of Maranello's motorsport output. This example is now offered in perfectly preserved, untouched condition. Admire this video, shot earlier this year, of Scuderia Ferrari manager Jean Todt explaining what he thought of the F300.
Both of these Ferraris are unquestionably part of why the brand is held in such high esteem today, and both will be offered in Monterey next week.
With these fine pair of Ferrari F1 icons lining up on the block amongst many other unrivalled examples from superlative marques, this year's RM Sotheby's Monterey auction is an unmissable event. Register to bid now and admire these beauties in person. See you there!