When it comes to fine jewelry, timepieces, and artwork, the idea of a handmade piece carries with it a level of value that modern, mass-produced products could not hope to match. The appreciation that comes when looking at automobiles that have been assembled by hand is quite literally a personal experience, putting the finished piece into a lineage of craftsmanship that is not dissimilar from fine art. Knowing that humans can achieve a degree of detail that laser-guided robots could never hope to match, regardless of the advancements in artificial intelligence, is life-affirming information. Of course, the finest luxury brands today still assemble some limited-edition examples by hand, but the waiting lists and price tags can be staggering.
Today, the best way to experience the golden era of automaking is in a pre-war car. From chrome-plated wire wheels to period-correct coachbuilt styling, compared to even the most special examples of modern manufacturing, driving a pre-war car is practically a guarantee that you are going to arrive in something unique. Thankfully, RM Sotheby's is offering a prime selection of pre-war offerings at our upcoming Amelia Island auction, with all lots crossing the block on Saturday, 5 March 2022 at the Ritz-Carlton resort. With an auction packed full of pre-war, hand-built selections, which one would you want to take home?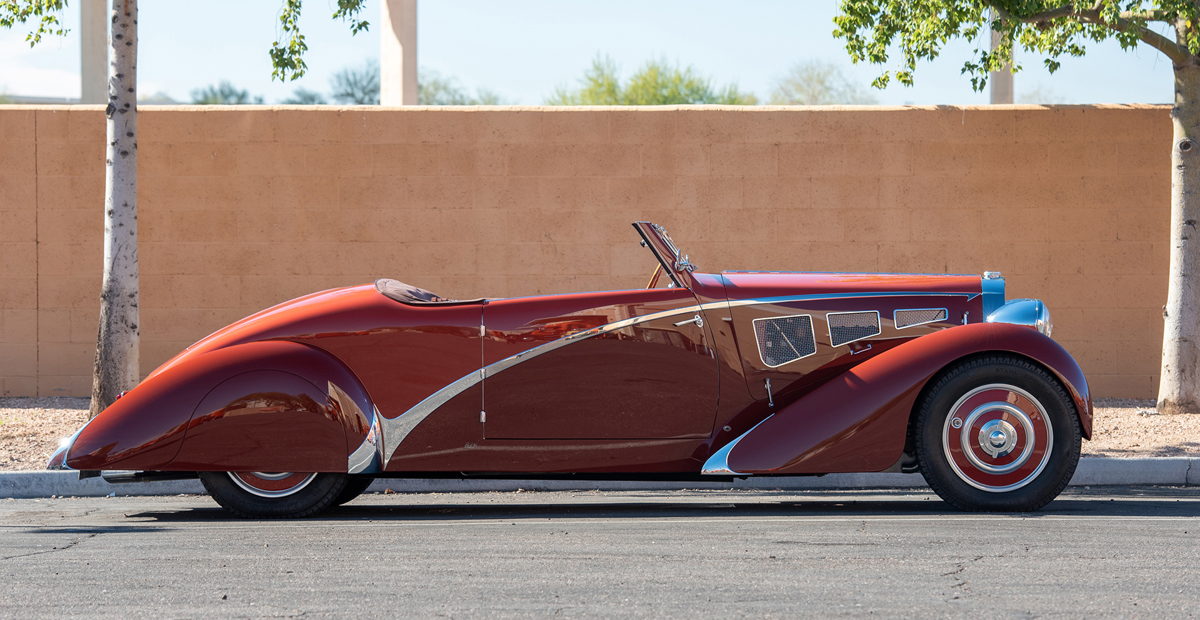 1937 Bugatti Type 57 Cabriolet
Estimate: $650,000 - $800,000 USD
Part of the appeal of pre-war examples like this Bugatti Type 57 Cabriolet is their singular design, with covered, flowing fenders. A recent deep dive in Keith Martin's Sports Car Market magazine by noted designer and critic Robert Cumberford reveals that pre-war Bugatti styling does not merely offer the suggestion of aerodynamics, but surprisingly delivers on its promises, with oncoming air moving cleanly between front fender and engine bay without turbulence in wind tunnel testing. This Type 57 example, one of a mere 710 built in a variety of styles, shows one of the benefits of separating the chassis and body. Though it was delivered as a four-door Galibier sedan, its first owner opted to take this chassis back to Bugatti for an updated, second-series frame with the same engine. After being traded to well-regarded Belgian coachbuilders d'leteren, this example was treated to open-bodied coachwork, either at their storied atelier or at an equally skilled firm. Its Cabriolet shape was refined further in a recent, award-winning restoration by its current owner after their acquisition in 2003 by Alan Taylor Company of Escondido, California. When the craftsmen are sufficiently skilled, handmade cars properly celebrate the era in which they were completed.
1931 Rolls-Royce 20/25 Drophead Coupe by Worblaufen
Estimate: $175,000 - $250,000 USD
Another byproduct of buying a pre-war car is learning about the hundreds of ateliers around the world which specialized in constructing essentially one-off automobiles. Named for the ancient Swiss town in the canton of Bern in which it was based, Carrosserie Worblaufen was a family business started by Fritz Ramseier-Scheidiger in 1900 which built a reputation for working on chassis as prestigious as Isotta Fraschini and Talbot-Lago. This Drophead Coupe example is believed to be the only Rolls-Royce 20/25 model of any kind wearing Worblaufen coachwork. Once again, an early owner opted to update the styling of their car, so the Gangloff coachwork that originally sat on this chassis was changed in-period to this handsome Swiss-made body in 1937. Having been purchased by the current consignor in 2014, this example was treated to a meticulous restoration at the hands of pre-war Rolls-Royce expert Steve Litten of Chardon, Ohio. Today, whether used for touring or for competition in concours d'elegance, this one-off Rolls-Royce will certainly stand out among the crowd.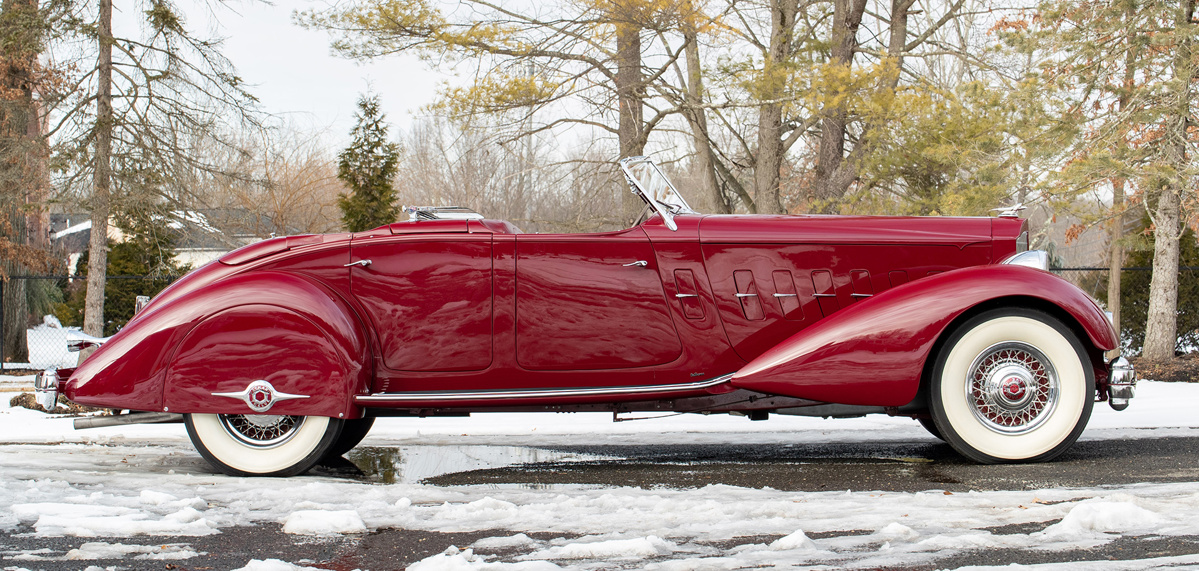 1934 Packard Twelve Custom Individual Sport Phaeton in the style of LeBaron
Estimate: $325,000 - $375,000 USD
Though it is easy to claim that the golden era of coachbuilding has ended, that does not mean that the art of handbuilt automobiles has been lost forever. Some icons of the pre-war era have become so beloved that collectors have hired talented craftspeople to recreate their legendary lines on prestigious chassis, much the same way that they would have been conceived originally. This example was shepherded through the build process by Packard enthusiast Joseph S. Albanese, who provided an original 1108 Packard Twelve chassis, complete with drivetrain, as well as an impossible-to-source, full-scale dimensional blueprint of the epic LeBaron Individual Sport Phaeton created by renowned designer Count Alexis de Sakhnoffsky. With the finished products final assembly handled by prestigious pre-war experts Stone Barn Automobile Restoration of Vienna, New Jersey, this Packard is a prime example of how the art of coachbuilding is still very much alive.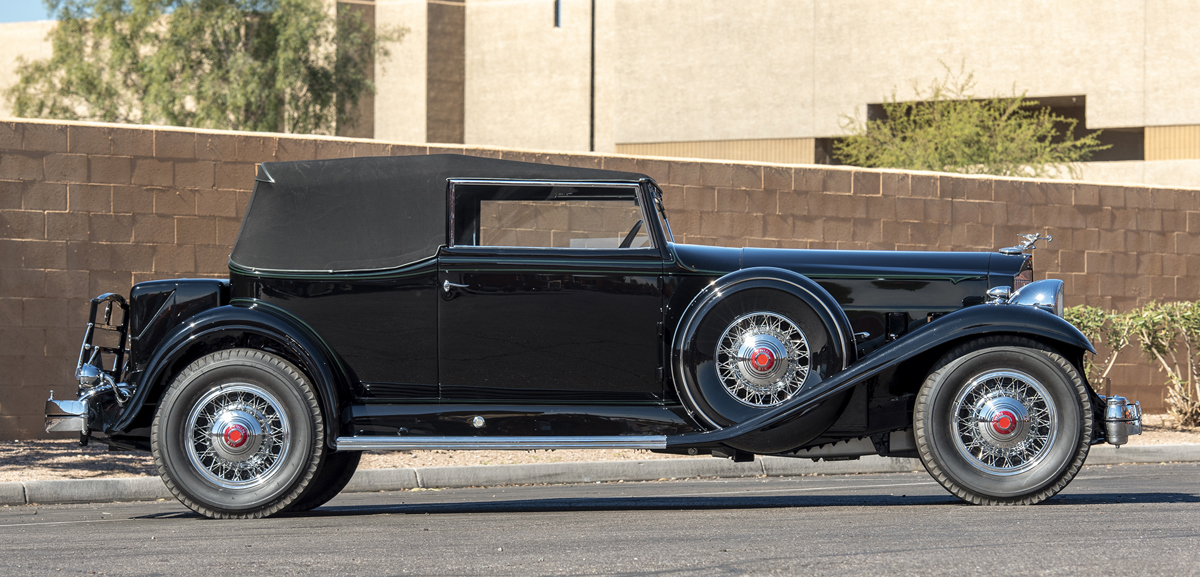 1932 Packard Twin Six Convertible Victoria
Estimate: $575,000 - $675,000 USD
Of course, some pre-war collectors insist on originality above all else. In part, this is a reflection of how rare it is to find a car that has survived the numerous scrap drives and City Beautiful campaigns that occurred both during and after World War II. Even more than merely existing, discovering a car that still retains its original coachwork, chassis, engine, steering box, and factory-issued vehicle number makes for a very uncommon find indeed. This well-preserved example even retains its original testing tags from the Packard Proving Grounds dated 23 June 1932. Of the handful of Series 905 Twin Six Convertible Victoria examples built by Packard in the early 1930s, this is one of a mere three believed to exist today. Certainly, the limited quantities of these upscale motorcars had to do with the economic times in which they debuted. Doubling down on the distinctiveness of this example, its wealth of original features and careful restoration at the hands of consummate Packard expert Lonnie Fallin were sufficient for the Classic Car Club of America's judges to grant it a perfect 100 points an astonishing three times in a row, earning it the high honor of CCCA Premier status.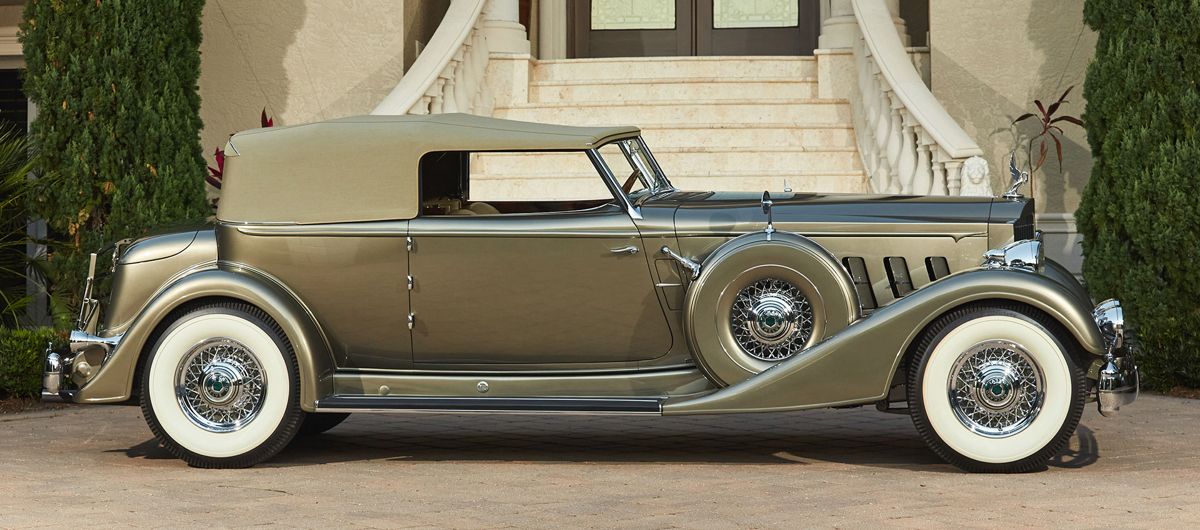 1934 Packard Twelve Individual Custom Convertible Victoria by Dietrich
Estimate: $3,750,000 - $4,500,000 USD
Scrolling back and forth between the two twelve-cylinder, open-top Packard Convertible Victoria examples on our list reveals what a difference two years made. It also highlights the additional artistry endowed by custom coachwork, like this ultra-exclusive body styling completed by the New York City-based Dietrich Inc. Though Dietrich also collaborated with the Packard factory on so-called "semi-custom" examples, the most exclusive builds, directed by the clients themselves, were deemed "Individual Customs." These spectacular cars, coveted when new, have been passed along from one prestigious collector to another ever since. This example is no exception, having been a cornerstone of the world-class Otis Chandler and Joseph and Margie Cassini collections, among many other aficionados of pre-war prestige. The most current owner was the late Frank Ricciardelli, another figurehead in the pre-war scene, who opted to treat this example to a nut-and-bolt restoration courtesy of Stone Barn in Vienna, New Jersey. Delivering a spectacular finished product, this Stone Barn restoration was comprehensive enough to earn this example a First in Class win and a Best of Show nomination at the Pebble Beach Concours d'Elegance in 2014. Pre-war motoring at its pinnacle.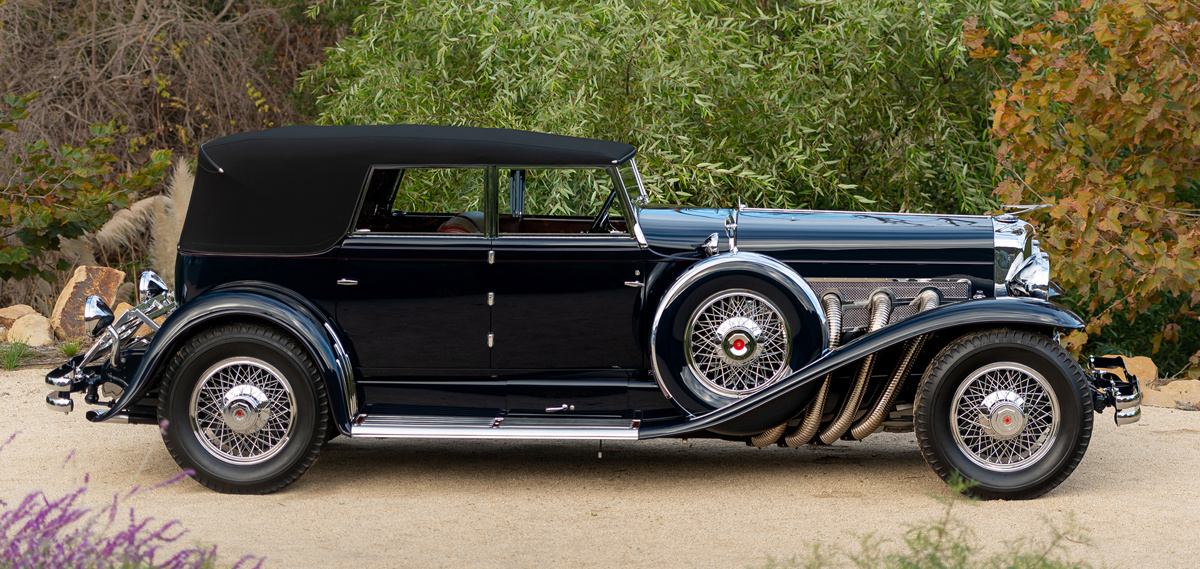 1930 Duesenberg Model J Convertible Sedan by Murphy
Estimate: $2,000,000 - $2,400,000 USD
For some, as prestigious as a pre-war Packard may be, the peak display of Art Deco automobiles will always be a Duesenberg. With their imposing eight-cylinder engines and extraordinary in-period price tags, practically every model of the top-tier Auburn, Indiana-based brand is worthy of collecting. This handsome dark blue example is especially elegant, with its plum-colored leather interior and unmistakable side exhaust pipes, which inform even the uninitiated that this is a superlative motorcar. Both the signature exhausts and interior (as well as the convertible top and numerous other authentic, period-correct details) were added in an award-winning restoration by the New Jersey-based Stone Barn Automotive Restorations, which has earned its place on this list several times through their concours-quality work. In the case of this Model J, the restoration was enough to win the Duesenberg class outright, beating out all other examples for a Best of Class award at the Pebble Beach Concours d'Elegance in 2011. A stunning car, with all the invoices to prove it.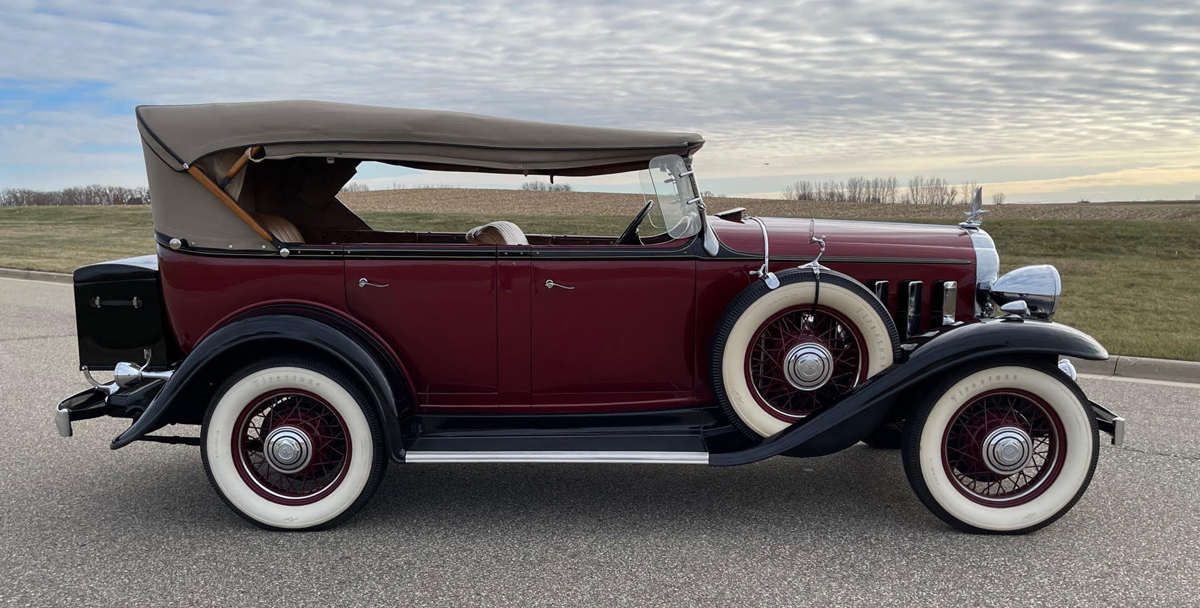 1932 Buick Series 50 Sport Phaeton by Holden's Motor Body Builders
Estimate: $80,000 - $100,000 USD | Offered Without Reserve
We have arrived near the end of our prestigious list of pre-war cars and still have more to offer. While the list has so far covered some of the most well-regarded automotive brands of all time, we have not left out those enthusiasts who dream of a pre-war, coachbuilt car but cannot afford the seven-figure sums that they oftentimes command. This Detroit-powered, Australian-bodied example also illuminates the origins of General Motors' longtime subsidiary Holden, which was itself a pre-war coachbuilding firm before it was acquired by the American automaker. This uncommon example has been conveniently restored in left-hand-drive before its acquisition by the well-regarded Blackhawk Collection near San Francisco, CA, who subsequently subjected it to an aesthetic and mechanical overhaul shortly after purchase. One of a mere 37 Series 50 examples built for export overall and one of only 102 built in total, this Buick is evidence of worldwide pre-war automaking, offered entirely without reserve at RM Sotheby's Amelia Auction 2022.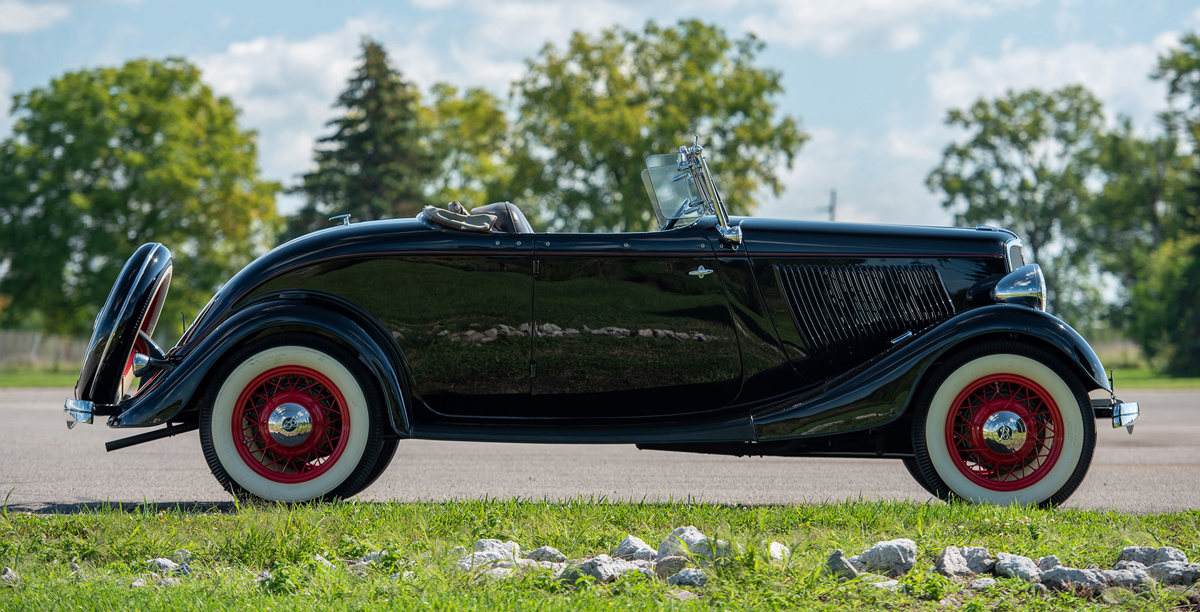 1933 Ford V-8 Roadster
Estimate: $40,000 - $50,000 USD | Offered Without Reserve
Any readers who have browsed this far deserve a bonus. An "honorable mention" in this list of pre-war examples. Though the venerable Ford Model A was launched in the midst of the Great Depression against mighty competition (of which some of the best examples in the world are included in this list), this practical, eight-cylinder star won the hearts of notorious period celebrities like Clyde Barrow as well as numerous post-war hot rodders. Like the luminary examples on our list, this charming Roadster is also an award-winning show car which was treated to an extensive, no-cost-limit restoration in the mid-1980s by Enfield Auto Restoration. Though many V-8 Fords in this period were modified beyond recognition, this example was restored with NOS parts, scoring as high as 999 points by the Early Ford V-8 Club, and was judged an AACA Senior National First Prize winner in 1987. With no reserve, someone will be going home with this lovely pre-war Ford on Saturday, 5 March at the RM Sotheby's Amelia Island auction. Pre-war prestige is only a bid away.