Over the decades spent manufacturing reliably spirited sports cars, Porsche has sometimes been critiqued for similarities shared between models. Launched in the same year as the venerable Ford Mustang in America, the Porsche 911 has equally set the standard for all subsequent sporting offerings from Germany. Though the evolution of engineering underneath the skin of the familiar 911-shaped silhouette has moved at a relatively rapid pace, the subtle differences between model designations are sometimes discernible only to Porschephiles.
Fortunately, RM Sotheby's all-new Swiss-based branch has done much of the work beforehand, selecting a list of some of the most exciting models in Porsche history, and offering them for sale this week at our newest site-specific auction event. Taking place in the picturesque Alpine city of St. Moritz on 17 September, this expertly curated auction includes the best of many other European sports car marques, including BMW and Mercedes-Benz. However, the purpose of today's post is purely Porsche. In a sense some of the greatest hits ever produced in Stuttgart, these examples all represent the brand's steadfast commitment to constructing dynamic and engaging sports cars, perfect for the equally engaging mountainous roads crisscrossing Switzerland:
1973 Porsche 911 Carrera RS 2.7 Touring
Estimate: CHF450,000 - CHF550,000
In many ways the car that launched a performance revolution within Porsche due to its overwhelmingly positive reception with critics and clients alike, the Carrera RS 2.7 has come to represent all the core qualities that create devoted followers to the Stuttgart sports car brand. Lightweight handling and unrestrained acceleration are delivered to the driver thanks to a genuinely thorough weight loss regiment, with total curb weight amounting to a scant 1,075 kg for the 2.7 Touring models, like this example. Expert mechanic Ian Tyrrell recently covered this model in-depth in his YouTube channel, describing the massive engineering effort necessary to enlarge the Porsche 2.4 engine, which was thought to be at peak capacity. Using a futuristic compound called Nikasil to coat the powerplant's piston liners, Porsche was able to achieve the now-legendary 2.7-litre capacity, achieving 210 horsepower and 20% more torque than the 2.4-litre unit in the 911 S. Originally ordered in this standout colour combination of Grand Prix White with the iconic side graphics reading "Carrera" in red, and delivered new to Hahn Porsche of Fellbach, Germany near Stuttgart, this example bears all the hallmarks of a hometown hero. With a full restoration undertaken between 2010 and 2011, and a comprehensive rebuild to its numbers-matching engine accomplished in 2016, this Carrera RS example represents Porsche in its most sporting state.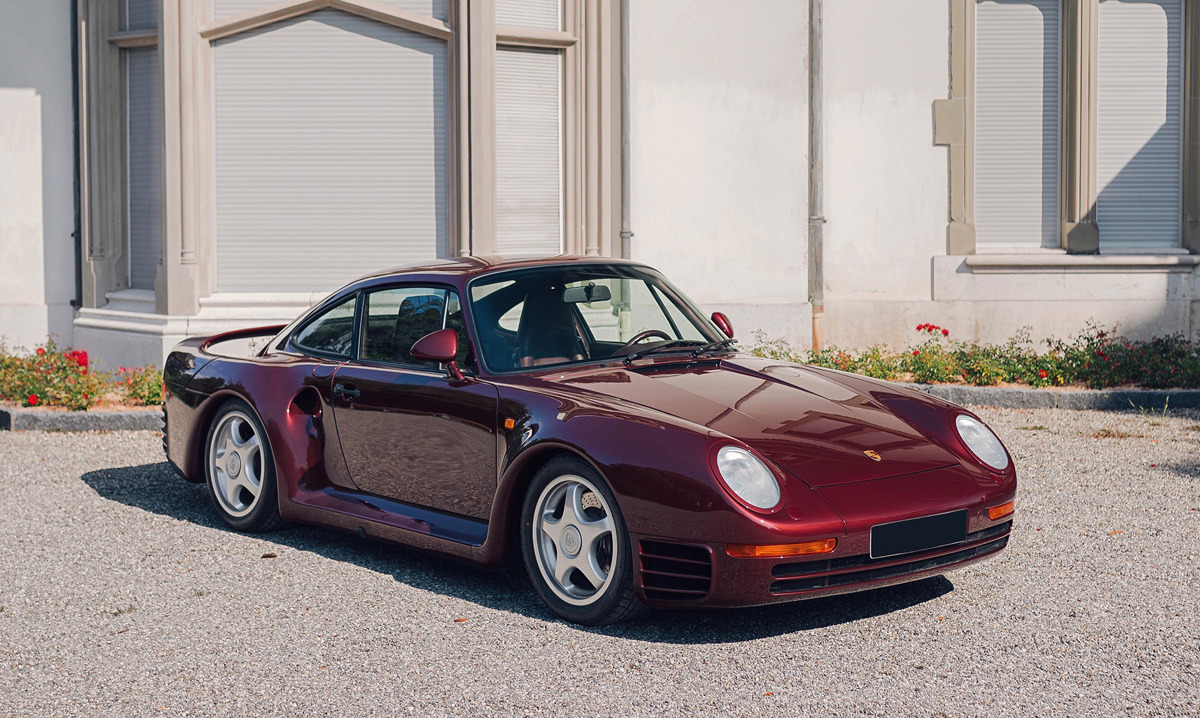 1988 Porsche 959 Komfort
Estimate: CHF1,500,000 - CHF1,700,000
Another instance of the extreme level of innovation fitted by Porsche engineers within the same familiar Porsche sports car shape, underneath the skin, the 959 proved to be an evolutionary leap above the original 911. Perhaps the most significant change was the addition of an advanced four-wheel-drive system called Porsche-Steuer Kupplung (PSK), which could shift 80% of the available power to the rear wheels during hard acceleration. Though novel at the time among the 959's supercar competitors, similar systems have since been adopted industry-wide. One of a mere handful of 337 examples of the Porsche 959 that were originally constructed, this Wine Red Metallic coloured example, with a complimentary Burgundy leather interior made by Porsche Exclusive division, hint at the status of its original owner. This example is one of seven believed to have been ordered new by a member of the Qatari Royal Family, each specified in equally striking exterior tones. Perhaps more importantly to the present Porsche collector, this unique example enjoyed a significant service at Center Porsche Genève, where it received an engine overhaul with the replacement of important water seals, fuel hoses, belts, filters, spark plugs, and ignition parts while also cleaning the fuel injectors. An experience of Porsche power which has no doubt aged beautifully.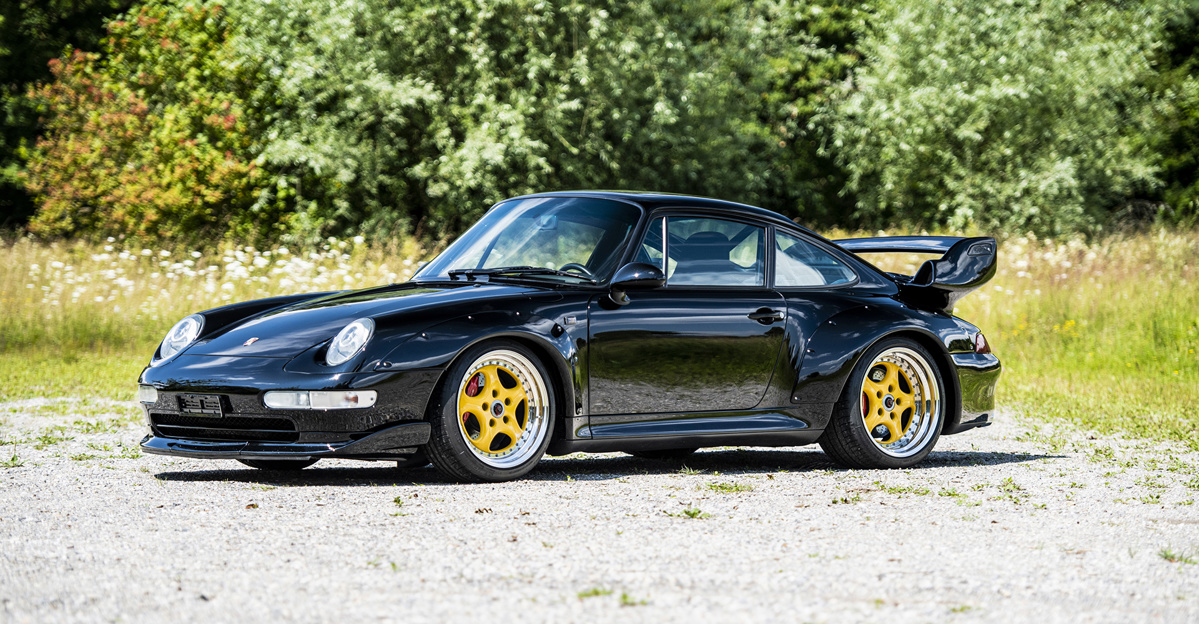 1996 Porsche 911 GT2 Clubsport
Estimate: CHF1,100,000 - CHF1,300,000
Though the four-wheel-drive 959 was a formidable halo car for the Porsche brand, it was not the only advancement of performance seen in the 1990s. Born with motorsport in mind, the GT2 Clubsport reflected the ethos of crafting lightweight sports coupes that Porsche began with our 2.7 RS Carrera cover car. With the benefit of two decades of experience between the two models, Porsche engineers delivered a twin-turbocharged, 430 horsepower, air-cooled race car for the road claiming two class wins at Le Mans. Following the regime for losing weight, all front-wheel-drive components were removed for maximum handling; windshield and window glass was replaced throughout with thinner material. The ultra-desirable Clubsport variant added professional-grade motorsport components, including a full welded roll cage and six-point racing harnesses, a battery cut-off switch, a full fire extinguishing system, and bucket seats. Even after taking delivery of this example at Porsche Berlin, the original owner of this example further desired to expand its performance credentials, returning to the dealership to add factory-optional extras including the desirable Gemballa steering wheel and electric lap timer, though this well-cared-for example is recorded as having never been driven in competition.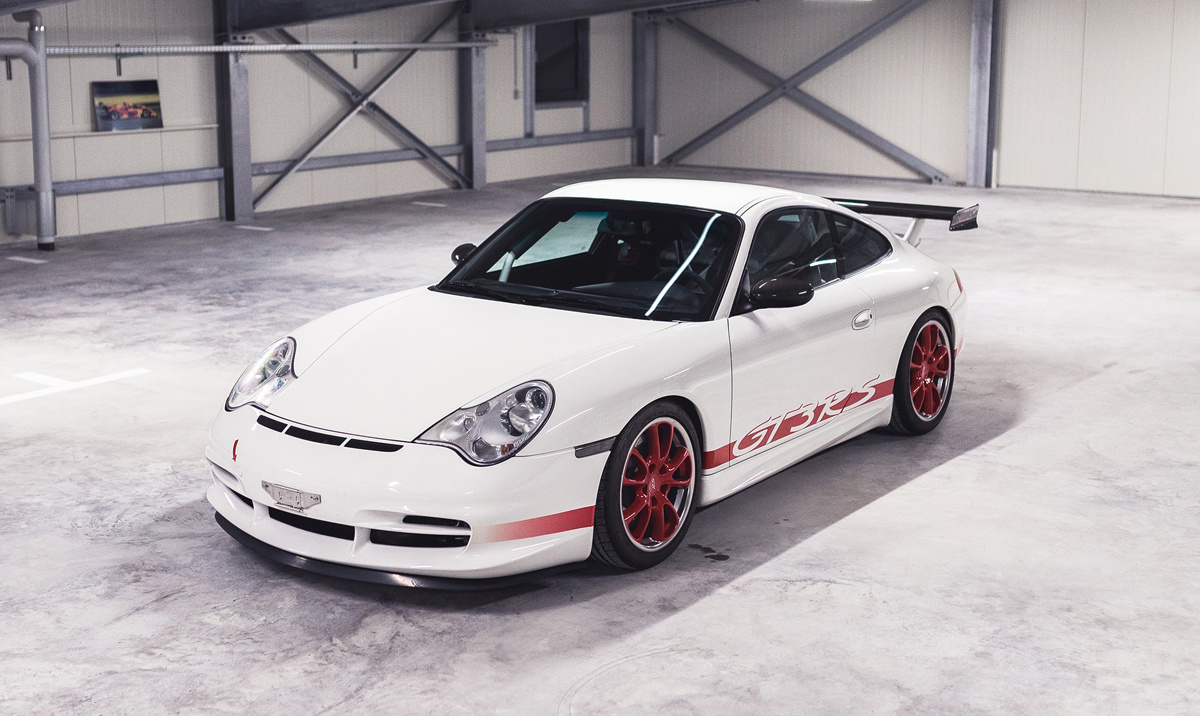 2004 Porsche 911 GT3 RS
Estimate: CHF150,000 - CHF200,000
While for some the move to water-cooling was out of line with Porsche tradition, as a firm that established itself as an engineering outfit first, the move away from air-cooling was necessary to push Porsche products into the next century of performance. Another critical shift at this point in Porsche history was one of personnel. A product of the now-legendary head of Porsche Motorsport, this was the first GT car developed under the supervision of Dr. Andreas Preuninger. Now appreciated in the greater pantheon of Porsche sports cars for its no-compromise driving experience and 8,000 rpm redline, the GT3 RS is known for delivering all-out acceleration up to its 190-mph top speed. Like the classic 2.7 RS with which it shares a model name, this GT3 RS wears a standout colour combination of Carrera White with contrasting red accents spelling out the model name in the unmistakable Carrera-style script. The interior is a mix of function and form, with a white roll cage providing bracing behind the driver and the all-important, Alcantara-wrapped six-speed manual gear selector at hand. This well-specified, Stuttgart-delivered example can boast a record of faithful maintenance, including major services in 2015 and 2017, and showed under 20,000 total kilometres on its odometer at the time of cataloguing.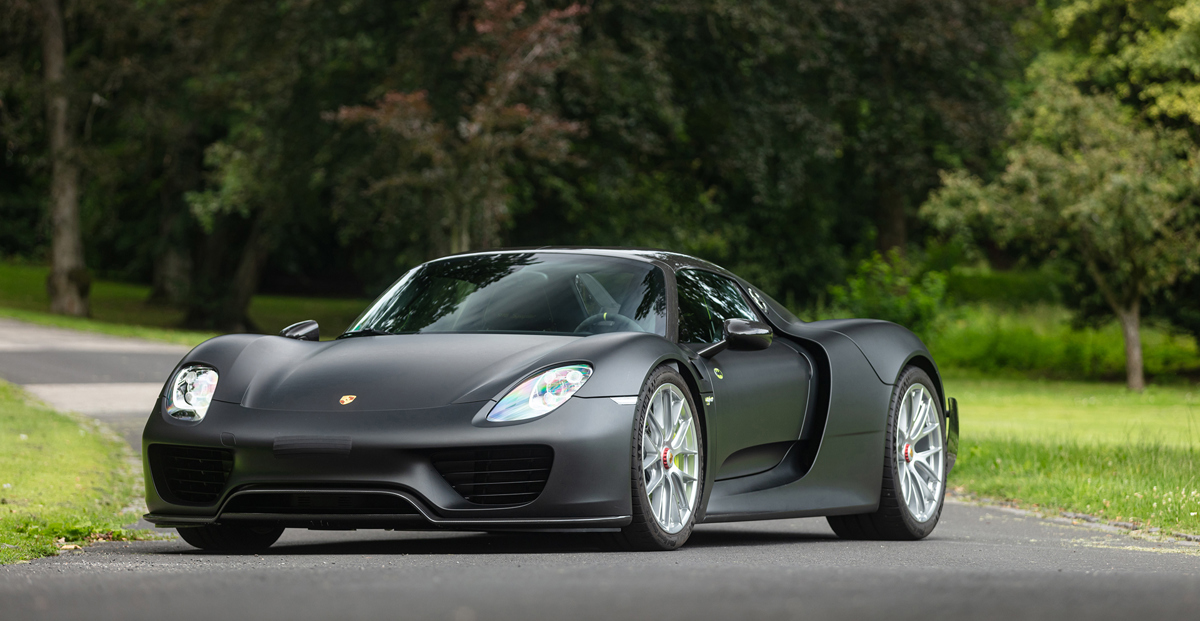 2015 Porsche 918 'Weissach' Spyder
Estimate: CHF1,150,000 - CHF1,400,000
Without the move to water-cooling, four-wheel-drive, or a wider attitude of forward-thinking flexibility in terms of platforms and powerplants, it is likely Porsche would have never conceived of their signature hybrid hypercar, the 918 'Weissach' Spyder. Because of its advanced powertrain, which thoughtfully divided power output to each of the four wheels via twin electric motors and a V-8 engine developed in part through learnings from Porsche's victorious campaign in the Le Mans prototype class with their RS Spyder. Delivering motorsport-derived driving characteristics while still allowing for modern creature comforts such as air conditioning and a practical front-end lift system is the ultimate display of Porsche engineering prowess, let alone in an automobile that has open-air capabilities. This example wears the even-more exclusive 'Weissach' performance package, which includes Weissach-specific magnesium alloy wheels, and its roof panel and rear wing both left unpainted in bare carbon fibre, adding up to a total weight savings of more than 40 kilograms. A vision of Porsche's performance future.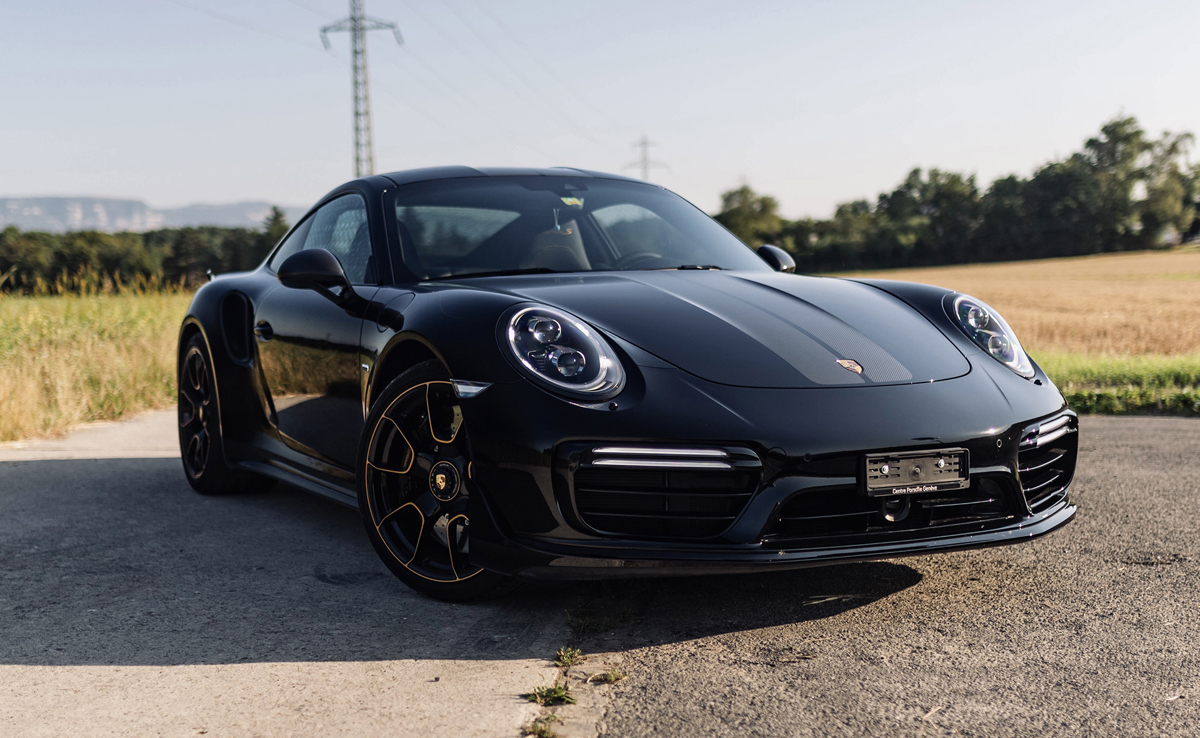 2018 Porsche 911 Turbo S Exclusive Series
Estimate: CHF290,000 - CHF350,000
With the expansion of the Porsche Exclusive Manufaktur division, exposed carbon fibre became available for the non-halo branches of the German brand's sports car family tree. This single-owner Exclusive Series example is number 433 of a mere 500 built with both bonnet and roof hewn of the futuristic material. Twin stripes on the hood of this Black-painted example were finished as clear to better see the carbon fibre weave underneath. Outside, the tasteful colour combination continues, with unique black wheels with gold etching, mirroring the gold-and-black PCCB brake callipers. Inside, the black-and-gold theme continues, as all interior carbon fibre trim has been woven with a copper thread to give a hint of its top-of-the-line nature when driven in full sun. For those who wish to experience what the ultimate turbocharged 911 feels like in the modern era, this example is presented in as-new condition, with barely over 1,000 km driven at the time of cataloguing.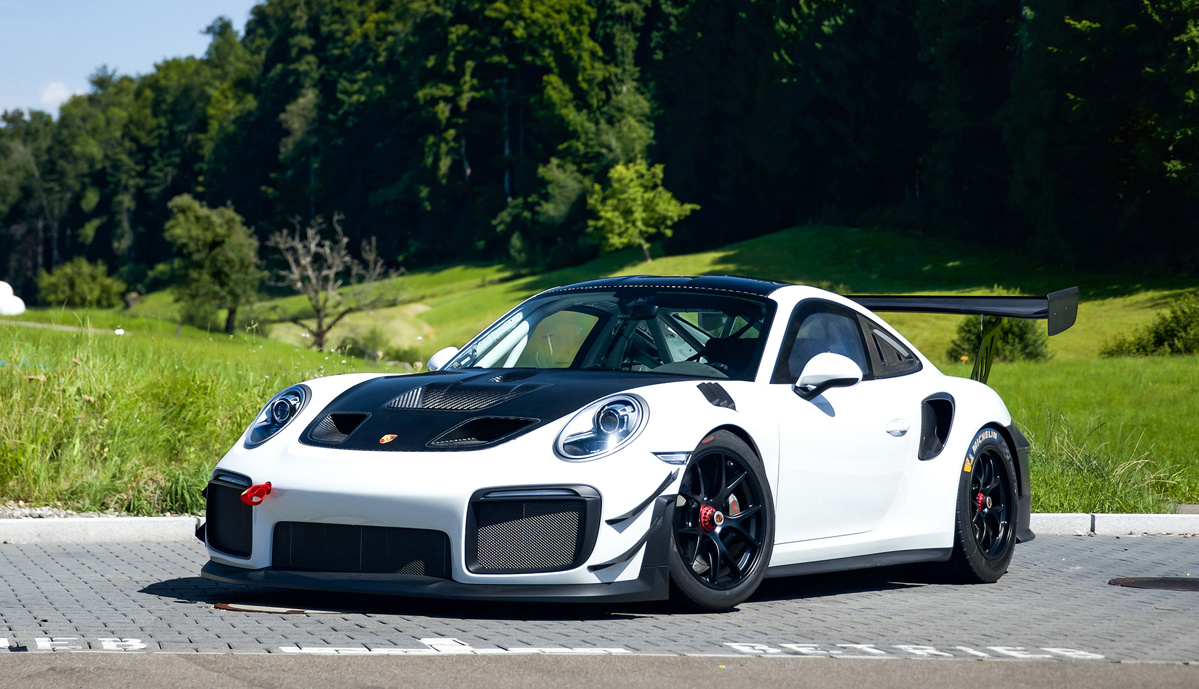 2019 Porsche 911 GT2 RS Clubsport
Estimate: CHF500,000 - CHF600,000
With our list having included some of the most-heralded air-cooled cars of the 20th century and 21st-century hybrid hypercars alike, it is comforting to know that Porsche has not lost their internal spirit when it comes to developing no-compromise driving experiences. Limited to a total production of only 200, this example is even lighter than the already-svelte GT2 RS, by a not-insignificant 75 kilograms. This time, Porsche engineers utilized their own proprietary combination of carbon fibre-reinforced plastic on the roof, bonnet, front bumper, doors, parts of the tail, and engine cover, creating the ultra-exclusive Clubsport variant's featherweight total mass. Extreme lightening encompasses the interior cabin as well, with a FIA-approved six-point safety harness, a single Recaro bucket seat, and the requisite roll cage greeting the lucky driver. Even better, this ultimate modern performance machine shows only "delivery mileage" and is ready for its next owner to either preserve or truly experience via factory-sponsored Clubsport events. Either way, this ultimate Porsche is endlessly capable.