Competition breeds natural selection, at least as far as automobiles go. By enlisting their top engineers and designers in the sometimes-extraneous pursuit of motorsport, Porsche in essence made an investment in their future. More than simply in the aim of advancing efficiency, the decision by Porsche management to devote a significant portion of their profits back to racing allowed them to re-imagine the nature of what their road cars can be. Adapting to different race formats, many of which are no longer active, pushed the Porsche engineers to be open to changing their platforms and powertrains. That flexibility has certainly paid off today, when individual regulations between countries require both an openness to change fundamental designs, as well as all-encompassing contingency plans.
The learnings that Porsche derived from participating in competitive driving have filtered down to their entire fleet; the fearsome twin-turbocharged engine in the 935/76 models echoes the twin-turbocharged engines encompassing nearly the entire 911 range today. Sometimes, as in the Kremer-spec Porsche 935 K3 shown above, competition with privateers drove Porsche to first refine their own output, then cease selling to private teams altogether. No matter, as RM Sotheby's has curated a list of some of the most spectacular Porsche cars ever to wear the Stuttgart crest, all headed to our signature Monterey auction next month, from 12-14 August: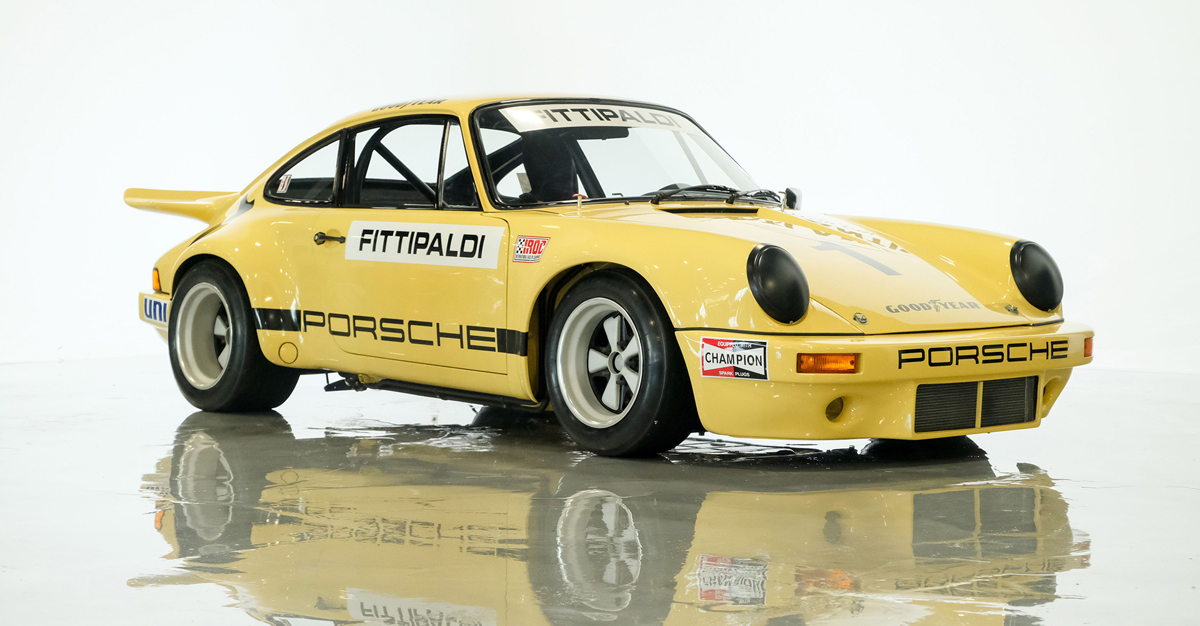 1974 Porsche 911 Carrera RSR 3.0 IROC
Estimate: $1,800,000 - $2,100,000
By 1974, changing regulations in the famous Can-Am series caused Porsche to re-think their investments. While the popularity of Can-Am was initially derived from its "no rules" ethos, after the Porsche 917/30 proved unusually dominant, the race organizers moved to start requiring a minimum fuel efficiency, and Porsche decided instead to pursue a new series called IROC. Standing for the International Race of Champions, the IROC series was started by Roger Penske, Les Richter, and Mike Phelps, and featured an all-star cast of famous drivers from various race formats, including Richard Petty, Mark Donohue, Bobby Unser, A.J. Foyt, Bobby Allison, George Follmer, Denis Hulme, Gordon Johncock, Roger McCluskey, Peter Revson, and Emerson Fittipaldi, all competing together. This rare IROC-prepared Carrera RSR—one of a mere 15 built for the series—was driven brilliantly by Fittipaldi, who put this example on pole position at the first race in the series at Riverside in 1974. Underneath the RSR's GRP body shell and plastic windows beats a twin-spark, 3.0-liter flat-six producing 330 horsepower for only 1,980 lbs. Recognizing this significant feat of driving, this air-cooled icon was restored in 2010 to the same Sahara Beige livery that Fittipaldi used in the IROC opener.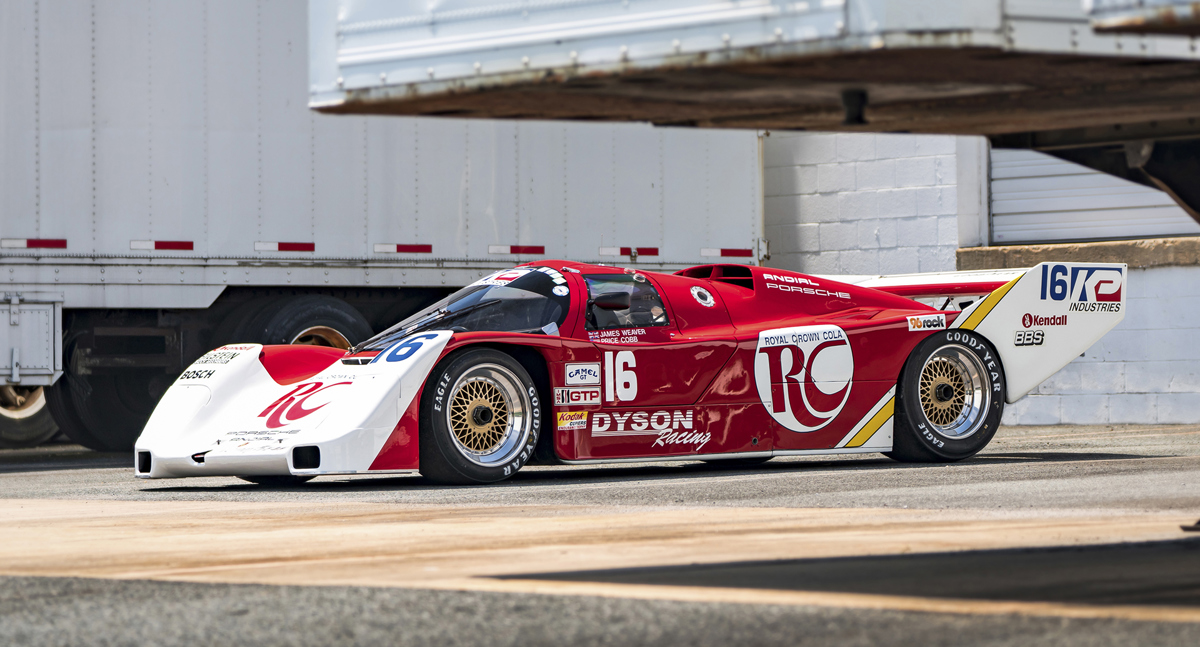 1986 Porsche 962 IMSA GTP
Estimate: $900,000 - $1,100,000
By the mid-1980s, Porsche was in a transitional phase. Having eclipsed the outer boundaries of performance derived from road car-based racers, the brand's motorsport division moved into bespoke chassis made specifically for motorsport—first with the 956, then with the 962. However, with these new models came substantial research and development costs. As an independent sports car company (long before the arrival of the Cayenne SUV), Porsche was greatly aided by the financial support of privateer teams, purchasing ready-to-race chassis and powertrains directly from Stuttgart. Made specifically for the IMSA GTP championship, this example, chassis no. 962-122, was one of two purchased by Dyson Racing for the 1987 season. Driven by team leader Rob Dyson, as well as three former winners of Le Mans (Price Cobb, Johnny Dumfries, and Vern Schuppan), this example scored first-place victories at Road America and Road Atlanta in 1987. Perhaps more significantly, it was sold into the same private ownership in 1989 that it remains today. A regular participant at Rennsport Reunions in 2011 and 2015, this well-kept, motorsport-grade Porsche 962 is an intriguing prospect for any prospective racer.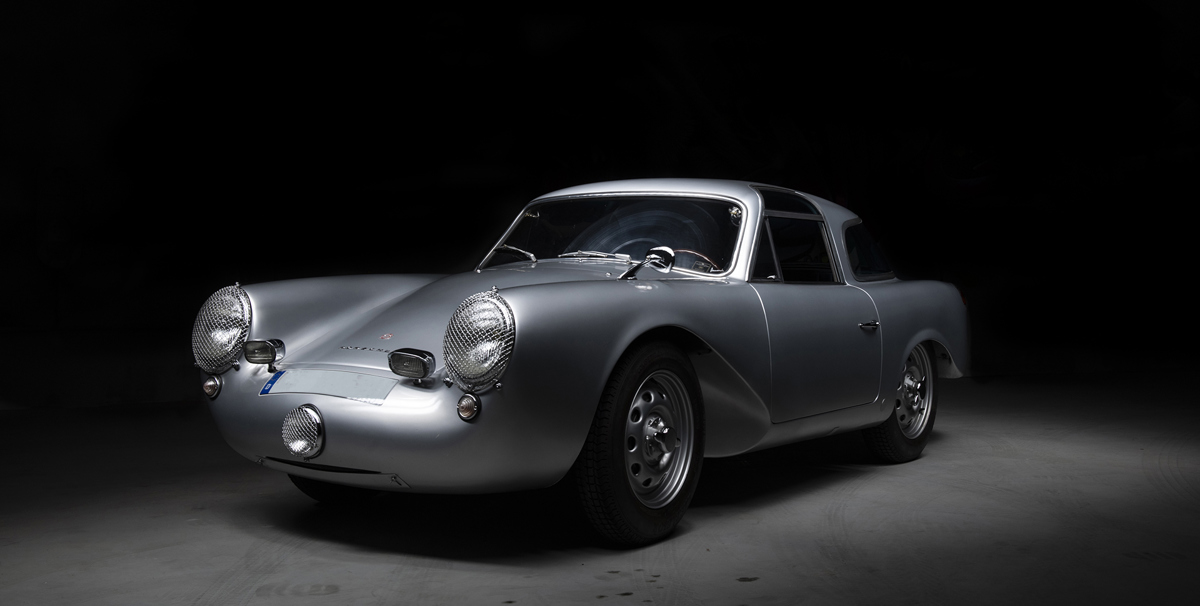 1954 Glöckler-Porsche 356 Carrera 1500 Coupe
Estimate: $750,000 - $1,000,000
Moving backward in time three decades, one can see the roots of Porsche racing even from its earliest post-war efforts. This example was prepared for the 1954 running of the Mille Miglia by Frankfurt-based team leader and professional motorcycle racer Walter Glöckler. With its closed-body coachwork brimming with aerodynamic details, this example is the sixth and final so-called Glöckler-Porsche race car ever built. For those who wonder why Porsche entertained privateer racing teams experimenting on their chassis, it is because the value and learning gained by the firm's internal engineers is worth more than the cost of possibly losing a race. With its advanced aluminum bodywork formed by C.H. Weidenhausen (who also executed the first two Porsche Type 550 RS prototypes), the crossover learnings between Glöckler and Porsche were more than superficial; while the triple-headlight setup did not work with regulations worldwide, the twin peaks on its hood leading to nearly upright, round headlights became a styling cue seen on Porsche sports cars until the present day. Returning to its native homeland of Frankfurt beginning in 1993, this example benefits from a comprehensive restoration, with Ulrich Weinberg of Zetel, Germany, tasked with bringing the bodywork back in shape, while Armin Baumann of Switzerland handled the rebuild of its 1.5-liter four-cam flat-four engine, a complex unit which was likely upgraded in-period. Unique, without question, yet still undeniably Porsche.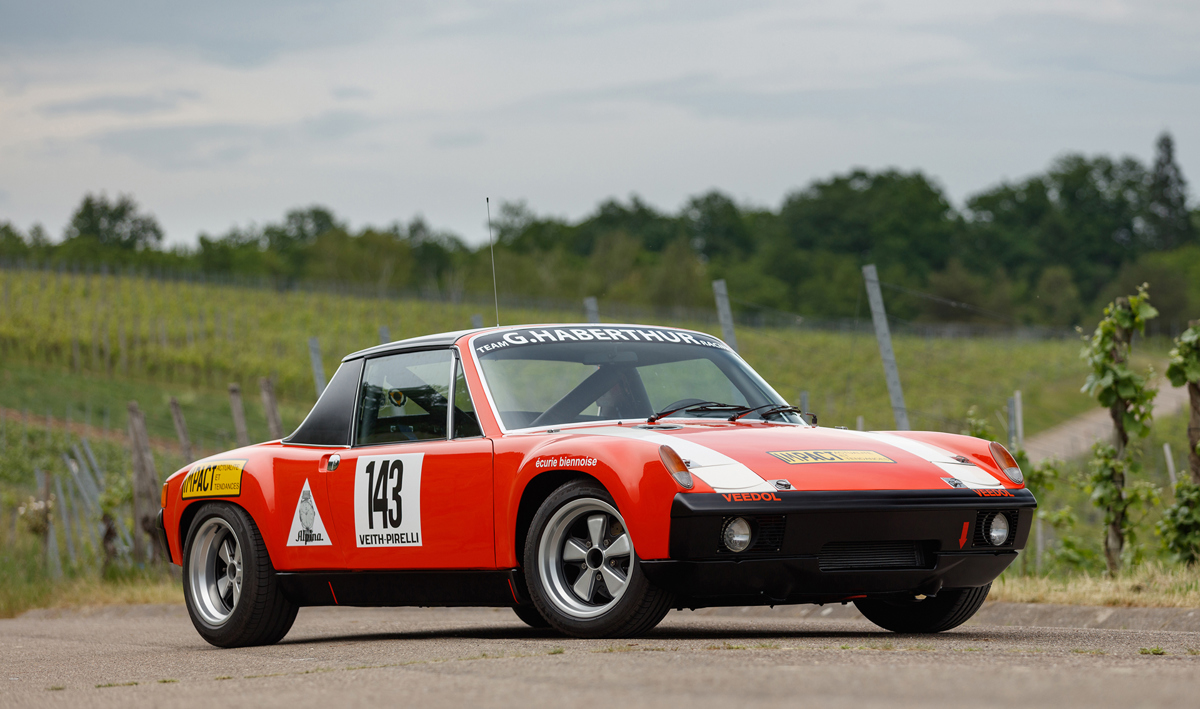 1970 Porsche 914/6 GT
Estimate: $575,000 - $675,000
Though nearly every sporting automobile made by Porsche has earned a reputation for roadworthiness, the jump up to a works-prepared, factory racer is significant, if only for the extra accessories involved. Already a desirable variant, the six-cylinder powered Porsche 914/6 is made even more special, as it was reportedly the first of a mere sixteen built by Porsche at the Werk 1 facility in Zuffenhausen, specifically for Swiss-based client Gustav "Gusti" Schlup. As the vice-president of race outfit Ecurie Biennoise, Schlup was able to not only order this rare 914/6 GT, but also to specify it to his requirements, including 110-liter fuel tank, thicker anti-roll bars, and additional dash-mounted gauges for fuel and transmission oil temperature. With its refreshed original 2.0-liter Carrera 6 engine recently rebuilt to factory specifications by BSM Salewsky in Eupen, Belgium, and reinstalled, this lightweight, nimble example proves that competition-grade Porsche is a potent force, in any form.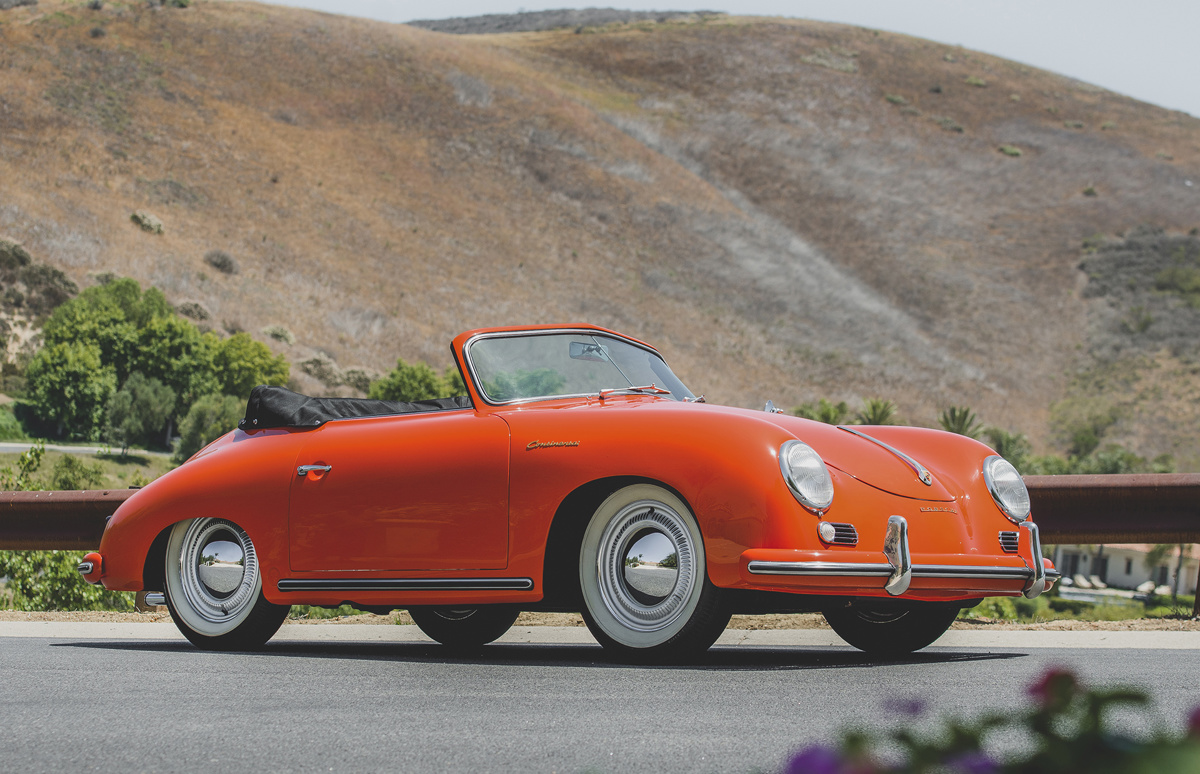 1955 Porsche 356 1500 Continental Cabriolet by Reutter
Estimate: $300,000 - $400,000
While this piece, at its heart, is about the motorsport-derived models made famous by Porsche, in the early years of the company, nearly all the 356-derived variants showed more sporting credentials than their American counterparts. However, there was one model always intended to stand for luxurious appointments, the Porsche Continental. Christened by New York City-based importer Max Hoffman (who also reportedly sketched the now-famous Porsche crest on a cocktail napkin), the Continental model was made to evoke feelings of a grand European tour, wrapped up in whitewall tires and with a fully padded, multi-layered convertible top. Creature comforts included a multi-band Telefunken radio, with a novel antenna setup incorporated into the rearview mirror. Unfortunately, the threat of a lawsuit from the Ford Motor Company, which had trademarked the Continental name for their Lincoln division's premier coupe, stymied Hoffman's multicultural model, and the Continental was discontinued after only one year. Worth a closer look, both for its original owner-specified orange-over-black color combination, as well as an outstanding Petri "Superb" steering wheel, an exceptionally rare accessory ordered new, this matching-numbers example still embodies Porsche at its finest. A company built by passion; still capturing the appeal of enthusiasts around the world.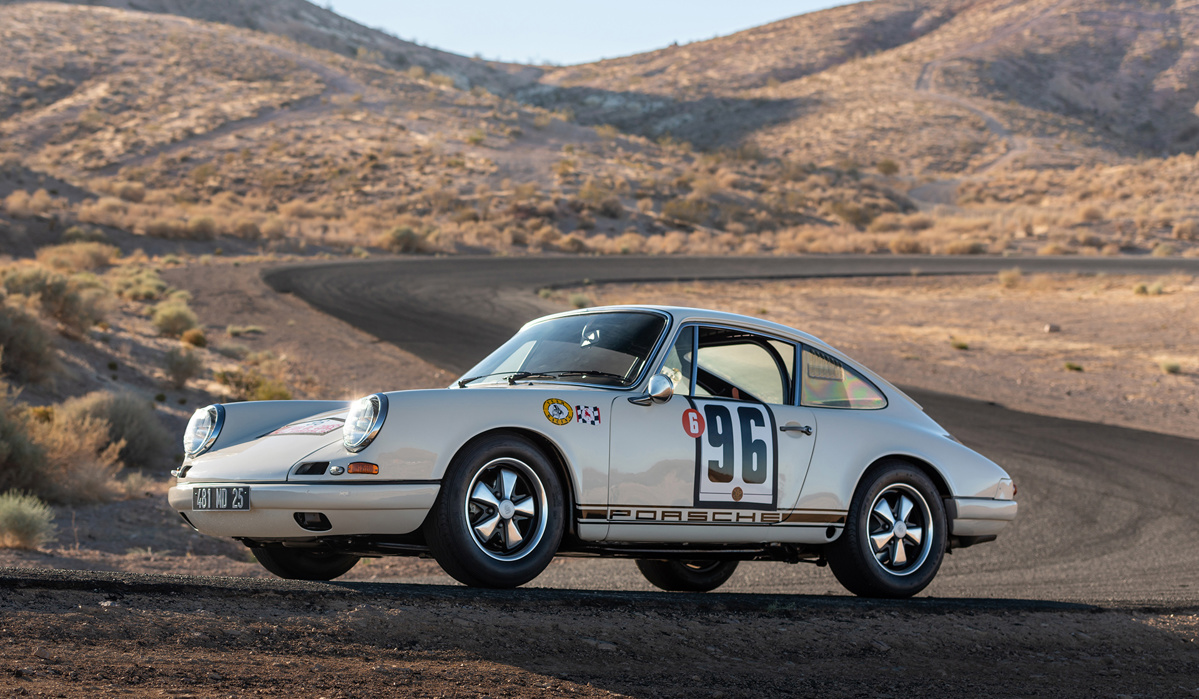 1968 Porsche 911 R
Estimate: $4,500,000 - $5,500,000
At the heart of every Porsche sports car, there is unlimited potential waiting to be unleashed. Built in exceptionally small quantities, the 911 R is the embodiment of those performance aspirations. Completed under the supervision of legendary German engineer and future director of Group VW, Ferdinand Piëch, this achingly rare example is one of a mere twenty 911 R models made in so-called "serial production." As these examples were all finished by coachbuilder Karl Baur, their handbuilt construction was a far cry from the typical assembly line production Porsche employed at the time. Bestowed with lightweight plastic side and rear glass, with many of the panels on its iconic body shape re-fashioned out of fiberglass, the final article of transformation on this example was a magnesium-cased Type 901/22 flat-six racing motor. The view from the cockpit, as well inside the engine compartment, is a complete transformation even from the alternative sports-oriented option offered by Porsche in-period, the 911 S. Indeed, this well-documented example comes with perhaps the ultimate evidence of elevation: an extensive race record including accomplishing a series of hillclimbs in its native France. A road car icon, elevated to competition-grade.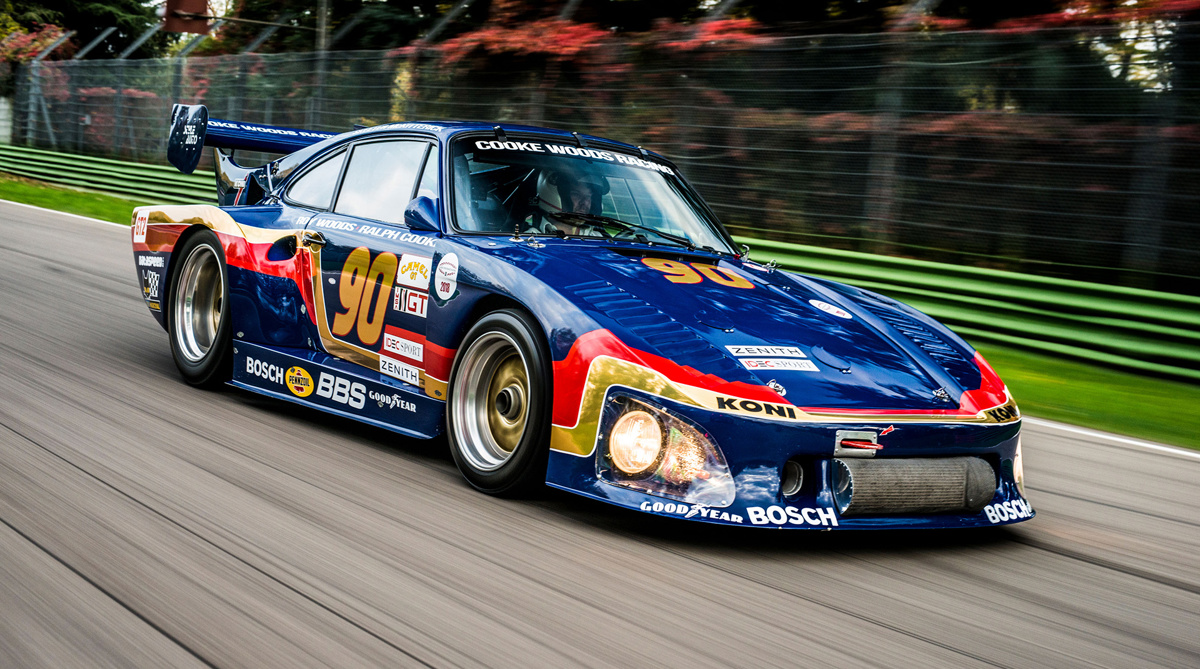 1977 Porsche 935 K3
Estimate: $1,700,000 - $2,000,000 USD
The final example on our list of exceptional Porsche models is this track-focused weapon, made to devour the miles in endurance racing. An in-period participant at the 24 Hours of Le Mans, Daytona 24 Hour, and 12 Hours of Sebring races (among many others), this example has been piloted by some of the most notable names associated with Porsche motorsport, including Derek Bell, Bobby Rahal, Hurley Haywood, Brian Redman, and Rolf Stommelen. Purchased new from the factory along with a sibling 935/77A chassis by Cologne-based real estate magnate and racing enthusiast Georg Loos, this example saw its motorsport debut at the Deutsche Rennsport Meisterschaft (DRM) series in 1977, with Tim Schenken at the wheel. After finishing behind rival Kremer Racing, in 1980, this example was upgraded to Kremer K3-spec, which included bespoke Kevlar-composite body panels and a gearbox mounted upside-down for better weight distribution and more efficient maintenance. Going on to campaign from 1980 all the way until 1987 in IMSA-governed endurance races in America, Europe, and Japan, this example's greatest victories were a second-place finish at the 12 Hours of Sebring in 1981 and 5th overall at Le Mans in 1982. Having proven itself to stand toe-to-toe with some of the greatest racers of all time, this example is currently eligible for vintage race series ranging from Le Mans Classic to the Monterey Historics and embodies Porsche motorsport at its finest.