If the core value of Porsche has been one of constant evolution, by the dawn of the modern era, this process of continuous refinement has produced a portfolio of vehicles that can credibly stand up against the world's best. Peak Porsche will likely never be limited to one model but can more accurately be likened to a mountain range, with a seemingly never-ending vista of successive summits. Depending on the given generation, governmental regulations and period technology conspired to create models which represent a moment in time, the greatest of any given era.
The only difficulty is that Porsche sports cars have proven superior throughout several different eras. And every driver's definition of superiority is different. Whether encompassing limited-production models initially prepared for motorsport homologation or top-of-the-line, turbocharged coupes one could conceivably use as a daily driver, the peak of Porsche perfection is in the eye of the beholder. Having already concentrated on several early production highlights from the lineage of Porsche sports cars appearing at RM Sotheby's next in-person auction event at Amelia Island on 5 March, 2022, we must bring our list to a proper conclusion by talking about some of the German brand's modern offerings. A diverse selection of Stuttgart's sports cars: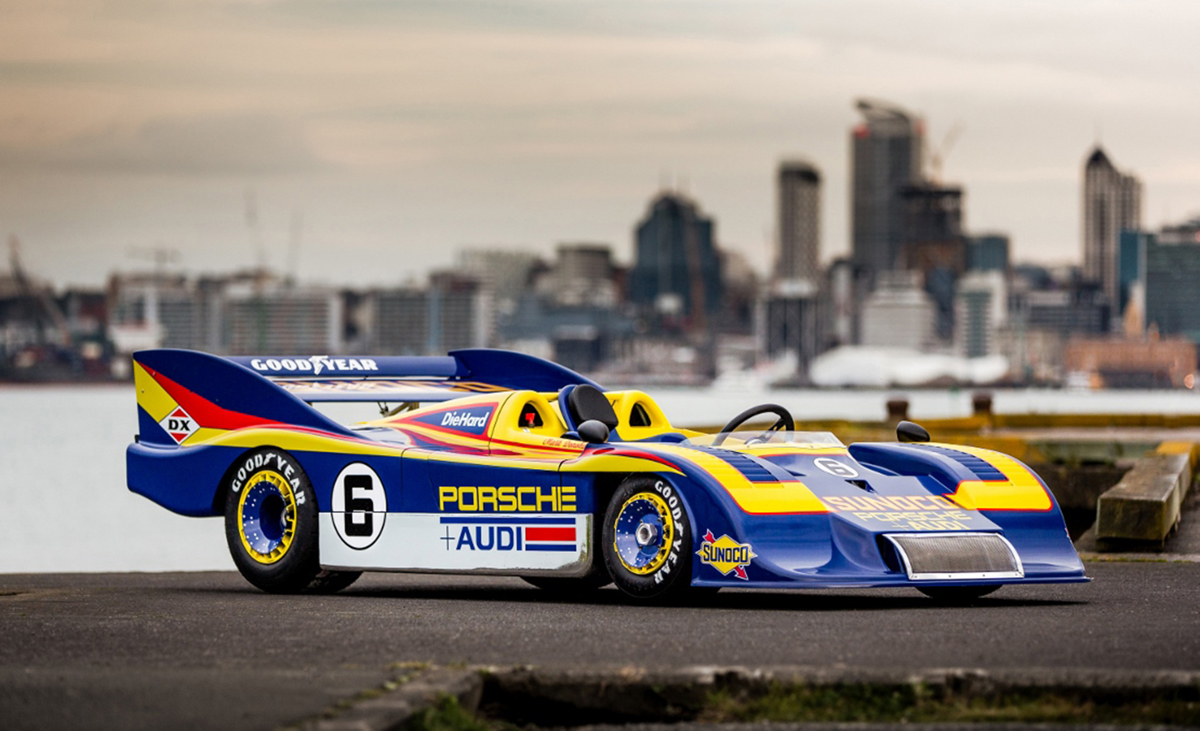 917/30 Junior Kart
Estimate: $50,000 - $60,000 USD | Offered Without Reserve
Intended by its owner to serve as a first car to teach their sons to drive, this 2/3rds-scale creation is was crafted to evoke the look and feel of one of the most iconic, competition-bred Porsche motorcars of them all, the Can-Am-dominating 917/30. Built with many nods to the sensational star of the 1970s most unrestrained racing format, this Junior Kart was intended by its owner to be strong enough to pull a race car behind it. Though this pint-sized Porsche is sadly not powered by a twelve-cylinder, turbocharged engine, the Kawasaki Mule 610 driveline was sufficiently stout to tow the current owner's race car as well as performing occasional tire transport duty. A thrilling way to learn to drive, and a surefire ticket to a lifetime of interest in Porsche.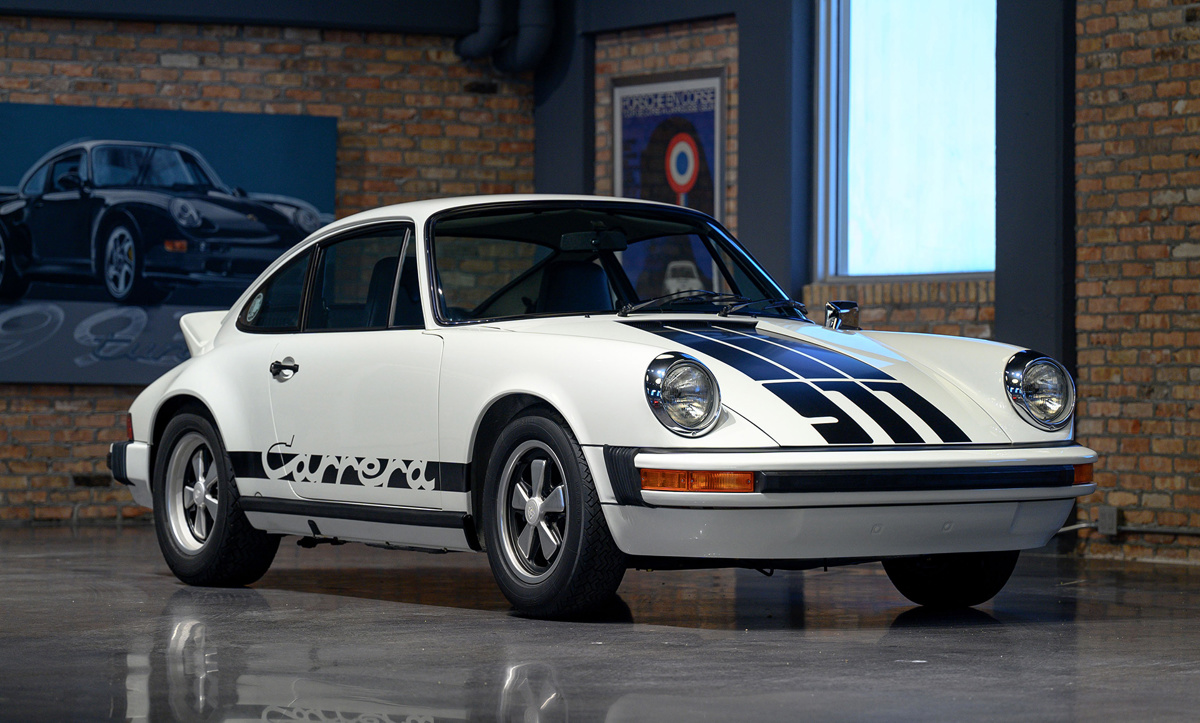 1974 Porsche 911 Carrera Coupe
Estimate: $175,000 - $225,000 USD
An example of thoughtful preservation and considerate optioning, this 1974 Porsche 911 Carrera Coupe was originally specified with its high-contrast, black-over-white hood decals spelling out "911," as well as the all-important "ducktail" rear spoiler. Even more interesting is the statistic that one-in-four 911 sports cars from this year were originally specified with similar decal treatment, known internally as "Ornamental Painting - Black." With a known history of prior ownership since new, this example has never been fully restored, but instead faithfully serviced at dealerships and marque experts. Showing a mere 17,000 miles on its odometer at the time of cataloguing, the most recent owner of this striking seventies sports car treated it to two thorough mechanical services at the hands of the consummate professionals at RM Engineering Solutions in December 2020 and July 2021, with receipts totaling an impressive $23,000.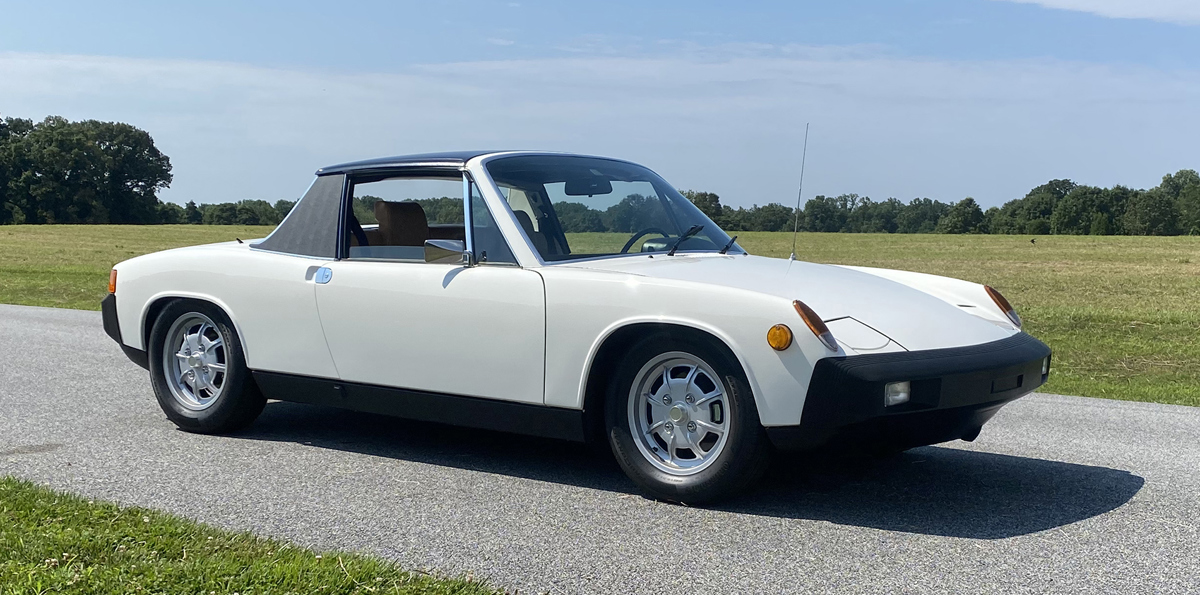 1976 Porsche 914 2.0
Estimate: $50,000 - $70,000 USD | Offered Without Reserve
With their joint venture with Volkswagen in producing the all-new 914, Porsche knew they were rewriting the rulebook for small sports cars. The placement of the powerplant was a legacy of some of the Stuttgart brand's most legendary competition-grade creations, including the Type 550 Spyder and the 904 Carrera GTS, but available to a far wider audience of enthusiasts. Sporting the higher-output four-cylinder motor paired with a five-speed manual gearbox, this example is made even more special by virtue of its build date, which was near the very end of 914 2.0 production. Finished on 7 January 1976, this Light Ivory-over-Yellow leatherette example was reported to its first owner as the last-available model for sale in their area. Fastidiously owned for four decades by its first owner, who favored driving their low-slung Porsche with a protective bra on its front end and furthermore kept extensive service records and receipts from new, this numbers-matching example was then fully restored by its second proprietor. A fine example of an appreciating model.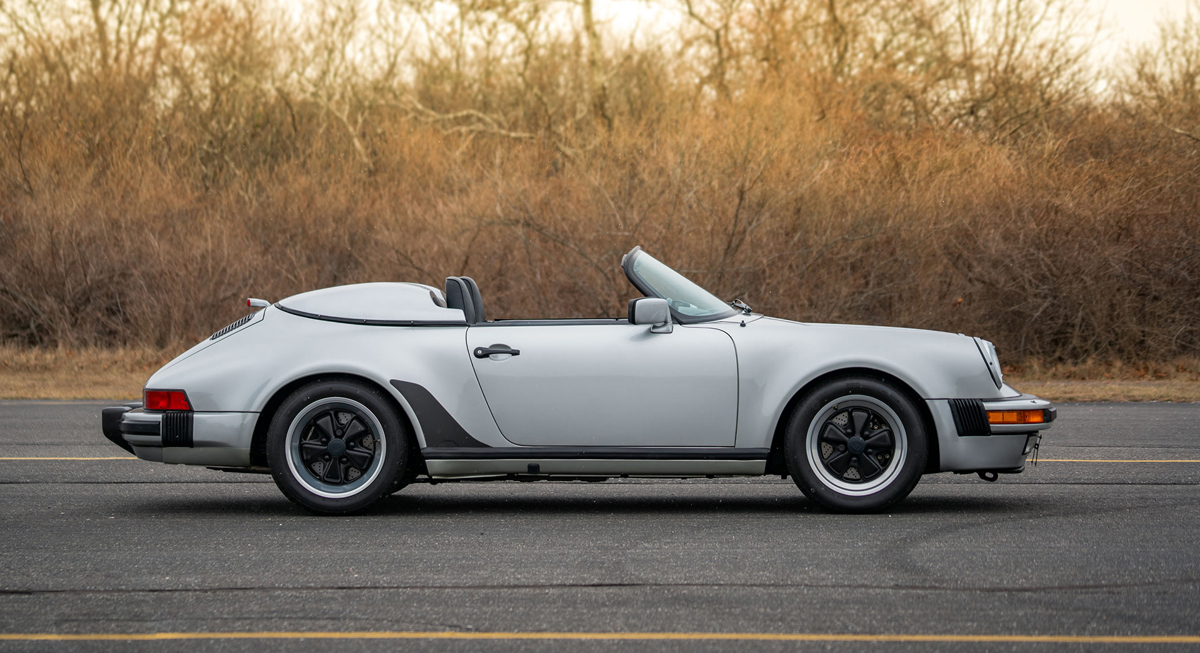 1989 Porsche 911 Speedster
Estimate: $175,000 - $225,000 USD | Offered Without Reserve
Much is made among current collectors about choosing a model with the most stand-out paint scheme. However, there is something to be said about sourcing an already-extraordinary car in a relatively tasteful color combination such as this Metallic Silver-over-black leather, especially when the most vibrant exteriors are more commonly seen. Another well-cared-for example with a scant number of previous owners, this 964-era Speedster was originally a Canadian-delivery car with metric gauges and showed a mere 8,151 kilometers (~5,065 miles) on its odometer during cataloguing. A lengthy list of original equipment is included, encompassing everything from the original black Speedster floor mats to the original Porsche Assistance card issued to the first owner. Owner's manuals, the original warranty documents, and an extensive list of service receipts from 1993 to 1998 are also included with the sale. A Porsche Speedster in a decidedly subtle shade.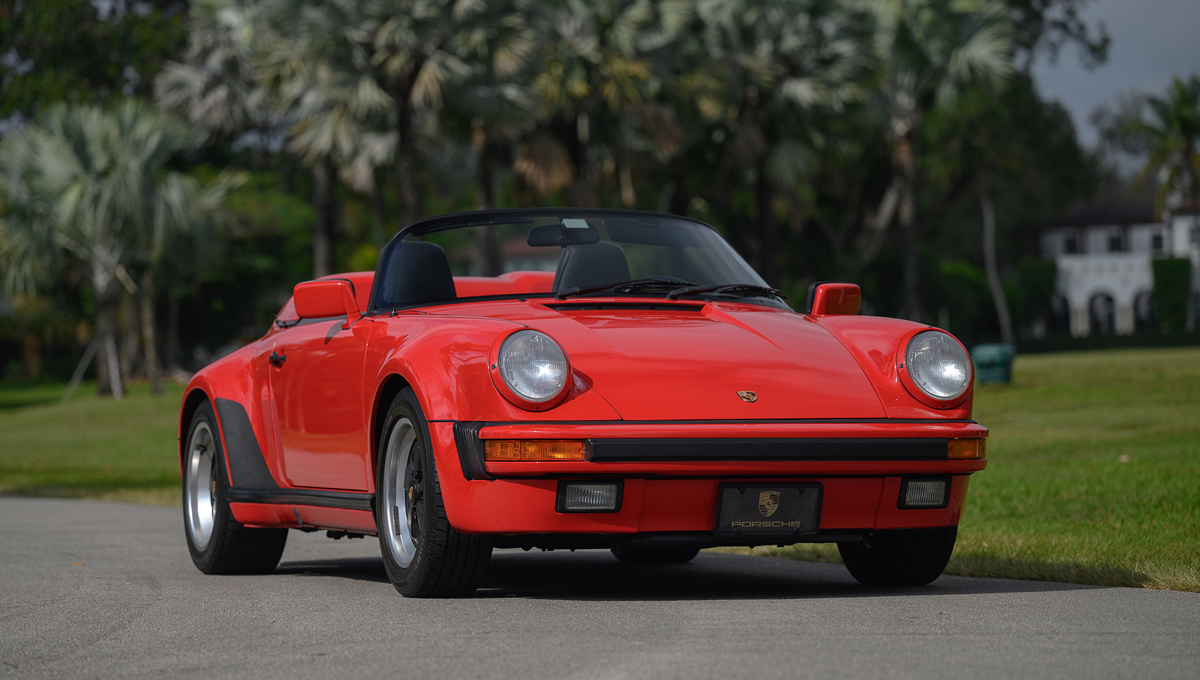 1989 Porsche 911 Speedster
Estimate: $185,000 - $235,000 USD
Other Speedster owners, of course, delight in showing off their special-edition models in the striking signature Porsche shade of Guards Red. One of the reported 823 Speedster models that were designated for the North American market in 1989, this example was retained by its first owner for 23 years. Delivered new to California, this example followed its first owner on a cross-country move to North Carolina in 2005. It then relocated to the Midwest in 2012, having been purchased by Pennsylvania-based collectors Michael and Doris Bartell. Its current owner, only the third in its history, is a Florida-based Speedster enthusiast; two of the other notable Speedsters in this auction are also owned by this knowledgeable collector. Having amassed a total of only 11,283 miles on its odometer at the time of cataloguing, this well-maintained example is still fitted with its originally specified sport seats, air conditioning system, and factory-installed Blaupunkt Charleston stereo. Standard fare on the Option M503 Speedster package were features not seen on any other 964, like its chopped windshield and signature, double-bubble style fiberglass rear tonneau cover.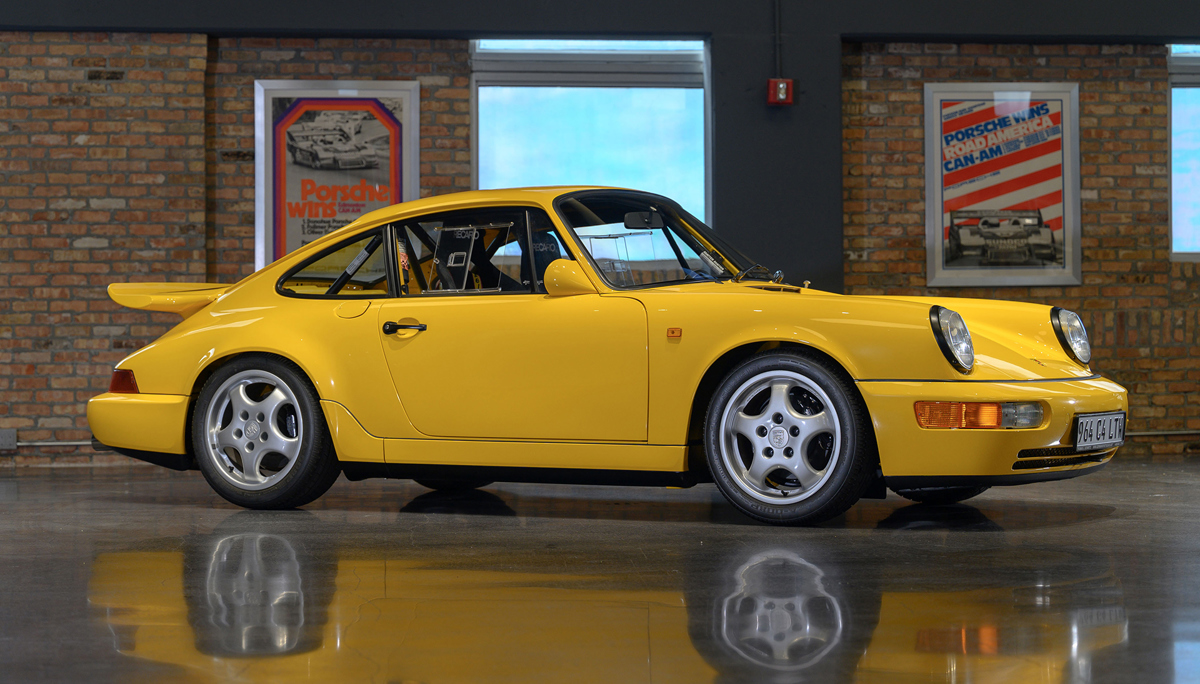 1991 Porsche 911 Carrera 4 Lightweight
Estimate: $700,000 - $900,000 USD
For a few select models, handmade in limited quantities, dedicated Porsche enthusiasts can get closer to their engineering heroes. This Carrera 4 Leichtbau (or, "Lightweight") was one of a mere 21 assembled under the direct guidance of none other than Jürgen Barth. As Mr. Barth confesses in this extensive and entertaining interview, the project was at least partially made possible because of the cancellation of Porsche motorsport's IndyCar and Formula 1 engine building efforts in the late 1980s. As Barth notes, "We couldn't begin immediately, but when the Formula 1 engine contract ended early, I had 40 engineers with nothing to do. That's when we started on the C4 Leichtbau." The finished product was a feat of technology, weighing under 1,100 kg while still including the same four-wheel-drive system derived from the formidable Porsche 953 off-road racer. Special features can be found on both the inside and outside of this example, from its lightweight, Cup 1 RS magnesium wheels and fixed spoiler, to its interior roll cage, Kevlar Recaro race bucket seats with five-point harnesses and a Halcon fire-suppression system as standard. This striking and truly rare example is the lone Lightweight finished in Blütengelb (yellow) paint and is appropriately signed by Mr. Barth himself.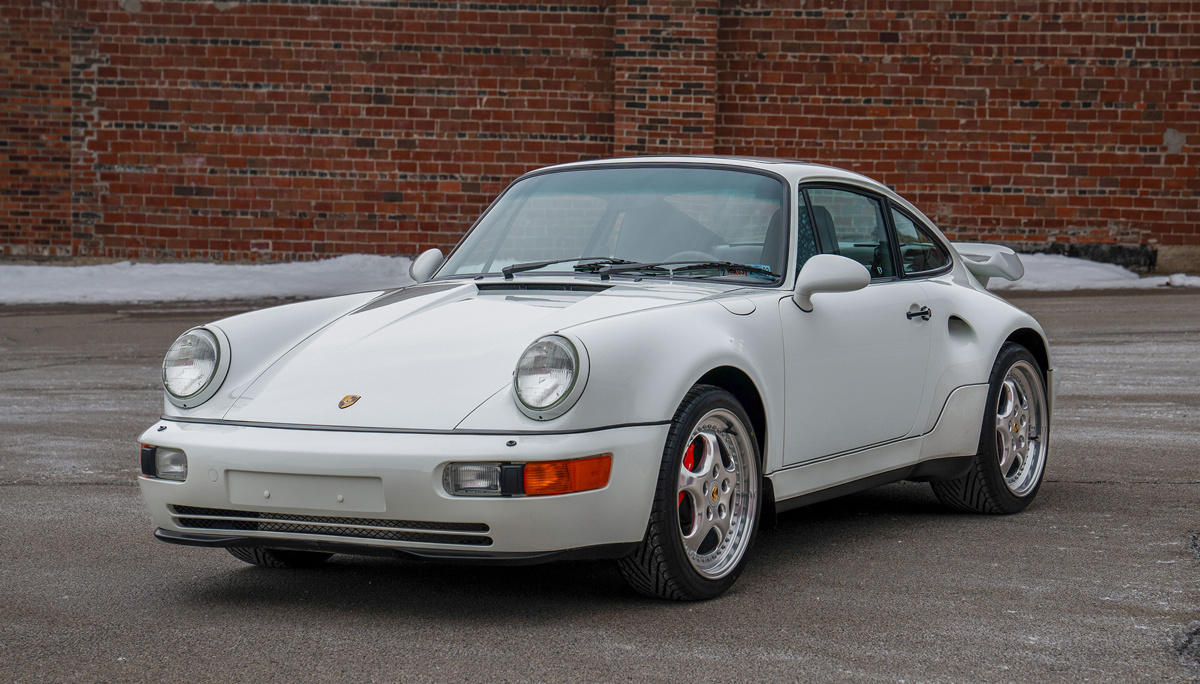 1994 Porsche 911 Turbo S 'Package'
Estimate: $900,000 - $1,200,000 USD | Offered Without Reserve
While today, we take for granted that all Porsche 911 sports cars come turbocharged, during many times in history, including when this Turbo S 'Package' was brand-new, this was still a classification of high distinction. With its 3.6-litre, turbocharged, flat-six engine, the so-called "standard" 964-era Turbo was already a most impressive performer. But Porsche also offered this generation of Turbo as an "S" variant, with its already potent engine uprated by 25 horsepower and its rev range extended, courtesy of a larger turbocharger, intercooler, fuel injectors, oil coolers, camshaft, and four-pipe exhaust system. Further still, the 'Package' designation transformed this example aesthetically, with the addition of the unmistakable X99 Turbo S rear fender vents as well as the sleek X92 Turbo S front spoiler and X93 Turbo S rear spoiler, not to mention the polished, three-piece Speedline wheels. One of a mere two finished in Grand Prix White over an interior specified in Classic Grey leather with Black Piping, this example is clean, and its ownership and service history are well-documented and known since new. One of only 17 non-Flatnose Turbo S 'Package' models.
1996 Porsche 911 Turbo Coupe
Estimate: $400,000 - $500,000 USD
Mileage matters, no matter the marque, and this 993-generation Porsche 911 Turbo Coupe is a prime example of this principle. Delivered new to a performance enthusiast based in Alaska, this Guards Red-over-Black leather example was sold through Eero Volkswagen of Anchorage, Alaska, and in the intervening years has amassed only two total owners. More importantly, this turbo showpiece retains its delivery distance of merely 99 miles on its odometer at the time of cataloguing. This feat was accomplished by keeping it garaged in a climate-controlled facility for the past twenty-five years and is supported by an official certification of its scant mileage by none other than Porsche themselves. Acquired by its second owner in 2021, who was delighted to report this example retained its "new car smell" throughout its years of storage, this top-tier sports car was treated to a mechanical overhaul by the experts at Porsche Factory Classic Restoration in Atlanta, Georgia, where its turbos were cleaned and multiple rubber seals, o-rings, and filters were replaced. Now acknowledged as the end of an air-cooled era, this well-optioned 993 Turbo Coupe is certainly worth keeping for the future and would be incredibly tempting to drive and experience as-new.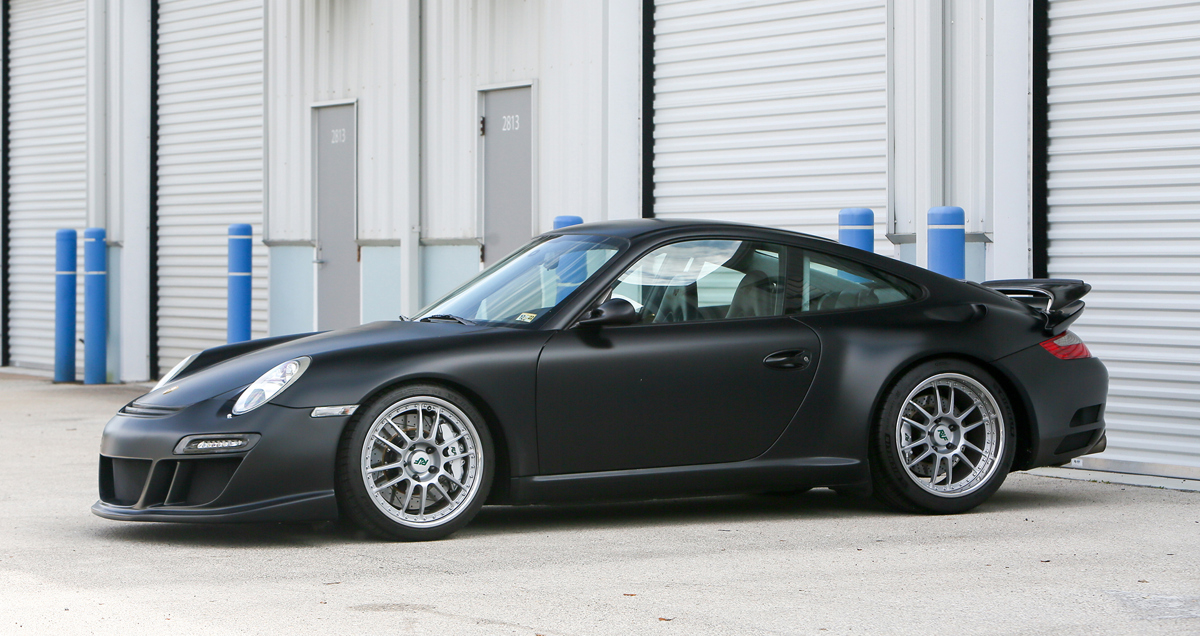 2006 RUF Rt12 S
Estimate: $300,000 - $400,000 USD
When it comes to Porsche performance, one brand has proven to deliver more than just aesthetic upgrades. RUF, the Pfaffenhausen, Germany-based firm named after energetic founder and genius engineer Alois Ruf, has been so dedicated to the process of re-imagining Porsche sports cars that their products are issued unique model names and VIN numbers. Though it is loosely based on a 997-era Porsche coupe, this Rt12 S can boast a 3.8-liter, twin-turbocharged flat-six rated at a staggering 694 horsepower. Clad with ceramic brakes underneath three-piece OZ Superleggera wheels, nearly every facet of this example has been considered for maximum performance. Upgraded to Rt12 S specification by RUF from 2009 to 2011, this example has been further treated to a thorough mechanical reconditioning at the hands of RUF-trained specialist Charlie Lacy at Innovative Autosports in Carrollton, Texas, using all RUF-sourced parts. The interior is especially worthy of note, with its carbon fiber Recaro bucket seats clad in a signature combination of brown leather and RUF pepita fabric inserts. Believed to be the only Rt12 S example made for the US market, this RUF suits the Porsche aficionado who values both exclusivity and maximum performance.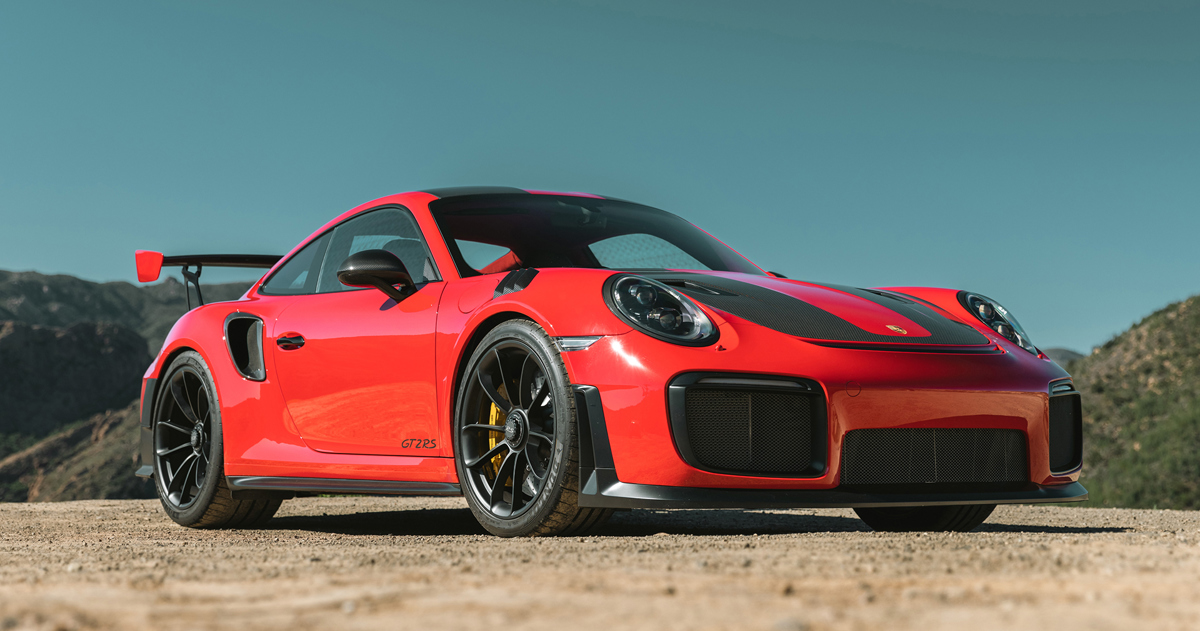 2018 Porsche 911 GT2 RS 'Weissach'
Estimate: $375,000 - $450,000 USD
With our list of twenty Porsche sports cars finally complete, it is fitting that we end our list with an example that has come to define the peak of modern performance, not simply for the Stuttgart firm's German competitors, but for the industry writ large. Internal Porsche product planners factored in the continuous learnings not just from special edition examples like the Leichtbau Carrera we covered earlier, but also their real-world motorsport experience. As a result, this Guards Red over Black and Black and Red Alcantara GT2 RS example is made not only more menacing, but lighter as well with the addition of carbon fiber in the roof panel, anti-roll bars, and front lid, which make up the highly desirable 'Weissach' package. The aim for lightweight materials continues in this example's interior, with carbon-fiber details running from the door sill guards to the back of the sport bucket seats. With the 'Weissach' option requiring the additional expense of $18,000 from new, relatively few GT2 RS owners selected it. Yet, with the total weight amounting to a mere 3,241 pounds, this is the modern Porsche enthusiast's model of choice, and widely regarded as the most powerful road-going 911 ever made. As the current leader among Porsche offerings and one of the most sought-after sports cars in the world, it is certain to grab the attention of auctiongoers at next month's RM Sotheby's Amelia Island 2022 event. If you are interested in any of these models, there is still plenty of time to register interest on any of these exciting selections, and best of luck to all the participating bidders!