For those who have never attended, the appeal of Amelia Island presents a distinctly different flavor for classic car aficionados. The nearby presence of Jacksonville's Brumos Collection and the extensive motorsport-related selections from The Revs Institute in Naples means that the hometown selections for the Amelia Island Concours d'Elegance (renamed The Amelia for 2022) are nothing short of world-class. The hard work and efforts of recently retired concours founder Bill Warner to make his event stand out from an increasingly crowded field of classic car gatherings have decidedly paid off. Now, people from across the globe are turning to Amelia Island as their pinnacle destination event, especially if they are enthusiasts of motorsport or sporting road cars in general.
Accompanying the stellar selection of concours cars, of course, is an equally stunning list of auction cars. As the official auction partner of The Amelia, RM Sotheby's has carefully curated a list of some of the most genuinely thrilling Porsche sports cars this side of Stuttgart. With selections that span from coachbuilt examples from Drauz and Zagato and even a veritable veteran of IMSA racing, these are no ordinary Porsche sports cars. Here is the first of two parts showing the extensive Porsche offerings at RM Sotheby's Amelia Island auction in 2022: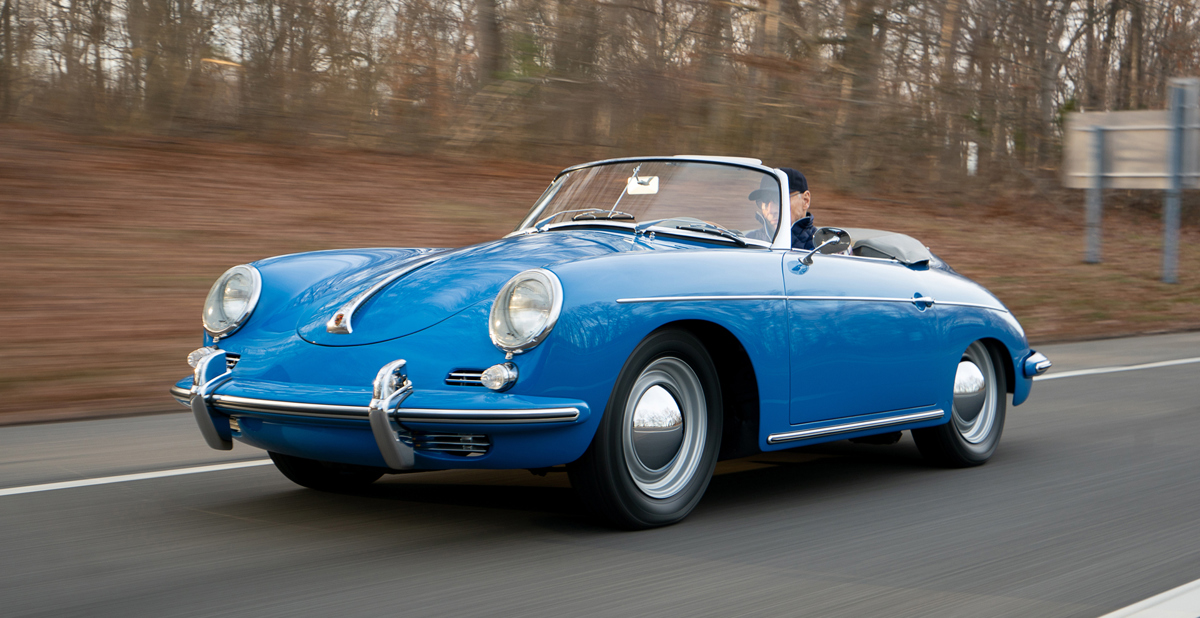 1960 Porsche 356 B 1600 Roadster by Drauz
Estimate: $325,000 - $375,000 USD
Though the 356-based Porsche Speedster is typically the go-to model for delivering desirable open-air drives, it is not the sole option for top-down, mid-century Porsche motoring. With the growing popularity of Porsche's pre-911, air-cooled approach to sports car production, the 356 B series, made between 1959 and 1963, proved to be the most popular with consumers worldwide. Porsche knew they had to increase their output, which led to employing coachbuilders Karmann and Drauz to compliment the production of favored collaborator Reutter. Today, the Drauz Roadsters are sought-after for their distinctive shape, with more amenities than the outgoing Speedster model, a flatter front hood with a wider chrome grab handle, and reshaped fenders. This numbers-matching example, recently restored to its original Royal Blue-over-grey leatherette color combination by the well-regarded marque experts at Canepa Collection, was retained by its original owner until 2009. Beloved for good reason, this Drauz Roadster is well-equipped with a period Les Leston steering wheel and roll-up windows.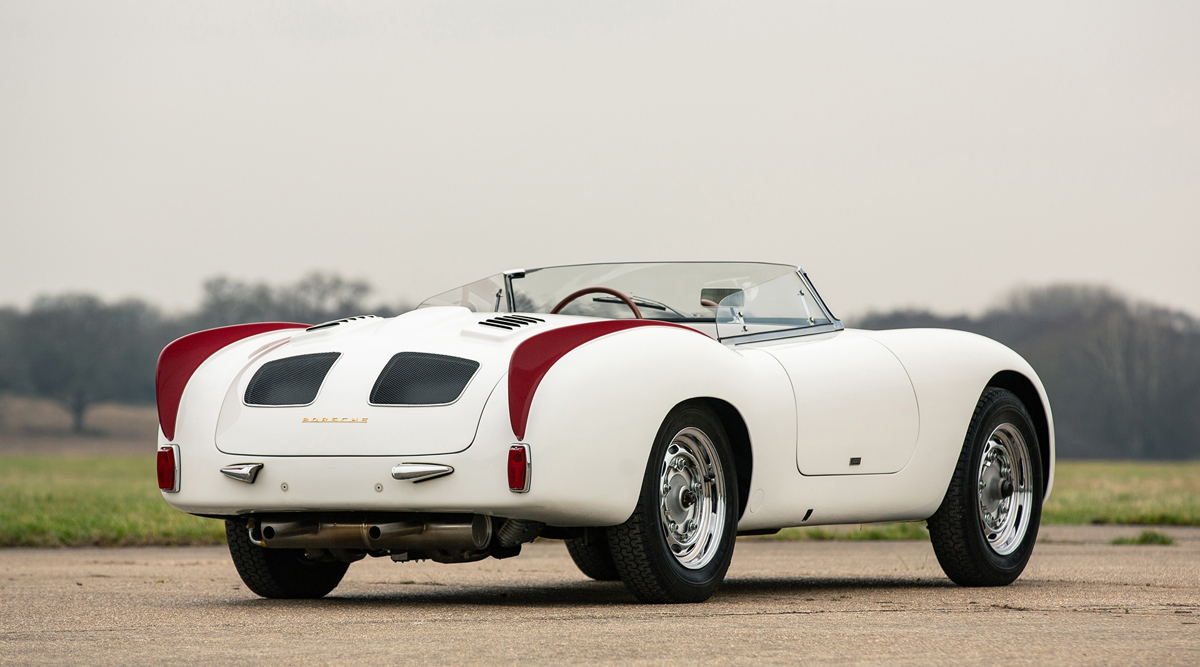 1960 Porsche 356 Carrera Zagato Speedster Sanction Lost
Estimate: $450,000 - $550,000 USD
Speaking of unique Porsche sports cars wearing exclusive coachwork, this is an example of modern-day coachbuilding at its most expressive. With its unforgettable, red-painted rear longitudinal fins and aerodynamic, cut-down windscreen, this creation is elevated far above a typical Speedster. Commissioned by noted Porsche collector Herb Wetanson, this example was created in time for the 60th anniversary of the Stuttgart sports car brand. The evocative design is one of Zagato's greatest hits, built in-period as a one-off for Porsche racing driver Claude Storez in 1957. Lost in a tragic wreck at a rally in France in 1959, Zagato was able to bring the "Sanction Lost" Speedster back to life through photometric scans of original drawings from their archive. A total of merely eighteen of the continuation series were constructed (nine coupe versions, and nine Speedsters). This is the lone Sanction Lost Speedster powered by the legendary four-cam Carrera motor, making this example one-of-a-kind.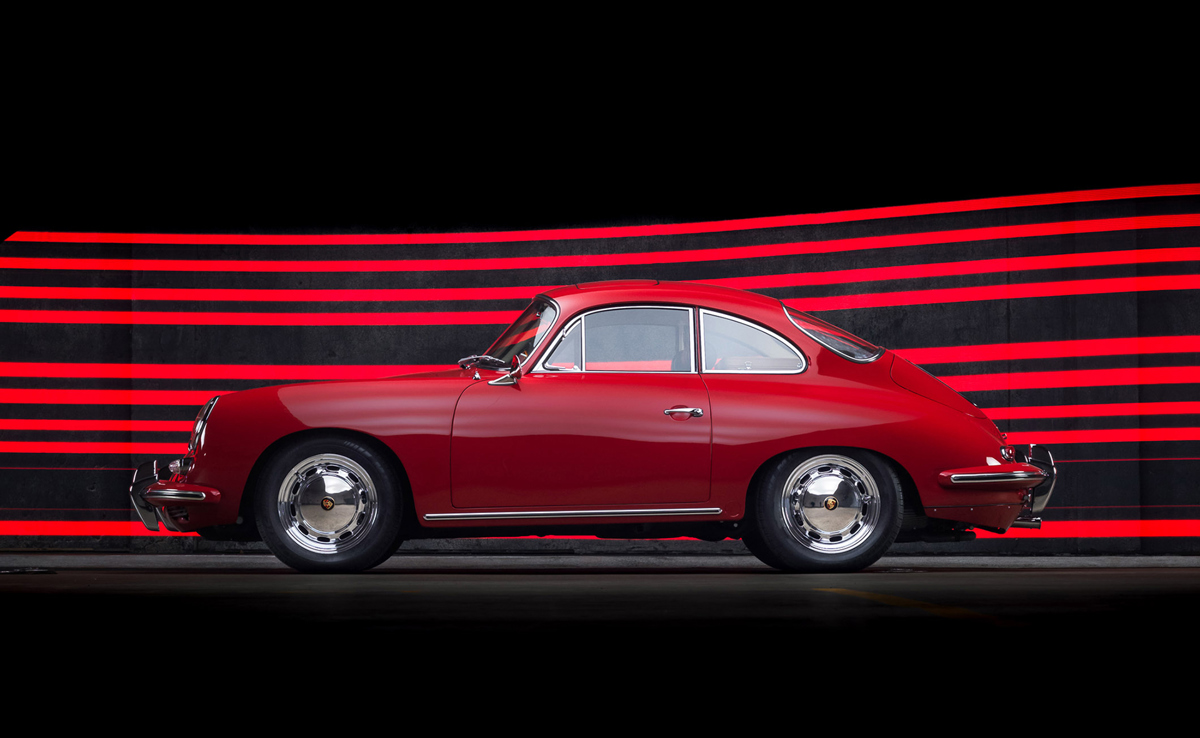 1963 Porsche 356 B Carrera 2 2000 GS/GT 'Sunroof' Coupe by Reutter
Estimate: $450,000 - $550,000 USD
Porsche aficionados with an appreciation of the classics know that the powerplant is sometimes the most critical component of the car. Like the Zagato Speedster we covered above, the Ernst Fuhrmann-designed Carrera four-cam motor has become highly sought-after for all Porsche enthusiasts for its expressive engine note and impressive power. This Ruby Red (6202) example, one of a mere handful with a factory-installed electric sunroof, is powered by the rarer of the two Carrera-designated powerplants. The Type 587/2 engine fitted in this example was made in scarce quantities, with only 27 ever built. All were designated for competition-grade cars; 15 were created in-period. A build designed for usability on modern rallies, this example was restored with correct-type steel body panels, headrests, antenna, and chrome wheels, and made even more potent with the addition of a Type 587/2 GT engine, number 98001, which was sourced after much searching by a marque expert in Switzerland. With in-period GS/GT conversions as an inspiration, this 356 B was treated to the ultimate upgrade for any enthusiast of technologically advanced engines, and is highly eligible for historic touring, races, and rallies.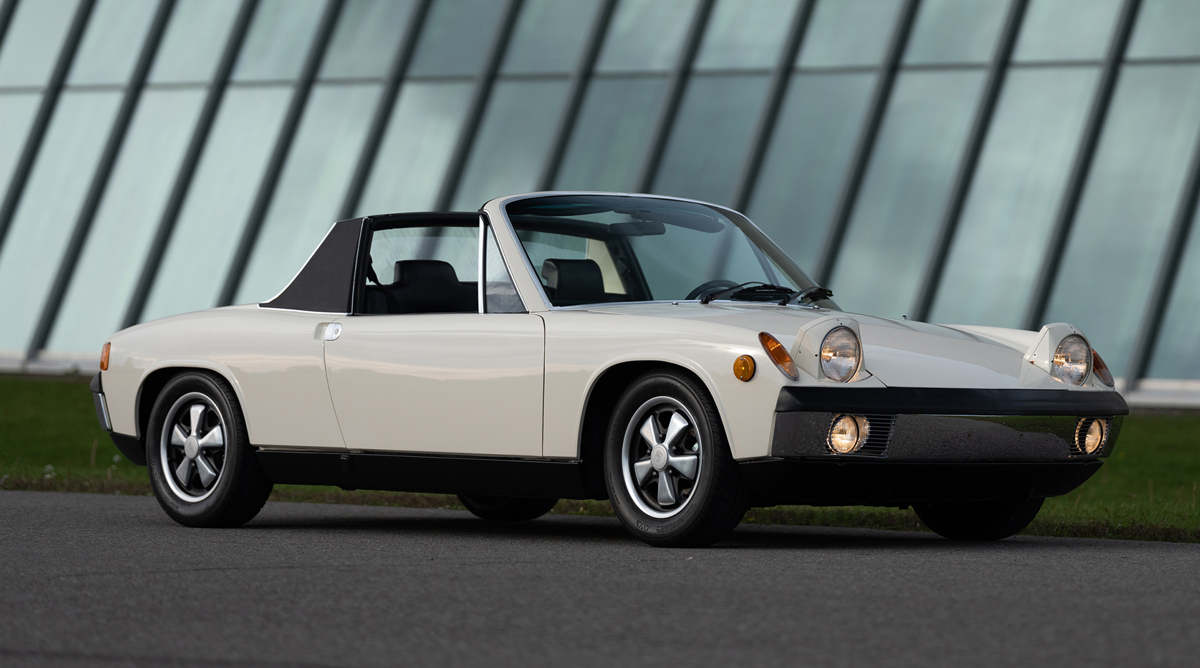 1970 Porsche 914/6
Estimate: $100,000 - $125,000 USD | Offered Without Reserve
Moving into the 1970s, Porsche wasted little time modernizing their product line. Half a decade before Ferrari introduced their first series production model with a mid-mounted engine, Porsche introduced their 914 concept at the Frankfurt Auto Show in 1969 and wasted no time in manufacturing their all-new, Targa-topped sports car. This example left the Porsche factory in May 1970. First intended as a joint venture between Volkswagen and Porsche, the four-cylinder 914 was set to be sold under the VW brand, while the muscular six-cylinder 914/6 was reserved for the upmarket Porsche clientele. While both models were eventually sold under the Porsche brand, the six-cylinder variant is typically seen as the more thoroughbred sports car. This well-cared-for example has been restored in the same Ivory-over-black leatherette color combination in which it left the factory and comes with an extensive list of service receipts from 1985 to 2012, as well as a Porsche Certificate of Authenticity.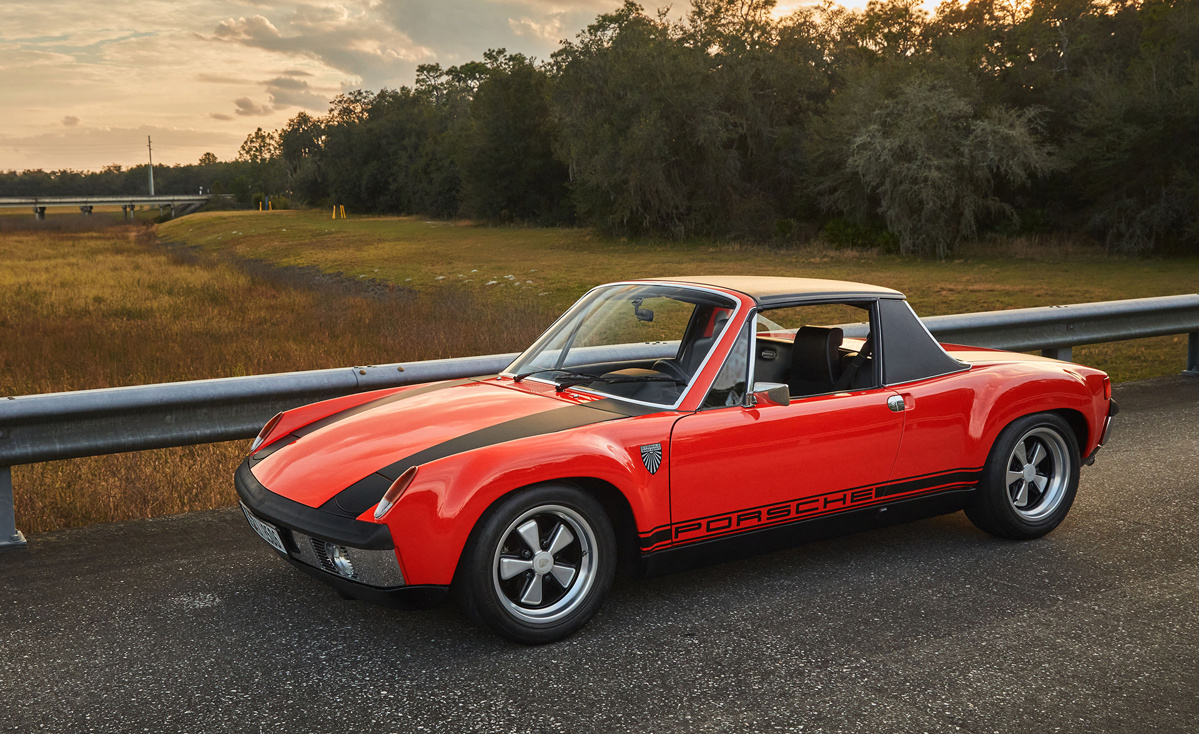 1971 Porsche 914/6 'M471'
Estimate: $475,000 - $525,000 USD
Even among the already rare and desirable 914/6 models, there are a few special examples that stand above the rest. Provenance, naturally, takes some models to the next level in terms of value. This expressive example was owned from new by famous Porsche graphic designer Eric Strenger. Strenger, who began working at Porsche as a freelance poster designer in 1951 and eventually became supervisor of the brand's in-house magazine Christophorus, so believed in the Stuttgart sports car brand that he purchased his first Porsche the same year he was hired. As perhaps the consummate Porsche insider, Strenger was given access to exclusive models, including this 'M471'-package 914/6, which was one of a mere 15 homologation special examples produced in 1971 with widened fiberglass rocker panels, flared steel wheel arches, and 20mm wheel spacers. Strenger was offered this example after it served as a Porsche camera car for filming a 914 2.0 commercial in 1973 at the Nürburgring Nordschliefe. Later upgraded even further with 914/6 GT-specific Fuchs wheels, Koni front struts, and 911 S brakes, this example toured around Europe with Strenger at the wheel, appearing in several Christophorus articles, eventually becoming known among Porschephiles as "The Strenger GT." A piece of Porsche history.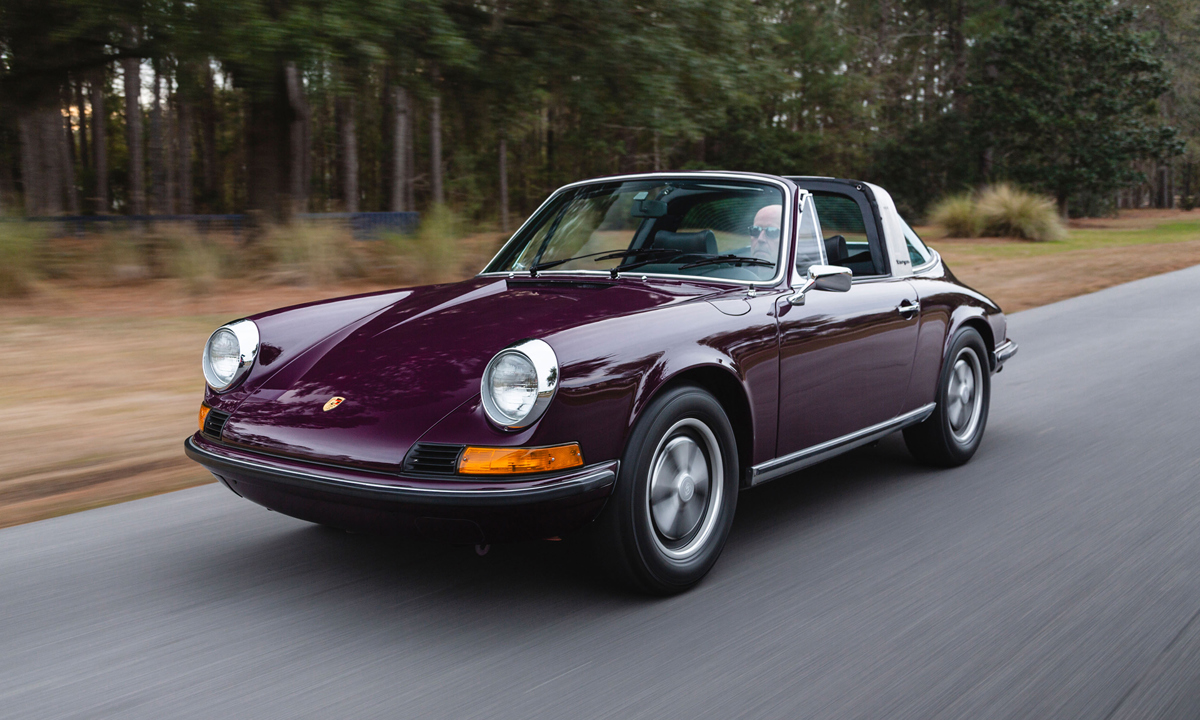 1973½ Porsche 911 T 2.4 Targa
Estimate: $100,000 - $120,000 USD | Offered Without Reserve
Porsche enthusiasts appreciate diving deep in the details to find a desirable combination of specifications. With U.S. regulations in 1974 necessitating an addition of front and rear impact bumpers, 911 sports cars produced prior to that date are sought-after by collectors and known colloquially as "long-hood" models. Even more specifically regarding particularly desirable production dates, certain mid-year models from 1973 were made even more potent with the addition of a Bosch K-Jetronic fuel injection system. Pairing perfectly with its 2.4-liter flat-six powerplant, the fuel-injection system helps modernize the feeling of driving this 911 T, especially when operated by its 5-speed "915" manual gearbox. With only 28,189 miles showing at the time of cataloguing, as well as an accompanying full tool roll with jack, warranty book, an extensive binder showing maintenance dating back to the 1970s, this Aubergine Targa presents an intriguing option for the discerning Porsche collector with specific tastes.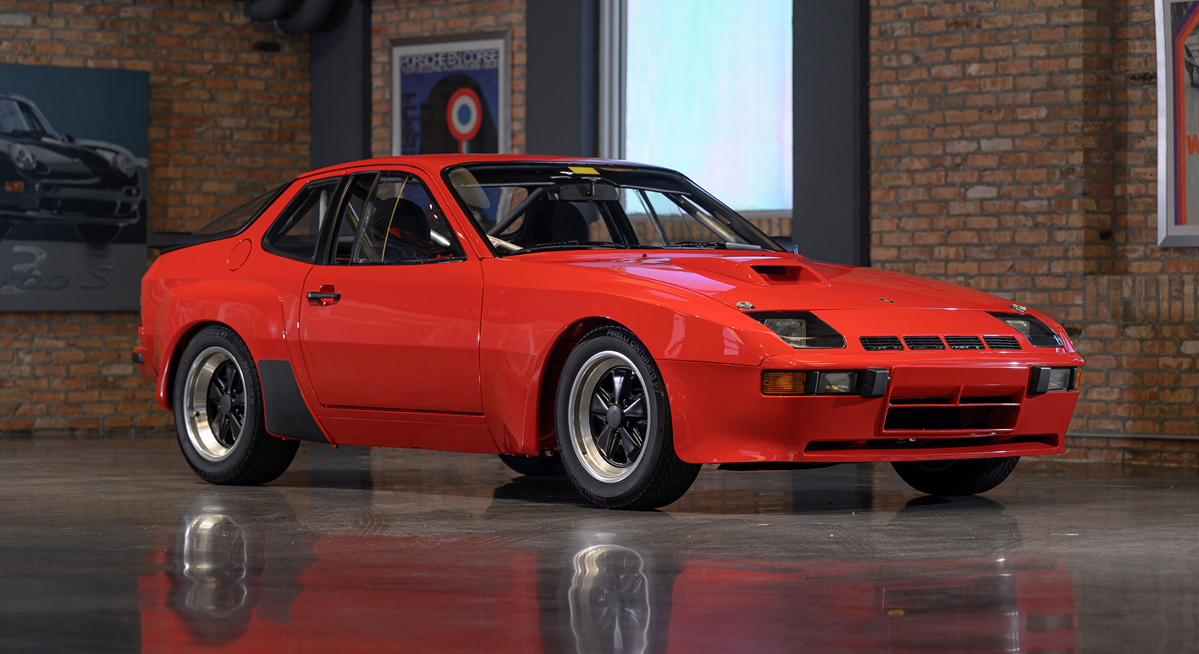 1981 Porsche 924 Carrera GTS Club Sport
Estimate: $350,000 - $450,000 USD
One look at the multiple air vents and serious hood scoop and Porsche aficionados will know instantly this is no ordinary 924. As was Porsche custom, in order to build interest in the 924 Turbo production model, as well as homologating them for Group 4 racing efforts, the Stuttgart brand wanted to use their new front-engine sports car for motorsport. This spawned first the 210-horsepower 924 Carrera GT derivative, then the Carrera GTS. But there existed an ultimate roadgoing variant, even more powerful and special than those already uncommon homologation editions: The 924 Carrera GTS Club Sport. Made in a batch of merely 15 total, the Club Sport's powerplant was bored out to 2,093 cubic centimeters, and was fitted to an enlarged air-to-air intercooler, increasing the total horsepower output to a stout 275, making it reportedly the most powerful Porsche of its time. Handmade in Weissach, this example has had three prior owners, all of whom were dedicated to carefully garaging and maintaining this truly rare Porsche. At the time of cataloguing, it has amassed a mere 63 kilometers. Worthy of close consideration for enthusiasts and collectors alike.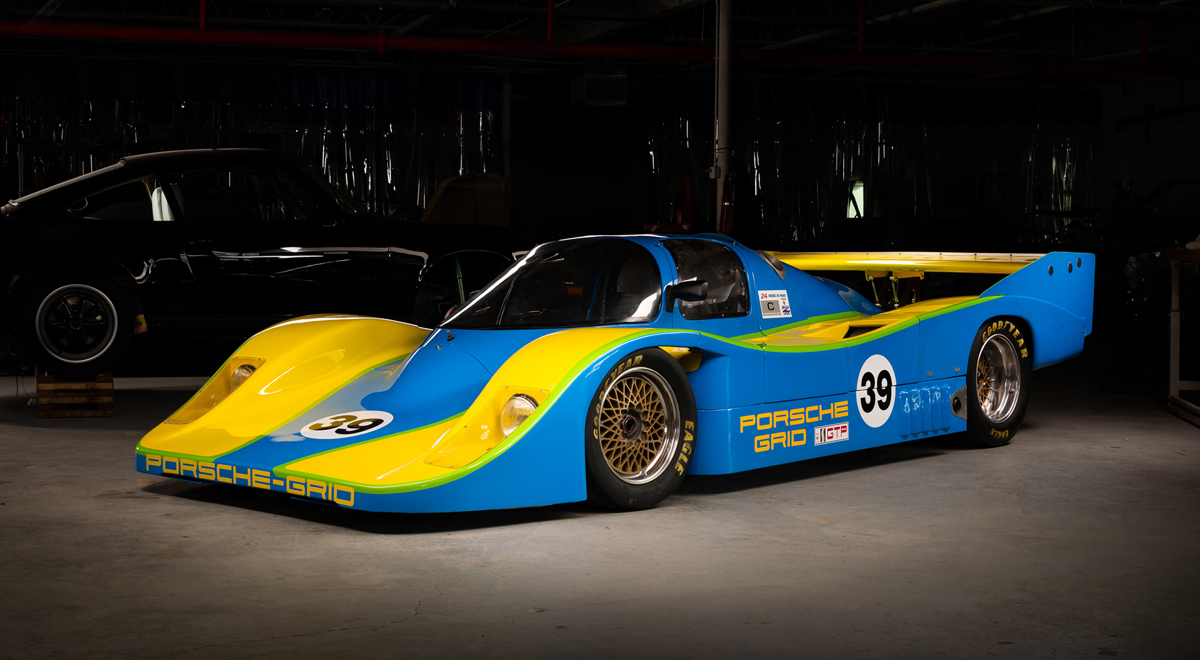 1983 GRID-Porsche S2 Group C Prototype
Estimate: $150,000 - $225,000 USD
Moving from a well-preserved homologation special to a true Group C veteran, this GRID-Porsche S2 is one of a mere two cars produced by the UK-based racing outfit. Started by Giuseppe Rise and Ian Dawson (whose initials make up "GRID"), this prototype example packed a serious amount of motorsport innovation into one endurance racer. Beginning with its Porsche 935-derived motor, fed by Garrett GT28R turbochargers with custom impellers, mated to a Hewland five-speed manual transaxle with a limited-slip rear differential, this early-1980s project intended to take one of Stuttgart's most iconic racers to the next level. With a body made of lightweight glass-reinforced plastic and an underlying chassis which incorporated lightweight honeycomb aluminum panels making up a central monocoque, the GRID-Porsche S2 certainly looked the part. Though its in-period performance at races as prestigious as the 24 Hours of Le Mans and 1000km Brands Hatch was hampered by fuel feed issues, recent owners have addressed this with the goal of competing in today's vintage endurance racing circuit. Today, the thorough regiment of mechanical refreshing has encompassed the fitting of six total fuel pumps (among almost too many other upgrades to detail here) making this prototype an intriguing prospect for Porschphiles.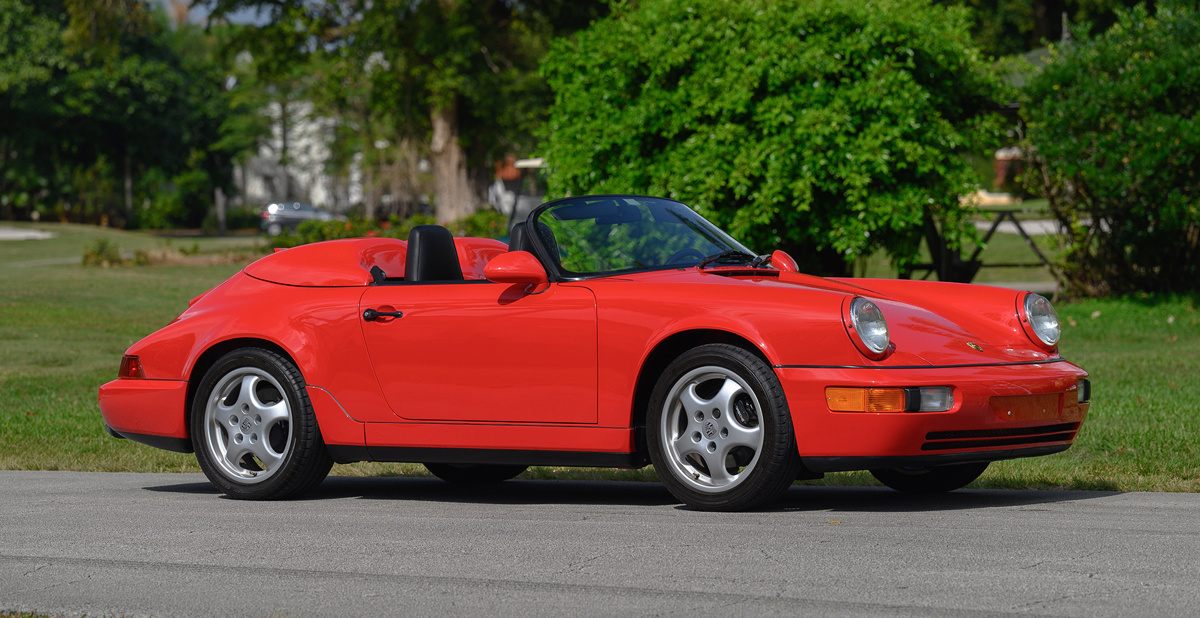 1994 Porsche 911 Speedster
Estimate: $200,000 - $250,000 USD
With its sleek shape and chopped windshield, the Porsche Speedster is an enduring model which has become symbolic of the brand's sporting ethos. No wonder that Porsche decided to revive the model for subsequent generations. RM Sotheby's Amelia Island 2022 auction offers not one, but four modern Speedsters. For the 964 era, the Speedster formula was updated for more usability; its windshield was fixed instead of removable, giving drivers more interior refinement. This Guards Red-over-black leather example was specified originally with Comfort seats, rather than the much more commonly seen Recaro Sports buckets, a raised-hub steering wheel, a shortened shifter, and air conditioning, among other options. The package was enough to entice two Porsche empresarios as owners, including Bruce Canepa, whose California facility extensively serviced this model in 2014, and Theodore Rusnak, the noted Orange County Porsche dealer. This Speedster showed a mere 6,556 miles when catalogued and is one of just 469 built for the US for 1994.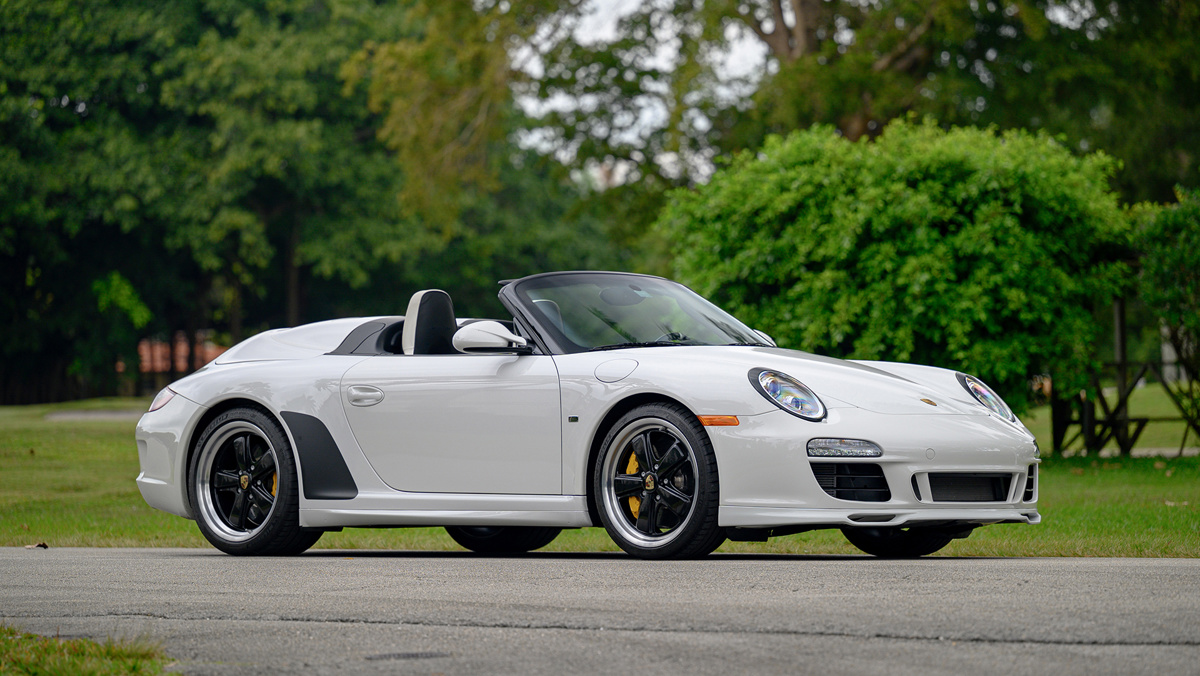 2011 Porsche 911 Speedster
Estimate: $275,000 - $325,000 USD
The final Porsche on our list offers modern performance while still preserving the hand-built quality that helped build the brand in the first place. Made in a limited quantity of only 356, these 997-based Speedsters were extremely desirable by collectors from new. Built by Porsche Exclusive in two colors, this example sports Carrera White paint with black interior and white accents to match the body-colored hard shellbacks for the chairs. Powered by an upgraded 3.8-liter engine with the special X51 Power Kit, the Speedster's naturally aspirated engine was rated at 408 horsepower from the factory. A mere two owners from new, and with only 9,425 miles on its odometer at the time of cataloguing, this modern Speedster shows the diversity of selection offered by RM Sotheby's at our 2022 Amelia Island auction. Stay tuned for part two of our Porsche list and good luck bidding!