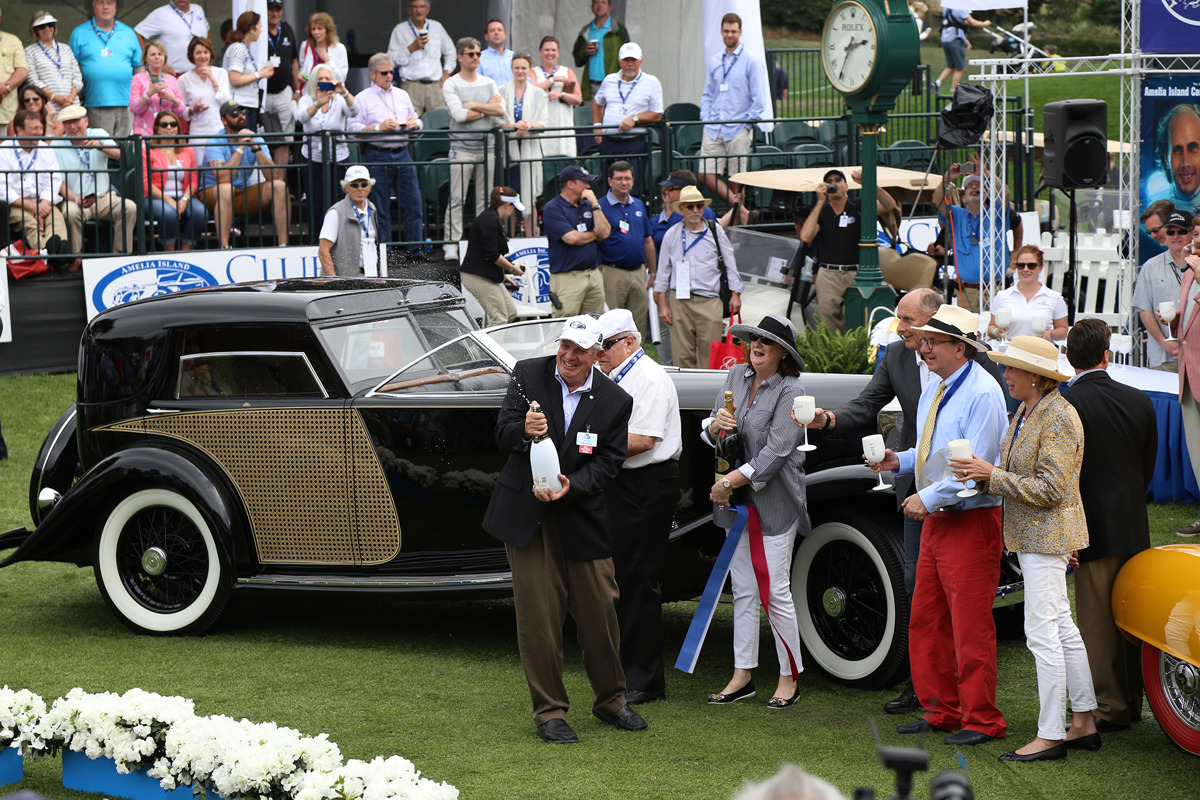 Amelia Island Concours d'Elegance founder Bill Warner (center) celebrates the 2016 Best-of-Show winner.
Imagine you are Bill Warner. The year is 1995, and you have a vision that most people would describe as "ambitious." The less charitable labeled it "insane." By that time, Warner was a well-known automotive journalist and photographer who discovered a historically significant 1934 Ford Special Speedster once owned by Edsel Ford—well before "barn finds" were part of the cultural lexicon. Even with a reputation as sterling as Warner's, how could anyone hope to compete with an institution as iconic as Pebble Beach?
In the United States in the 1980s and 1990s, the only major entry on the concours calendar outside California took place at Meadow Brook Hall in Michigan (now known as the Concours d'Elegance of America). The Meadow Brook concours focused mainly on CCCA full classics—even if Warner's dream of a concours in Amelia Island, Florida, came true, how would his new venture define itself?
Warner acknowledged the challenge in a 2005 interview: "I jokingly say that when we started this ten years ago, I had confidence we could pull it off…and confidence is a feeling you have when you don't truly understand the situation. It's more than just parking cars on grass. You've got to have a vision, you've got to have themes…"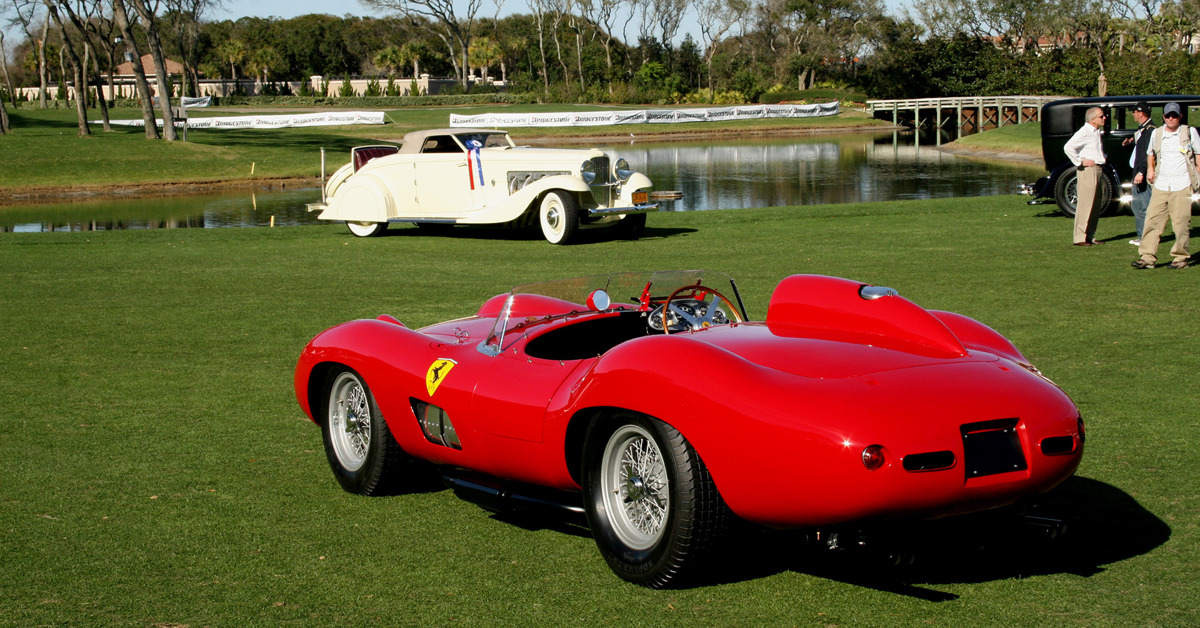 Amelia Island Concours d'Elegance Best-of-Show winners for 2008: a 1957 Ferrari 335 Sport (foreground) and a 1935 Duesenberg J Roadster (background).
From its inception in 1996, Warner recognized that his Amelia Island concours had to specialize. Warner's key insight was creating a separate category for race cars in 2005 called "Concours de Sport," elevating them from misunderstood machines to the level of fine art. Instead of spotlighting a manufacturer or racing federation, Warner told the story of competition from the driver's perspective, with classes devoted to the likes of Dan Gurney, John Surtees, and most recently, Jacky Ickx. Competitive categories like "Cars of the Rock Stars" deflated the stereotypical formality typically seen in the concours world. Long before period-correct hot rods were allowed to compete at Pebble Beach, Warner gave out awards for Most Significant Hot Rod and trophies for Best Muscle Car.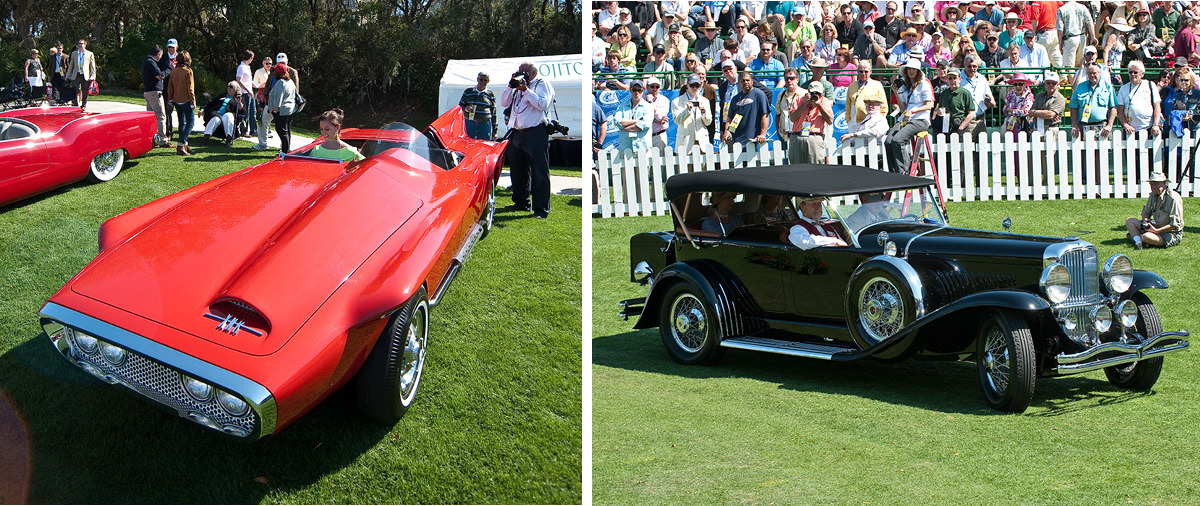 The 1960 Plymouth GNX (left), designed by Virgil Exner, and the 1929 Duesenberg Model J Dual Cowl Phaeton (right), both restored by RM for the 2011 Amelia Island Concours d'Elegance.
RM's restoration division was an early participant in the competition, racking up a string of Best of Show awards for a diverse portfolio of restored cars ranging from a 1929 Duesenberg Model J Dual Cowl Phaeton to the 1960 Plymouth XNR Concept—both exhibited in the same year (2011).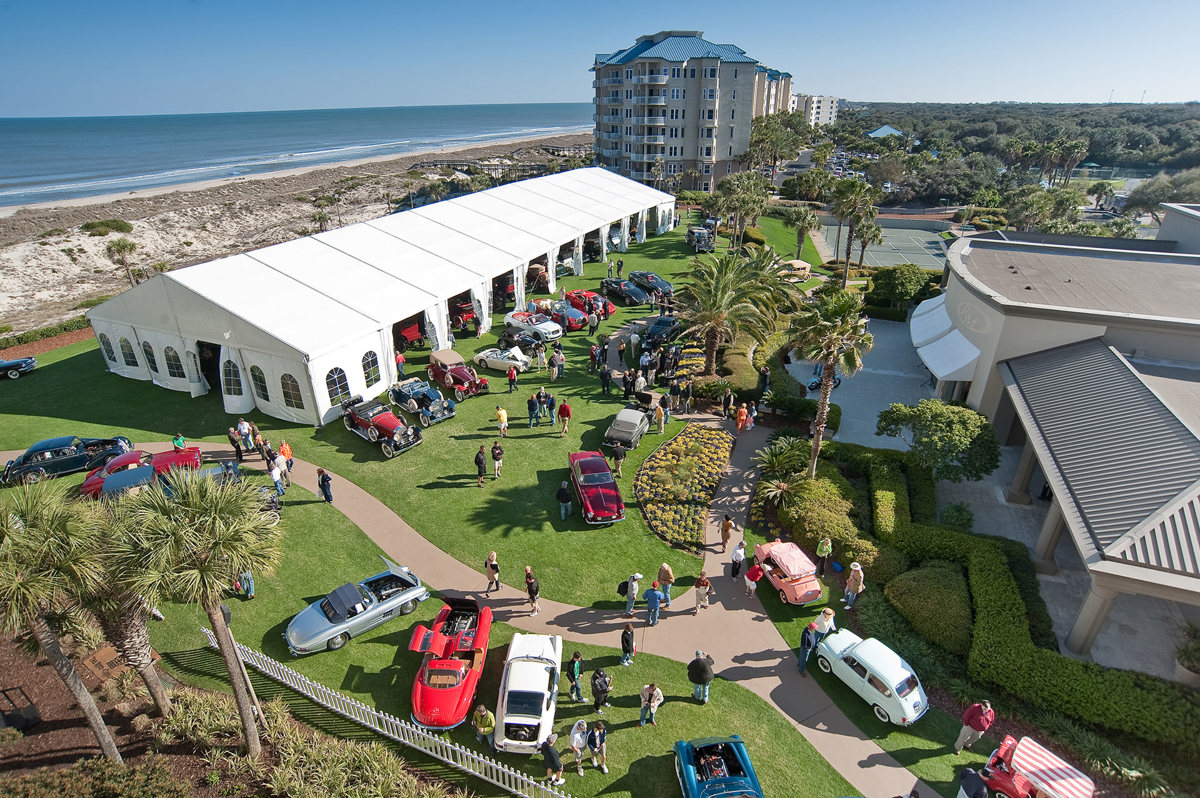 An overview of the Ritz-Carlton's grounds and RM's auction preview site during the 2011 Amelia Island Concours d'Elegance.
For those who haven't attended, the Amelia Island concours revolves around the Ritz-Carlton resort and golf course. Resort guests practically trip over Packards and Duesenbergs on their way back from the beach. The oceanside courtyard at the base of the Ritz's lobby bar is transformed into a spectacular staging area for a classic-car auction; smoke from the bar's signature drink—an Old Fashioned infused with burning hickory wood—wafts over late-model Ferrari, Porsche, and Alfa-Romeo sports cars. Beginning in 1999, Warner selected RM as the official auction house of the Amelia Island concours.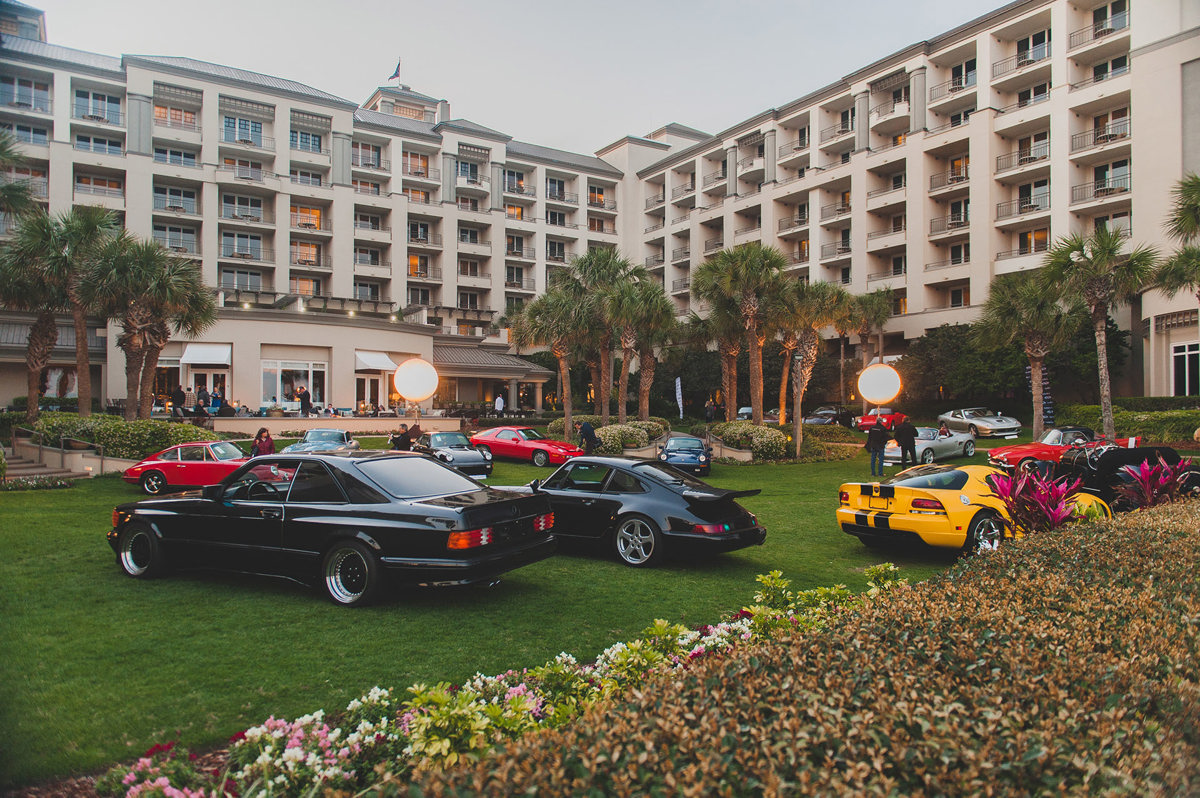 The Ritz-Carlton's oceanfront courtyard serves as a lovely setting for an auction preview.
 "Being a 'car guy,'" Warner wrote in a letter announcing the partnership with RM, "I enjoy the excitement and thrill of watching significant automobiles offered to an appreciative audience. Fifteen years ago, who would have thought that cars would take on the desirability and value normally associated with rare oil paintings or pre-Columbian art. Whether you are a buyer, seller, or spectator, my hope is that you enjoy the 'action' and perhaps even drive out in the car of your dreams."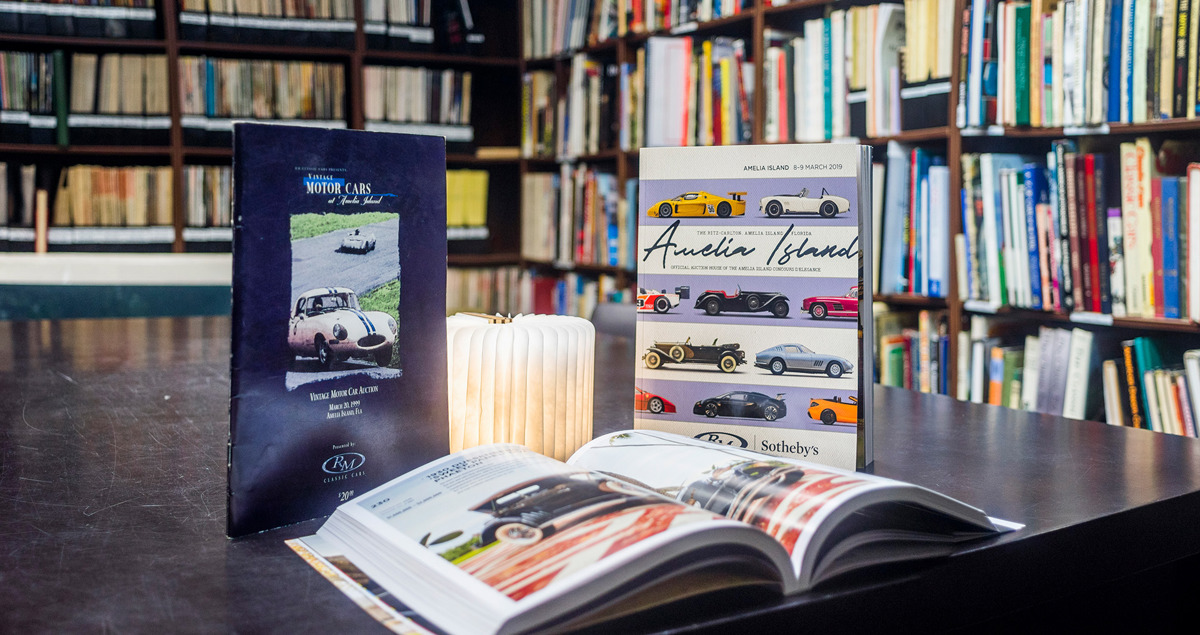 RM's first auction catalogue for Amelia Island (left, 1999) next to last year's offering (center and right, 2019), totaling 375 pages.
RM's first Amelia Island auction in March 1999 featured "a carefully selected group of only 60 automobiles," including a pair of rare Jaguars (a 1957 XKSS and a "Lightweight" 1963 E-Type), two Ford GT40s, a rare Fantuzzi-built Ferrari 250 GTO, a "Birdcage" Maserati, and an ex–Juan Peron Mercedes-Benz 300SL—no shortage of dream cars.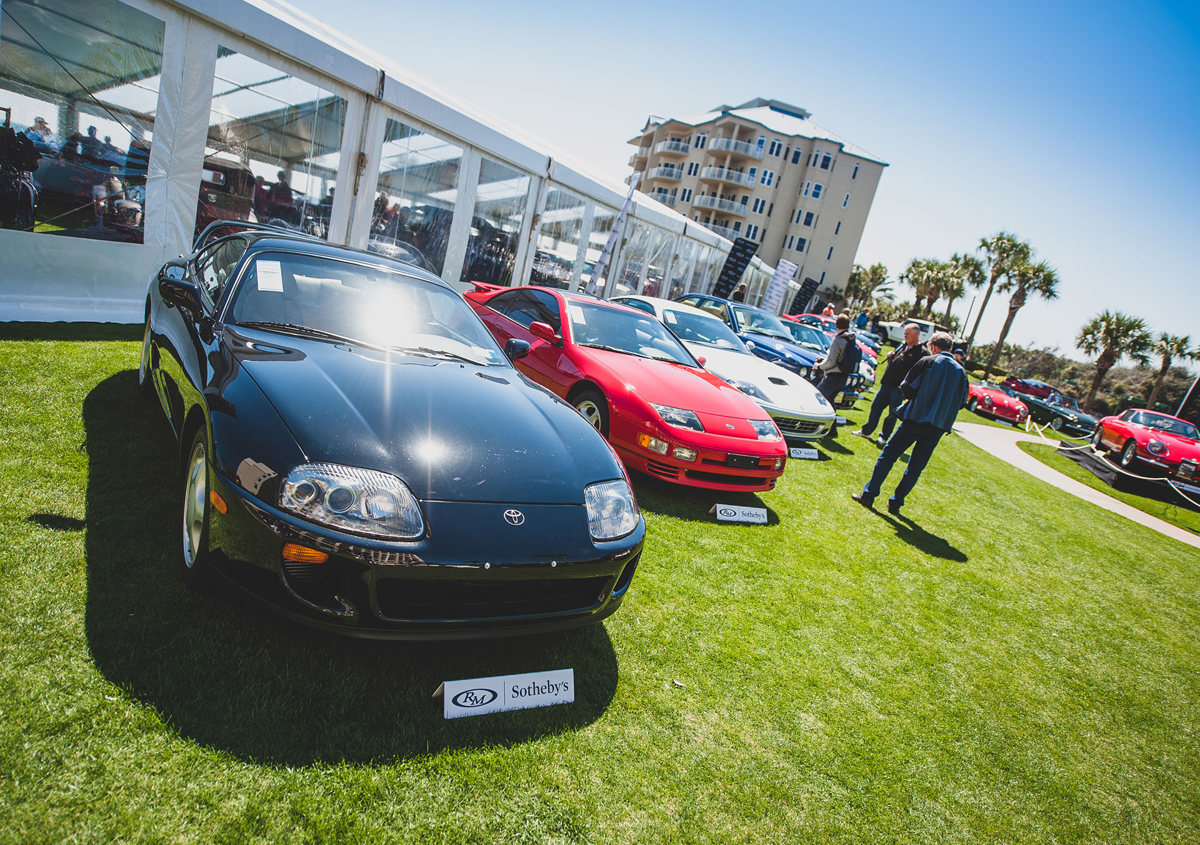 This A80 Toyota Supra set a new world record when it sold at RM's Amelia Island auction in March 2019.
In the two decades since, RM's Amelia Island auction has blossomed to over 180 lots over two days. Sales records were set and smashed in quick succession—$24.3 million in 2011 was eclipsed by $60 million in total sales in 2015 and $70.9 million two years later. RM sold the most expensive Shelby ever at Amelia Island in 2014, then bested their own record in 2019 in an auction also featuring the world's most expensive A80 Toyota Supra.
For Warner, the most important financial figure of the concours is the $3.5 million raised for local charities, including Community Hospice of Northeast Florida and the Navy-Marine Corps Relief Society.  The most personal sale for Warner had to be his ex–Edsel Ford Special Speedster, which RM sold in 2011 for $1.8 million—a record for any Ford special.

Bill Warner (left) shakes the hand of longtime RM auctioneer Peter Bainbridge and RM Car Specialist Mike Fairbairn (right) react after the sale of Warner's 1934 Ford Special Roadster (center) in 2008.
Twenty-five years after Bill Warner had a crazy idea of a new type of concours d'elegance, Amelia Island has become regarded as one of the premiere automotive events in the world. RM has been proud of our longtime association with a true visionary.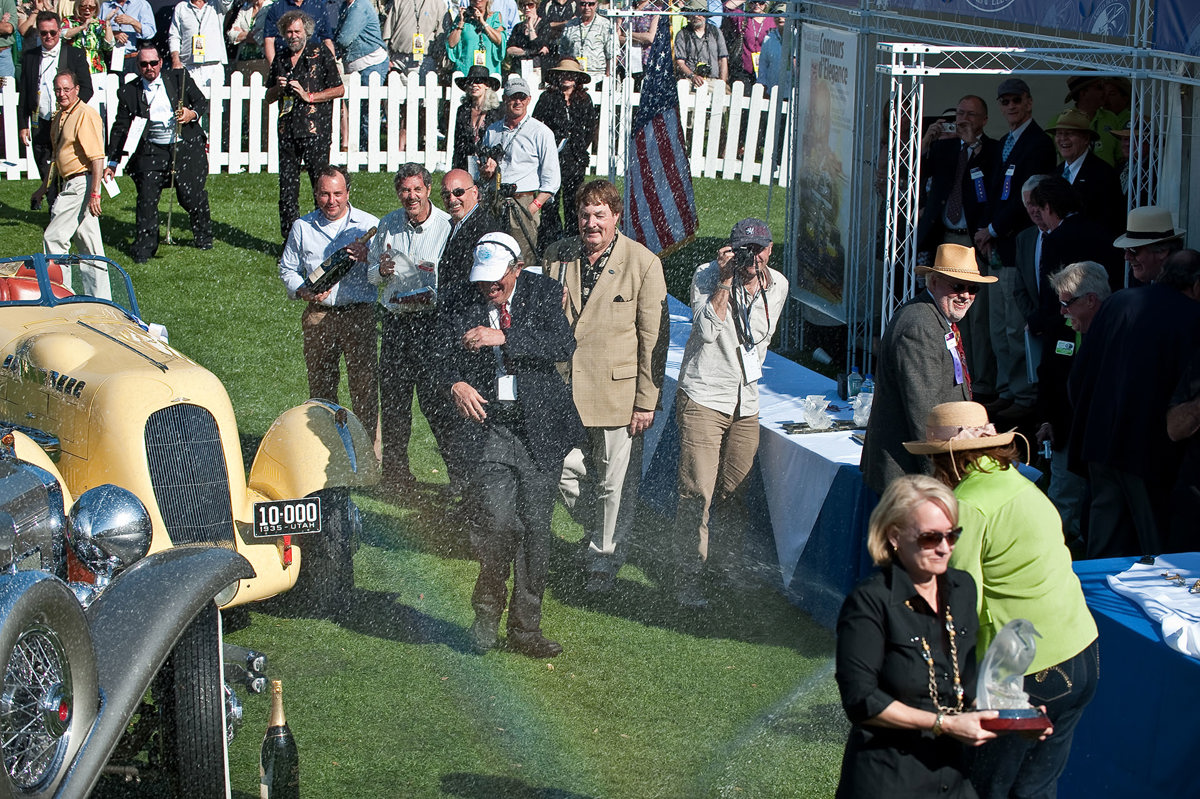 Bill Warner (center) feels the spray of champagne at the 2011 Amelia Island Concours d'Elegance awards ceremony.