As a Southern California native, Bruce Meyers grew up in the midst of the early days of surfing, drag racing, and hanging out at the beach. Pismo Beach introduced Bruce to the dune buggy—albeit a very different type than the lightweight style we think of today. The early dune buggies were referred to as "water pumpers" and were crude, heavy backyard creations based off full-size sedan and pickup truck chassis, generally incorporating a V-8 engine mounted toward the middle of the chassis with a pair of seats mounted over the rear axle. Bruce took it upon himself to improve upon the design, modifying a VW Kombi bus with wide wheels and dubbing it "Little Red Riding Bus." Shortly thereafter, Bruce drew on his boat-building experience to construct the first fiberglass-bodied dune buggy, and thus, the Meyers Manx was born.
The Meyers Manx took the world by storm, appearing on the covers of Hot Rod magazine and Car & Driver. The Manx proved to be lightweight, fun, and extremely capable—especially off-road. The Manx even found itself successful in competition, winning its class in the 1966 Pikes Peak hill climb, eclipsing the Tijuana to La Paz motorcycle record by over five hours and taking 1st and 2nd place in their class at the first official race, the Mexico 1000 in 1967. Over the years the list of victories for the buggy in off-road competition began to grow, as did a pop-culture following bolstered by a starring role in films such as Steve McQueen's The Thomas Crown Affair.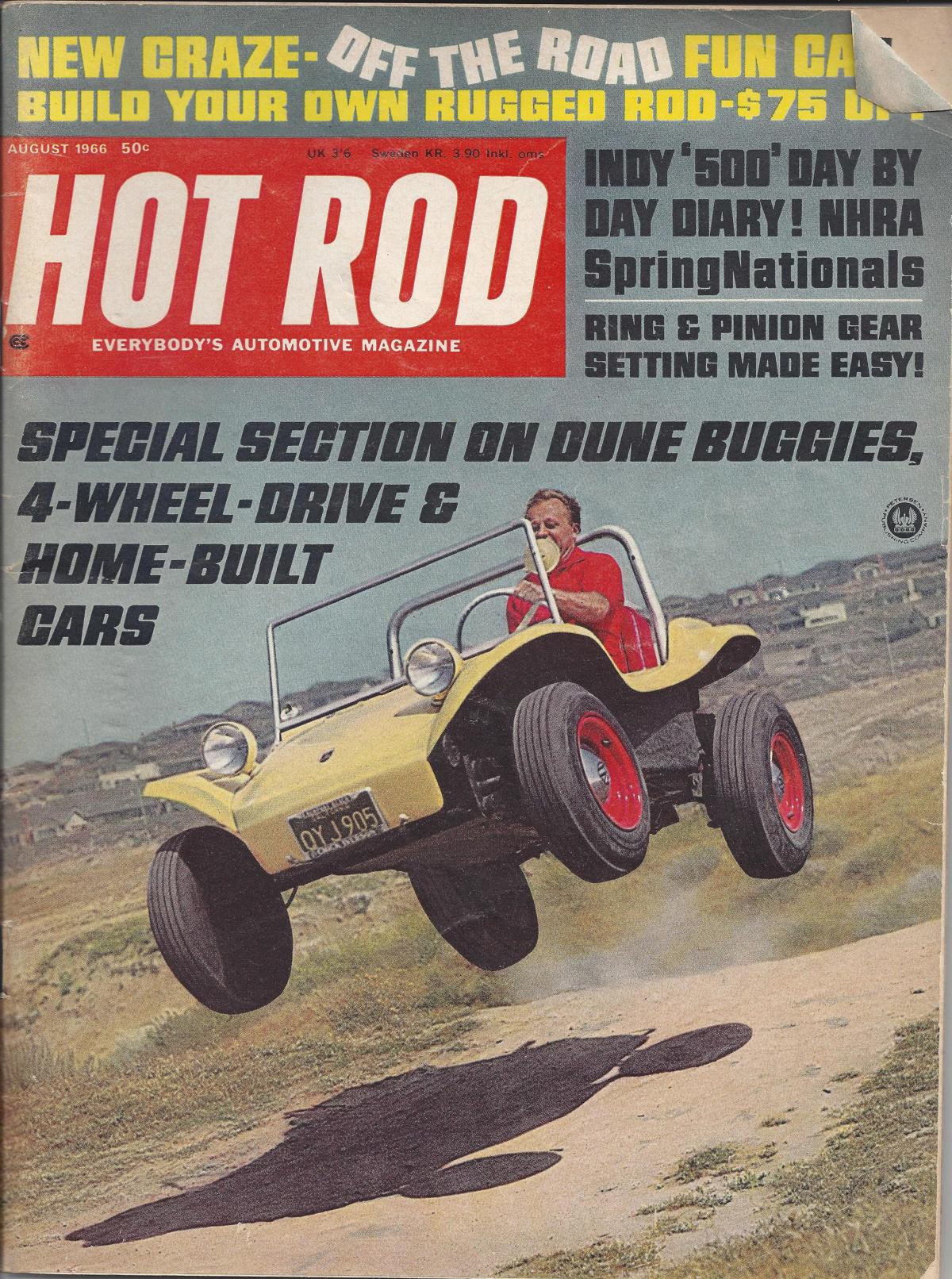 Cover of Hot Rod magazine featuring an airborne Meyers Manx, August 1966. Image courtesy of Meyersmanx.com
Offered here through RM Sotheby's Online Only auction platform is an early example of Bruce Meyer's creation, thoroughly restored to impeccable condition. Click ahead to explore the highlights of the nimble and capable Meyers Manx.