Wake up early enough on a weekend morning and it's like the world is all yours. The all-too-common workweek congestion does not arrive until later in the day on a Saturday, leaving the roads relatively clear during rush hour. Mountain passes and oceanfront highways are surprisingly empty during these times, before the rush of tourists and pleasure-seekers start clogging the roads. For automobile aficionados of all allegiances, this is the common ground; a time and place where Ferrari and Lamborghini owners can both agree. Traffic, after all, is the true enemy of enthusiasm. That shared spirit is part of what makes weekend drives so magical.
There is, sources tell me, a clandestine meetup in a parking lot somewhere in Los Angeles that entirely disperses by 6:45 AM on Saturday mornings, leaving no trace. A veritable NASCAR racer showed up at one memorable meeting, or so I hear, complete with the owner clad in full track attire and helmet. No matter what you choose to drive on a Saturday morning, the atmosphere is decidedly different. But if you wish to arrive at your local cars and coffee show with a machine that can impress the masses, the list of noteworthy entries is seemingly smaller all the time.
Sourcing the right supercar can be even more difficult, especially these days with the limited availability of new offerings. Best to look to the past for the old favorites, sure to stir emotions not just in the heart of the driver, but in the eyes of all onlookers. But where would one find a worthy collection? RM Sotheby's recently announced, site-specific, one-time-only auction event holds the answer. Hosted at the iconic Circuit Paul Ricard in France on 19 November 2021, the sports and supercars of The Guikas Collection are certainly worthy of your attention. Especially on a Saturday: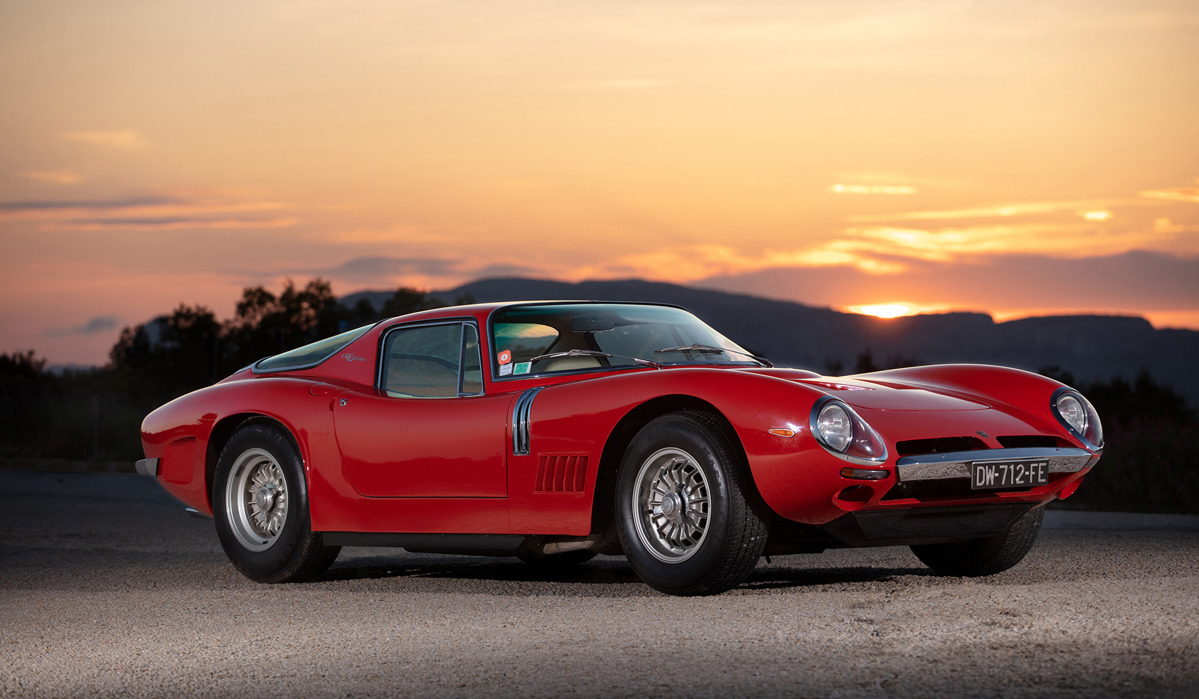 1968 Bizzarrini 5300 GT Strada
Estimate: €750,000 - €950,000 | Offered Without Reserve
When it comes to identifying true supercars, a great deal of the status of that designation is conferred by the skill of the team behind its construction. There is perhaps no mid-century sports-racer more highly regarded than the Ferrari GTO, at least in terms of value, and much like collectors of impressionist paintings like to explore the later works of great artists, so too have automotive enthusiasts started to acquire the more mature designs by the great Italian engineer Giotto Bizzarrini—especially the models Bizzarrini built after leaving Ferrari in 1962. With flowing lines, four-wheel Dunlop disc brakes, and a limited-slip differential, Bizzarrini's follow-up work to the GTO proved to be a masterpiece of aerodynamics. Powered by a generous Chevrolet L1 V-8 engine topped with triple Holley carburetors, treasured for its rarity as well as its connection to one of the figureheads of Italian automaking, this 5300 GT Strada is one of a mere 86 finished with an all-aluminum body.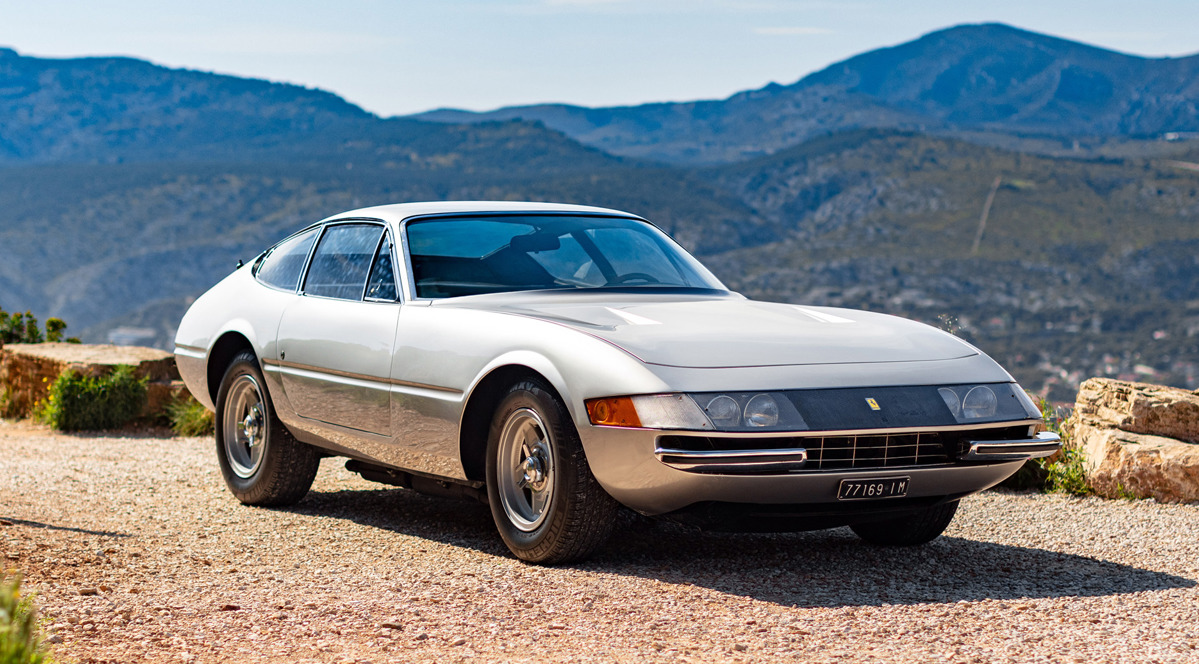 1969 Ferrari 365 GTB/4 Daytona Berlinetta by Scaglietti
Estimate: €600,000 - €700,000 | Offered Without Reserve
Meanwhile in Maranello, the fundamental Ferrari formula did not change much after Bizzarrini's departure. A front-mounted, Colombo V-12 engine and an instantly iconic, scythe-like shape combined in the late 1960s with the 365 GTB/4 to create one of the prancing horse brand's most enduring silhouettes. The Daytona name, now inextricably linked with the model, was only applied after the 365 GTB/4 debuted at the Paris Auto Show in 1968. At the time, the visiting press asked a still-in-command Enzo Ferrari about his motorsport division's overwhelming win at that year's 24 Hours of Daytona race, which saw Ferrari sweeping the podium with first-, second-, and third-place finishes. That impressive victory became forever associated with the car immediately afterwards. This example, chassis no. 12525, was the 12th body assembled by longtime Ferrari coachbuilder and collaborator Scaglietti, and proudly wears its signature Plexiglas front fascia. While later models sported pop-up headlights after a redesign in 1971, many collectors favor the clean lines of this first series Daytona, which show off designer Leonardo Fioravanti's tasteful vision of the future.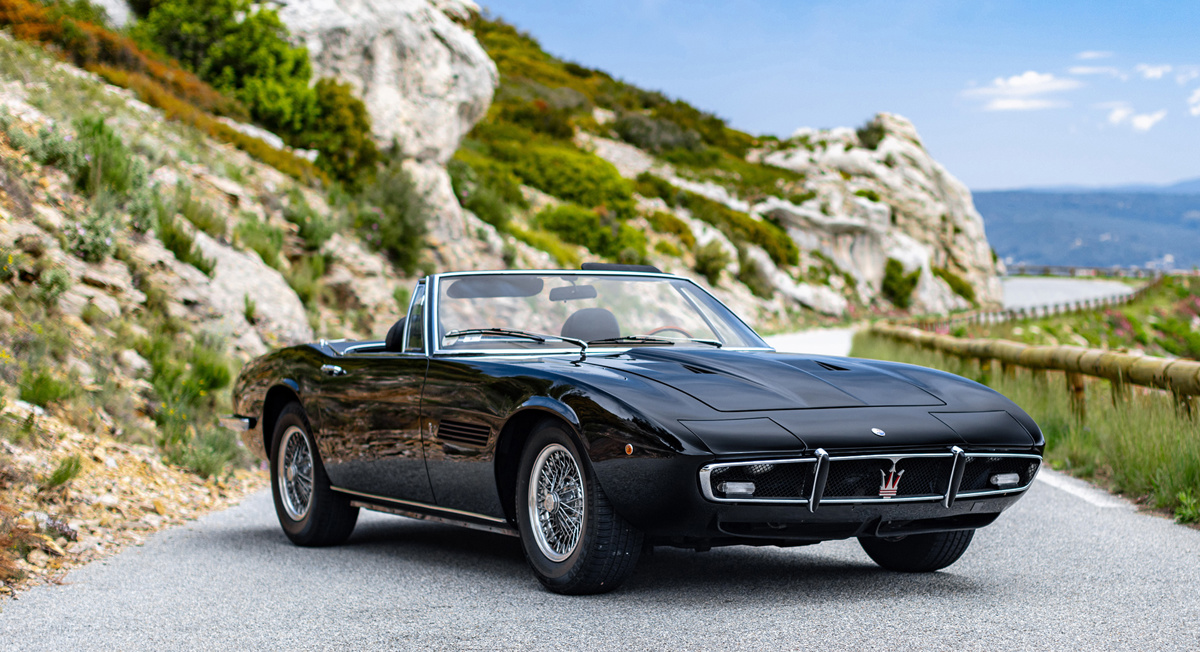 1970 Maserati Ghibli 4.7 Spyder by Ghia 
Estimate: €650,000 - €750,000 | Offered Without Reserve
Our tour through the spectacular sports cars of The Guikas Collection continues with this rarely seen open-top Maserati. While the Lamborghini Miura is typically cited as the originator of the supercar classification, the top-of-the-line status of this 4.7-litre, V-8-equipped Ghibli—in addition to its respectable 330-horsepower output—puts this trident-branded performance machine in contention with the legendary Lamborghini. And with the rarity of this Maserati in particular (one of only 83 made by Ghia in open-top specification, and a scant 25 in left-hand-drive), encountering a Miura at your local weekend car meetup is much more likely than spotting a Ghibli, let alone a Spyder model. With an extensive two-year overhaul accomplished to the tune of $85,000, this early 1970s Maserati has been given the platform to shine, right down to its authentic Borrani wire wheels, purchased from Carlo Borrani himself for the considerable price of $12,000. Understated and uncommon.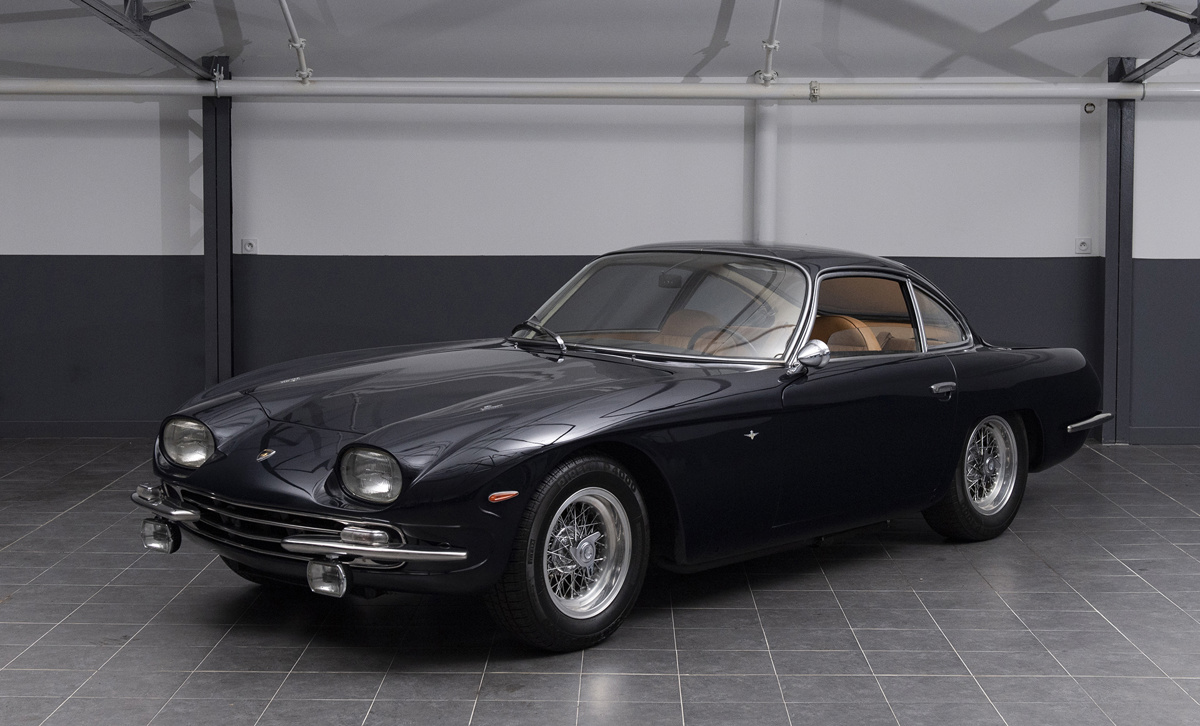 1964 Lamborghini 350 GT by Touring
Estimate: €550,000 - €700,000 | Offered Without Reserve
Speaking of Lamborghini, the Sant'Agata Bolognese brand also has its share of uncommon examples. From its inception, Ferruccio Lamborghini selected the best in terms of materials and manpower to accomplish his goal of building a sporting grand tourer to best rival Ferrari. Giotto Bizzarrini, fresh off his stint at Ferrari, was employed to design a bespoke V-12 engine for Lamborghini's new effort; Gianpaolo Dallara (who later designed the underpinnings for the Miura) finished the chassis. Approximately fifty early examples of the 350 GT featured aluminum bodywork built by Touring of Milan in their signature superleggera style—this example is one of them. The end result of Lamborghini's effort was a statement against the institution of Ferrari in terms of Italian automaking, with four-wheel disc brakes when the grand touring Ferrari 250 GTE models sported drums. This example has benefitted from nearly $90,000 in recent work, encompassing both an interior reupholstery as well as a full engine-out service, including rebuilding the cylinder heads with new guides, valves, seals, and timing chains.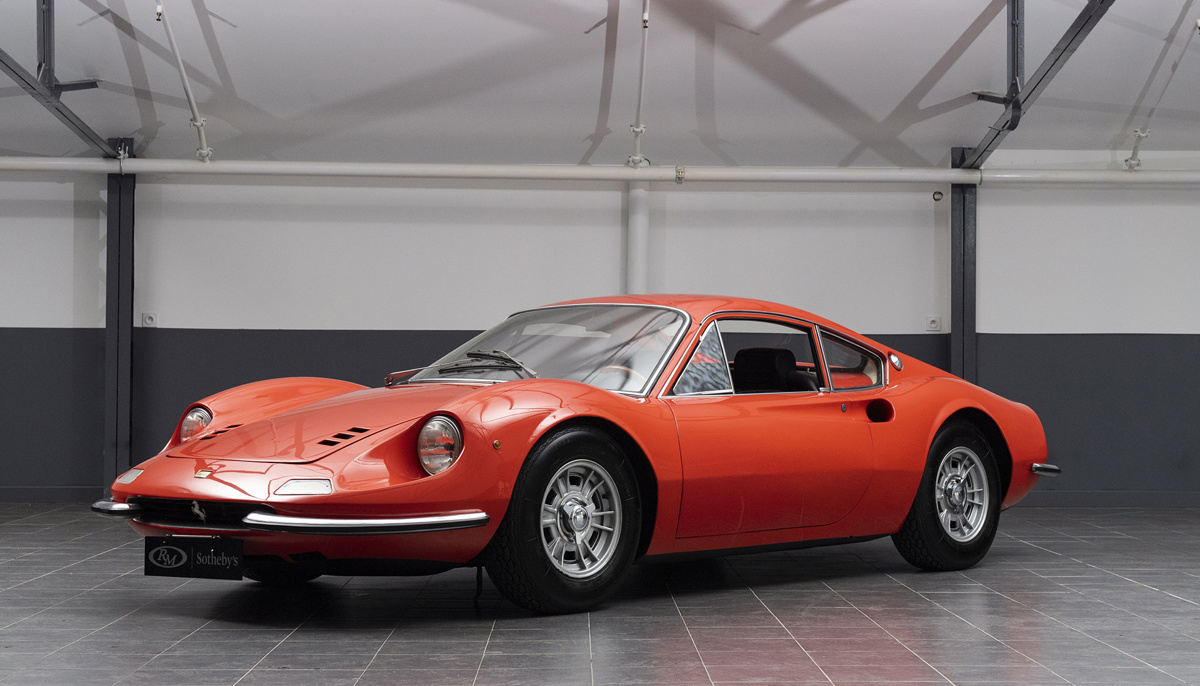 1968 Ferrari Dino 206 GT by Scaglietti
Estimate: €475,000 - €550,000 | Offered Without Reserve
By the late 1960s, even Ferrari themselves were considering new forms of transportation. The mid-engine styling that launched with the vaunted Italian automaker's new Dino sub-brand proved popular, influencing the shape of many supercars to come, but Ferrari purists have always favored the earliest examples for their purity. Specifically, the first 152 Dino 206 GT examples were constructed with lightweight alloy bodies, putting these sports cars in league with the greatest of their era, at least in terms of handling. This example features an uncommon choice in powerplants: an in-period mechanical fix left the longest custodian of this Dino with an option of using the original engine or swapping for an unused, mechanically identical, all-aluminum, 2.0-litre Tipo 135B engine tuned for hill climbs and road rallies. As the in-period owner opted for the more sporting engine choice, but still wisely retained the numbers-matching unit accompanying the sale, the choice is now up to the next owner of this Rosso Dino-colored sports car. How would you choose to drive this Dino?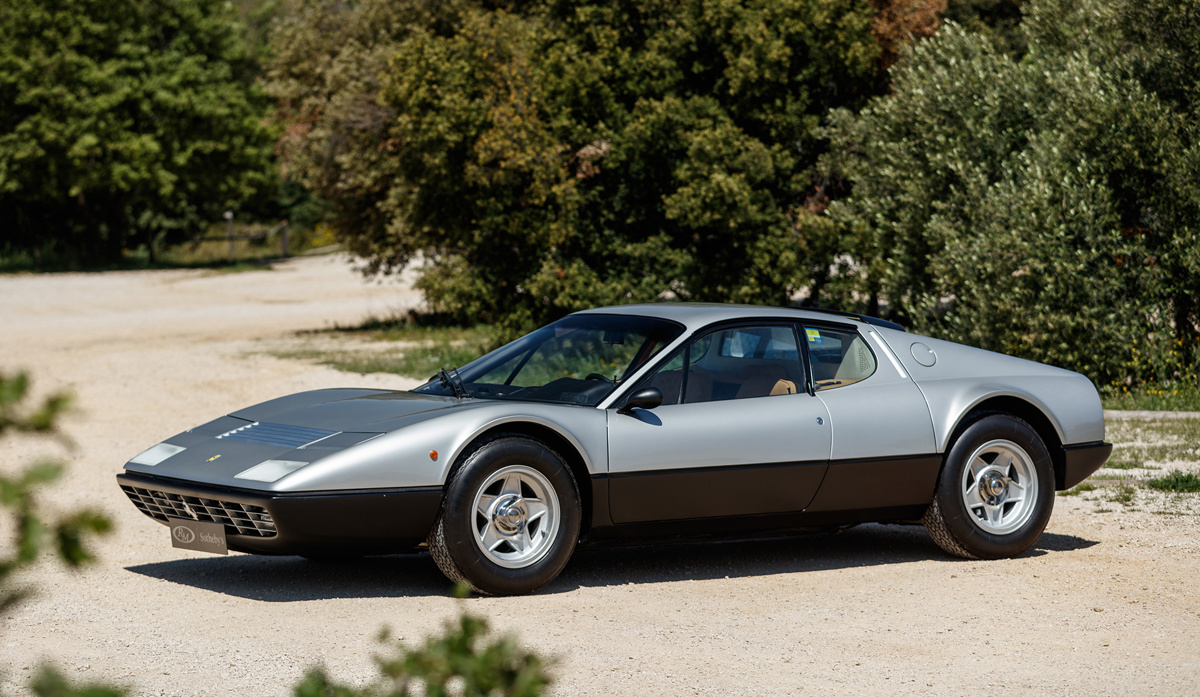 1974 Ferrari 365 GT4 BB
Estimate: €275,000 - €350,000 | Offered Without Reserve
As the 1970s dawned, the shape of Ferrari's future began to clearly form. The mid-engine configuration, as seen on rare race-oriented examples like the 250 LM as well as the 206 Dino GT we covered earlier, began to take hold as the dominant form of sporting Ferrari examples. The critical piece that Ferrari needed to combat their main rival Lamborghini was a powerplant to match the Miura. Making its production debut in this model, nicknamed the Berlinetta Boxer (or "BB") for its twelve horizontally opposed pistons, the 4.4-litre, mid-mounted engine in the 365 GT4 BB became legendary among Ferraristi for its 7,200 rpm redline and prodigious torque even at lower speeds. This handsome Argento Metallizzato example has been meticulously restored, first undergoing a mechanical refresh at Ferrari Classiche in 2005-2007, then enjoying an aesthetic makeover, with a repaint executed by Carrozzeria Zanasi in Maranello and an interior re-trim in beige leather by Luppi S.r.l.. Before selling to the Guikas Collection, the previous owner, who was based in Germany, finally bestowed a full engine overhaul on this example from well-regarded Kessel Racing / Racing Cars SA and a suspension refresh from Tommaso Gelmini's GPS Classic S.r.l. A modern Italian classic, respectfully restored in its home country.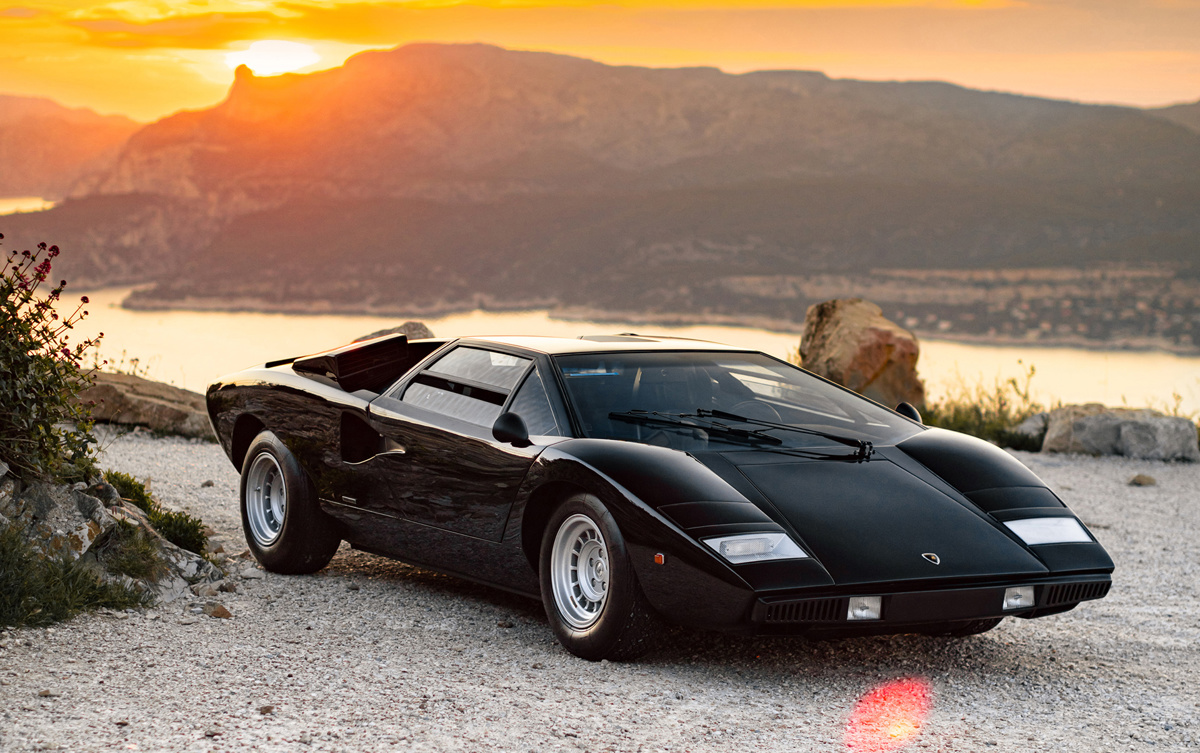 1975 Lamborghini Countach LP400 'Periscopio' by Bertone
Estimate: €750,000 - €900,000 | Offered Without Reserve
When it comes to Italian supercars, few would argue that the Countach is not deserving of that designation. Bertone's groundbreaking, wedge-shaped body lent an all-new form to the mid-engine automobile, with skilled designer Marcello Gandini's minimalist original prototype seemingly adaptable to any subsequent updates and accessorizing. Once again, enthusiasts gravitate towards the early production models for their purity, as our breathtaking LP400 cover car clearly expresses. The 'Periscopio' designation describes the fitment of an innovative rear-view mirror which is incorporated into the roofline of the Countach, allowing the iconic supercar to retain its wedge-like shape. This early example is believed to be the 55th Countach ever built, and one of a mere 157 examples built with the distinctive 'Periscopio' configuration. A triumph of Italian design.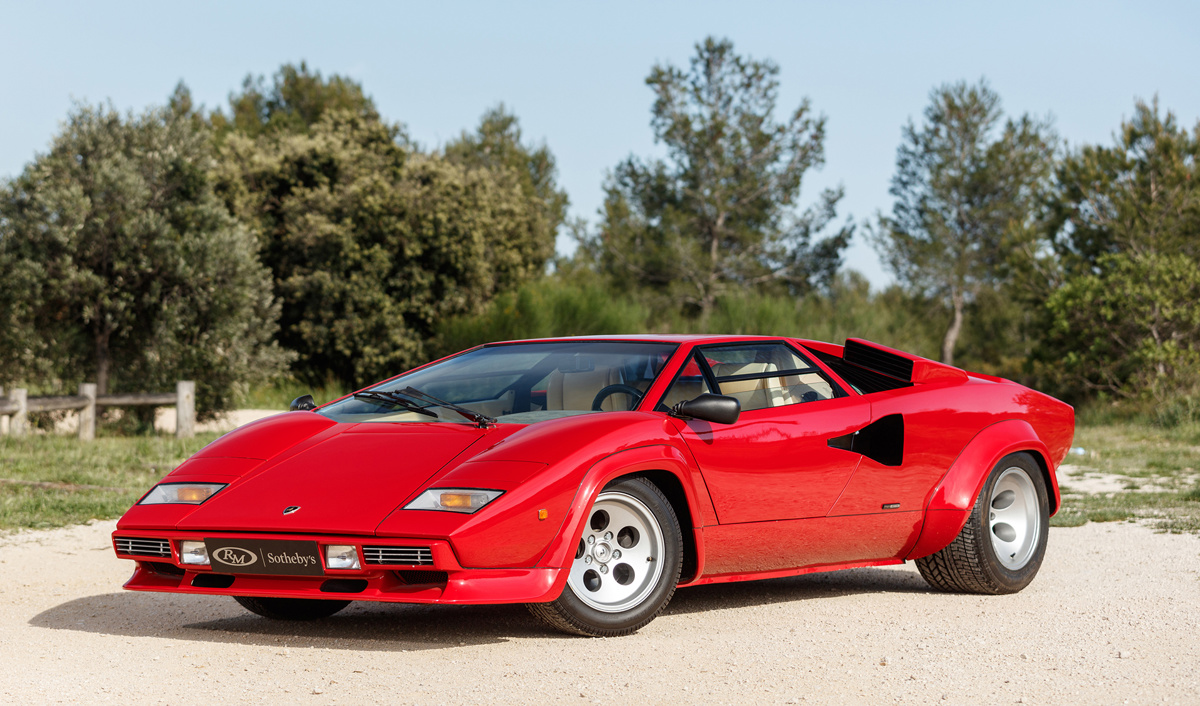 1981 Lamborghini Countach LP400 S by Bertone
Estimate: €300,000 - €400,000 | Offered Without Reserve
For fans of the quintessential Italian supercar, one Countach is not sufficient. Accordingly, The Guikas Collection offers two Countach examples representing different eras of production. With Lamborghini today returning to the Countach nameplate for a new special-edition model, many collectors have taken the opportunity to look back at the original model with renewed interest. Made in three distinct series and the unforgettable 25th Anniversary model, nearly every enthusiast has their favorite model of Countach. This example, believed to be only four owners from new, is part of the desirable Series II, which included several interior and exterior adjustments, including wider wheel arches and fender flares, made to accommodate the then-new Pirelli P7 tires. Inside, interior upgrades included a new dashboard with Jaeger gauges and the removal of the "Periscopio" rear-view mirror, which created 3 cm of extra headroom. Critically, this example was made before Lamborghini chose to raise the ride height by a full 2 inches, making this well-cared-for Countach one of the ultra-desirable "low-body" examples. Iconic, from its rare "telephone dial" wheels to its scissor doors.  
Whether your interests tend towards Italian supercars or simply well-made European sporting examples, watch this space for more future offerings from The Guikas Collection and RM Sotheby's and be sure to enjoy your weekend. Until next time: