Legacy is a lofty descriptor when considering pre-war cars, but in many ways, the spirit of legendary marques and their quests for technological innovation in the years leading up to World War II still echo in the automobiles of today. Supercharged engines powering lightweight, coachbuilt bodies for an ideal balance of power and weight. Aerodynamic curves which were conceived by enlightened engineers, without the assistance of computer models or wind tunnel testing. The ripple effects from this explosion of intelligence still reverberate today, laying the foundation for our current appreciation of supercars and hypercars.
Collectors who have long fostered an appreciation for Italian pre-war classics are now seeing the rest of the vintage vehicle market awaken to the real potential of these purpose-built machines. Oscar Davis was one of these collectors, possessing the vision to amass a stable of significant pre-war cars and the willingness to scour the earth for original engines, transmissions, and accessories to make these cars complete. The Italian cars on this list are so significant and numerous, we decided to split the summary into two parts. Mr. Davis's interests also crossed international borders, including best-of-breed examples from Bugatti and Talbot-Lago. Fortunately for connoisseurs of historic European sports cars, RM Sotheby's annual auction in Monterey, CA will spotlight these exceptional examples: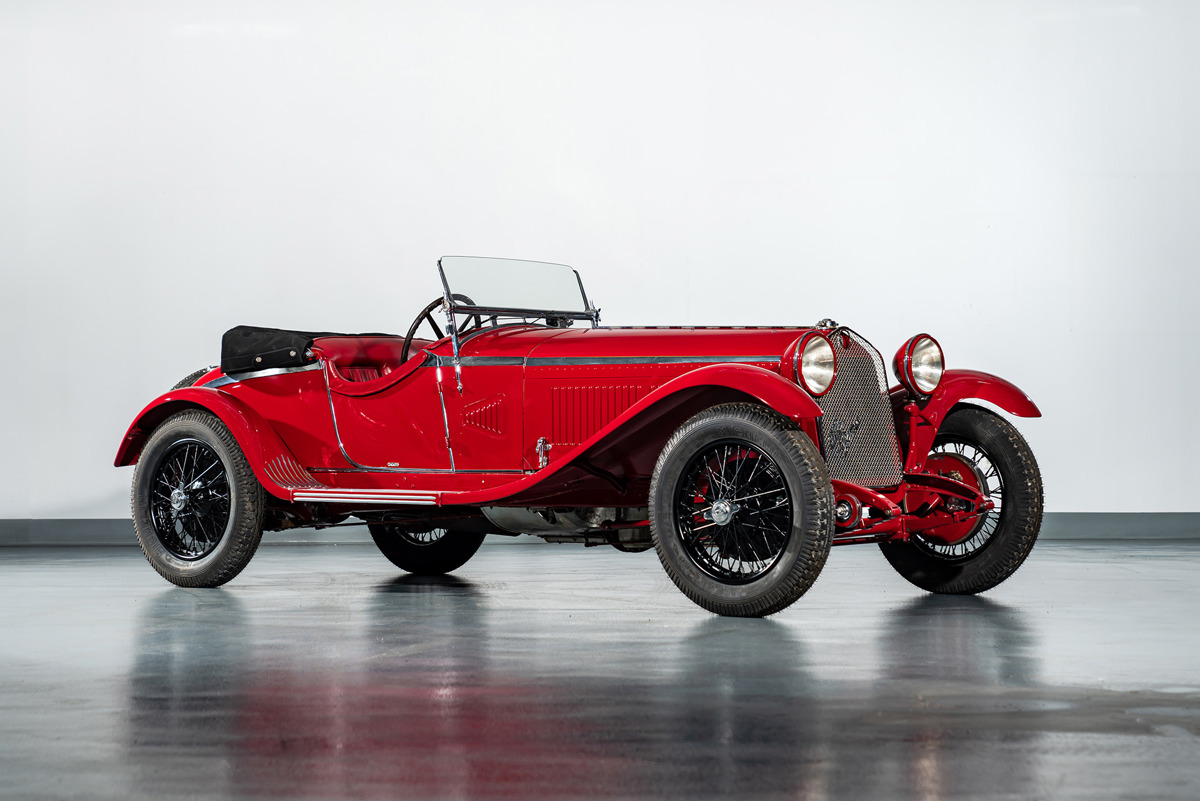 1930 Alfa Romeo 6C 1750 Gran Sport Spider in the style of Zagato
Estimate: $600,000 - $800,000 USD | Offered Without Reserve
Zagato designs are defined by their avant-garde nature, blending advanced aerodynamics with forward-thinking styling. This exceptional, open-top example provides evidence of both the elevated tastes of Oscar Davis as well as the devoted nature of his collecting style. Not merely content to own one of the most spirited pre-war Italian sports cars, Mr. Davis wished to verify its actual history, which led him to D.L. George Historic Motorcars of Cochranville, Pennsylvania. The noted specialists in antique automobiles performed a full metallurgic analysis of the chassis of this Gran Sport example and component sequencing report. Both of these fascinating documents are viewable in the description for this example and are a testament to the thorough nature of Mr. Davis's curation.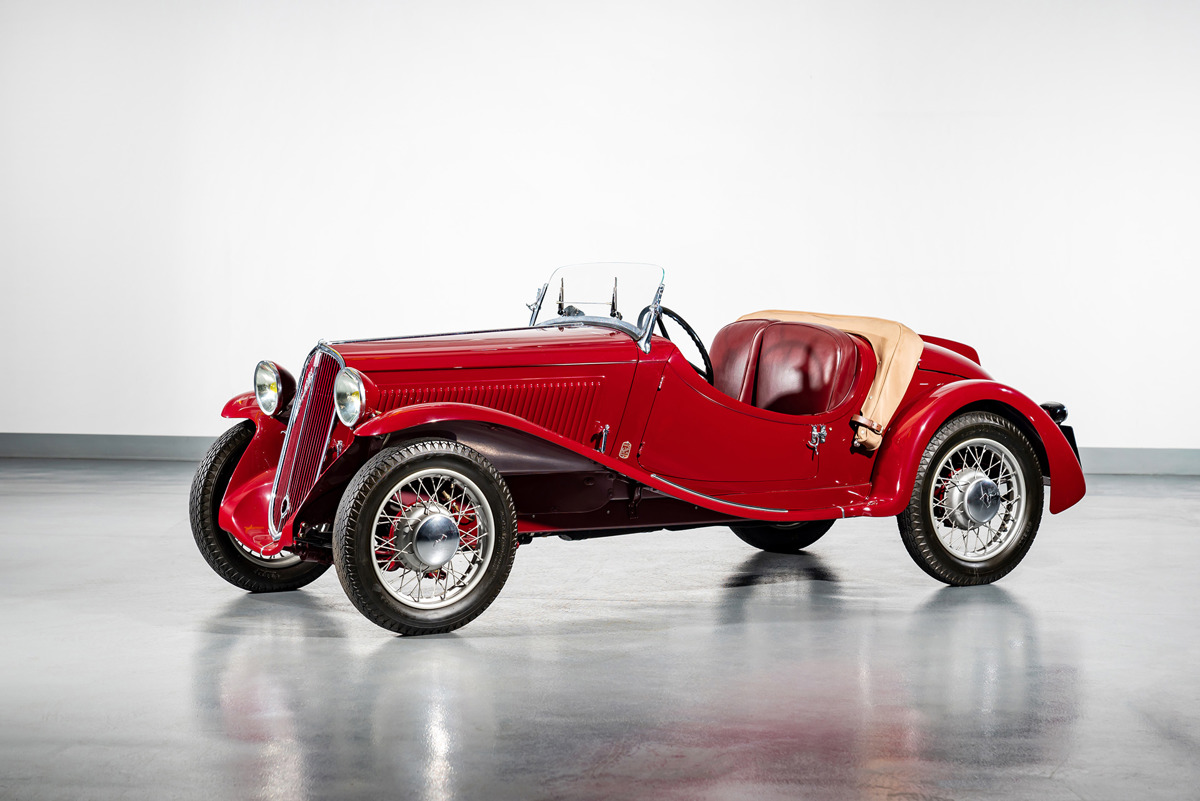 1933 Fiat 508 Balilla Spider Sport Conversion by Kelsch
Estimate: $125,000 - $175,000 USD | Offered Without Reserve
French coachbuilder Clément Kelsch, though perhaps not as well-known as his Parisian rivals, was still well-regarded for innovative, lightweight body designs as well as novel chassis construction. The ultimate resume for any pre-war coachbuilder is as much about the underlying chassis that they have built bodies for as it was the elite clients that they served, and Kelsch was no exception to this rule, crafting unique designs for fine chassis from Delage and Bugatti. Though Fiat has since transitioned into serving a more mainstream section of the market, when their 508 Balilla debuted, the Italian brand offered the model in variants ranging from practical to sporting. Though this chassis was originally designated as a standard sedan, an early owner must have seen the potential in this example, taking it to Kelsch for a conversion to the thrilling Spider Sport variant originally executed by Ghia. The period conversion included a CS-type overhead valve engine paired with a four-speed synchromesh manual gearbox. A fascinating Fiat.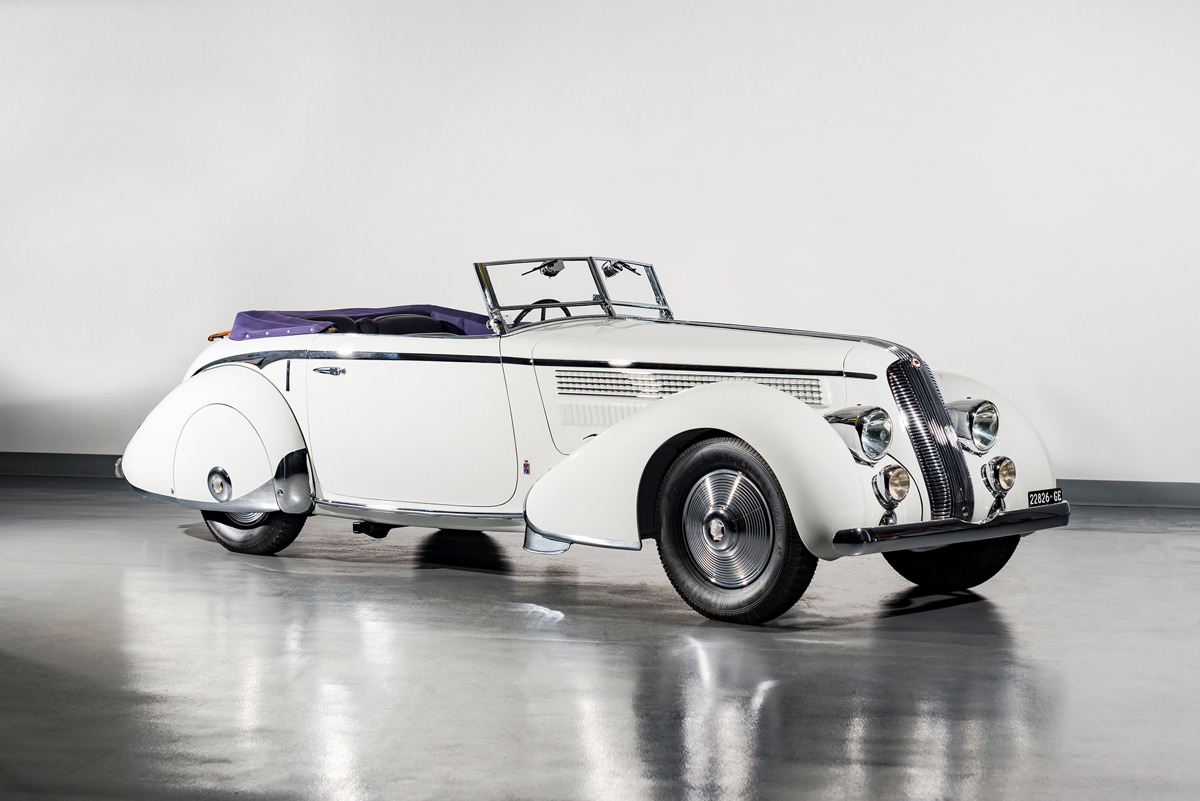 1936 Lancia Astura Cabriolet Series III 'Tipo Bocca' by Pinin Farina
Estimate: $1,500,000 - $2,000,000 USD
A show-worthy car from its inception, this Lancia Astura was displayed at the 1936 Salone del l'Automobile, Milano to showcase Pinin Farina's significant styling abilities. Though the now-famous design firm was established only six years before this Lancia was unveiled, this pre-war example shows hallmarks of the Cambiano, Italy-based company's restrained-yet-progressive styling. Tasteful from its chrome detailing to its disc-shaped wheel covers, the Mario Revelli di Beaumont design on this example was celebrated with a class award one year after its release at the first-ever Concorso d'Eleganza per Automobili, San Remo in 1937, which at that time was a competition between brand-new car designs. Seventy-seven years later, under the ownership of another noteworthy collector, Orin Smith, this icon of pre-war motoring returned to its home country, easily winning Most Sympathetic Restoration at the 2014 Concorso d'Eleganza Villa d'Este. Acquired by Mr. Davis in 2017, this award-winning Lancia is a perfect match for his collecting style: Undeniably elegant and technologically advanced for its era.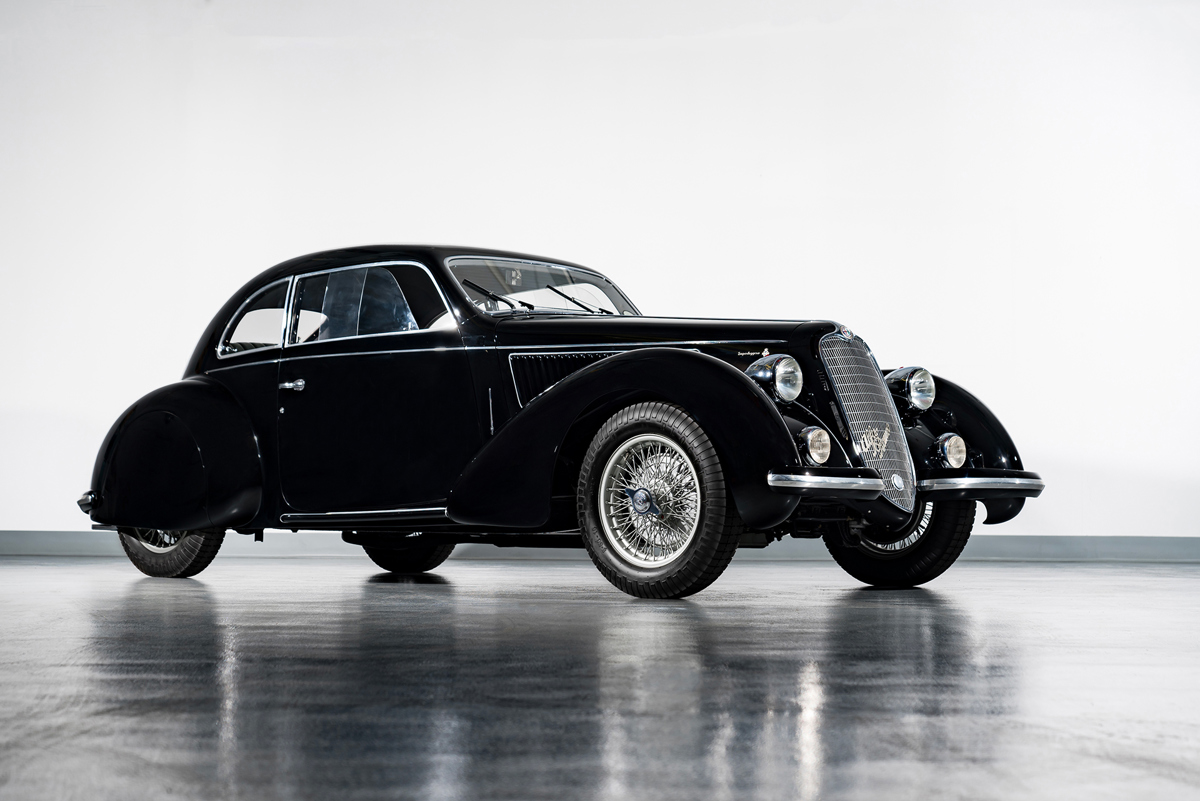 1938 Alfa Romeo 6C 2300B Mille Miglia Berlinetta by Touring
Estimate: $1,500,000 - $2,200,000 USD
Representing at least one form of authority on the quality of pre-war automobiles, the Classic Car Club of America is unambiguous in their approval of Alfa Romeo's output from 1915 to 1948: Every example is considered a Full Classic. The Alfa Romeo 6C 2300 model was given an even more significant seal of approval courtesy of Enzo Ferrari when he fielded three examples at the Targa Abruzzi 24-hour endurance race at Pescara and finished in first, second, and third. Initially released in 1935, the 6C 2300B variant introduced an all-new chassis made in Carrozzeria Touring's signature Superleggera style, as well as hydraulic drum brakes and independent suspension on all four wheels. The advancements added up to a car whose sporting abilities were significant, with a 6C 2300B Touring Spider variant taking home a class win at the final Mille Miglia before World War II. An Italian icon for rally and show alike.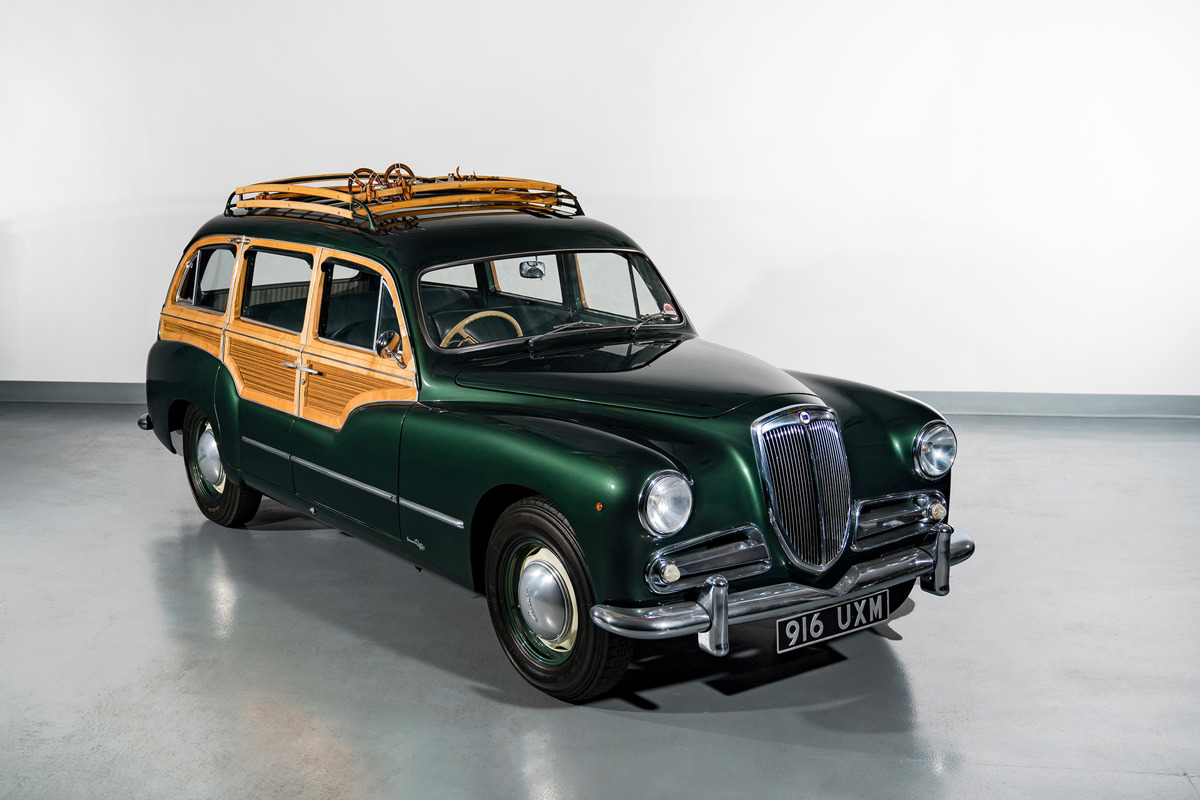 1952 Lancia Aurelia B53 Giardinetta by Viotti
Estimate: $200,000 - $300,000 USD | Offered Without Reserve
The second example on our list of Italian classics with coachwork by Carrozzeria Viotti, this rarely seen Lancia Aurelia estate car has a deep connection to the Turin-based outfitter. In fact, the term "Giardinetta" itself was coined by the firm's eponymous founder Vittorio Viotti and trademarked one year after the end of World War II. The idea of a wood-paneled station wagon was not a new one, but the format allowed automakers like Lancia an opportunity to utilize existing chassis while partnering with talented artisans like Viotti and noted stylist Giovanni Michelotti to offer new designs to their eager customers. Retaining its numbers-matching powerplant, this charming Giardinetta is only the second-known surviving example. After acquiring it in 2008, Mr. Davis quickly took this rare Italian estate car to the prestigious Pebble Beach Concours d'Elegance, where it was honored as the best car of the Lancia post-war class. Practical yet undeniably elegant, this coachbuilt example is only the first of several stunning Italian classics made after World War II and curated by Oscar Davis. Check back soon to see further coverage of The Oscar Davis Collection and be sure to register interest for RM Sotheby's star-studded auction in Monterey 2022.