No matter the manufacturing date, any car built with a Bugatti badge is inherently special. Extraordinary by design, Ettore Bugatti imbued his company's creations with an artistic flair down to each individual component. Intended to move, the aerodynamic shapes and purpose-built engines of the pre-war Bugatti cars ensured they could comfortably outpace their contemporaries. While this was true on racetracks in-period, it has also proven to be the case when it comes to long-term value, as the desirability for any pre-WWII example wearing the famous "Macaron" badge has only increased with age. Luckily for all enthusiasts of exceptional motorcars, the story of Bugatti did not end after 1949. It is one told in several separate movements, spread across time, all representing distinct ideas of performance.
With not just one, but a total of three sporting examples from Bugatti on offer, RM Sotheby's Amelia Island 2022 auction presents a wider selection of these prized cars than all our competitors combined. With a pre-war Type 57 featuring open coachwork, the prototype EB110 GT, and the otherworldly Chiron Sport, which is posing as today's cover car, the most difficult decision for anyone interested in experiencing what many consider to be the ultimate automotive brand to ever exist is deciding which model to take home.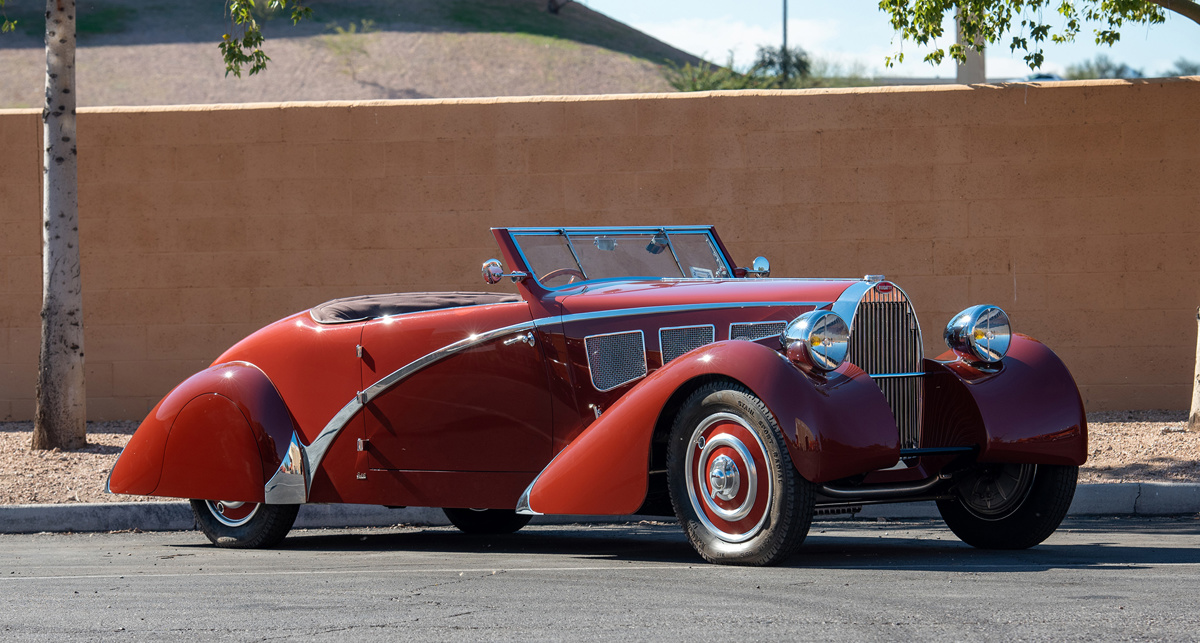 1937 Bugatti Type 57 Cabriolet
Estimate: $650,000 - $800,000 USD
No wonder that the era of pre-war coachbuilding is considered by so many to be the golden age of automotive production. With workshops spread across Europe (and even a few notable entries in America), the coachbuilding era meant that elite clientele could direct these automotive ateliers to produce essentially custom creations. Of the 710 total Type 57 chassis that Bugatti produced between 1934 and 1940, only a small percentage of them were clothed in open-air coachwork. This fascinating example started life as a four-door model, the Galibier, but was seemingly destined to become something more exceptional from its beginning. Sold new through Bugatti's Parisian distributor Bucar on the same day it was delivered in 1934, the first owner of this example took it back to the factory for an updated, second-series frame in 1936. Soon afterwards, it was sold to Belgian coachbuilders d'Ieteren (a firm still in business today), assumedly as partial payment for a new, handbuilt model for its first owner.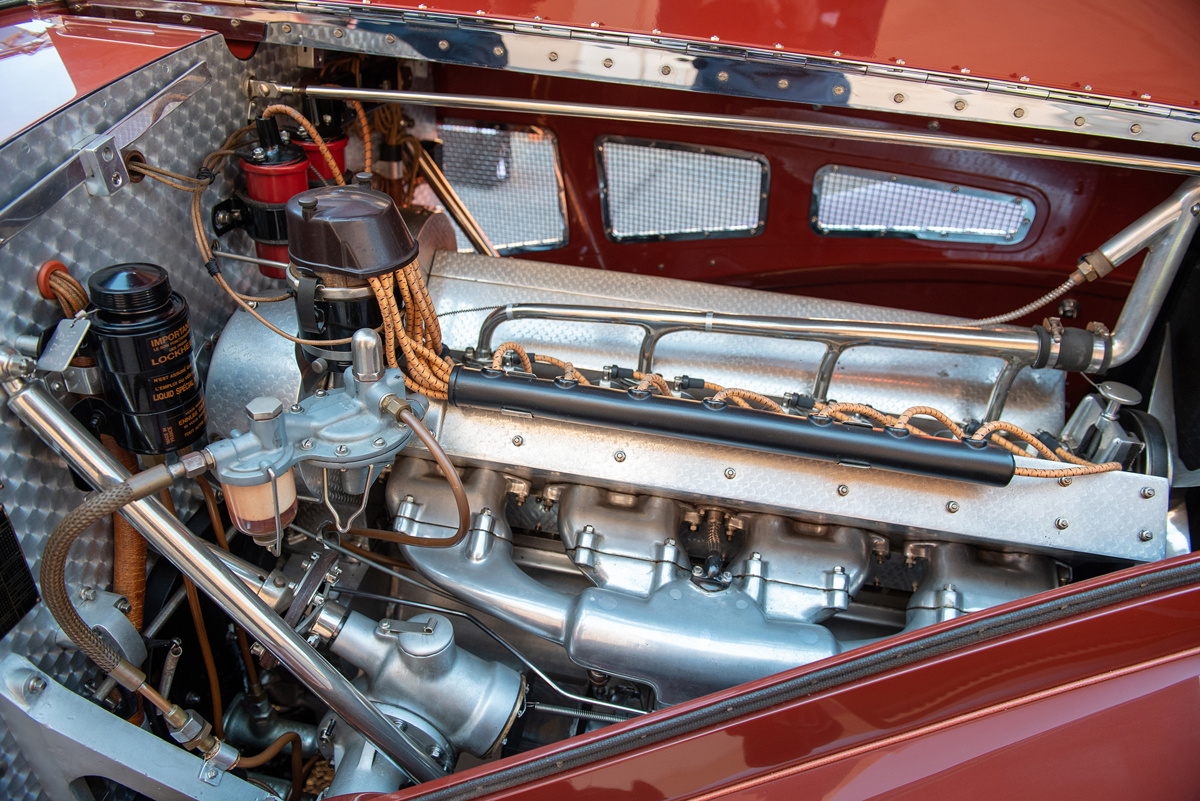 The next chapter of this Bugatti's history is not completely certain. One Dutch Bugatti historian, Kees Jansen, examined the period-built, two-passenger cabriolet coachwork and attributed it to Paul Nee. The rebodied Bugatti is also reminiscent of d'Ieteren's signature styling on another open-top example. The history of ownership took this example first to Antwerp, then to the United States beginning in 1955. After passing from one prestigious collection to another, this example was treated to a thorough restoration beginning in 2003 via the well-regarded Alan Taylor Company of Escondido, California. There, it was treated to new fenders, door skins, hood, and trim, executed to perfection in aluminum by expert craftsman Edouard de Vaucorbeil. The finished product shows positive echoes of Bugatti's favored coachbuilder Gangloff and has earned this example invitations to several prestigious concours d'elegance, as well as awards for Best of Show Pre-war in 2013 at the La Jolla Concours and a First Prize (number 3176) in Classic Car Club of America National judging. Pre-war Bugatti sports cars possesses a style and story like none other.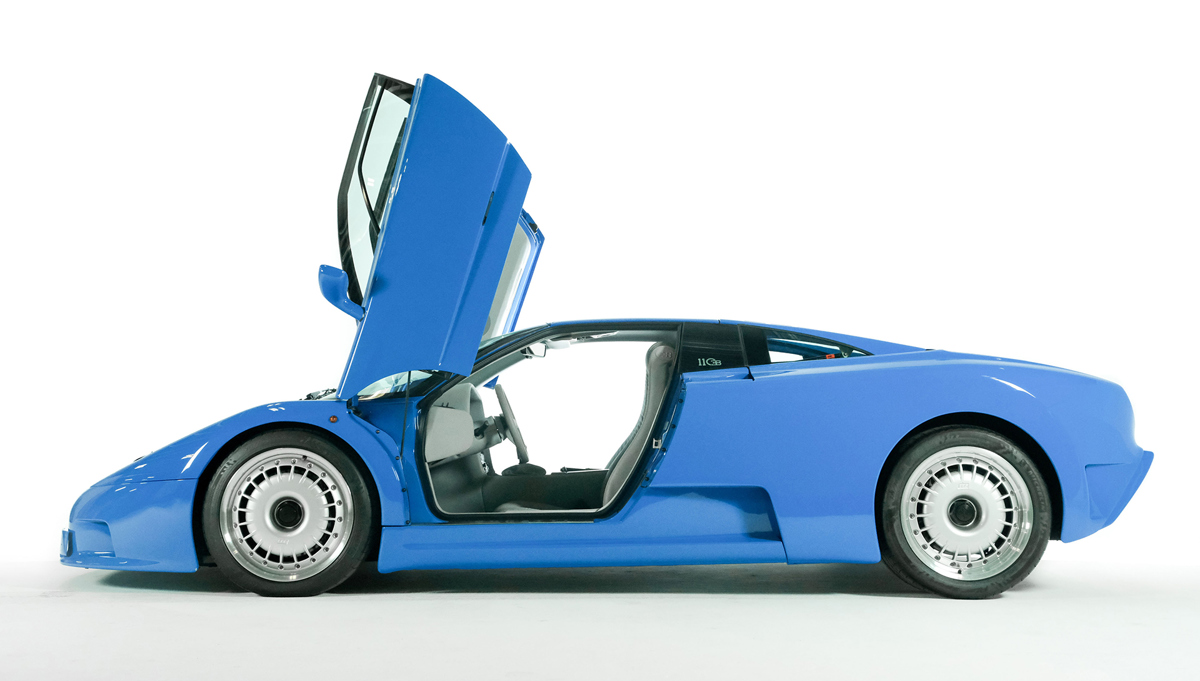 1994 Bugatti EB110 GT Prototype
Estimate: $2,000,000 - $2,500,000 USD
Of course, in the post-war period, the Bugatti brand lost little of its enduring appeal. We have covered in the past the ambitious purchase and re-energizing of the Bugatti marque by Italian automotive magnate Romano Artioli in a previous post, but this example is even more important to that story. With seemingly no shortage of technological advancements included in the spec sheet for the EB110 model, Artioli's newly re-established automaker was certainly aiming to build a supercar worthy of the Bugatti name. When the earliest efforts were made of an aluminum chassis finished with a Marcello Gandini design, this example was one of a handful of second-series prototypes made with the now-familiar Giampaolo Benedini design and a chassis hewn in futuristic carbon fiber, fashioned by French aerospace firm Aérospatiale. For many, the centerpiece of this all-new supercar vision was the quad-turbocharged V-12 engine.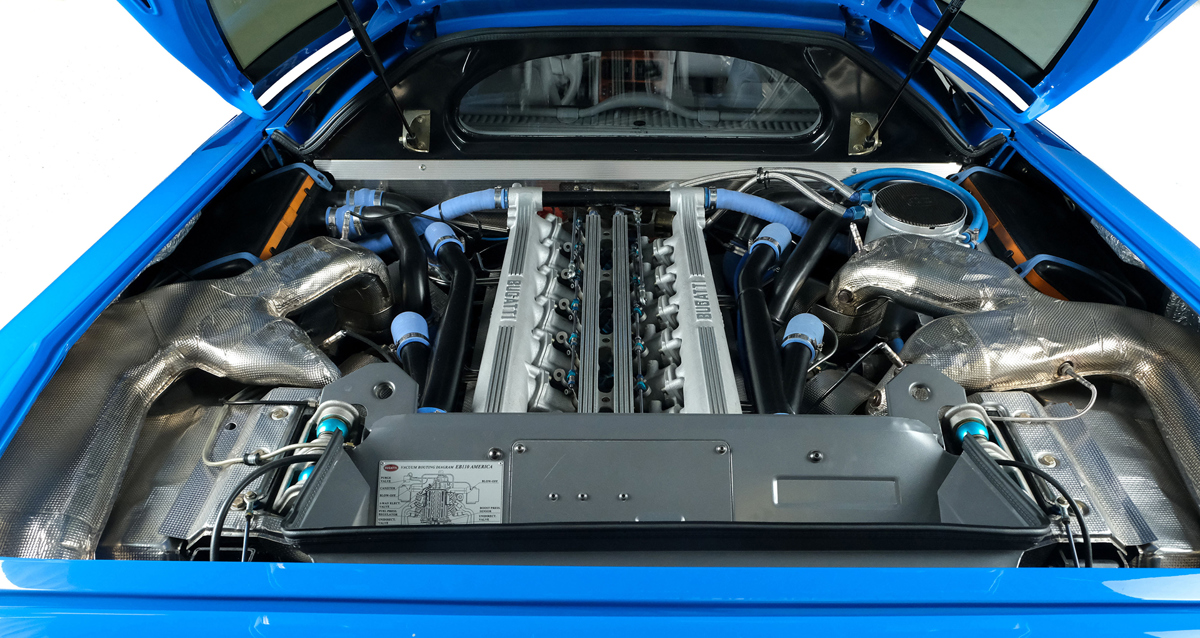 Known among Bugatti circles as the second-series prototype with the least mileage, this example was used sparingly, displayed only at the Bologna Motor Show in 1992 and appearing at the Grosvenor House Hotel the following year. Refinished by the factory in the signature shade of Bugatti Blue, this example also served as the chief emissions testing example for federalization in Switzerland and the United States. Wearing several distinctive features in its interior, as well as a Super Sport-specification rear grille, this sparingly used example is inarguably a piece of modern Bugatti history. With the EB110 GT starting to be appreciated by classic Bugatti and supercar collectors alike as a model worth collecting and driving, this 1,095-kilometer (~680 mile) prototype is surely an intriguing opportunity.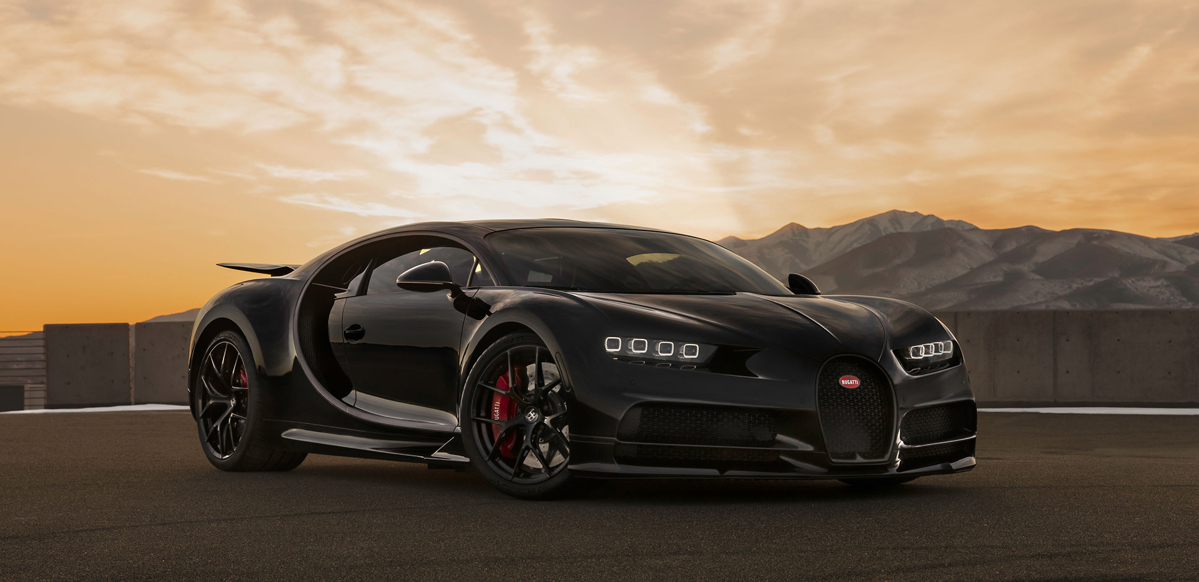 2019 Bugatti Chiron Sport
Estimate: $3,000,000 - $3,300,000 USD | Offered Without Reserve
Not simply a supercar anymore, with the takeover of the Bugatti marque by the Volkswagen Group in 2006, the intentions of the brand aimed even higher. The newly re-established, Molsheim-based automaker's first effort was arguably the launch of the hypercar with the Bugatti Veyron. One decade later, Bugatti's follow-up with the Chiron and Chiron Sport proved to outdo even their previous effort, with larger two-stage turbochargers, larger catalytic converters, and a new titanium exhaust system helping the new hypercar produce 1,479 horsepower and 1,180 pound-feet of torque. The original Veyron, of course, made headlines with its 1,000 horsepower W-16. By all accounts, the Chiron was even more extreme in terms of performance, and the Chiron Sport promised even more.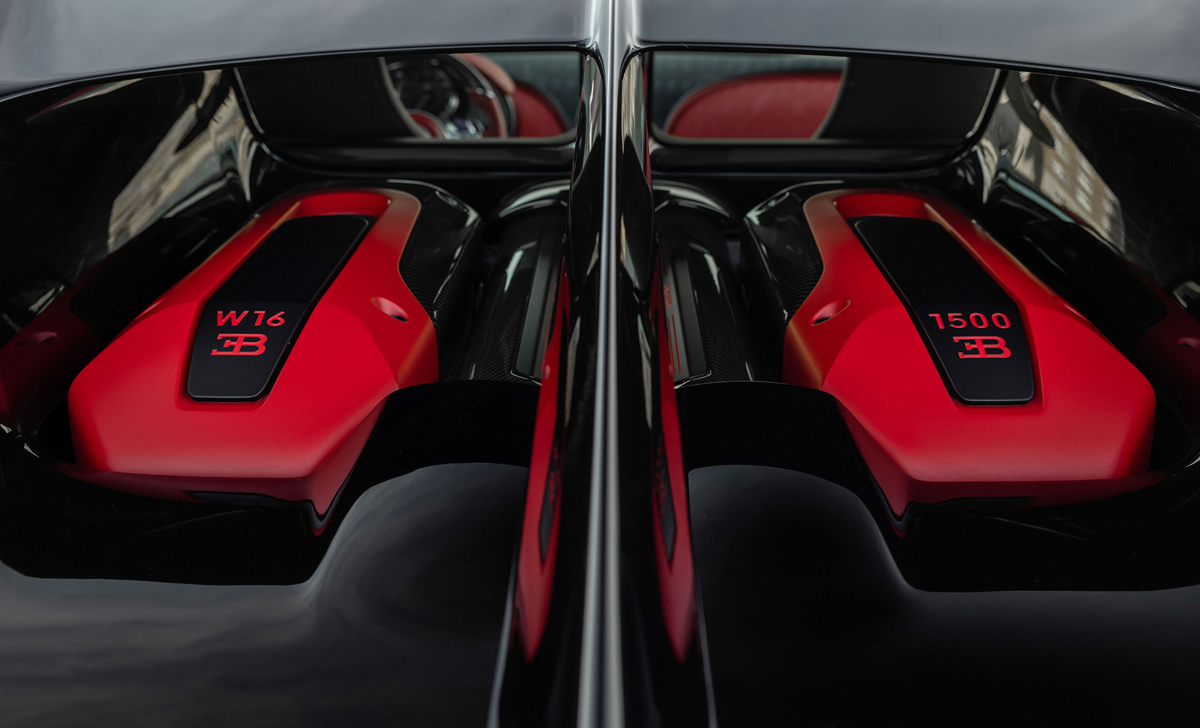 Limited in quantity to a mere 60 examples worldwide, this Chiron Sport has been specified with $301,000 in additional options, including painting the engine a bespoke Satin Italian Red finish. Matching the striking exterior, the engine trim was finished in Nocturne and exposed gloss carbon fiber, and the rear wing received black anodized components and was painted Italian Red on the underside. The wheels and the rear lamp trim parts were painted black, while the brake calipers, inner signature line, and rearview mirror were finished in Italian Red. The door sills were made of aluminum, and interior headrests received embossed Chiron logos. Packing $275,000 worth of improvements over the base model Chiron, encompassing suspension, exhaust, and aerodynamic upgrades, the Chiron Sport was able to run the Nardo Ring in Italy five seconds faster than the base-level Chiron, taking the Sport to the next level in terms of hypercar performance. Ordered new in California, this Chiron Sport has been kept in-state for its entire existence. Maintained faithfully from new, this example recently received its two-year service at O'Gara Coach Company in Southern California in late 2021. With an unbeatable color combination and unreal capabilities, this is the definition of pinnacle motoring; a car worth keeping as much as it would be thrilling to drive. Sure to cause a stir among the enthusiasts at RM Sotheby's Amelia Island 2022 auction. Which exclusive Bugatti would you want to take home?