With the spirit of thankfulness in the air and the holidays right around the corner, it is the time of year to pause for reflection. Whether it is re-considering the gifts that we already own or rewarding ourselves for a lifetime of hard work, the end-of-year festivities give us room to take stock of our current status and start looking ahead. Whether the winter season in your hemisphere is set to be naughty or nice, there is still time to gather a few much-wanted gifts that can make all the difference.
With a superb diversity of lots spanning from mid-engine Italian sports cars to the all-American Power Wagon storming down the road in today's cover image, the selections from RM Sotheby's Online Only: Open Roads, December auction are wide-ranging enough that nearly anyone can find something special for the holidays. There's even a horse-drawn sleigh, complete with a pair of snowshoes and a set of skis. With lots opening on 1 December and closing only seven days later, there is still time to register and bid on these selections. And with several of these stunning examples offered with estimates under €160K, there are enough options to tempt nearly any automotive fan. Here are our highlights: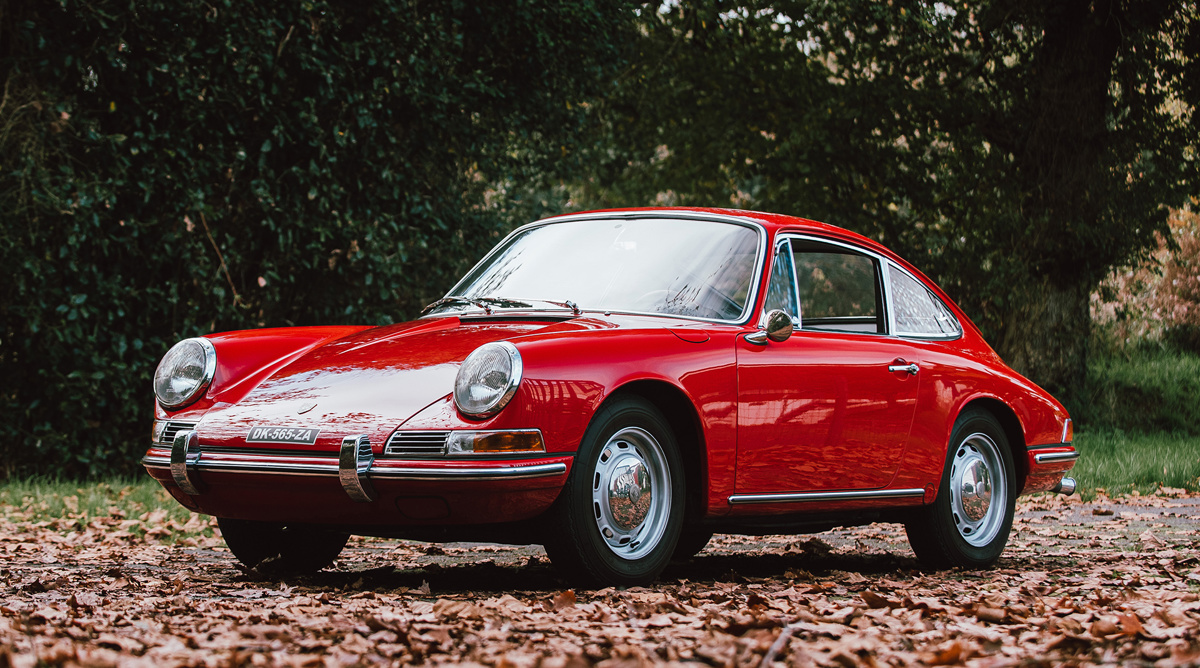 1966 Porsche 911
Estimate: €140,000 - €160,000 EUR
If only all the cars on this list were painted a similarly festive shade. This early Porsche 911 example is wearing its original color of Polo Red, perfect for our seasonal list. A highly desirable short-wheelbase version, as the 911 sported in its first four years of production, many Porschephiles consider the earliest designs to be the purest of form. While we have several Porsche options on this list, the Stuttgart firm listed the original curb weight of this model as 2,381 lbs., more than 1,000 lbs. fewer than the lightest standard production 911 from this year. This Polo Red example has documents from Porsche France that certify the originality of its build as well as a matching-numbers engine and gearbox. This 'base' 911 proves standard can be very special indeed.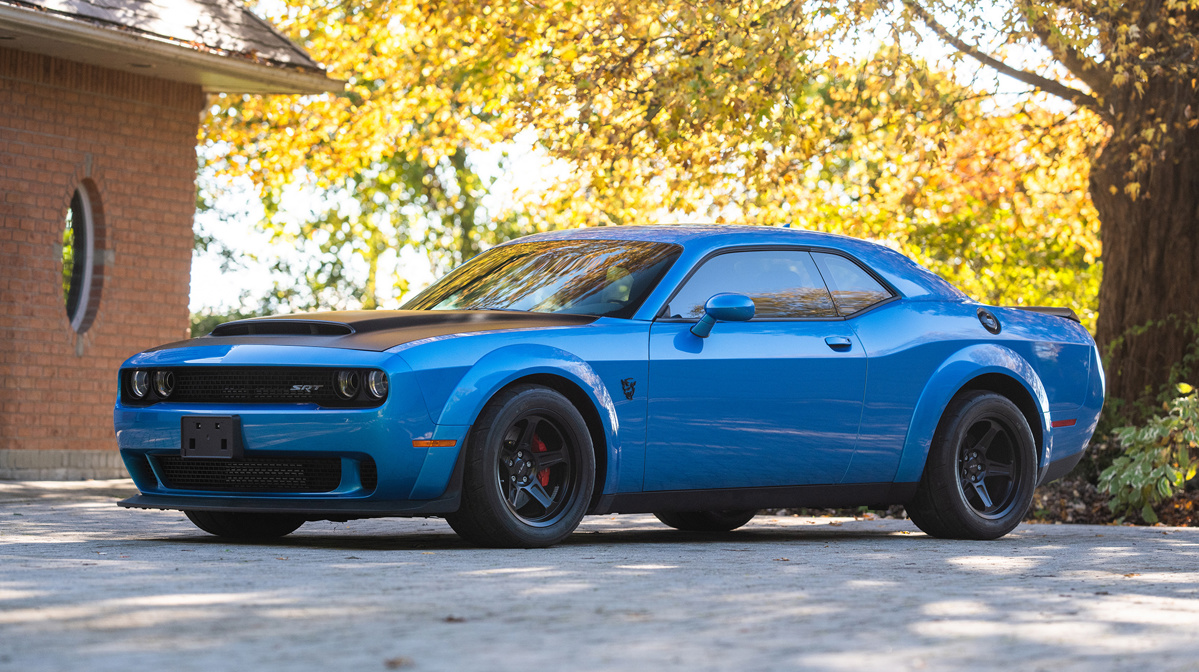 2018 Dodge Challenger SRT Demon
Estimate: $135,000 - $150,000 USD
Rocketing forward into the 21st century, with their top-of-the-line Demon, Dodge showed how devotion to engine development could overcome nearly all obstacles. Turning out a prodigious 808 horsepower, courtesy of its 6.2-litre, supercharged V-8 engine, the Demon was a definitive statement in the muscle car wars of the new millennium. Accompanied by the all-important Demon Crate package, this Canadian-delivery example has been gently used since its delivery: Only 357 kilometers showed on its odometer at the time of cataloguing.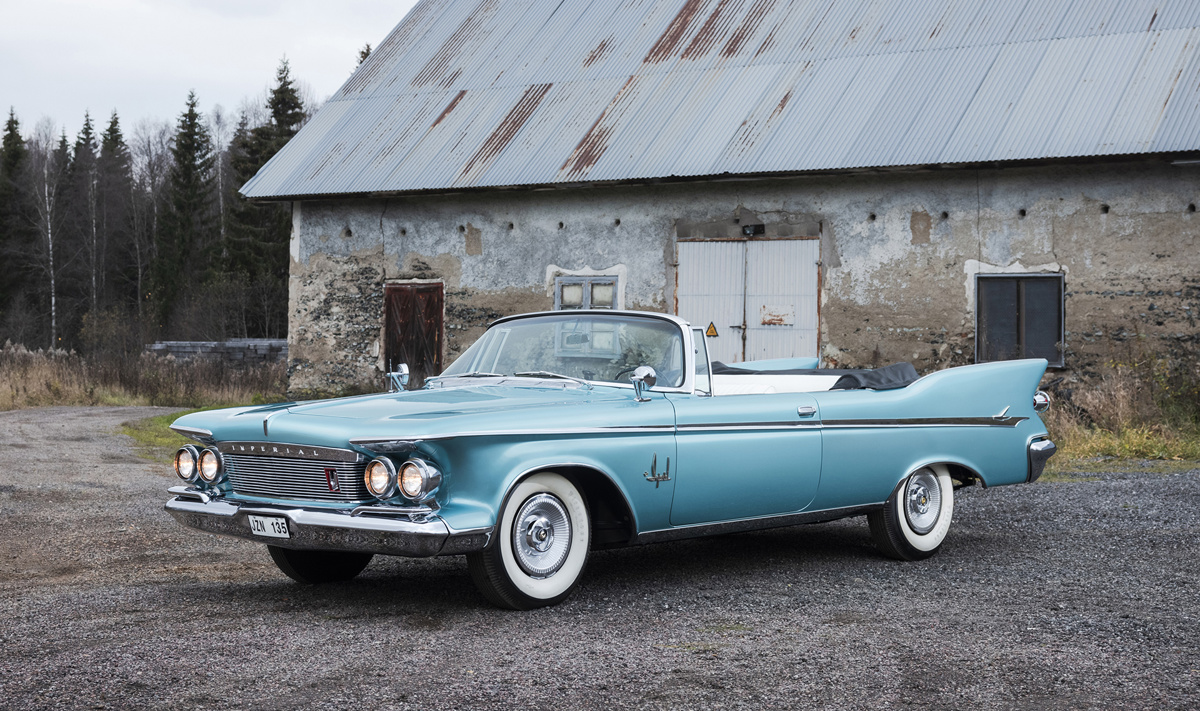 1961 Imperial Crown Convertible
Estimate: €115,000 - €150,000 EUR
If one happened to already own a Dodge Demon and wished for a top-of-the-line classic from the mid-century era, there are few brands that could deliver such a high degree of luxury during the same period. Featuring tailfins large enough to surpass its rival Cadillac Eldorado, the Imperial Crown was a creation of the Chrysler group, meant to stand on its own as a testament to American automaking. Featuring push-button activated transmission and a space age-style interior cabin, this Crown was styled by the forward-thinking designer Virgil Exner, who was responsible for many of the era's iconic concept cars. With this Crown Convertible comparing favorably against period Cadillac and Lincoln offerings, its relative rarity makes this example stand out in the field of 1960s-era Americana. One of a mere 429 Crown Convertibles built for the 1961 model year, it is no wonder that this Imperial example has racked up a series of awards at concours events in its current home of Sweden.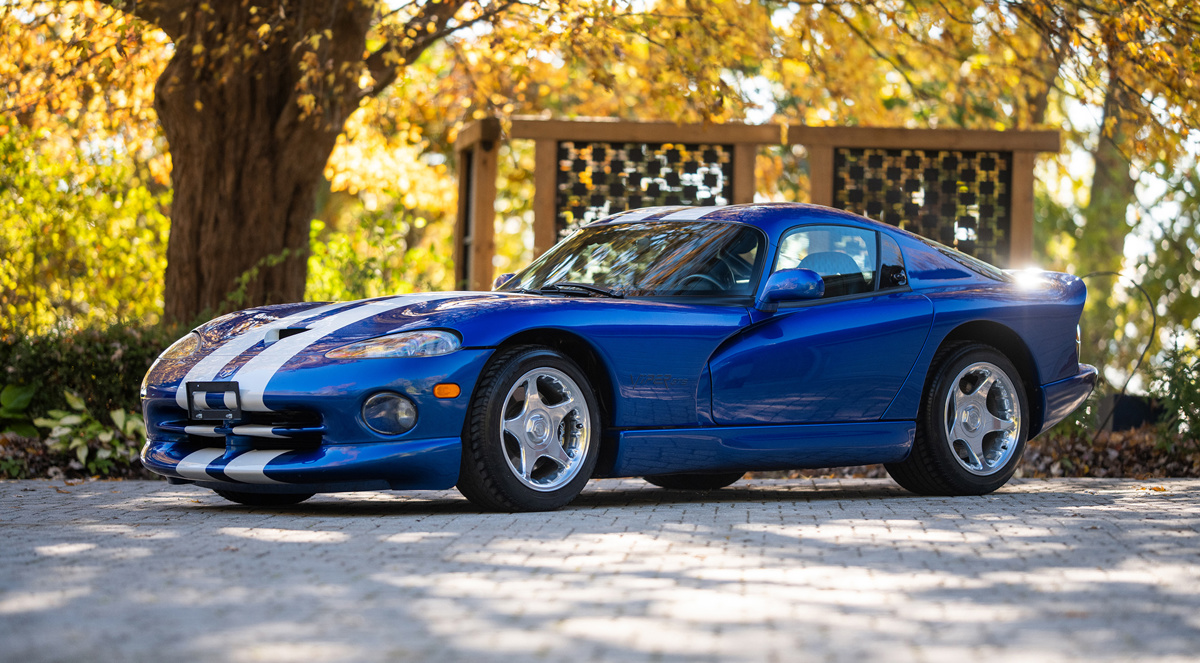 1997 Dodge Viper GTS
Estimate: $80,000 - $100,000 USD
The final entry from the list of three outstanding examples from the Chrysler Corporation, all clad in vibrant shades of blue, with its contrasting white stripes (an inversion of the classic American racing livery worn by Cunningham and Shelby in competition) this 1997 Dodge Viper GTS is perhaps the most eye-catching of the trio. While today, the first-generation Viper is widely regarded as the quintessential 1990s American supercar, it is easy to forget that during its inception, many doubted whether a small group of Dodge engineers could credibly create a sports car worthy of challenging the world's best. Of course, the 8.0-litre V-10 engine sitting underneath the Viper's front-hinged clamshell hood did much to silence critics. For those Dodge devotees who want a bit more engine output, our Open Roads, December auction also features a second-generation Viper SRT-10, turning out 500 horsepower from its V-10 engine. Decisions, decisions.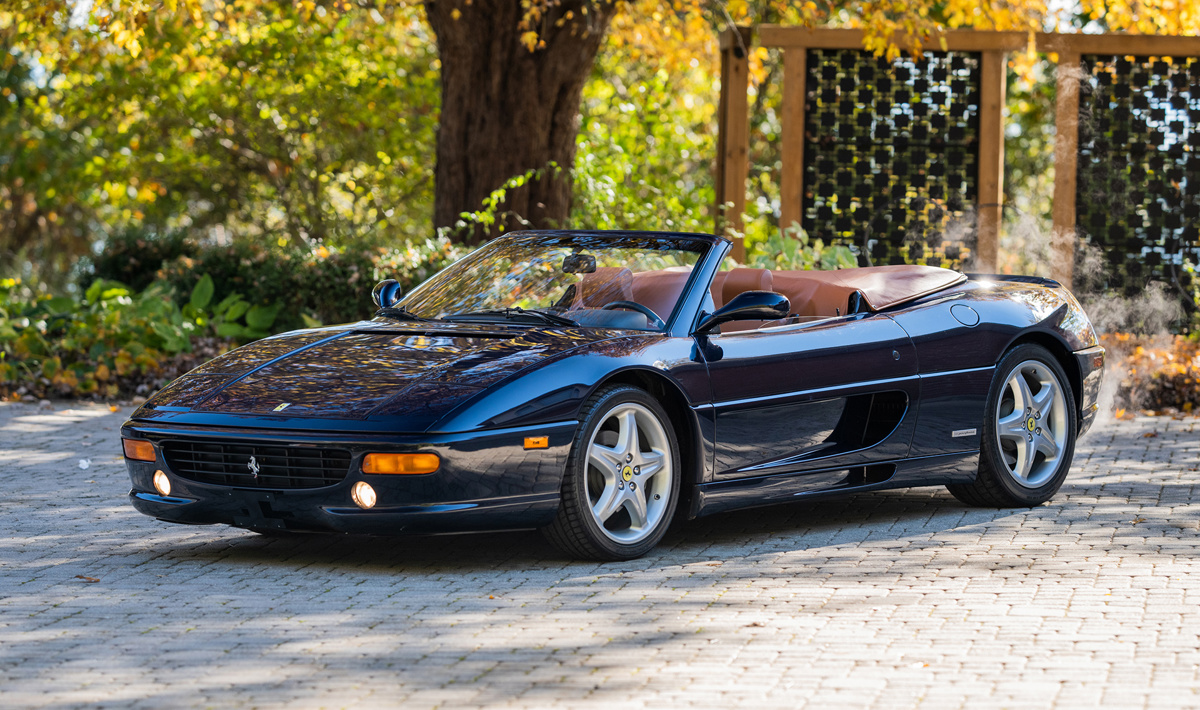 1998 Ferrari F355 Spider
Estimate: $130,000 - $160,000 USD
Moving from our American sports car theme, this late-1990s open-top Ferrari shows the quality of cars that the Viper was built to compete against. Also wearing a bluish hue, this example sports its original PPG shade of Blu Pozzi, making for an achingly tasteful color combination with its brown leather interior, with upholstery that also appears original to the car. The ultimate option awaits any lucky operator who gets to drive this prancing horse: A six-speed, open gated shifter, making for a sterling centerpiece inside the cockpit. Accompanied by a series of official Ferrari service receipts dating back to 1998, including addressing the all-important sticky button issue known for this generation of vehicles, this Canadian-delivery example showed a mere 4,757 kilometers on its odometer at the time of cataloguing.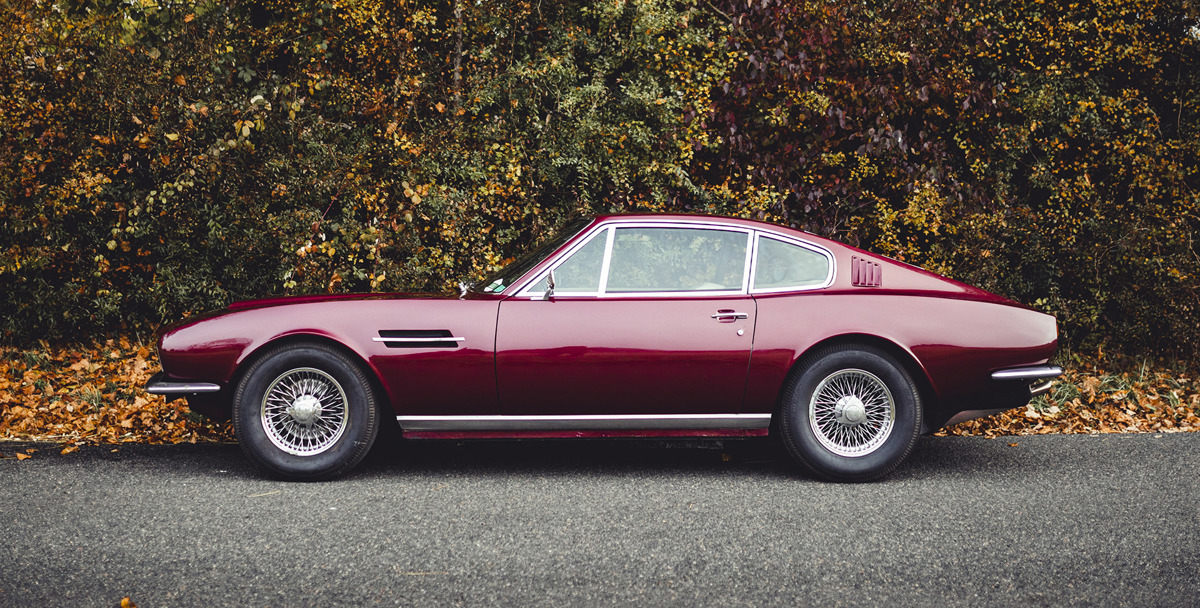 1968 Aston Martin DBS
Estimate: €110,000 - €130,000 EUR
Transitioning from a blue Ferrari to a red Aston Martin, this handsome Burgundy example proves that unconventional color combinations can work particularly well on period sports cars. The late 1960s proved a fruitful time for Aston Martin, as they transitioned from their shapely DB-series of saloons to the more angular Vantage-series designs of the 1970s. Powered by a prodigious 4.0-litre inline-six-cylinder engine, the DBS was designed to shuttle four occupants in comfort. Especially worthy of mention is its luxurious Fawn-colored Connolly leather interior. This example is accompanied by extensive documentation dating back to its original registration book and service records. Always a tasteful choice, this Aston is perhaps even more elegant in red.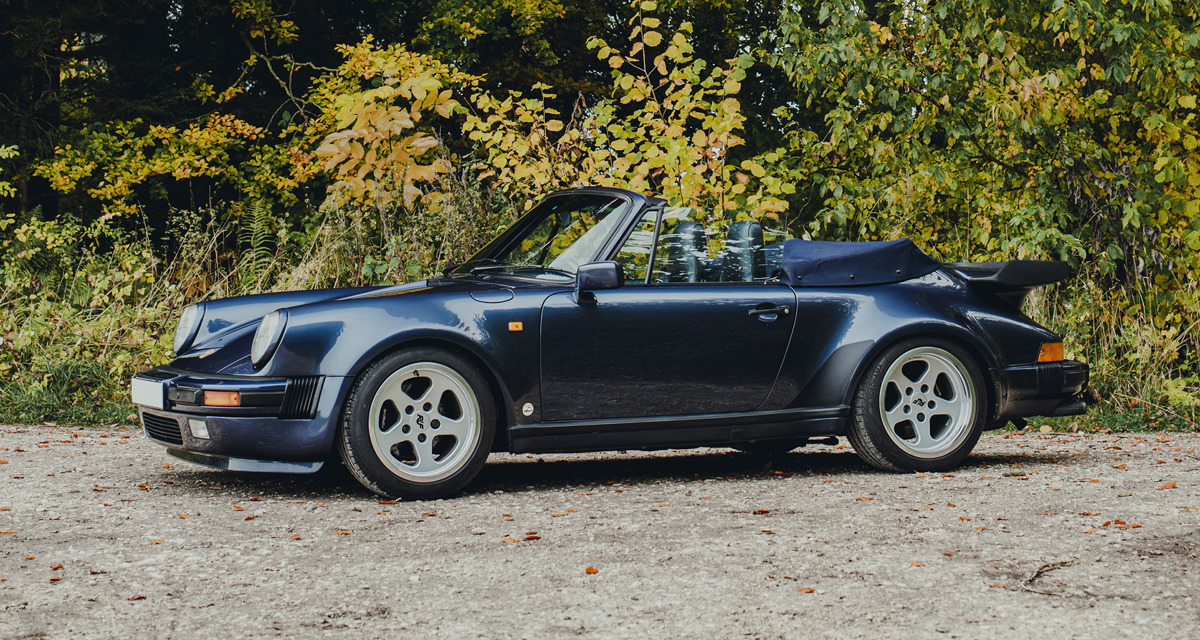 1985 Porsche RUF BTR Cabriolet
Estimate: €110,000 - €160,000 EUR
While we have recently featured another turbocharged RUF BTR coupe which is headed for our Arizona auction in early 2022, this BTR Cabriolet example can be yours even sooner. While any vehicle that has been blessed by the imprint of Alois Ruf and his skilled technicians can be said to be genuinely special, this Prussian Blue Metallic example is perhaps even more superior than most, with its factory-issued "Turbo-Look" widebody stance and RUF BTR turbocharger. The exterior color is complemented by its blue leather interior and RUF-added accessories, including the all-important boost gauge and speedometer which tops out at 350 kilometers per hour. Perhaps the most critical accessory, aside from the stout 17" alloy wheels, is the RUF 'Ladedruck', an internal control between the seats which allows the driver to dial in their preferred degree of boost. This 49,397-km, well-cared-for example provides a spectacular way to feel the December air on the open road.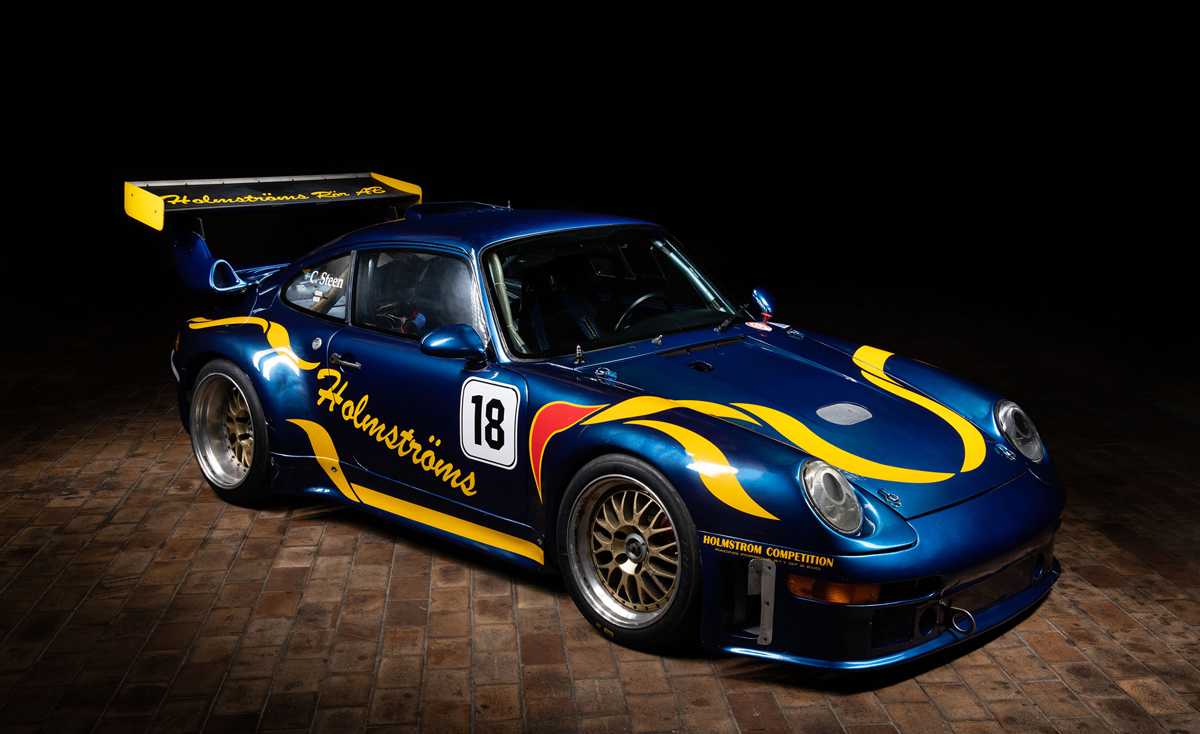 1990 Porsche 911 Custom
Estimate: €100,000 - €150,000 EUR
Of course, RUF was not the only customizer to set its sights on upgrading Stuttgart's finest. As Porsche themselves began to develop and refine their turbocharging methods into the 1990s, many modifiers took up the challenge and built their own motorsports-inspired variants on classic 911 chassis. Built for a contemporary Swedish racing driver, this custom-made example features a stripped-out cabin with a carbon fiber dashboard and digital gauges. Underneath the front bonnet, a FIA-spec racing-style fuel bladder increases the range of this example while motorsport-grade features like an externally mounted emergency shut-off switch increases confidence during competitive driving. An extensive list of parts accompanies the sale, including an extra transmission, a set of front and rear BBS wheels with slick tires, and no fewer than six turbochargers.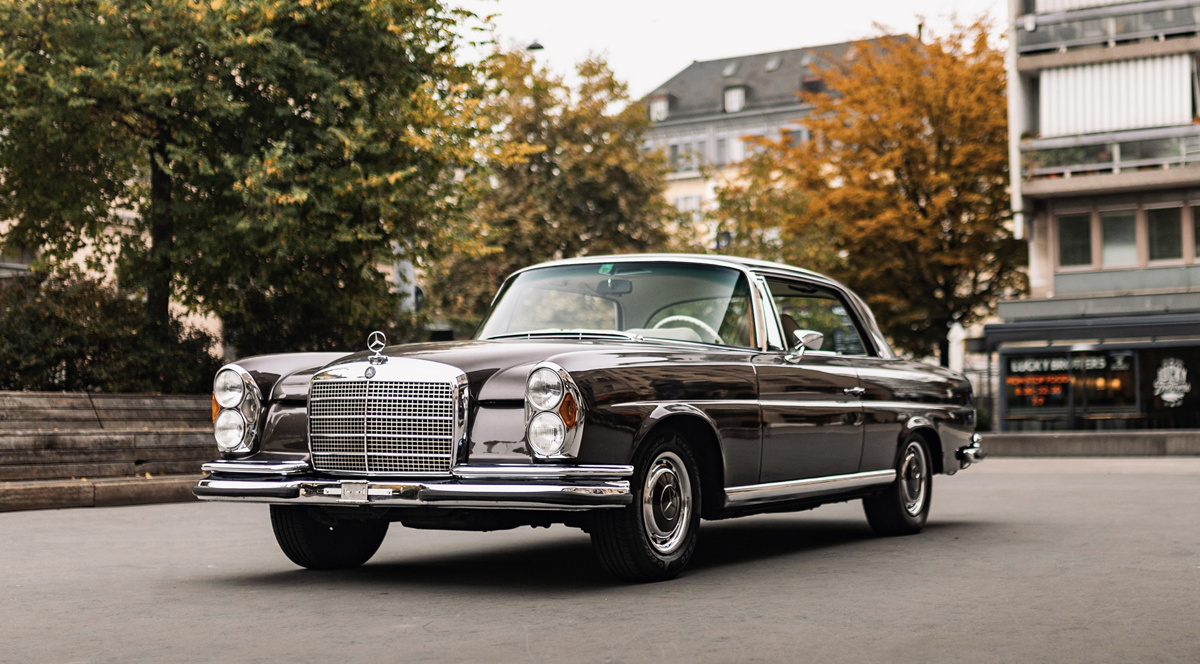 1970 Mercedes-Benz 280 SE 3.5 Coupé
Estimate: CHF85,000 - CHF105,000
For some, the thought of German-made sports coupes always leads back to the tri-pointed star. Regarded as one of the last Mercedes-Benz products that were assembled largely by hand using traditional techniques, the 280 SE 3.5 Coupé features the kind of interior appointments that could legitimately compete with offerings from Rolls-Royce and Bentley. The dashboard layout, in particular, is worthy of attention, as its easy-to-read gauges and wraparound wood trim lend this example an air of regal royalty. Paired with an uncommon four-speed manual transmission, the next owner of this early 1970s Mercedes-Benz will be able to extract the maximum performance possible from this iconic 3.5-litre V-8 motor, rated from the factory at a lively 200 hp.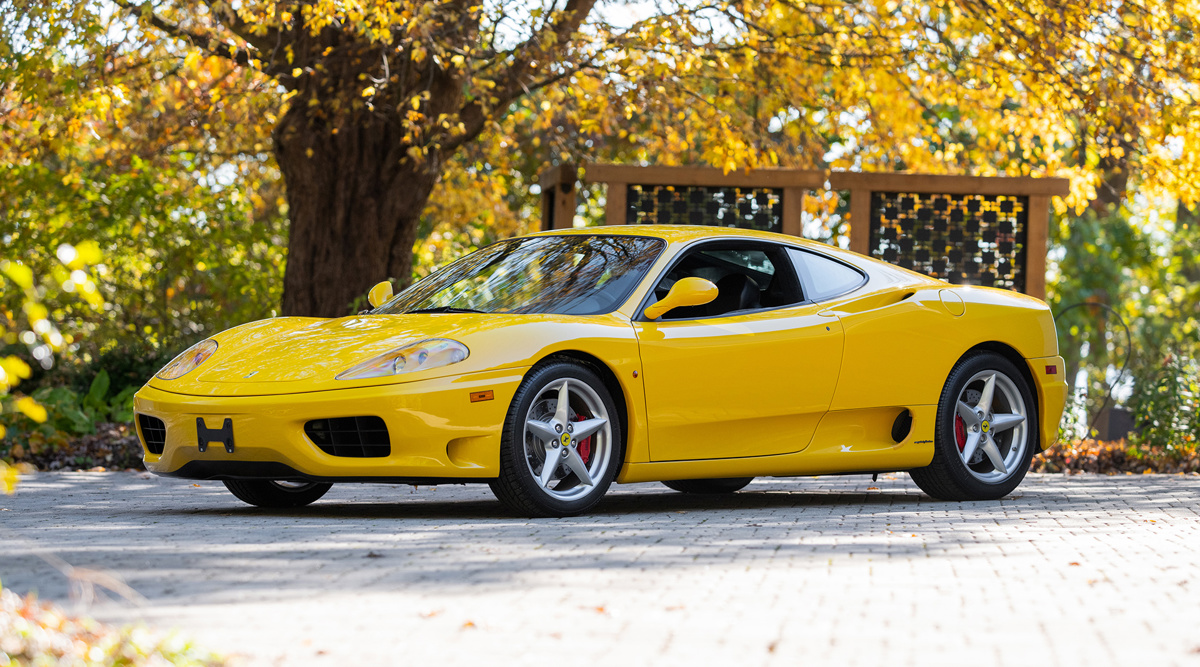 1999 Ferrari 360 Modena
Estimate: $90,000 - $110,000 USD
Speaking of eye-catching coupes, this Giallo Modena-colored Ferrari is perhaps the perfect counterpoint to the subtle Blu Pozzi Spider we covered earlier. Looking backwards from Ferrari's modern mid-engine designs, one can see the influence of the 360 Modena even today. With its clean, scalpel-like front end leading to shoulder-mounted air ducts above the rear wheels, this same fundamental formula is still fresh today. Moving to the interior of this period-correct sports car, one finds the irresistible combination of Daytona-style seats in contrasting yellow-and-black leather, perfectly made to complement the timeless prancing horse logo in the center of its delicate steering wheel. Peering past the wheel, one can see this Canadian-delivery example showed only 3,292 kilometers on its odometer at the time of cataloguing.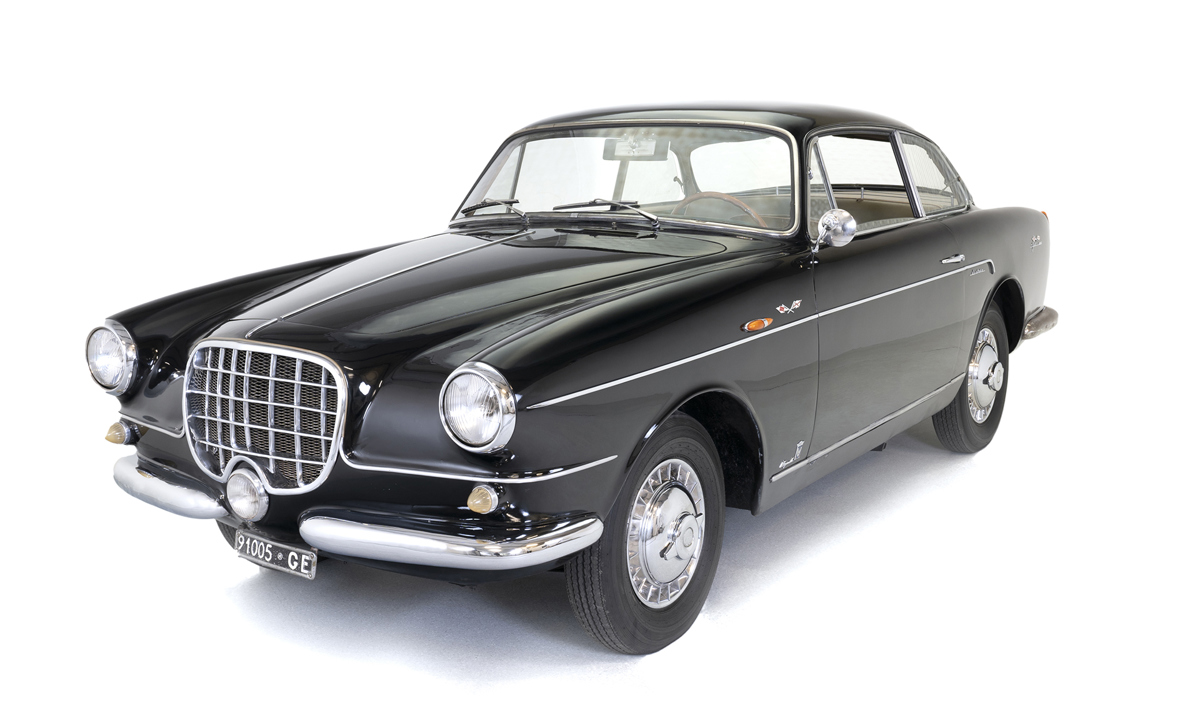 1956 Fiat 1100 TV Coupé by Vignale
Estimate: $90,000 - $130,000 USD
For those who prefer their Italian coupes to come complete with coachbuilt pedigree, our list also includes this timeless TV Coupé by Vignale. Though television became a household staple in the 1950s, the TV in this example's nameplate actually refers to Turismo Veloce, which hints at the sporting aspirations of this handsome coupe. It is believed that fewer than six examples featured handmade coachwork by Carrozzeria Vignale, made to the original design of undisputed master Giovanni Michelotti. Recognizing the overwhelming degree of originality on this already rare example, this car was invited to the prestigious Pebble Beach Concours d'Elegance in 2019, where it compared favorably against fine Ferrari models and even completed the Tour d'Elegance, the ultimate test for any show car. An opportunity to own a piece of truly great design.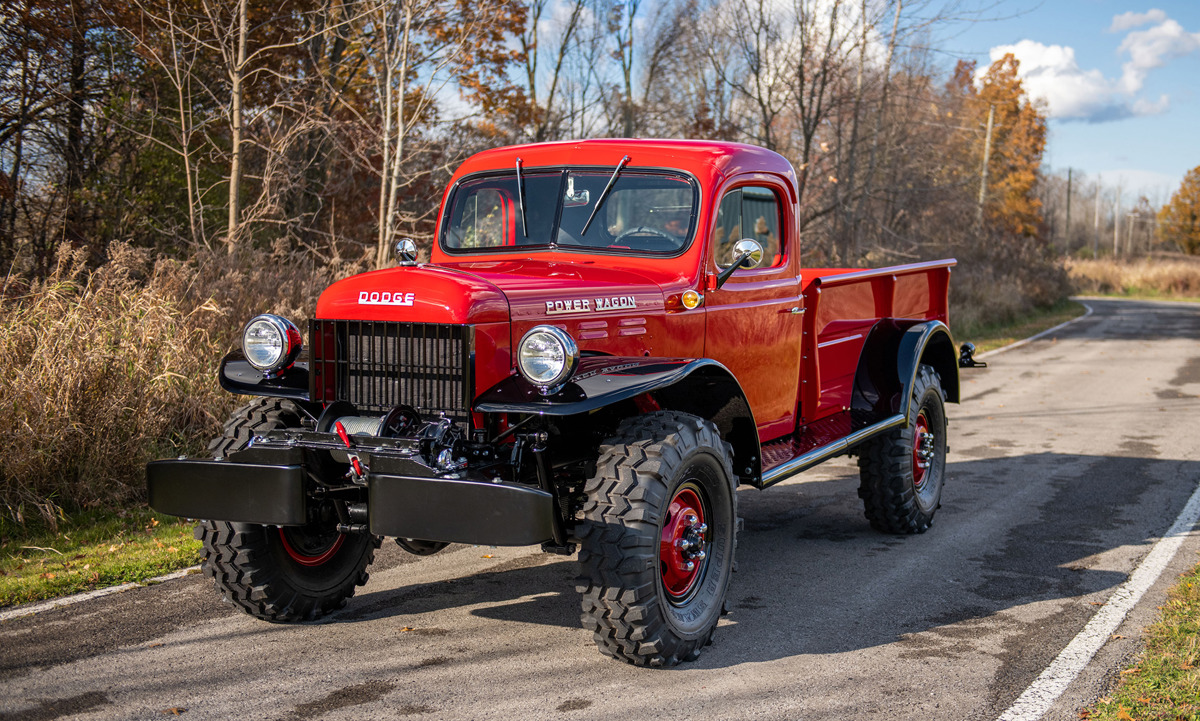 1951 Dodge Power Wagon
Estimate: $75,000 - $85,000 USD
Storming down the roads in our cover photo, this 1951 Dodge Power Wagon is a clear sign that the holidays are arriving. Packed with period power and a serious-looking set of Super Swamper TSL tires, this Dodge treads the line between an overbuilt vintage vehicle and an off-road contender which is still potent today. The Power Wagon was originally derived from a Dodge-produced WC-series military vehicle and claimed the title as the first series-production 4x4 pickup offered to civilians after the end of WWII. With a delightful rumble from its 230 cubic-inch flathead inline-six-cylinder engine—easily distinguishable in this short running and driving video—and its commodious 8-foot cargo bay ready to accept any number of gifts, this Dodge Power Wagon may be the ultimate all-weather present delivery device. Before taking it off-road, it is worthwhile to check out the near-spotless undercarriage of this period pickup, as it appears fresher than many modern offerings.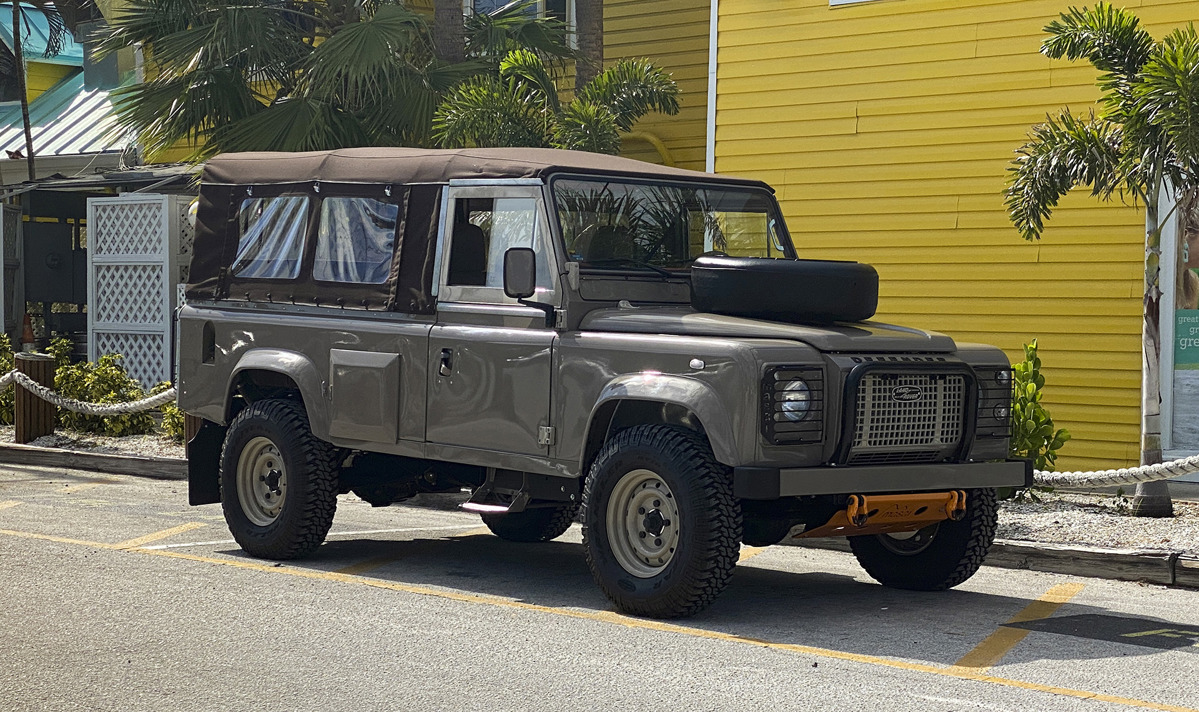 1992 Land Rover Defender 110 Beach Runner
Estimate: $70,000 - $90,000 USD
Much more of a resto-mod in the style of Icon 4x4, this Land Rover Defender has recently enjoyed a thorough refreshing courtesy of marque specialists Unique Masterpieces of Portugal. With a knack for eye-catching interiors and practical engineering upgrades, this Defender 110 Beach Runner sports sufficient advancements to set it apart from your typical off-roader. The interior alone, which features a contrast of synthetic plaid seats upholstered in weather- and stain-resistant material and a dashboard in a lively hue of orange-red Napa leather, makes this example worthy of careful consideration. With an extensive mechanical overhaul by Unique, including Bilstein shocks, replacing the timing belt and oil reservoirs, and attention paid to the braking system, radiator, and intercooler, this example features a bevy of upgrades, too numerous to list here. Having been imported from Portugal to the United States in July of this year, with the customization completed in April, this is practically the definition of a freshly made, classic vehicle, ready to enjoy on virtually any road possible.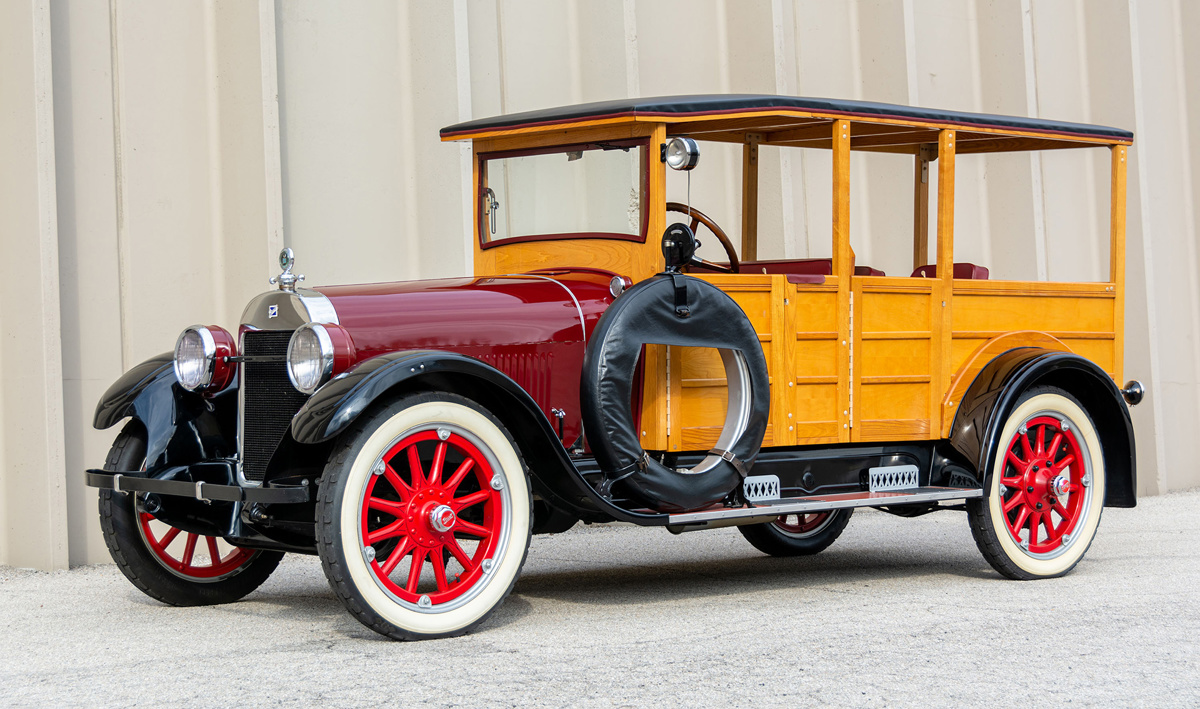 1923 Buick Series 33 Depot Hack
Estimate: $34,000 - $38,000 USD
Rounding out our trio of practical classics, this pre-war Buick Series 33 Depot Hack proves that refined craftsmanship is not a modern invention. As a class of vehicle, the Depot Hack was typically employed by period resorts and hotels, made to collect visiting families from railroad stations and shuttle them (and their luggage) to luxurious vacations. Today, such extensive woodworking is rarely used even on high-end vehicles. Worth a closer look for all of its period details, this example retains the mark of its original bodybuilder, J.T. Cantrell & Company of Long Island, New York. Looking closer at the external details of this period-correct example reveals a legacy of proud ownership, including several badges from American-centric antique and classic car meets at the home of Michigan-made motorcars, Greenfield Village at the Henry Ford.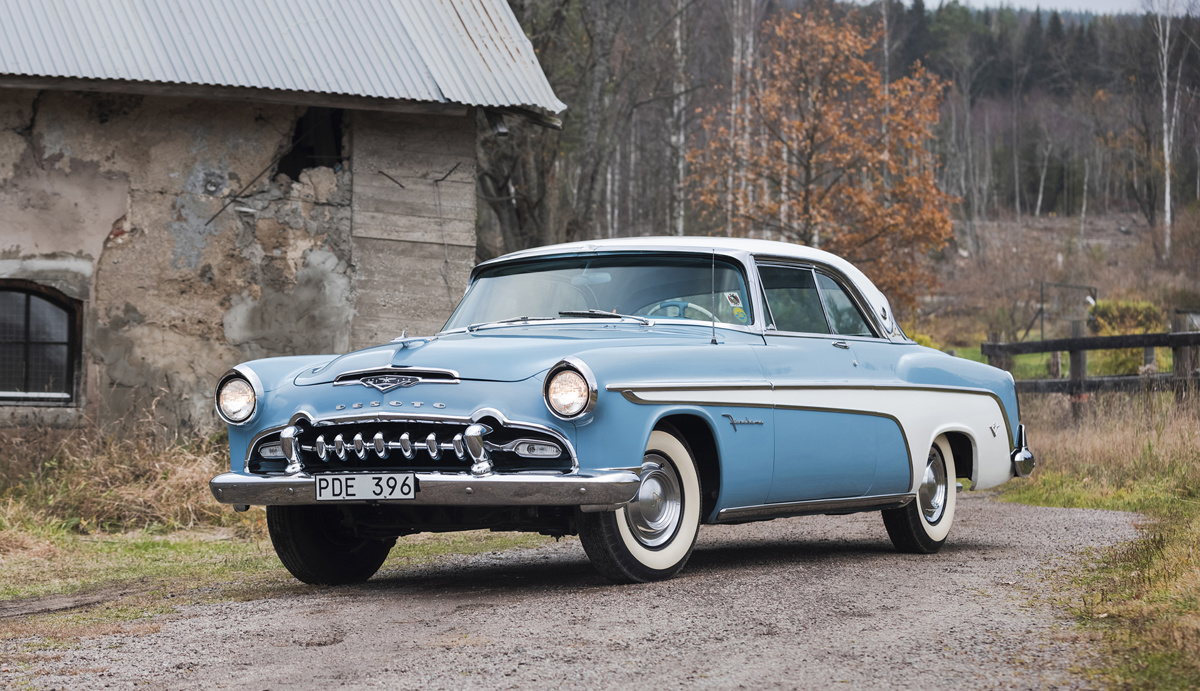 1955 DeSoto Firedome Sportsman Two-Door Hardtop
Estimate: €28,000 - €40,000 EUR
Another American-made classic currently enjoying European ownership, this DeSoto Firedome is one more example of how mid-century styling from Detroit has aged gracefully. The Firedome name denoted that DeSoto was powered by the iconic Chrysler Hemi V-8 engine, while the Sportsman trim level was indicated by a small badge near the terminus of this Two-Door Hardtop's "floating" roof. Two-tone exterior paint in Dolphin Blue and Surf White completed the 1950s styling and evoked visions of California cruising. This example, restored in Sweden in 1995, is notable for its stunning interior, also in a similar shade of Dolphin Blue. Accompanied by a series of trophies from concours participation in Sweden, Norway, Denmark, and Finland, this is an all-American coupe subtle and stylish enough to be fully appreciated and accepted in Europe.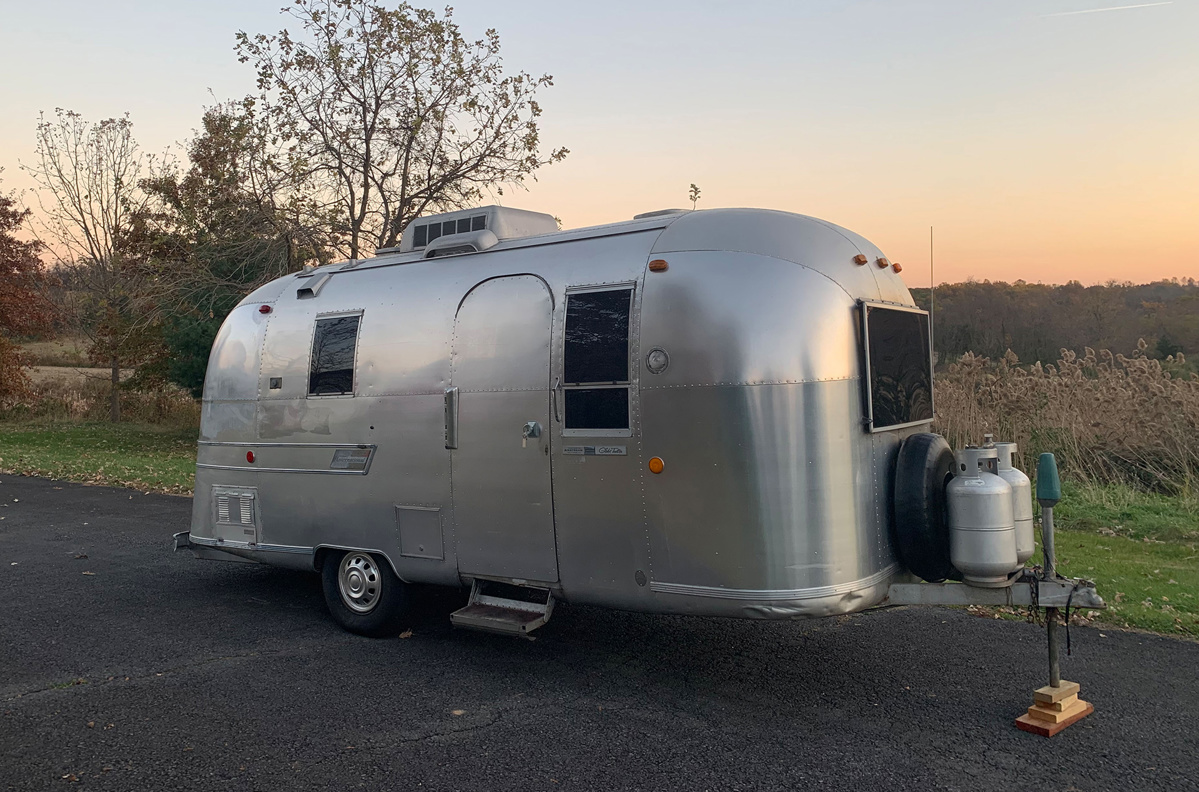 1968 Airstream Globetrotter
Estimate: $25,000 - $30,000 USD
The final entry on our exhaustive list of holiday gifts is not an automobile but a fully-fledged Land Yacht. At least, that is how the Airstream Corporation advertised this Globetrotter travel trailer. Another entry that is worth examining in greater detail just to see the quality of its interior, this well-appointed Airstream features nearly all the comforts of home. With a heater, sink, four-burner oven and range, as well as a toilet and shower, it is clear to see why these period trailers are still so practical and desirable today. Featuring extensive original documentation, including its first registration card and even a book of recipes for its built-in oven, this Globetrotter could be the perfect gift for anyone who wants to get away. For even more fine examples appearing in RM Sotheby's Online Only: Open Roads, December auction, please use this link, and from the global team at RM Sotheby's, we wish you a fine holiday and happy motoring!