From the uppermost echelon of performance and strategy displayed in Formula One race cars to the gravel-slinging cars of Group B, these vehicles represent some of the most exciting and memorable race cars of the last four decades. With classic competition series and demonstration events throughout the world ensuring that these vehicles have an arena to be exercised, each of these automobiles is highly eligible to compete at the hands of new owners to relive the past successes in competition that these vehicles claimed.
RM Sotheby's London sale brings together a vast array of automobiles spanning numerous segments of the market, including a number of significant race cars which boast a proven competition history.
Scroll down to explore thirteen race-proven vehicles ready to bring the best of the motorsport world to their new owners.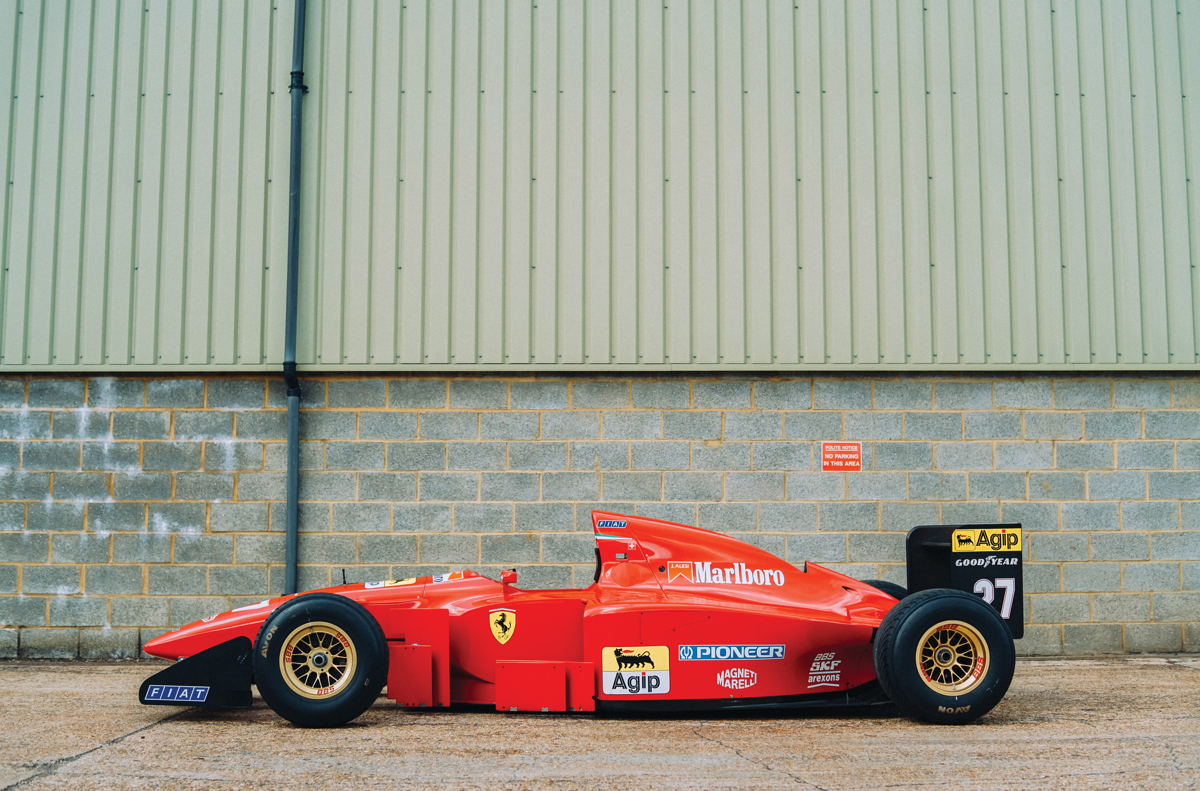 1994 Ferrari 412 T1
Estimate: £1,400,000 - £1,800,000 GBP
It had been a decade since Ferrari's last World Constructors' Championship win and nearly 14 years since their last Drivers' Title, and tempers were flaring by the end of Ferrari's 1993 Formula One season. This example was piloted by Jean Alesi to a 3rd-place qualifying position at the 1994 Brazil GP, giving the team a much-needed morale boost. By the end of the race, Alesi claimed 3rd place behind Damon Hill and Michael Schumacher. In the 1994 Italian GP, Gerhard Berger piloted the 412 T1 to a 2nd-place podium finish. After Monza, it was used as a T-car at the Portuguese Grand Prix before returning to Maranello for retirement until 2002, when it was sold to its first private owner. It has been under the ownership of the consignor for display in his private museum in Switzerland and been maintained in full running order and used for a number of track days. It has been Ferrari Classiche Certified, stating that it has been fitted with the early-specification "041" V-12 engine. An exciting piece of F1 history, having competed with the likes of Senna and Schumacher, it would without a doubt be a welcome addition to the Ferrari Corse Clienti and other demonstration events for which it is ideally suited.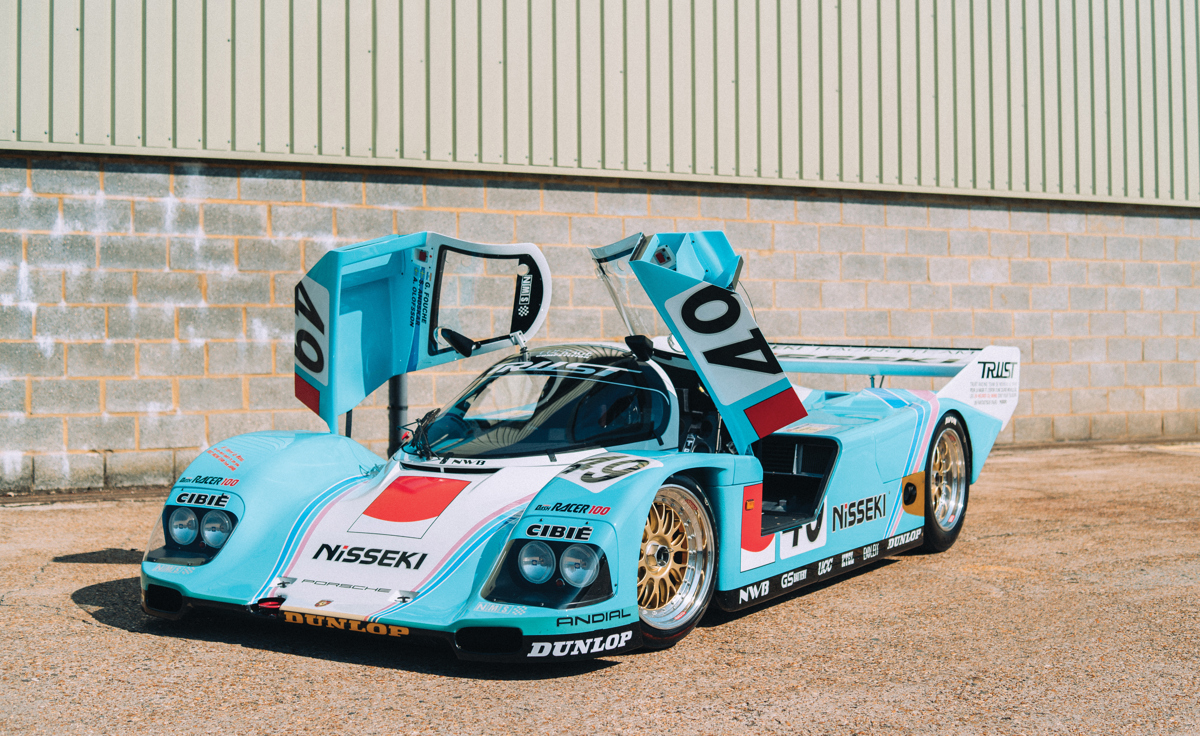 1990 Porsche 962 C
Estimate: £1,000,000 - £1,500,000 GBP
The sibling of Porsche's 956, the 962 was introduced in 1984 to compete in FIA Group C competition, and this example was delivered in long-tail form to Japanese Trust Racing Team immediately prior to the 1990 Le Mans 24 Hours. Despite being equipped with the less-powerful 3.0-liter customer-spec engine, this example placed 11th on the grid and finished 13th among stiff competition. In 1991 the team returned to LaSarthe and proved to be highly competitive until a gearbox failure forced them into an early retirement with a mere 50 minutes remaining. While under previous ownership, Bruce Canepa oversaw a complete restoration totaling $300,000, where it was completely stripped to a bare tub and each load-bearing component was crack-tested before reassembly, the engine, gearbox, brakes, and turbochargers treated to a complete rebuild. With only two races in its life, albeit both at Le Mans, this chassis remains one of the most original and correct 962s of all the remaining examples.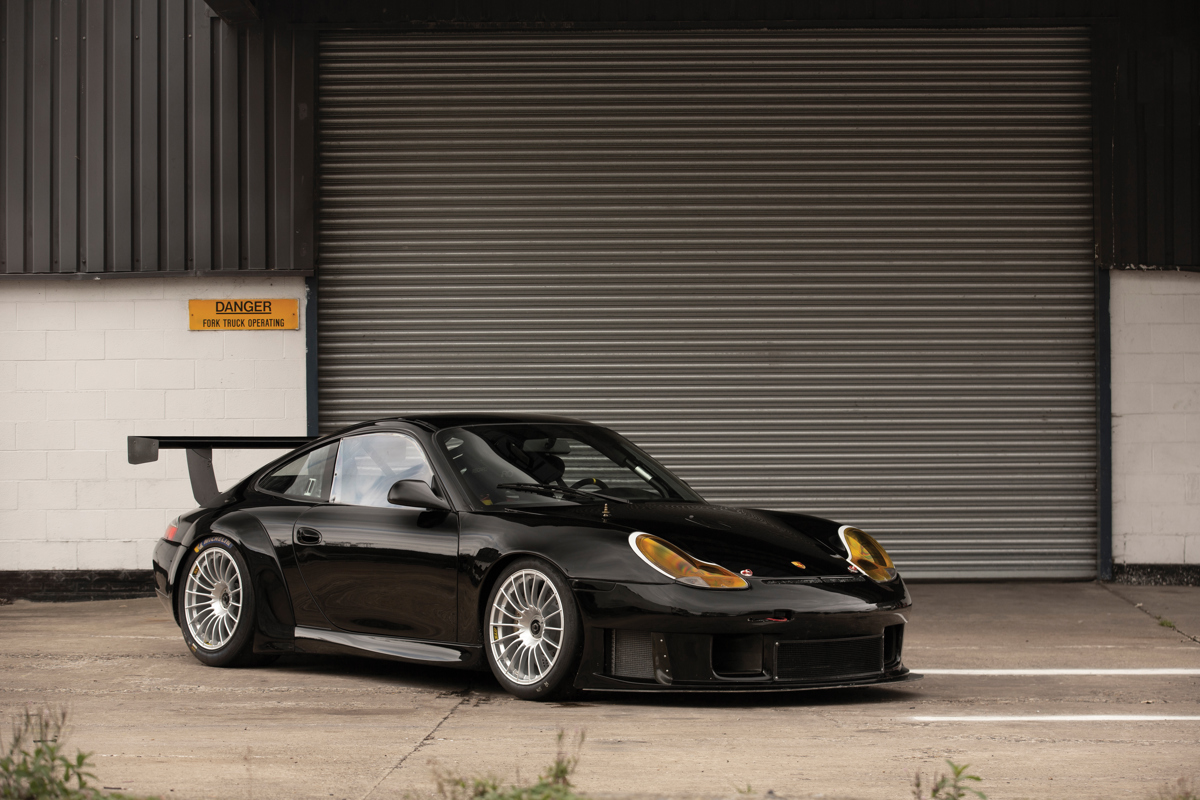 2001 Porsche 911 GT3 RS
Estimate: £140,000 - £180,000 GBP | Offered Without Reserve
Alongside the GT3 R and RSR, the GT3 RS dominated their classes in major championships around the world and became one of the most successful series of racing Porsches ever built. This example is believed to be the only "non-white" example, specified in menacing black paintwork. While most were destined for a life of hard racing, this example was never raced in-period, but has still been fastidiously maintained as outlined by an extensive history file with invoices reaching nearly €90.000. It is an ideal example for the Masters' Endurance Legends series and would allow its new owner to compete in class at the highest level.
1992 Porsche 968 Clubsport
Estimate: £35,000 - £50,000 GBP | Offered Without Reserve
Regarded as "the best-handling car that Porsche made" by Walter Röhrl in a print article in Auto Zeitung in 1992, this example of the 968 Clubsport was retained as one of Porsche's press cars and was one of the earliest examples of just 1,923 produced. It was specified in Speed Yellow with matching Recaro seats and fitted with the desirable M220 limited-slip differential. Having been treated to extensive maintenance throughout its lifetime, this example is one of the best examples of a "transaxle" Porsche ever produced and would be a welcome addition to any Porsche collection.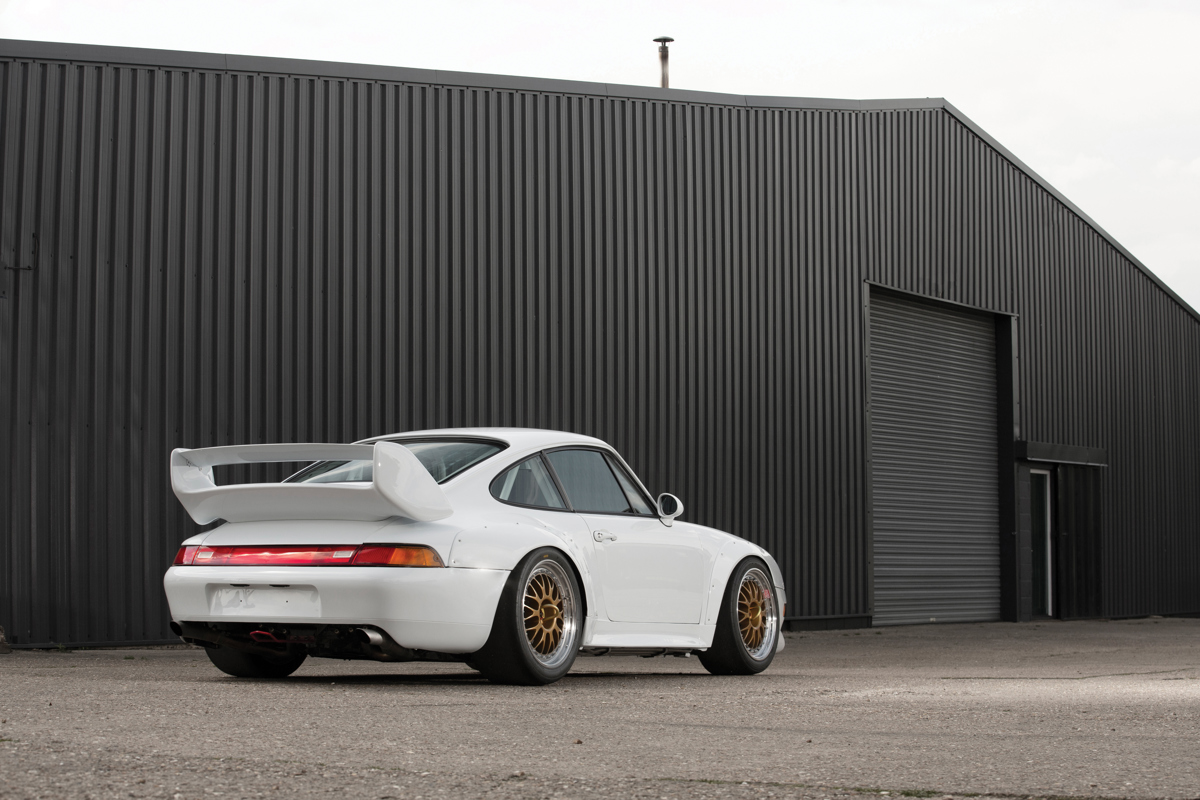 1998 Porsche 911 Carrera RSR
Estimate £430,000 - £480,000 GBP
Porsche's Competition Department produced a mere 30 Carrera Cup 3.8 racers for 1998, and this example is believed to be the twentieth built and the last to be shipped to the United States. It was campaigned in several SCCA Club events and subsequently prepared and raced in the Speedvision GT series, where it proved to be very competitive, clinching four podium finishes and the fastest lap at Mosport, Canada. It was later sold and shipped to Miami, where it was campaigned in a further 17 race events and modified to its current GT2 RS appearance with extensive use of carbon fiber body panels and the telltale Crawford "Banana" rear wing; the engine was upgraded to Tielert slide-valve injection by Porsche Motorsports North America. It was restored to original specification in 2010 and presents today in immaculate condition, ready to resume its reign at the track or delight at a variety of shows.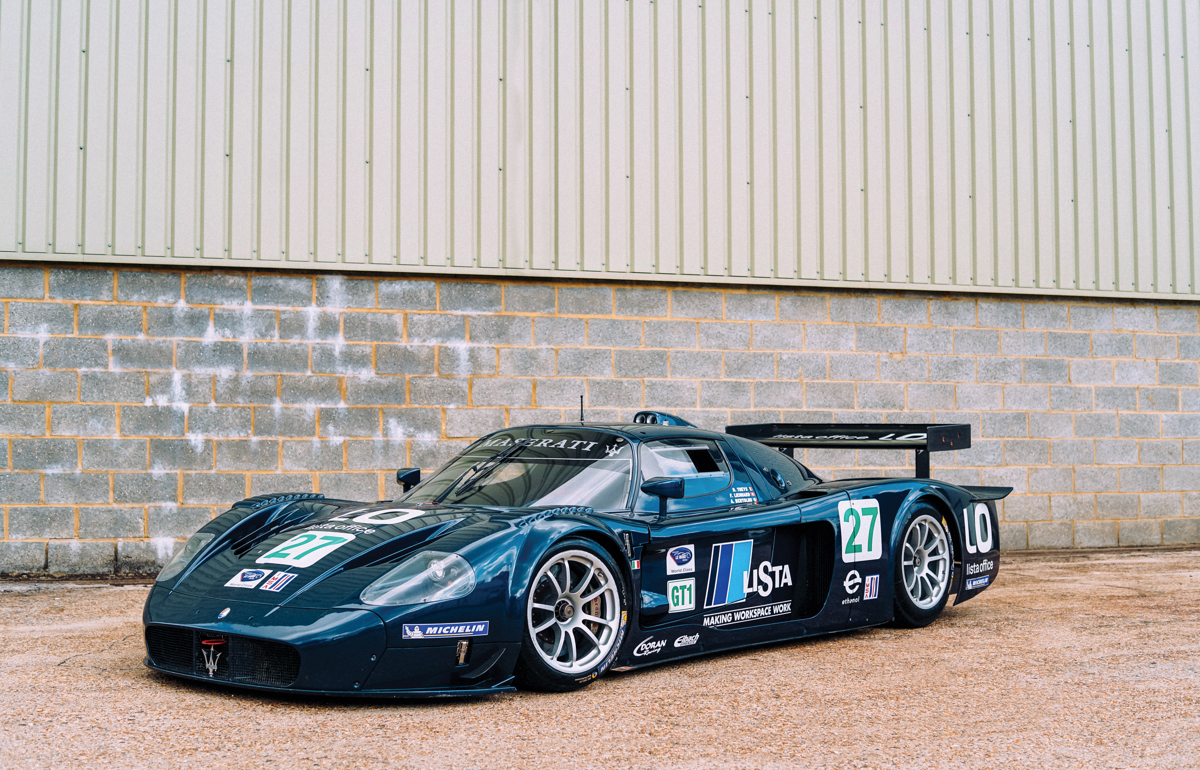 2006 Maserati MC12 GT1
Estimate: £1,800,000 - £2,300,000 GBP
After nearly four decades, Maserati was reintroduced to the competition circuit with the MC12 GT1. This example was ordered new by the current owner in 2006, a long-standing Ferrari client who achieved "ultra-customer" status, having previously campaigned examples of Ferrari's 333 SP on both sides of the Atlantic for many years and achieved considerable success for over three decades in Sports Prototype and GT racing classes. This MC12 GT1 was raced through the 2007 season and rebuilt by Doran Racing following a crash in the Petit Le Mans at Road Atlanta; it was then shipped in late 2008 to the owner's private museum in Switzerland, where it has remained ever since. Today it presents exactly as its last race, down to the Petit Le Mans scrutineering decal still affixed to the roll cage. It is one of only two MC12 GT1s believed to have competed in ALMS and would undoubtedly be welcomed to the Trans-Atlantic Masters Endurance Legends series and Endurance Racing Legends events.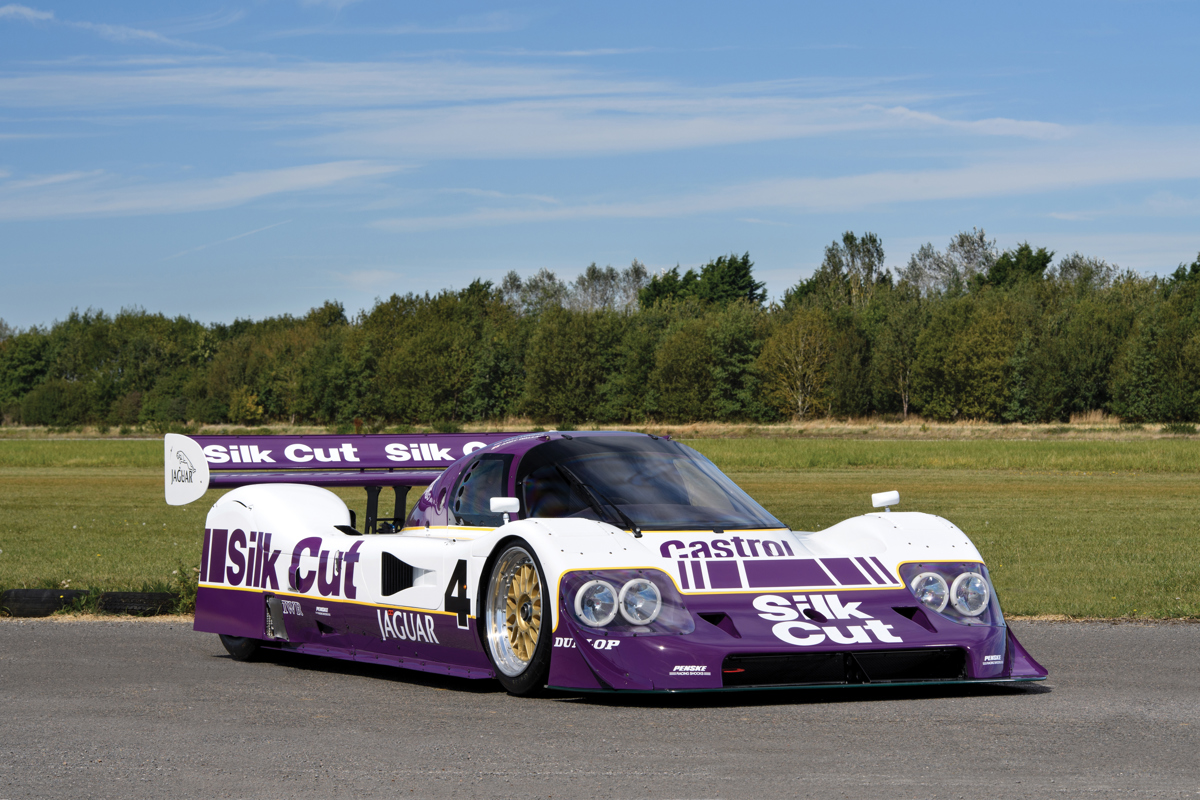 1989 Jaguar XJR-11
Estimate: £1,050,000 - £1,250,000 GBP
Tom Wilkinshaw Racing and Jaguar developed the advanced XJR-11 following the XJR-9's phenomenal 1988 season in which it claimed victory at the 24 Hours of Le Mans and clinched the drivers' and manufacturers' championships for sports prototypes. A lightweight turbocharged V-6 was tabbed as the replacement to the heavier V-12 and to cope with the Group-C fuel limitations and match the engines in the Sauber-Mercedes C11. Following its 1989 and 1990 racing seasons, it had remained unused for nearly a decade before it was sold to Aston Martin Works president Paul Spires, who entered it in a handful of Group C celebratory events. XJ220 specialist Don Law acquired it shortly thereafter, under whose ownership it was fastidiously maintained and occasionally entered in events highlighting Group C and Jaguar prototype race cars. This example is one of only three examples built and one of only two in the original 1989 configuration, presenting in the iconic livery.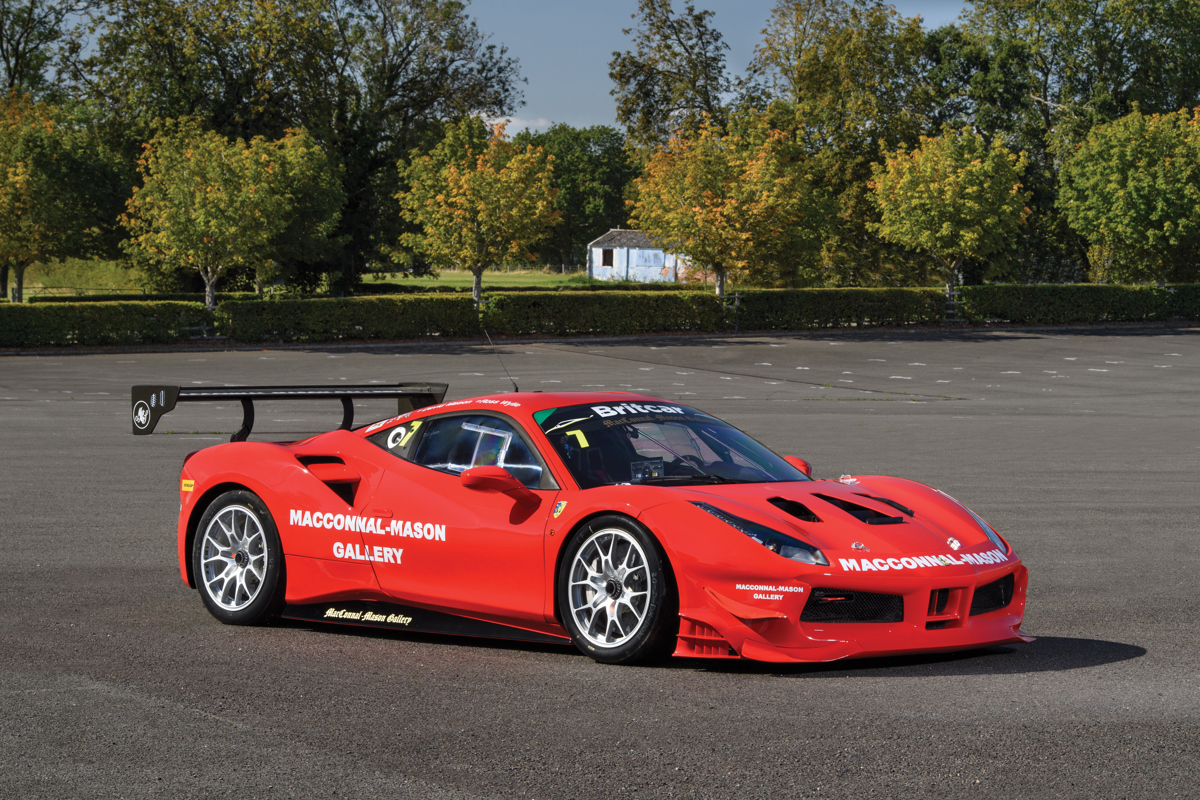 2018 Ferrari 488 Challenge
Estimate: £180,000 - £230,000 GBP
Beneath the lightweight bodywork, a 3.9-liter turbocharged V-8 from the 488 GTB has been fettled to produce 660 horsepower and a tremendous 895 Nm of torque. A complete aerodynamic package with a reprofiled nose, lower side skirts, and massive carbon fiber rear wing from the 488 GTE produce 10 percent more downforce than the 458 Challenge Evo. Despite being largely based on the road-going 488, the culmination of the lightweight components and race-spec upgrades allow the 488 challenge to lap Fiorano four seconds faster than a LaFerrari while still being a suitable machine for amateur racers to hone their skill set. This example was delivered to Mr. David L. Mason O.B.E. in 2018 with the optional passenger seat, upgraded front dampers, car-to-pits radio system, and a V Box HD2 for data logging and video analysis. Despite being sparingly used, it has proved to be highly competitive in its class, claiming the fastest lap in all seven races that it was entered in, along with a podium, pole position, and four class podiums. It presents in immaculate condition and has been prepared by FF Corse to be ready for its new owner to compete in the series of their choice.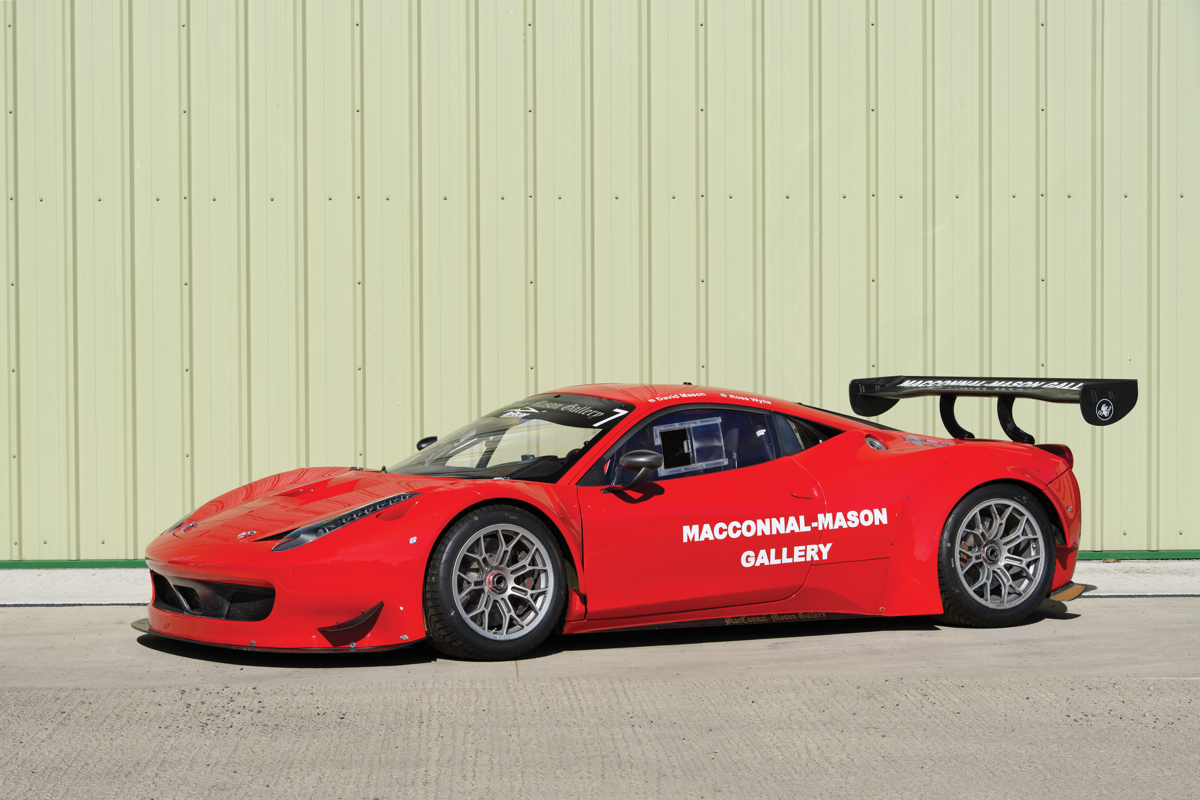 2011 Ferrari 458 GT3
Estimate: £150,000 - £180,000 GBP
Designed from the ground up in collaboration with Michelotto Automobili, the 458 GT3 is a potent combination of lightweight materials, a race-optimized aerodynamic package, and a bespoke 4.5-liter V-8 engine which retains only the block of the road-going 458 Italia. Five hundred and fifty brake horsepower at 9,000 rpm with GT3 specification restrictors in place and over 600 bhp without is channeled through a Hewland MLS six-speed sequential gearbox and steering-wheel-mounted paddle shifters. This example is rich with racing history, having been campaigned by AF Corse and Mtech Racing with Ferrari factory drivers Matt Griffin and Alessandro Pier Guidi piloting it to victory at Spa and Nürburgring, and podium finishes in the British GT Championship from 2011–2014. Most recently, it has competed in the Britcar Championship, where it has claimed the 2016 GT Class 1 Championship and Sprint Class 1 Championship in 2017 and 2018. It has been updated in accordance with the 2014/2015 regulation change and has been maintained by marque experts FF Corse, ensuring it is ready for its next owner to continue its reign of dominance on the circuit.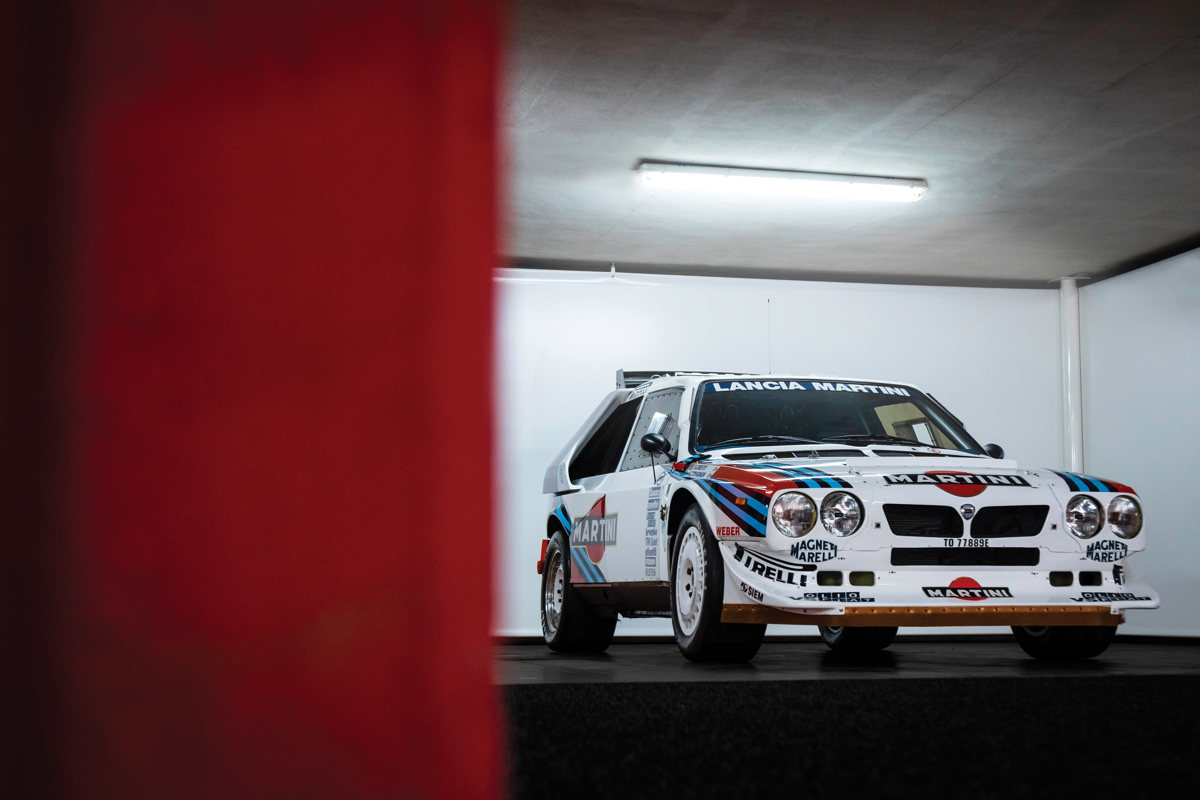 1985 Lancia Delta S4 Rally
Estimate: £725,000 - £800,000 GBP
One of the world's favorites from the thrilling Group B Rally era where supercar levels of performance met the high-speed, extremely technical stages of rally competition, this Delta S4 is one of 28 Group B examples constructed and one of only four to win a World Rally Championship event. This car, along with chassis 207, was completed in time for the 1985 RAC Rally, where they raced under the Martini banner and dominated 41 of the 63 stages in the rally, and took a hard-fought victory at the 1986 Monte Carlo rally. At the end of the 1986 season, Group B cars were placed on an immediate development freeze following tragic accidents and rendering them obsolete. Several S4s were sold to privateer racers to compete in hill climbs, rallycross, and ice-racing events. This example was restored to original specifications and retains numerous period features including the original Kevlar-shelled Sparco seats, still embroidered with the names of its driver and co-driver, and Halda Rally Computer.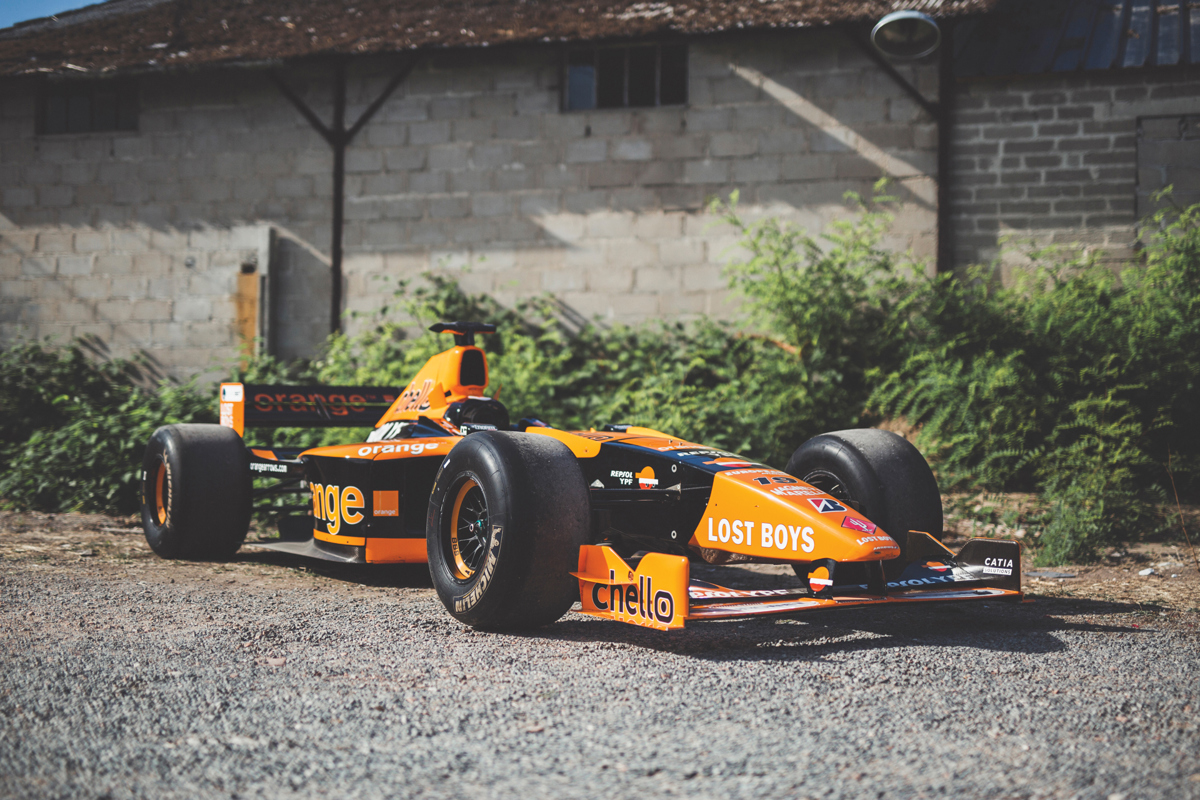 2000 Arrows A21
Estimate: £100,000 - £140,000 GBP
Building upon the successful A20 model, the Arrows A21 benefitted from the more reliable Supertec V-10 engine and a lower center of gravity by employing an ingenious "pull-rod" suspension system. Aerodynamics were further optimized and drag minimized, resulting in tremendous mechanical grip and straight-line speed, which would lead to three top-ten grid positions and a 5th-place qualifying position in the German Grand Prix. This example presents today in its original Orange livery and sporting a F3000-specification Cosworth AC engine for practicality and economy. It represents an opportunity to acquire a significant and ferociously quick modern-generation Formula One car and a highly eligible entrant in the contemporary Formula Libre and demonstration events.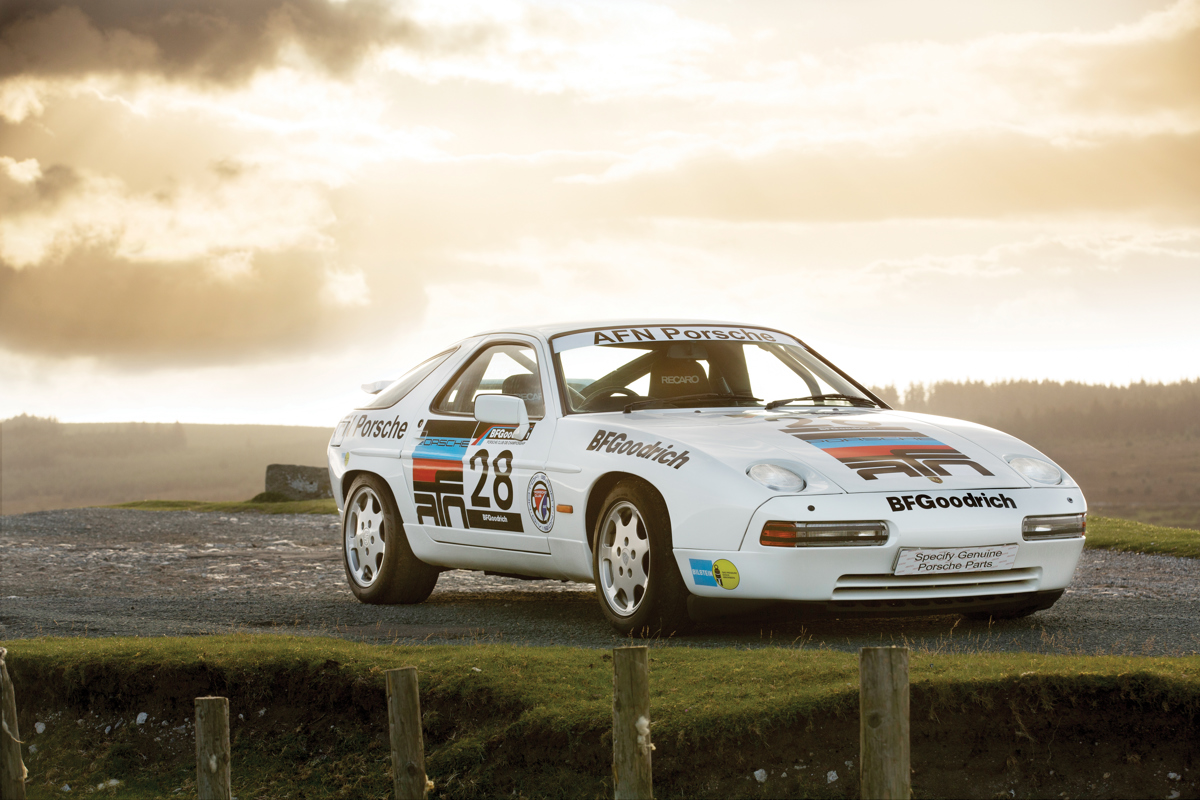 1988 Porsche 928 S4 Sport
Estimate: £60,000 - £90,000 GBP
The 928 Se was produced in a single-year, highly limited run of only 42 right-hand-drive examples for the UK market, with this example being the only one to be produced new from the factory specifically intended for racing. Marque specialists have confirmed that this example is unique from the others in the production run by its gearbox type, rear wiper delete, and reduced soundproofing. It retains its original engine as confirmed by a Porsche Certificate of Authenticity. This example was campaigned in the Porsche Production Championship in 1988 and 1989 with Tony Dron at the helm. Accompanying the vehicle are extensive documentation, a fresh MOT, a framed BF Goodrich poster numbered 4 of 100, period magazines, racing photos, and a large file of service and repair invoices ranging from 1998–2016.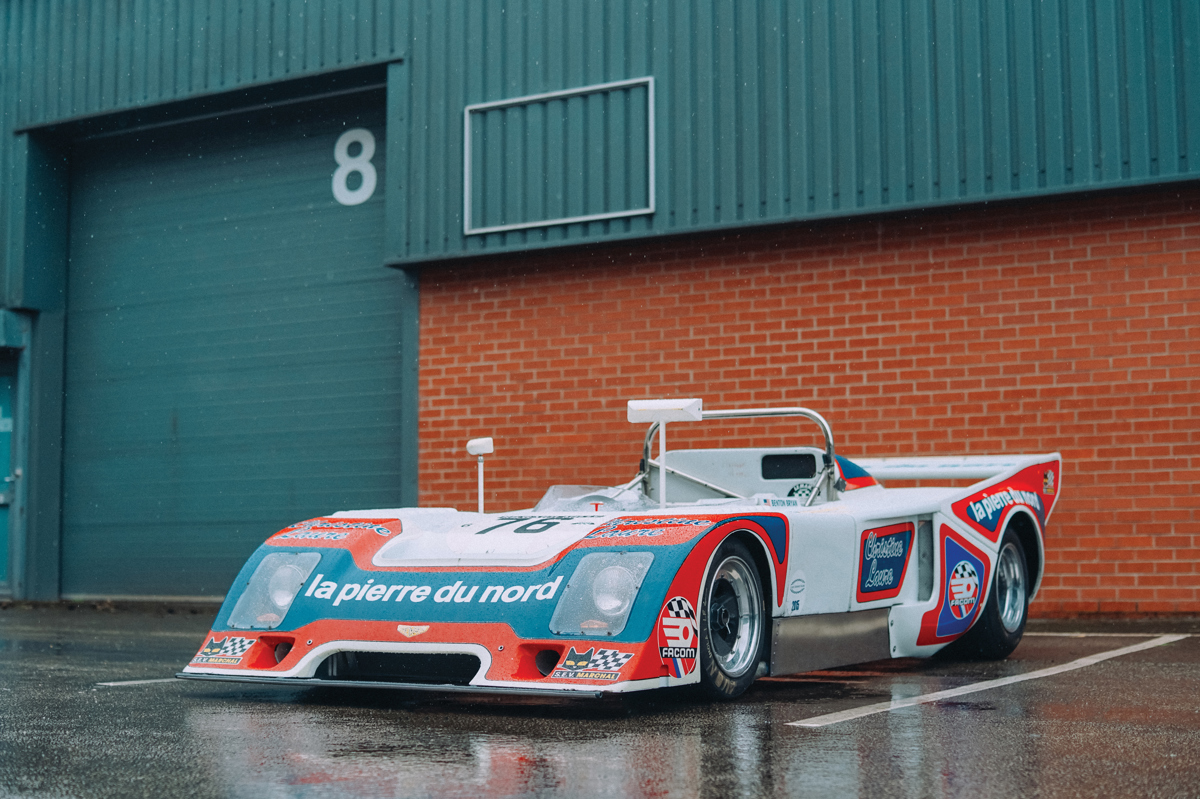 1976 Chevron B36
Estimate: £180,000 - £220,000 GBP
One of approximately 21 examples built, this example was one of three delivered to the privateer racing team Racing Organization Course and equipped with four-cylinder Chrysler-Simca racing engines. In 1977, the team ran the B36 to victory in their class and a 6th-place overall finish, later repeating their success in 1978, with an 11th overall finish and another 1st in Class win. In 2003 its current owner acquired the Chevron and fitted it with a new racing tub and period-correct Cosworth BDG four-cylinder engine while retaining the proper Pierre du Nord sponsorship livery. It was then campaigned at the Le Mans Classic in 2004, 2006, and 2008, finishing 1st in Class, reliving its period success. It is a capable and beautifully presented example of the competition spyder and an ideal example for a collector or racer who would continue its legacy on the track in any classic racing series.