Even for the non-enthusiast, there are certain definitions of what one might deem to be a "classic." Though the term may seem to be contentious, or worse, ever-changing, there are still a few agreed-upon qualifications that are necessary for a car to rise above the level of being a mere antique to the level of Full Classic. At least in America, this designation is, in part, determined by the Classic Car Club of America, which was founded soon after the end of World War II in 1952. Organizations like the CCCA, the Antique Automobile Club of America (AACA), and the Auburn Cord Duesenberg Club (ACD) helped elevate public awareness and understanding of not only what makes pre-war motoring so special, but what separates the greatest examples from the more standard, mass-production models.
According to the CCCA's website, the requirements for earning Full Classic status limit the designation to automobiles that can be described as "Fine" or "Distinctive," and usually occupied the top end of the market when new. Contrary to their country of origin, the CCCA does not limit Full Classics to only those brands which are made-in-America, but the year of manufacture is important: 1915 to 1948 only. Bespoke coachwork and advanced technology for the period both factor into the final verdict. Finding one of these extraordinary models is made easier by RM Sotheby's selection at Amelia Island in 2022, where there are so many entries that are considered Full Classics that we have had to split this guide into two parts. Join us next week for the thrilling conclusion. Here are a few worthy highlights, arranged in alphabetical order: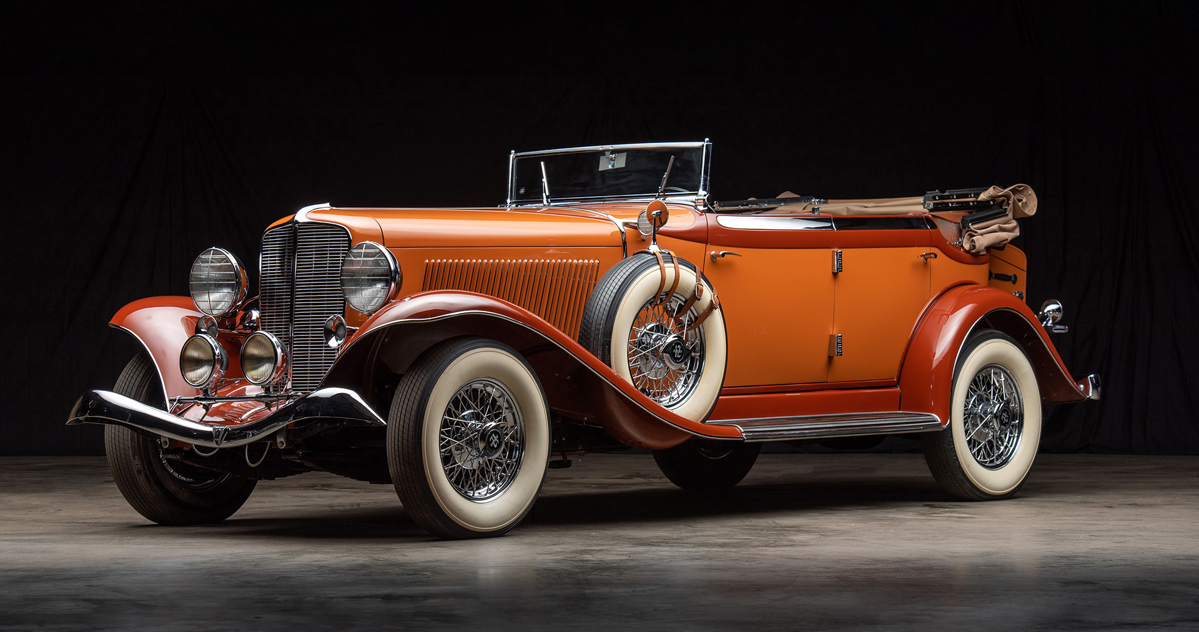 1933 Auburn Twelve Salon Phaeton
Estimate: $250,000 - $300,000 USD
A is for Auburn, at least when it comes to Full Classics. Though the CCCA's list of qualifying models gets complicated in certain brands, the list is a lot easier when it comes to categorizing the pride of Auburn, Indiana: All eight- and twelve-cylinder models are considered Full Classics. Produced only for the 1933 model year, the Salon Phaeton sported special features including a vee'd front grille, echoing the shape of the model-specific headlamp lenses, and a signature "ribbon" bumper, shaped in perfect harmony with the gracefully sloping fenders. This example specifically captured the interest of a known provenance of well-respected collectors, including previous owner Andy Granatelli, founder of STP, as well as California-based surgeon and vineyard owner Dr. Elwood "Bud" Greist. Wearing a ten-year restoration by the late Dr. Greist, which wrapped up in 1980, this example has been largely absent on the show circuit for the past two decades after winning a class award in Pebble Beach in 1987 and being judged Best Auburn at the ACD club's West Coast Meet in 1990. With a handsome older restoration, the choice will be up to this Auburn's next owner on whether to tour and enjoy or freshly restore and return this Full Classic to concours competition.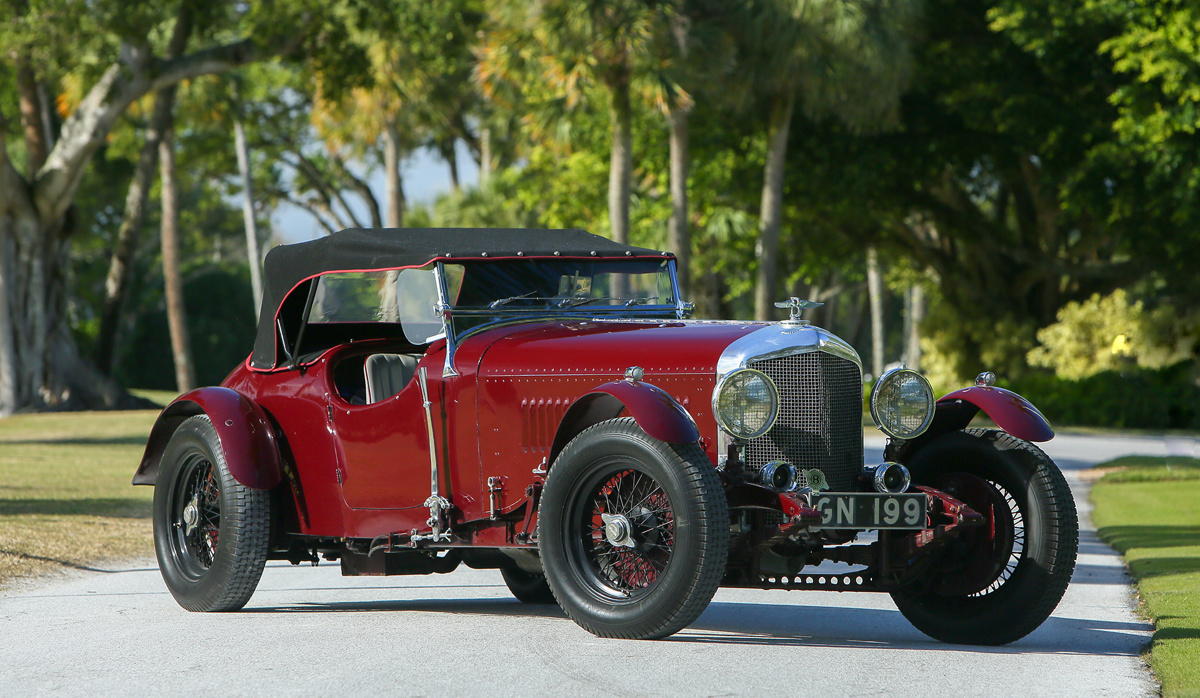 1931 Bentley 8-Litre Special
Estimate: $400,000 - $500,000 USD
Part of the appeal of a Full Classic is that their extreme performance when measured against their in-period peers means that many of them are still capable of keeping up with modern traffic. The current owner of this low-slung Bentley 8-Litre Special reports that this example can cruise comfortably on the freeway at 80 mph, and can achieve 100 mph. Impressive claims, certainly, but this 8-Litre example has been impressing its owners since new. Originally, this example was retained as a show car, with its fabric-bodied coachwork executed by London-based coachbuilder H.J. Mulliner, attracting attention at the 1930 Olympia Motor Show before being collected by first owner Sir William Crawford. The transformation to this two-seater Special, which necessitated a shortening of its chassis to 135 inches and a lowered radiator, was accomplished in-period by subsequent owner noted as "Mr. Sutherland" by preeminent marque historian Dr. Clare Hay in her definitive work Bentley: The Vintage Years. With the CCCA listing all Bentley models from 1919 to 1948 as Full Classics, and this example benefitting from single ownership since 1983, this Special appeals to fans of pre-war sports cars. Though some may debate its period modifications, this example is no doubt Special.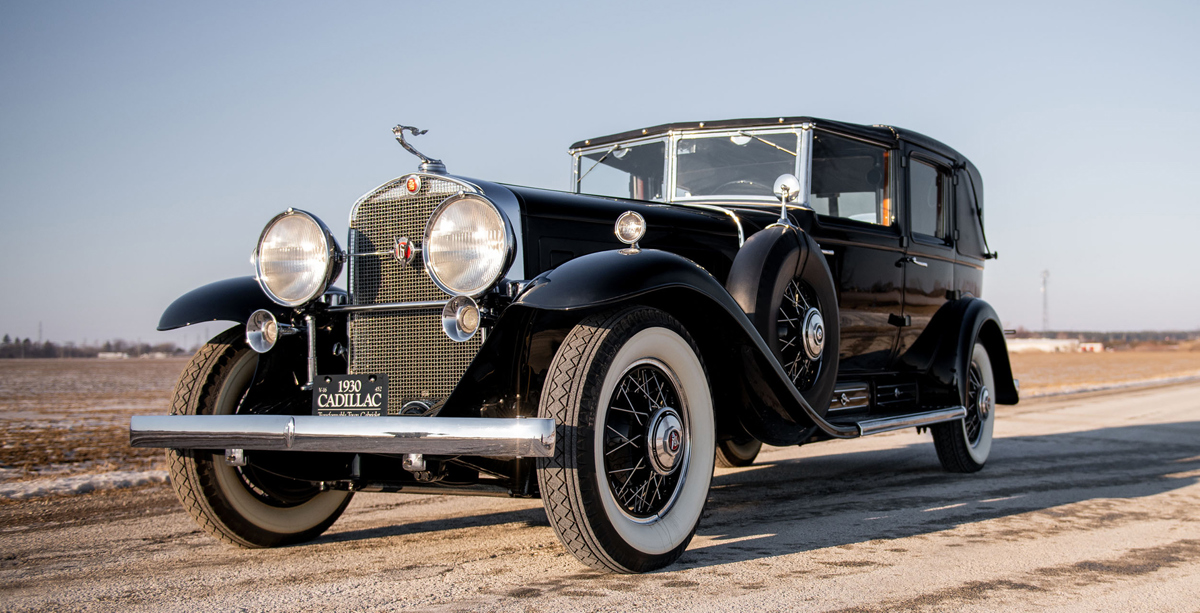 1930 Cadillac V-16 Transformable Town Cabriolet by Fleetwood
Estimate: $375,000 - $450,000 USD
Debuted at the dawn of the Great Depression, the first sixteen-cylinder Cadillac was not short on ambition or advanced technology. This Transformable Town Cabriolet was coachbuilt at Fleetwood's Pennsylvania facility before the well-regarded firm of craftsmen were acquired by General Motors. One of a mere thirty-five built to this same configuration, with acres of chrome and the deep vee'd windshield that was Fleetwood's signature, this Cadillac strikes an imposing presence. A genuine example of when Cadillac could credibly claim to make the best automobiles in the world, this example has earned an impressive rating of a top score of 99.5 points and Senior Emeritus from the CCCA in 2006. Even better, the iconic sixteen-cylinder powerplant in this example was freshly serviced by RM Auto Restoration soon after its present owner's acquisition in 2007.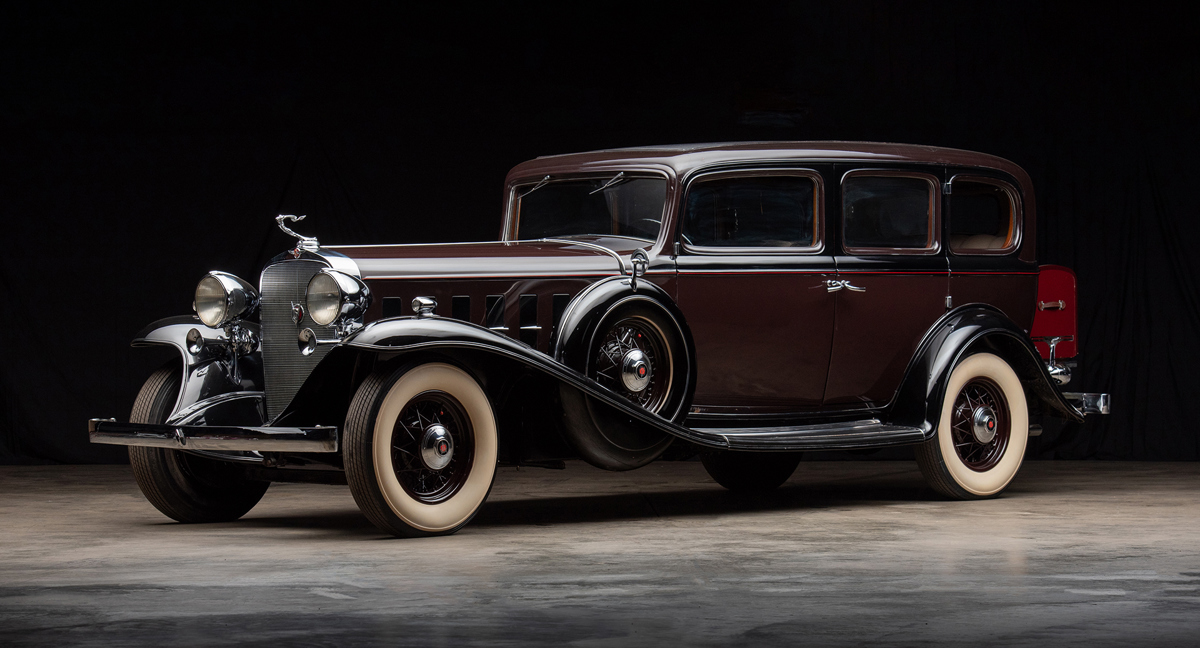 1932 Cadillac V-16 Seven-Passenger Imperial Sedan by Fleetwood
Estimate: $80,000 - $100,000 USD | Offered Without Reserve
Any sixteen-cylinder automobile is a rarity, representing peak motoring from the finest pre-war brands to the latest and greatest Bugatti hypercars. Though Cadillac offered their flagship powerplant in a growing range of different body styles, by 1932, as the Great Depression deepened, only 300 were sold in total. By 1931, GM's acquisition of Fleetwood was complete, and the renowned coachbuilder's headquarters shifted to Detroit to be closer to engine and chassis production. Of all the so-called "in-house" body styles offered by Fleetwood in 1932, this Seven-Passenger Imperial Sedan was certainly one of the most practical, with the rear-hinged rear door opening to reveal a generous passenger compartment with pop-out jump seats in company with a commodious backseat. Ordered first in Fleetwood's former home state of Pennsylvania and eventually passing to oil and gas entrepreneur Sam Vaughn's Texas-based collection, this top-of-the-line Cadillac has been in its current ownership for more than two decades. Classic prestige, offered without reserve.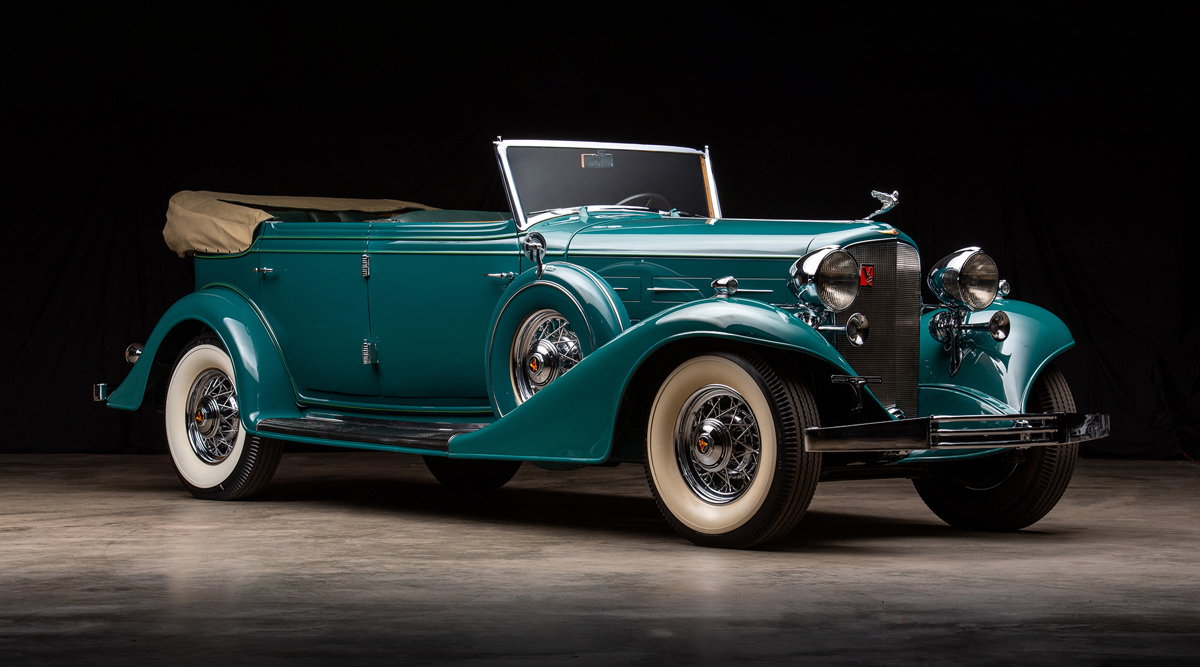 1933 Cadillac V-12 All-Weather Phaeton by Fisher
Estimate: $150,000 - $175,000 USD
Fisher, of course, is the other half of General Motors' in-house coachbuilding duo. Famous in Detroit for an architecturally significant, Broadway-quality theatre established by its namesake founders, the Fisher Body Co. were technically the division of GM that acquired Fleetwood in 1925. For 1933, both Fisher and Fleetwood offered body designs for Cadillac that were expressive and over-the-top, though in general, Fisher designs were featured on most of the open-top cars. With its numbers-matching twelve-cylinder engine and four-place seating configuration, this Cadillac was comfortably prepared for all motoring situations. Believed to be restored while in the ownership of Roy Warshawsky, the founder of auto parts supplier J.C. Whitney, this Fisher-bodied Cadillac sports a striking teal-over-dark green leather color scheme and a tan top. Offered from its current ownership after twenty years of care, this Full Classic shows the pride of Detroit automaking.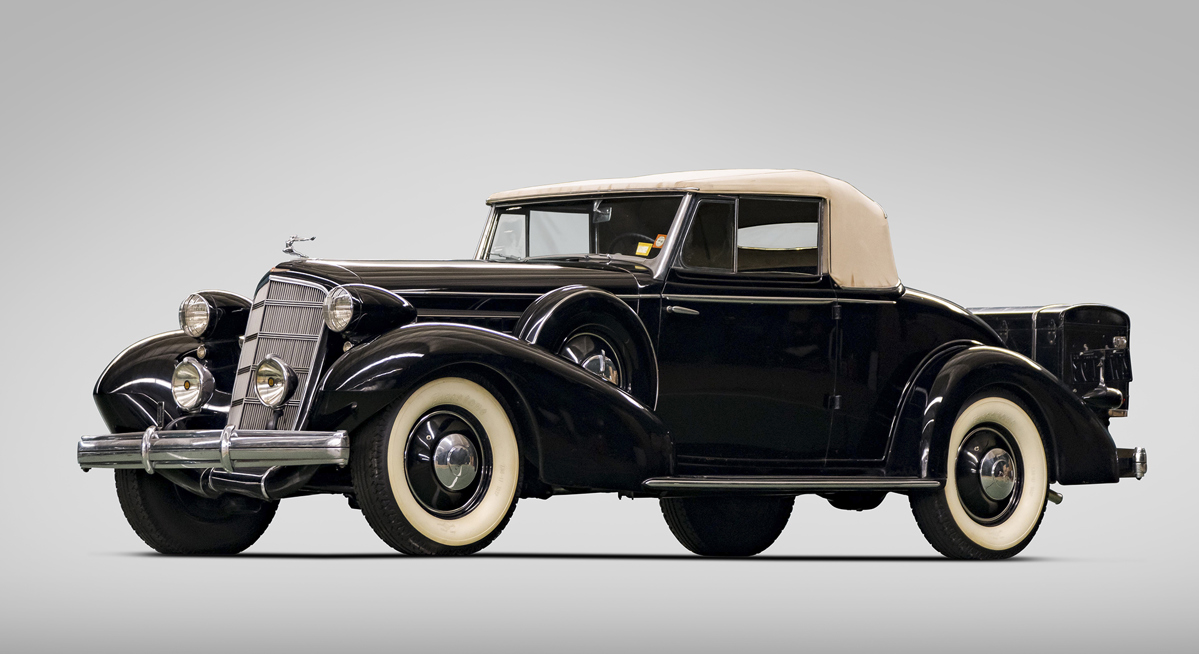 1935 Cadillac V-8 Convertible Coupe by Fisher
Estimate: $70,000 - $90,000 USD | Offered Without Reserve
Another easy brand to memorize when it comes to Full Classics, the CCCA drew up terms for Cadillac, deciding to include every model made between 1915 and 1935. Because of their value from new, many collectors decided to embark on full restorations of Cadillac models once they acquired them in the post-war period. This handsome Convertible Coupe is one of the relatively few which were earmarked for preservation, with its black paint and black interior both believed to be original from the factory. The legacy of showing this example on a prestigious stage stretches back to its origin, as it was earmarked for display at the April 1935 General Motors Spring Show at New York City's Hotel Astor. Mechanically refreshed by award-winning Torrance, CA-based restorer Ernie Foster in the early 2010s, it won the Best Preservation Award at the 2012 Palos Verdes Concours d'Elegance under the ownership of Rancho Palos Verdes-based collector Glenn Streeter. With four Cadillacs of eight-, twelve-, and sixteen-cylinder engines offered at Amelia Island, the only difficulty for collectors of pre-war Full Classics is choosing which one to take home.
1931 Chrysler CG Imperial Dual-Cowl Phaeton in the style of LeBaron
Estimate: $175,000 - $225,000 USD
From the exquisite detailing on its signature Gazelle radiator mascot all the way back to its flip-down windshield protecting its rear compartment, the Chrysler CG Imperial is unquestionably worthy of its status as a Full Classic. With its luxurious proportions at least in-part inspiring the logo for the Classic Car Club of America and a reputation for its smooth-running, 125-horsepower, straight-eight powerplant, there is no wonder this Chrysler has earned its high desirability among pre-war collectors. Under the stewardship of Connecticut-based Imperial collector Ed Perkins, this example was constructed with new coachwork on an original CG Imperial chassis and engine sourced from two different sedans, according to Imperial historian Joe Morgan. With dual side-mounted spares and its striking, two-tone exterior, this example is a Full Classic.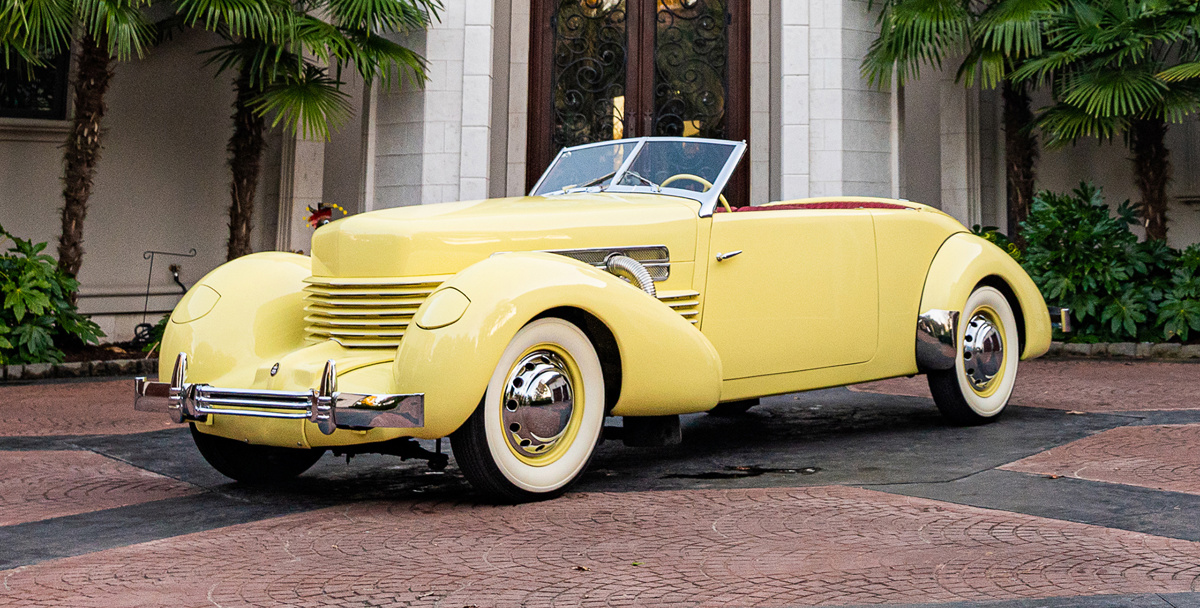 1936 Cord 810 Phaeton
Estimate: $130,000 - $160,000 USD | Offered Without Reserve
And now for something completely different. Unlike the more traditional, classically styled Cadillac and Chrysler cars we covered previously, the pre-war Cord 810 was seemingly designed for the post-war era. With its aerodynamic "coffin nose" body sculpted, at least in part, by legendary American stylist Gordon Buehrig, the Cord 810 is notable for its lack of exterior door hinges as well as its signature, "step-down" cabin, this model was so advanced for its time, it is difficult to detail all its impressive (and oft-copied) features. Of course, fans of the Cord brand will already know these facts by heart, so the more important factors are ownership history and current condition. It is pleasing to note that this example has been previously owned by members of the CCCA and ACD clubs, including a mayor of a New York state town named Frank Martucci, under whose ownership this open-top 810 was comprehensively restored. Fresh in its period-correct color of Cigarette Cream-over-maroon leather interior, Mr. Martucci submitted this example to be formally appraised by the ACD club. There, it was certified to be a Category 1 Original Car, only the nineth Cord to be so honored. Scoring 397 out of a possible 400 points and a Senior award in ACD Club national judging, this is a well-cared-for pre-war classic that presaged modern automobiles in many ways.
Join us next week for the conclusion of our prestigious list of pre-war examples, as we cover the Duesenberg and Packard brands, among many other fine selections, in our lead up to RM Sotheby's Amelia Island 2022.