Old-world luxury was hard to attain, but easy to define. In a world where everything was built by hand, the most premium goods were made by the most skilled craftspeople: inlaid wood, layers of hand-rubbed lacquer paint, interiors upholstered in satin and even silk. The best carriage builders of the 19th century transitioned into being top-tier coachbuilders and automakers in the next century.
Modern luxury is not so much a repudiation of old-school, pre-war craftsmanship, but an evolution of it. If the first premium automobiles were carriages with motors, the new class of post-war luxury cars were the next generation's idea of what personal comfort should entail. Handcrafted quality yielded to sophisticated suspensions and massive motors as these old-world companies became sophisticated engineering firms. The following examples embody the pinnacles of each of their respective companies. But before we go forward, we might as well highlight one classic luxury car of the post-war era: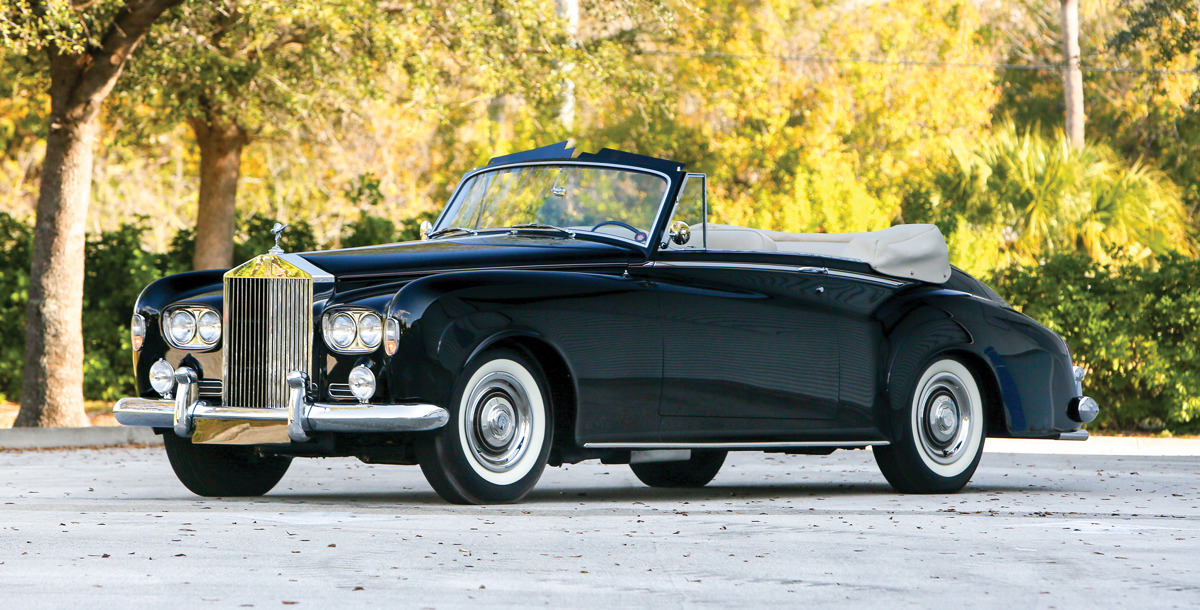 1963 Rolls-Royce Silver Cloud III
Estimate: $500,000 - $550,000 USD
An award-winning, coachbuilt, open-top Rolls-Royce, with all the pedigree that comes associated with that descriptor, this fabulous 1963 Rolls-Royce Silver Cloud III was built to waft through seaside towns with its canvas top resolutely down. This example has benefitted from a recent frame-off restoration, with new old-stock parts sourced from both Rolls-Royce and coachbuilder H. J. Mulliner & Co. Coachbuilding was a cottage industry, built around taking premium chassis and dressing them in custom-made bodies, tailored to the specifications of their elite owners. The elegant, book-matched burl wood trim capping the doors and dashboard is evidence of this handmade craftsmanship. This Mulliner drophead is believed to be one of only 11 made by Mulliner, so the exclusivity is undeniable and already built in.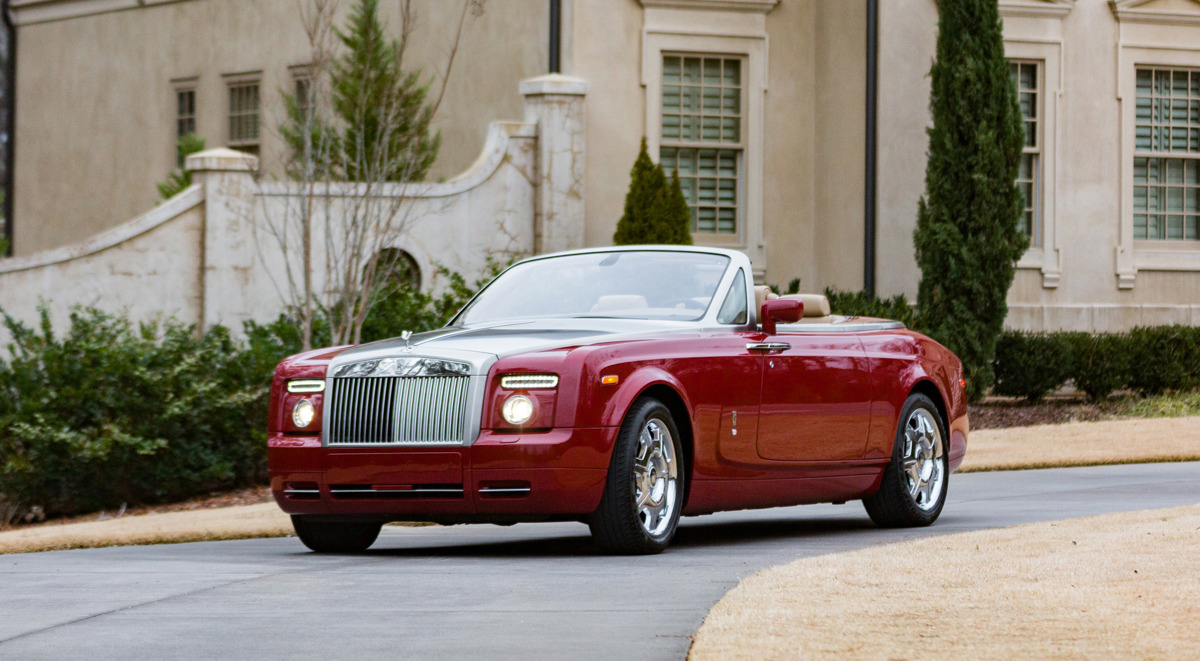 2008 Rolls-Royce Phantom Drophead Coupe
Estimate: $175,000 - $210,000 USD
This example shows exclusive luxury in a modern setting: This 2008 Phantom Drophead Coupe was the first model built for the North American market. A commemorative plaque noting the drophead coupe's "Build No. 1" status greets the driver and passengers upon entry; the rear-hinged coach doors and Parchment-colored cloth top are both powered. Fully retracted, the power top is hidden beneath a teak wood-paneled tonneau cover. The Parchment-colored leather interior is framed by a band of bare stainless steel that flows to the two-tone hood. Originally purchased at a charity auction in Naples, Florida, in 2007 for $2 million, this particular Rolls-Royce was believed, at the time of sale, to be the most expensive brand-new car ever bought in the United States.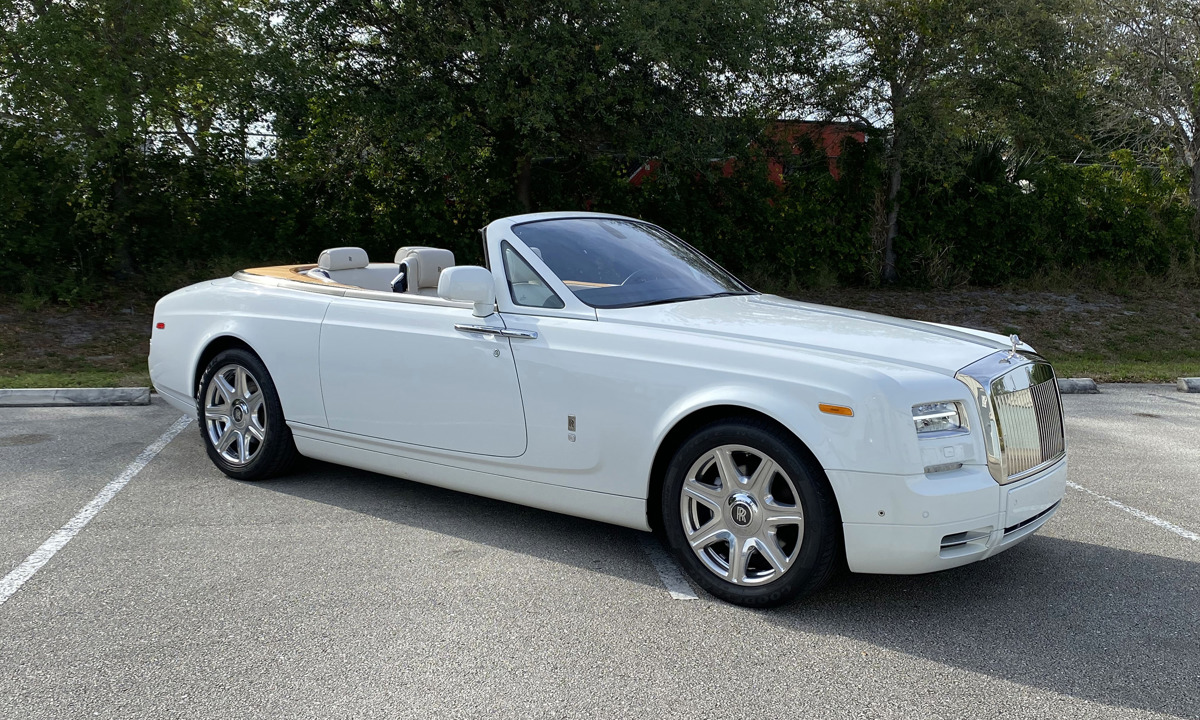 2014 Rolls-Royce Phantom Drophead Coupe
Estimate: $280,000 - $300,000 USD
Sometimes the best benefit of modern luxury is a car that feels new. The odometer on this 2014 Rolls-Royce Phantom Drophead Coupe only shows 7,960 miles. The best testament to how well preserved this drop-top Phantom is, is its Seashell-white leather interior with color-contrasting blue piping. Echoes of the same level of craftsmanship long employed by Rolls-Royce can be seen in the wood-covered boot lid. More than dropping the top in your Rolls-Royce coupe, the ultimate expression of luxury for some is the cigar humidor built into the glove box.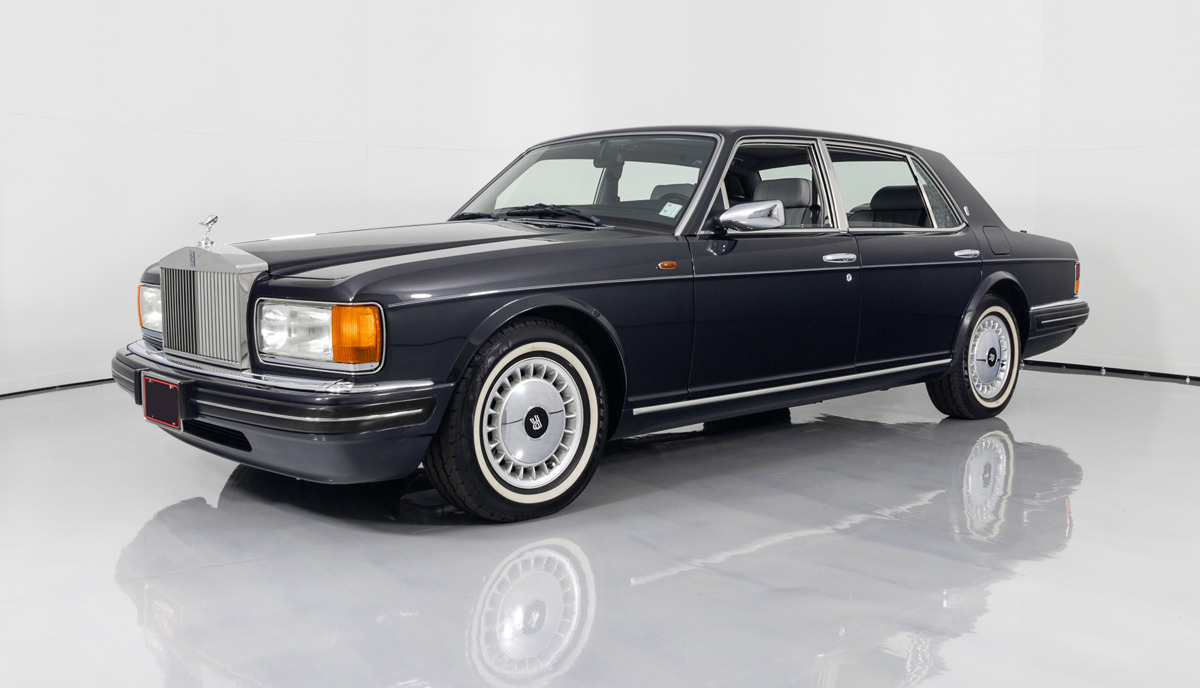 1997 Rolls-Royce Silver Spur
Estimate: $30,000 - $40,000 USD
We have talked about late-model Rolls-Royce and mid-century Rolls-Royce, we may as well talk about the brand's take on 20th-century luxury. "Silver Spur" was the designation given to the extended-wheelbase version of Rolls-Royce's Silver Shadow sedan. This 1997 Rolls-Royce Silver Spur retained all the features of its shorter sibling, with four inches of additional legroom and all the added comfort that comes with a longer wheelbase. This author has personally observed this example and can attest that the metallic grey paint retains exceptional depth, and the inlaid wood interior stands as a testament to the old-world craftsmanship and expertise that originally built the Rolls-Royce reputation. With a whisper-quiet motor, fold-out wooden writing tables for the rear seats, and sheepskin-covered rugs, this Silver Spur bridges the gap between old luxury and new.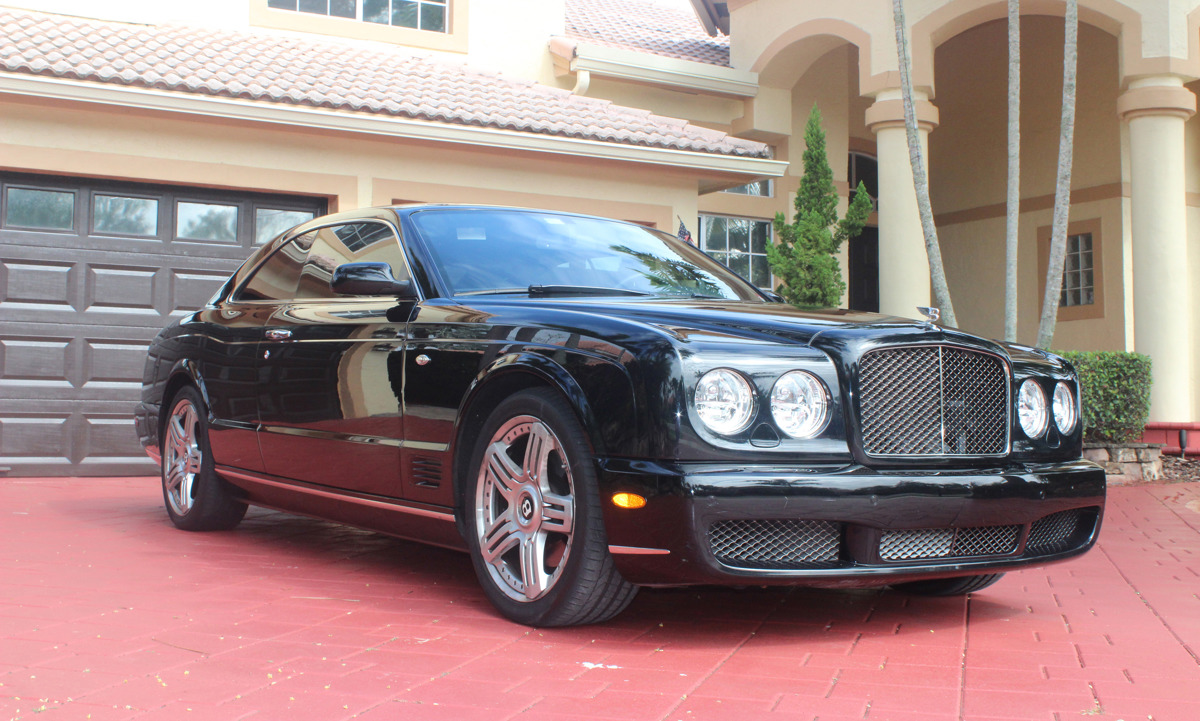 2009 Bentley Brooklands
Estimate: $90,000 - $120,000 USD
Fast-forward a decade from the Silver Spur, and the world of luxury has completely changed. By 2003 Rolls-Royce and Bentley were no longer two companies under the same umbrella, but instead were fully competing firms which once again set their own definitions of personal luxury. This 2009 Bentley Brooklands was a showcase for all the signature features the British brand was known for: an enormous 6¾-liter twin-turbo V-8 engine developing 530 horsepower, an imposing coupe body with a 2+2 configuration, and an extreme original price tag of $340,990 without options when new. With that price came exclusivity; only 550 Bentley Brooklands examples were ever built. Unlike Bentley's more popular Continental GT coupe, the Brooklands came with book-matched wood doors and spacious, heated rear seats. The Brooklands was not available with a sunroof to maximize stability and minimize noise.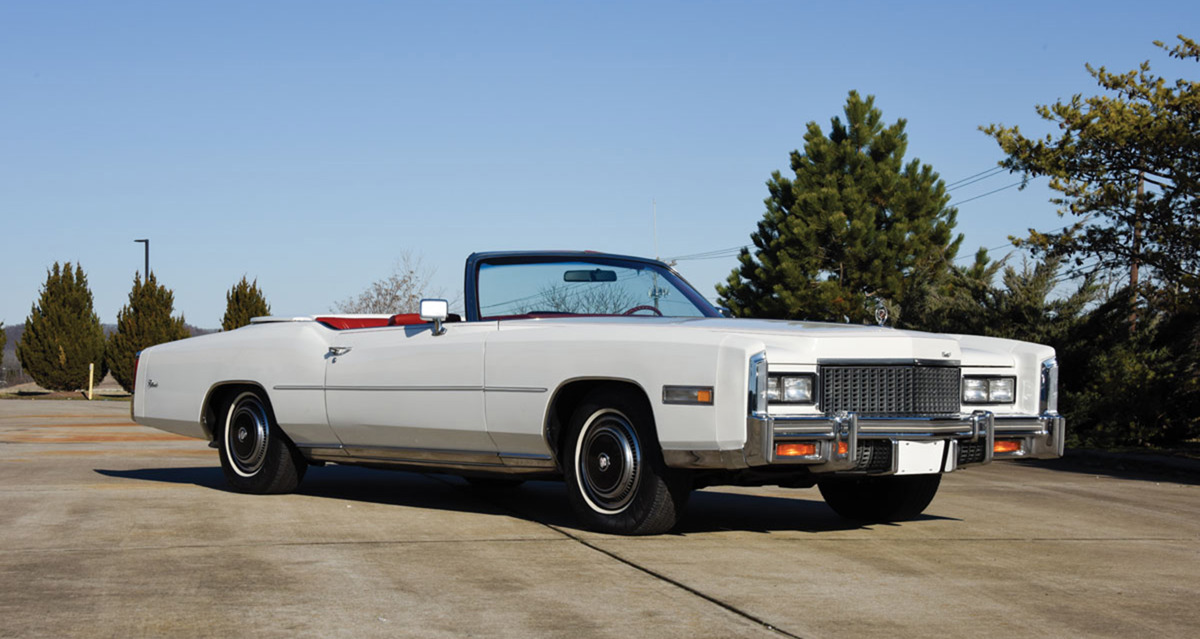 1976 Cadillac Eldorado Convertible
Estimate: $35,000 - $40,000 USD |
Offered Without Reserve
A serious statement vehicle, nearly identical in length to a Rolls-Royce Phantom I Coupe, the Cadillac Eldorado was advertised by General Motors as the last luxury convertible to wear the Cadillac crest. Collectors favored the 1976 model year after the brand announced that would be the final year of production of the legendary boulevard cruiser as a convertible. Though Cadillac again offered the Eldorado in open-top format starting in 1984, for many, this year forever marked the end of an era. This 1976 Cadillac Eldorado Convertible shows fewer than 13,500 miles—nearly as close to a time machine back to the mid-1970s as you can imagine, with the same engraved wood door panels you'd find on a fine Winchester. Riding on black-capped wheels, a subtle sign that sets the 1976 models apart from earlier examples, the Eldorado Convertible captures a quintessentially American take on luxury: longer, lower, cushier.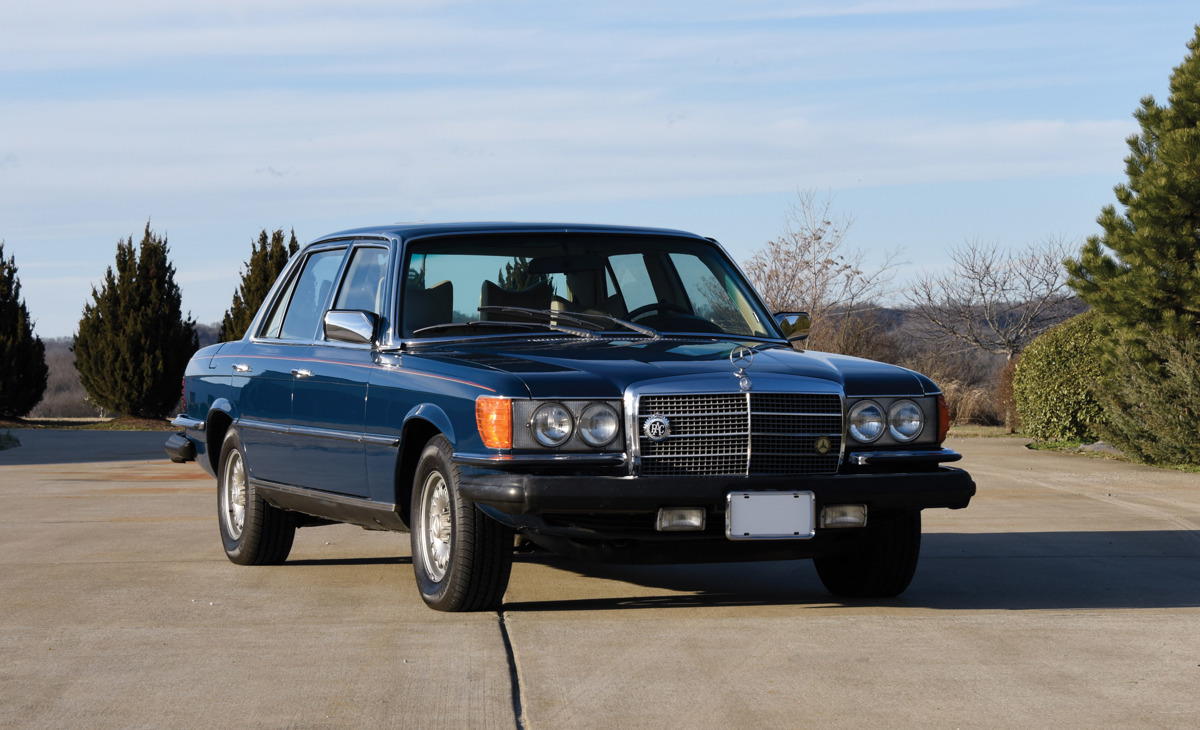 1977 Mercedes-Benz 450 SEL 6.9
Estimate: $30,000 - $35,000 USD |
Offered Without Reserve
For those who decry the bigger-is-better idea of luxury, at least know it was not completely the property of America: This 1977 Mercedes-Benz 450 SEL 6.9 came packed with a massive 6.9-liter V-8 engine—the largest motor in a non-American car at the time—enough to power the five-passenger sedan to a top speed of 140 miles per hour. The W116 SEL's signature feature in terms of technology was a hyrdo-pneumatic suspension that self-leveled. Painted a lovely and uncommon shade of Capriblau over a typically bulletproof cream-colored MB-TEX interior, this flagship sedan came equipped with every amenity available in the 1970s, including a sunroof, power windows and steering, climate control, and four-wheel disc brakes.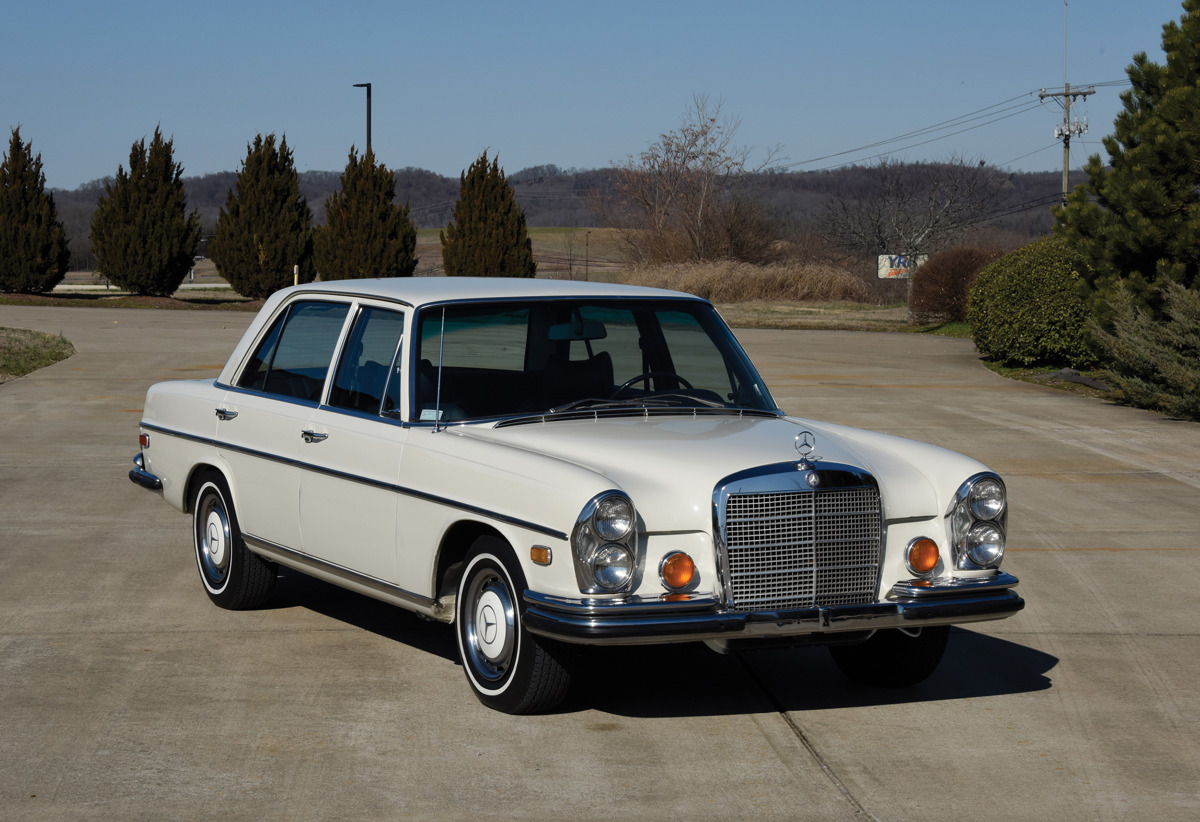 1973 Mercedes-Benz 280 SEL 4.5
Estimate: $20,000 - $25,000 USD |
Offered Without Reserve
As an alternative to the above, this 1973 Mercedes-Benz 280 SEL 4.5 offers a similarly understated luxury in a slightly smaller package, though it's not often a 4.5-liter V-8 engine is referred to as "small." The 195-horsepower engine is controlled by a floor-mounted shifter connected to a silky-smooth automatic transmission. The MB-TEX seats are a lovely shade of blue, showing very little wear for their age, and with carpets to match. The SEL's fresh interior makes more sense when you see the odometer shows fewer than 55,200 miles, which the owner believes to be original.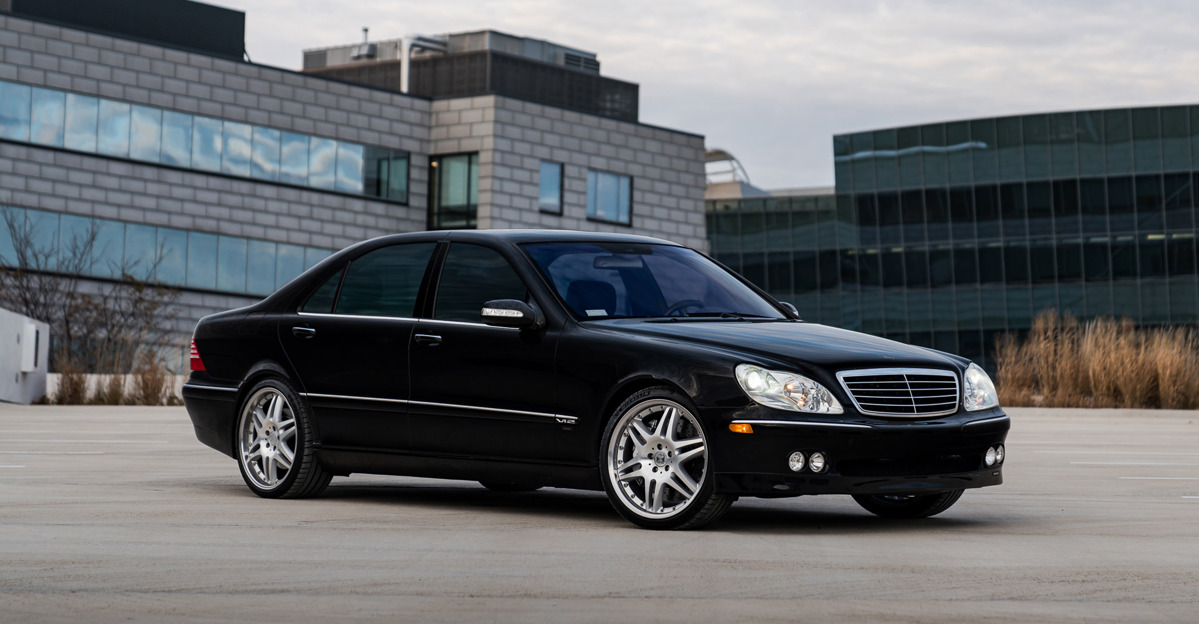 2004 Mercedes-Benz Brabus T12
Estimate: $30,000 - $40,000 USD
At least in terms of over-the-top luxury, the most exemplary Mercedes-Benz sedans went to Brabus for further tuning. This 2004 Mercedes-Benz Brabus T12 was actually a former show car for the exclusive German brand, with an options list that would have shocked Mercedes-Benz founder Karl Benz—including three flatscreens, powered folding tables, and a modern video-game system complete with controllers, all for the enjoyment of the rear-seat passengers. The enlargement to a 5.5-liter turbocharged V-12 engine executed by Brabus's engineers was significant—enough to push this stately sedan to 60 miles per hour in a mere four seconds. Because of this car's status as a Brabus show car, every flaw along the way was fixed—an extensive list of service receipts accompanies the sale—which should reassure any subsequent buyer. Having the means to fix your luxury goods is, after all, the ultimate luxury.