With their origins firmly planted in the 20th century, the invention of the supercar was an indication that automobiles themselves had more to offer to the average driver. Outsized and extreme in terms of performance and capabilities, supercars hint at untapped potential not simply in terms of vehicular transit, but in the fortunate owners who get to use them. Though their initial purchase price may be elevated in comparison to the rest of the vehicles in the same marque, supercars can actually present a sensible purchase when considered over time. Because of their inherent advantages where speed and handling are concerned, supercars from the past can more than hold their own in modern traffic. And due to their inherent collectability, supercars can also prove to be a good investment when treated with care and respect.
This selection of supercars heading to RM Sotheby's Paris auction on 2 February 2022 is wide-ranging and diverse. It includes everything from a veritable hypercar from Maranello as well as several competition-bred prancing horse examples as well. The offerings are not limited to modern examples. Spanning from legendary Italian sports cars formed in the 1950s, to avant-garde coupes which show the power of post-war coachbuilding, the lineup of cars crossing the block at RM Sotheby's Paris auction is not to be missed: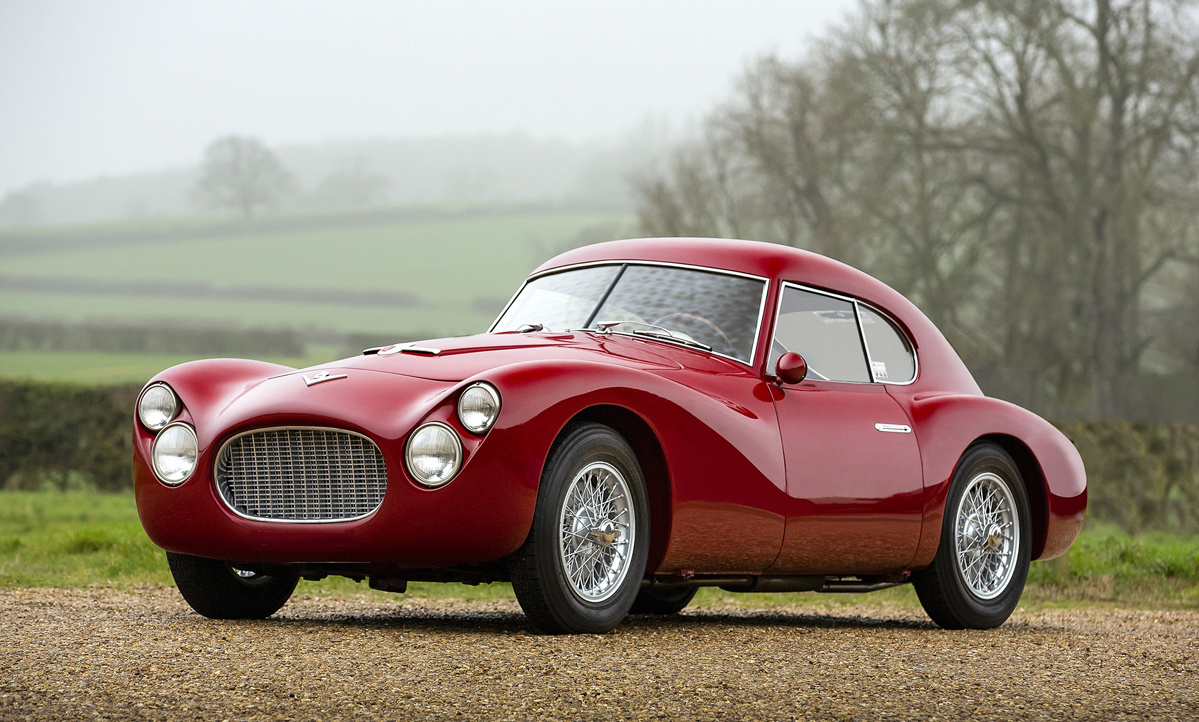 1954 Fiat 8V Coupé
Estimate: €825,000 - €925,000 EUR
With swooping proportions designed by Fabio Rapi and an eight-cylinder powerplant which was to give the model its evocative Ottovù nickname, this example is one of a mere 114 constructed over its three-year build cycle. In that run, only 29 second-series cars wear this advanced styling by Rapi and could claim to be hand-built by Fiat's talented in-house coachbuilding division, Dipartimento Carrozzerie Derivate e Speciali, or Special Bodies Department. Fiat 8V examples have been shown at major museums during design exhibitions, and a model sold by RM Sotheby's has recently made the cover of Keith Martin's Sports Car Market Magazine, with the headline "Ferrari Money for a Fiat." But with genuine rarity and elegance, the 8V's value isn't in question.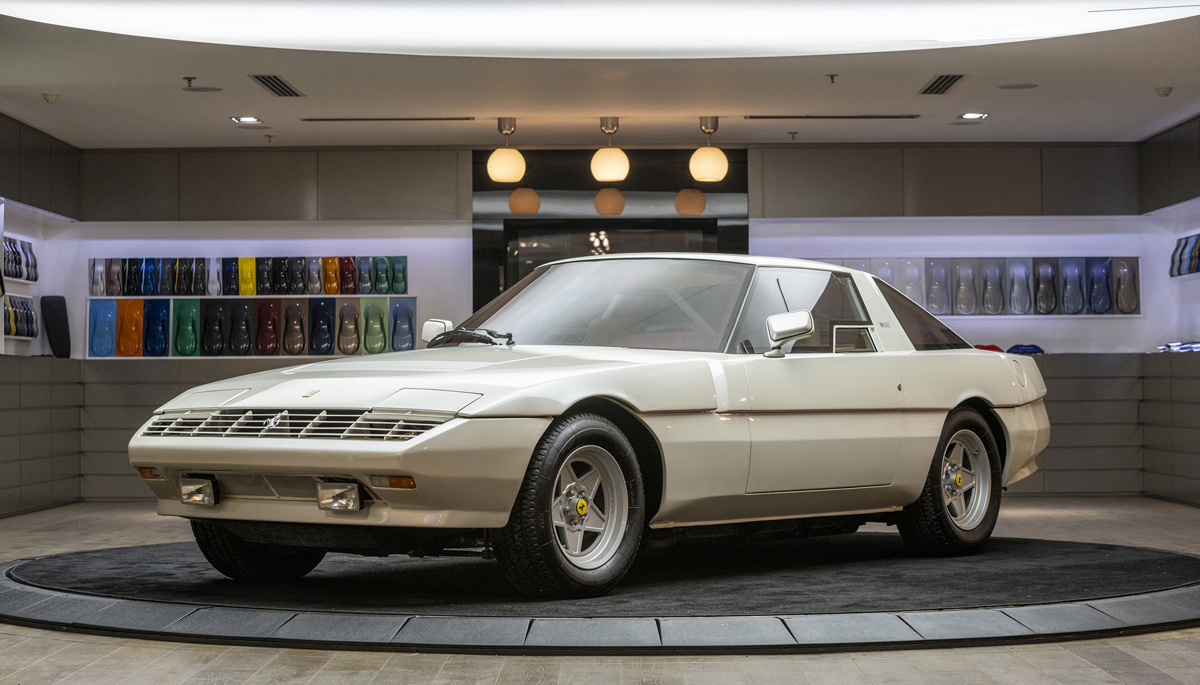 1983 Ferrari Meera S by Michelotti
Estimate: €90,000 - €110,000 EUR
From a limited-run, hand-assembled Fiat to a truly one-off Ferrari, the selection from RM Sotheby's Paris sale shows the evolution of automotive design. Though many have decried the end of coachbuilding firms in the post-war era, talented design houses like Michelotti still completed one-of-a-kind examples for their best clients. This example was constructed on a Ferrari 400i chassis, but with futuristic details including a windowpane-style, open-slatted grille highlighting the pop-up headlamps and window-in-window side glass, this Ferrari Meera S captured 1980s themes in a package that still appears futuristic today. As this example was treated to a €252,100 rejuvenation courtesy of Ferrari Classiche in 2010, the fresh appearance of the Meera S makes perfect sense. As this was the final project undertaken by Giovanni Michelotti before his death in 1980, this one-off Ferrari coupe will always occupy a prominent place in prancing horse history.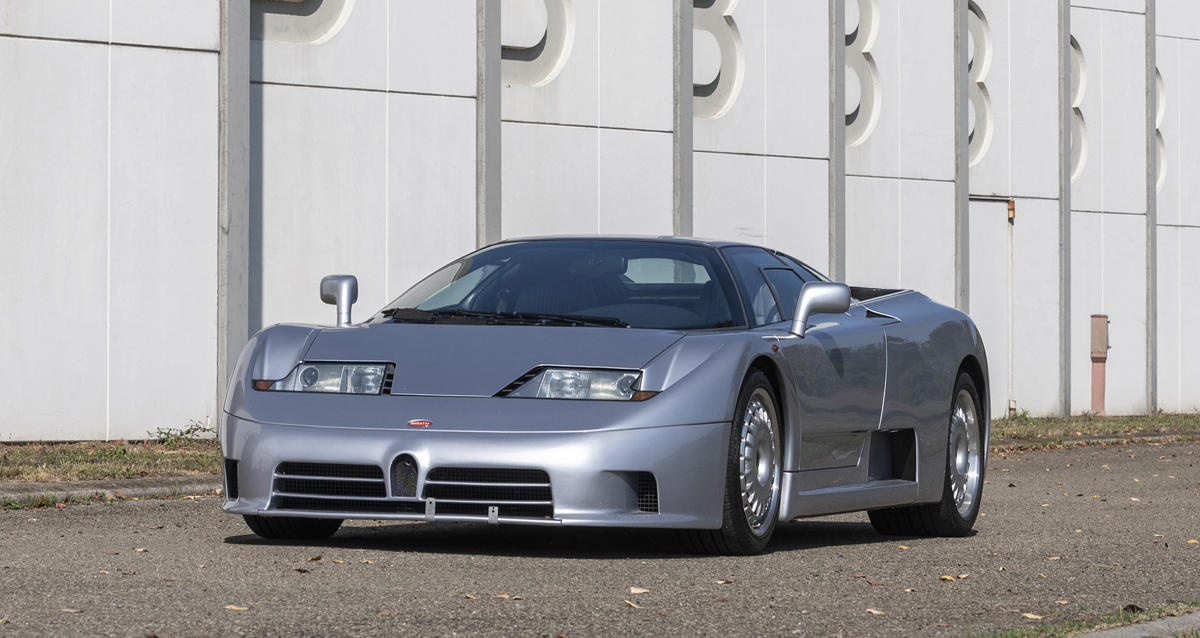 1994 Bugatti EB110 GT
Estimate: €1,000,000 - €1,200,000 EUR
Inarguably classified as a supercar, and now fully accepted as a member of the Bugatti lineage by the storied brand's current ownership, the quad-turbocharged, four-wheel-drive EB110 GT has certainly earned its current appreciation among collectors and enthusiasts. We have covered the story of this early 1990s supercar's development in greater detail in this space previously, but the single-ownership status and recent service history of this example (with receipts totaling €20,500 from marque experts B-Engineering) in December 2021 are worth repeating. Still powered by the same matching-numbers, 3.5-litre V-12 engine with which it left the factory originally, this fully certified Bugatti example showed a mere 25,542 km at the time of cataloguing.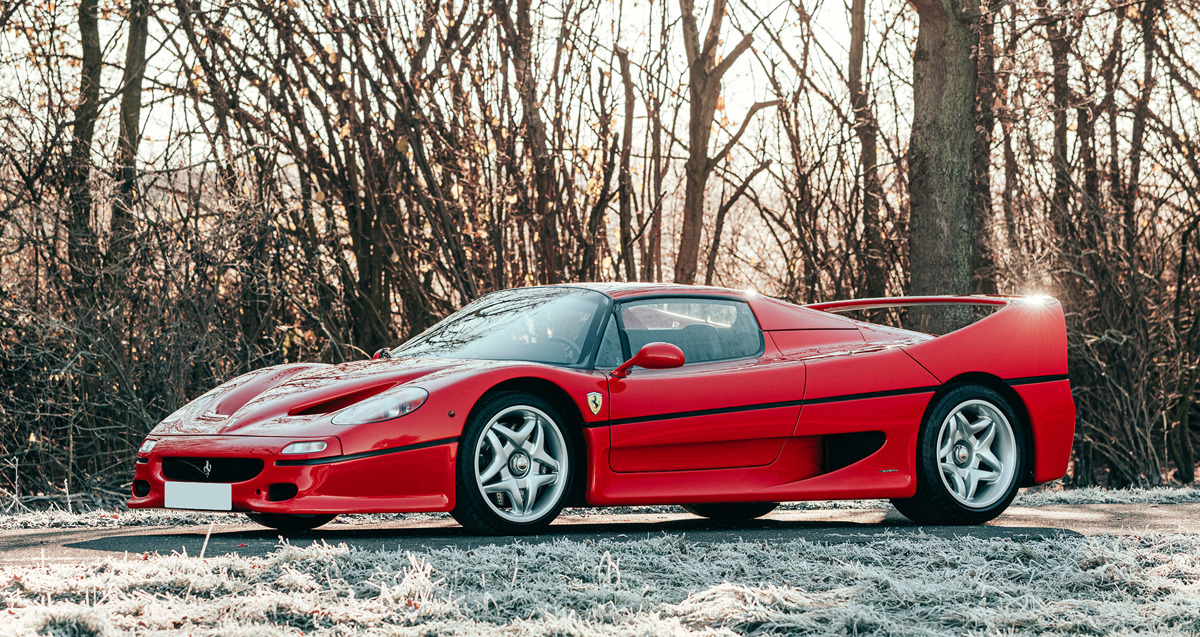 1996 Ferrari F50
Estimate: €2,800,000 - €3,200,000 EUR
Another mid-nineties example which has enjoyed a newfound desirability among collectors is this top-of-the-line Ferrari F50. In retrospect, the limited production run and design specifications of this naturally aspirated prancing horse should have made it even more of an instant classic. With a mere 349 built, the F50 is now regarded among enthusiasts as a genuine hypercar, with its modern equivalents either partially powered by electricity or lacking the F50's signature open-top abilities. This Classiche-certified example, number 140 of 349, was originally delivered to a customer of noted dealer Charles Pozzi of Paris. The sale includes the F50's hard top and flight case, as well as a complete original tool roll and selected service receipts from 1997 to 2016.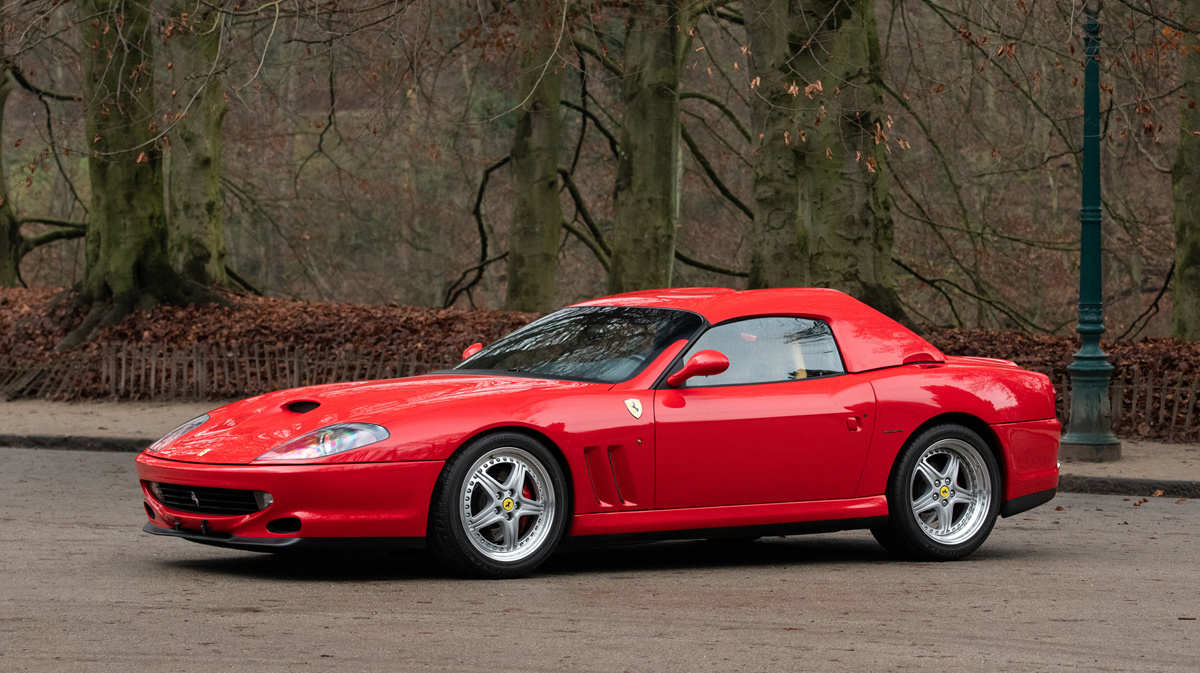 2001 Ferrari 550 Barchetta Pininfarina
Estimate: €295,000 - €345,000 EUR
Ferrari collectors concentrating on the late 1990s and early 2000s certainly have no shortage of iconic selections from which to choose. The 550 Barchetta was a model intended to evoke the classic chopped-down roadsters which built the Ferrari brand in its early days. With only 448 models built, this Rosso Corsa-over-light tan leather example is number 339. Intended to celebrate Ferrari's ongoing relationship with design house Pininfarina, the 550 Barchetta debuted in time for Pininfarina's 70th anniversary in 2000. Befitting its open-air nature, most 550 Barchetta models came with a folding canvas top suitable for installing during inclement weather. This German-delivered example not only comes with the Ferrari-branded fabric hood, but also includes a stunning color-matching carbon fiber hard top designed and developed by Pforzheim Technical College. A limited-production, naturally aspirated, front-engine V-12 Ferrari with an open-gated, six-speed manual transmission; a formula for a desirable Ferrari road car for now and likely forever.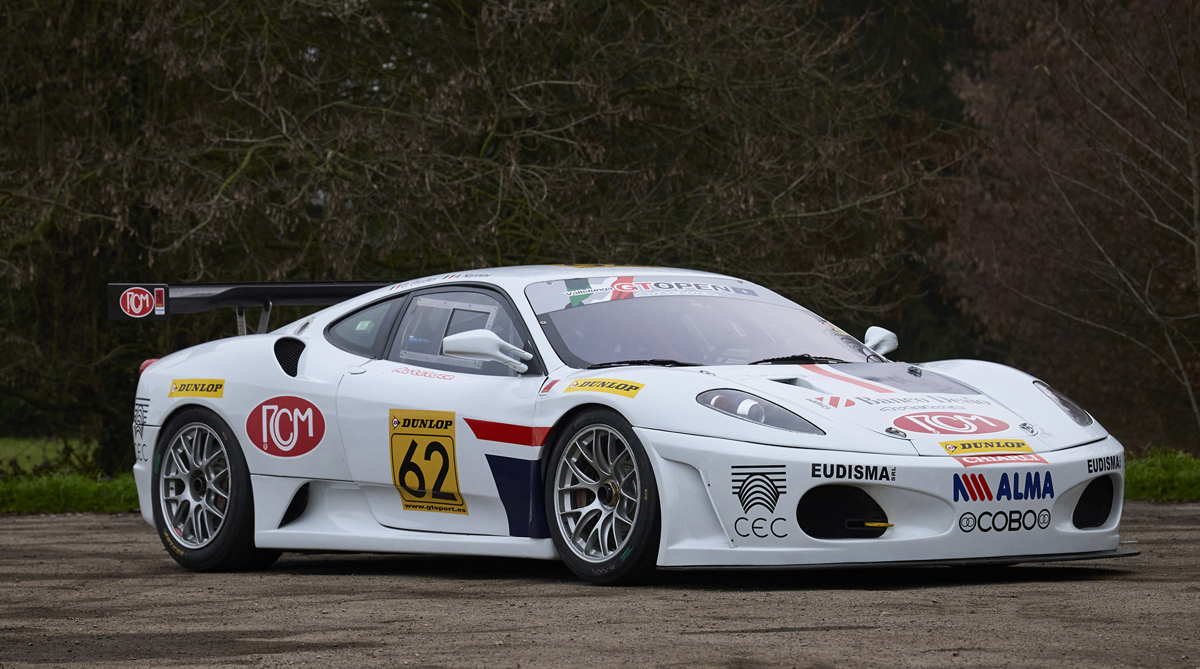 2006 Ferrari F430 GT3
Estimate: €220,000 - €260,000 EUR
Founded in France and having moved to Monaco in 2004, JMB Racing is one of a handful of organizations across motorsport history which can claim to be an official Ferrari demonstrator, selling their highly developed GT3 models to worldwide teams like Scuderia Giudici, the Italian team which fielded this example. Having been put into service at both Monza in 2007 and Vallelunga in 2008, this example was piloted by Alessandro Nannini and Gianni Giudici, and today wears the signatures of both noteworthy competitors on its roof. Today, Ferrari collectors who wish to experience a fully race-developed version of Ferrari's 4.3-litre V-8, producing a staggering 550 horsepower, should seriously consider this track-worthy prancing horse.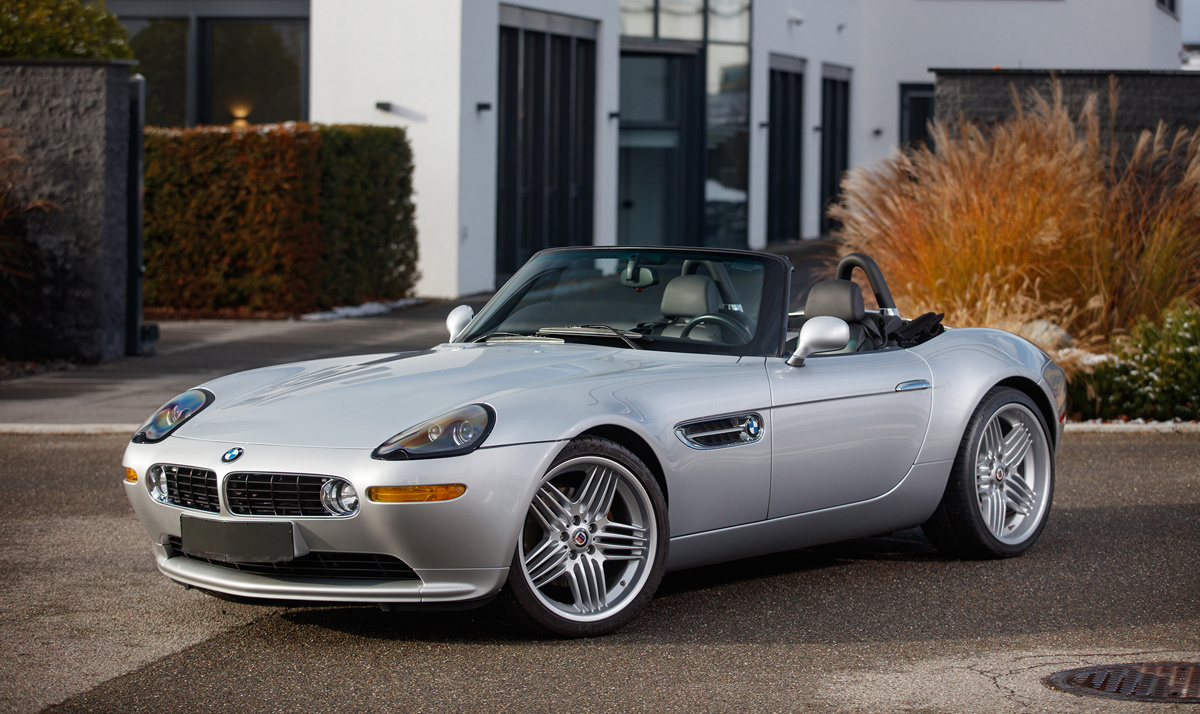 2003 BMW Alpina Roadster V8
Estimate: €230,000 - €280,000 EUR
Today's cover star is a low-slung roadster in the style of BMW's legendary 507 two-seater, updated for the 21st century. Evoking the BMW Z07 concept car, which was executed by the brand's controversial stylist Chris Bangle, the production variant was brought to market with help from another talented and outspoken designer, Henrik Fisker. The result is an absolutely stunning finished product, powered by an F5 V-8 engine, producing 381 horsepower, developed and signed by BMW's longtime tuning partners of choice, Alpina. This Titanium Silver-over-black Nappa example, number 476 of 555 total built, has been enjoyed for a mere 46,503 km at the time of cataloguing, and is sure to be a desirable example for BMW collectors for years to come.
To view all the exciting lots heading to RM Sotheby's Paris 2022 auction on 2 February, and to register interest for bidding, please click here and good luck!