Dec 27, 1929
This story opens in the face of one of America's darkest winters, barreling head-first into the Great Depression in 1929. The successive punches landed by Black Thursday, Black Monday, and Black Tuesday in October had softened into a possible recovery in November of that year. September 1929, when shares of the Dow Jones Industrial Average hit record values, seemed like a not-so-distant memory. Perhaps the economy would turn around the following year.
Cadillac was certainly hoping so. Two days after Christmas, on December 27, 1929, at an exclusive event at the Waldorf-Astoria hotel, the August American brand unveiled its most significant (and most expensive) engineering achievement to date. If any photographs were taken at this high-society event, none have ever been released, but the Cadillac V-16's debut was broadcasted on the radio and featured in Popular Mechanics for a national audience eager for good news. By the time it was first shown to the public at the New York Auto Show on January 4, 1930, reportedly 20,000 people mobbed the Hotel Astor to try to glimpse the futuristic model that Cadillac described as a "Supercar." In an expression of optimism, one thousand V-16s were ordered in its first year of production. Depression be damned.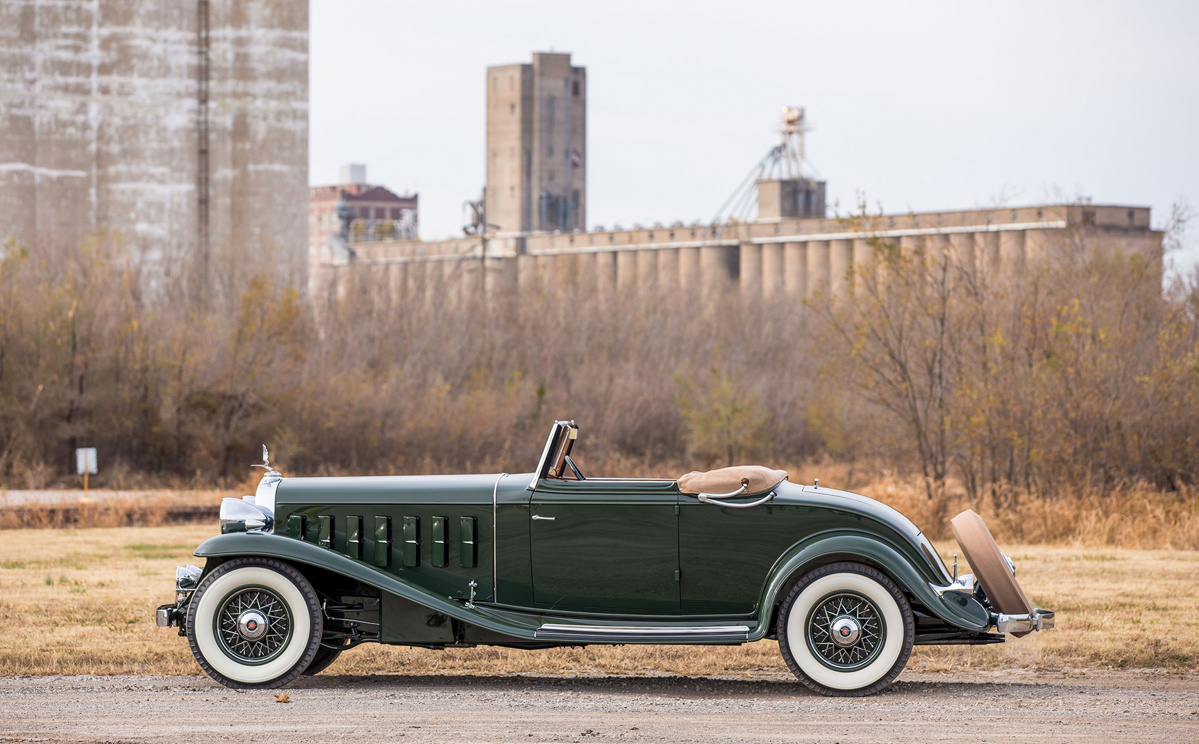 1932 Cadillac V-16 Convertible Coupe by Fisher
Estimate: $750,000 - $850,000 USD
Two years later, the Great Depression seemed a bit more of a pressing concern, even for those who could afford a Cadillac. Monthly production figures of the V-16 peaked in April 1930, when 576 chassis left the factory, destined for Fisher or Fleetwood coachwork. By 1932, production for the entire year only totaled 300 examples. The Convertible Coupe shown above is one of a mere fourteen made by Fisher in 1932. RM Sotheby's is proud to offer this flagship Cadillac at its Arizona auction, set for 22 January 2021.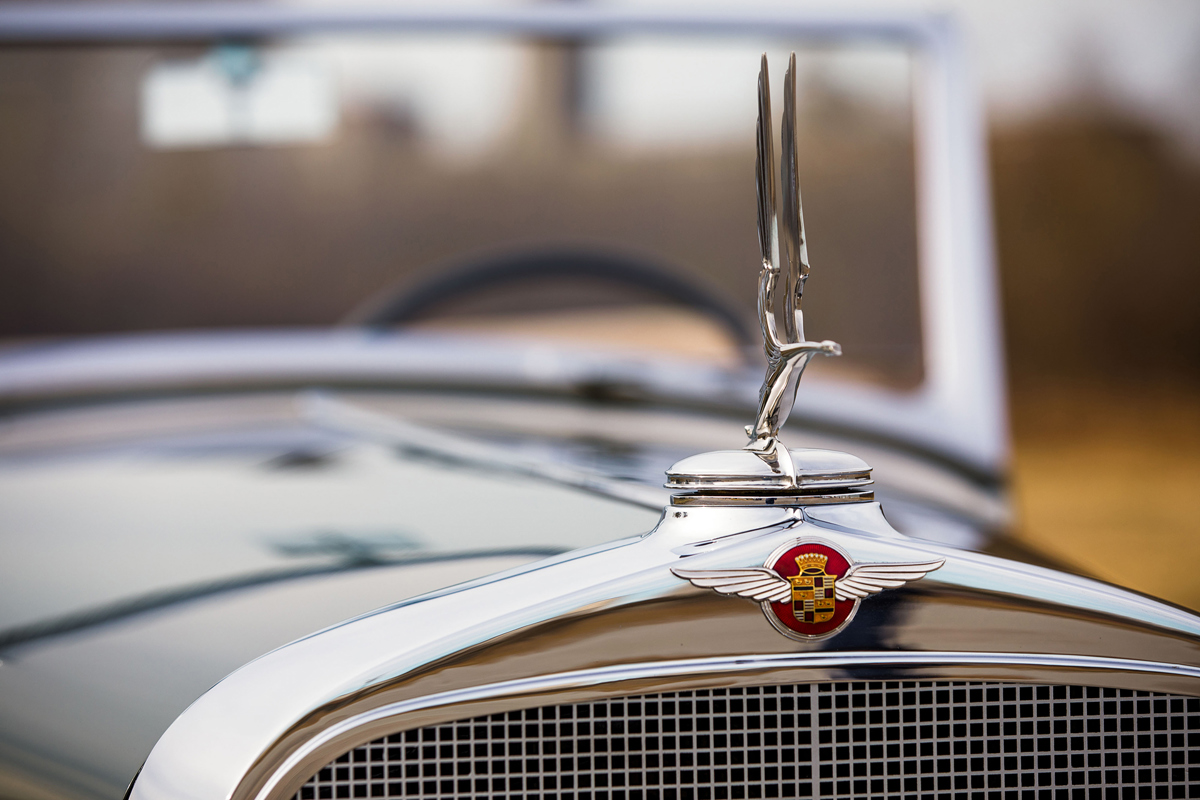 Why were so few open-top V-16s built? What seems today to be the most desirable, driver-oriented option, the Convertible Coupe, proved to be one of the V-16's least-popular variants in 1932. The flamboyant phaeton and landau-top models were equally unpopular. Most buyers opted for close-bodied limousine and sedan body styles, which better suited the restrained expression of wealth as the Depression wore on. Factory build documents included with this uncommon Convertible Coupe indicate it was initially ordered in Black with a Black radiator shell and a body stripe in contrasting Tokio Ivory (white) with matching wheel spokes and hubs. At least at first—the order form shows a line crossed through the text calling for painted wheels, with a handwritten note above demanding "stainless steel."
If the image of a black-on-black Cadillac V-16 convertible with Stainless Steel wire wheels and a lone body stripe in a contrasting color seems like a sedate description today, one look at this 1932-era image by noted Harlem Renaissance photographer James Van Der Zee will forever dissuade you of that notion. The image was striking enough to land the cover of Vogue magazine that year. A gelatin silver print of Couple, Harlem still exists today in the collection of NYC's Museum of Modern Art. Could our Cadillac V-16 be the same as the one captured by Van Der Zee? Though the build sheet does indicate the Convertible Coupe we are covering today was initially delivered to Brooklyn, NY, a closer look at the door sill reveals the Couple were likely riding in an earlier example. Still, this proves that our Convertible Coupe is in good company.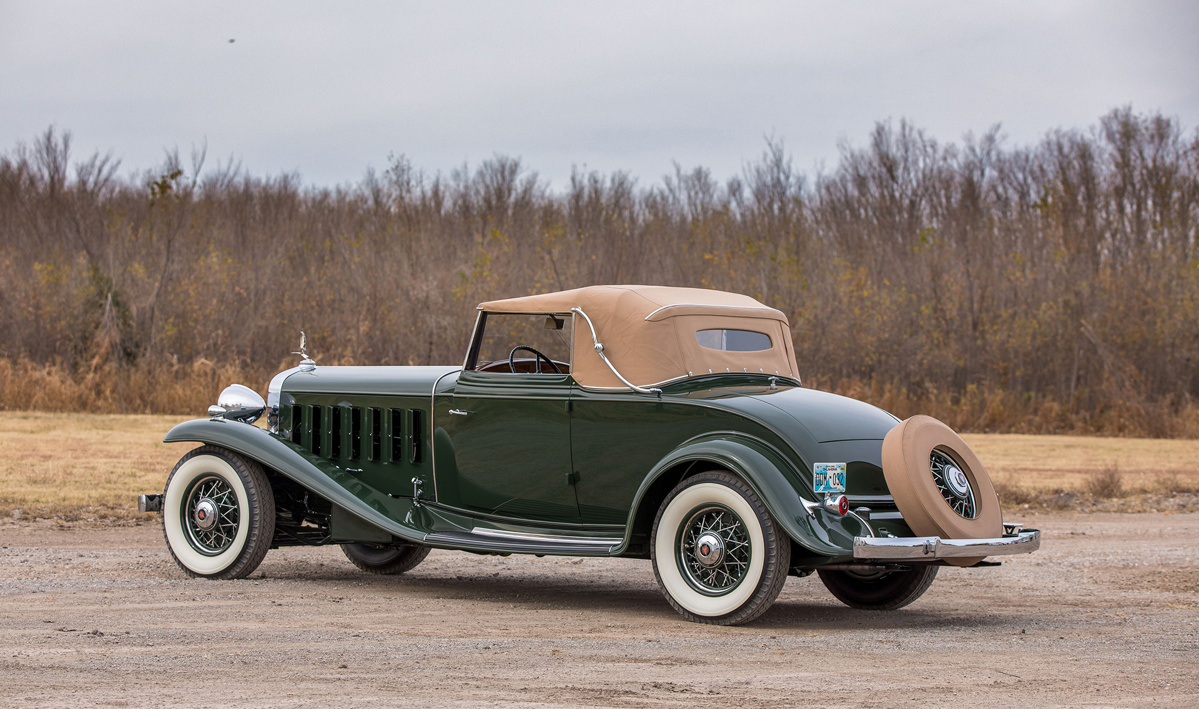 1932 proved to be on the threshold of a new era of automotive design. The following year, at the Century of Progress Exposition in Chicago, American brands including Packard, Studebaker, and local coachbuilders Briggs Body Company all debuted next-generation models inspired by aerodynamics. Duesenberg's offering, the "Twenty Grand," whose nod to overcoming wind resistance included a "Vee-shaped" windshield and rounded trunk, was famous mostly for its excessive price tag. At the other end of the aerodynamic spectrum was Buckminster Fuller's Dymaxion Car, a three-wheeler which claimed to provide comfortable seating for eleven passengers at speeds up to 120 miles per hour.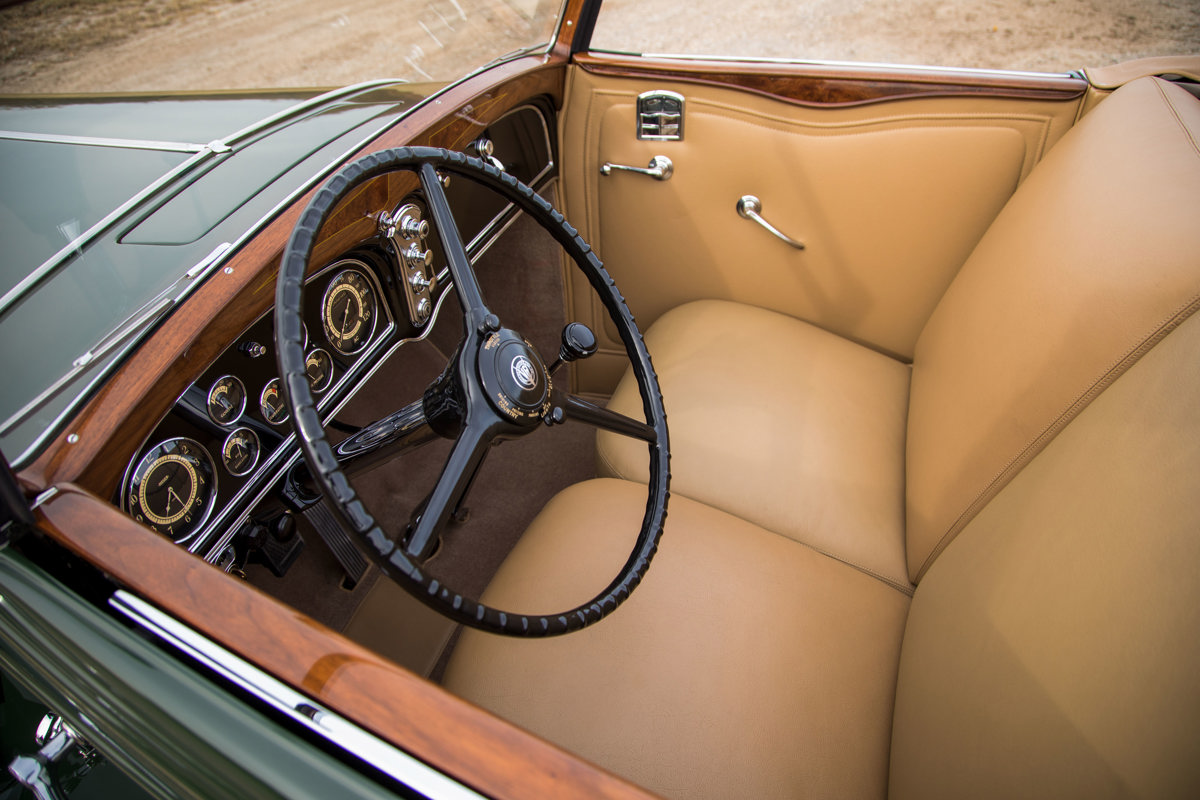 Competing against these claims, at least for Cadillac, proved easy. With literally thousands of V-16 examples already on the road, the brand was promising engineering feats that were far from fantasy. In a dedicated space at the Expo, General Motors recreated their iconic midtown Detroit headquarters in exaggerated scale, encompassing a pavilion that featured a miniature, working Chevrolet factory, offering visitors new cars, made fresh to order.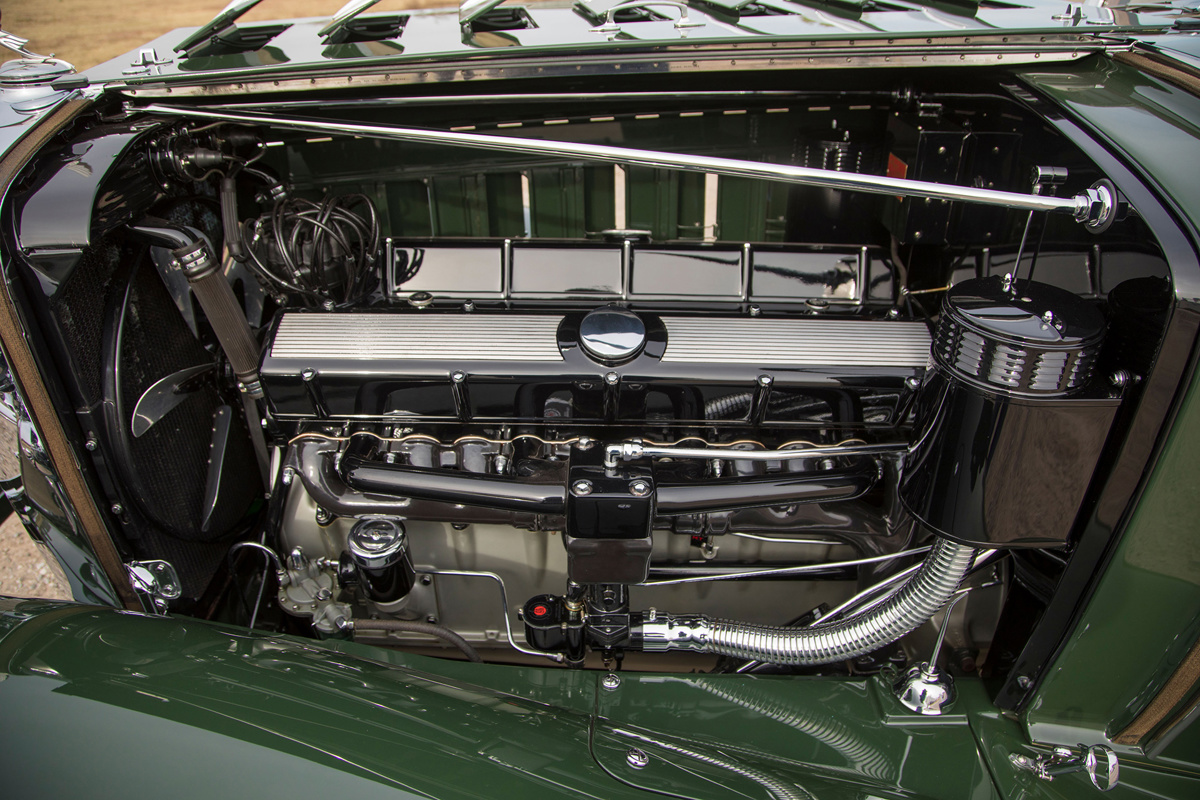 On the Cadillac stand, two engines sat side-by-side. One was the original, two-cylinder "Little Hercules" engine that powered the first Cadillac Model A from 1903. Next to it sat Owen Nacker's exquisitely detailed V-16 from 1929—seemingly a century of progress achieved in a scant twenty-six years. With hidden spark plug wires and chrome valve covers, Nacker's V-16 featured aesthetics by a young Harley J. Earl, and is now regarded by many automotive historians as the first motor to have been styled. Though Bugatti and Duesenberg collaborated on a WWI-era "U-16" engine for airplanes, Cadillac was the first brand to debut a sixteen-cylinder engine in a production car.
Backed by the industrial might of General Motors, Cadillac could afford to sell 4,000 examples of their flagship V-16 "Supercar" over its ten-year run, and even tolerate losing money on each one. The investments that General Motors chief Alfred P. Sloan made in engineering paid off with a truly legendary engine, unmatched among American automakers in terms of refinement, just as the investments in styling with acquiring Fleetwood's coachworks and hiring designer Harley J. Earl paid off. A perfect mix of art and science, highly refined examples like this Convertible Coupe were a principle reason why Cadillac survived the Great Depression. RM Sotheby's is honored to offer the pride of a nation and the standard of the world as part of our Arizona auction on 22 January 2021—this exceptional Cadillac V-16.