With the eyes of the motoring world turned squarely towards Monterey this week, we thought it timely to release the final part in our series of cars offered without reserve. Included in this list are coachbuilt cabriolets, constructed with care in Italy from lightweight materials, two-wheeled transportation used in the filming of a legendary motorsport-related movie, and as Monterey is known for attracting the most unique variants of already popular cars, we have an uncommon Mercedes-Benz pickup, based on the familiar G-Wagen platform. For fans of history, we have a replica of the first Benz ever made.
RM Sotheby's also offers the more traditional, blue-chip-style automobiles, including well-regarded sporting selections from Jaguar and Ferrari. These top-tier examples are all offered without reserve, which means that the new prospective owners can follow the auctioneer's lead and bid accordingly. As was equally true in the first part and second part of our series of cars offered without reserve, the possibility of scoring a significant deal on one of these examples makes all of these lots worth watching in Monterey this week, from 12-14 August 2021:
1972 Ferrari 365 GTC/4 by Pininfarina
Estimate: $250,000 - $325,000 USD | Offered Without Reserve
For those searching for a superb grand touring car from the late 1960s and early 1970s, the output from Ferrari was certainly in top form. Though the 365 GTB/4 Daytona has stolen much of the spotlight with its wedge-shaped design, during roughly the same time period, Ferrari also released the 365 GTC/4 as a companion car. Made with comfort in mind, and including such amenities as standard air conditioning (an uncommon optional extra on the Daytona), this example perfectly suited its first owner, noted Hollywood director Greg Garrison. A consummate California creative, Garrison directed (and eventually produced) the mid-sixties television classic The Dean Martin Show and found extraordinary success long into the seventies with the Rat Pack member's noteworthy roasts. Later acquired by equally notable Ferrari dealer Ron Tonkin of Portland, Oregon, this Metallic Mauve-over-beige leather Ferrari comes with plenty of pedigree, all offered without reserve.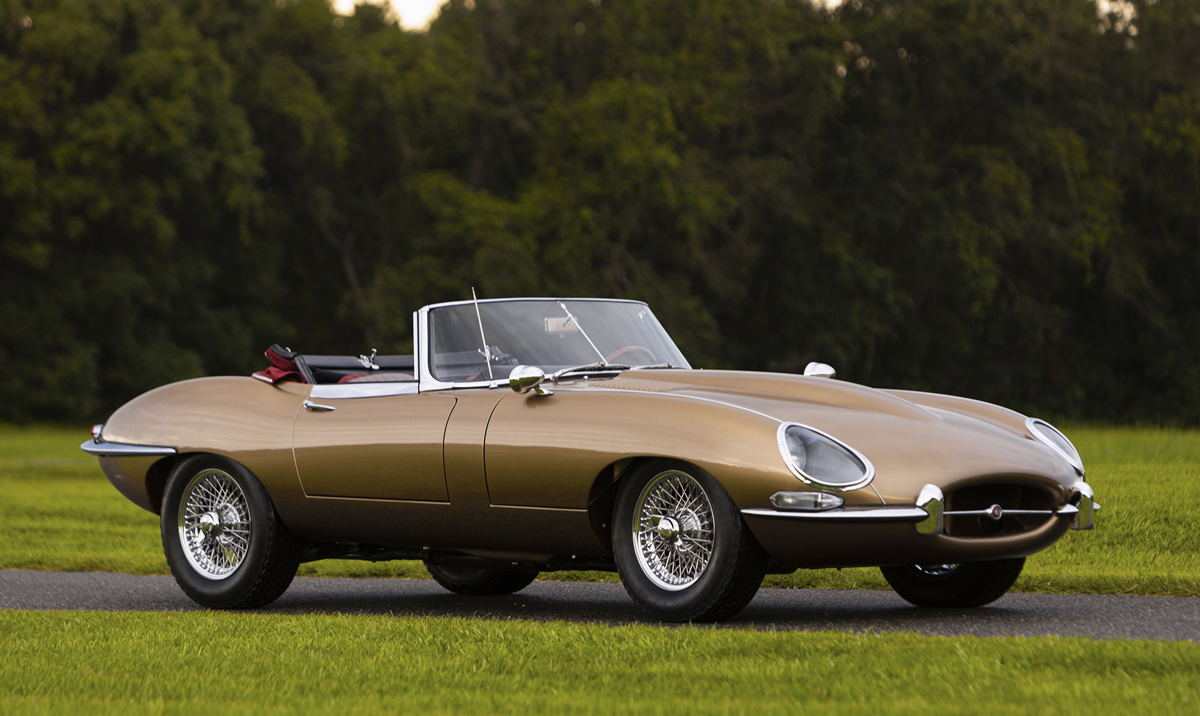 1967 Jaguar E-Type Series 1 4.2-Litre Roadster
Estimate: $200,000 - $250,000 USD | Offered Without Reserve
Part of the value in attending a Monterey auction is seeing the caliber of cars presented. Not only is this Jaguar E-Type part of the coveted Series 1 production, but this example also has the benefit of recently receiving a multi-year restoration which concluded in 2021. The exquisite detailing on the 4.2-liter inline-six engine and undercarriage are both worth a closer inspection in the accompanying image gallery. Wearing a striking shade of Opalescent Golden Sand—the original color specified, according to the associated Jaguar Daimler Heritage Trust certificate included with the sale—with a red interior and matching soft top, this example is ready to enjoy.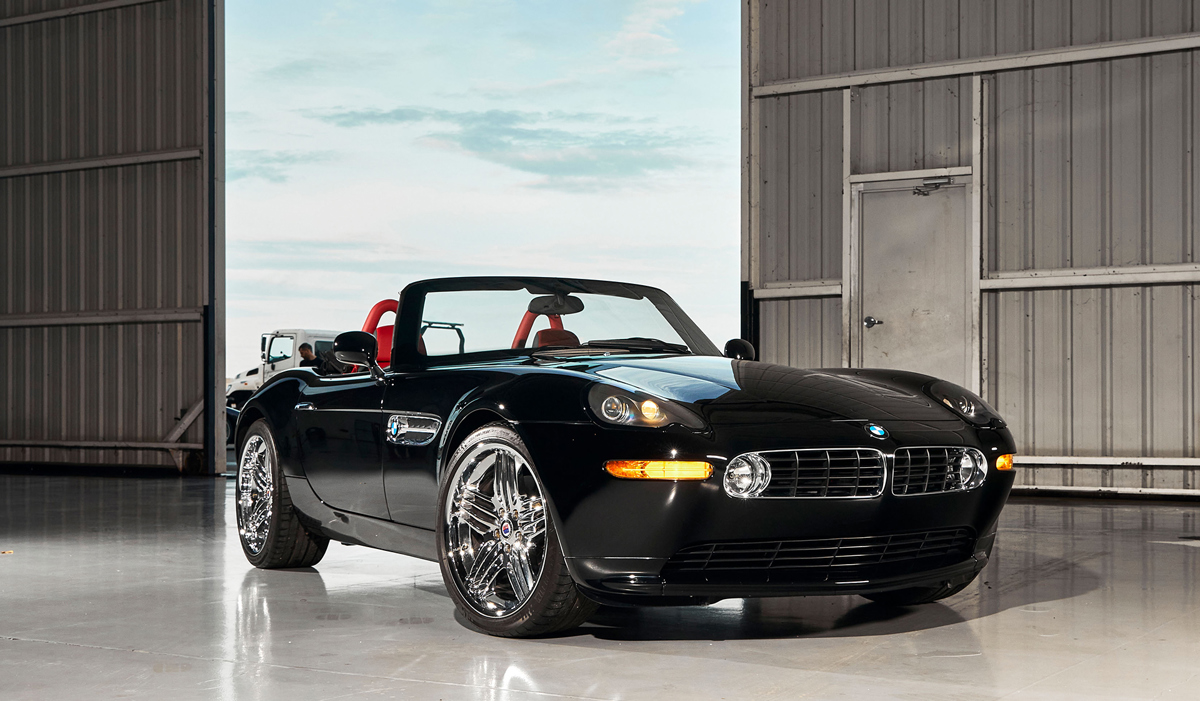 2003 BMW Alpina Roadster V8
Estimate: $275,000 - $350,000 USD | Offered Without Reserve
The Fox Collection
Another open-top sports car with a drop-dead gorgeous color combination, this 21st century roadster represents the best in modern German luxury. This BMW Alpina is but one piece of the supercar-focused Fox Collection, which includes an assortment of desirable Ferrari models as well as a Bugatti Veyron, all of which are offered without reserve. This example, wearing perhaps the most noble Teutonic color combination of Jet Black over a two-tone, Sport Red and Black leather interior, is a captivating option for any who wish their ultimate driving machines to be inspired by the past, while still possessing the capability of satisfying contemporary desires.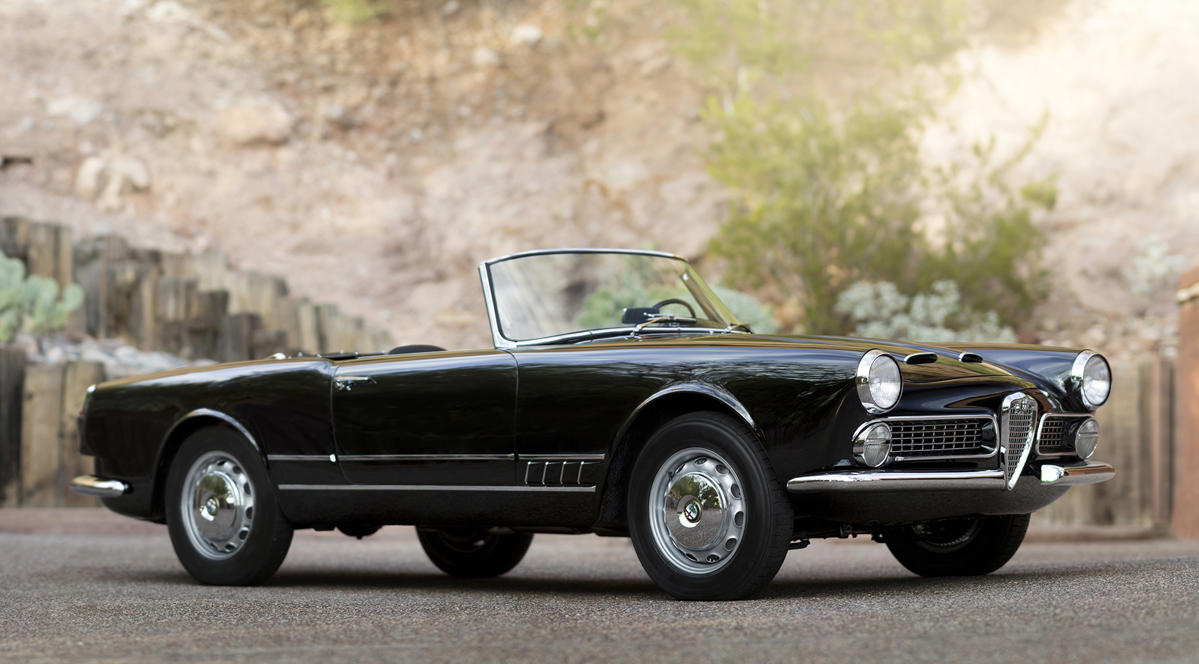 1959 Alfa Romeo 2000 Spider by Touring
Estimate: $175,000 - $225,000 USD | Offered Without Reserve
For some sports car aficionados, there is no substitute for a true classic. This Touring-built Alfa Romeo retains its original, numbers-matching engine, a twin-cam inline four-cylinder powerplant which helped build the legend of Alfa Romeo in the post-war era. Wearing period-correct Michelin XWX tires on factory ten-hole wheels, just one accessory in a series of meticulously restored original components, the premium quality fit-and-finish on this example is partly because the consignor was concurrently restoring his Ferrari 250 Cabriolet to concours-quality and lavished the same care and attention to this equally worthy mid-century Italian Spider.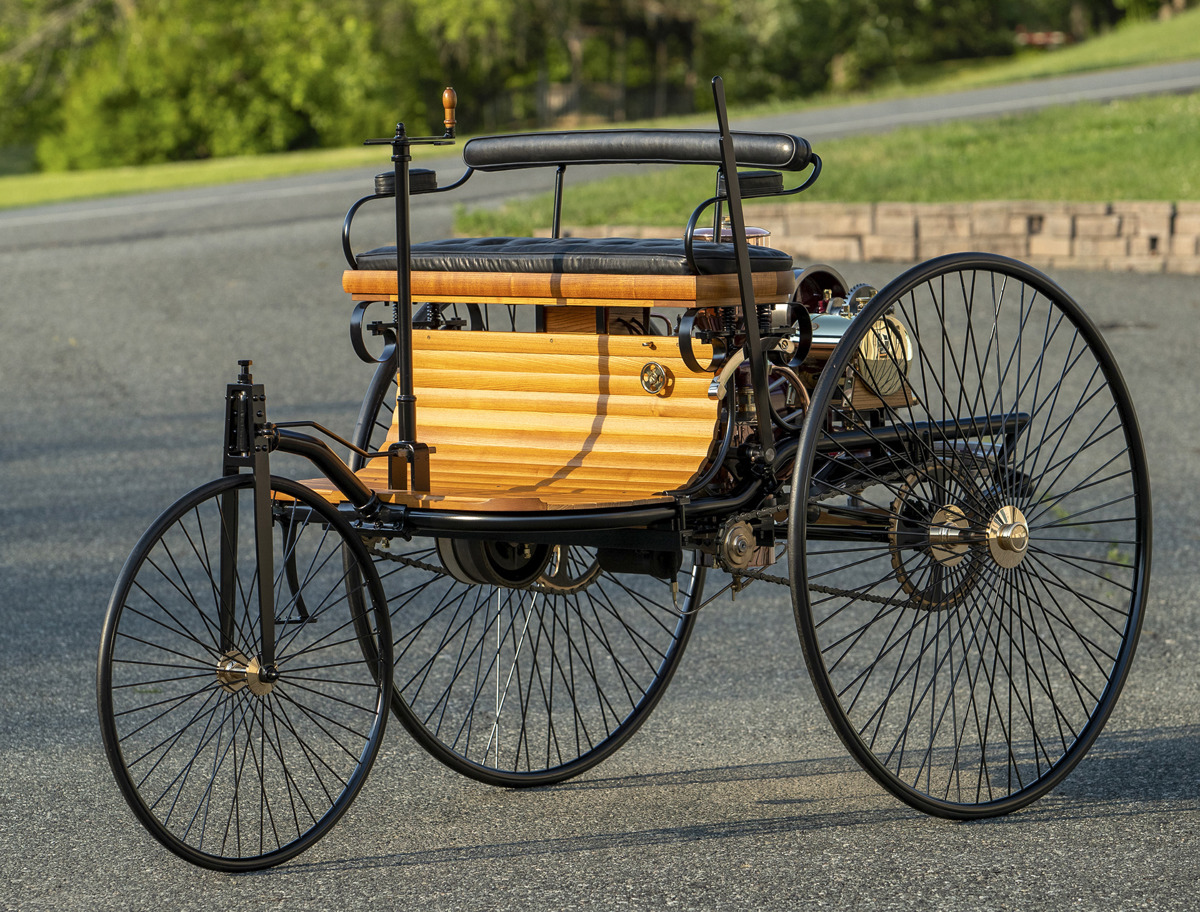 1886 Benz Patent-Motorwagen Replica
Estimate: $60,000 - $80,000 USD | Offered Without Reserve
Taking a significant step back in time, this British-built replica of Germany's proudest contribution to the creation of the automobile is an essential artifact for any motorcar collection which wishes to be truly comprehensive. Unlike many other veteran vehicles from the late 19th century, this John Bentley-built, single-cylinder-powered three-wheeler was made to be a fully functioning automobile. An incredible feat of modern engineering, this example is perfect for any intrepid motorists to attempt to recreate Bertha Benz's maiden voyage, a journey of 67 miles, an important milestone in the history of the automobile.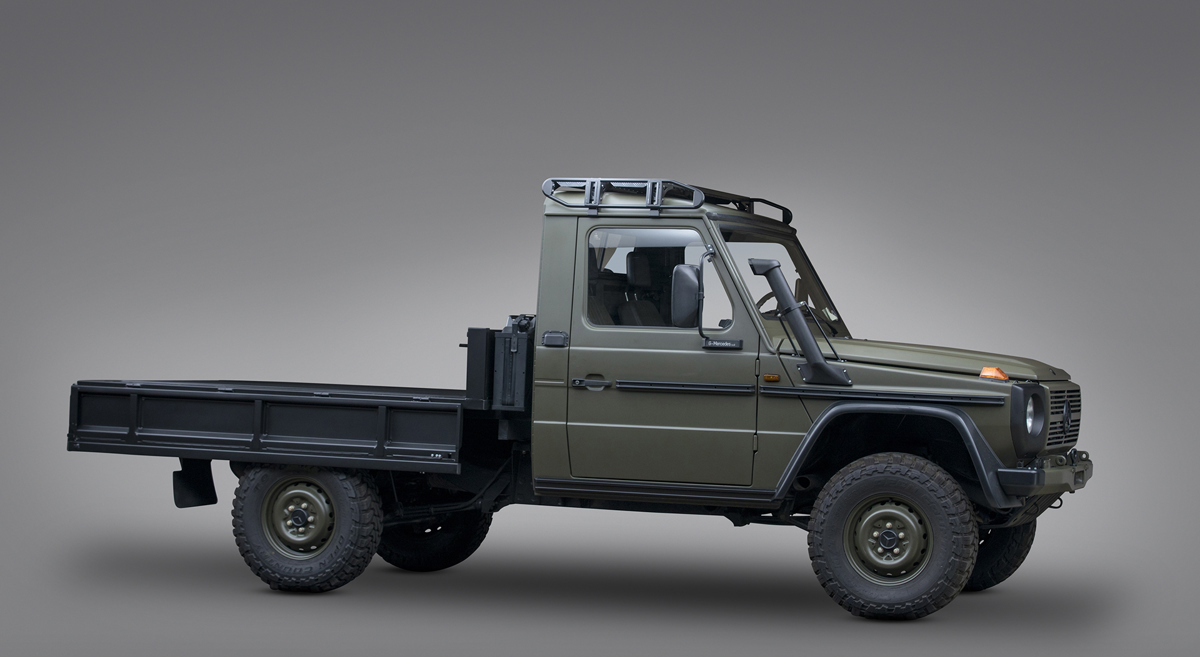 1994 Mercedes-Benz 290 GD Pickup
Estimate: $50,000 - $75,000 USD | Offered Without Reserve
The Paul Andrews Estate Collection
Fast-forward over a century, and the company that Karl Benz initially co-founded had amassed a series of significant advancements in transportation, not the least of which was the addition of a fourth wheel. This example is part of the prestigious Paul Andrews Estate Collection, which encompasses many significant marques, all in impressive condition. Imported from Belgium in 2020, this example offers several features that were uncommon on typical utilitarian G-Series pickup bodies, including a five-speed transmission with overdrive, a turbocharged 2.9-litre diesel engine, and an always-desirable option of air conditioning.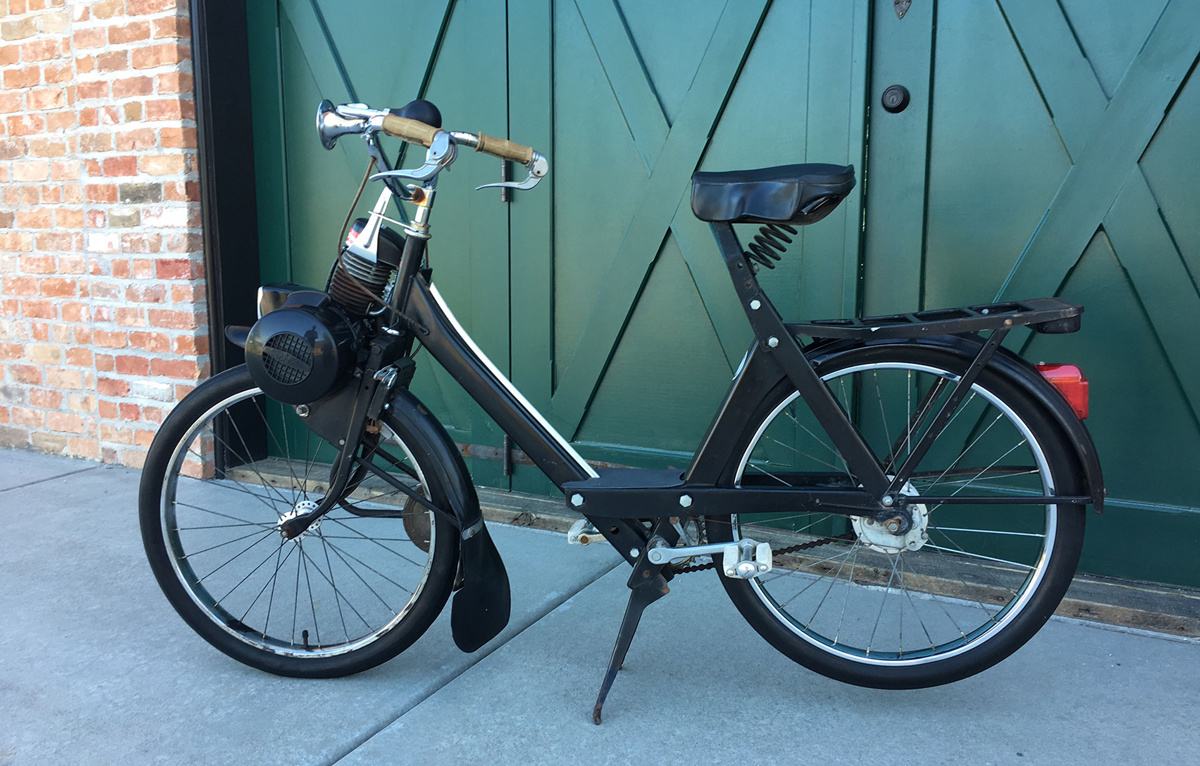 1970 Solex 3800
Estimate: $40,000 - $50,000 USD | Offered Without Reserve
With its front-wheel driven by an enlarged, two-stroke engine which was advertised as offering "50% more power for hills," this French-built Solex 3800 was a chic means of in-period transport. Favored by city-dwellers for its generous 60-mile total range, this black-and-chrome example must have also offered international appeal, as it was purchased in-period, and used on the set of Le Mans (1971). This fact is proven by an fascinating letter which accompanies the sale, from the track's governing body the Automobile Club de L'Ouest, to officially allow this trusty transportation to be used "for the Le Mans race track, to be on-site during the private shooting." An undeniable artifact of Hollywood history, offered without reserve.