At the beginning of the genuinely moving 'Victory Lap' documentary celebrating his life immersed in cars and motorsport, the consummate Chicago-area car dealer and Ferrari collector John Weinberger offers this sage piece of advice to anyone wishing to try their hands at vintage racing. "Racing is to win. It's not to be there, it's to win… Go to the track, study the car that won the race. Get the one you like, pick the one that won the race, and then go buy that car. Because you know that car can win a race." Simple, selfless wisdom, valuing the quality of the car even above one's own driving skills.
But then, selfless action was undeniably part of Weinberger's nature. With his wife Lisa at his side, Weinberger devoted a great portion of his later years to charity work, establishing the Footprints Foundation 501(c)3 as the vehicle for their charitable goals. Amongst its many philanthropic initiatives, the charity's Driven to Care program has given away nearly 100 pre-owned cars over the years during the holidays to families and individuals in need, who have overcome a variety of challenges. The cars are presented all wrapped up in red bows in Weinberger's family Continental Motors showroom. In John's memory, his widow Lisa has elected to further the mission of Driven to Care's philanthropy, both by supporting multiple myeloma research, and by establishing a legacy scholarship program for students pursuing careers in the automotive industry. The scholarships funded by Driven to Care will benefit those pursuing careers in automotive engineering, vintage automobile restoration, skilled automotive trades, and automotive dealership management, marketing, and communications. It will additionally provide students with immersive behind-the-scenes tours at racing facilities around the country. With Weinberger's lifelong legacy assured, the charity efforts have now kicked into high gear, as RM Sotheby's is proud to offer the crown jewel of the Weinberger collection at our signature auction in Monterey, this winning 1953 Ferrari 166 MM by Vignale, chassis no. 0314 M.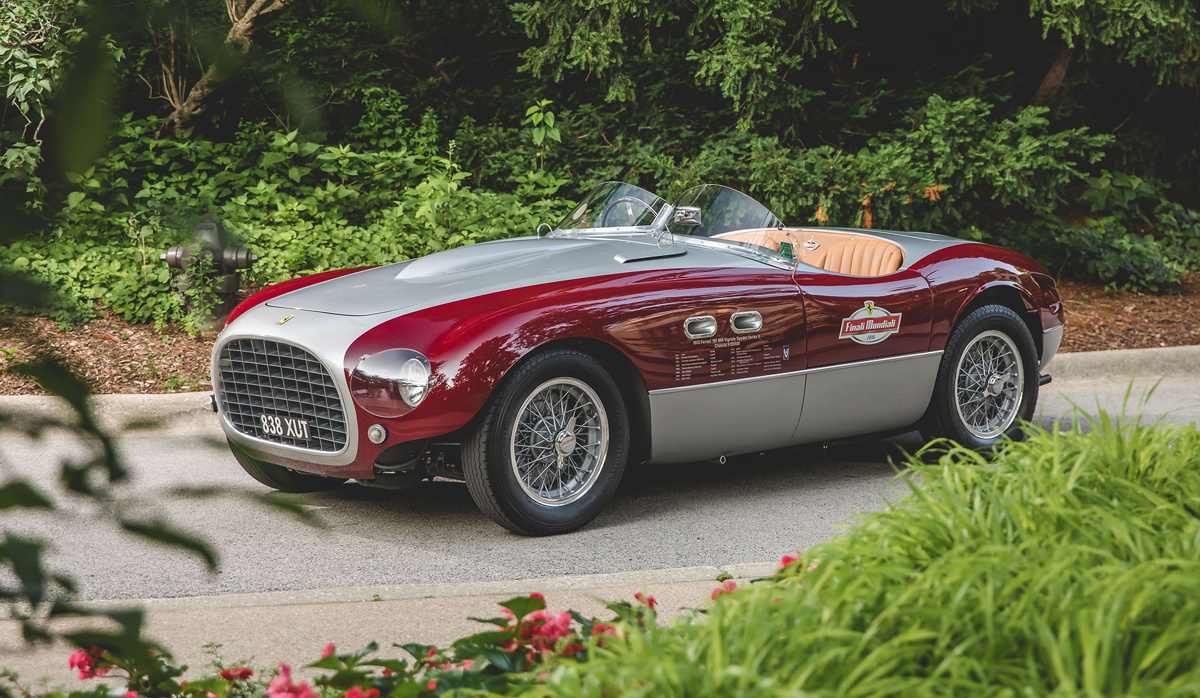 1953 Ferrari 166 MM Spider Series II by Vignale
Estimate: $4,000,000 - $5,000,000 USD
As a co-founder of the famous Chicagoland-area dealership group Continental Motors, Weinberger became a favored client of Ferrari as well as a longtime purveyor of the Modenese brand's sports cars. Likewise, the first owner of this exceptionally uncommon Ferrari 166 MM, Edoardo Lualdi-Gabardi, also was one of the earliest supporters of the prancing horse brand, going on to own a string of legendary Ferrari race cars, including four 250 GT Tour de France Berlinettas, two 250 GT SWB examples, a 250 LM, and two 250 GTOs. Dubbed 'Italy's Mountain King' by Ferrari Historian Marcel Massini, Lualdi-Gabardi regularly dined with Enzo Ferrari, and as such had the opportunity to purchase this example, no. 0314 M, the fourth of a mere six Series II Vignale Spider sports racers.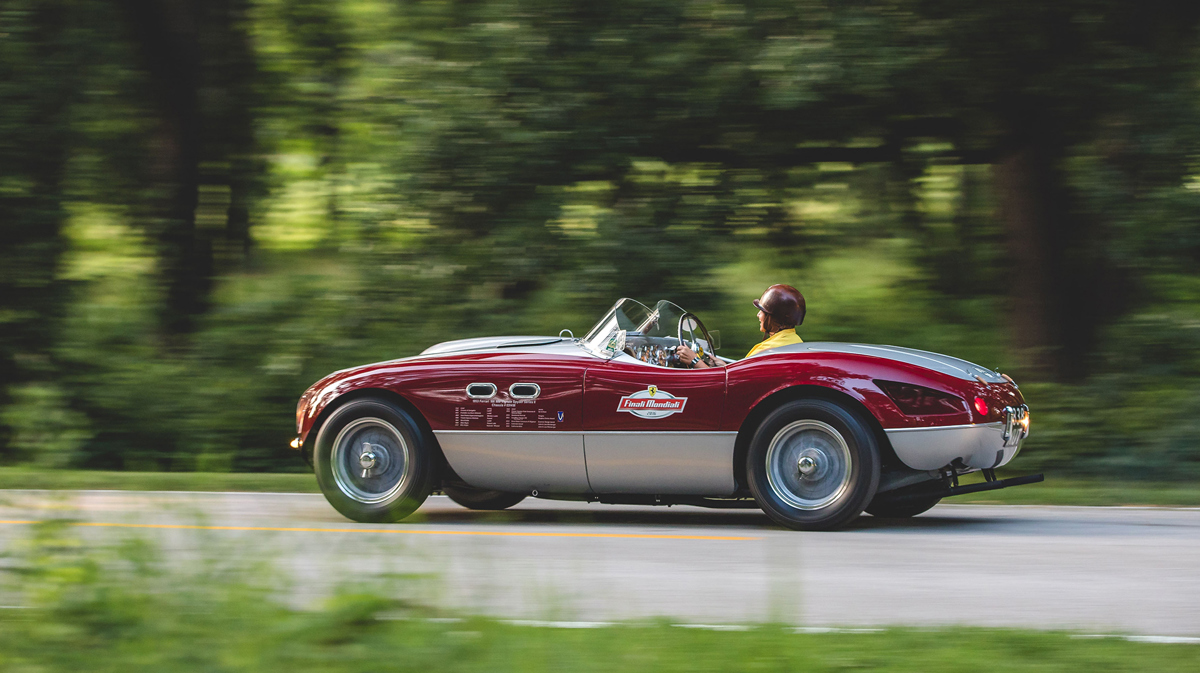 Lualdi-Gabardi campaigned this twelve-cylinder Spider at no less than ten events throughout the first year of his ownership, scoring as high as 3rd-in-class at the Circuito di Senigallia on 9 August 1953. As documented by Massini in a riveting article in Cavallino issue #155, Lualdi-Gabardi's results were exceptionally impressive, especially for someone who was essentially an amateur racer competing against factory-sponsored teams.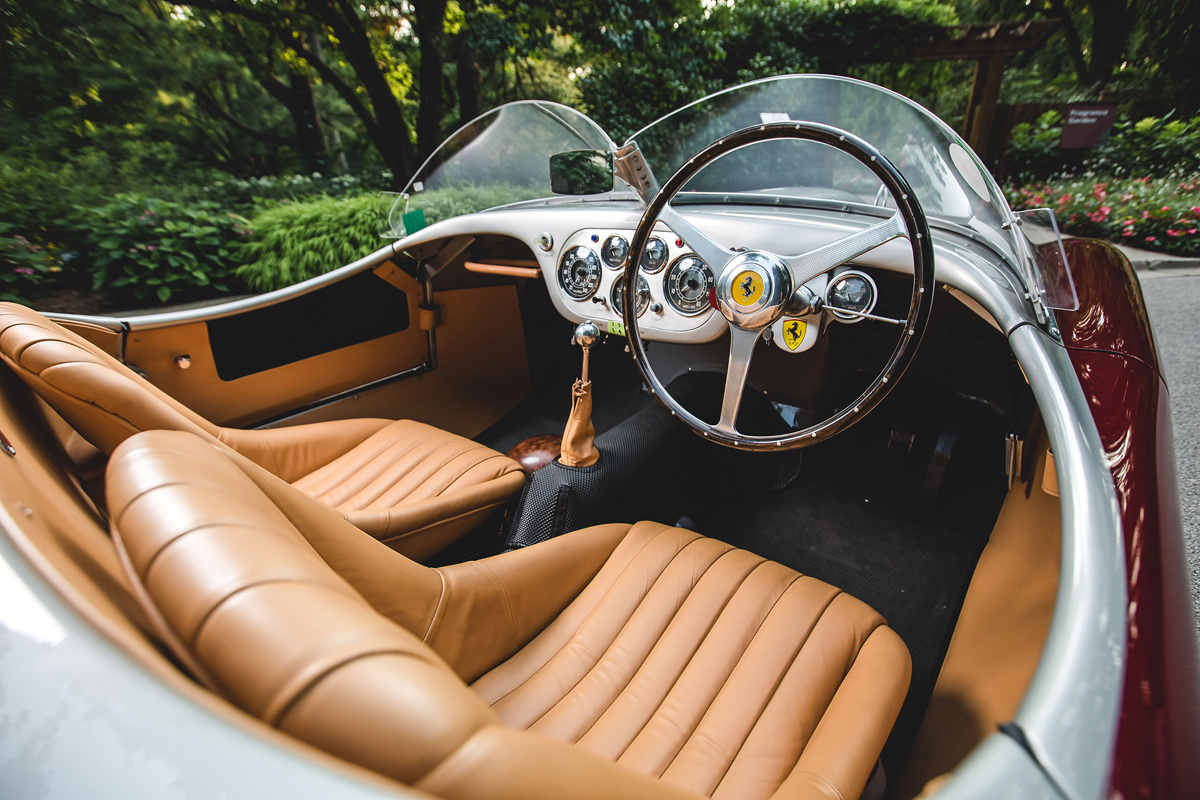 The other, perhaps equally impressive factor of this significant Ferrari chassis is its supple coachwork, executed by Alfredo Vignale's eponymous Carrozzeria. Though Vignale's relationship with Ferrari began several years prior to this 1953 example, the period between 1951 and 1953 was especially fruitful for the duo. As Massini noted in his article, "Between 1951 and 1953, three Ferrari Mille Miglia winners had Vignale bodies." This winning combination—an echo of Weinberger's advice from our introduction—proved irresistible for Enzo, who leaned toward Vignale as his most favored coachbuilder in those years, even above Pinin Farina and Scaglietti.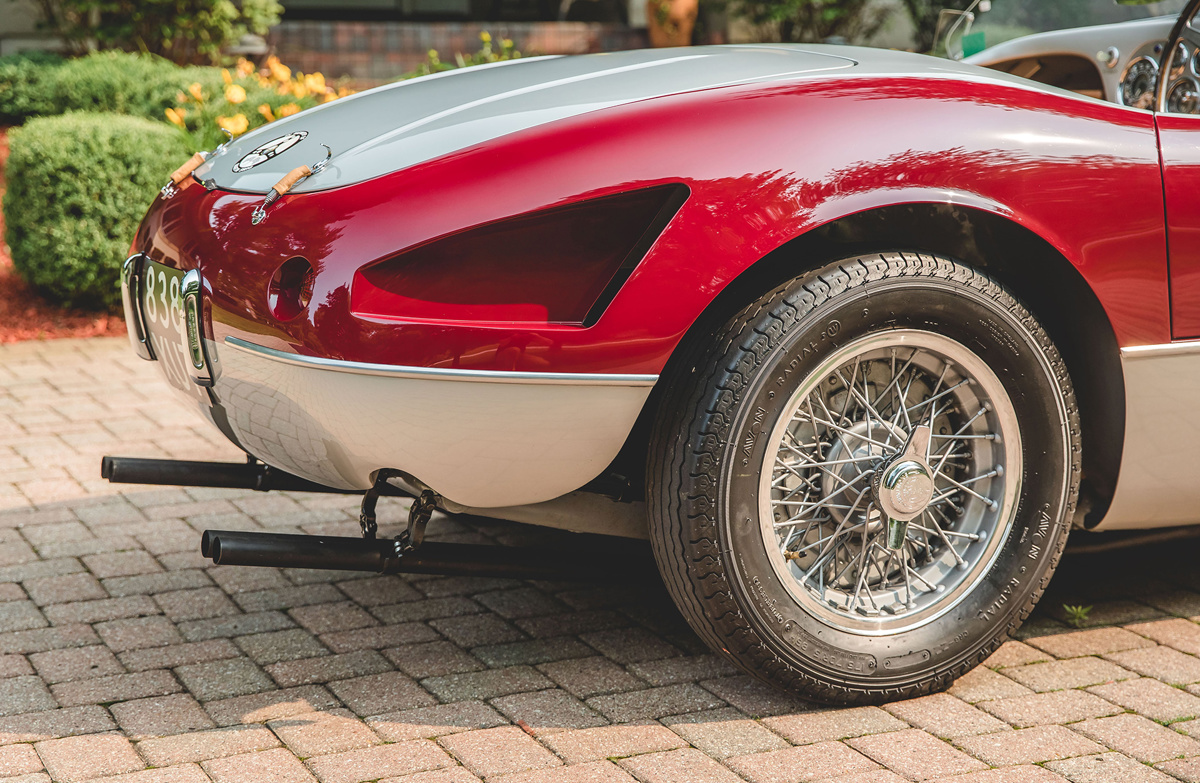 Part of the success of this handcrafted Vignale bodywork is down to its balance of pre-war notions of racing with the advancing aerodynamic designs preferred in the post-war period. Purposeful vents interrupt the graceful barchetta shape at key areas; echoes of which can still be seen in modern Ferrari designs today. As Weinberger points out in a fascinating overview of the history of his Ferrari 166 MM, the subtle vents even extend to the front hood, which conceals the crown jewel: The 2.0-liter, triple-carbureted, naturally aspirated V-12 engine.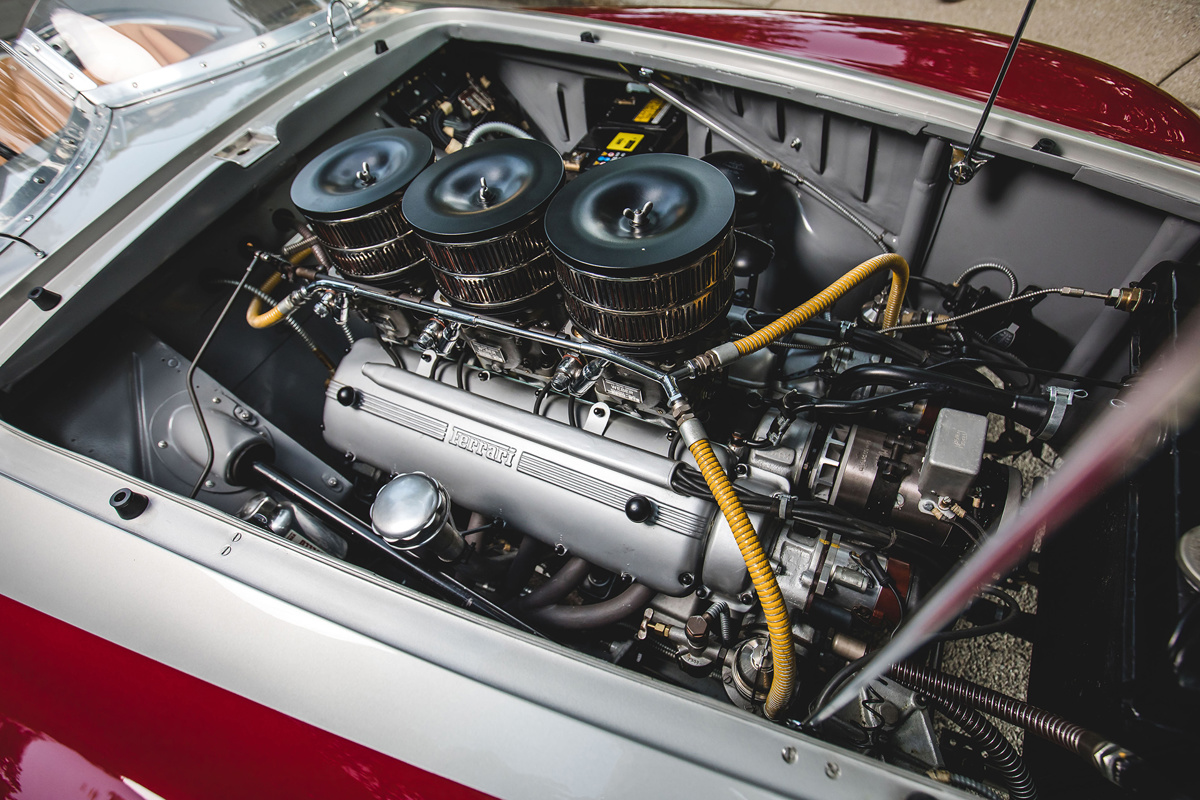 This is where Weinberger's relationship with Ferrari became crucial. Though this example had already been treated to a thorough restoration courtesy of the U.K.-based marque experts DK Engineering in 2009, once Weinberger purchased this example in 2012, he had plans of achieving an even greater level of authenticity. Enter: Ferrari Classiche, the noble brand's heritage department, who built and stamped a brand-new 2.0-litre 166-specification engine, along with a correct 212-specification gearbox and 340-specification rear differential, reflecting the race-ready configuration originally ordered by Lualdi-Gabardi.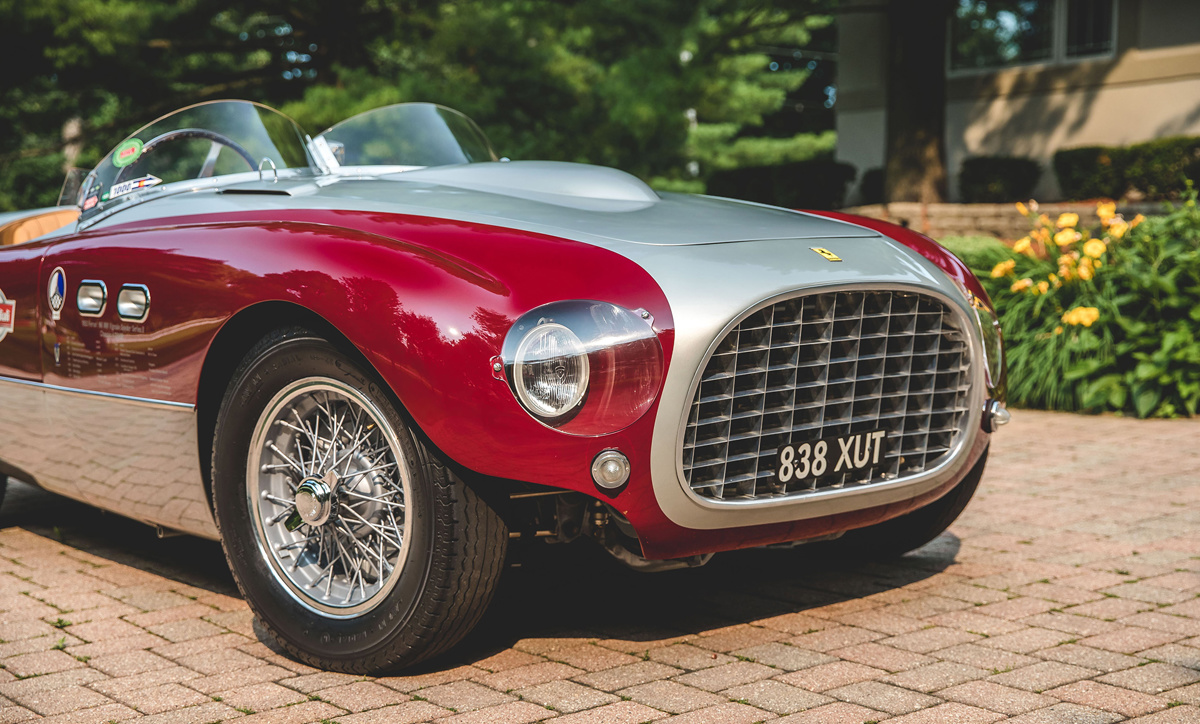 Having performed the work to essentially resurrect no. 0314 M as new, Ferrari Classiche handed Weinberger the key in July 2016, just in time for the brand's 70th anniversary celebrations. Ferrari Classiche division's Lucia Giglio also bestowed Weinberger the ultimate accessory for any historic Ferrari, a factory-authorized White Book, or Attestato: "Only very special cars with well documented history can achieve the Attestato", and furthermore "the "White Book" gives [the] car a much greater value than the 'Red Book.'"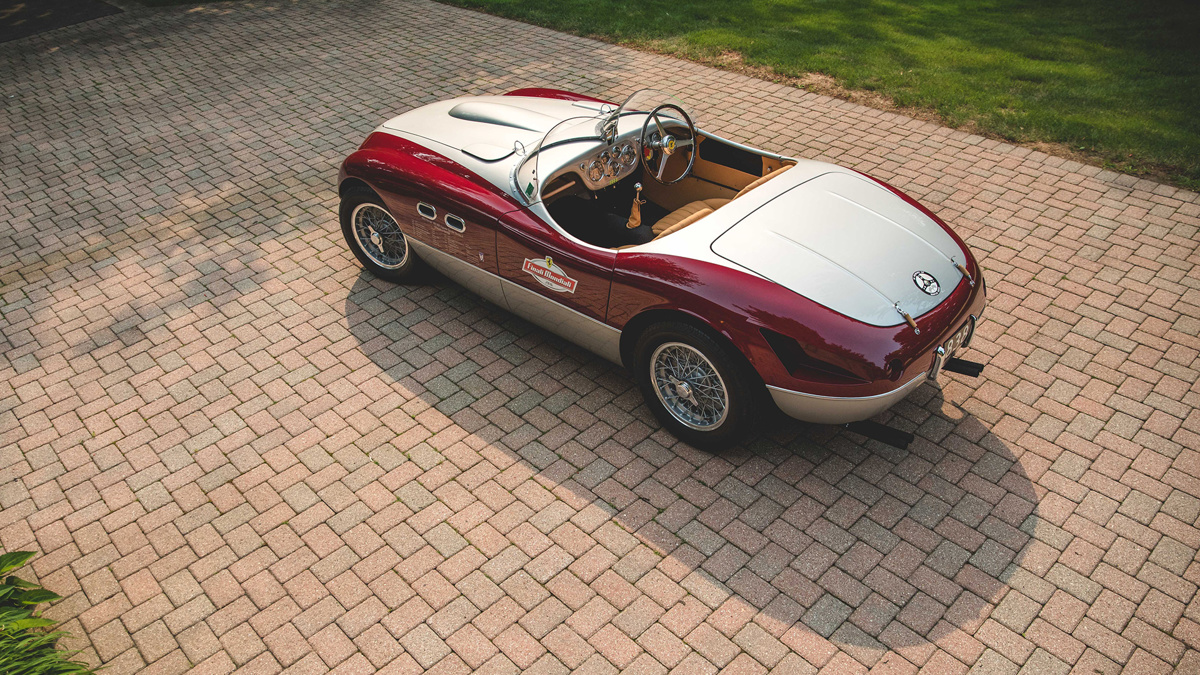 With this spectacular fifties Ferrari having both campaigned in-period at the Mille Miglia, as well as contemporaneously with Weinberger at the wheel, the sporting provenance of this historic 166 MM has been well-established over time. A true representative for the nature of Ferrari as a performance brand, as well as an actual vehicle for charity, it is fitting that the auction of this spectacular Vignale-bodied Spider is at least in part to benefit the future of the classic car hobby as a whole. With his own legacy of treating people with kindness having impacted a great number of us around the vintage car world, it is with great honor that RM Sotheby's will offer this truly special Ferrari, no. 0314 M, at this year's Monterey auction.