Modifying cars has always been a trend, whether that be taking your MX-5 and making it a full-on drift car or turning an S Class into a country cottage. It is something else entirely for a designer to reconsider their past efforts, updating an already-completed design for the 21st century. With this Isdera Spyder 036i, recent modifications took this car to another level. Isdera is a small-volume German manufacturer that was the brainchild of former Mercedes designer Eberhard Schulz, who decided that for his first foray into manufacturing—a project created in partnership with his former employer—he would effectively productionise a car that clearly traced its DNA back to the stunning Mercedes-Benz C311 concept car, which was conceived by Schulz while he was working for the three-pointed star brand. That car was the Imperator 108i, a car that, despite a complete absence of the usual marketing and PR fanfare, managed to find its way into the ownership of 30 happy customers. Five years later, this bespoke 036i Spyder was born; a rarely seen example, now set for auction at RM Sotheby's Monaco 2022:

1989 Isdera Spyder 036i
Estimate: €325,000 - €375,000 EUR
Designer Schulz decided that he was going to forge his own path in terms of design and engineering, leaving behind the partnership with Mercedes and embarking on the company's first truly bespoke vehicle, the Isdera Spyder 033i. Fast forward a little and the 036i was the third Isdera model produced. Of this all-new model, the example on offer in Monaco is believed to be the second car built, as well as the very car chosen to be displayed by the firm at the 1989 Geneva Motor Show. It is therefore an important machine that plays a big part in the firm's fascinating history.
Whereas the later model, the Commendatore 112i, utilised the monster Mercedes-Benz M120 V-12 powerplant that famously powered the Pagani Zonda, this Isdera was powered by an altogether more modest, yet still-potent 276 horsepower version of the excellent 3.6-litre Mercedes-AMG engine, a custom enhancement to the base specification 3-litre engine that conventionally came in these cars. Described by Schulz as the closest you could get to a motorbike on four wheels, the Spyder came with no roof or windows, with its only protection from the elements being a two-inch-thick windscreen.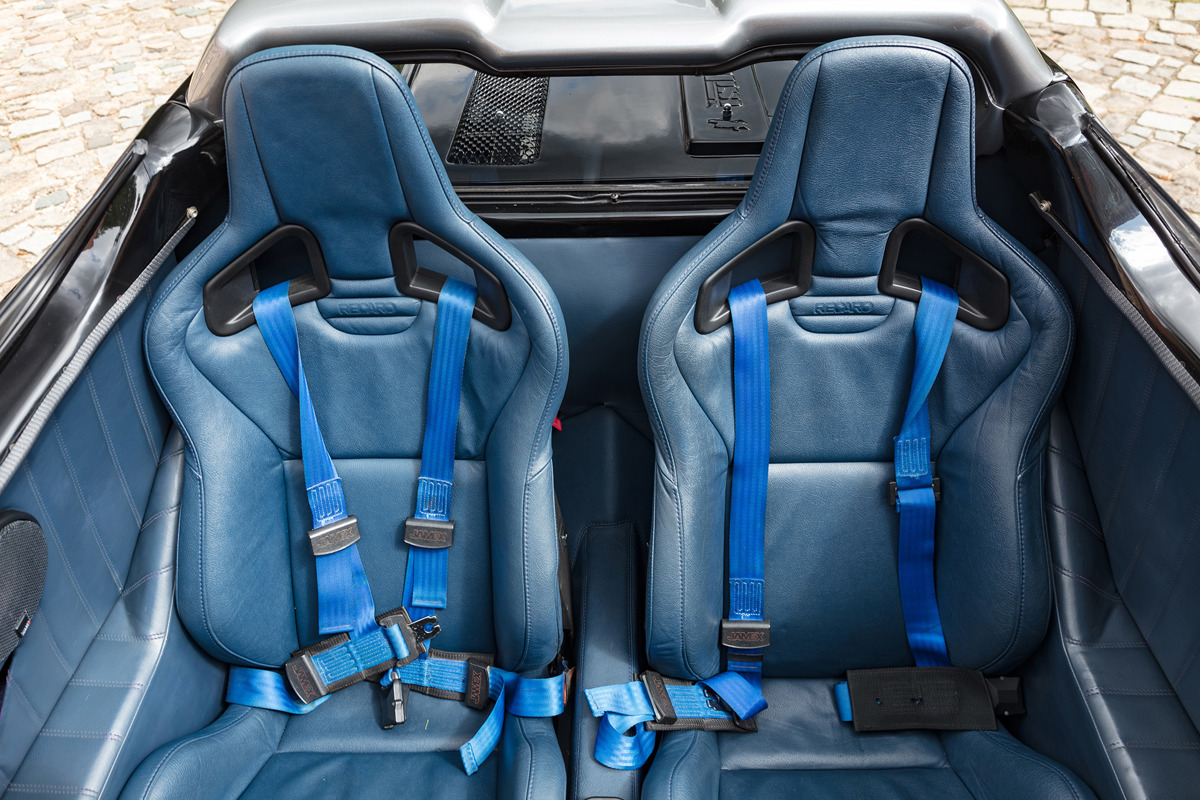 In 2011 this car underwent an extensive overhaul by Isdera in Hildesheim, Germany, receiving various upgrades to help make it the one-off that it is today. Initially, there were extensive exterior modifications including flared front and rear wheel arches, and larger, 16-inch wheels. Those upgrades gave the car a distinctly purposeful look, and certainly helps to identify it amongst the other 14 Spyders produced. The seats were also changed to Recaro Sportsters with four-point harnesses, helping to improve comfort and confidence when putting this car's performance potential to the test. All these were additions to the already forward-thinking design, as the car left the factory with a tubular chassis and many special details, including the rods in the radiator grille being milled from a solid billet of aluminium.
An exciting and incredibly rare machine, this car embodies the concept of bespoke, one-of-one, sports car manufacturing. For those with a love of the rare and exotic, this modernized Isdera 036i would be an outstanding addition to a collection. There's nothing finer than to arrive in the company of other car lovers in a vehicle that will—to some—be unknown, and where owners can comfortably guarantee that another example won't be present. Connoisseurs of uncommon European sports cars will want to watch as this Isdera 036i crosses the block at RM Sotheby's Monaco auction on 14 May 2022. At its core is a fascinating lineage; a heritage that can be traced back to one of the most famous concept cars of the 1970s, and which deservedly has its place in automotive history.