The '80s and '90s may conjure memories of questionable fashion and music trends, but for the automotive-minded audience, those memories are likely of sleek, boldly styled sports cars laden with motorsport influence. Automotive technology breakthroughs seemed to occur at an accelerated pace—with massive budgets devoted to the factory racing programs, and engineering vehicles that were lighter, stronger, and more powerful while being more efficient. Naturally, the technology would be utilized in production vehicles, especially those developed as homologation models to allow entry into specific motorsport classes. It was an era of vehicles born from pencil, paper, and clay—designers shaping the vision of the future through rectangular and polygonal shapes. Scroll down to view 10 vehicles proudly offered by RM Sotheby's highlighting the '80s and '90s and examples of the posters they were featured in.

*Poster Photos Courtesy of Google Images.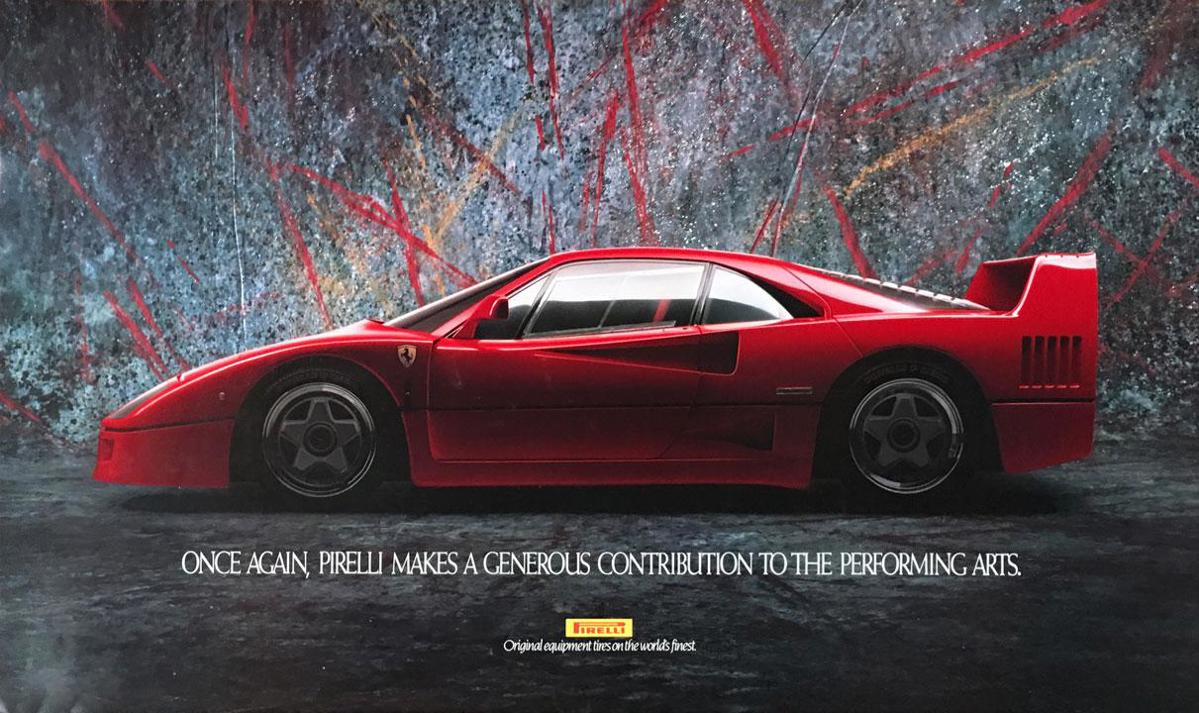 "Once Again, Pirelli Makes a Generous Contribution To The Performing Arts" / Image Courtesy of Pirelli Advertising North America
1992 Ferrari F40
Estimate: $900,000 - $1,100,000 USD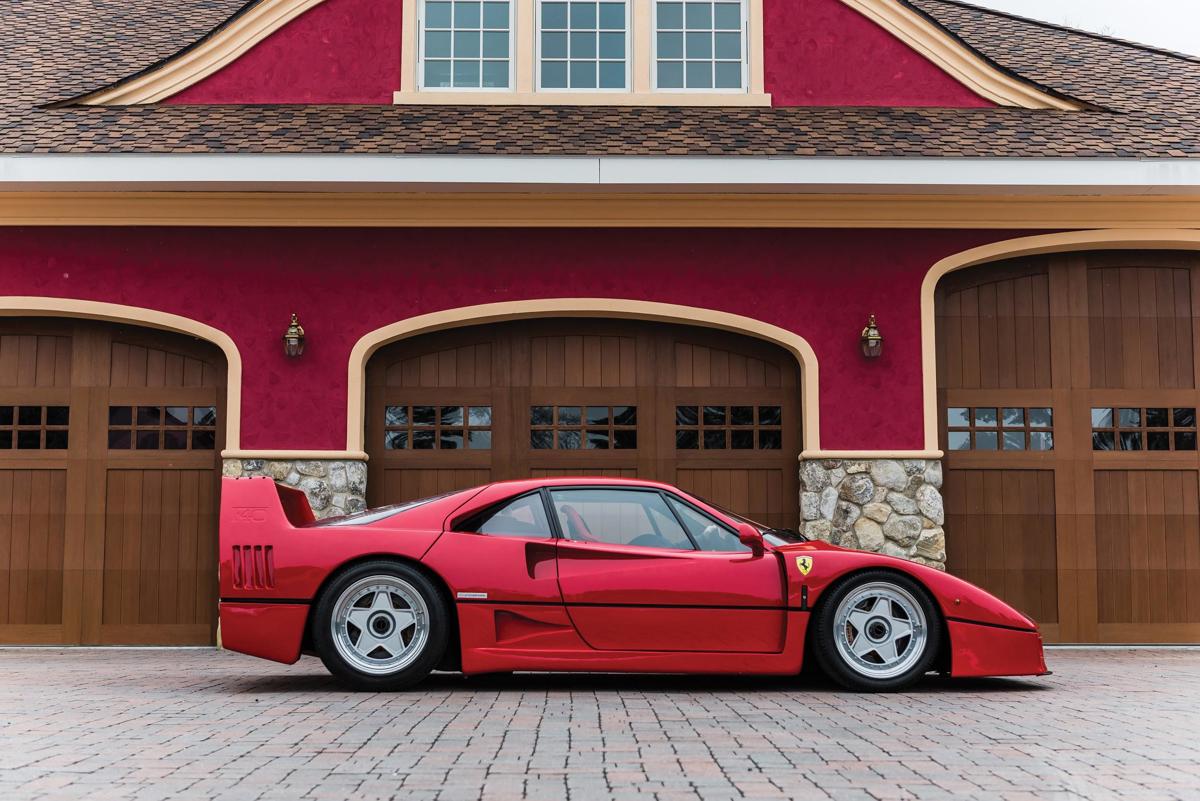 Utilizing cutting-edge Formula 1-inspired carbon fiber chassis and bodywork, the 2,400-lb. twin-turbo V-8 powered the Ferrari F40's sprint from 0–60 in a mere 3.8 seconds and was the first production car to break the 200 mph top speed barrier. This European-specification example is fitted with a more robust braking system and adjustable race-type front suspension.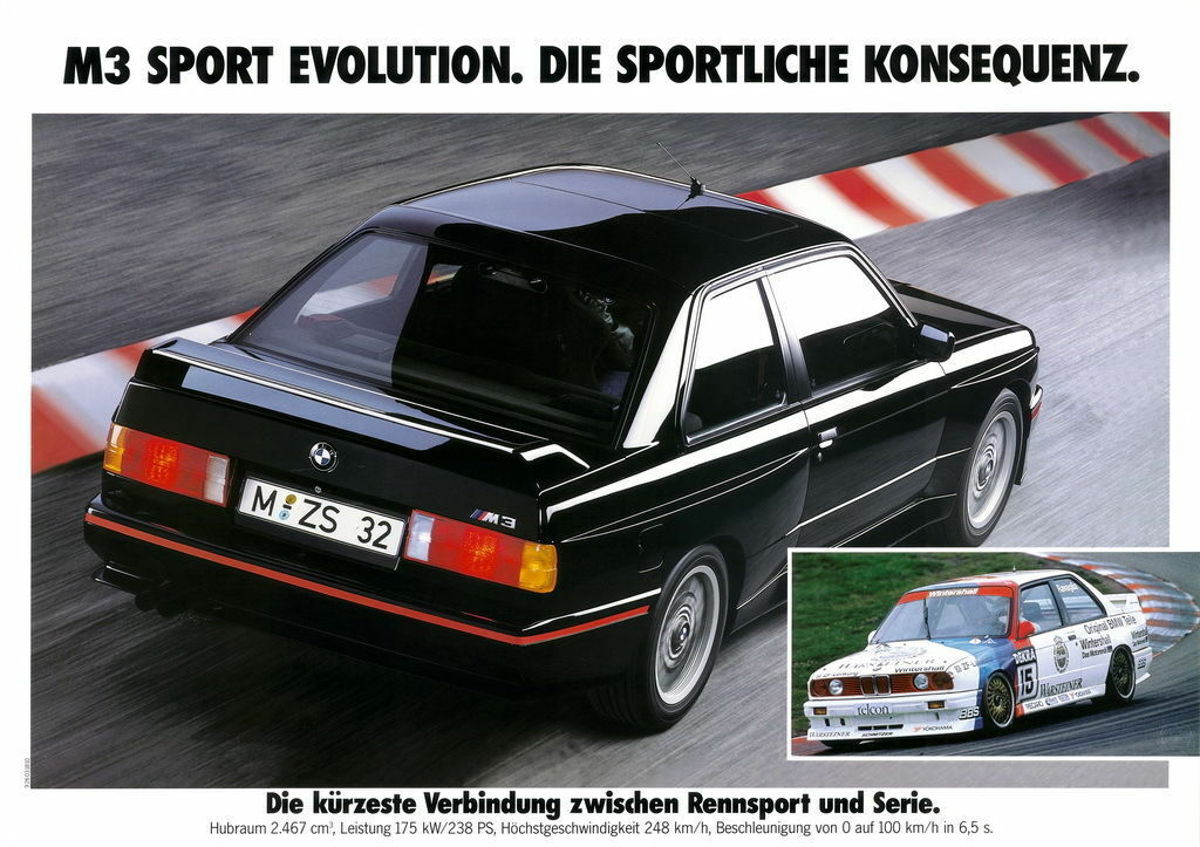 BMW Motorsport promotional poster / Image Courtesy of Google Images
1990 BMW M3
Estimate: $100,000 - $150,000 USD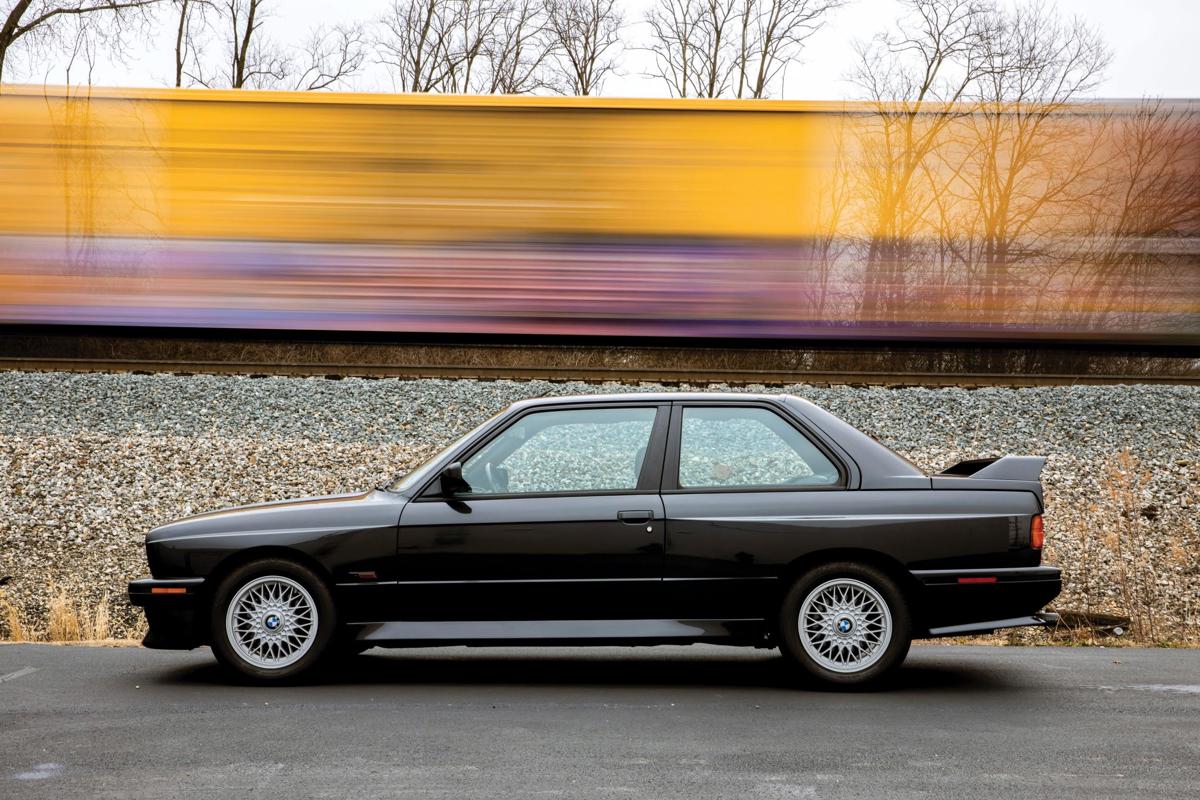 Introduced in 1985 as a touring car homologation model, as Group A regulations required 5,000 production models be sold within 12 months before being sanctioned. At the heart of the M3 is a 2.3-liter inline four-cylinder engine capable of 192 hp, while racing-oriented suspension and an ABS braking system with ventilated rotors helped to make the most use of the available power. Nearly the entire body was overhauled, with striking design features such as the boxed fenders and iconic rear wing.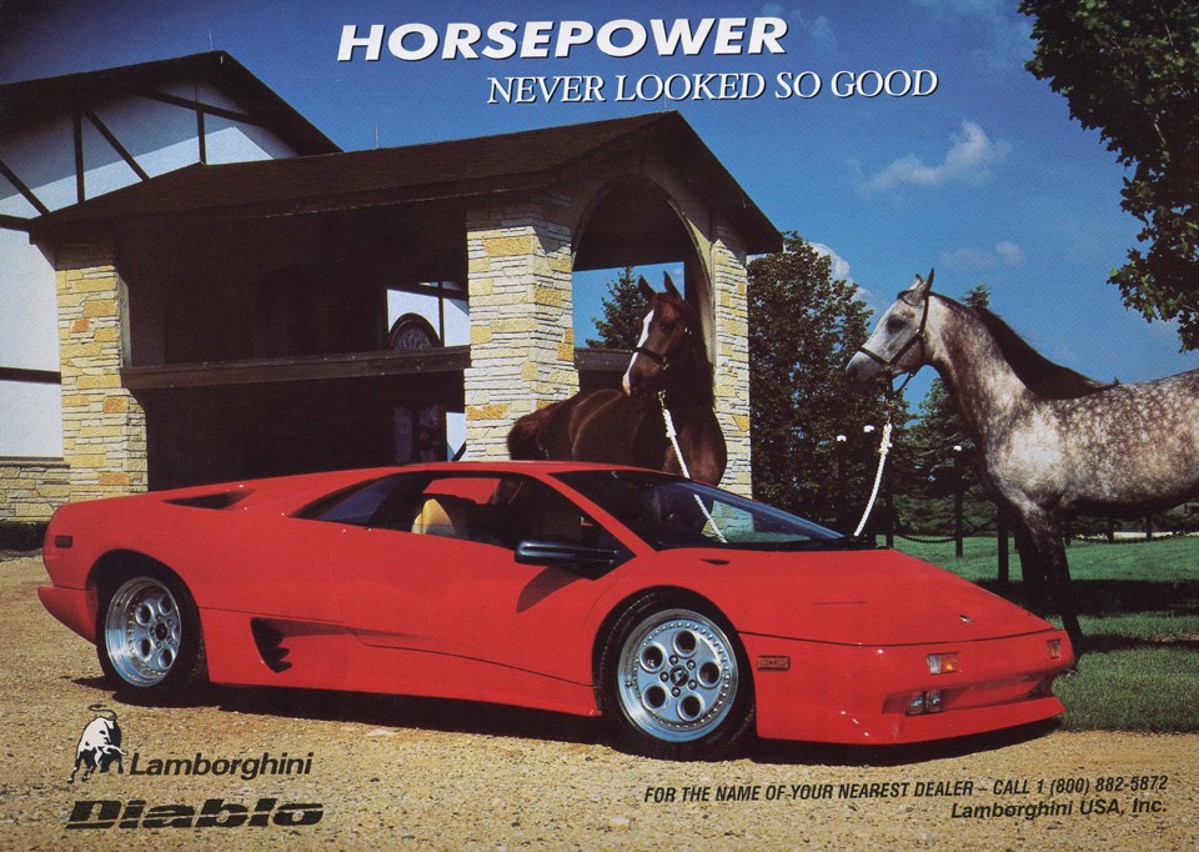 "Horsepower Never Looked so Good" / Image Courtesy of www.productioncars.com
1991 Lamborghini Diablo
Estimate: $150,000 - $175,000 USD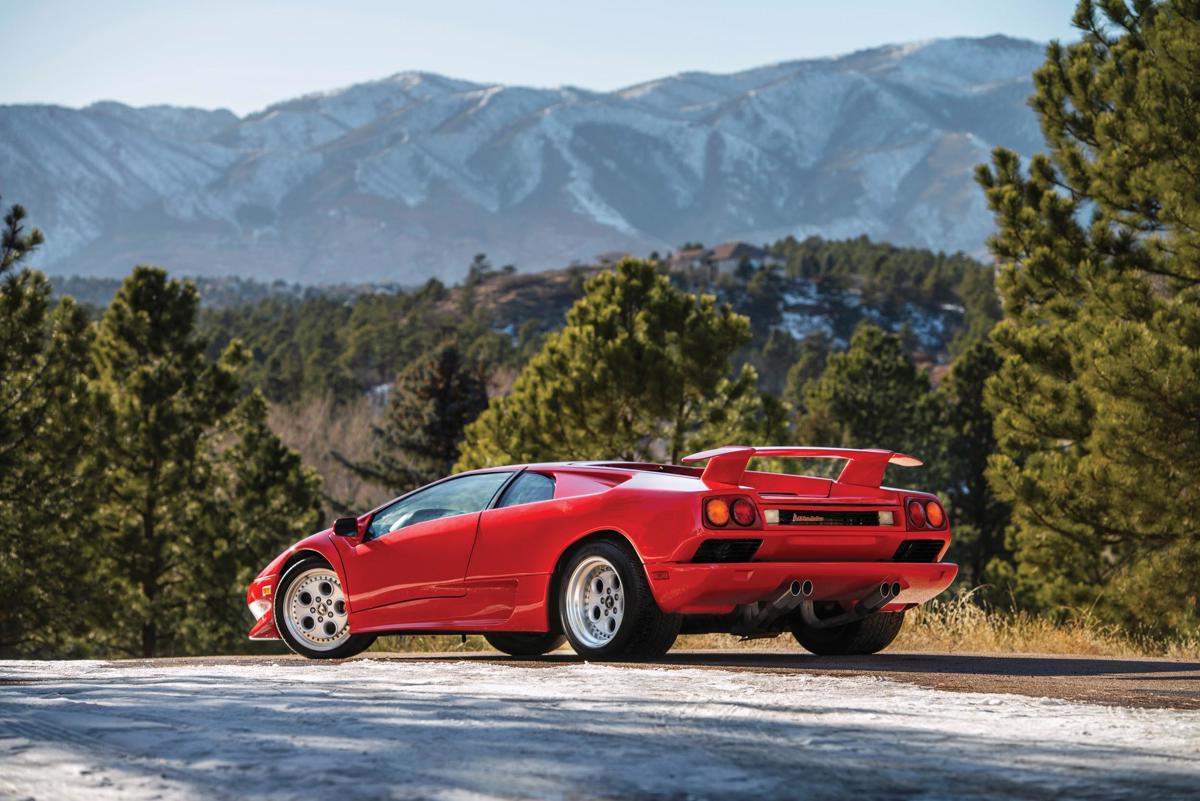 The successor to the Countach, the Diablo retained the distinct rakish wedge-shaped body styling, mid-engine rear-wheel-drive layout, and longitudinally mounted V-12 engine. Displacement was bumped to 5.7 liters and was now equipped with computer-controlled multi-point fuel injection, resulting in 485 hp and 428 pound-feet of torque. This example was formerly owned by one of the most recognizable names in motorsport: Mario Andretti.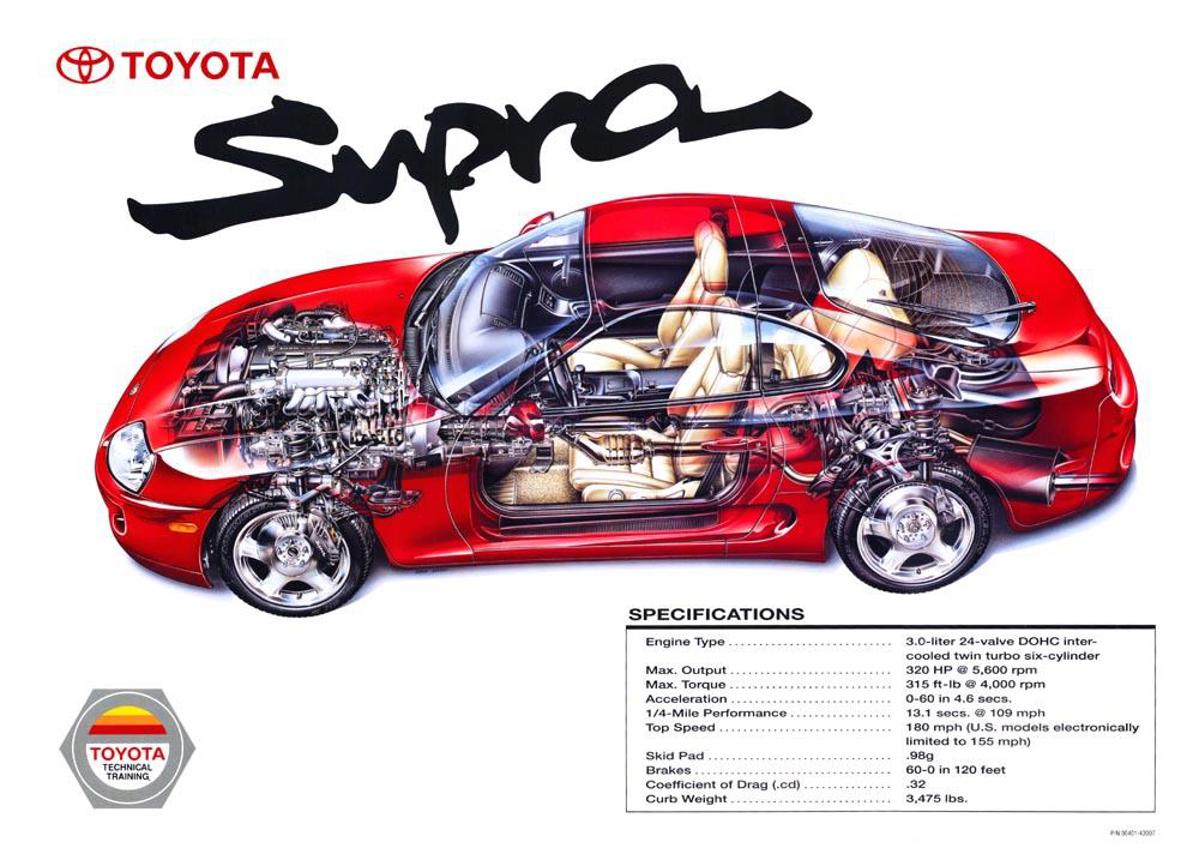 Toyota Factory Technical Training poster / Image Courtesy of Clublexus.com
1994 Toyota Supra Twin Turbo Targa
Estimate: $100,000 - $120,000 USD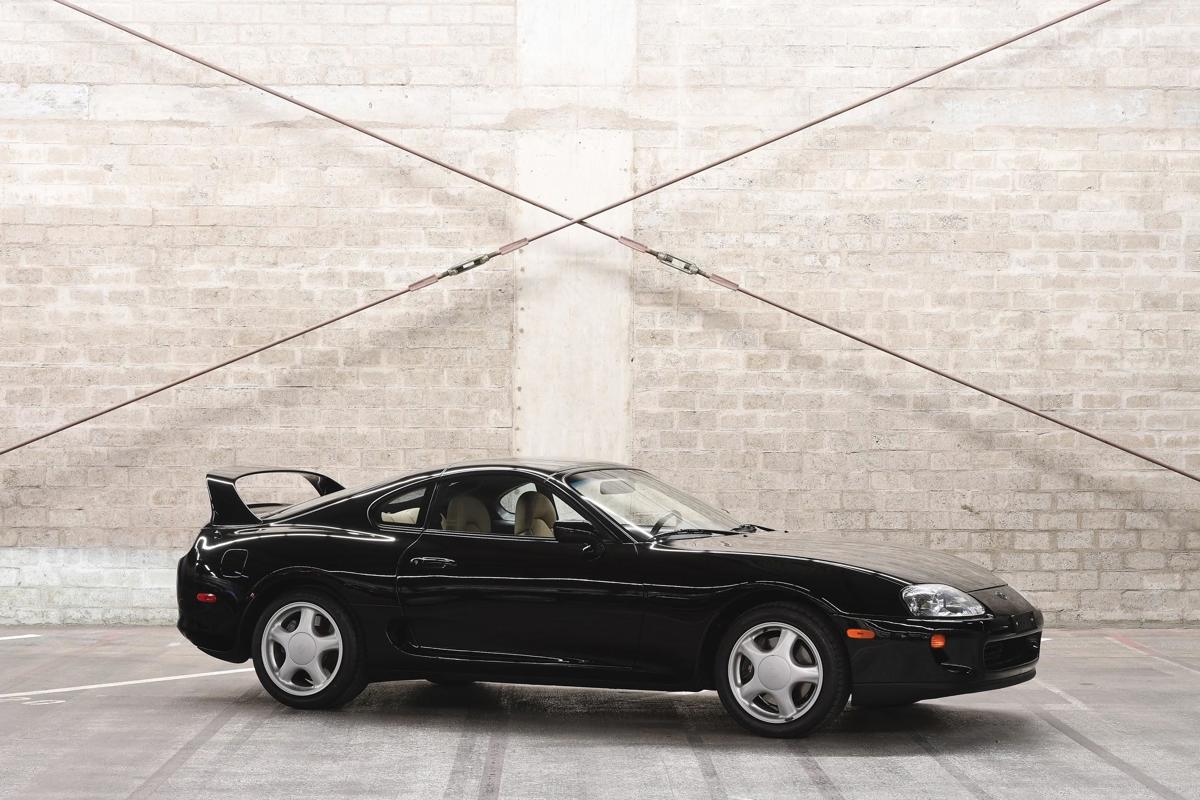 A viable challenger to contemporary sports cars, the fourth-generation Twin Turbo Supra developed a devoted following with import tuners—one that endures to present day. Powered by a 3.0-liter twin-turbo six-cylinder with 320 hp and 315 pound-feet of torque, the Supra boasts a 0–60 time of 5.6 seconds and a quarter mile of 13.1 seconds at 109 mph.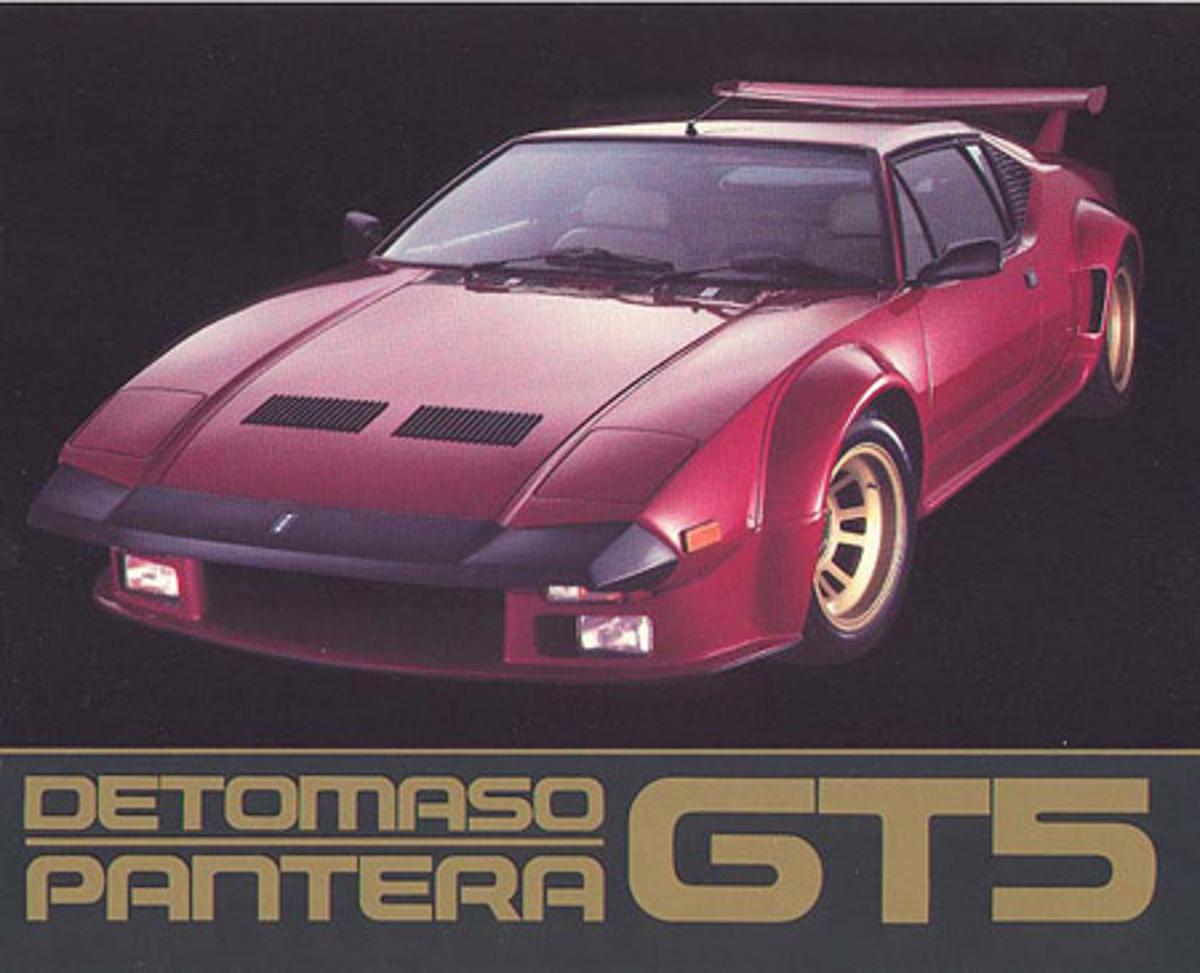 1982 Detomaso Pantera GT5 Take Five poster / Image Courtesy of Google Images / Bring A Trailer (flickr)
1985 De Tomaso Pantera GT5
Estimate: $150,000 - $200,000 USD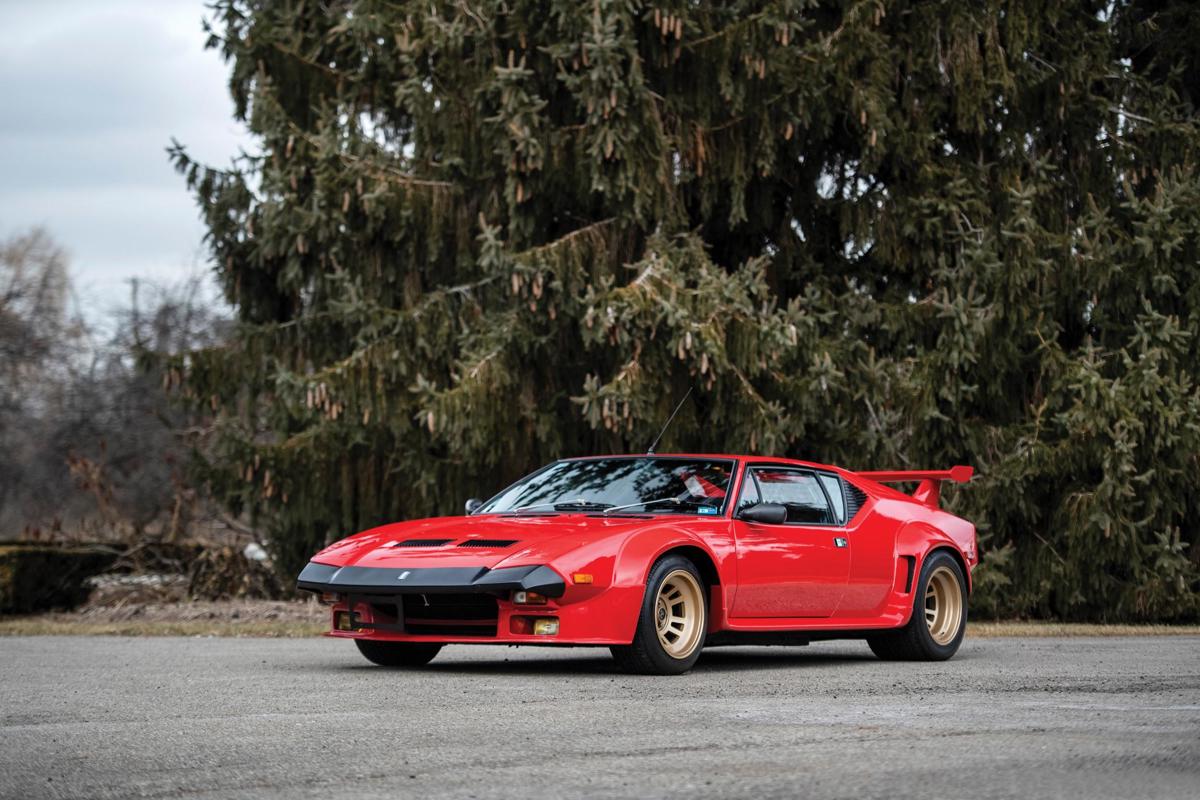 Alejandro de Tomaso's mid-engined supercar had seen numerous improvements since its debut in the spring of 1970. By 1985, the GT5 was the most aggressively styled Pantera to date, utilizing FIA Group 5 sports car-inspired molded fiberglass fender flares, spoilers, and a rear delta wing. Larger, more powerful brakes and an upsized wheel and tire package added to the Pantera's impressive handling, while the interior received more luxurious appointments.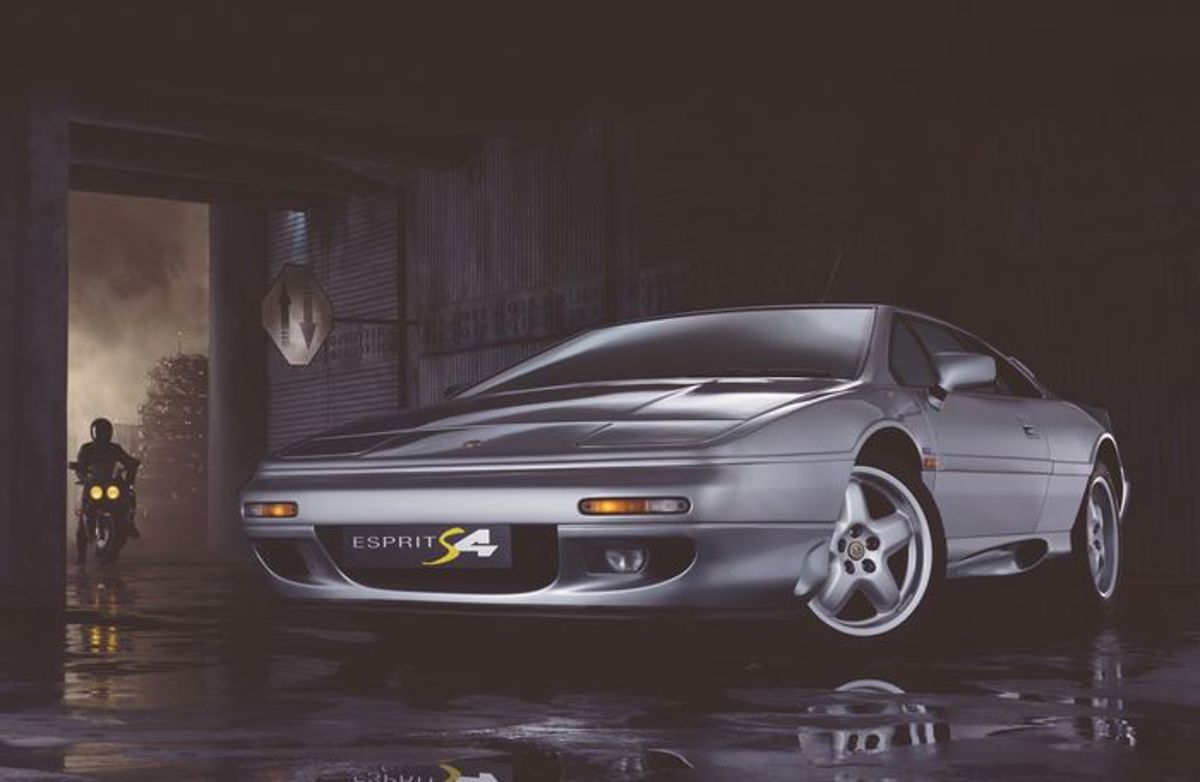 "Silver Dream Machine" by Dominic Rouse, 1993 / Image Courtesy of Google Images / Catawiki.com
1995 Lotus Esprit S4
Estimate: $65,000 - $75,000 USD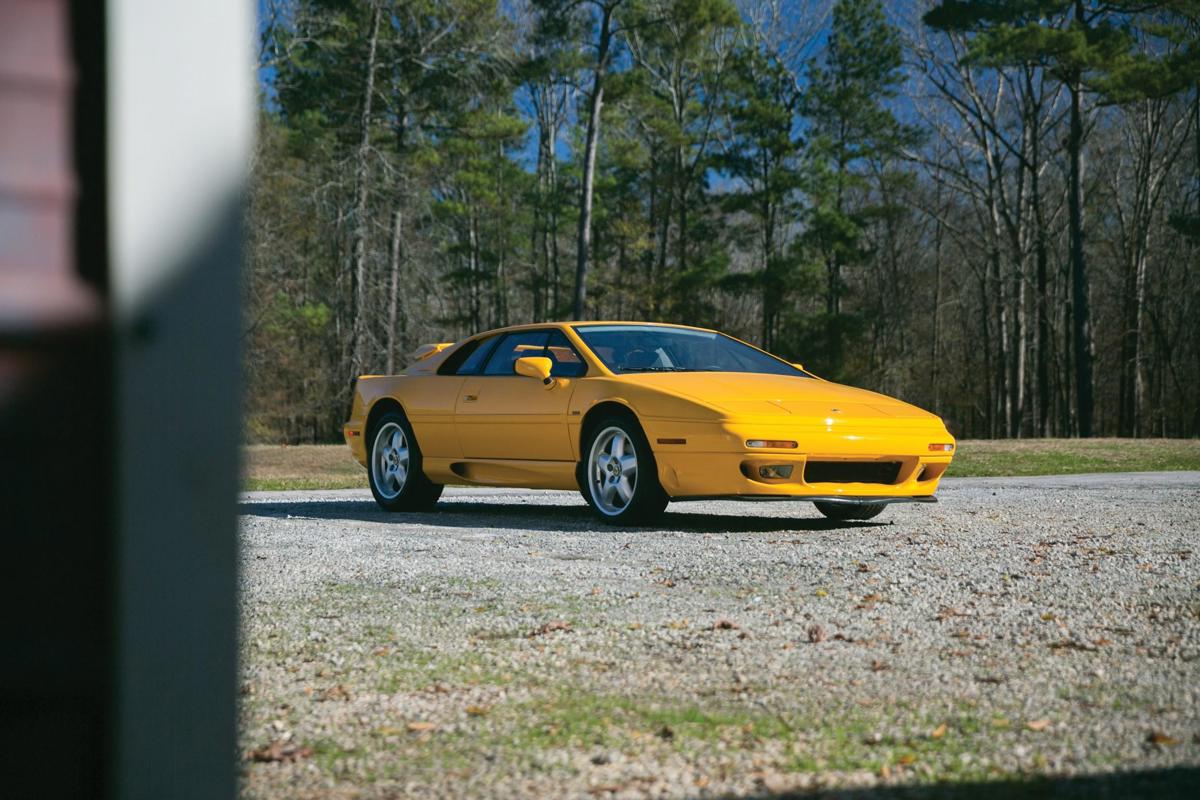 The British carmaker's fourth refresh of its wedge shaped mid-engined sports car received revised bumpers, side skirts, valence panels, and a mid-wing placed halfway down the rear decklid. The 2.2-liter turbocharged four-cylinder was faster from 0–60 mph than the LT1 V-8 powered Corvette of the same year by nearly a full second yet rated for an economical 27 miles per gallon.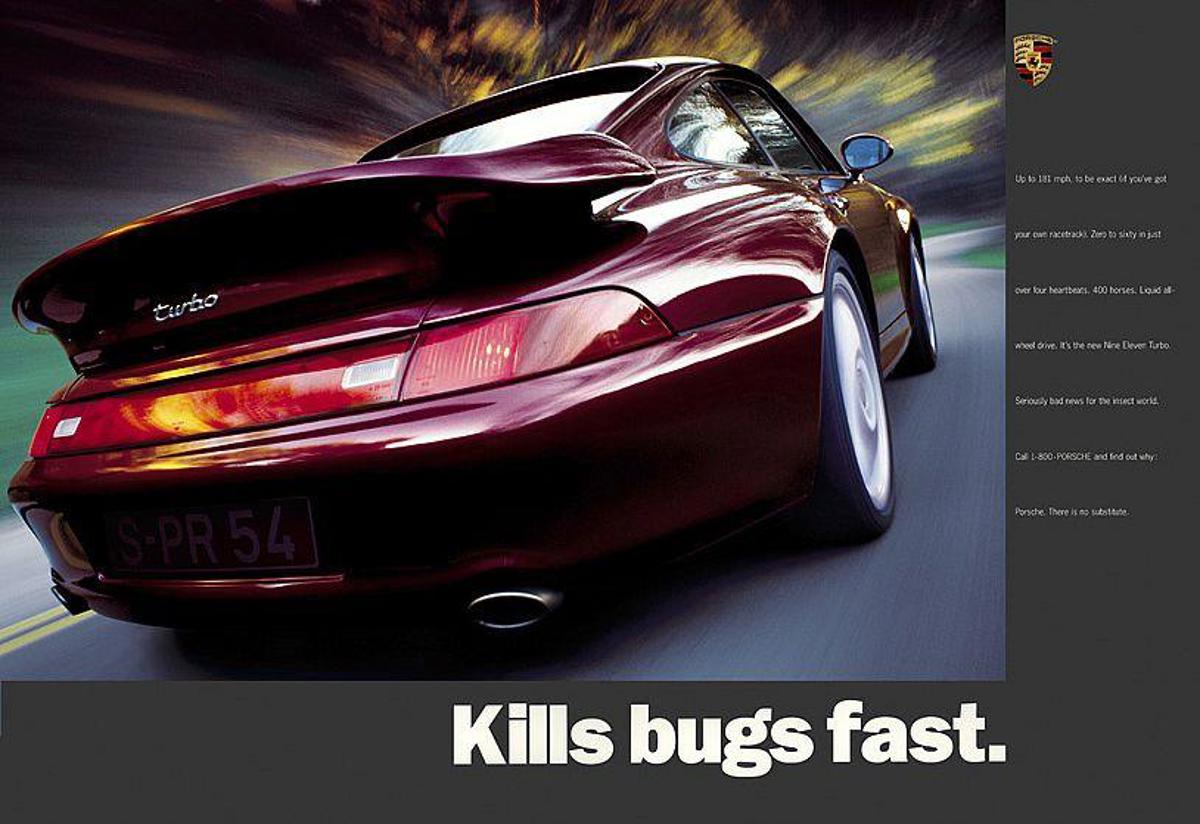 "Kills Bugs Fast" Porsche advertising poster, Clint Clemens, 1995 / Image Courtesy of Google Images / Rennlist
1997 Porsche 911 Turbo S
Estimate: $340,000 - $380,000 USD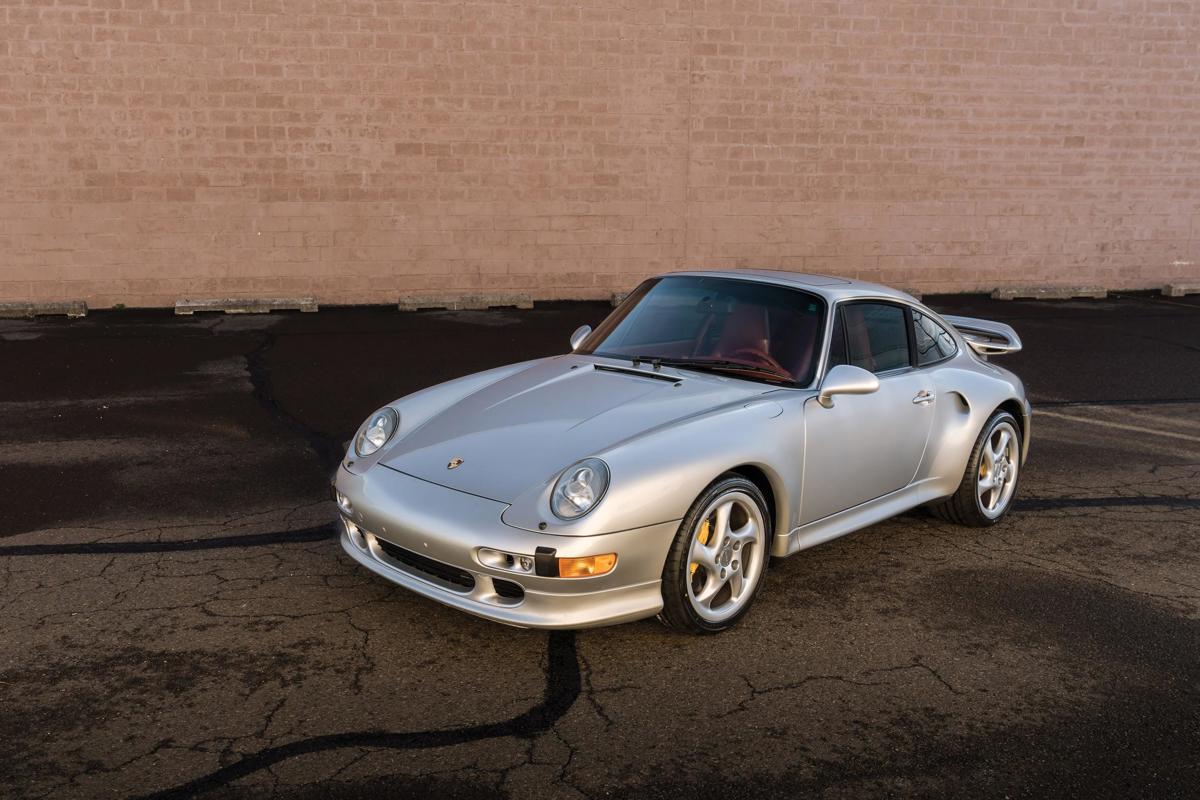 If Porsche had created marketing material for the Turbo S, they very well could have made a follow-up poster with the slogan "Kills bugs faster." The highly limited, single-year production Turbo S built upon the Turbo's revered performance and raised power output to 424 hp, functional exterior aero package, larger brakes, and carbon fiber trim throughout the cabin.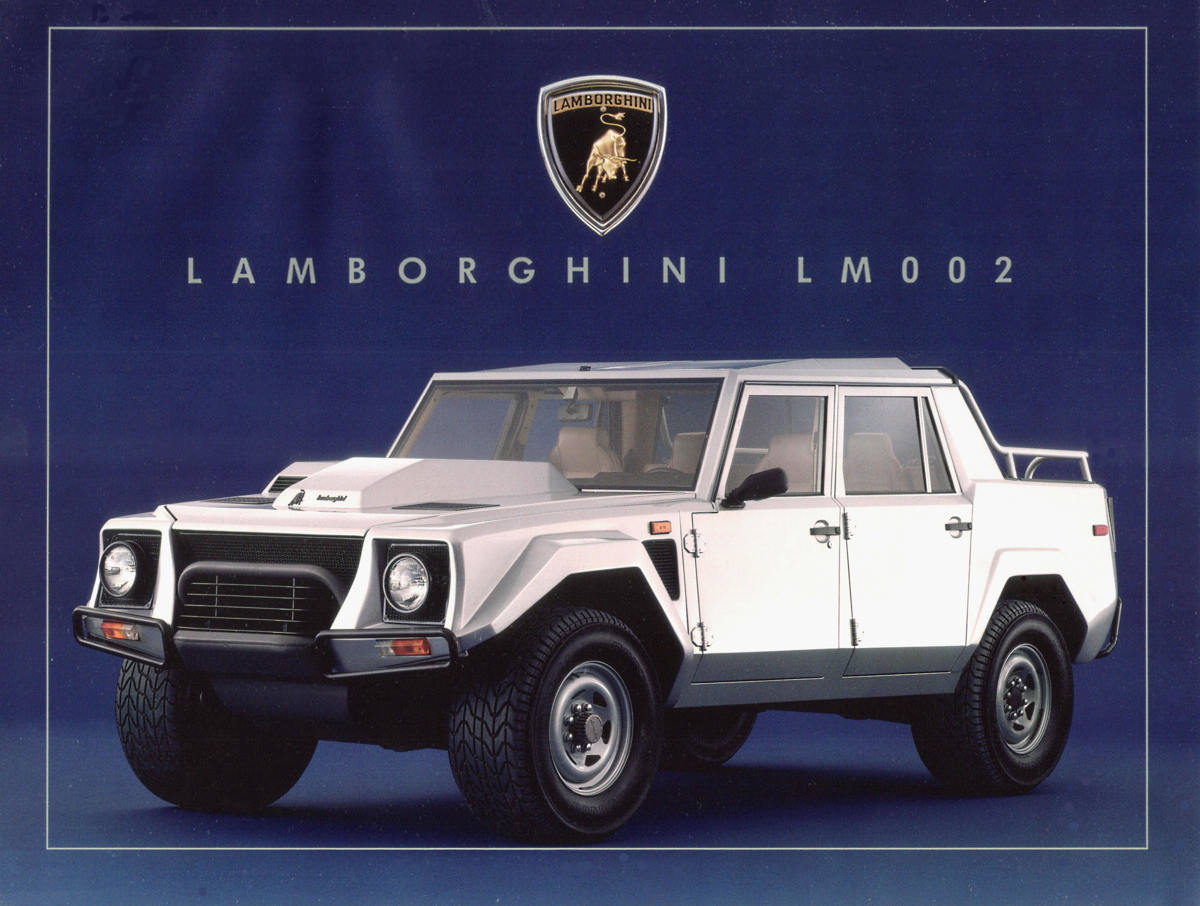 Lamborghini original sales sheet / Image Courtesy of Google Images / Ebay
1988 Lamborghini LM002
Estimate: $325,000 - $375,000 USD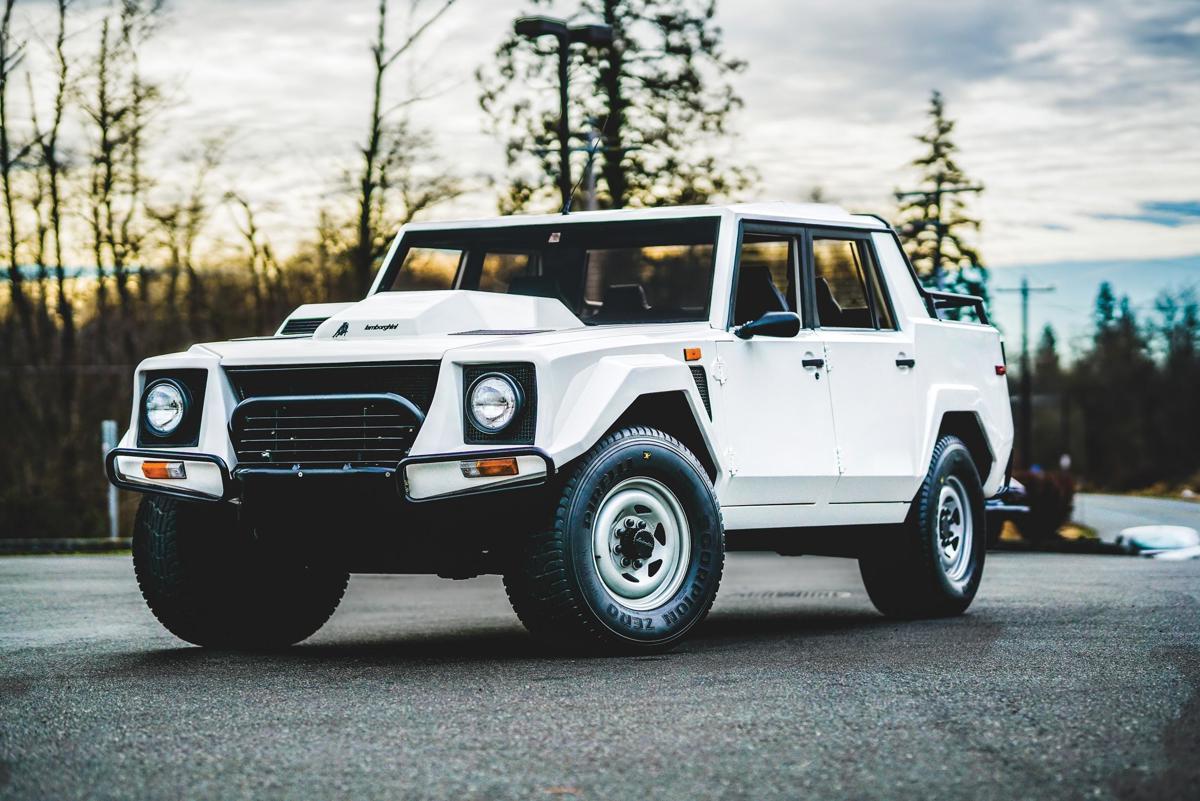 Lovingly dubbed the "Rambo Lambo," the LM002 was equal parts luxury vehicle, sports car, and capable off-road vehicle. The Countach-sourced V-12 is placed in front of the driver and fed by a massive 76-gallon fuel tank to quench its 8-mpg thirst. The interior shares design cues from the Countach as well, with the addition of rear bucket seats.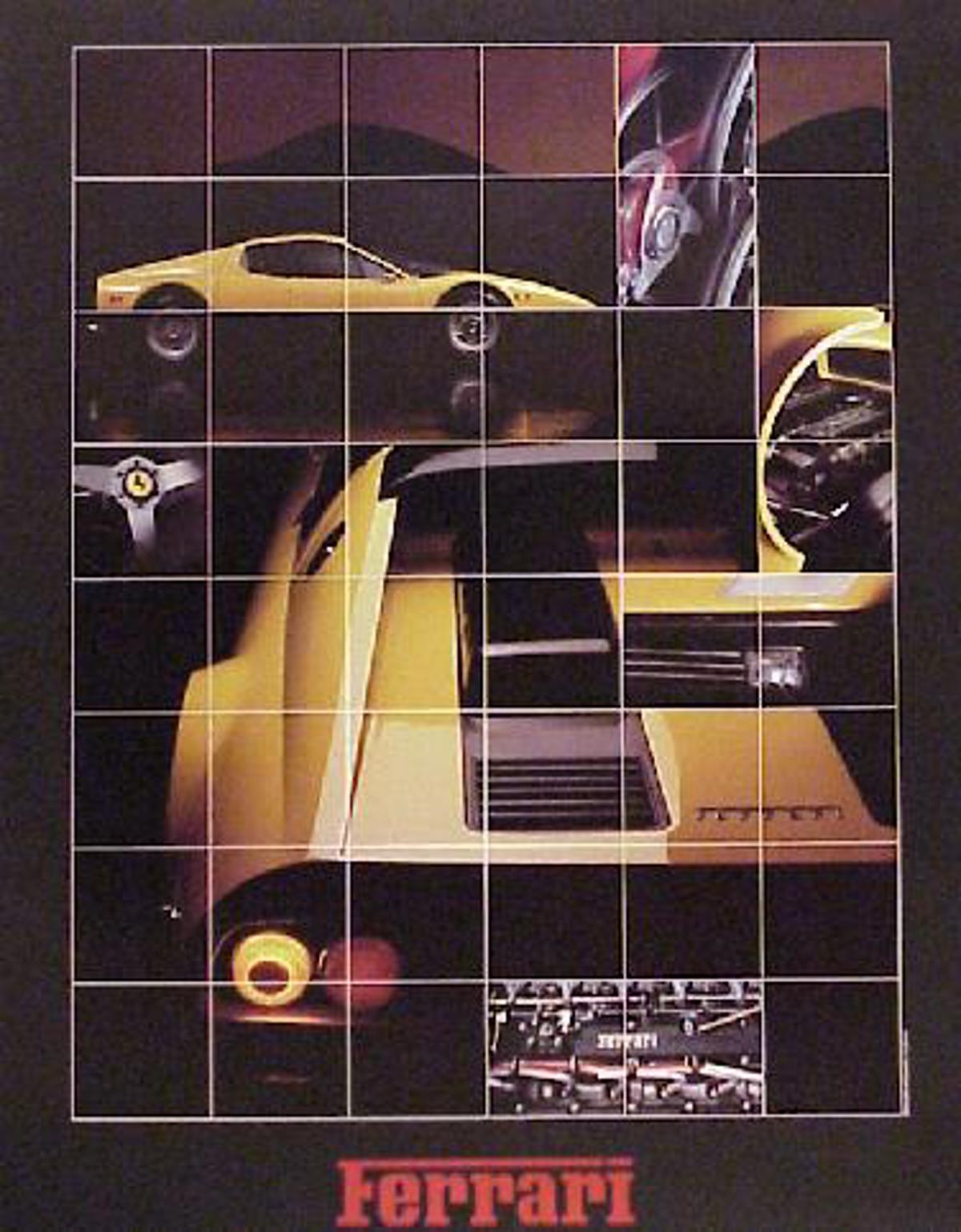 Ferrari 512 BBi collage poster Image Courtesy of Speedshoppers.com
1983 Ferrari 512 BBi
Estimate: $275,000 - $325,000 USD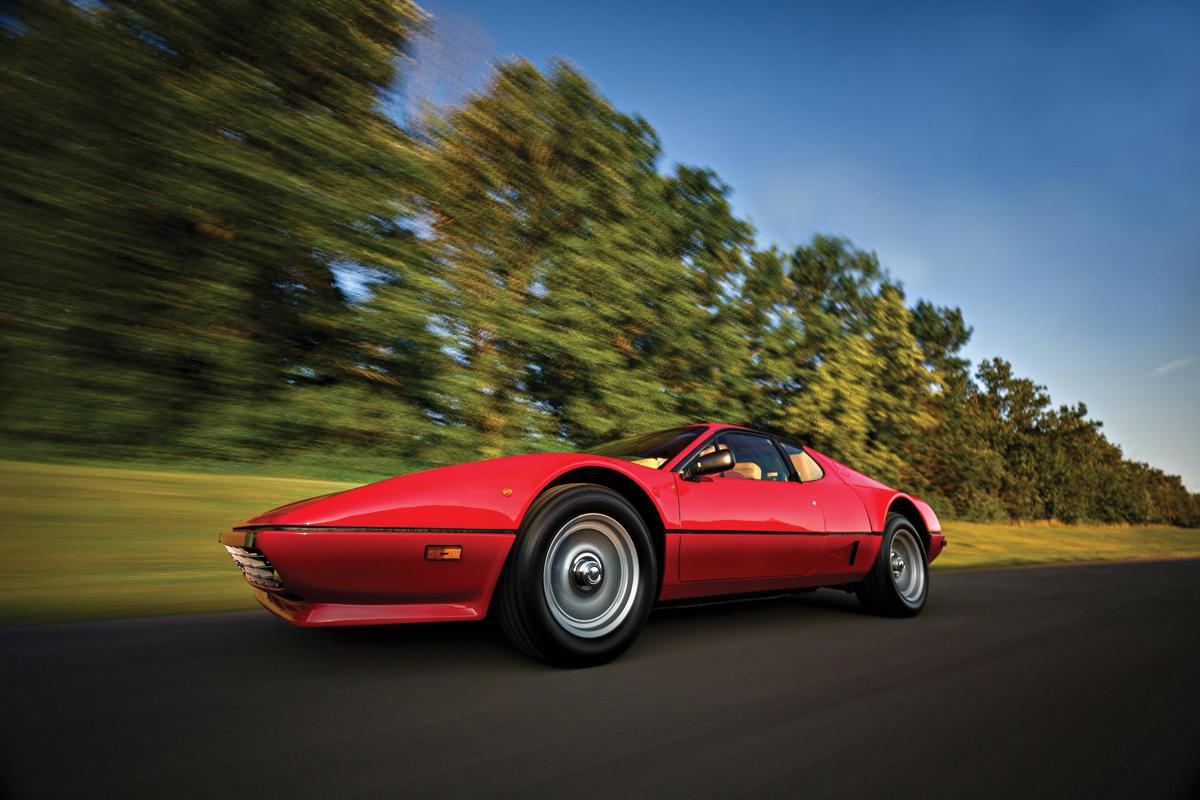 The flagship model 512 BBi offered Bosch K-Jetronic fuel-injection for the first time on Ferrari's 12-cylinder engine. Along with increased reliability came an additional 20 pound-feet of torque, with a top speed of 173 mph and 5.4-second 0–60 time.

Mazda four-page fold-out brochure / Image Courtesy of Google Images
1993 Mazda RX-7
Estimate: $40,000 - $45,000 USD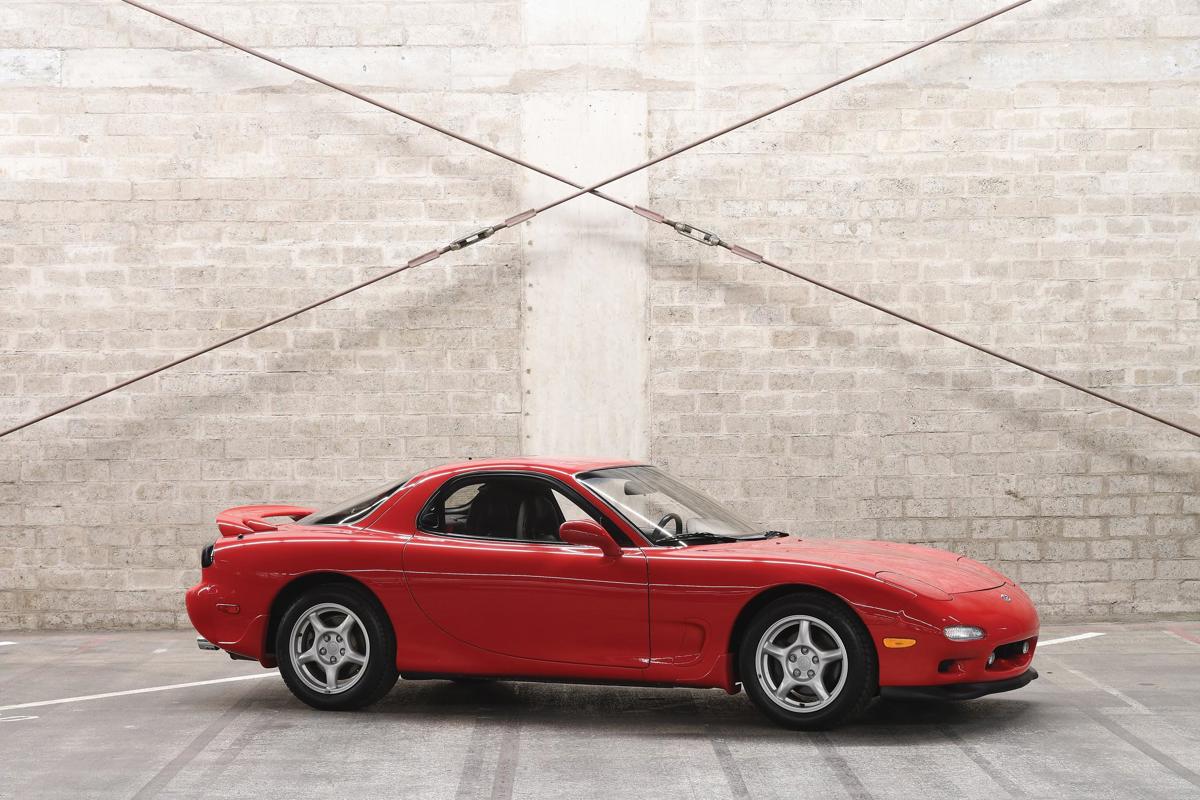 Beneath the smooth curves of the third and final generation RX-7 resides a Wankel Rotary engine paired with a sequential twin-turbocharger setup achieving 252 hp by varying the delivery of the turbocharger's boost across the RPM range. Named Motor Trend's Import Car of the Year and one of Car and Driver's 10 Best in 1993.