Hollywood adores a convertible. Perhaps best thought of as a spiritual stand-in for the cowboy's trusty steed, convertibles serve as co-stars as well as platforms for riding off into the sunset. Of course, this is partly due to the top-down friendly weather in Southern California, where rain is relatively infrequent and temperatures are compatible with the convertible lifestyle. On-screen, open-top cars are preferable, as roofless cars conceal their actors less than their closed siblings, allowing them to be captured by the camera in nearly every shot. Naturally, there is one sports car brand that directors choose to represent the ultimate prancing horse: Ferrari.
Tracked by the informal, yet comprehensive, Internet Cars Movie Database, the list of Ferrari models appearing on-screen is extensive, and is even searchable by chassis number. Of this prestigious list, one of the models most chosen by Hollywood directors to star in their productions is perhaps the pinnacle expression of 1970s performance, the 365 GTB/4 and its Spider sibling, the 365 GTS/4 Daytona. With on-screen appearances as recent as the just-released Licorice Pizza (2021), it is clear that the Daytona Spider is an enduring classic for the film industry. This example, heading towards a starring role of its own at RM Sotheby's Arizona auction on 27 January, 2022, has a genuine link to Hollywood:
1971 Ferrari 365 GTS/4 Daytona Spider by Scaglietti
Estimate: $2,400,000 - $2,800,000 USD
Taking a brief step rearward, for Ferrari fans, any genuine 365 GTS/4 Daytona Spider is inherently a very special car. Announced one year after its closed Berlinetta sibling was unveiled, the Spider was more exclusive from the outset. For one, the open-top GTS/4 variant was built by favored Ferrari coachbuilder Scaglietti in quantities nearly ten times fewer than the GTB/4 coupe. Merely 121 Daytona Spider examples were built in total. This rarity pushed many owners of the already legendary Berlinetta to consider converting their cars into open-top Spiders. RM Sotheby's has sold several of these Spider conversions; when done properly, they present an intriguing option for Ferrari collectors, but for the true tifosi, only the genuine article will suffice.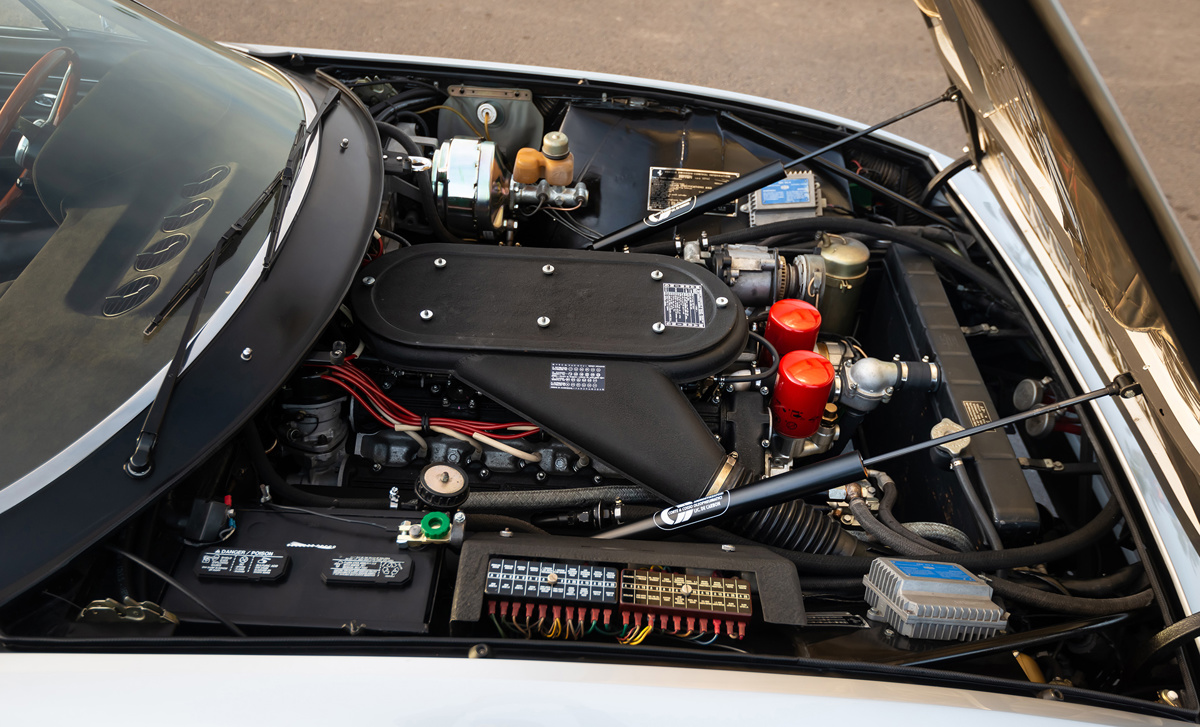 This example, chassis number 14779, according to research by the well-regarded outfit Rosso Corsa Consulting, is the 31st of 121 built. With its progressive Pininfarina styling working in perfect harmony with its handbuilt assembly from Scaglietti, the design of the Daytona was practically tailor-made to showcase its 'Colombo' V-12 engine. With its capacity upgraded to 4.4-liters and dry sump lubrication, the Type 251 engine could boast technological prowess as well, being the first Ferrari fitted with dual overhead cam valve actuation. The USA-market examples claimed a total output of 352 bhp, better than the contemporary Maserati Ghibli roadster, and far more attainable than the comparatively non-existent open-top examples from Lamborghini. Driving a Daytona Spider meant one was experiencing peak Ferrari, then and today.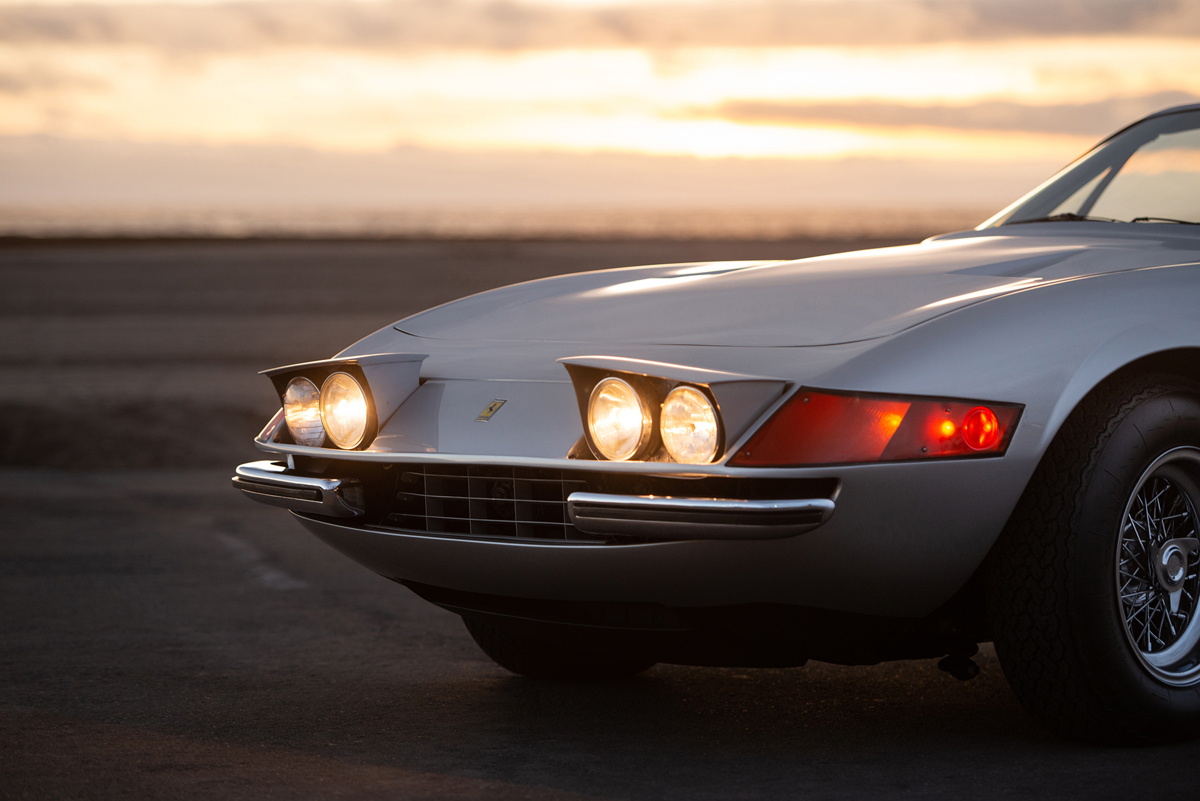 With its signature pop-up headlamps and sword-like silhouette, the Daytona Spider is perfectly suited to wear a subtle shade like the Argento Metallizzato found on this example. Further research indicates that this tasteful color combination is the same as originally ordered; a choice shared with only fourteen other Ferrari Daytona Spiders. From its creation, chassis number 14779 was intended to display exclusivity. Imported from Italy in late 1971 by legendary east coast Ferrari empresario Luigi Chinetti Motors, this example was sent to Carl A. Haas Automobile Imports of Highland Park, Illinois, a high-end dealership in the Chicago suburbs, where its classic color combination must have appeared supremely in style.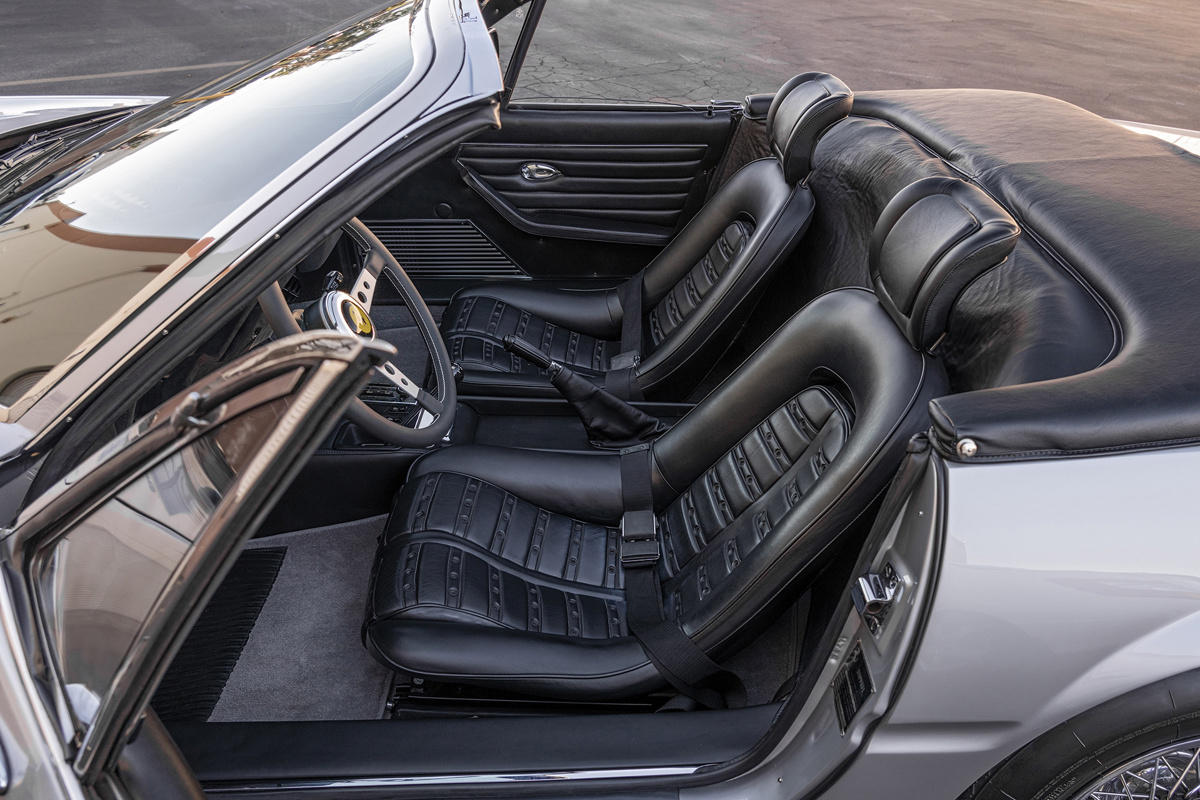 This Daytona Spider's first owner, H.J. Hoff, must have accomplished an extensive search for such a top-tier example when he finally located it just north of Chicago, as his collection was based out of Norfolk, Virginia. Today, securing such an important model would likely require a personal relationship with the Ferrari factory. Hoff was so proud of his purchase that he displayed the just-released Daytona Spider at Road America during a Trans-Am race early in his ownership period. But this Daytona was not to remain with Hoff very long, as its destiny lay in Hollywood, sold in 1975 to Sydney Pollack.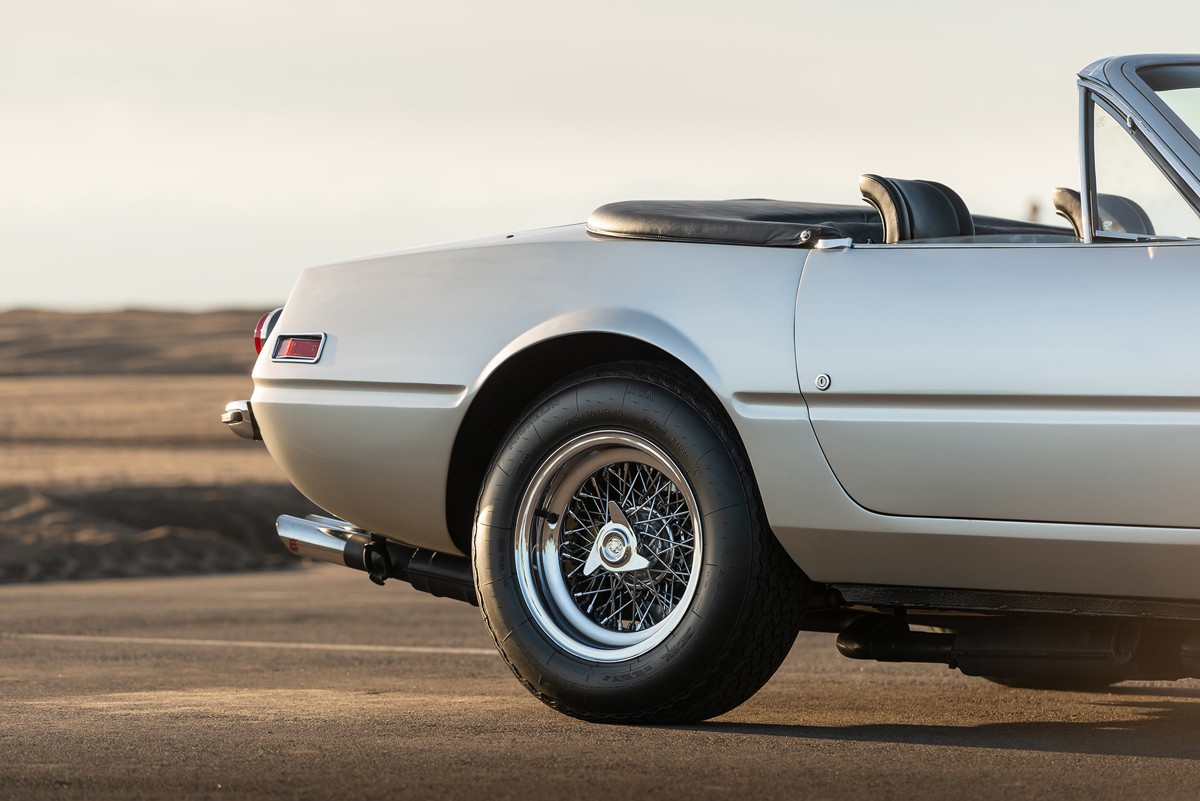 With a career that spanned decades, Pollack's filmography is equally impressive in terms of acting, directing, and producing. By the mid-1970s, Pollack had earned accolades as a director as much as an actor, helming features as diverse as Jeremiah Johnson (1972), The Way We Were (1973), and Three Days of the Condor (1975). Perhaps purchasing this top-of-the-line Ferrari was at least in part a reward for such a successful film run, but Pollack's career did not cease there. Over the following decade, Pollack earned Academy Award nominations for both Best Picture and Best Director for the breakout hit Tootsie (1982) starring Dustin Hoffman. Three years later, Pollack scored the ultimate goal of any aspiring Hollywood visionary, earning two Oscars for both Best Picture and Best Director for Out of Africa (1985).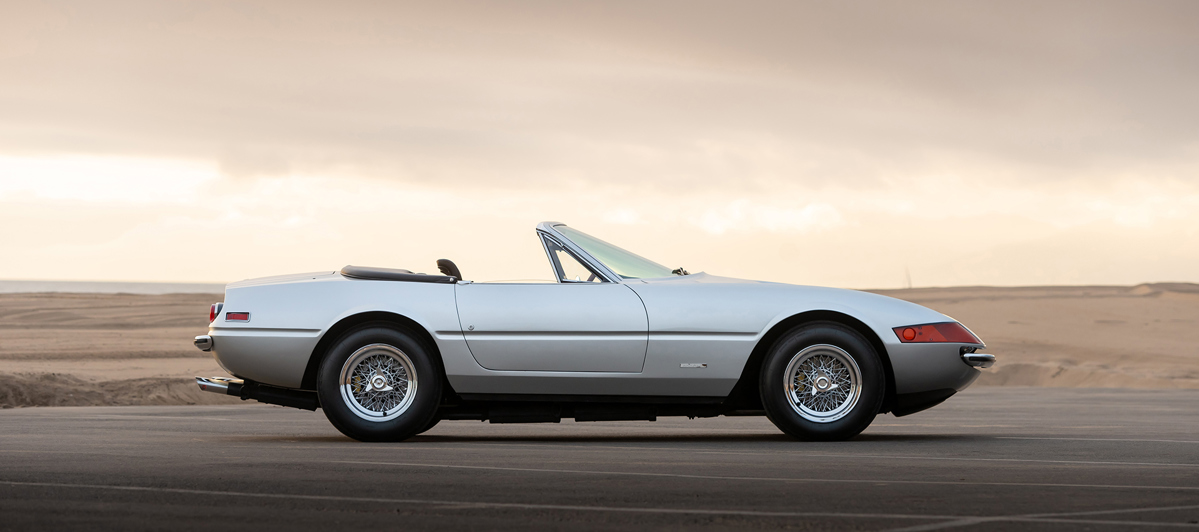 By this point, Pollack had already moved on from this genuine Daytona Spider example, selling it to a collector in Mexico City. Pollack's interest in speed and aerodynamics had moved on to another arena, as he underwent the training necessary to fly his own Gulfstream jets. Always an enthusiast of both airplanes and fine automobiles, this 2004 interview with Airport Journals is surprisingly illuminating for a character who expressed independence at nearly every turn. From racing Tom Cruise from their Memphis-based shooting location back to a local airport while filming The Firm (1993) to then fly back to Los Angeles, Pollack was a figure fit for Hollywood, right down to his appreciation of this iconic Daytona Spider.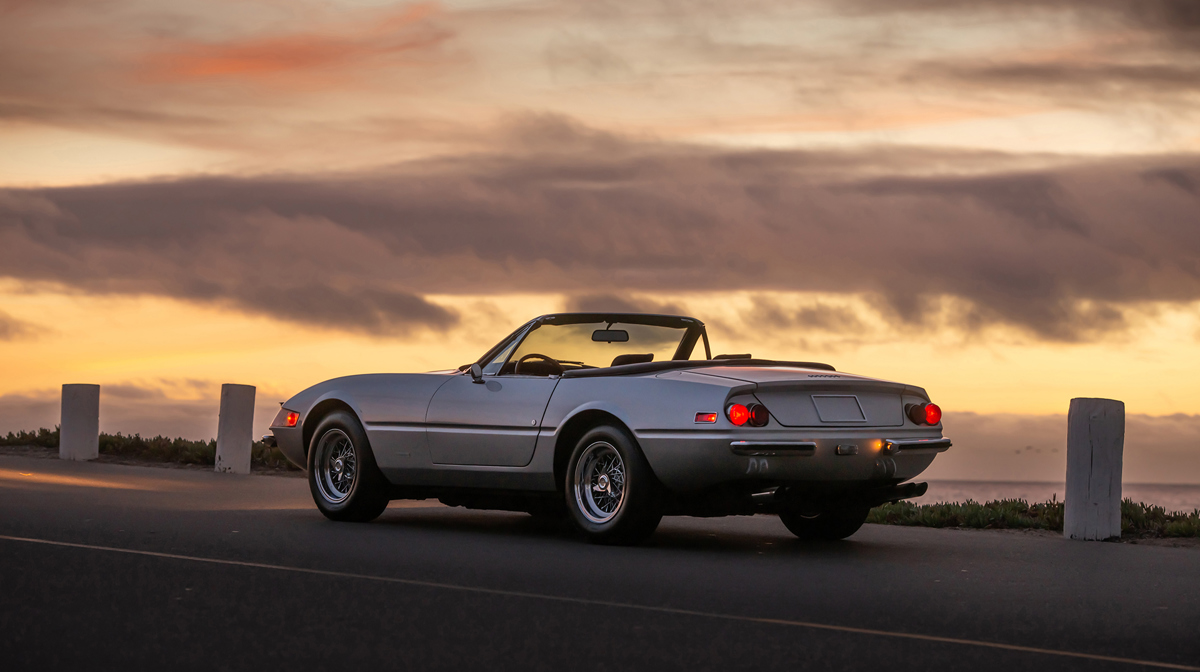 Fitted with an equally iconic, upswept Ansa exhaust system and treated to a round of thorough reconditioning in advance of RM Sotheby's Arizona 2022 auction, it is very likely that Pollack himself would have been tempted to repurchase this rare Ferrari. Showing a mere 40,150 miles at the time of cataloguing, this genuine Daytona Spider is a certified FCA Platinum award-winner, and would be at home even in the most prestigious prancing horse collections. Sadly, Pollock passed away in 2008, only one year after his last Academy Award nomination for producing Michael Clayton (2007). With a legacy that has been recently burnished by its award-winning restoration, this Daytona Spider is a car truly fit for Hollywood royalty and will likely cause a scene worthy of a feature film when it crosses the block in Arizona this month.
To see an extensive photoset of this 1971 Ferrari 365 GTS/4 Daytona Spider by Scaglietti, and to view its extensive history file and documentation as well as to register interest for bidding, please click this link and best of luck!