Before driver's licenses and regular visits to the Department of Motor Vehicles, long before purchasing insurance and settling on a faithful mechanic, it is possible that your very first car could be considered a toy. Inspiring many as they start their motoring journey, these pint-sized vehicles can set a youngster on a course for a lifelong appreciation of classic cars.
Whether fueled by gasoline, electricity, or even pure pedal power, these examples are ready to bring a smile to anyone who can sit behind the wheel. Sporting iconic styling from some of the most recognizable sports and racing cars in history, these offerings have the stunning looks necessary to charm any newcomer to the car world. Beloved since they were new, it is remarkable that these examples survived the test of time. After all, toys are meant for play.
Offered just in time for the holidays from RM Sotheby's Online Only: Open Roads, December auction, which runs from 1 to 8 December, here are a few choice selections, perfectly suited to satisfy the kid inside any car fan:
Lotus F1L Racer by Harrington Group
Estimate: $10,000 - $15,000 USD | Offered Without Reserve
Made with a high degree of accuracy by the UK-based Harrington Group in 2018, the F1L Racer is essentially a scaled-down version of a classic racer from the golden era of motorsport. Perfect for any enthusiasts of Colin Chapman's design philosophy, the statistics on this tiny racer are substantial. Max power of 5 kW comes at an impressive 8,500 rpm.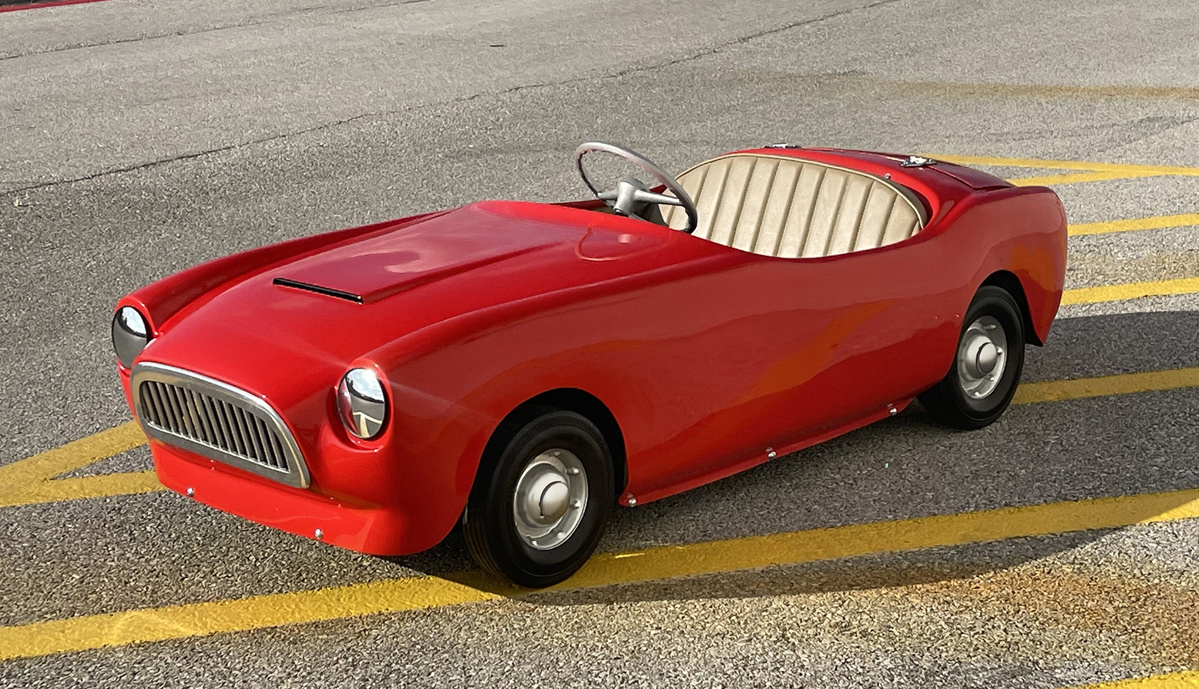 Sports Car Go-Kart, ca. 1950s
Estimate: $5,000 - $8,000 USD | Offered Without Reserve
Not all child-sized cars need to be perfect replicas of existing models to capture the hearts of their young drivers. (Certainly, Pixar's Cars is proof of that.) This gas-powered Go-Kart features an expressive face and an overall silhouette which could be considered equal parts Ferrari and Shelby. With a handsome hood scoop designed as part of its fiberglass body shell, and a rear-engine, petrol-powered design, this Sports Car Go-Kart is perfect for inspiring years of enthusiasm.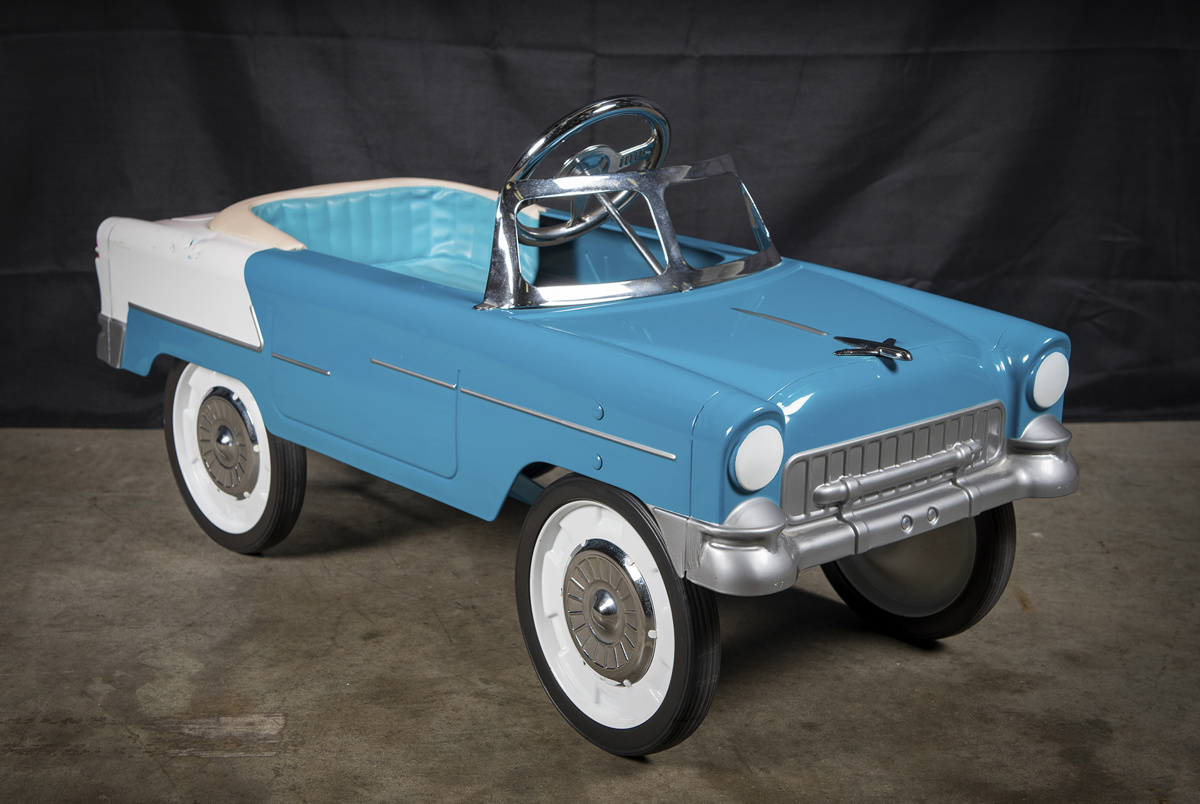 Chevrolet Bel-Air Pedal Car
Estimate: $400 - $500 USD | Offered Without Reserve
Featuring tall tires for enthusiasts who wish to maximize their pedal travel, this human-powered car features an unmistakable design that could only be a classic Chevy. Judging from the two-tone paint scheme and painted "chrome" detailing, it is clear that this model was aiming to echo the shape of a 1955 Bel Air. A soft seat upholstered in matching vinyl completes the period-correct look.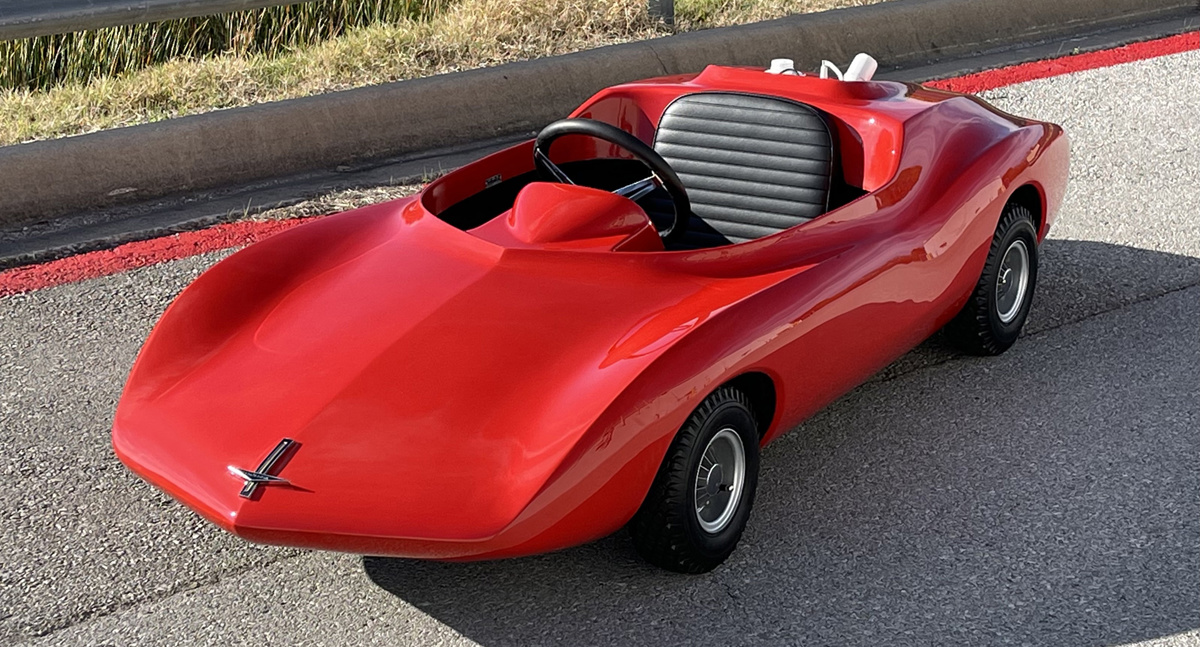 1965 General Motors Monza SS Junior by Rupp
Estimate: $15,000 - $25,000 USD | Offered Without Reserve
Though the rest of the lighthearted examples on our list can easily be considered as collectible automobilia, this recently restored go-kart can credibly be called a piece of General Motors history. Styled with a sense of scale and proportion by Larry Shinoda, the same legendary designer who, along with Tony Lapine, executed the original Monza SS concept car for Chevrolet. The impetus behind this pint-sized project came from the head of GM's Styling Department himself, Bill Mitchell, as a gift for his stepson, Tony. A rare find, manufactured by Rupp Mfg., Inc of Mansfield, Ohio (who were known in-period for their skill making motorized mini-bikes and go-karts), the Monza SS Junior was built in a small series on Rupp's Dart go-kart chassis, destined for GM dealerships to raffle off for holiday prizes. Powered by a 3.5 horsepower Tecumseh engine and refinished in its original shade of Ember Red, this single-seat example shows off GM at its finest.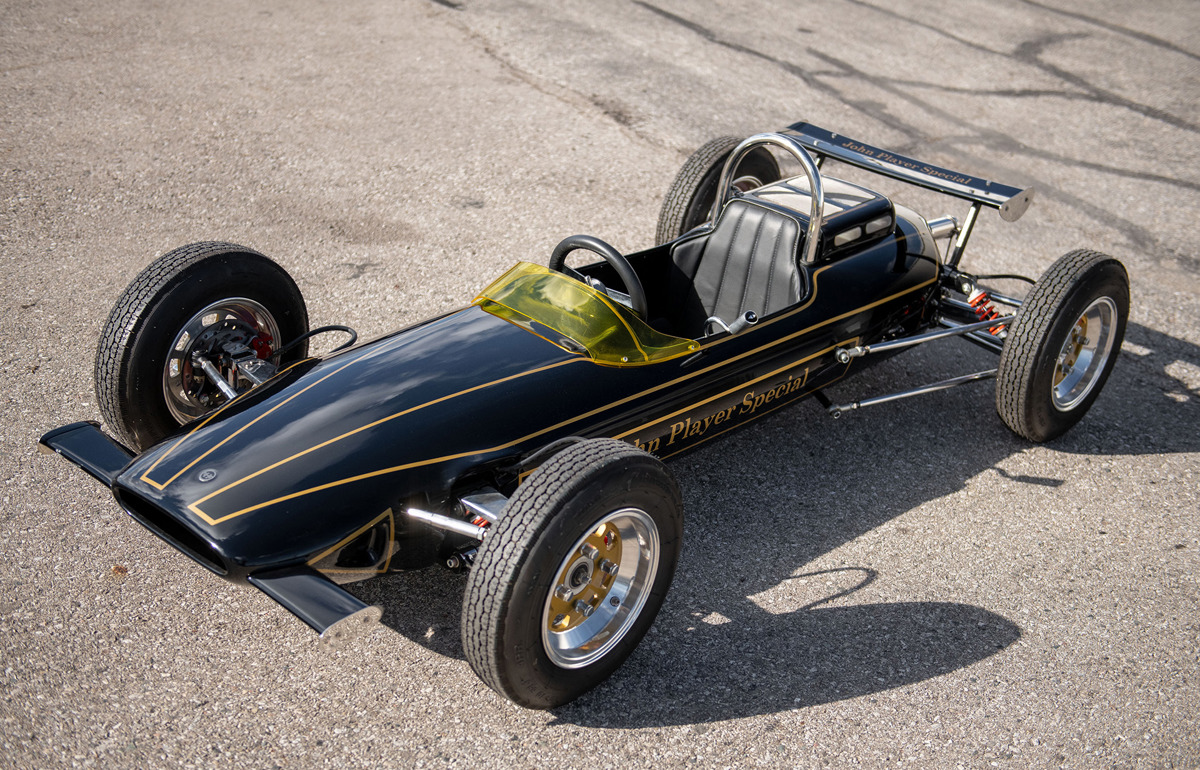 John Player Special F1L Racer by Harrington Group
Estimate: $10,000 - $15,000 USD | Offered Without Reserve
Another highly accurate model of an iconic racer accomplished by the Harrington Group, this tiny racer packs a punch. The instantly recognizable black-and-gold livery suits a variety of different sporting forms, as seen on record-setting Rolex watches and brand-new, limited-production Radford supercars, but is perhaps at its most natural form when highlighting a cigar-shaped, sixties-style racer like this. Perhaps this livery will inspire the next Emerson Fittipaldi in the making.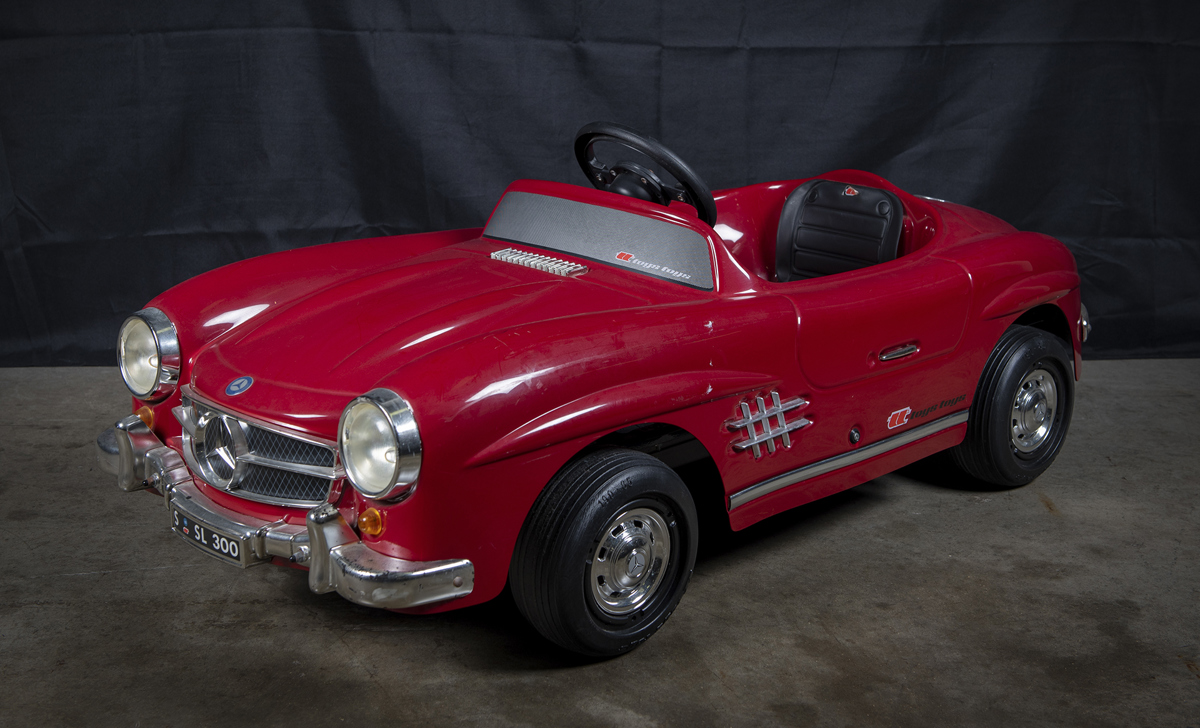 Mercedes-Benz 300SL Electric Children's Car by Toys Toys
Estimate: $300 - $400 USD | Offered Without Reserve
If there was one toy that inspired this author to start a lifelong interest in vintage automobiles, it was a red Mercedes-Benz 300SL Gullwing. With enduring style, not to mention doors that transform into wings, Gullwings are a spectacular choice for any child. Of course, even better than a Gullwing coupe would be a child-sized Roadster, perfect for making lifelong memories in the driver's seat. This example, built by Milan, Italy-based Toys Toys SRL, is one of several noteworthy designs that were licensed by the firm as platforms for electrically powered children's cars. With an unforgettable style, this electric 300SL is sure to create a new generation of classic car aficionados. Happy motoring!