It was an errantly tossed cigarette that ignited the blaze. Newspapers of the time reported there had been an electrical short. Either way, a raging fire at the Los Angeles Auto Show started on this day 91 years ago, running from car to car and finally catching the five canvas tents that hosted the show. When the smoke cleared, 384 cars had been reported destroyed.
A famous photograph in USC's archive shows a portion of the wreckage–if you zoom in, you can see the assembly of onlookers, prospectors, spectators, and optimists surveying the charred remains of the show cars, trying to judge what was worth saving. At least one newspaper report at the time examined the wreckage and estimated the damage totaled $1.2 million—accounting for inflation, that would equate to $30 million in 2020 dollars. But, as many classic car fans can attest, merely rounding up for inflation doesn't completely cover it.
The loss was particularly difficult for the Auburn Automobile Company. Earlier that year, in preparation for the New York Automobile Show, the company sculpted their entire lineup around a relatively new idea: aerodynamics. Period Auburn literature announced: "From out of the sky-ways we bring the lessons learned and apply them to the highways… We applied all that had been learned in years of automobile racing where reduced weight, the stream-lines and the pointed tails have made greater speed possible…" It still provokes sadness among classic car fans to know the fire claimed at least one Auburn with a striking boattail design.

A rare example of a sequel equaling the original: Alan Leamy's groundbreaking 1924 boattail speedster design was updated by legendary stylist Gordon Buehrig in 1935. This gorgeous, supercharged Auburn Speedster is set to cross the block at RM Sotheby's upcoming Elkhart Collection auction 1–2 May 2020.
The most significant loss was of the 1929 Auburn Cabin Speedster. Debuting nine years before the Buick Y-Job, the aerodynamic Auburn has been called by some "the first concept car" and was undoubtedly ahead of its time, with a design that has been attributed to several associates of the company, varying from stylish race driver Wade Morton and designer Alan "Al" Leamy to financier Lucius B. Manning. Morton's name is listed as the "Inventor" on this gorgeous 1929 patent for "Combination Automobile Body, Hood, and Radiator"—certainly an example of when mere words do not describe the full beauty of a design.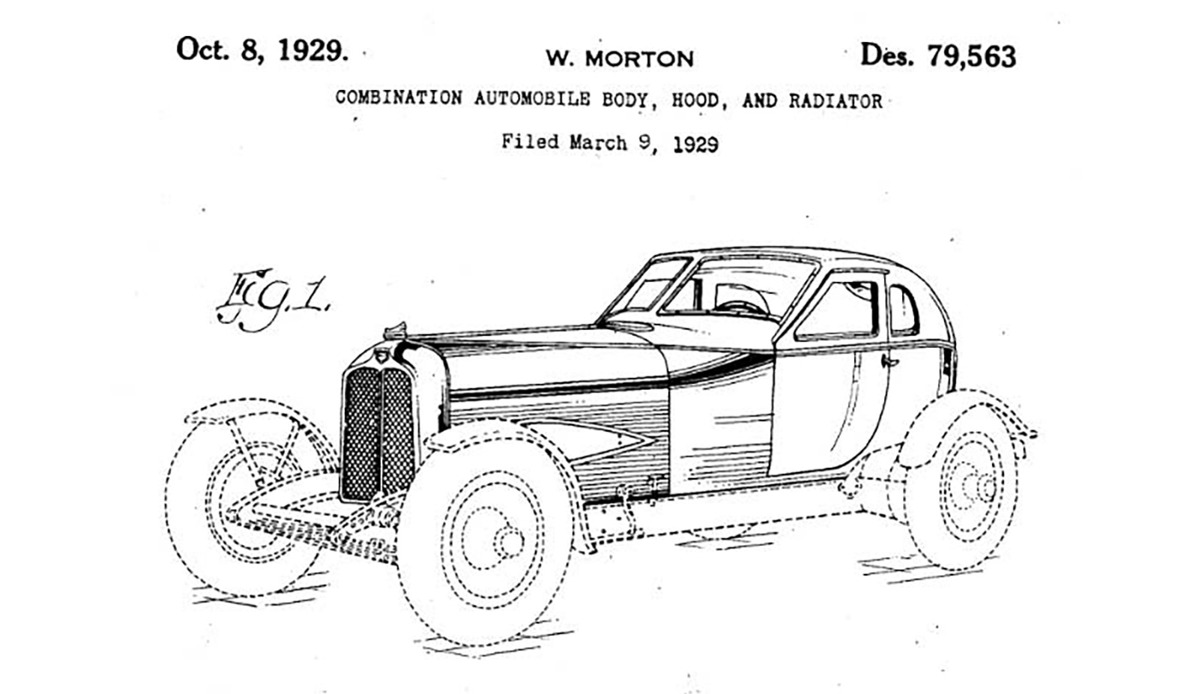 The original patent for Auburn's Cabin Speedster was filed four days after the fire at the Automobile Show on 5 March 1929.
In early 1983, Auburn enthusiast Dr. Peter C. Kesling commissioned a full-scale reproduction of the early concept car, to be built by Howard Dysard, Mell Knoll, and Bill Woodke. Built on a combination of two discarded Auburn 120 frames, Kessling's Speedster replica was completed in time for the annual Auburn Cord Duesenberg gathering that fall in Auburn, Indiana. Soon afterward it was displayed at the Auburn Cord Duesenberg Museum, the ultimate honor for any Auburn aficionado. As recently as two years ago, the Cabin Speedster was invited to be shown in a class of historic Auburns at the Amelia Island Concours d'Elegance.

The reproduction Auburn Cabin Speedster proudly showing at the 2018 Amelia Island Concours d'Elegance.
As far as the original premise of this post goes—how do we calculate the value of what has already been lost? The original sales brochure listed the manufacturer's retail price of the 1929 Auburn Cabin Speedster as $3,000. Surely we can all agree that the value of a rebuilt Cabin Speedster—proof of how forward-thinking American coachwork was in the 1920s—is worth a decent amount more than that.

With details as well-designed as its iconic boattail body, this 1935 Auburn Eight Supercharged Speedster is an enduring classic of the Art Deco era and much more attainable than its Cabin Speedster predecessor.
But in case you would want to see the gorgeous lines of an Auburn Speedster without joining a museum or attending a concours d'elegance, RM is offering a prime example of American Art Deco design at our upcoming Elkhart Collection auction in Indiana, 1–2 May 2020. If you would be interested in an in-person look and are attending RM Sotheby's Amelia Island auction this weekend, this spectacular Auburn will be on display. Sometimes the worst tragedies still can end happily.