A veritable institution in the classic car world, the events around the Auburn Fall auction every year have claimed early September as the time to celebrate the best of American classics. When it comes to American-made originals, trends and technology in terms of customization have gone through phases just like the automobiles themselves. Our current abilities to not only restore, but "resto-mod" both pre- and post-war vintage vehicles have not only extended their lifespan, but also has created more interest in finding original, preserved, and most importantly, un-restored examples to serve as launching points for future projects.
Appearing at RM Auctions' signature Auburn Fall event, The Hague Collection features some of the most iconic examples of American engineering from throughout time. Every lot listed shares the same spirit of preservation rather than restoration, leaving the decisions on possible modification and restoration up to the prospective owners. As the list of selections is diverse and extensive, we will return several times to share highlights from the wide-ranging lineup of The Hague Collection several times between now and the beginning of Auburn Fall, which runs this year from 2-5 September. Encompassing the pre-war and wartime years, here are our first batch of highlights from The Hague Collection: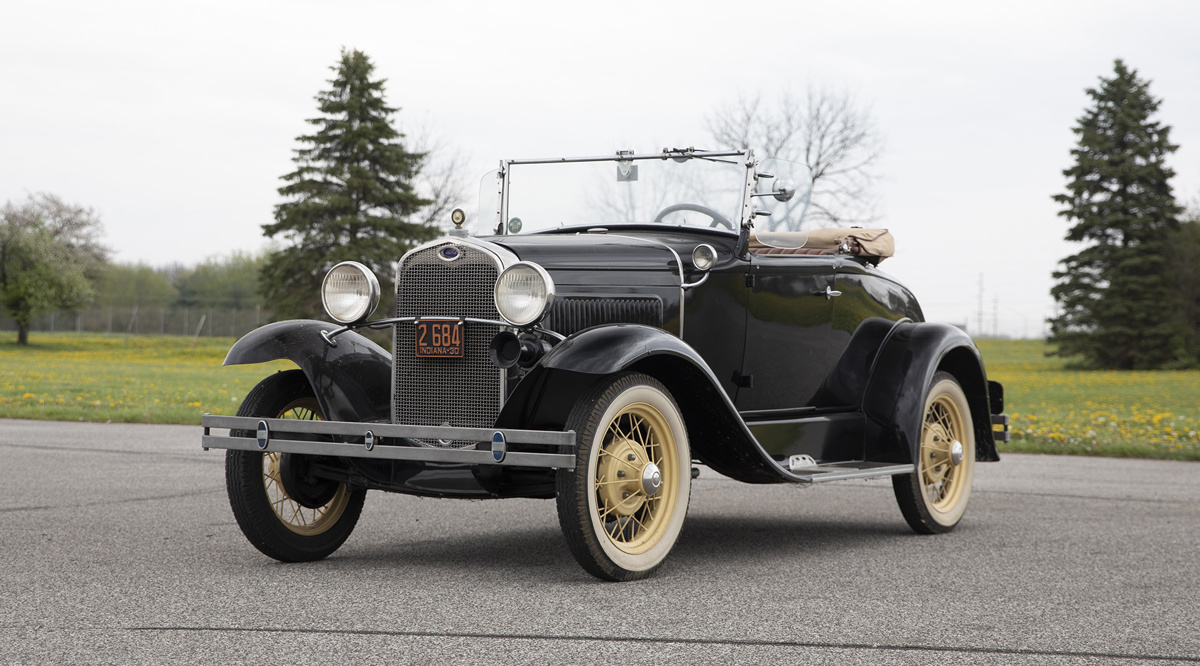 1929 Ford Model A Roadster
Estimate: $15,000 - $20,000 USD
Though the Model T may have forever cemented Henry Ford and his eponymous company in the automotive record books by quite literally putting much of America on wheels, it was Ford's follow-up Model A that provided the link from early automobiles into the modern era. Looking at the worldwide list of factories Ford established to support Model A production, one can see the great industrial centers of the world starting to grow. With factories from Cologne, Germany, and Yokohama, Japan, to Nizhny Novgorod, Russia, the Model A became a legend in part because of its global production. And yet, after a World War and the numerous scrap drives that followed, finding a fully stock, non-modified Model A has gotten harder and harder. The Hague Collection features several fine Ford Model A selections, including this well-kept roadster example, which is almost too handsome to hot rod.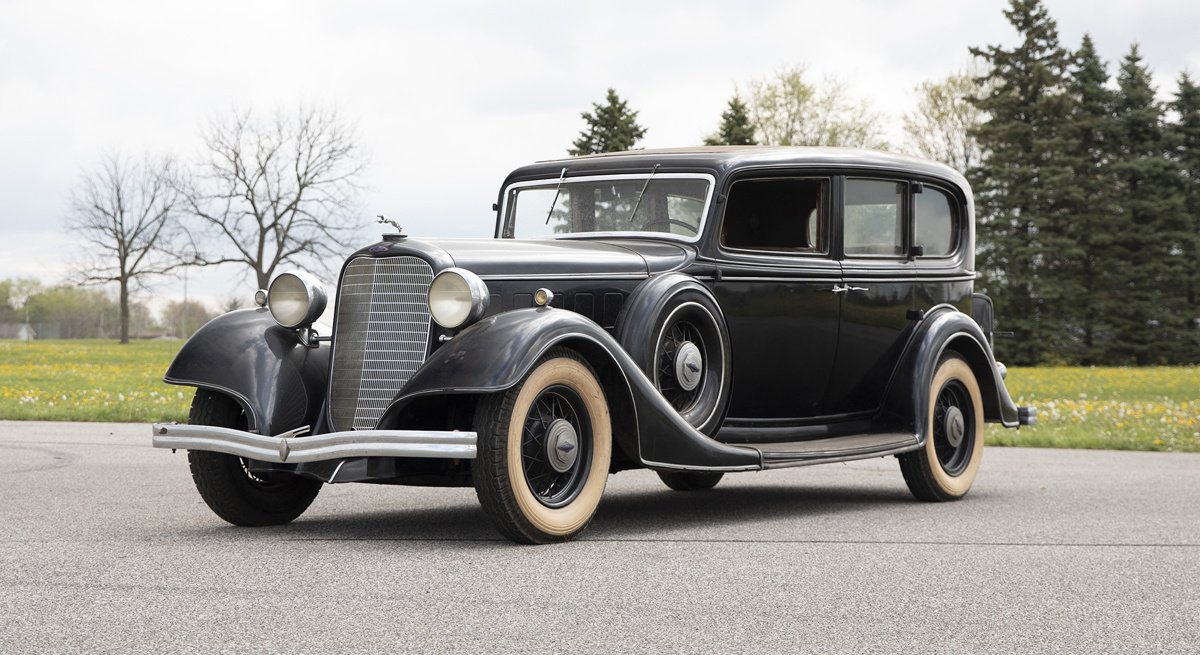 1934 Lincoln Model KB Seven-Passenger Sedan
Estimate: $15,000 - $20,000 USD
By the mid-1930s, Ford had already acquired and overseen Henry Leland's Lincoln Motor Company for more than a decade. In that time, Lincoln did not waver in terms of luxurious appointments or technological innovation. Launched at the peak of the Great Depression, the Model KB sported the longest wheelbase available from Lincoln at that time, measuring 145 inches and accommodating a total of seven passengers. Powered by a twelve-cylinder engine, this top-of-the-line Lincoln showed it could compete with the best in American automobiles in the mid-1930s. Down to the detailing on the dashboard, Lincoln was dedicated to delivering premium luxury for an attractive price, a key factor to the brand surviving the Depression.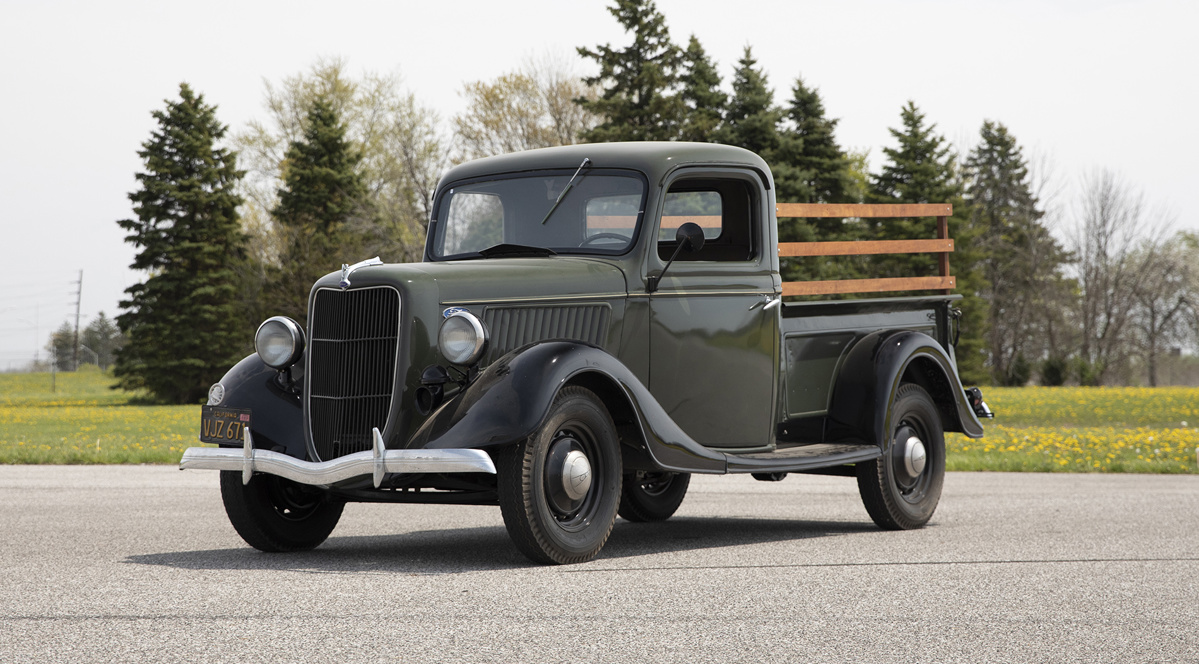 1936 Ford Pickup
Estimate: $24,000 - $28,000 USD
Of course, the Ford brand was built not only on the upper end of the market, but on offering as many useful variants as possible. Though the Model T lineup also featured a practical pickup model, for many Ford fans, the roots of the modern F-150 dynasty trace back most clearly to the commercial-grade Model 51 truck, which debuted in 1935. The professional-level work truck received a consumer-focused counterpart when examples like this Model 67 pickup debuted the following year. Featuring 'Flathead' V-8 engines, and lowered bodies with 'Center-Poise' seating, these pickups offered the general public all the carrying capacity of a pickup in the easy-to-maneuver form of a Ford car.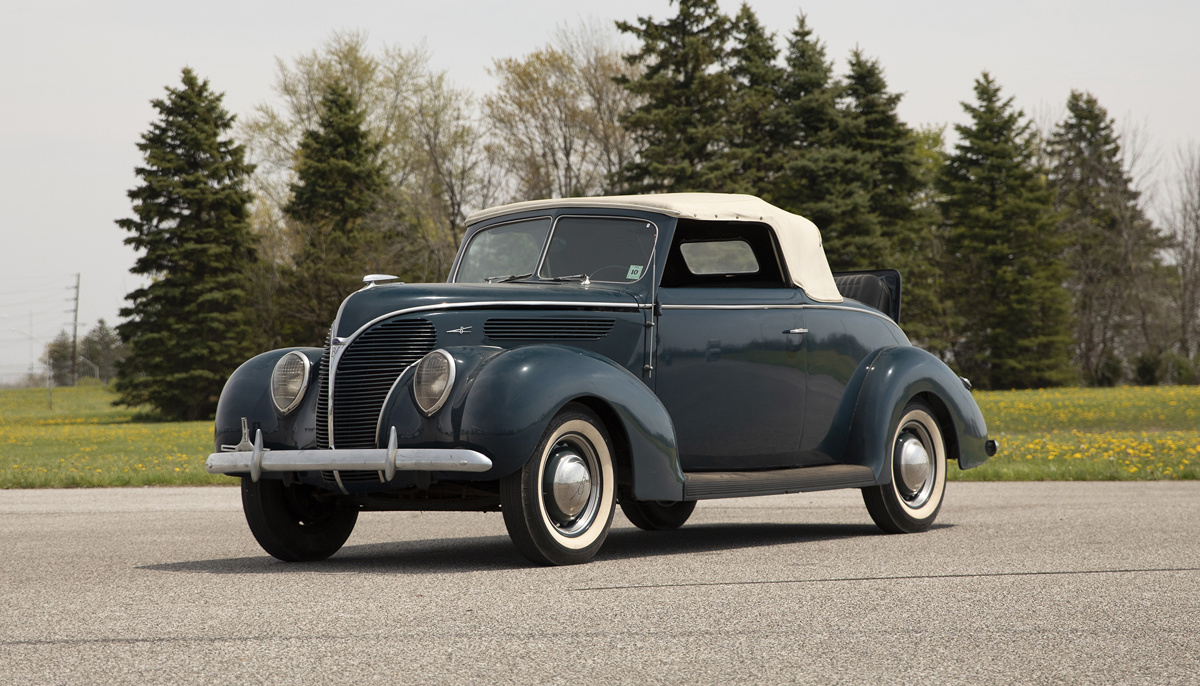 1938 Ford DeLuxe Convertible Coupe
Estimate: $18,000 - $24,000 USD
With Lincoln touting top-tier luxury, and its Detroit-based rivals both offering a gradient of different brands at different price points, Ford was faced with a difficult decision as the Depression started to fade in the late 1930s. The solution, championed in part by Edsel Ford, came in 1938 with the debut of the Mercury brand and the DeLuxe sub-brand. Alternatively labeled as "Ford DeLuxe" and "DeLuxe Ford," the brand was designed to bridge the gap between economy-minded Ford and the mid-priced Mercury marque. Featuring V-8 engines and model-specific trim, DeLuxe-branded Fords, like this Convertible Coupe example, are well-equipped right down to their rumble seats.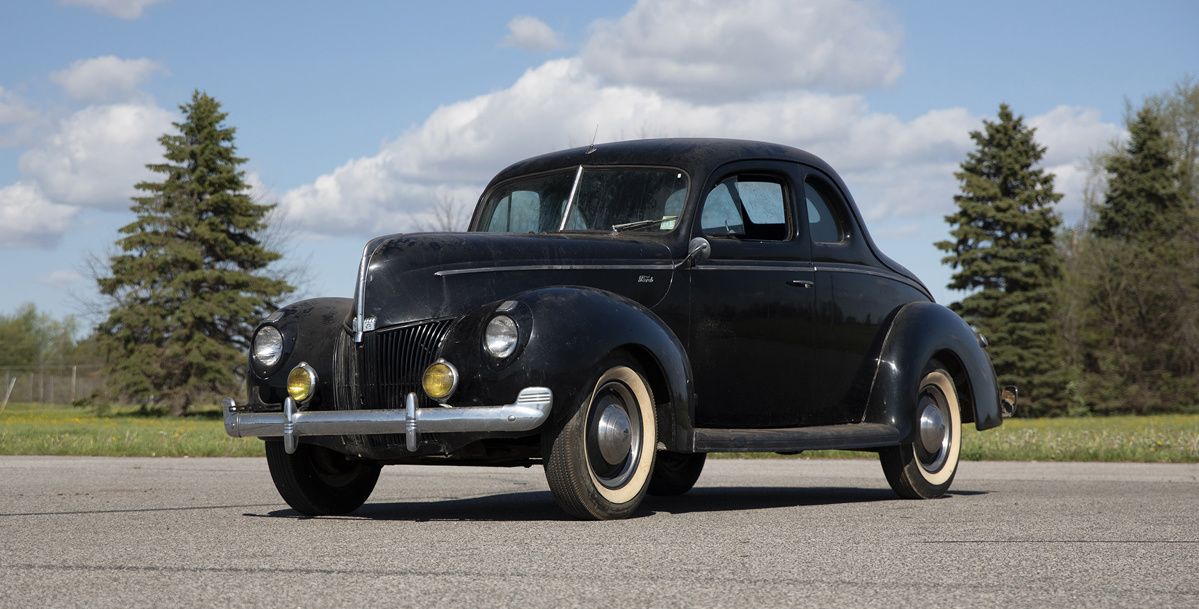 1940 Ford DeLuxe Coupe
Estimate: $10,000 - $14,000 USD
For many American car aficionados, the years immediately before and after wartime are a fascinating case study of manufacturing. Though World War II was well underway in Europe by 1940, the United States had yet to engage in war; Ford factories were still producing cars instead of tanks and bombers. In a sense, these are the final era of pre-war cars, featuring split windshields, aerodynamic styling, and flowing fenders still influenced by natural forms. After the war, as many companies switched to the more-spartan "slab-sided" design, the final years of pre-war Ford DeLuxe models became appreciated as heralding the end of an era, and many have been transformed into wild customs. Though the Eugene "Bob" Gregorie-penned pre-war DeLuxe designs share many similarities, post-war customizers tend to prefer the 1939 and 1940 model years, like this example, as their swooping body shells are a full inch longer than the 1938 models.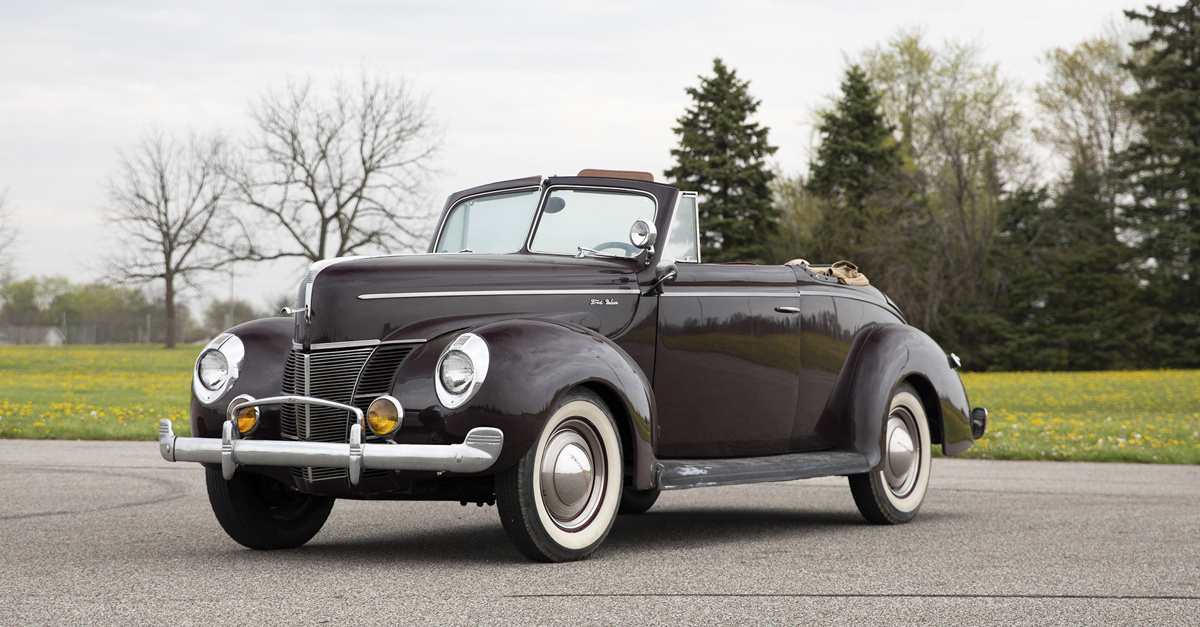 1940 Ford DeLuxe Convertible Club Coupe
Estimate: $18,000 - $24,000 USD
Scrolling back-and-forth between the above example and the 1938 Ford DeLuxe Convertible Coupe we covered previously, the subtle differences between model years start to stand out. Though both feature chrome accents, one can witness how the attractive material grew even more desirable throughout wartime, especially considering widespread rationing of steel. After the war, customizers often chopped and replaced the split windshields on Ford DeLuxe models, sometimes even channeling the body shell to achieve a more aggressive stance. Today, finding a non-modified example like this is uncommon.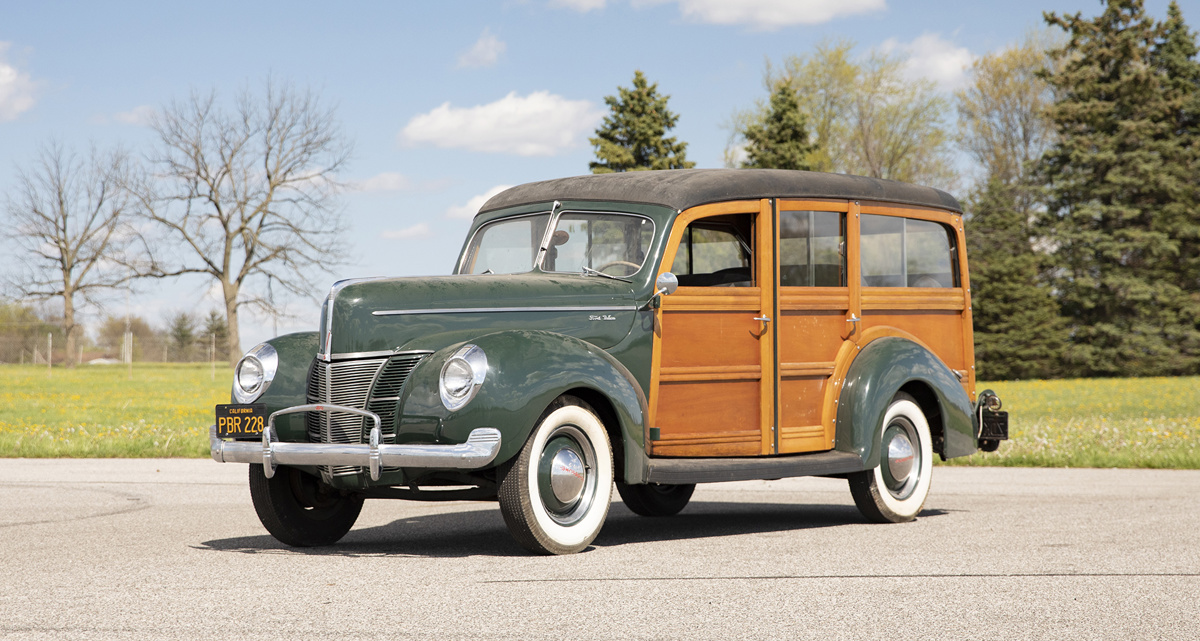 1940 Ford DeLuxe Station Wagon
Estimate: $20,000 - $25,000 USD
We have previously covered the surprisingly fascinating origins of American-made wood-bodied cars, though that list did not feature a Ford Station Wagon. Even for automotive collectors who do not typically favor Ford, the brand's innovation in growing the natural material necessary for special edition Station Wagons like this example in their Northern Michigan-based timber traces cannot be argued against. After the old growth timber was cut in their Ionia facility, Ford floated the wood across two Great Lakes to their River Rouge facility, a triumph of pre-war logistics. Today, this process would either be celebrated as the ultimate in "farm-to-table"-style motoring or disavowed altogether. In any event, the era of wood-bodied cars is unlikely to be repeated, given the high degree of hands-on labor necessary to build semi-custom cars like this example. Grown quite literally from American soil, Woodies like this example have become symbolic collectibles for good reason.
Join us in the weeks heading into RM Auction's annual production of Auburn Fall, as our tour through the U.S.-made classics from The Hague Collection moves into the post-war era.