The first period of automotive manufacturing was one of the most progressive eras in the history of the automobile. The Brass Era takes its name from the prevalent use of brass used to fashion a number of the components used on the automobile, such as the radiator and lights. During this time, several thousand marques began producing automobiles throughout the world with various body styles and experimental methods of propulsion. In the United States alone, there were reportedly over 1,000 different marques—many lasting only a few short years, with a select few continuing production through the First World War. Some of the earliest designs shared traits of bicycles, while others were more similar to carriages. As the vehicle rapidly advanced, the motor car we recognize today came to take shape and systems were introduced, tested, and perfected that would lay the groundwork of today's modern vehicle.
RM Auctions' Hershey collector car auction is held during the world-renowned AACA Eastern Division Fall Meet, bringing together enthusiasts from far and wide to celebrate some of the most significant veteran, Brass Era, and CCCA Classic automobiles. This year, three collections offer some of the Brass Era's most significant automobiles to the public.
Scroll down to explore the best of this exciting era offered at the upcoming RM Auctions Hershey sale.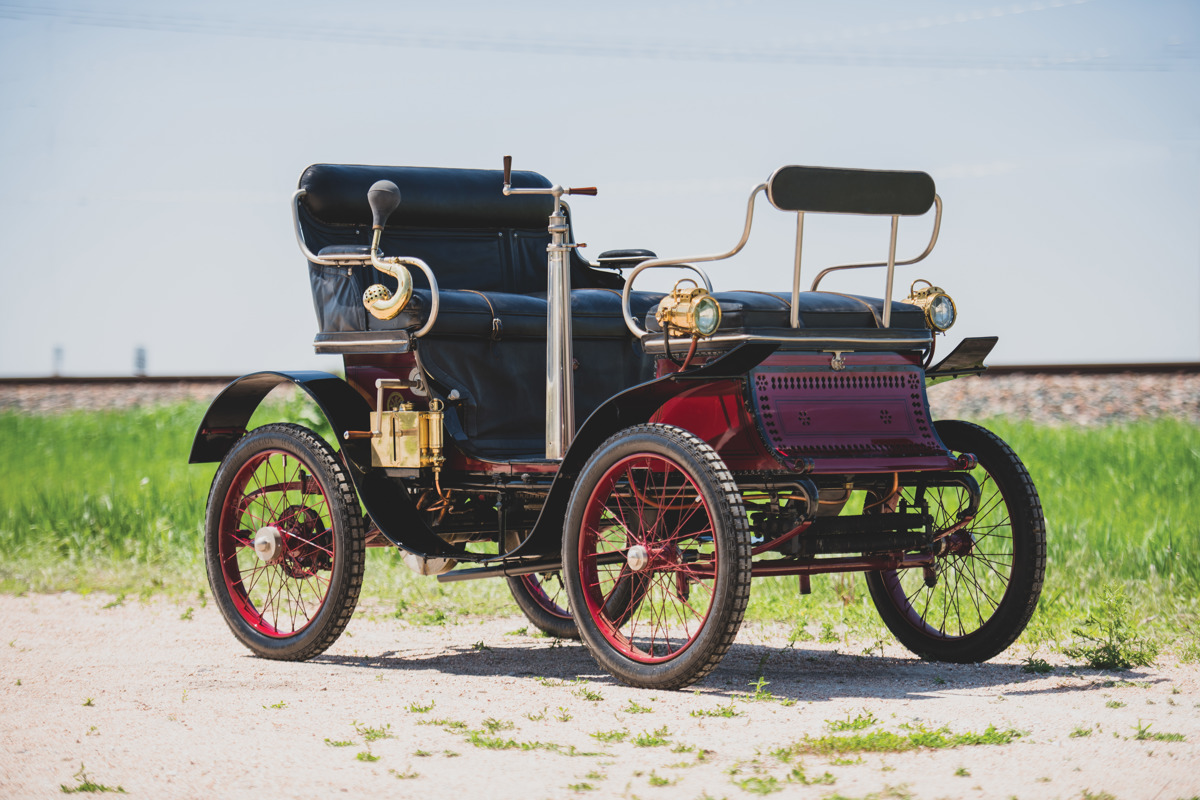 1900 De Dion-Bouton Type E Vis-à-Vis Voiturette
Estimate: $100,000 - $150,000 USD | Offered Without Reserve
Until 1899, the French firm De Dion, Bouton & Compagnie mainly produced motorized tricycles—some converted into four-wheelers with a two-wheel forecar arrangement. That same year, they produced the Type D, their first true four-wheel car with a tubular chassis frame powered by a single 3.5-horsepower engine located at the rear. Due to its seating arrangement, it came to be known as Vis-à-Vis, the French term for "eye-to-eye," as the passengers faced one another. The Type E followed with improvements, such as upgraded wheel bearings, two hand brakes in place of the shaft brake, and a revised gear change with lever operation and a neutral position. Formerly owned by collector and journalist Robert Gottlieb, this example was restored by Eric Rosenau of Ramona, California, in burgundy with black accents and highlighted by bright red wire wheels and nicely detailed brass accessories. This lovely example of the famed De Dion Vis-à-Vis presents beautifully today and is an eligible candidate for the London-to-Brighton Veteran Car Run.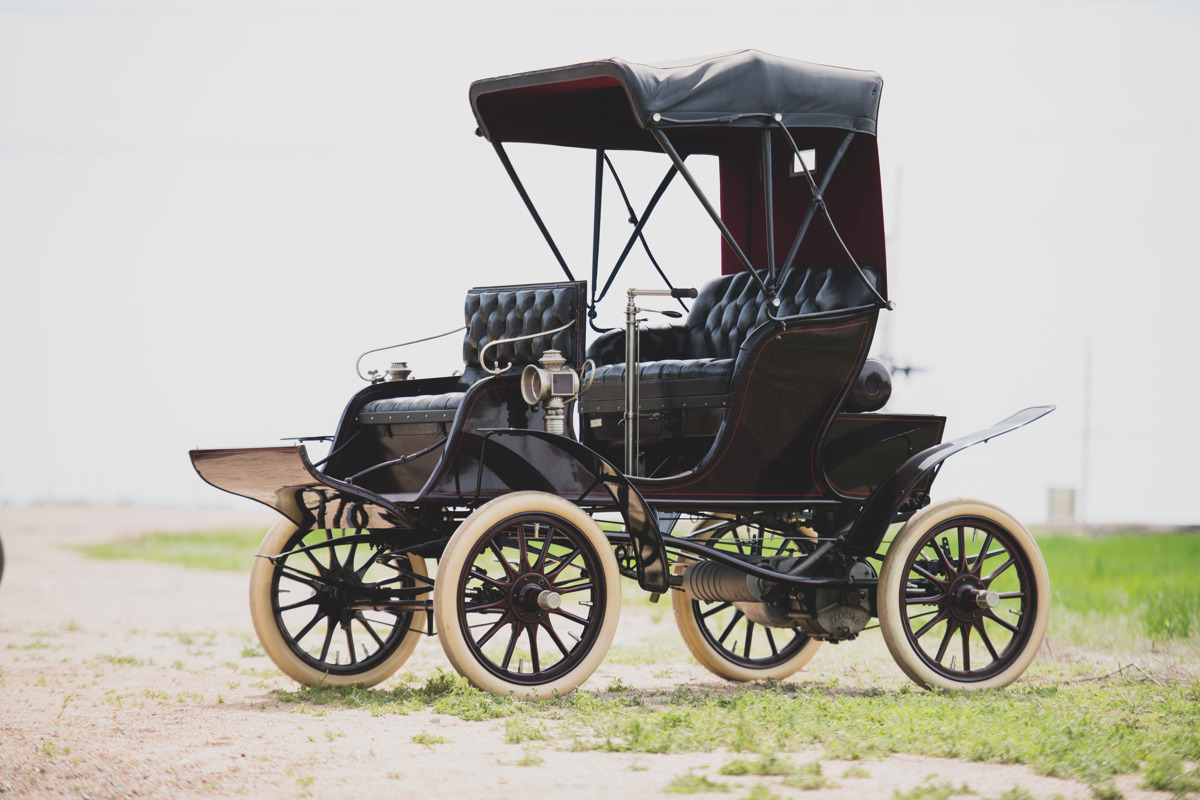 1903 Pierce 6½ HP Runabout
Estimate: $50,000 - $70,000 USD | Offered Without Reserve
The George N. Pierce Company produced a number of household items, from bird cages to iceboxes and importantly, bicycles, as many American automakers got their start in the cycle business. At the urging of their treasurer, Pierce began producing their first gasoline-powered automobile in 1901. In 1903, a larger car was introduced under the Runabout name, featuring 5- and 6.5-horsepower engines, as well as a two-cylinder touring car with seating for five. This example features the 6.5 hp Stanhope engine and has been restored beautifully in deep maroon paintwork with red accent striping over black diamond-pattern button-leather upholstery and a matching black cape top. Having been cared for under the Merrick Auto Museum since 1999, this example is a wonderful opportunity to obtain an early example of the prestige Pierce automobile, one which would grow to be part of the illustrious "Three Ps" alongside Packard and Peerless.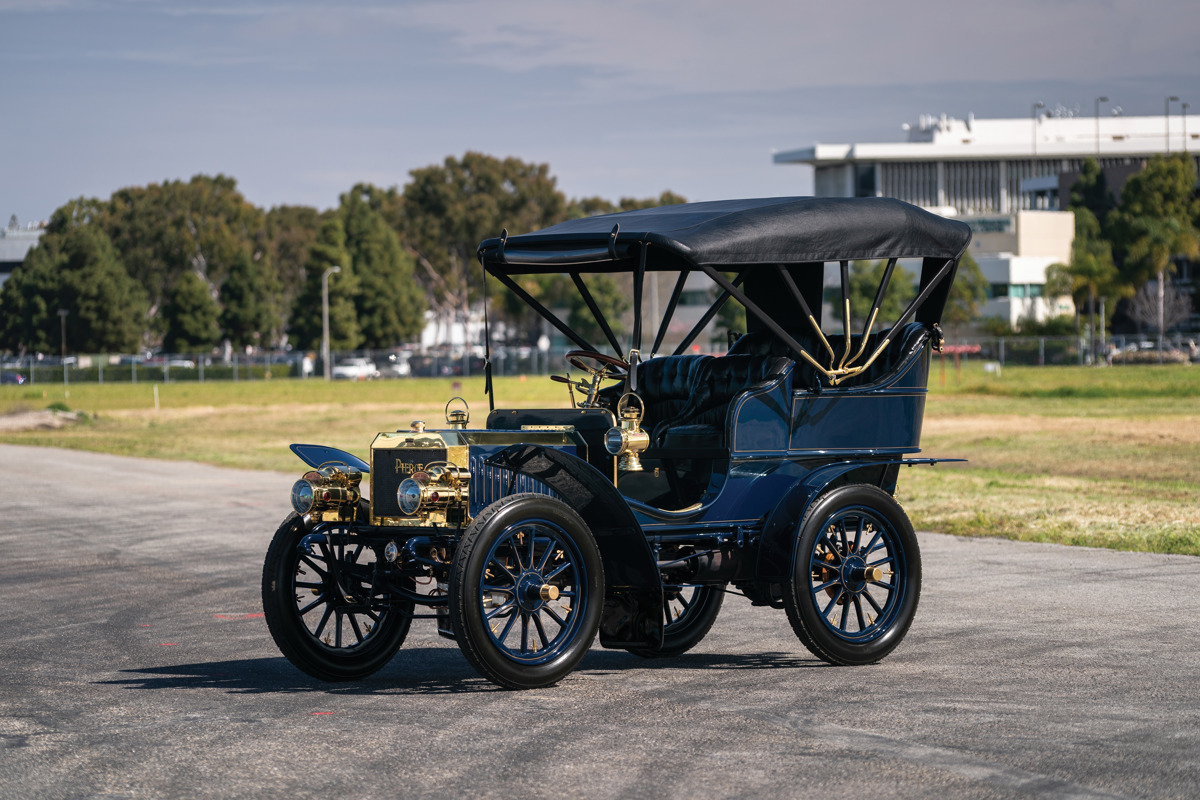 1904 Pierce Arrow
Estimate: $175,000 - $225,000 USD
In the early years of the George N. Pierce Company's auto manufacturing efforts, the marque was simply known as Pierce, and the Arrow was the model which brought such success that it prompted the addition of "Arrow" to the company name. Equipped with its 15-horsepower twin-cylinder engine, it was exceptionally fast for its time. Of the 125 examples produced over a two-year span, this example is one of three and the sole surviving example with this styling. It was restored over the span of a five-year period where it was carefully returned to its original configuration, its body precisely fabricated to the original factory design. Since joining John Muckel's collection, it appeared at the Pebble Beach Concours d'Elegance in 2010 and completed the London-to Brighton Veteran Car Run, a legendary event for vehicles of its kind. This example is a testament to the robust build quality of even the earliest Pierce vehicles and would be welcomed as a participant in one- and two-cylinder tours, whether in the States or again in the London-to-Brighton run.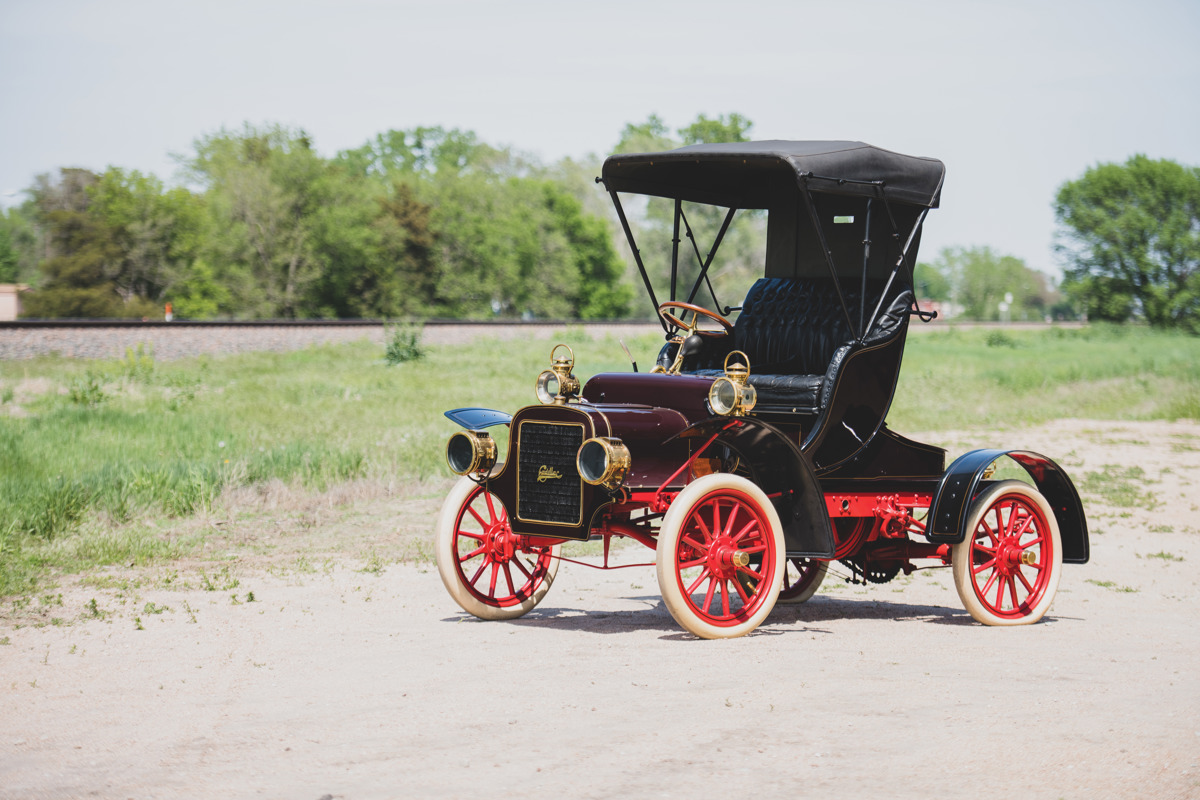 1906 Cadillac Model K Victoria Runabout
Estimate: $60,000 - $80,000 USD | Offered Without Reserve
The Dewar trophy was a cup donated by Sir Thomas R. Dewar to be awarded each year by the Royal Automobile Club of the United Kingdom "to the motor car which should successfully complete the most meritorious performance or test furthering the interests and advancement of the [automobile] industry." In 1908, a team of three Model K Cadillacs were entered, where they were completely disassembled, their parts scrambled, and easily started after their reassembly. This demonstration of Henry Leland's precision manufacture earned Cadillac the prestigious award and led to the slogan of "the Standard of the World." This example of Cadillac's "Tulip"-seat Runabout was formerly a part of the famed Harrah's Collection and was acquired by the Merrick Auto Museum in 1998, where it has remained since. It was treated to a painstaking 1,100-hour-plus restoration, presented now as it would have been when it was new, albeit with maroon paintwork highlighted by gold and black versus the original carmine.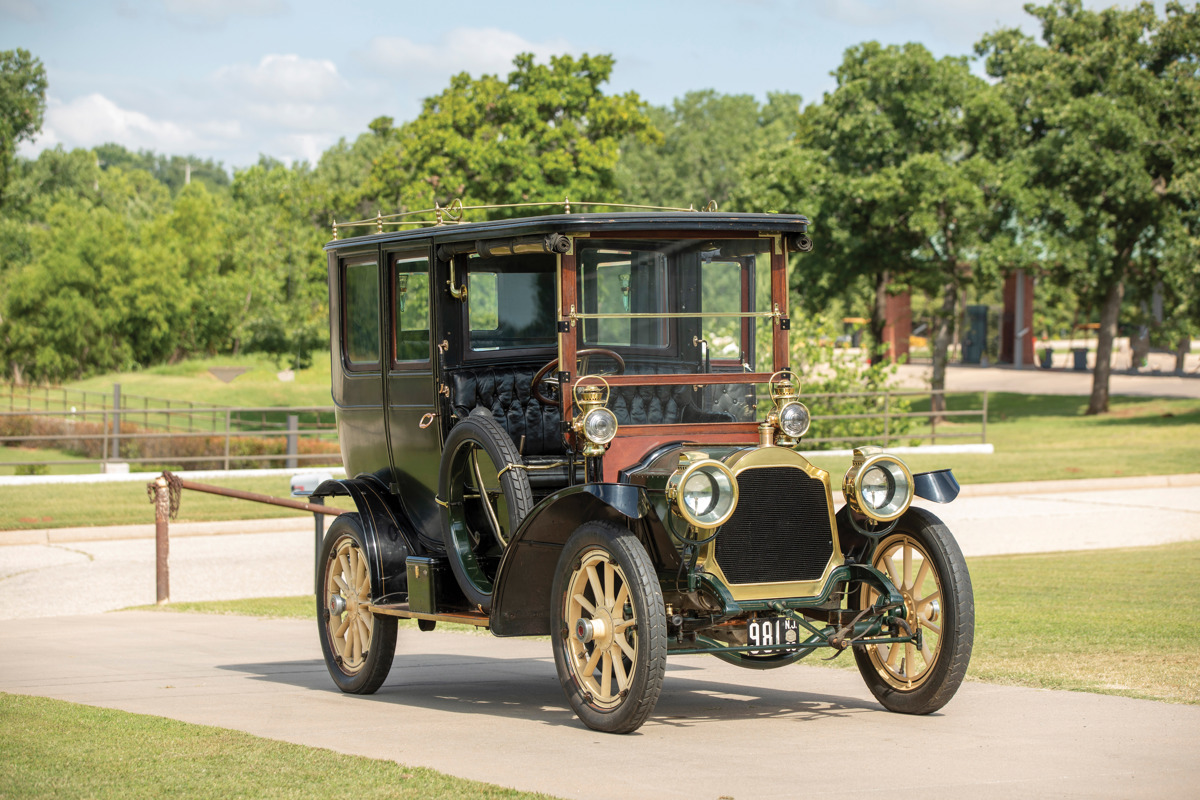 1909 Packard Model 18-NA Limousine
Estimate: $65,000 - $85,000 USD | Offered Without Reserve

Offered from the noted collection of Mr. Jim Bradley is this 1909 Packard Model 18-NA Limousine, which was reportedly originally purchased by the Pratt family, founders of the legendary American aero engine company Pratt & Whitney. Believed to be one of only 11 to still be in existence today, and one of only three to wear limousine coachwork, this remarkable example has had only five owners—each of which carefully preserved this early-production model throughout the decades. Its third owner treated the Model 18 to a sympathetic restoration which included the current finish of Brewster Green over ivory wheels. It remained with its fourth owners for nearly six decades before Jim Bradley added it to his collection. It is an extremely authentic example, retaining its original upholstery, side curtains, beveled glass, tool kit, and Packard-scripted brass lamps. Given its rarity, well-documented ownership, and originality, this example is an opportunity to become the next curator of an exceptional piece of history from one of America's most acclaimed marques.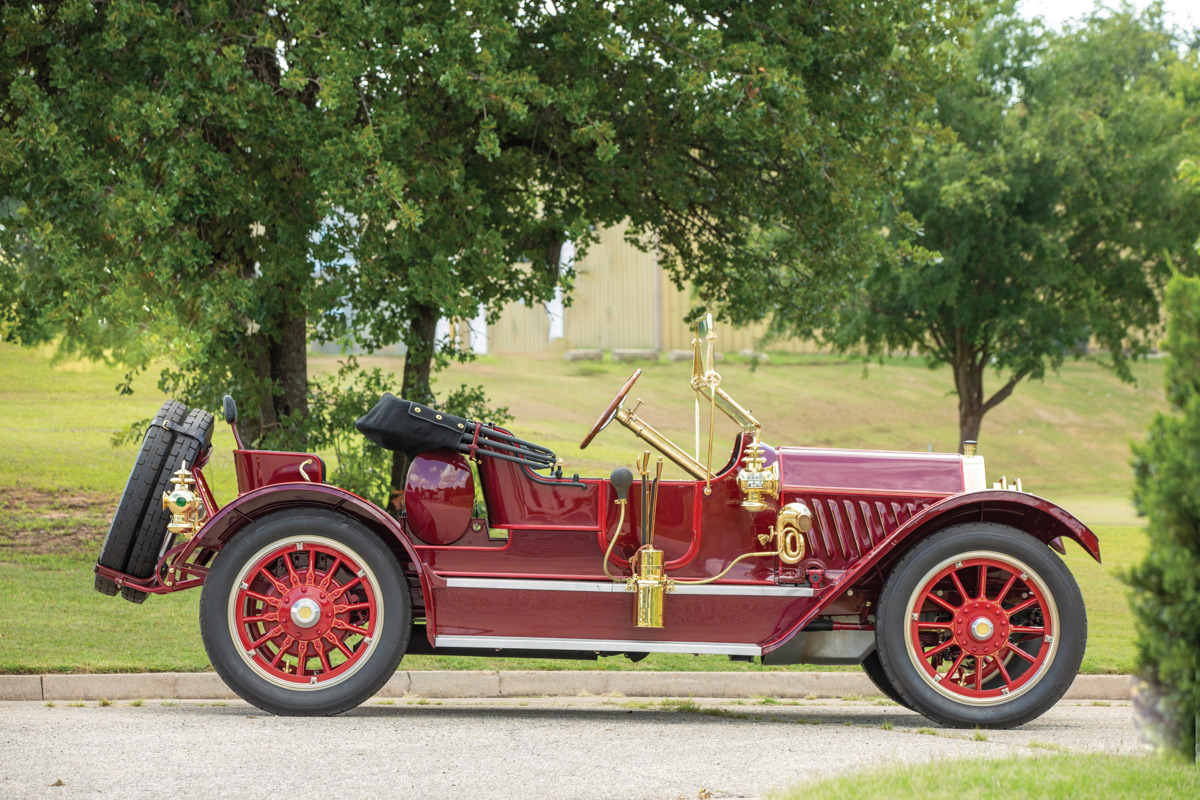 1911 Oldsmobile Model 28 Autocrat Roadster
Estimate: $400,000 - $600,000 USD
Built upon a rugged pressed-alloy frame of nickel and steel and powered by a four-cylinder, 471-cubic-inch vertical T-head engine, the 124-inch-wheelbase Autocrat was introduced in 1911 by Oldsmobile as their mid-range model. Of the fewer than 1,000 Autocrats built, a fraction of that were finished as roadsters, such as the example shown here, which is one of only three known to exist today. A complete frame-off restoration was performed in 2005 under the ownership of Jim Bradley, where the frame and exterior were painted a two-tone scheme of light and dark red and an electric starter was installed for both reliability and ease of operation. It retains its original aluminum body and alloy chassis among a host of period details, such as a Jones 100 mph speedometer, dashboard clock, artillery wheels, lantern-style running lamps, Solarclipse headlamps, and dual rear spare tire. Following its restoration, it was awarded 1st in Class and the Most Significant General Motors Car award at the 2009 Meadow Brook Concours. Whether presented at Brass Era exhibitions or AACA meets, it is sure to garner significant attention as one of the earliest known surviving cars from the General Motors division.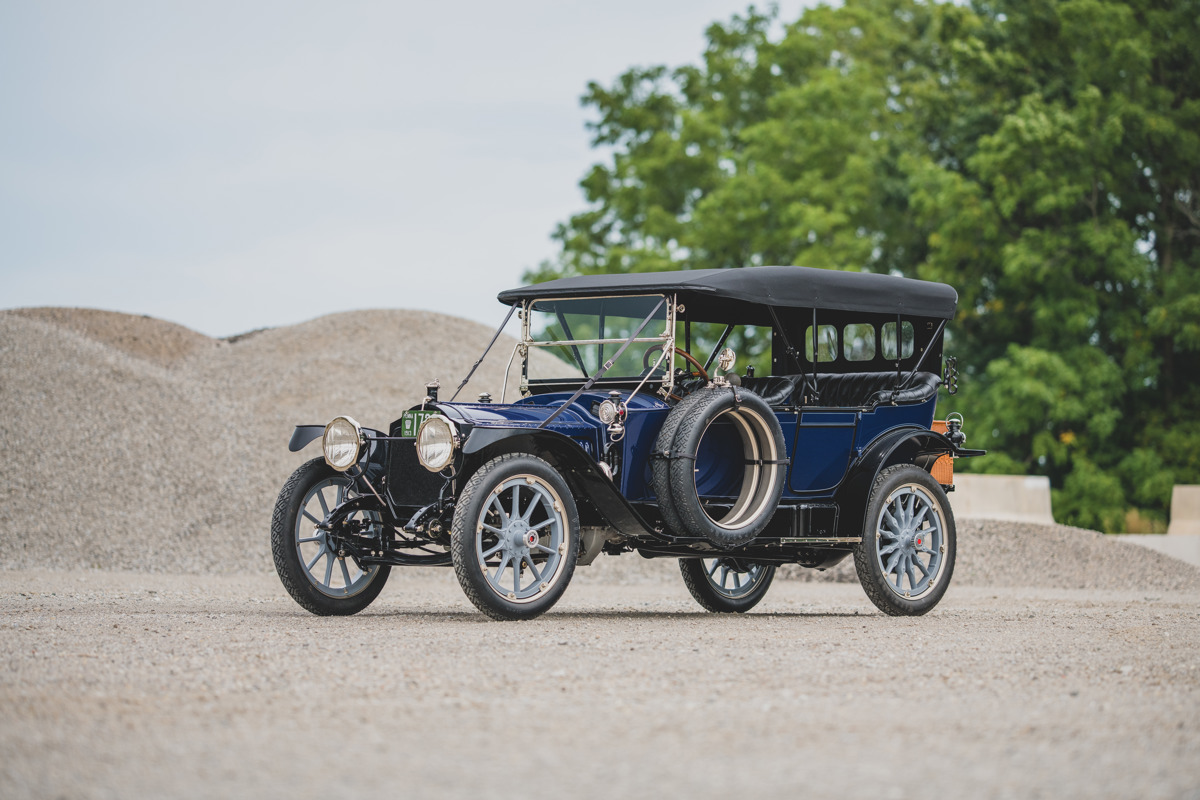 1913 Packard Model 38 Five-Passenger Phaeton
Estimate: $350,000 - $500,000 USD
This example of Packard's Model 38 is one of only four remaining models with the rare five-passenger phaeton coachwork offered on the 138-inch-wheelbase chassis and the only one of the survivors to be produced during the first-generation run in 1913. It was acquired by Harrah's Auto Collection in Reno, Nevada, in 1956, where it was completely restored and subsequently displayed by the National Automobile Museum for nearly three decades. It was later displayed and preserved in a private museum from 2012 to 2016, where an extensive show-level upgrade restoration was performed across the span of three years. During that time, new paint was matched from a sample of the original color discovered beneath the original upholstery; correct new leather upholstery, a new top, new nickel plating, new "Non Skid" tires and rims, a new radiator with correct core, and mechanical servicing were deemed necessary. Thanks to the dedication of its three dedicated caretakers, this rare Model 38 is an incredible example of the prestige marque which will be welcomed at any Packard Club events, AACA and VMCCA meets, and Brass Era gatherings.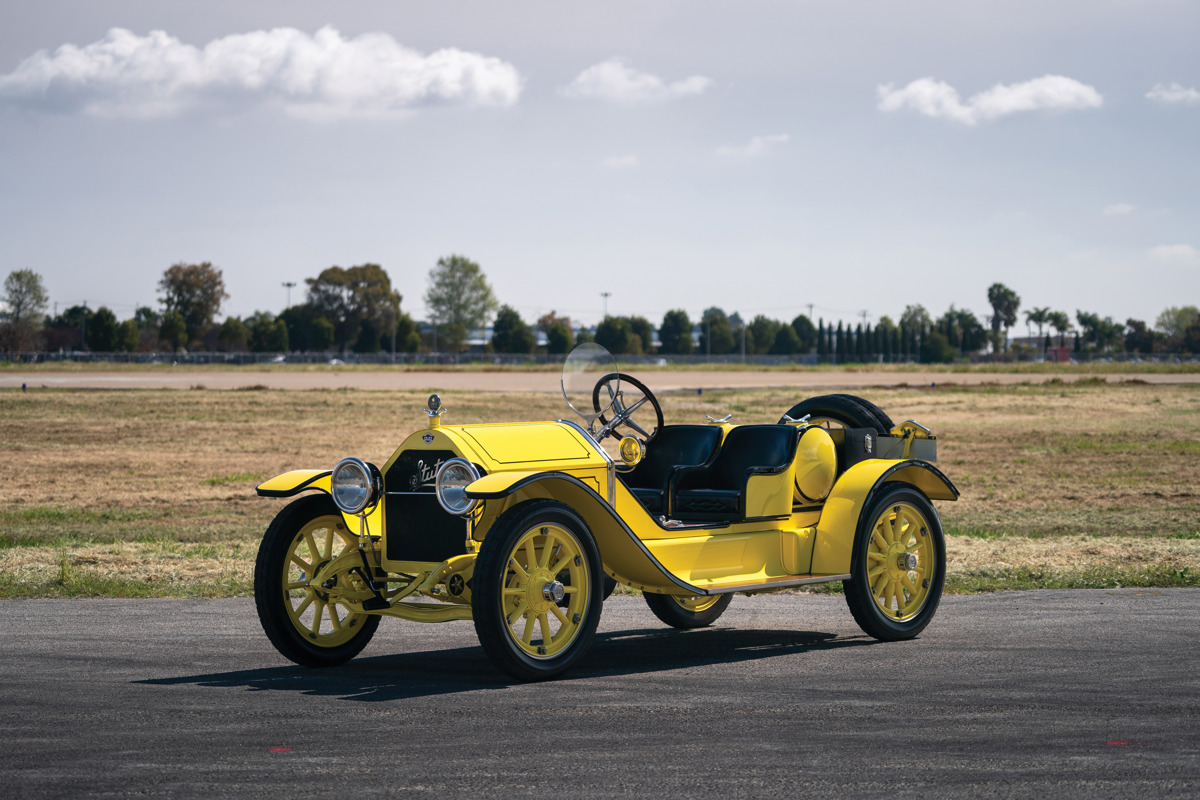 1915 Stutz Model 4F Bearcat
Estimate: $450,000 - $600,000 USD
In 1911, a performance icon was born as Henry Stutz's namesake car completed 500 miles at the first running of the Indianapolis 500, averaging 62.375 mph with only minimal mechanical adjustment throughout the race. His engineering brilliance was displayed in the near-identical production model of his race car, sporting a Wisconsin T-head four-cylinder engine producing some 60 horsepower, channeling the power to the rear wheels through a transaxle—a development nearly five decades ahead of its time. After being discovered in 1982 in a shipping container in England and outfitted with a 1920s-style body, historian Paul Freehill verified it to have originally been born a Bearcat and one of the authentic survivors. He built a correct 1915 Bearcat body and mounted it on the 118-inch-wheelbase chassis. It received further restoration work in 2005 while in the well-known collections of Charles LeMaitre and James Bradley before being added to another well-known Southwestern collection and finally that of John Muckel. Equally thrilling to drive as it is award-worthy on the show field, this example is a true milestone in the history of early American high-performance sports cars.