The amalgamation of C.S. Rolls & Co. and Royce & Co. Ltd. became the standard for luxury in 1904 when the first Rolls-Royce took to the road. Henry Royce was headed with the task of building the cars, while Charles Rolls attended to sales and delivery. The trademark radiator shape and emblem with the intertwined Rs became the symbol of Britain's most legendary motor car after the formation of Rolls-Royce Ltd.
In 1907, the company introduced the Silver Ghost. Managing director Claude Johnson ordered an example to be produced as a demonstration car to be used by the company. It was the 12th example produced that wore Roi-des-Belges coachwork by Barker and was finished in a distinctive silver aluminum paint color scheme with silver-plated fittings. Johnson wrote in regard to the moniker that the vehicle was dubbed "Silver, as being pure and hallmarked, and Ghost, as being symbolic of its smooth, silent, effortless movement." Vehicles of the era were notoriously unreliable, so Johnson took it upon himself to drive the Silver Ghost in the 1907 Scottish Reliability trial, a torturous 774-mile course, to prove the new model's merit. It completed the course without incident, winning the gold medal for Excellence in Hill Climbing, Reliability, and Fuel Consumption. Following this particular example, every 40/50-horsepower six-cylinder model came to be known as Silver Ghosts by the press despite not being officially recognized by Rolls-Royce until 1925, when the Phantom range was launched.
Offered at RM Auctions' Hershey collector car auction are two coveted examples of the 40/50 HP Silver Ghost, each unique and representative of the tourer that became the pinnacle of luxury and the utmost standard of engineering that defines the brand.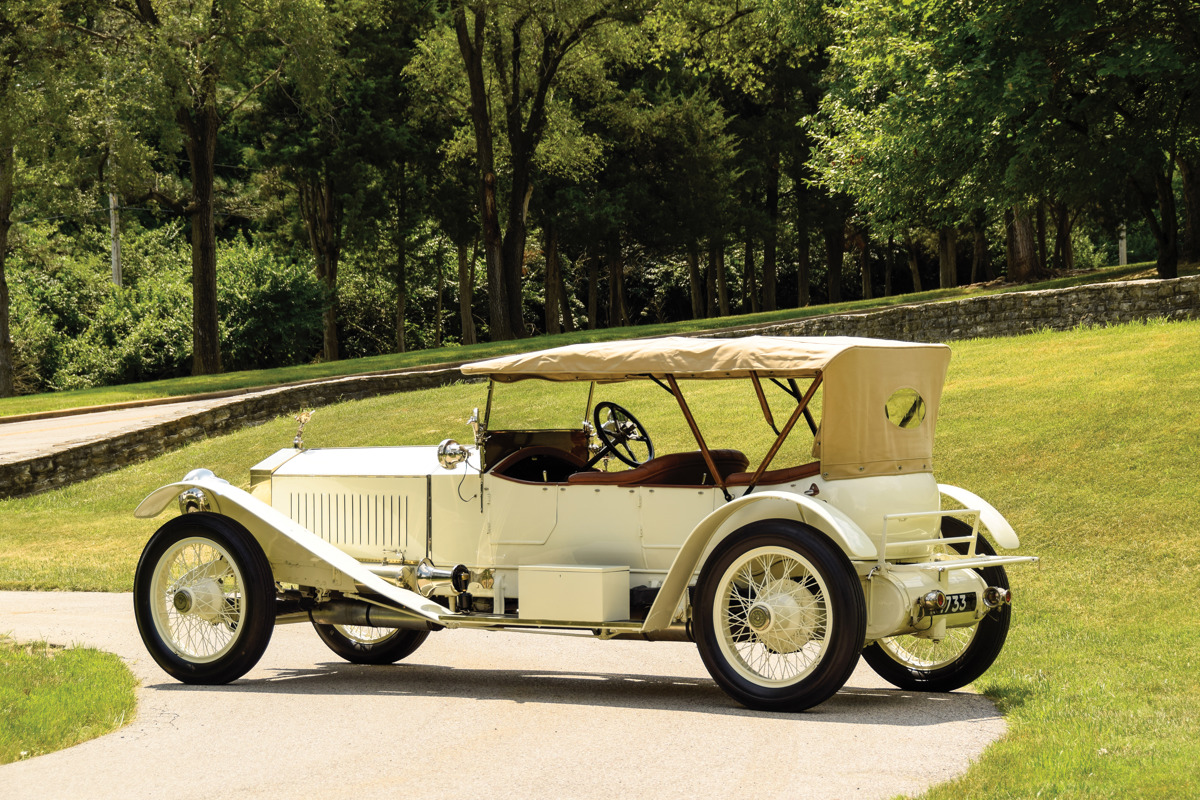 1913 Rolls-Royce 40/50 HP Silver Ghost Sports Tourer by Barker
Estimate: $750,000 - $850,000 USD
In 1911, after relenting to pressure from their London-based rivals Napier, Rolls-Royce took on the RAC-sanctioned London to Edinburgh Challenge to prove they had produced the most reliable and best-performing automobile in the world.
This chassis is the second of the coveted London-Edinburgh–specification examples to receive the latest upgrades to the 40/50 HP model. At its heart was the powerful and reliable 7,428 cc side-valve inline six-cylinder engine. Its sophisticated engineering made it a marvel of the period, featuring a shorter and stronger crankshaft supported by seven large main bearings. Precision machine work and hand-polishing of internal components ensured near-silent and smoke-free operation. Upgrades for the London-Edinburgh cars included a massive torque tube that was fitted to send power to a strengthened rear axle, and a higher compression ratio received a larger carburetor to produce even more power.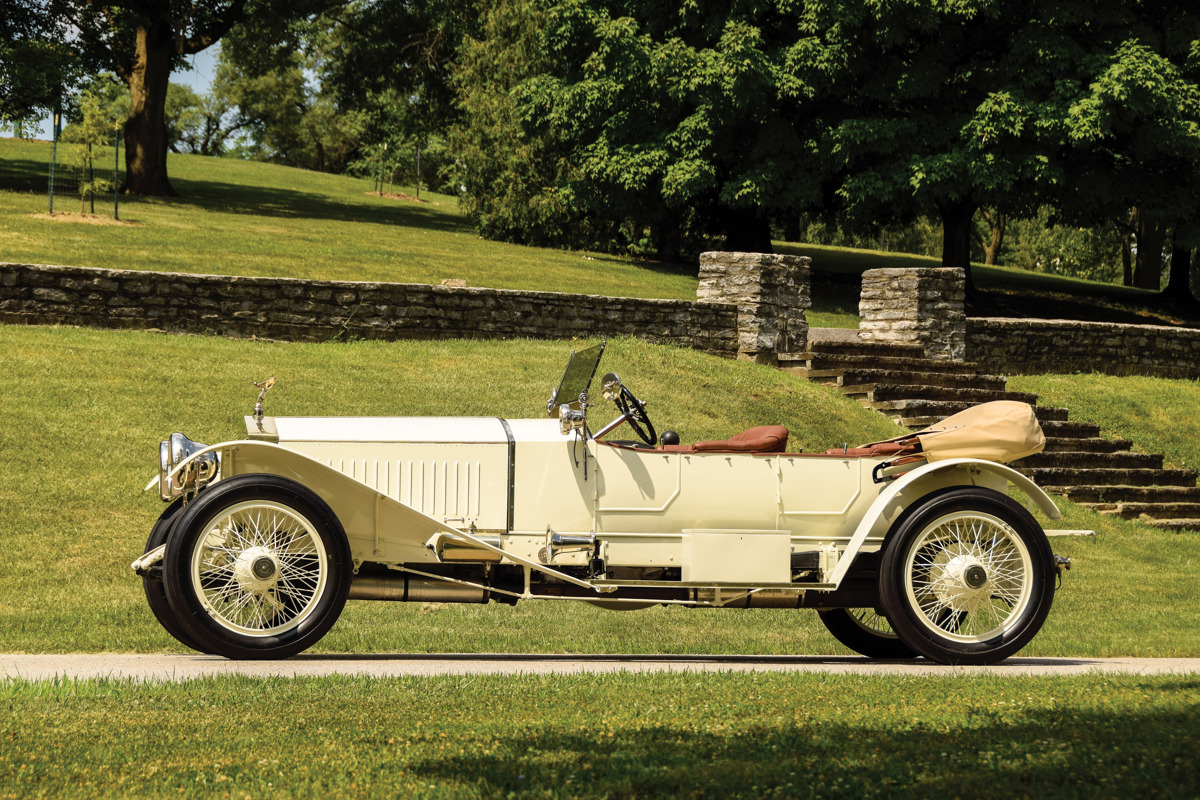 Originally fitted with a close-coupled light-touring body by Holmes of Derby, Ltd., this example has been fitted with the body that was once fitted to the original Works London-Edinburgh chassis 1701. The original build sheets show this example had been a direct copy of chassis 2148, which in itself was a direct copy of the chassis 1701 Works car. Detailed notes of the build sheet indicate it had been configured with Rudge-Whitworth wire wheels, Dunlop grooved tires, C.A. Vandervell lighting, multiple Brooks trunks, Cobra horn, speedometer calibrated in kilometers, and an additional clock. Originally finished in silver grey with ivory lines and upholstery, it was registered for a short time in the UK before being sent across the channel to Paris.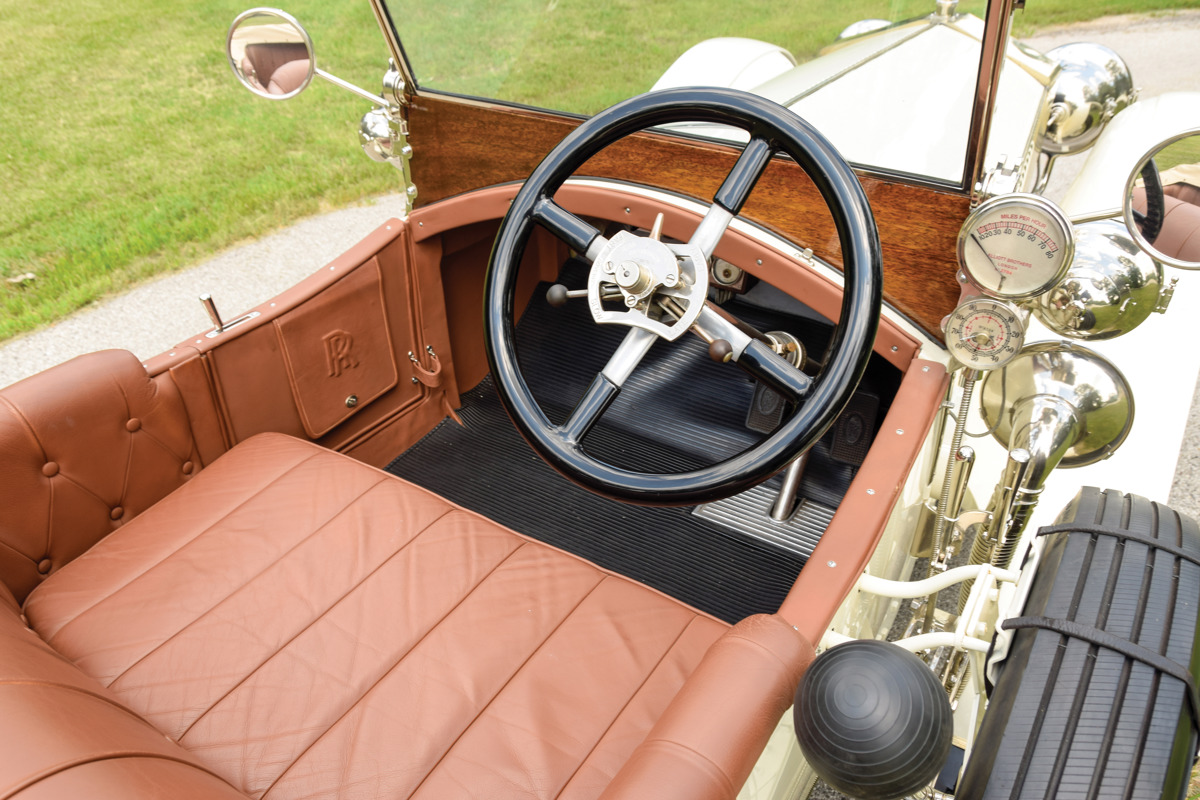 In the 1990s, the chassis was discovered by two enthusiasts in Paris who received a tip of the possible existence of a Silver Ghost in the city. As with many cars in Europe at the time, it was likely dismantled and hidden from the Germans during World War II. Following the discovery, marque enthusiast Walter Wilson of Ireland took possession of the chassis and commissioned a comprehensive rebuild with the help of James Black. It presents today in excellent condition, finished in white with tan leather upholstery and highlighted by brilliant nickel-plated fittings. As a finishing touch, its original 1913 British registration number, R 1733, was officially returned to the car.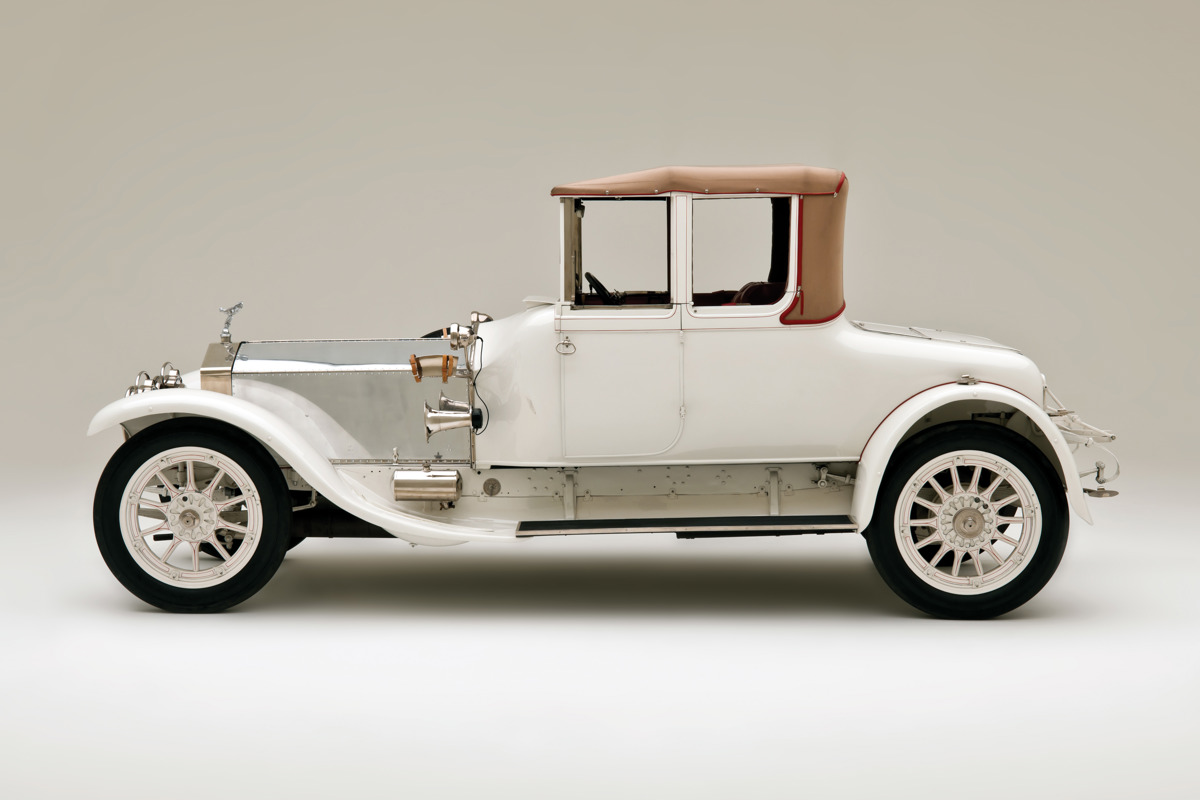 1911 Rolls-Royce 40/50 HP Silver Ghost Drophead Coupe by Barker
Estimate: $500,000 - $700,000 USD
Silver Ghosts are often found with replacement coachwork, as each successive owner would often tailor the vehicle to suit their own style and needs. This example is one of the rare examples to survive with one of these period bodies, making it among the earliest surviving Rolls-Royces with true convertible bodywork. Since 1920, chassis 1713 has remained in its current form and incredibly still retains its original numbers-matching engine.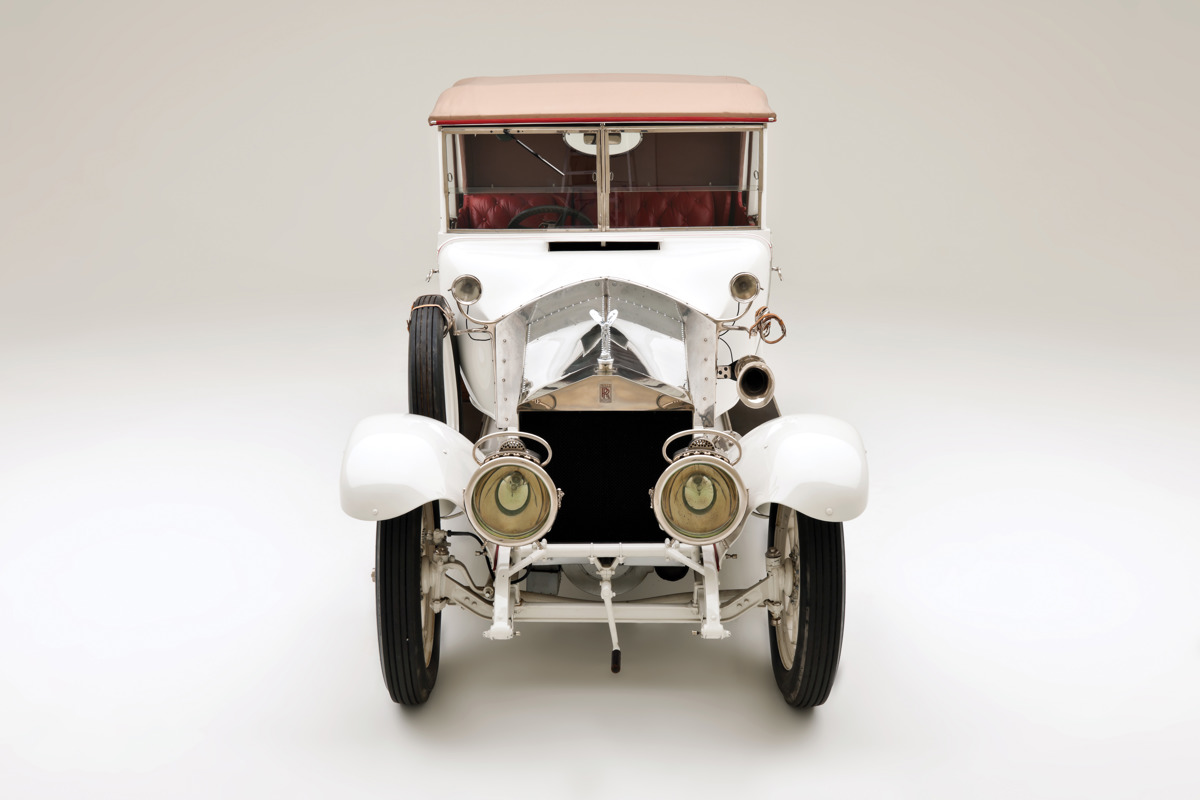 This example was slated for the Thrupp & Maberly exhibit at the 1911 Olympia Motor Show, where it was fitted with landau let bodywork. It was purchased by distinguished Canadian politician Joseph "Fighting Joe" Martin, who maintained ownership while relocating to the United Kingdom to serve as a Liberal Member of Parliament for St. Pancras East until 1918. It likely returned with him to British Columbia.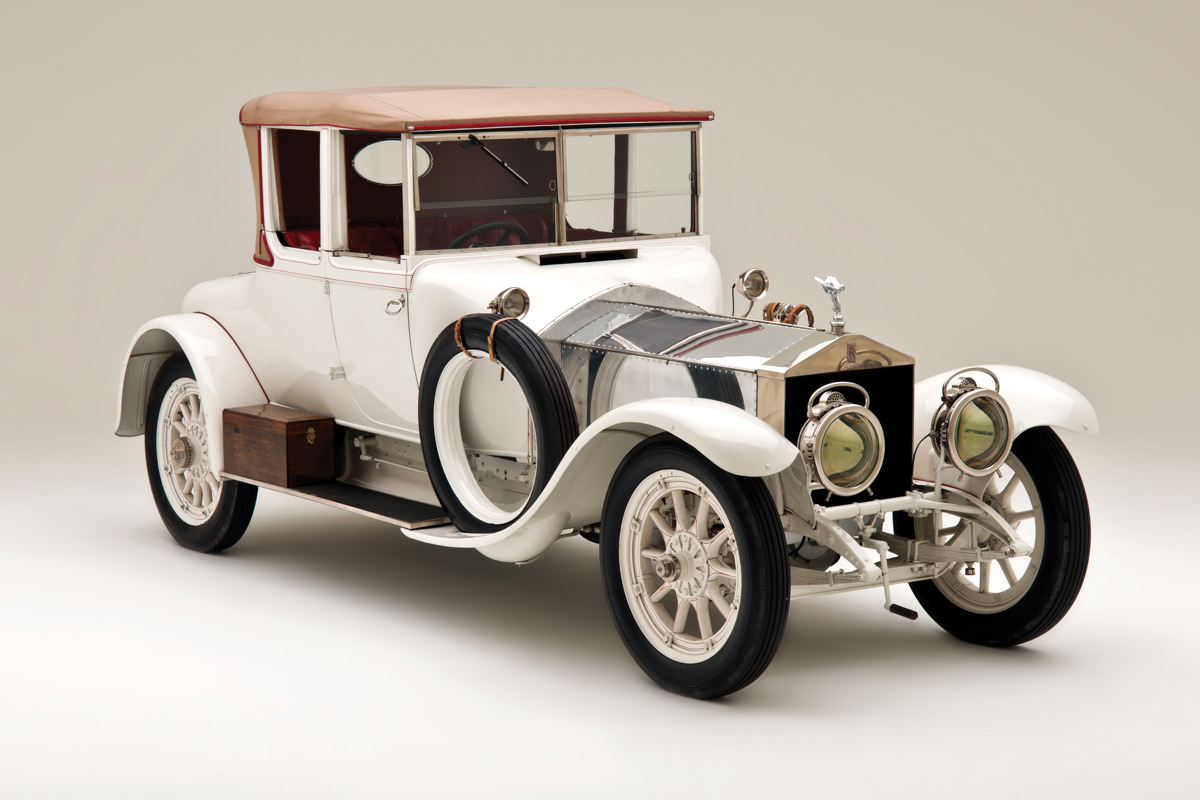 In 1920, it was acquired by R.V. Winch of Vancouver, and according to factory build records, it was fitted with its present body—a dropped coupe by Barker. It is an unusual early example of a convertible body style, where sliding carriage-style windows and removable door posts allow for open-air motoring and additional ventilation is provided by the shallow V-shaped opening windshield. The unique body style combines formal lines with the sportiness of a close-coupled two-door design.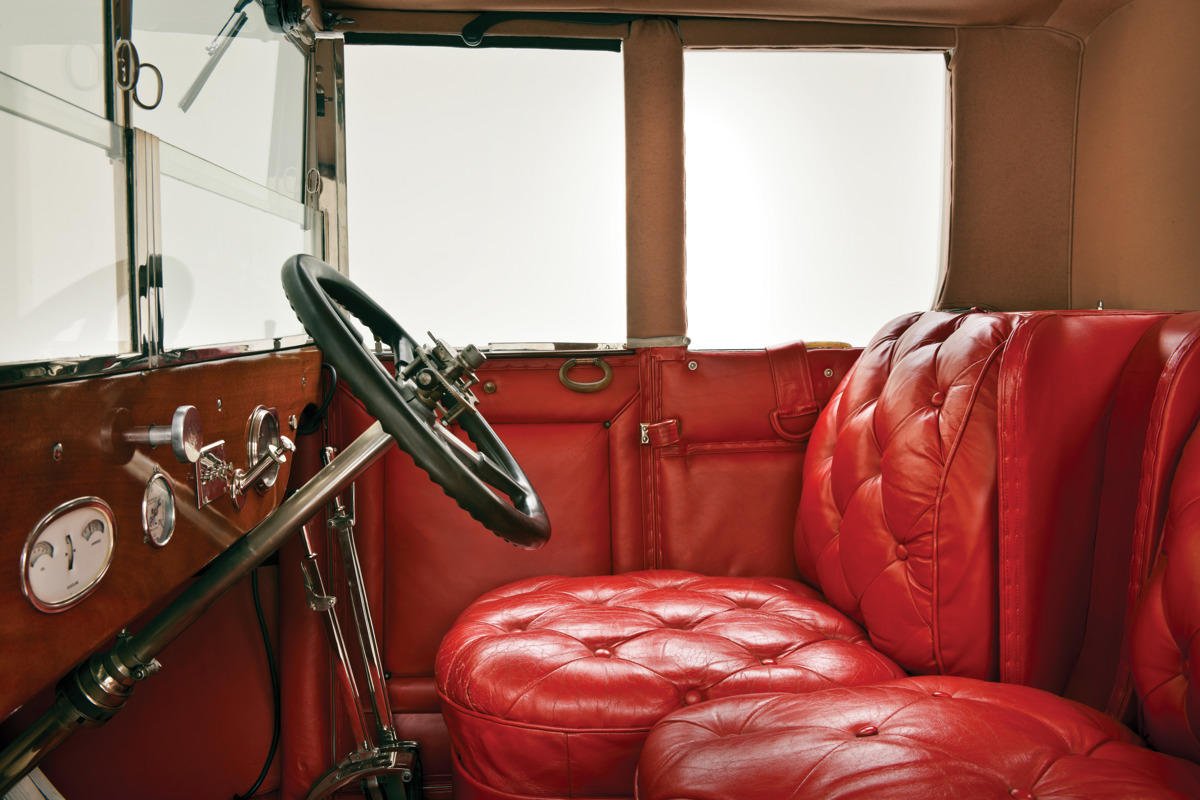 In the early 1940s, it was acquired by John P. Wallerich, one of the Northwest's most active early enthusiasts, where the Silver Ghost joined a number of other noteworthy Brass and Nickel Era automobiles. It remained in his collection for three decades, fastidiously preserved and maintained until passing on to its current owners in 1989. It presents today in cream white paint with the same dramatic polished aluminum bonnet that it was fitted with in the 1920s. Inside, charming patina adorns the staggered, overstuffed red leather seats. Period accessories include large nickel headlamps with Macbeth lenses, a single side-mounted spare, and dual running lights, while the wooden artillery wheels are painted and striped to match the coachwork.
Both examples of the Silver Ghosts would make fine entrants for both touring and rally events, where their near-silent operation and reliability can be enjoyed by their occupants in style and comfort. While very different in style, each represents a landmark in Rolls-Royce's history and remains as highly desirable and as stunning as ever.