Valued for their ephemeral rarity and aesthetic qualities alike, racing posters advance the notion that advertisements can be considered art—depending on the ad, of course. Intended initially to be temporary items to generate crowds at now-legendary endurance events, or souvenirs for attendees to remember their experience, racing posters were not often saved, stored, and preserved for future generations. Appealing to auto aficionados and those who appreciate history alike, the racing posters that do survive today represent a physical link to the past—artifacts from the golden era of motorsport.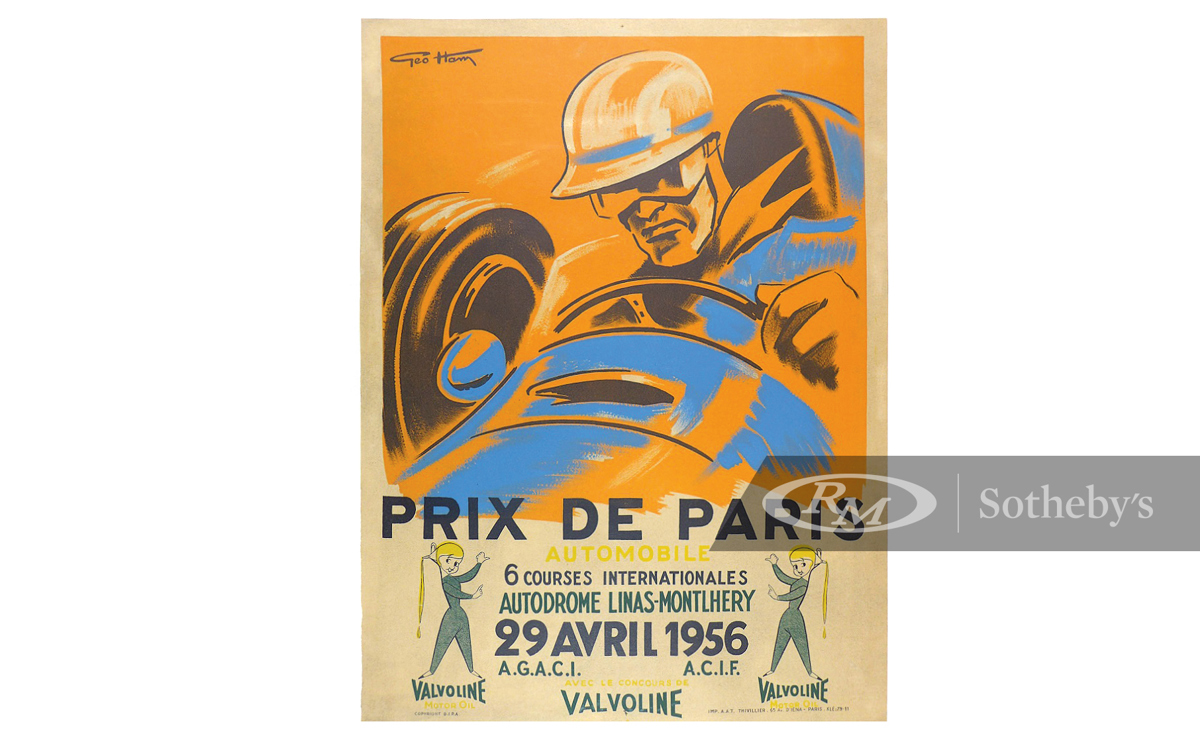 Prix de Paris, Autodrome Linas-Montlhéry, 1956
Estimate: $1,400 - $1,600. Offered Without Reserve.
Géo Ham, the designer responsible for this striking image of a driver in mid-turn, was one of the few artists to transition between designing posters for car companies to designing cars themselves. After threatening a lawsuit to stake his claim to the design, French firm Delahaye was compelled to affix badges on all remaining 135 Competition Court roadsters stating they were "Designed by Géo Ham." Though Ham was more known for his pre-war Art Deco style, this post-war race poster shows his bold designs could translate equally well in both eras. 1956 was a significant year in motor racing – the previous year's running of the 24 Hours of Le Mans resulted in an awful crash; the 1,000 km Grand Prix de Paris promoted in this poster was held under strict safety regulations and won by a Maserati 300S.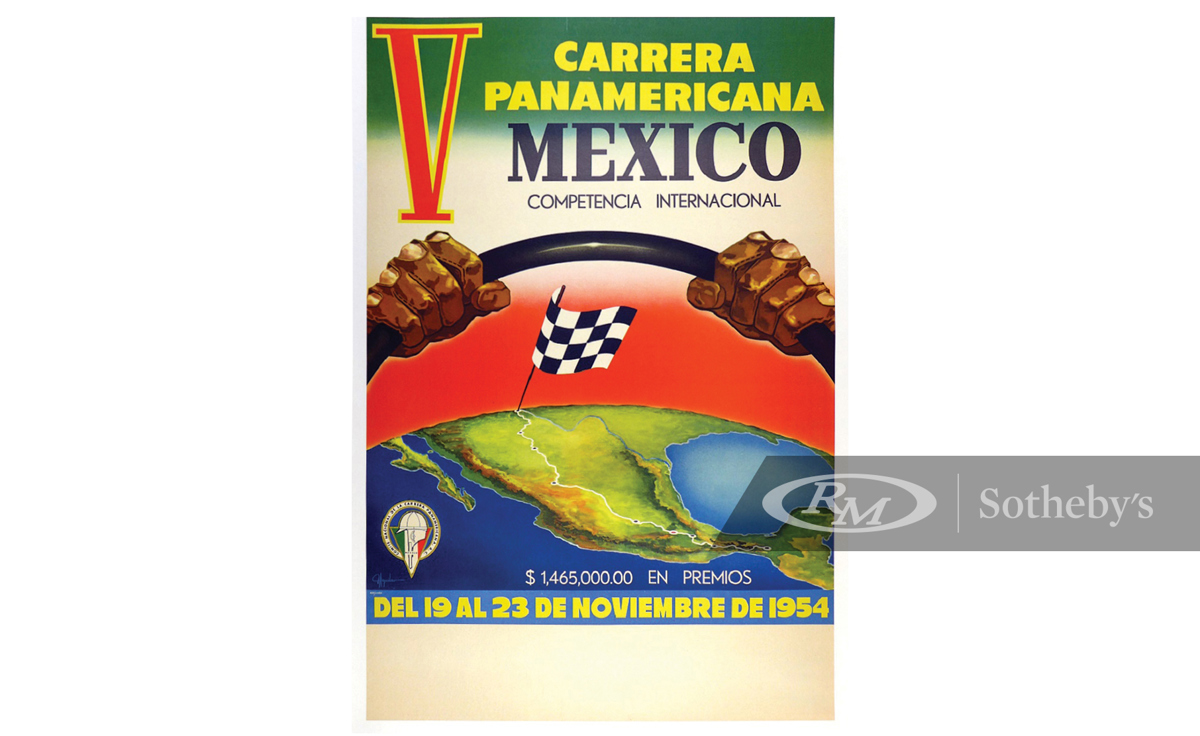 V Carrera Panamericana, Mexico, 1954
Estimate: $4,000 - $6,000. Offered Without Reserve.
This legendary endurance race developed a dangerous reputation—for the 1954 running, 150 cars started the race, and a mere 85 managed to cross the finish line. Spanning from Chiapas to Chihuahua over eight stages, the total distance for the Carrera Panamericana added up to nearly 2,000 miles, mostly on unpaved surfaces. After this year, the Mexican government decided the danger to the public was too great and discontinued the treacherous endurance race until a 1988 revival began the tradition again. As a result, this poster represents the end of an era—the last of the truly wild road races.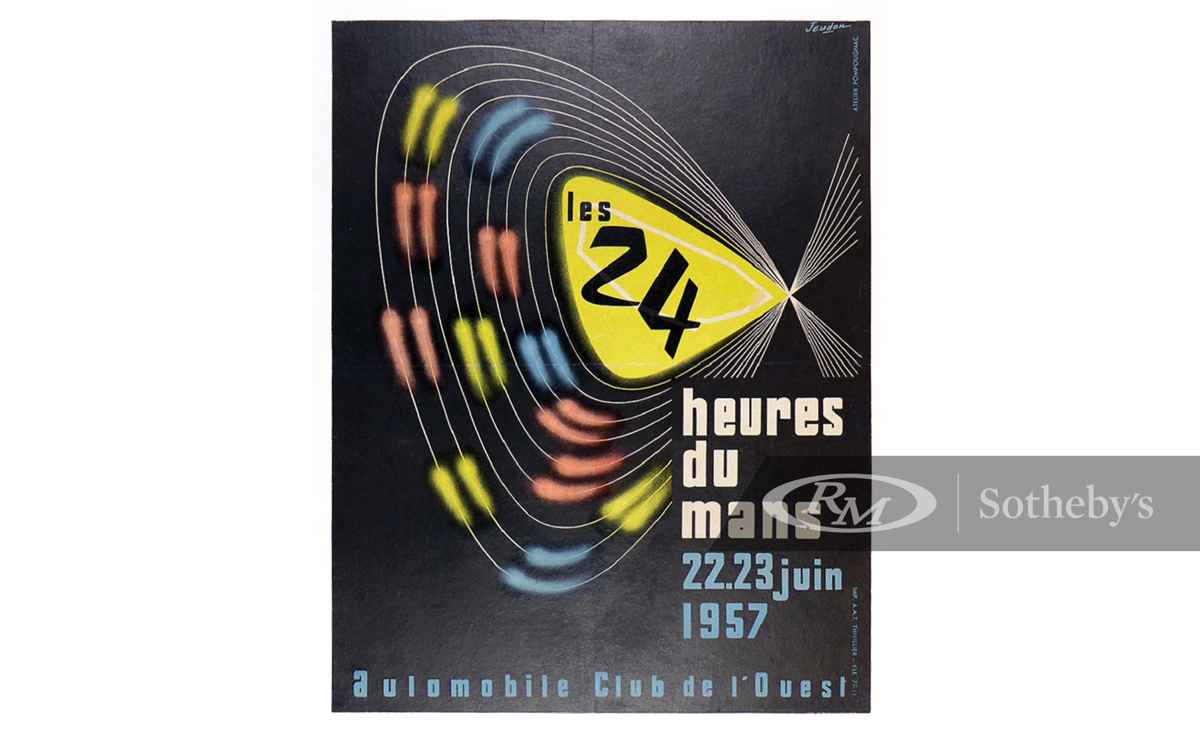 Les 24 Heures du Mans, 1957
Estimate: $800 - $1,000. Offered Without Reserve.
This abstract design, reminiscent of the passing lights of cars lapping the Circuit de la Sarthe at night, proves that racing posters do not need to directly depict automobiles to evoke all the feelings associated with racing. After the crash in 1955, the racetrack at Le Mans was redesigned with spectator safety in mind, and 1957 marked the return of the race in the lineup of the World Sportscar Championship. Perhaps this poster's opaque design has something to do with the unpredictability surrounding the race that year—with the factory Jaguar team officially withdrawing after the 1956 season, and Ferrari and Maserati fighting for the championship, who could have predicted that the Le Mans leaderboard in 1957 would nonetheless be dominated by Jaguar D-Type? That year, private race teams, including Ecurie Ecosse, took five of the top six places at Le Mans—the best result ever for the D-Type.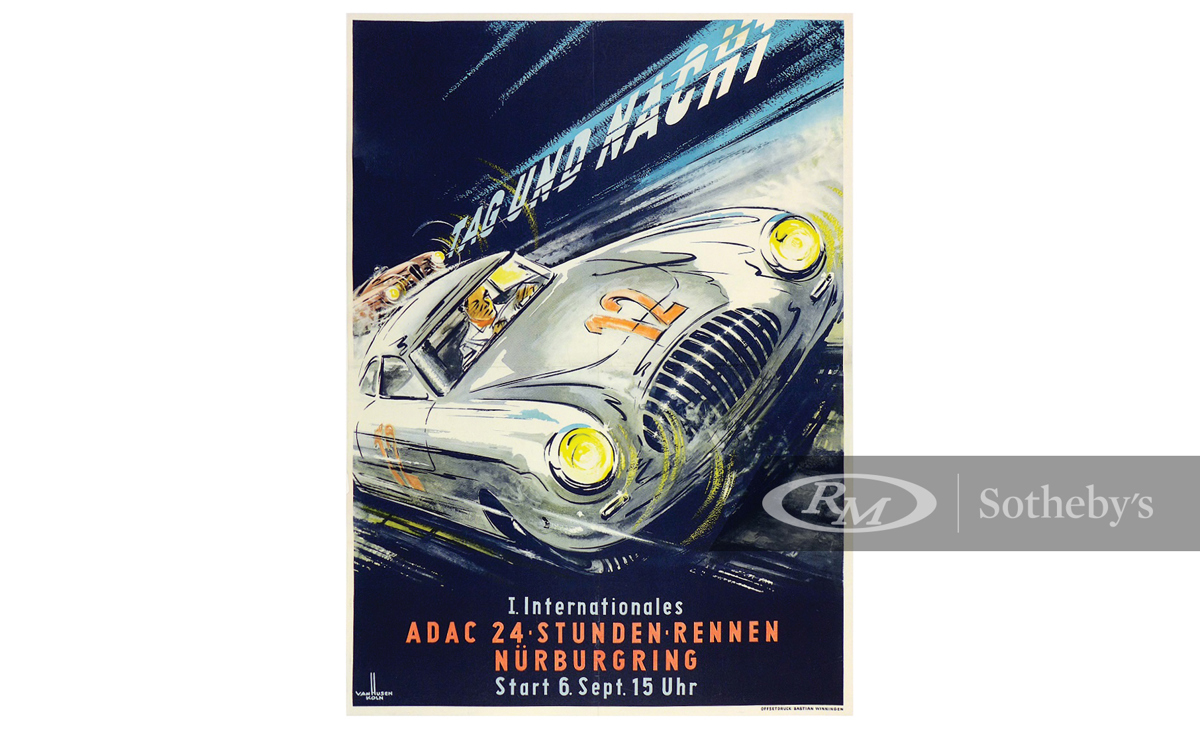 Tag und Nacht, ADAC 24 Stunden Rennen Nurburgring, 1953
Estimate: $1,800 - $2,200. Offered Without Reserve.
Depicting the steep "carousel" walls of Germany's Nurburgring, this poster's title "Tag und Nacht" translates to "Day and Night," which captures the total effort necessary to win this grueling 1,000 km race. 1953 marked the first running of the event as part of the World Sportscar Championship, the forerunner to the FIA World Championship. The artist, Van Husen, created several well-known automotive posters commemorating German races in the 1950s and 1960s and had a signature style that emphasized the speed of the cars depicted. Though some of the artist's later work leaned more abstract, this early example manages to be at once both restrained and thrilling.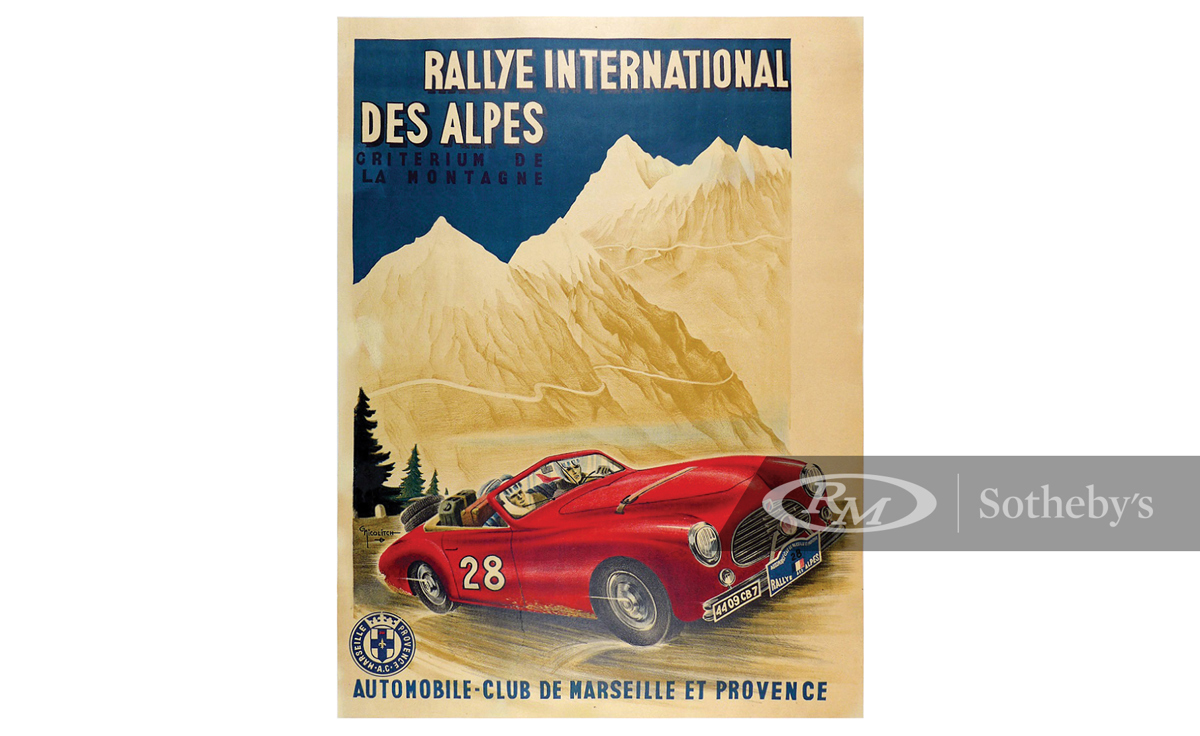 Rallye International des Alpes, ca. 1950s
Estimate: $2,000 - $3,000. Offered Without Reserve.
Perhaps the least abstract of our selections, this large-format 30.7 inch by 22.9-inch poster depicts a driver and his navigator speeding over an Alpine mountain pass, though few racetracks could claim to produce similar scenery. The Alpine Rally (also known as the Coupe des Alpes) was essentially an international tour of famous mountain passes in Germany, Austria, Switzerland, and Italy. In the early 1950s, it was regarded as one of the most prestigious races in the world. The red sports car shown appears to take design cues equally from Cisitalia, Siata, and Simca—overall winners of the Alpine Rally came from a diverse array of manufacturers from Alfa Romeo to Austin-Healey and even including Mini. The rally even inspired a marquee of its own—the car brand Alpine derives its name from this race.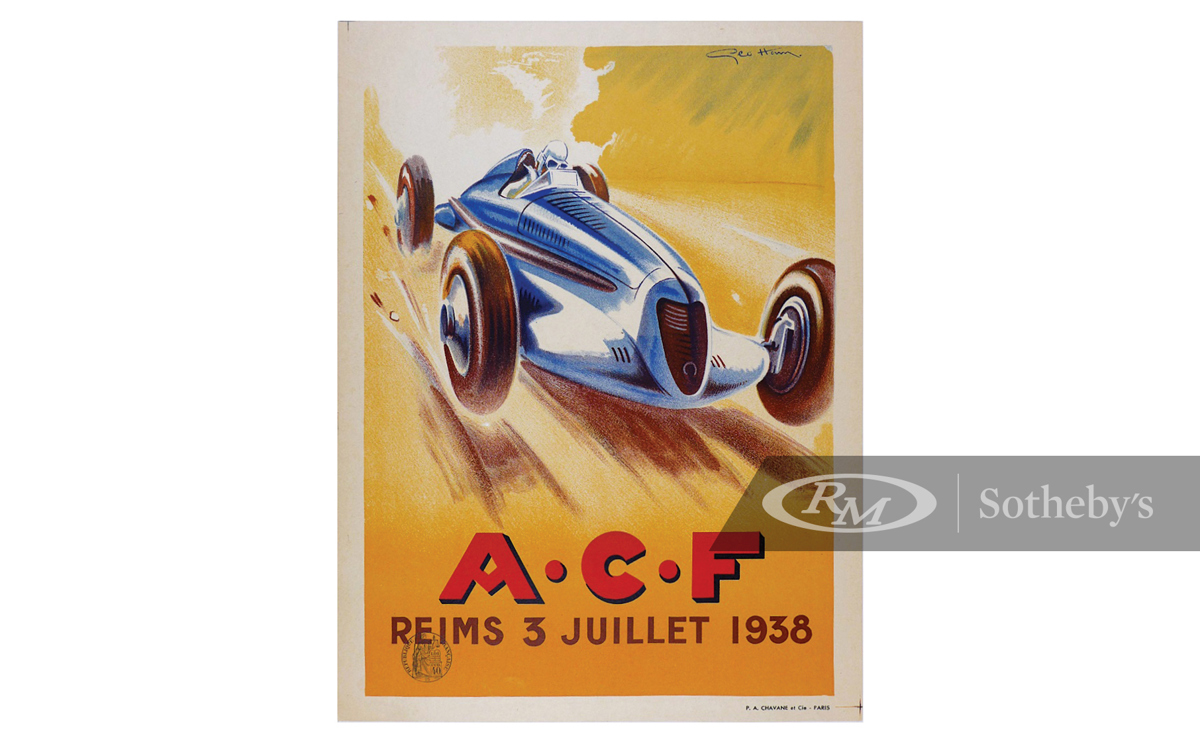 A.C.F., Reims, 1938
Estimate: $2,500 - $3,500. Offered Without Reserve.
Ending where we began, this masterful pre-war work by Géo Ham shows how streamlining was both an artistic movement and an engineering advancement. Scientific studies on aerodynamics were still relatively in their infancy before World War II; the "teardrop" style shapes that Ham and other illustrators were creating were meant to evoke the natural world. This rakish race car is likely intended to be a Talbot T26SS, which made its debut at the French Grand Prix the previous year, which was noteworthy for its lightweight body style and aerodynamic cycle-style fenders. Some things never go out of style.