Prior to the outbreak of World War II, the automobile was reserved as a luxury for a select few. During this time, automakers competed to win the patronage of the wealthy elite, creating vehicles that featured revolutionary advances in engineering and enlisted the use of the finest materials and craftsmen available at the time. Throughout this era, numerous marques would form and many would disband, but not without leaving their marks in motoring history and changing the course of the automobile for decades to follow.
Scroll down to explore eight pre-war classics from the diverse selection of automobiles offered from RM Auctions' Auburn Fall collector car auction.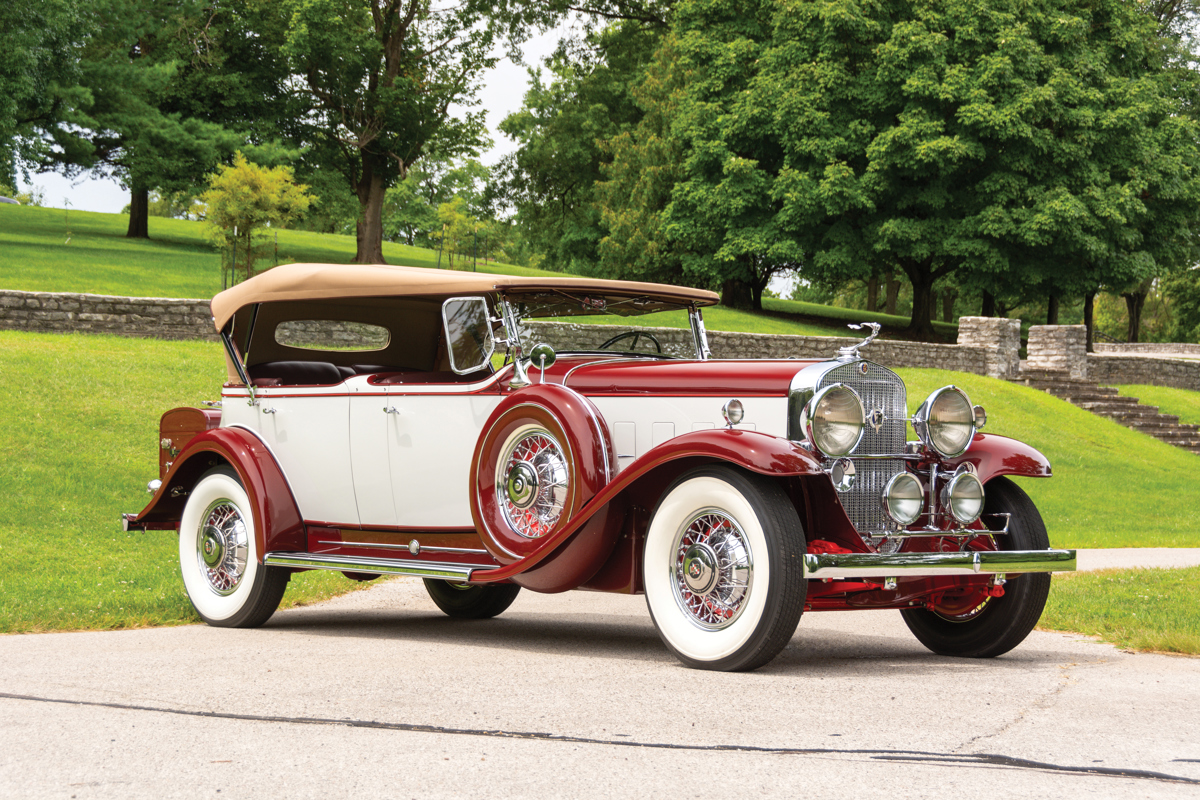 1931 Cadillac V-12 Phaeton by Fleetwood
Estimate: $225,000 - $275,000 USD
Based on the design of the V-16 introduced in 1930, Cadillac produced a V-12 engine with the same overhead-valve architecture, with superior power over the eight-cylinder offerings and lighter weight than the V-16. Harley Earl's Art and Color department was tasked with styling, resulting in the beautiful Fleetwood-constructed body of this superbly restored example, as well as the luxurious Fleetwood-trimmed interior. This example is believed to be one of only a few known surviving Fleetwood phaetons built on the Series 370 chassis, as verified by factory build records. It presents today as still crisp and well detailed following the care of passionate and knowledgeable collectors, and it is a prime example for concours events or CCCA driving tours.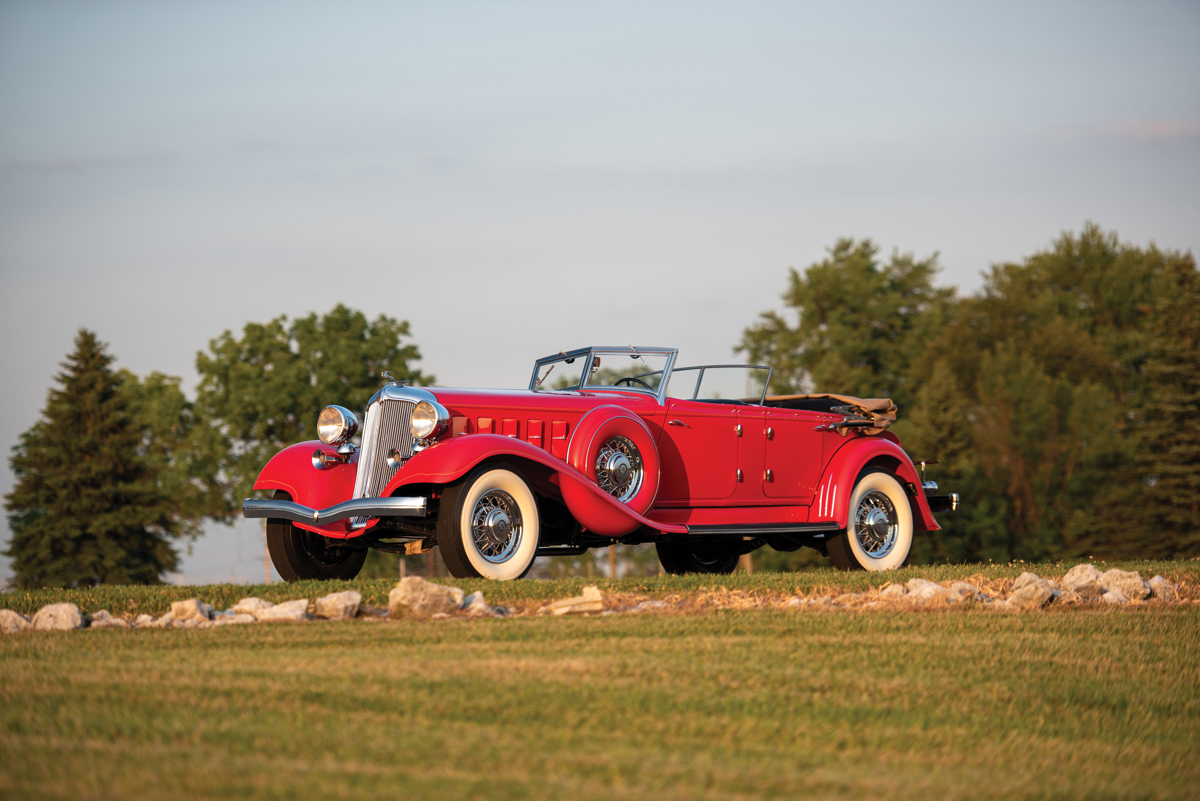 1933 Chrysler CL Imperial Dual-Windshield Phaeton by LeBaron
Estimate: $225,000 - $275,000 USD | Offered Without Reserve
This spectacular CL Imperial Dual-Windshield Phaeton is one of only 20 authentic survivors and has an incredible history from new. Boat-racing legend Lou Fageol took delivery in 1933 and, after just a year of ownership, had his shop fit a Cadillac V-16 engine and adjust the suspension to compensate for the massive engine. Its next owner was Hollywood film actor Turhan Bey, and later, legendary collector Jack Passey. Under the ownership of Laurence "Baron" Dorcy, the correct hood and period-correct CH Imperial engine were installed. This example is well-known to Chrysler Imperial enthusiasts and has been well documented throughout the decades; it is an excellent opportunity to enter into American Classic ownership.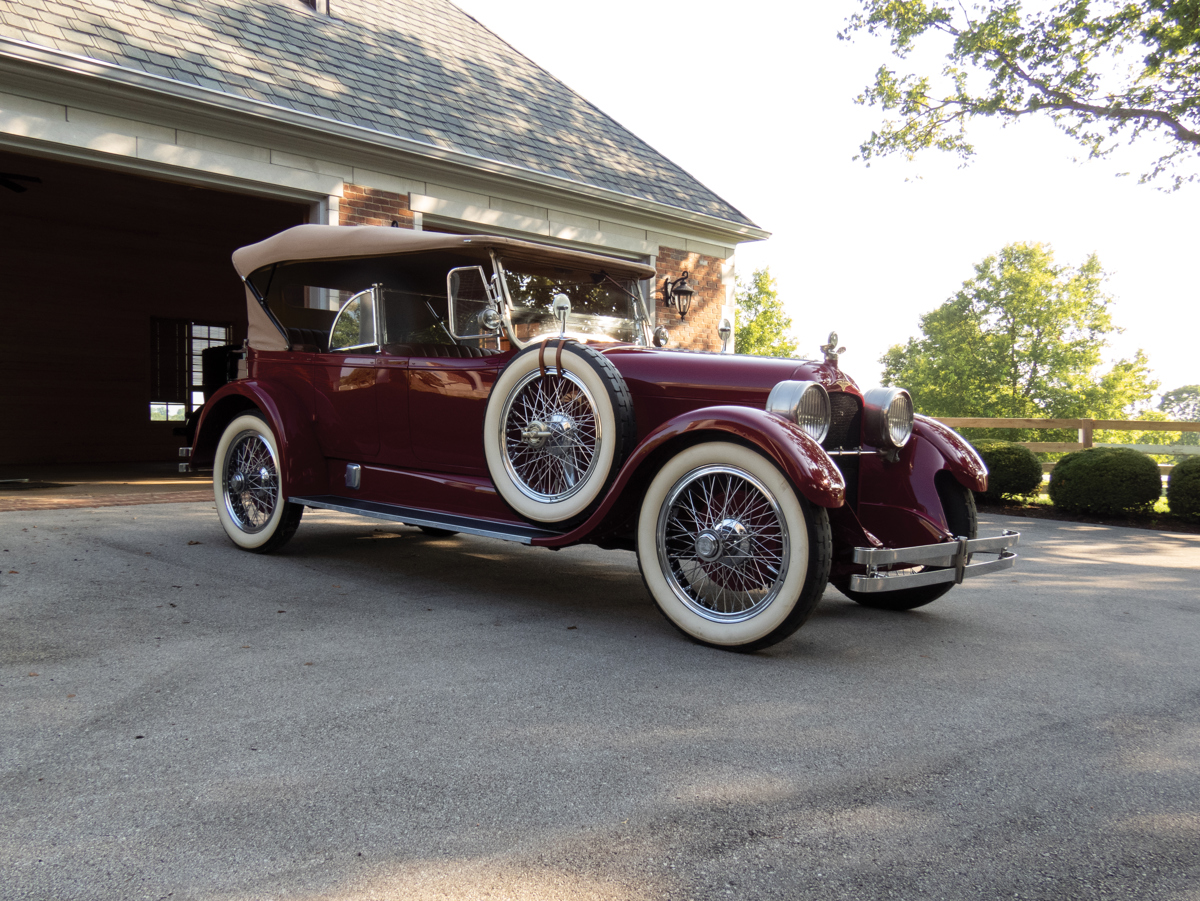 1923 Duesenberg Model A Sport Touring by Rubay
Estimate: $200,000 - $250,000 USD
The touring bodies for the Model A produced by Leon Rubay & Company of Cleveland, Ohio, were known for their rakish lines, fitting for the Duesenberg brothers' race-inspired technology incorporated into the marque's passenger vehicles. This well-preserved Rubay-bodied sport touring model was restored in-house by Dave and Fred Weber in the mid to late 1980s to its striking vermillion color scheme with Rudge-Whitworth chrome wire wheels and folding tonneau windshield. It retains its original engine, chassis, and coachwork. It has been certified as a Category 1 Original Car by the Auburn-Cord-Duesenberg Club and would make an excellent addition to any ACD enthusiast's collection.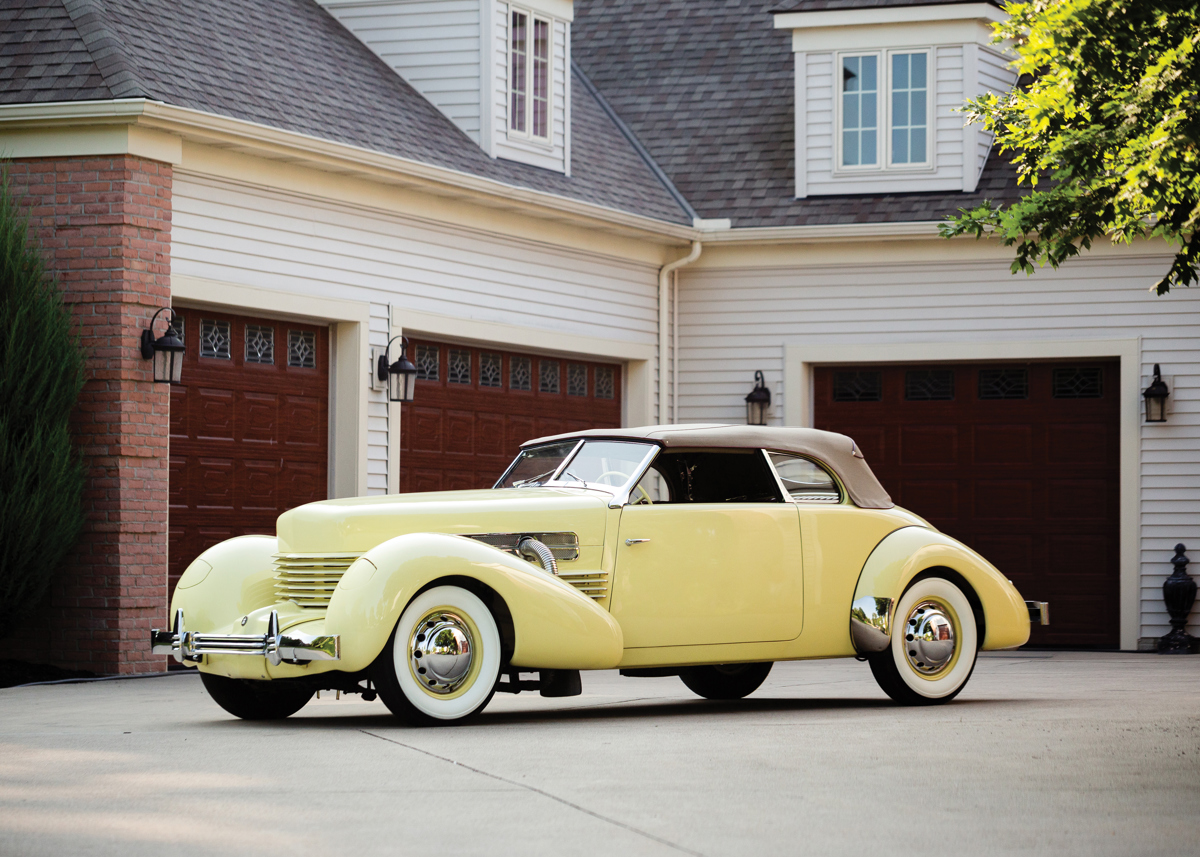 1936 Cord 810 Phaeton
Estimate: $140,000 - $170,000 USD
When the "new Cord" was introduced at the New York Auto Show in November 1935, the crowd clamored to catch a glimpse of Gordon Buehrig's stunning new automobile styling, which forwent the traditional radiator shell, exterior mounted hinges, running boards, and headlights for a streamlined and advanced new shape. In following the L-29's pioneering technology, the Lycoming V-8 powered the front wheels through an electronically shifted pre-selector transmission located off the steering column. It was restored to its long-term owner's exacting standards in Cigarette Cream with dark red interior and added 1937-style side exhausts. It is one of only nine to be fully certified as a Category 1 Original Car by the Auburn-Cord-Duesenberg Club and has been honored with the AACA Senior First Prize with reportedly 397 out of a possible 400 points.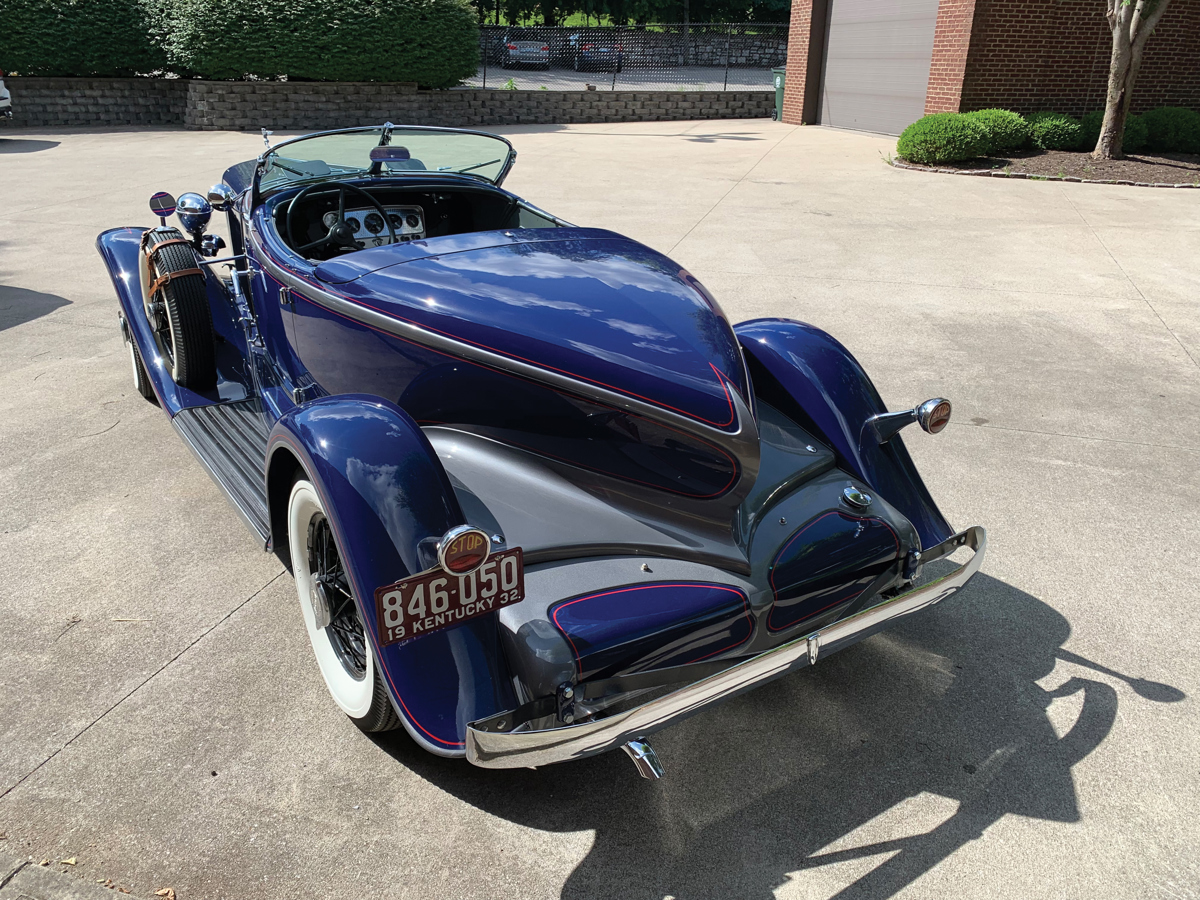 1932 Auburn 8-100 Boattail Speedster by Glenn Pray
Estimate: $100,000 - $120,000 USD
Glenn Pray was an enthusiastic ACD enthusiast—a schoolteacher in Oklahoma who restored Cord automobiles in his spare time. In 1960 he acquired the Auburn-Cord-Deusenberg company and became the foremost dealer of the original parts, ensuring they'd be available as they were through the 1940s and 1950s. Pray also introduced modern versions of the famed originals, reintroducing them as "second generation." This example was once Glenn Pray's personal car, constructed on an original Auburn chassis with a fiberglass Boattail Speedster body, and is tastefully appointed with desirable Woodlite headlamps, whitewall tires, and knock-off wire wheels.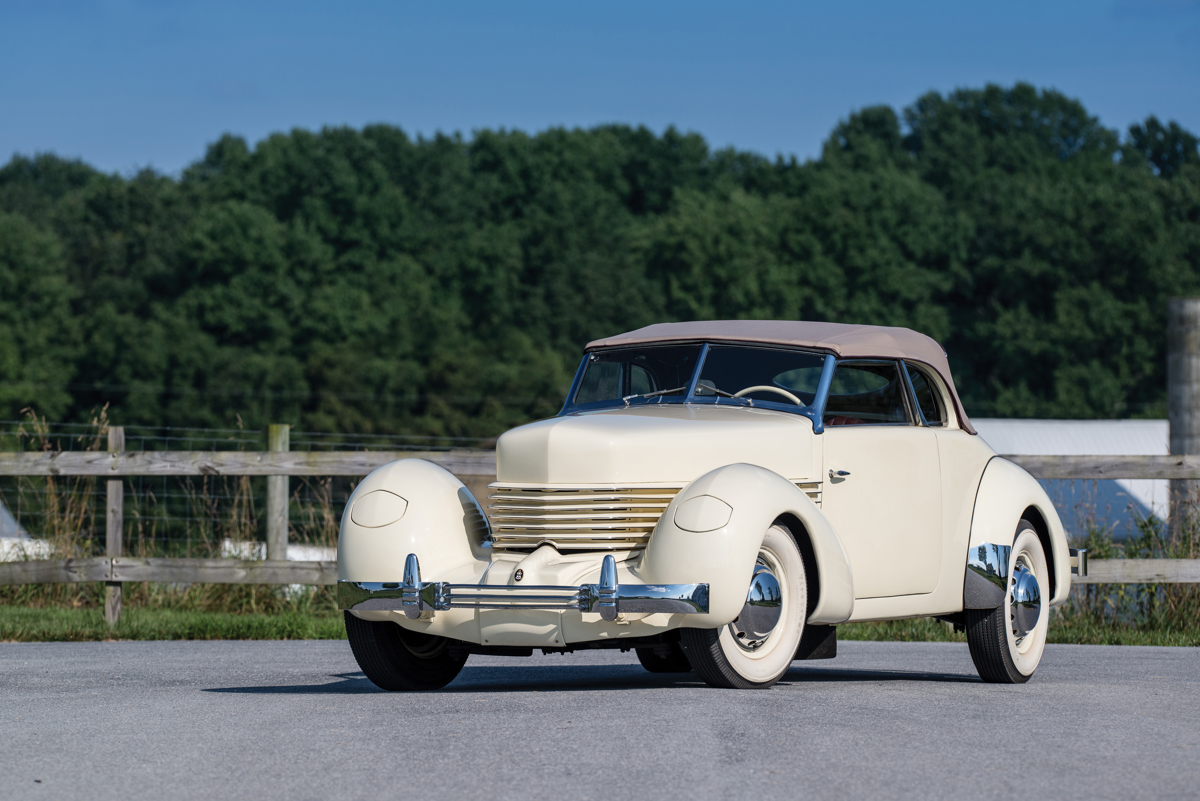 1937 Cord 812 Phaeton
Estimate: $130,000 - $160,000 USD
The eventual successor to the groundbreaking L-29, the Cord 812 was fitted with an advanced front-wheel drivetrain and a 288-cubic-inch Lycoming V-8 engine mated to an electronically shifted pre-selector four-speed transmission. The Gordon Buehrig–designed body featured a louvered "coffin" hood, retractable headlights, and long teardrop fenders with the absence of running boards. This example was restored in the late 1990s in the correct Cigarette Cream with dark Burgundy upholstery, and it is among the most attractive of the 612 convertible phaetons produced. With only 1,524 miles on the odometer, this CCCA Full Classic is a perfect candidate for CARavans and judged shows.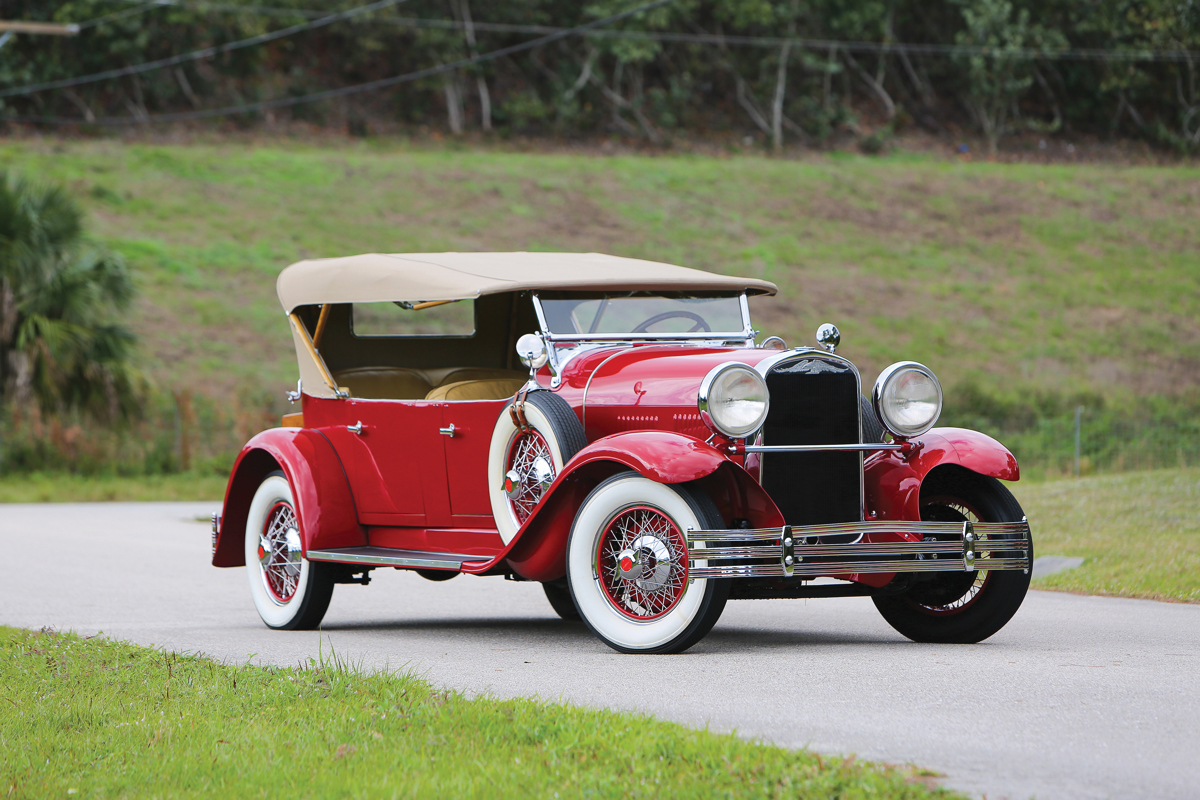 1929 Kissel 8-95 White Eagle Tourster
Estimate: $60,000 - $70,000 USD
Among the marques which came and went during the early days of American motoring, Kissel was the pride of Hartford, Wisconsin, and its cars were considered to be some of the finest American cars produced at the time. Of the 35,000 cars built, approximately 150 remain extant today. This example is the only known 1929 Tourster to have survived. It was fully restored to original condition under the ownership of Ed Gibbs, a noted Kissel enthusiast, and acquired by Joe Koller in 1991 for the sum of $200,000. It remained in his collection and was regularly serviced, maintained, and displayed as a treasured showpiece for two decades. It is one of the finest Kissels to have been offered in recent years and is an opportunity to acquire the rarest of the rare.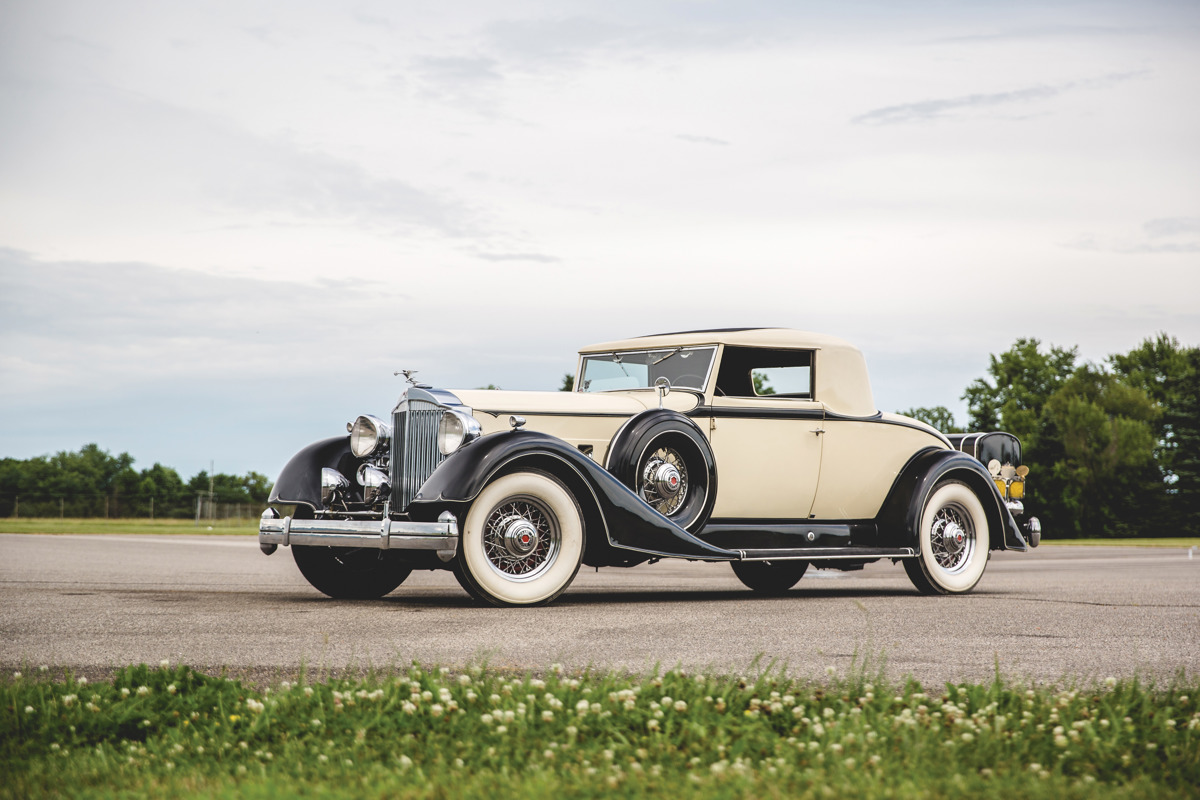 1934 Packard Super Eight Coupe
Estimate: $90,000 - $110,000 USD
Though Detroit is known as the home of Packard, by 1931 Packard models were being assembled in Canada in an effort to reduce the export tariffs on cars being sent to England and European countries. The Canadian-made Packards are significantly rarer than the American-made examples, such as this Super Eight Coupe. It is one of only 1,920 built for 1934 and is said to have been purchased new in Canada by the nephew of an Italian dignitary and shipped to Italy only to be smuggled back to Canada upon the outbreak of World War II. It was confiscated as contraband by Canadian authorities after allegedly being tipped off by his uncle. Today it presents beautifully and has been in the long-term care and ownership of a prominent private collection. It is now fully legal and licensed in the United States.