RM Sotheby's Fort Lauderdale auction will be offering over 70 vehicles from the 1950s, all representing this wonderful decade of innovation and style.
The long-suppressed demand of the automobile caused by the Great Depression and World War II was met with an explosion of production and a styling shift influenced by the Jet Age. Mass production dramatically increased the speed in which the automobile could be manufactured, and this led to automobile manufacturing becoming the largest industry segment in the US at this time, leading to lower vehicle prices while simultaneously growing the US into an economic superpower.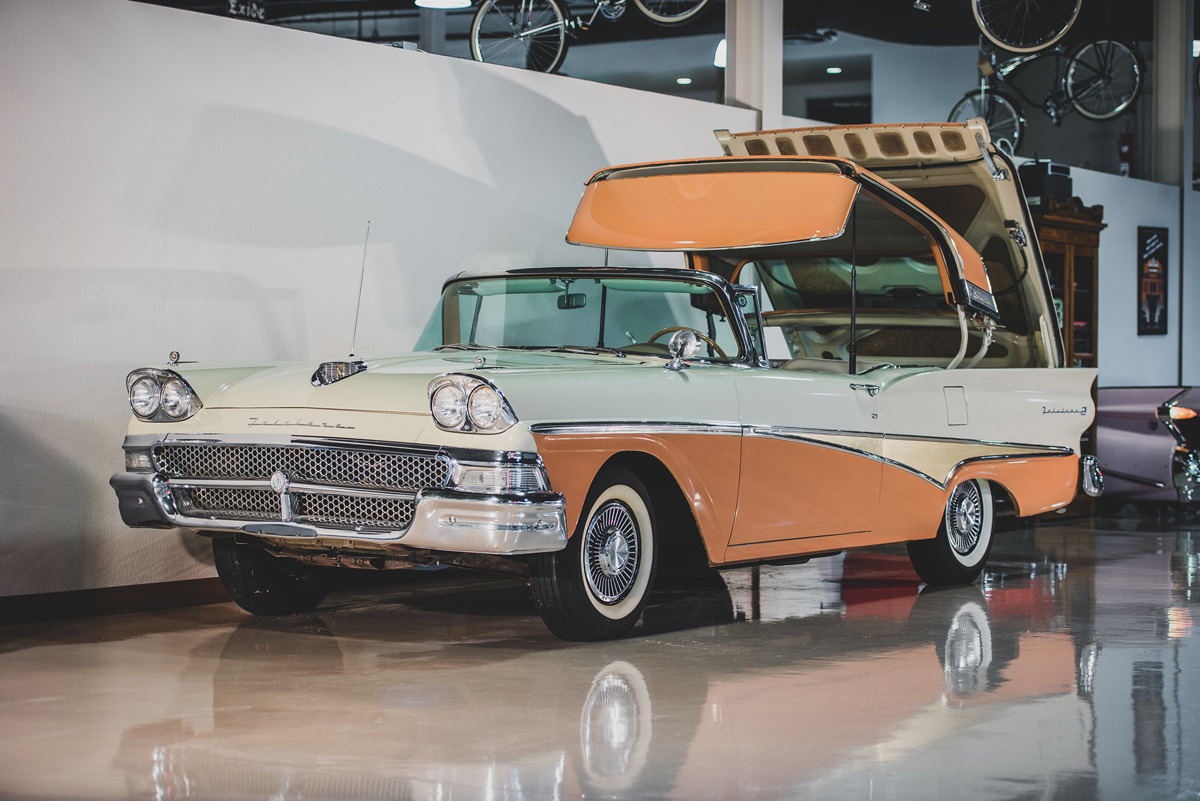 1958 Ford Fairlane 500 Skyliner
Estimate: $50,000 - $60,000 USD
Automobiles in the 1950s saw many refinements over previous decades to improve safety and comfort, as car ownership became more commonplace and the growth of the suburbs led to people driving further distances on a regular basis. While the first automatic transmissions were introduced in the 1930s, the 1950s saw the automatic transmission become dominant in passenger vehicles. GM's Powerglide two-speed transmission was one of the most influential offerings, with Ford following suit in creating and producing its own inexpensive automatic transmission to accommodate the torque of the large V-8s used in Lincoln cars.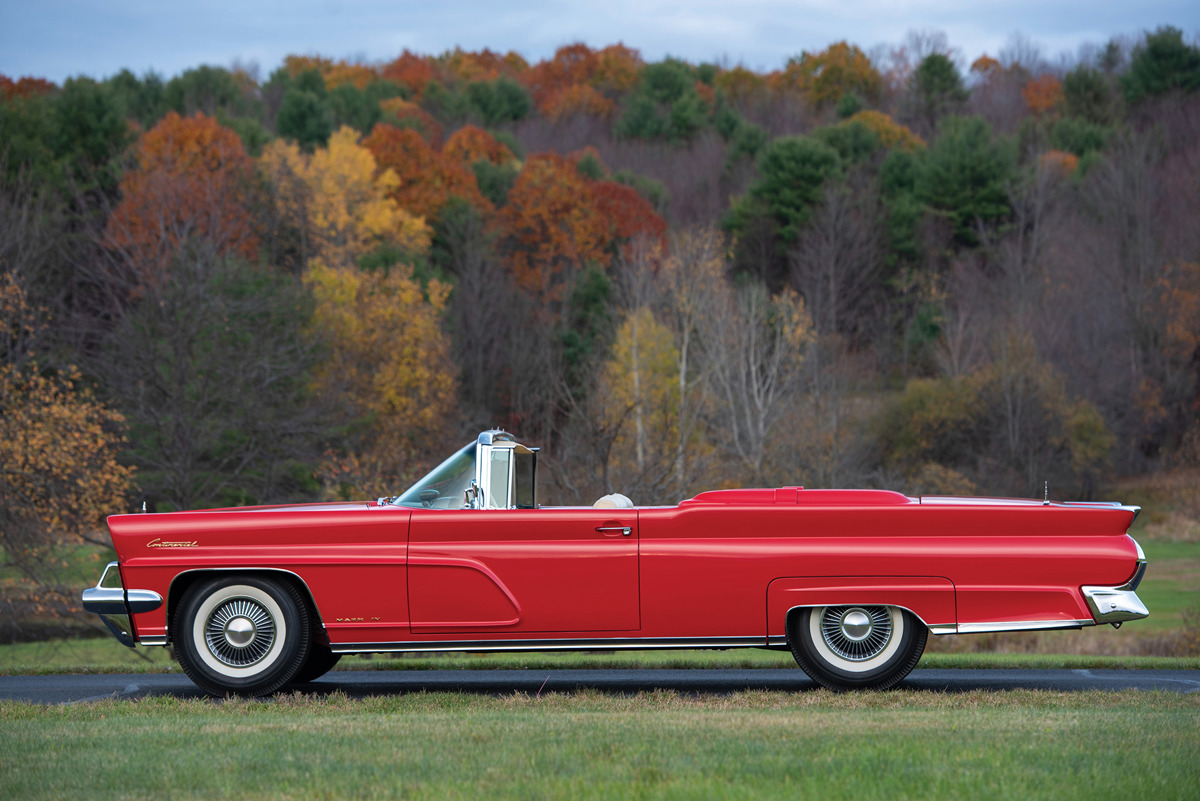 1959 Lincoln Continental Mark IV Convertible
Estimate: $60,000 - $80,000 USD
As the network of roadways expanded, naturally the average travel speed increased and exposed the limitations of pre-war suspension design. By 1950, solid front axles had largely been replaced by independent front suspension systems. The use of a ball joint type of suspension allowed for greater adjustability and a variety of methods of supporting the vehicle in the form of leaf springs, torsion bars, and coil springs. Utilization of shock absorbers paired with the newer suspension designs further increased comfort and safety at highway speeds.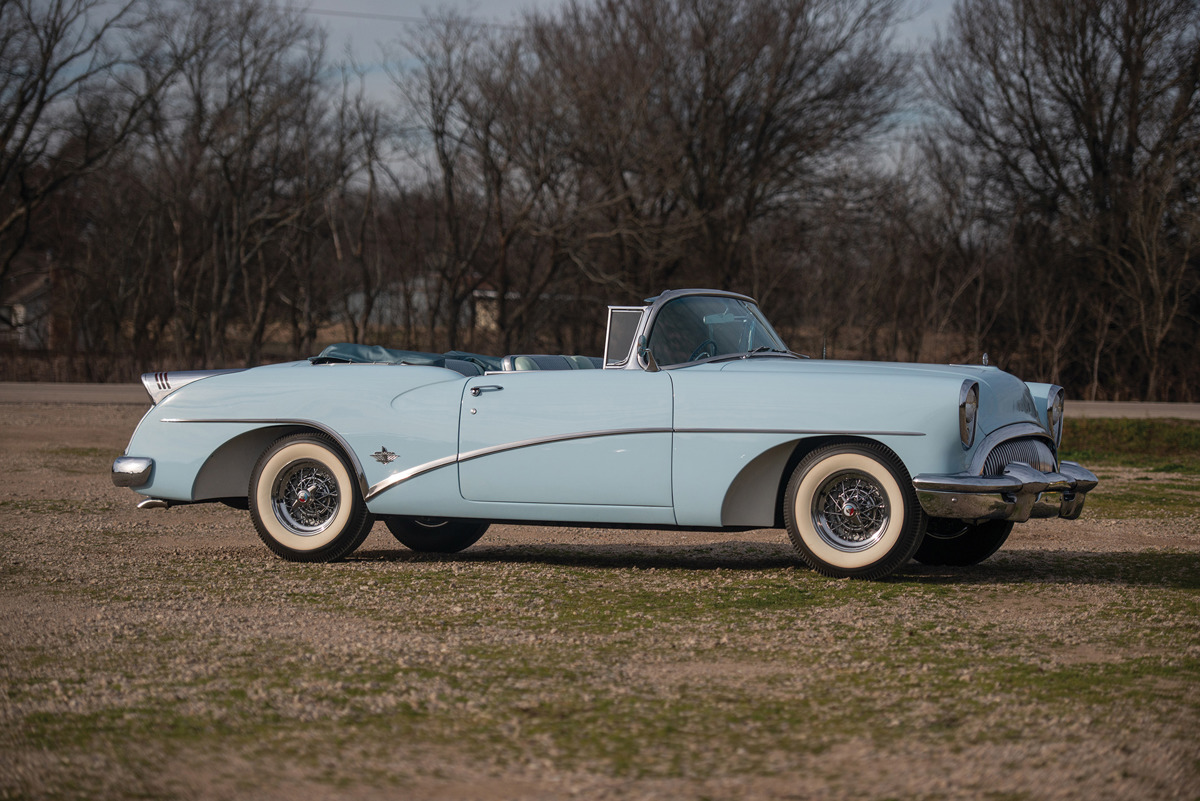 1954 Buick Skylark Convertible
Estimate: $120,000 - $150,000 USD
Nineteen fifty-eight saw the first air suspension systems that replaced metal coil springs with an air bladder, but these systems proved to be troublesome and were discontinued until decades later. Power-assisted steering systems were introduced for commercial passenger vehicles in early 1951, first on the 1951 Chrysler Imperial with Cadillac following suit in 1952 and offering hydraulic power steering as an option. Two years later, Cadillac would be the first manufacturer to offer power steering as standard equipment.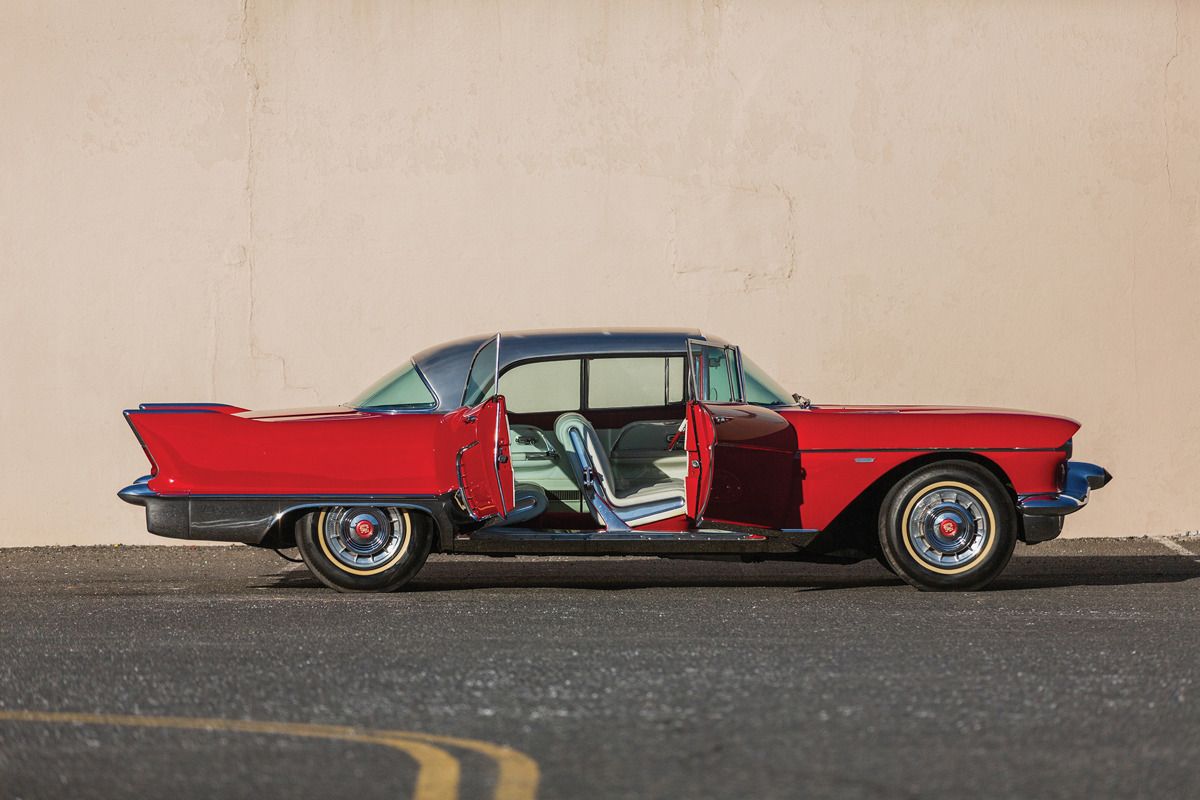 1957 Cadillac Eldorado Brougham
Estimate: $100,000 - $125,000 USD
The V-8 engine was not new technology but would become commonplace in the newer, heavier production vehicles at a relatively modest price point. Each of the Big Three American manufacturers created an iteration of an overhead-valve V-8 engine early in the decade. Studebaker began developing its overhead-valve Commander V-8 in 1947, with the first production units installed in late-model year Commanders. Various displacements would appear throughout the 1950s, with a 289-cu. in. version in production in 1956.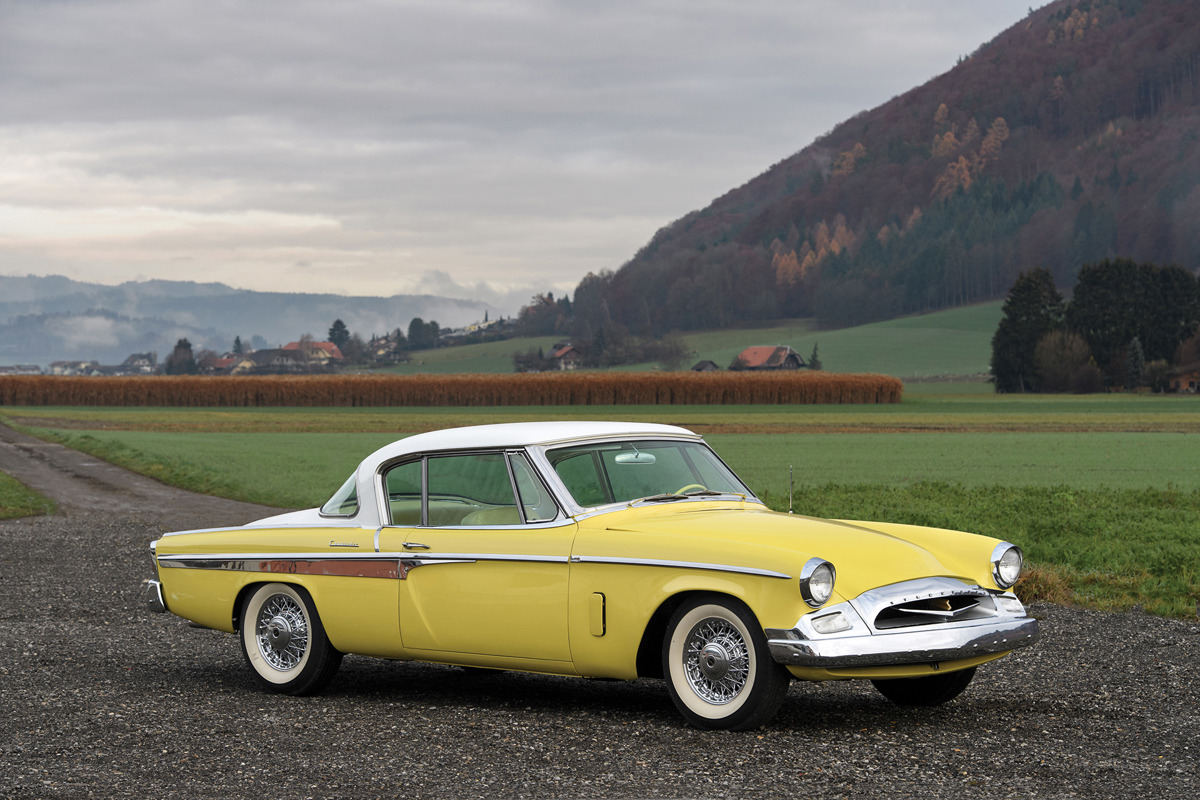 1955 Studebaker Commander Regal Hardtop
Estimate: $35,000 - $50,000 USD
Chrysler's "Firepower" V-8 utilized hemispherical combustion chambers producing 180 hp at 4,000 rpm, and by 1959 was producing 375 hp from a 413 CID engine for its Chrysler 300. Ford and Lincoln introduced Y-block engines for its luxury lines in 1952, until being phased out by the Windsor engine in 1962.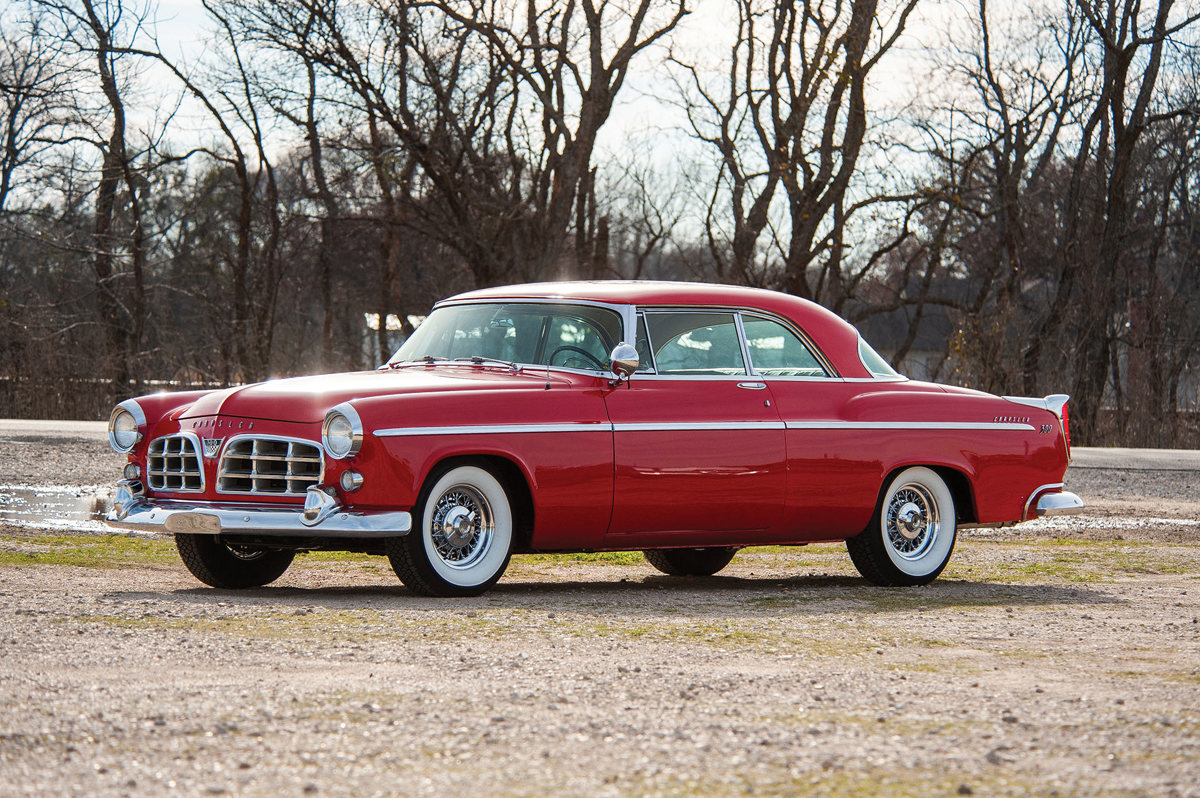 1955 Chrysler C-300 Hardtop Coupe
Estimate: $70,000 - $80,000 USD
GM's 265-cu. in. small block engine was released for the 1955 model year, with a two-barrel carburetor version producing 162 hp, and a four-barrel version featured in the 1955 Corvette produced 195 hp. By 1957, the displacement grew to 283 cu. in., including a fuel-injected version producing 283 hp, the first engine of the era to have a 1:1 hp per cubic-inch ratio.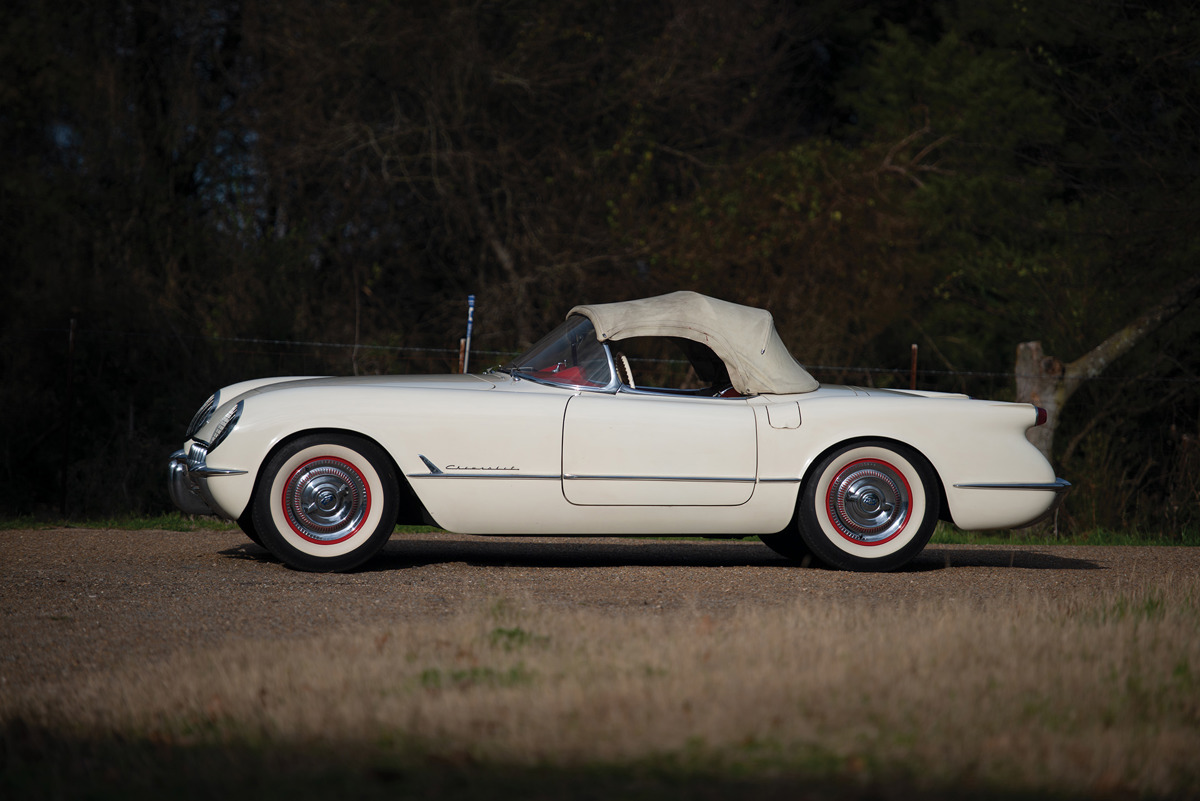 1954 Chevrolet Corvette
Estimate: $70,000 - $90,000 USD
Unibody construction would become more widely embraced during the 1950s, making vehicles more rigid for better handling characteristics and quieter than coachwork over chassis construction. Design would reflect the Jet and Space Ages, drawing influence from rocketry and aviation. Pioneering designers such as Harley Earl and Virgil Exner would play a part in the appearance of tail fins on vehicles, reminiscent of those found on aircraft. Faux turbine shapes and afterburner-like taillights would also reference the aviation theme.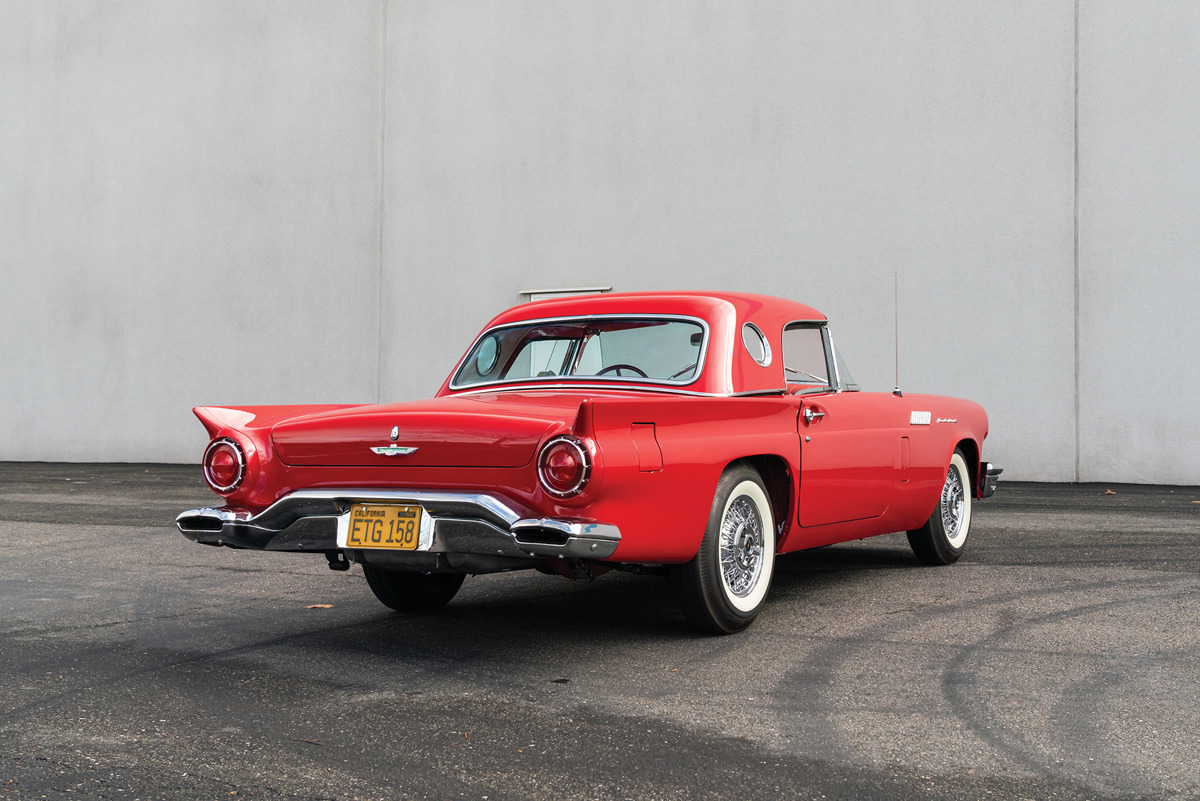 1957 Ford Thunderbird
Estimate: $45,000 - $55,000 USD
With economic prosperity on the rise, the utilization of chrome would be more abundant and public taste would dictate the demand for flashier, more flamboyantly styled vehicles. Interior appointments would be refined, with power windows becoming the standard and the advent of power convertible tops and seats. Air conditioning units were offered as an option in 1953 in Chrysler's Imperial, with Cadillac, Buick, and Oldsmobile offering the option later that year. The first all-transistor radio was also offered by Chrysler in 1956.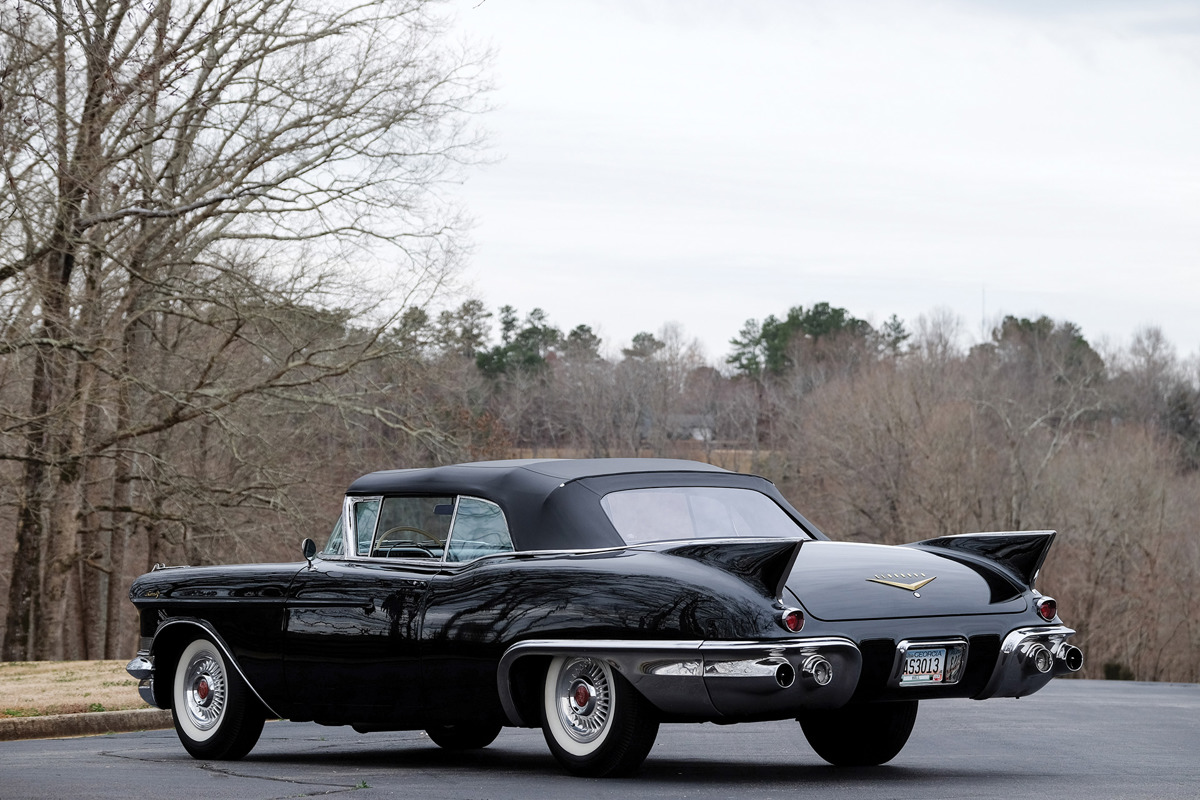 1957 Cadillac Eldorado Biarritz
Estimate: $125,000 - $150,000 USD
The 1950s remain an important milestone in the automobile's history. While technology and design would continue to evolve and improve, this era was responsible for the introduction and refinement of a number of amenities that are still present in modern-day vehicles.