It is said that the phrase "it's a doozy" emerged in the 1930s, as a reference to the Duesenberg's unmatched size, presence, and standard of quality. While the origin of the phrase is debated by some, these vehicles built under the direction of the Duesenberg brothers are unequivocal, and certainly ahead of their time.
Prior to the formation of the Duesenberg automobile company, German-born brothers Frederick and August Duesenberg arrived in the US in 1885 and began their journey into the engineering world by building and racing bicycles in the 1890s. By 1900, they had lent their skilled hands into building gasoline engines and naturally began to fit those engines to bicycles and crafted a line of motorcycles. In 1901, Fred Duesenberg opens the second automobile garage in Des Moines, Iowa, and acquired a used Marion car and completely redesigned the air-cooled engine. He fitted each cylinder with an individual exhaust pipe, a feature which would later carry over to Duesenberg racing cars. He later enters his creation in a race at the annual County Fair in Mason City, Iowa, and takes first place. 
In 1906, the Mason Motor Co. is founded with financial backing from Edward R. Mason, a local attorney, and Frederick in charge of creating the automobile. The Mason was the result, a heartily built automobile featuring an overhead-valve twin-cylinder engine of square proportions—both the bore and stroke being equal at 5 inches. The engine produced 24 horsepower from its 196 cubic inches, and the Mason earned a reputation as being rugged and powerful, and an excellent hill climb competitor. To demonstrate its power, Fred drove the vehicle up the 47 steps that led to the Iowa Capitol building in Des Moines. According to Ester Duesenberg Hahn, once Fred reached the top of the steps, he turned the vehicle around, descended the steps, and ascended the staircase again in reverse for good measure.



1906 Mason Touring
Estimate: $150,000 - $200,000 USD
The Mason Touring is one of approximately 25 built for the company in 1906 and is the earliest known automobile designed by the Duesenberg brothers. The Mason Motor Co. was sold to Fred L. Maytag in 1910, and shortly thereafter Maytag made the decision to bow out of the automobile business. Undeterred, Fred and Augie continue to work on their racing automobiles through 1912 with the financial support of Mason, and their racing cars are known as Masons.
In June 1913, the brothers formed the Duesenberg Motor Company and moved their operations to Twin Cities, Minnesota, where they created an expansive portfolio of powerful engines for marine, aircraft, and ultimately automotive applications as well as a number of automobile racing victories. In 1916, the Duesenberg Motor Company was contracted by the US government to build 8-cylinder marine engines, as well as V-12 and V-16 aircraft engines, this time moving operations to a massive plant in New Jersey and employing a 1,200 man work force. Bugatti also contracted the brothers' firm to build a 500-hp V-16. During this time, Fred and Augie developed their prototype single overhead cam Duesenberg Eight In Line, and thereafter, the brothers made automobiles the focus of their business.
In 1919, the brothers sold their interest in the New Jersey plant and moved back to Indianapolis, where they penned their first complete design for a passenger car bearing the family name. Their new plant opened in March of 1920, only a few miles from the brothers beloved Indianapolis Motor Speedway. They formed two separate companies: one designated for racing under the Duesenberg Brothers moniker, and the other for passenger cars named Duesenberg Automobiles and Motors. The first Duesenberg passenger car was produced in 1921, and featured the pioneering straight eight cylinder engine, a full three years before Packard's iteration. It also featured four-wheel hydraulic actuated brakes, four years ahead of Chrysler.

1926 Duesenberg Model A Touring by Millspaugh & Irish
Estimate: $175,000 - $225,000 USD
The Model A was powered by an 88 horsepower, single overhead camshaft straight eight engine, actuating two valves per cylinder, which drew its inspiration directly from the long lineage of the brothers racing wins at Indianapolis. The engine was paired to a three-speed sliding gear transmission, among the first American automobiles to feature this transmission style. The Touring model features a 134-inch wheelbase and ladder style chassis, hydraulic actuated for wheel brakes and, in the case of this example from The Guyton Collection, coachwork by Indianapolis based Millspaugh & Irish.

1927 Duesenberg Model X Dual-Cowl Phaeton by Locke
Estimate: $300,000 - $400,000 USD
In 1926, Errett Lobban Cord of the Cord Motor Company purchased Duesenberg Automobiles and Motors, as the firm was approaching bankruptcy. Prior to the acquisition, the Model X was built in the last few months of Duesenberg Motors's independent life. Only 13 Model Xs were produced, as E.L. Cord commanded the larger Model J be produced as its replacement. The Model X was built on chassis one inch longer than that of the Model A and utilized tubular cross-members for added rigidity. A 322 cubic-inch displacement single overhead cam inline eight-cylinder engine was used, though unlike the engine of the Model A, the generator and water pump were moved to the rear, and all valves and manifolds moved to the right side. The Model X benefitted from a 100 horsepower increase over its predecessor, and utilized a hypoid rear axle for added strength and decreased vibration.

1930 Duesenberg Model J Convertible Sedan by Murphy
Estimate: $900,000 - $1,100,000 USD
In 1928, the mighty Model J was unveiled as America's most advanced production car, and is widely regarded as the greatest pre-war American automobile to this day. It was E.L. Cord's intention to employ the Duesenberg brothers' engineering and talent to create a luxury car capable of overthrowing rival European luxury brands, such as Hispano-Suiza and Rolls-Royce. The 420 cu. in. inline eight-cylinder engine produced 265 horsepower in naturally aspirated form through the use of dual overhead cams and four valves per cylinder, outshining Cadillac's 452 cu. in. V-16 engine by 80 horsepower. An optional centrifugal supercharged version was also made available. Dubbed the SJ, it produced a whopping 320 horsepower. The incredible power output of the Model J's powerplants were bolstered by Duesenberg's marketing slogans, such as "The only car that could pass a Duesenberg is another Duesenberg—and that was with the first owner's consent." The Model J and its variants quickly became a status symbol and one of the most popular luxury cars in the United States, driven by nobility and the rich and famous. The Model J's engine and chassis alone came with a hefty $8,500 price tag, and most completed vehicles came at a cost between $13,000-$19,000, with two American-bodied vehicles reaching $25,000 and deluxe European coachbuilders potentially exceeding that cost.
Fred Duesenberg passed away as a result of pneumonia, complications stemming from an injury he sustained while driving from New York City to Indiana, when his Murphy-bodied SJ convertible skidded off the road in Pennsylvania. After Fred's passing, Augie assumed his elder brother's duties as chief engineer. The company continued to produce the model J, the supercharged SJ variant, short wheelbase SSJ, and a single Duesenberg Special speed record car, until Cord's financial empire collapsed in 1937. Only two Duesenbergs were assembled after the company's collapse—one delivered to German artist Rudolf Bauer in April 1940 and the other assembled from leftover parts between 1938 and 1940.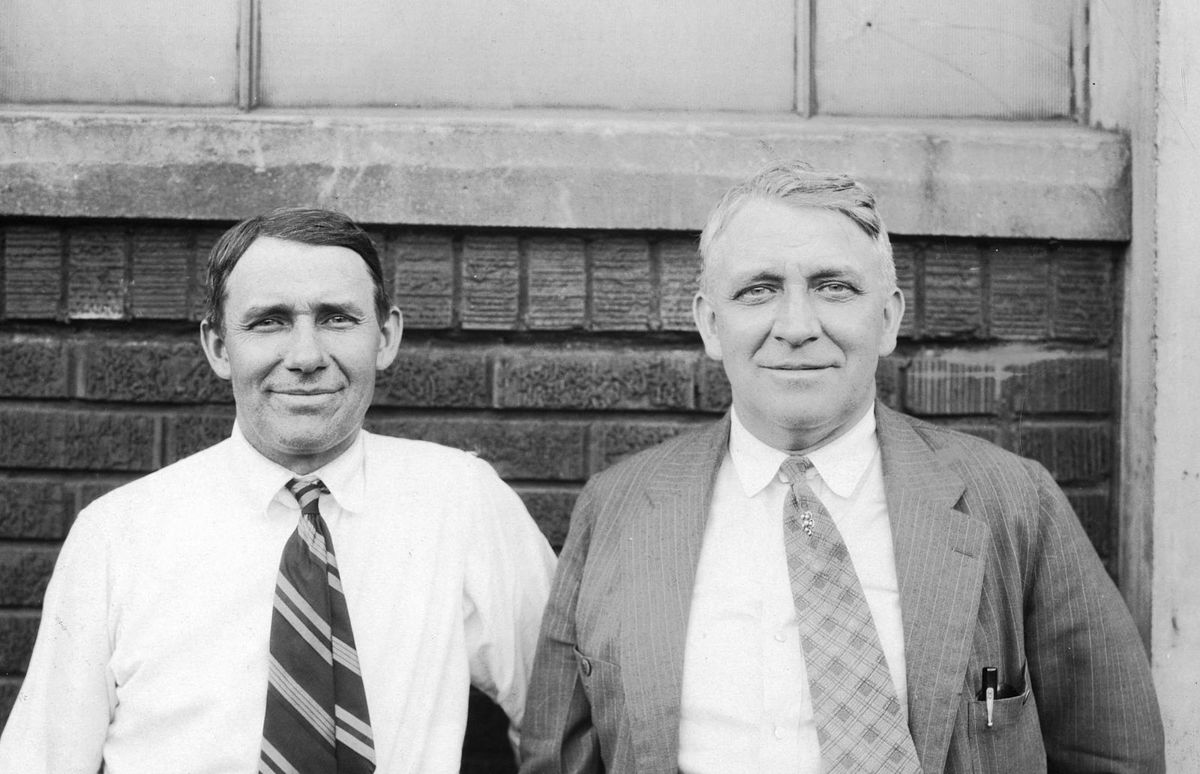 August and Fred Duesenberg, 1925—The same year of their second Indy 500 win. Image courtesy of Google images/ www.silidrome.com.

Together, the brothers attained a list of achievements in the automotive world contested by few—from pioneering technologies in engine design across multiple disciplines, pioneering the first straight eight-cylinder engine in both a racing car and in a passenger car, to developing the first hydraulic brake system on a passenger vehicle. Add countless race victories, being the first American men to win the European Grand Prix, building cars that won the Indy 500 four times over, and finally building a car that is widely praised as one of the truly great pre-war automobiles, the Model J. While the Duesenberg marque only lasted just over fifteen years, their name will forever remain synonymous with high-end American luxury and race-dominating engineering.