Since its humble beginnings in 1953, the Chevrolet Corvette may arguably be the most successful American sports car of all time. It now enters its 67th year of production and receives the most drastic change of the model's history, now with a mid-engine rear-wheel-drive layout as opposed to its traditional front-engine rear-wheel-drive configuration. Despite the dramatic changes to the beloved Corvette, the fiberglass-bodied sports car will continue to thrill enthusiasts of all generations with its racy aesthetics and performance.
RM Auctions is proud to offer over 25 Corvette models which span the decades from the first year of production to modern models at the upcoming Auburn Fall collector car auction. Scroll down to take a look back at the rare and desirable models from the early years of the Corvette.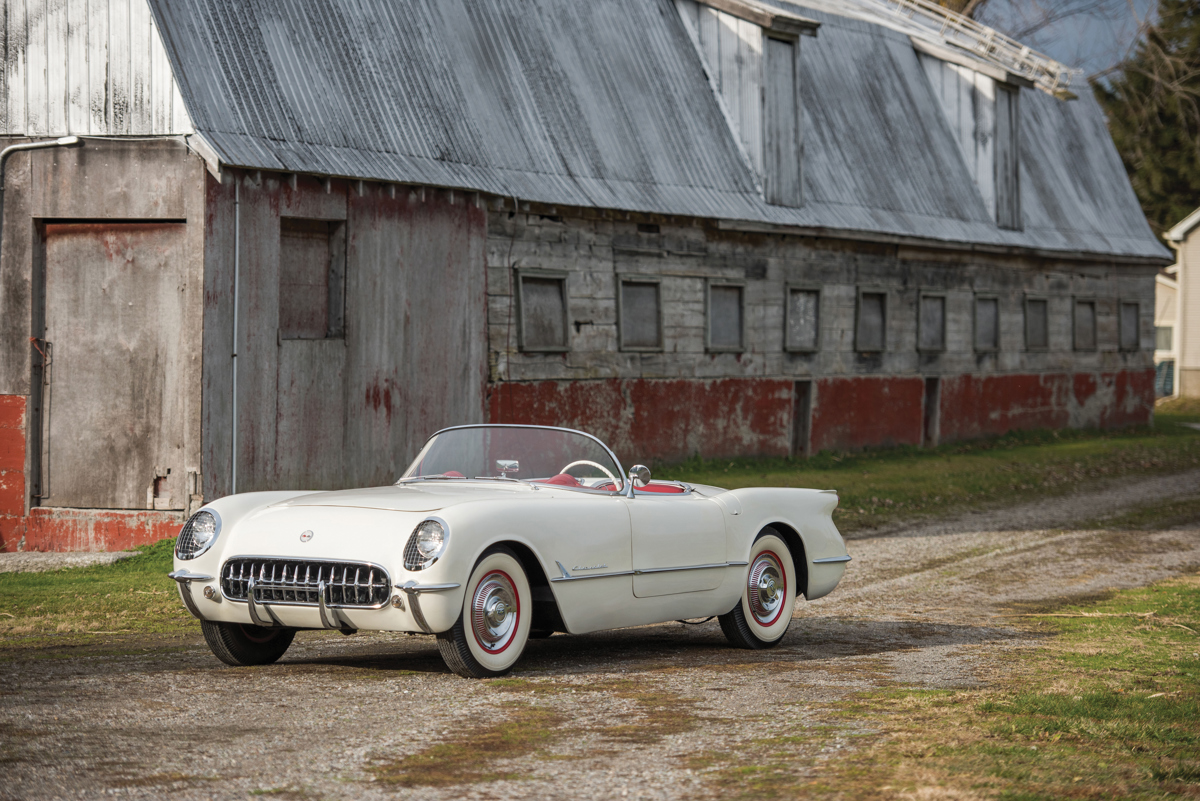 1953 Chevrolet Corvette
Estimate: $180,000 - $220,000 USD | Offered Without Reserve
Following its debut at the 1953 GM Motorama show, the two-seater fiberglass roadster was rushed into production to meet demands from potential buyers. This example was the 214th of only 300 built for the 1953 model year. Following a restoration in the early 1990s, it has been kept in a climate-controlled garage since 2016 under the most recent owner's care. It was recently serviced to address any mechanical and electrical issues. This excellent example of a first-year production model would make a perfect addition to any collection or to be enjoyed on the open road.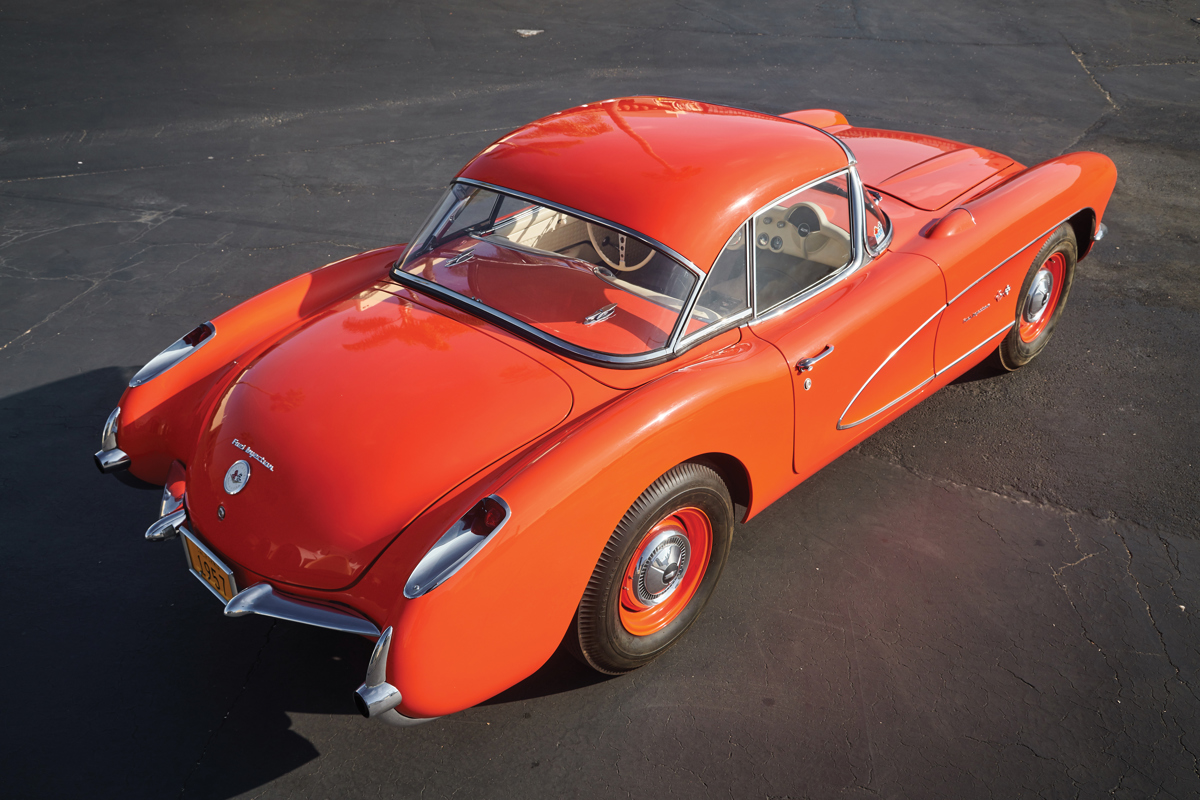 1957 Chevrolet Corvette 'Big Brake & Airbox'
Estimate: $400,000 - $500,000 USD
The Corvette received its first major styling redesign for the 1956 model year. The bodywork became more muscular, and chrome-trimmed side scallops gave a distinctive look. It also received added conveniences, such as external door handles, side windows that roll into the door panel, and an optional power folding roof. The V-8 grew from 265 to 283 cubic inches of displacement, and a floor-shifted, close-ratio four-speed manual transmission was added to the options list for the first time. This Venetian Red example is equipped with the rarest options available for the year, the fiberglass plenum "Airbox" and "Big Brake" package, which adds upsized brake drums with metallic linings and fender-mounted cooling vents.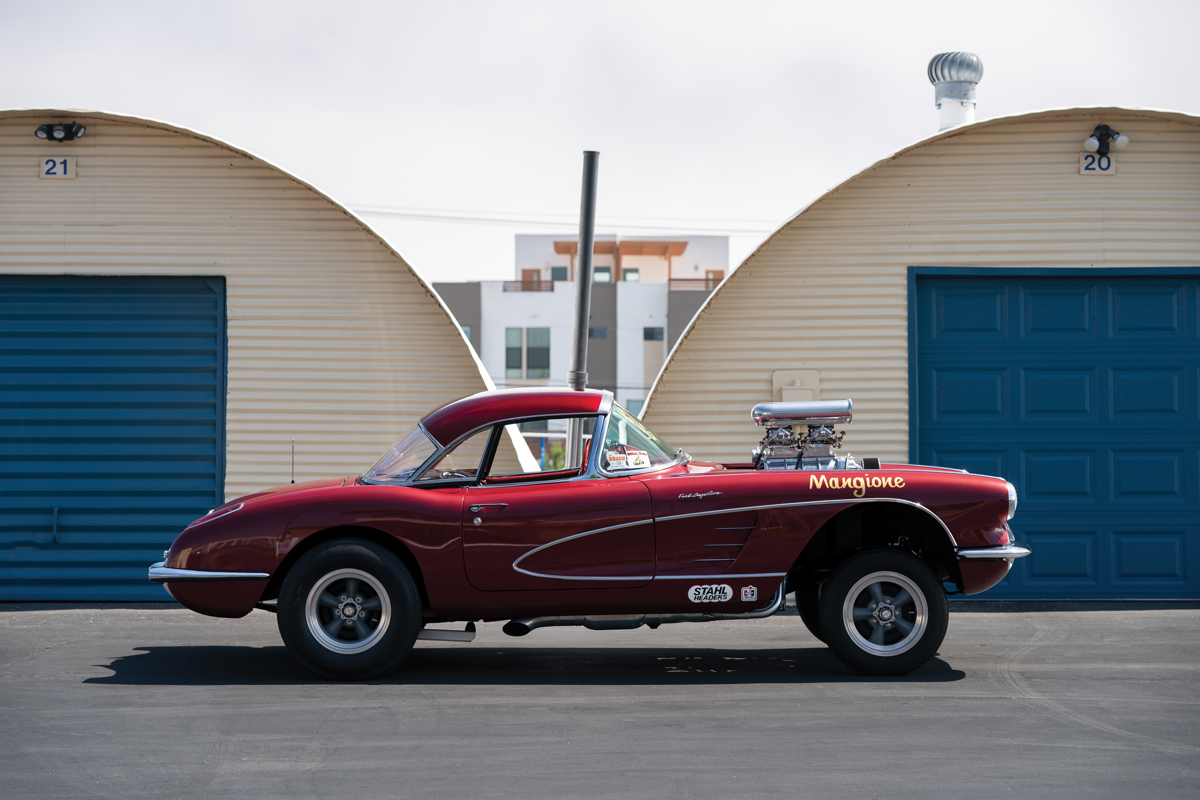 1959 Chevrolet Corvette Drag Car
Estimate: $80,000 - $100,000 USD
Drag racing's popularity grew tremendously in the 1950s, and drag racers strove to gain a competitive edge in the quarter mile. The gasser-style racers are stripped of unnecessary components to shed weight and use a lifted front axle beam for lighter weight and to gain a favorable weight distribution on acceleration. This example from the Jim Mangione Collection was built in true gasser style, with a 350-cubic-inch V-8 with a massive Weiland 671 supercharger and a Borg Warner T10 four-speed transmission.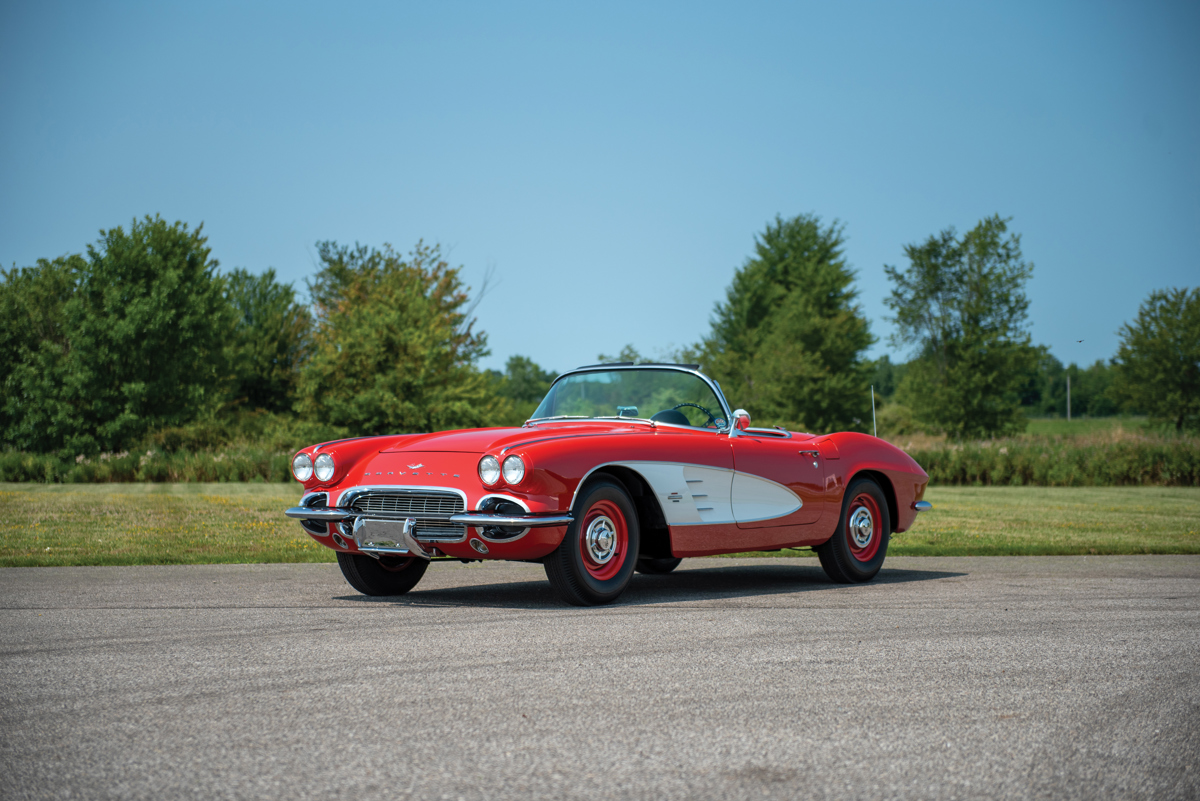 1961 Chevrolet Corvette
Estimate: $110,000 - $130,000 USD
A redesigned rear end debuted for the 1961 model year and introduced the iconic quad-taillight design. The 283-cubic-inch V-8 employs dual-quad carburetors to increase power output to 270 horsepower. This beautifully restored example is accompanied by the factory hardtop and is believed to have been delivered with the highly desirable "Big Brake" option.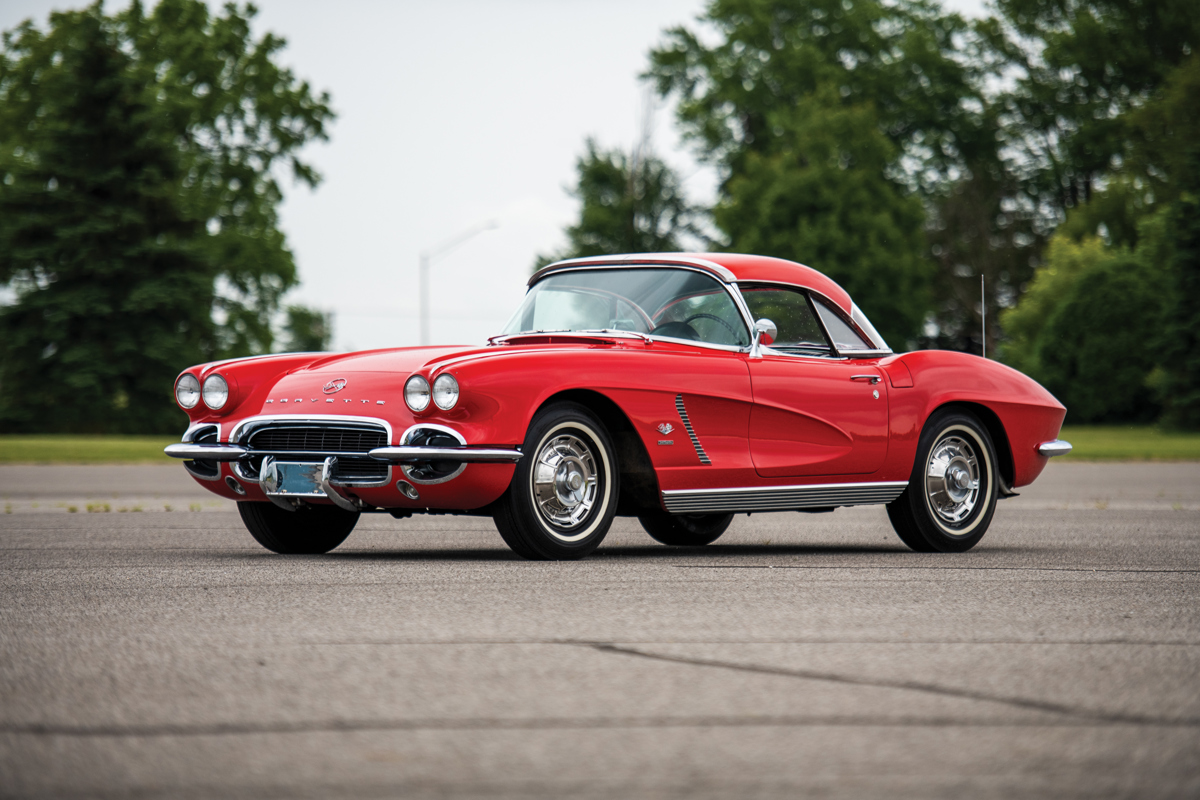 1962 Chevrolet Corvette 'Fuel-Injected'
Estimate: $65,000 - $85,000 USD | Offered Without Reserve
For the final-year production of the first-generation Corvette, Chevrolet fit a 360-horsepower, 327-cubic-inch fuel-injected V-8 engine beneath the hood, making it the most powerful production model of its time. Only 1,918 examples were fitted with this robust power plant, this beautifully restored manual-transmission example included. It is accompanied by both the factory hardtop and soft tops, and features its original drivetrain as stated by the owner.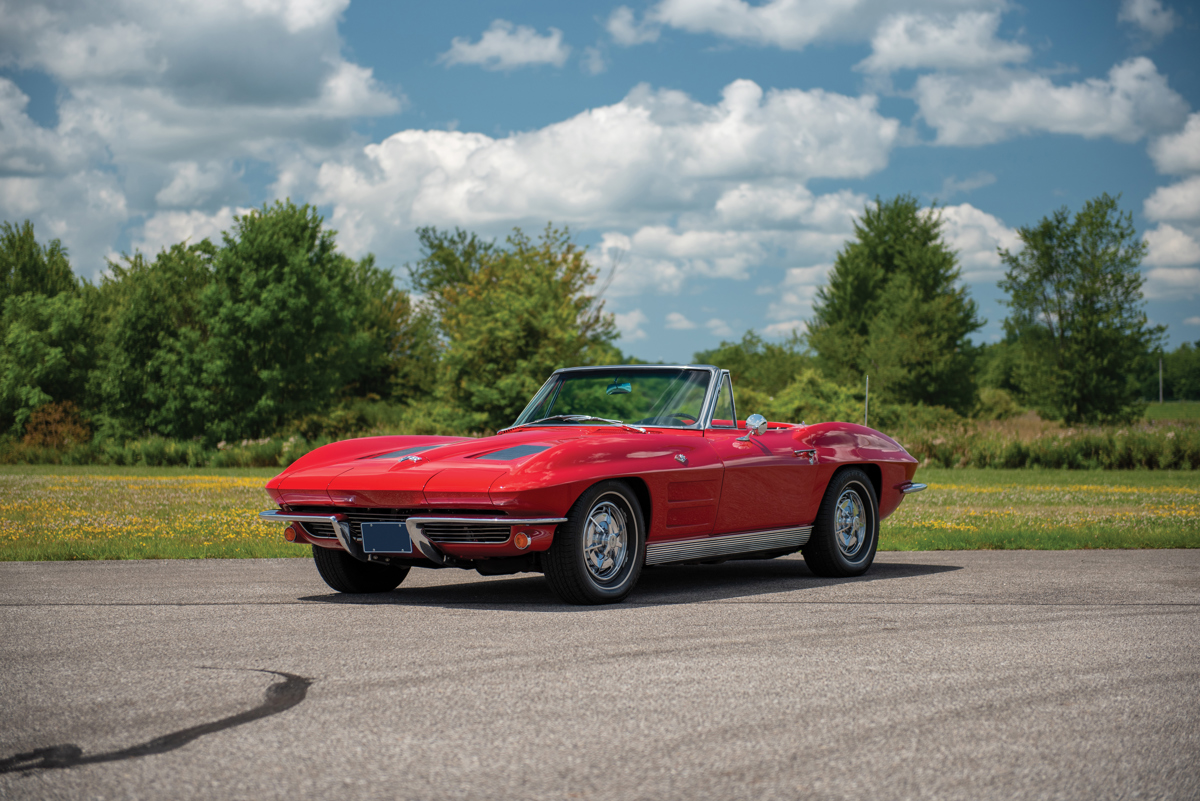 1963 Chevrolet Corvette Sting Ray
Estimate: $60,000 - $70,000 USD
An all-new Corvette was released for the 1963 model year, now benefitting from an independent rear suspension and a sharp new fiberglass body. The 327-cubic-inch V-8 carries over from the 1962 model, with the option of being mated to a three- or four-speed manual transmission, or an automatic transmission. This lovely red-over-black Sting Ray convertible features a four-speed manual transmission and optional removable hardtop, dash-mounted clock, and AM/FM radio.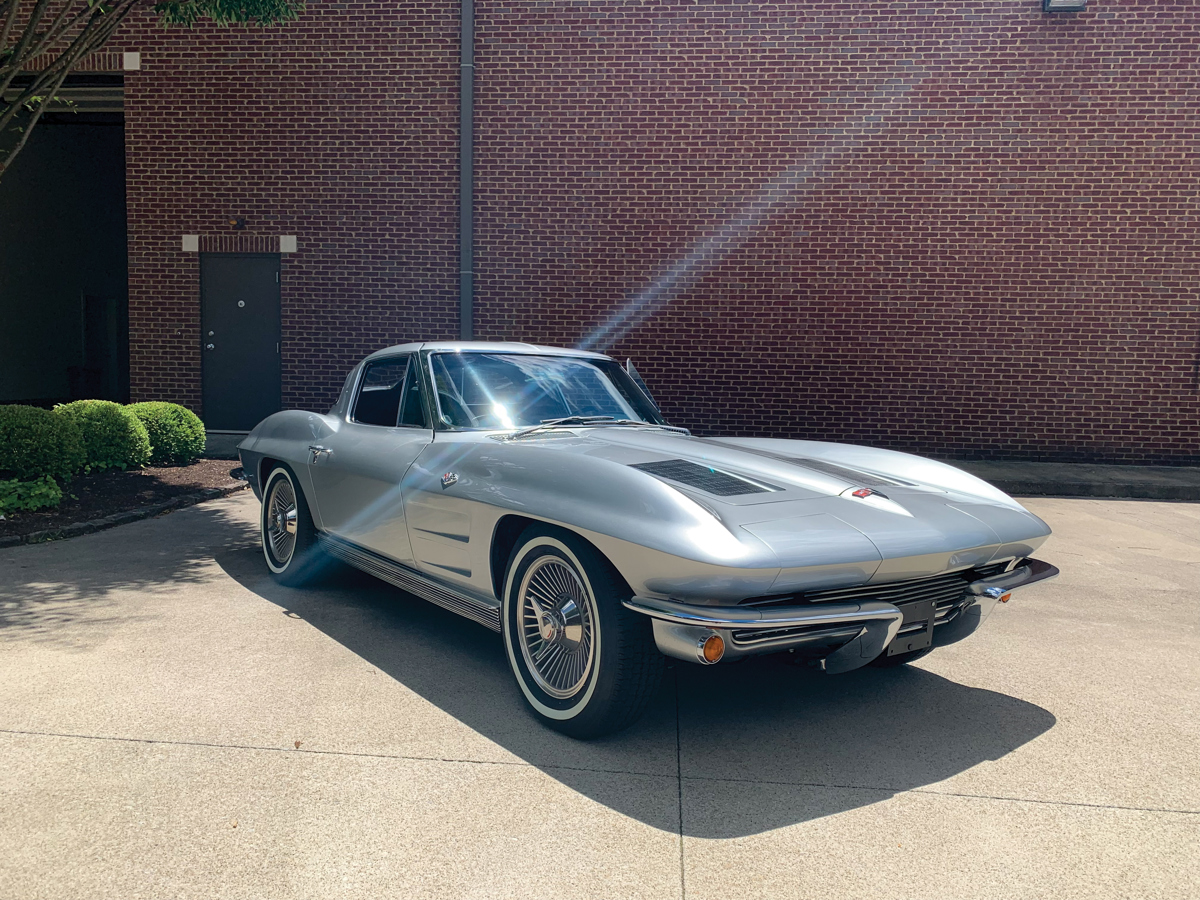 1963 Chevrolet Corvette Sting Ray 'Split-Window' Coupe
Estimate: $85,000 - $100,000 USD
The Sting Ray coupe featured a unique split rear window, which would become a highly desirable signature of the 1963 model. Finished in Sebring Silver, this single-year 'Split-Window' coupe features a four-speed manual transmission paired to the 327-cubic-inch V-8 engine, as well as power windows and power-assisted steering and brakes. As one of the most iconic and memorable single-year Corvettes, it is certain to remain an important piece of Corvette history.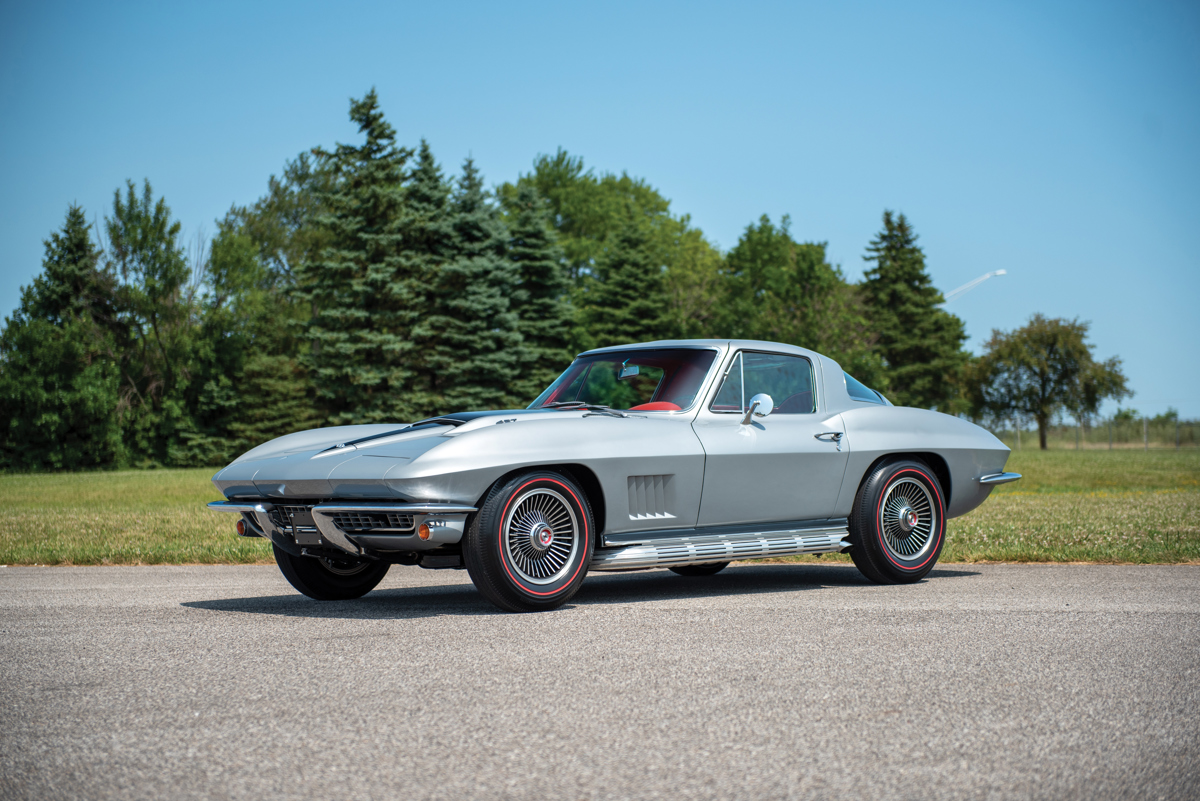 1967 Chevrolet Corvette Sting Ray 427/435 Coupe
Estimate: $100,000 - $130,000 USD
Chevrolet continued to increase their V-8's displacement and subsequent power output, upping displacement to 427 cubic inches for a resulting 435 horsepower. After being in storage for approximately 20 years, this example was treated to a complete body-off restoration. Its 427-cubic-inch received L88 coded cylinder heads and is paired to a four-speed manual transmission. In addition to power steering, windows, and brakes, aftermarket air conditioning ensures a pleasant driving experience on warm summer cruises.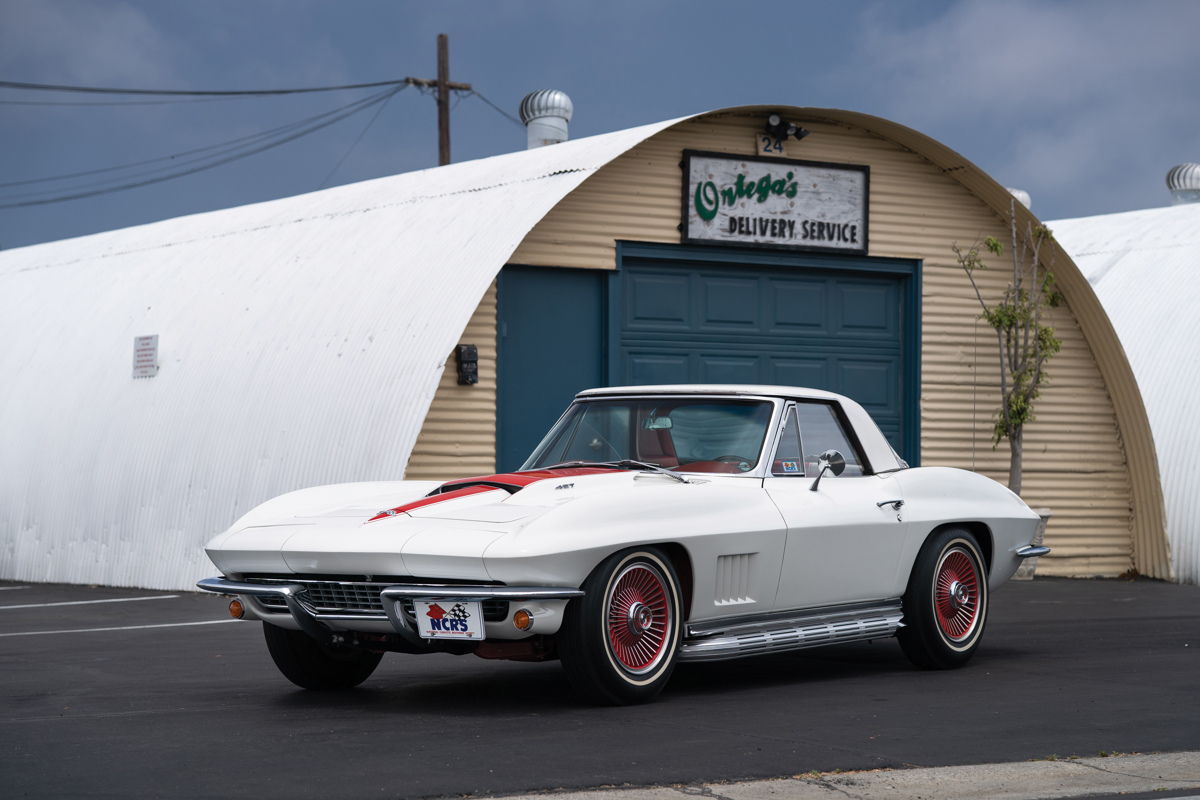 1967 Chevrolet Corvette Sting Ray COPO Convertible
Estimate: $650,000 - $850,000 USD
Legendary GM designer Bill Mitchell made use of the COPO program to specify and order this Ermine White Sting Ray convertible to present to his wife as a gift. The 400-horsepower Big Block Trim-Power 427 cu. in. V-8 was selected and paired to a heavy-duty version of the PowerGlide automatic transmission and a 3.08 Positraction rear differential. He then piled on the options and specified red accents to be added, including the trademark "stinger" graphic stripe, which he continued over the rear trunk lid and rear valence. Its final owner discovered a build sticker while undertaking its restoration with a list of option codes, with a special typed addition to the list- "W. Mitchell."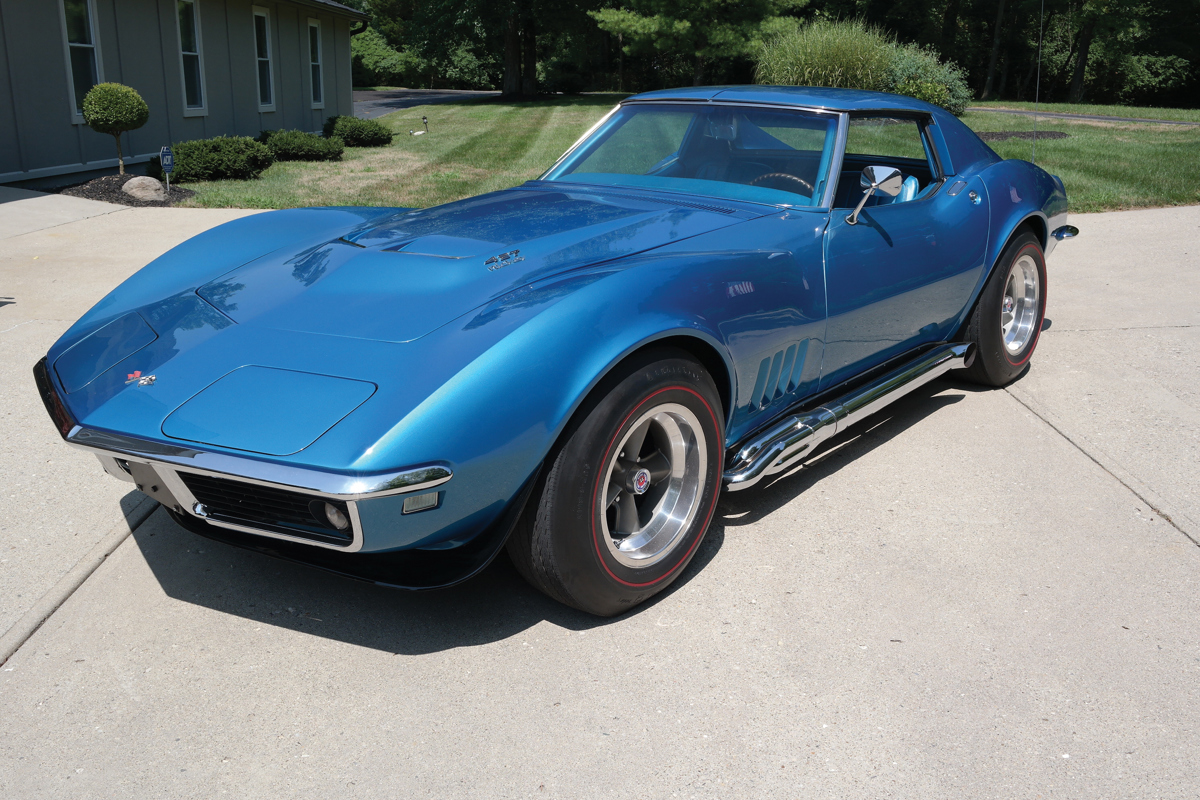 1968 Chevrolet Corvette Stingray 427 Nickey Coupe
Estimate: $80,000 - $100,000 USD
Nickey Chevrolet was a dealership in Chicago that grew to become one of the largest factory dealerships, one that specialized in high-performance muscle-car sales and parts, and were notorious for building some of the highest-performing conversions and modifications of the time. This example was sold new and modified by Nickey Chevrolet. Retaining its original engine and drivetrain, Nickey installed Hooker headers and side exhaust, and 4.11 Positraction rear differential. This MCACN Concours Gold recipient has been registered and certified by the Nickey Registry and has its NCRS certificate.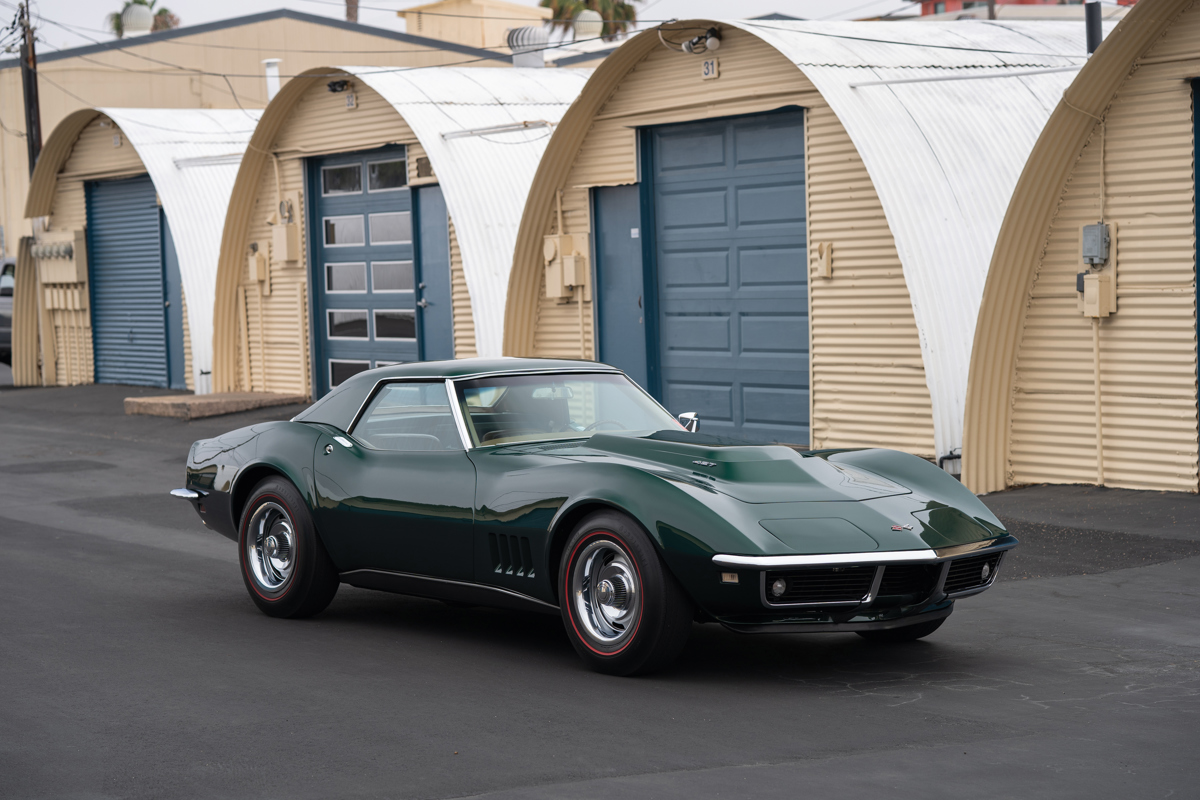 1968 Chevrolet Corvette Stingray L88 Convertible
Estimate: $475,000 - $575,000 USD
Only 80 L88 Corvettes were produced for the 1968 model year, receiving the Zora Arkus-Duntov race-designed L88 427-cubic-inch V-8 engine. On paper, the high-compression engine produced 430 horsepower, but it is reported that the actual horsepower output was closer to 560. This well-documented example is finished in the classic combination of British racing green over Saddle vinyl and has been restored by marque expert David Walters. It was optioned with both hard and soft tops, rally wheels, and a mandatory radio and heater delete, and has remained under the careful watch of Corvette enthusiasts for the past five decades. It remains one of the finest examples still in existence.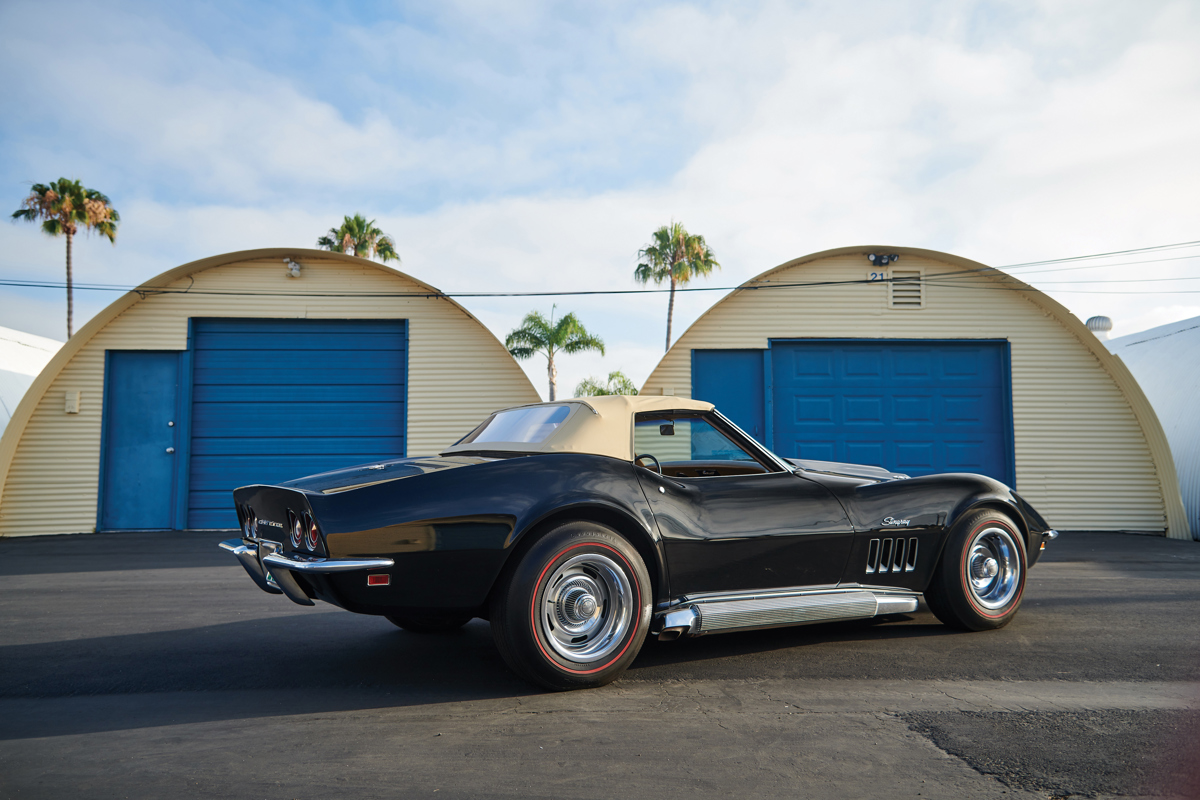 1969 Chevrolet Corvette Stingray L88 Convertible
Estimate: $475,000 - $575,000 USD
The year 1969 was the final year of the L88 engine option, and only 116 lucky owners would take delivery of their Corvette configured with the mandatory options required to receive the massively powerful, ultra-high-compression big-block V-8. Chevrolet specified the engine to be used for track use only, though it was street legal and ran on standard pump fuel. The list of options added $1,032.15 to the Corvette's $4,781 base price, and while very few found their way to the racetrack, most were used to terrorize the streets in the late 1960s. This example is well-known in Corvette circles and is an exciting opportunity to take ownership of one of the rarest and most desirable Corvettes ever produced.