Unquestionably the most premium marque ever conceived, Ettore Bugatti's eponymous Alsace, France-based firm created works of rolling sculpture that would be the envy of any atelier in Europe. Today, collectors of fine art and automobiles alike recognize the beauty that Bugatti required on every component wearing his name. A timeless pinnacle of pre-war automobile engineering, RM Sotheby's will offer this 1937 Type 57SC Bugatti Tourer by Corsica as part of our Arizona auction this 22 January 2021.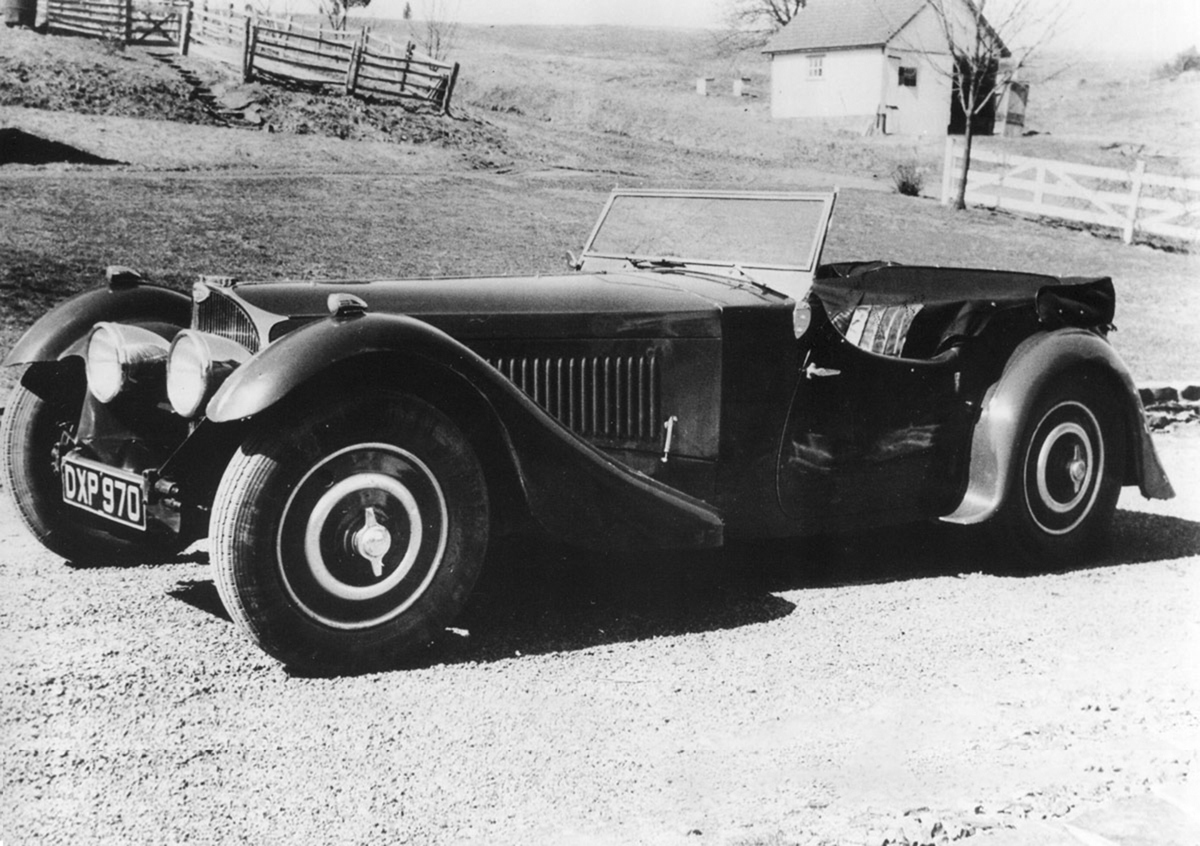 Chassis 57512 as it appeared when new and first registered in the UK as DXP 970. Courtesy of the Bugatti Trust.
1937 Bugatti Type 57SC Tourer by Corsica
Estimate: $4,750,000 - $6,500,000 USD
Sufficiently famous to be known by its chassis, no. 57512, the new owner of this rakish roadster will join a pedigreed lineage dating back to its first caretaker, Maurice Fox-Pitt Lubbock, who was photographed in the driver's seat in the image below, captured soon after Lubbock assumed ownership. Decades later, this coveted Bugatti chassis passed through the hands of renowned collectors U.S. Air Force General William Lyon and Maryland Circuit Court Judge John North. The opportunity to add your name to the fascinating history of this touring Bugatti is a rare chance indeed, but what makes this coachbuilt example so special?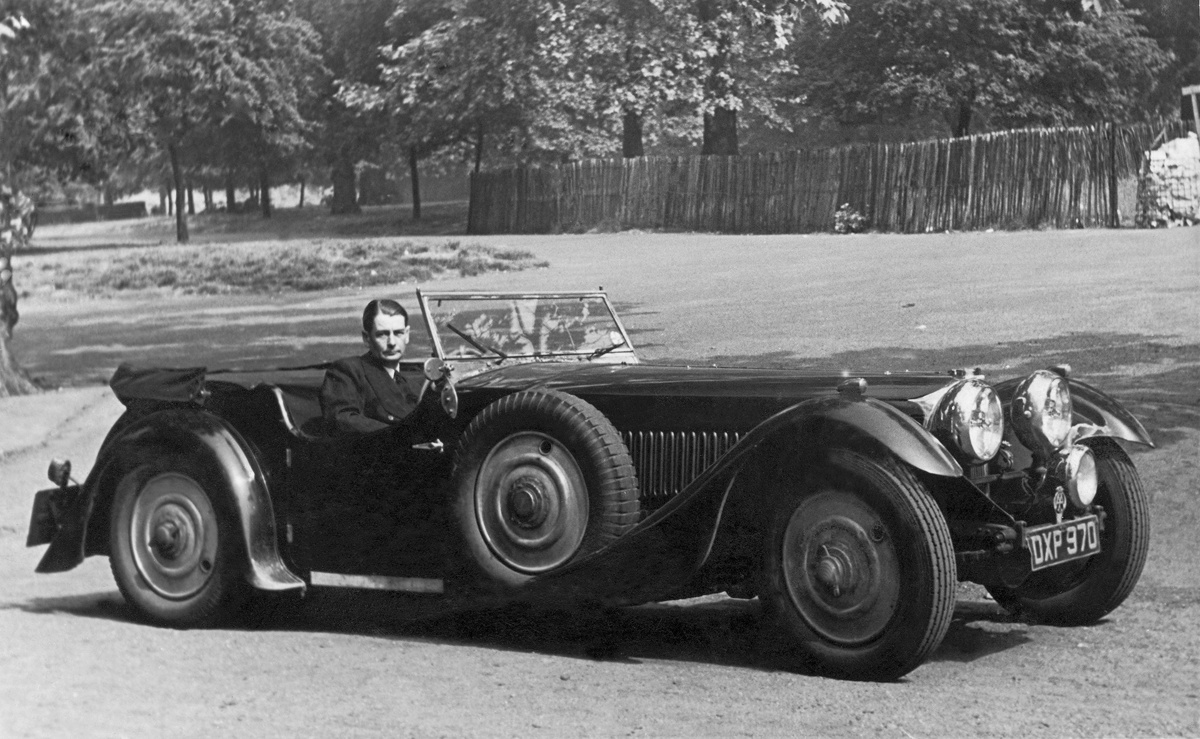 The original owner, Maurice Fox-Pitt Lubbock, shows off his Corsica-bodied Type 57S Bugatti. Courtesy of Pierre-Yves Laugier.
A genuine auto enthusiast and future president of Rolls-Royce, Lubbock could count Ettore Bugatti's son Jean as a personal friend. Lubbock's decision to commission Corsica to build a British-style roadster on Chassis 57512 was an inspired one. In the pantheon of pre-war coachbuilders, Corsica Coachworks has enjoyed a strong showing at modern concours, especially when considering the company's brief existence. With its name suggesting a thoroughly continental flair, the Italian-sounding Corsica was based in Kings Cross, London. So confident was Corsica in the abilities of their craftsmen to bring a concept to life with elan, they offered their clients complete control over styling. Perhaps the most convincing evidence of Corsica's prowess is that they produced work on a diverse portfolio of premium chassis, composing both British brands like Rolls-Royce, Daimler, and Bentley as well as fine European marques like Alfa Romeo and Mercedes-Benz—the ultimate testament to any coachbuilder's skill.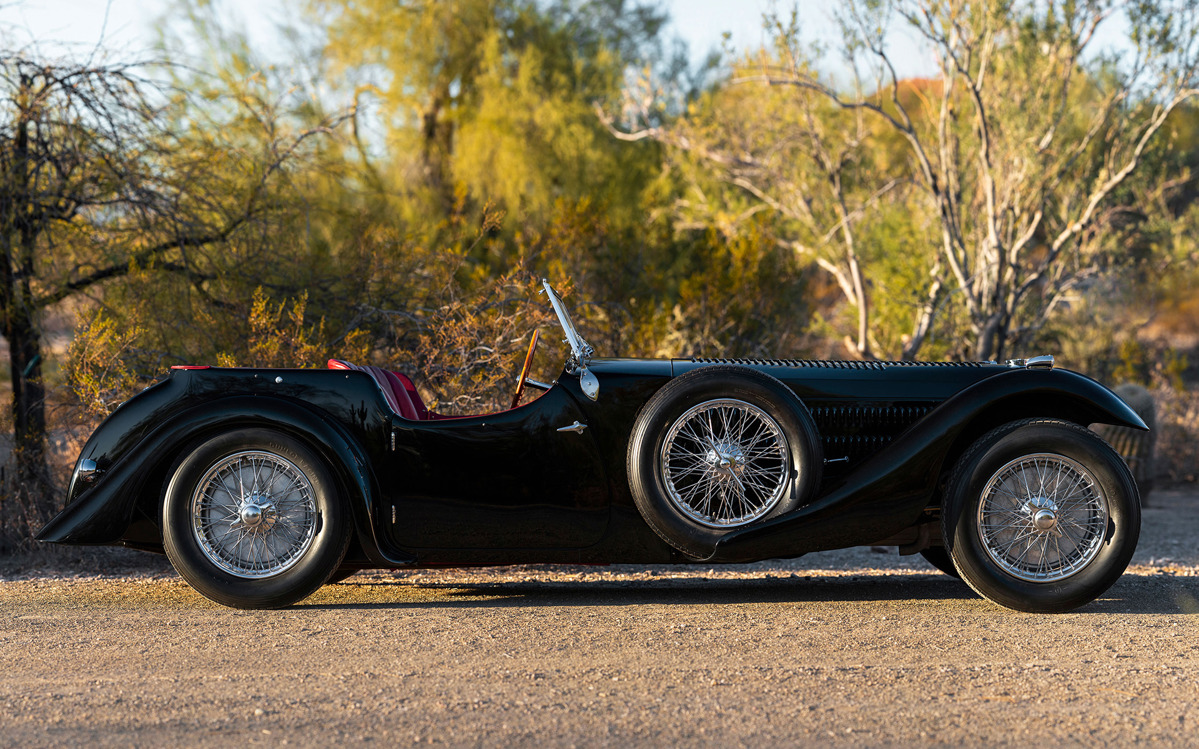 RM Sotheby's Catalogue editor Graham Kozak broadly classifies Corsica output into two styling camps: "Continental," with organic, flowing, lines and eye-catching ornamental elements that recall the works of French firms, and a more formal, upright, and restrained—yet elegantly and dramatically proportioned— "British" style, with this rakish Bugatti coachwork likely landing in the second category. With a long hood echoing Corsica's celebrated Daimler Double Six 50 Drophead Coupe (a car famous to any follower of RM's award-winning restoration division), this Touring-style Type 57SC was already a welcome participant at Pebble Beach Concours d'Elegance after a 2003 restoration.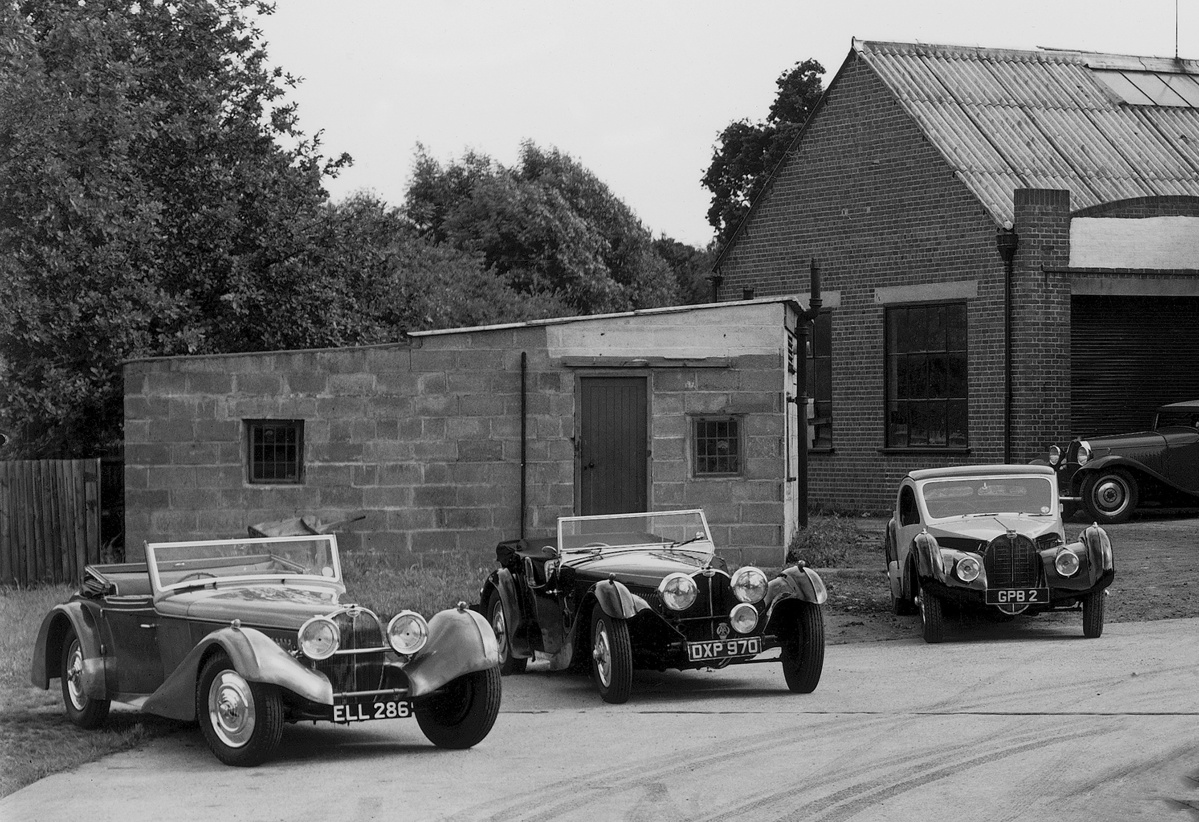 Chassis 57512 (DXP 970) along with the Vanden Plas-bodied 57572 (ELL 286) and Atalante 57573 (GPB 2) at Continental Cars Ltd. in Surrey in 1946. Courtesy of Pierre-Yves Laugier.
Even among other special Bugatti examples, the Corsica-bodied coachwork stands out—just compare the windshield shapes in the period image above and you will see how distinct Chassis 57512 is aesthetically even from exceptional models like the Atalante and open-top Vanden Plas-bodied roadster. That special quality extends underneath the hood as well, with the addition of a supercharger early in its life, likely added in the U.K. at Continental Cars Ltd, shown above.
As true Bugatti enthusiasts know, superchargers are the essential ingredient elevating the experience far above mere "motoring." These days, motorists are more likely to encounter superchargers on the side of a highway, charging Tesla batteries, than they are underneath the hood of brand-new ICE-driven automobiles. But as any vintage vehicle enthusiast can attest, 20th-century superchargers are quite different than the ones we get today.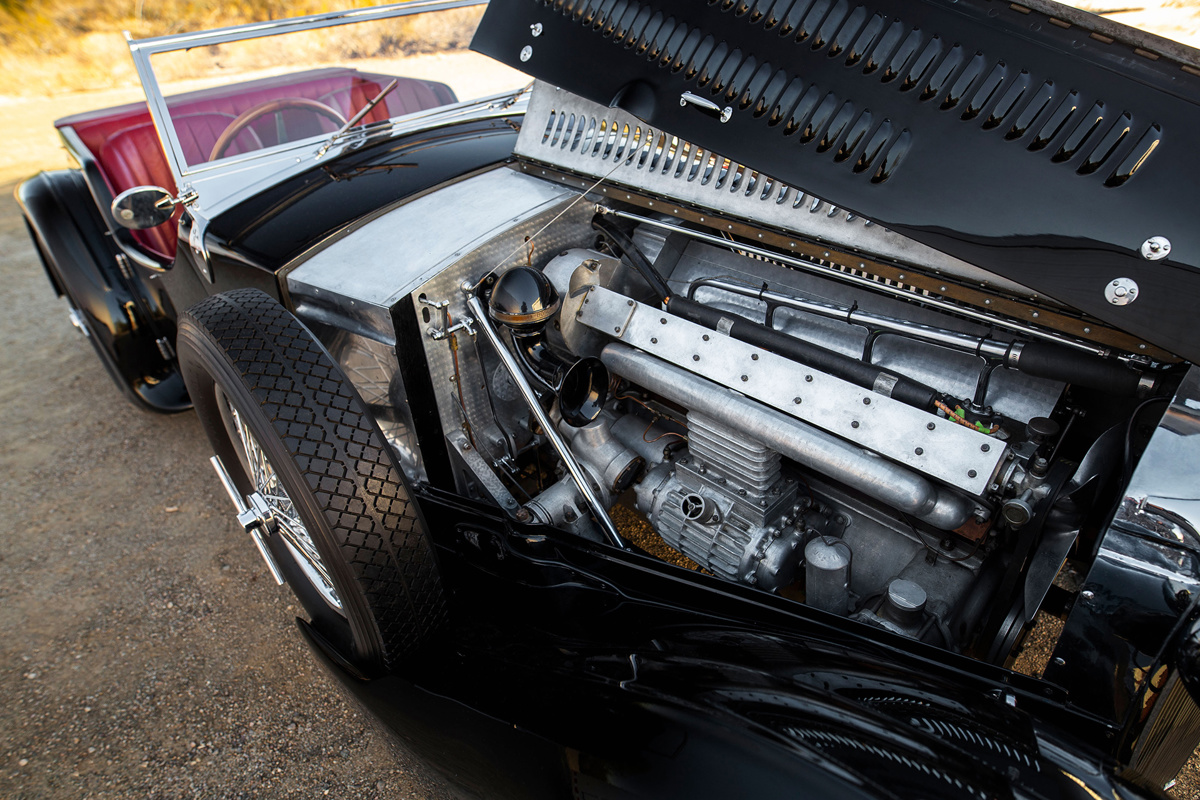 That scream of intake air, funneled continuously by the supercharger into an inline eight-cylinder engine moving to the rhythm of a roller bearing crankshaft, together form the orchestra that performs Ettore Bugatti's finest composition. Then, as now, supercharging was a bleeding-edge technology, with a significant upgrade cost borne by early adopters. Relatively few Type 57 S ("S" for Surbaissé or lowered) chassis left the Bugatti works in Molsheim as supercharged SC's ("C" for Compresseur) when new—most were retrofitted after delivery once eager owners realized the performance potential of the new technology.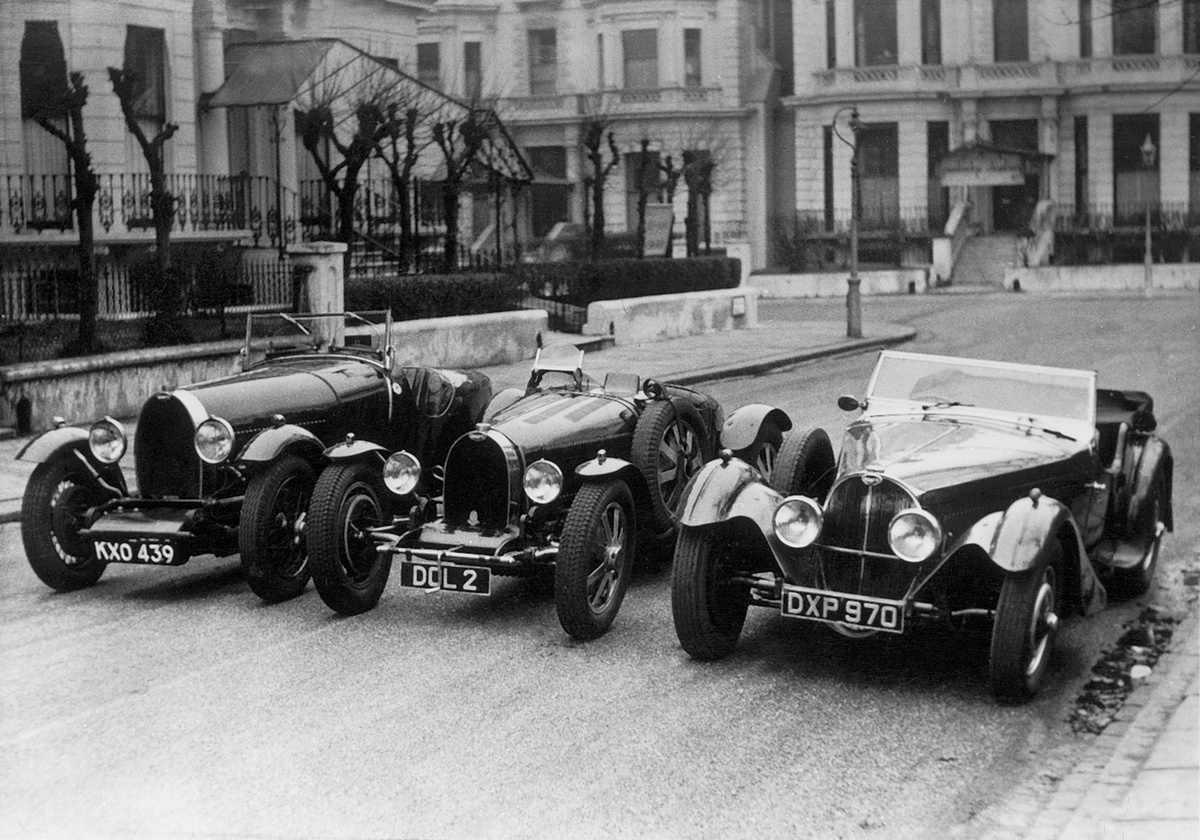 The Corsica tourer is pictured once again with a trio of Bugattis, this time by Speed Models garage in London just before it was shipped to New York in 1950. Courtesy of Pierre-Yves Laugier.
This competition-derived Type 57 S short chassis coupled with supercharger and wearing open Corsica coachwork places Chassis 57512 in the company of Bugatti's all-time greats. For RM Sotheby's Specialist Roger Willbanks, the potential for showing this Bugatti in future concours or using it on vintage rallies creates a unique opportunity. For Willbanks, the "S" chassis itself represents exceptional value. Open-top Type 57S Bugatti sports cars are already rare: Only 16 were ordered with open coachwork; having a four-place Tourer body by Corsica makes this example one of only two ever built. This genuine rarity, combined with the matching-numbers engine, gearbox, rear differential, and original Corsica bodywork, makes this car an exceptional candidate for a wide spectrum of uses, either as a vintage tourer or future concours contender.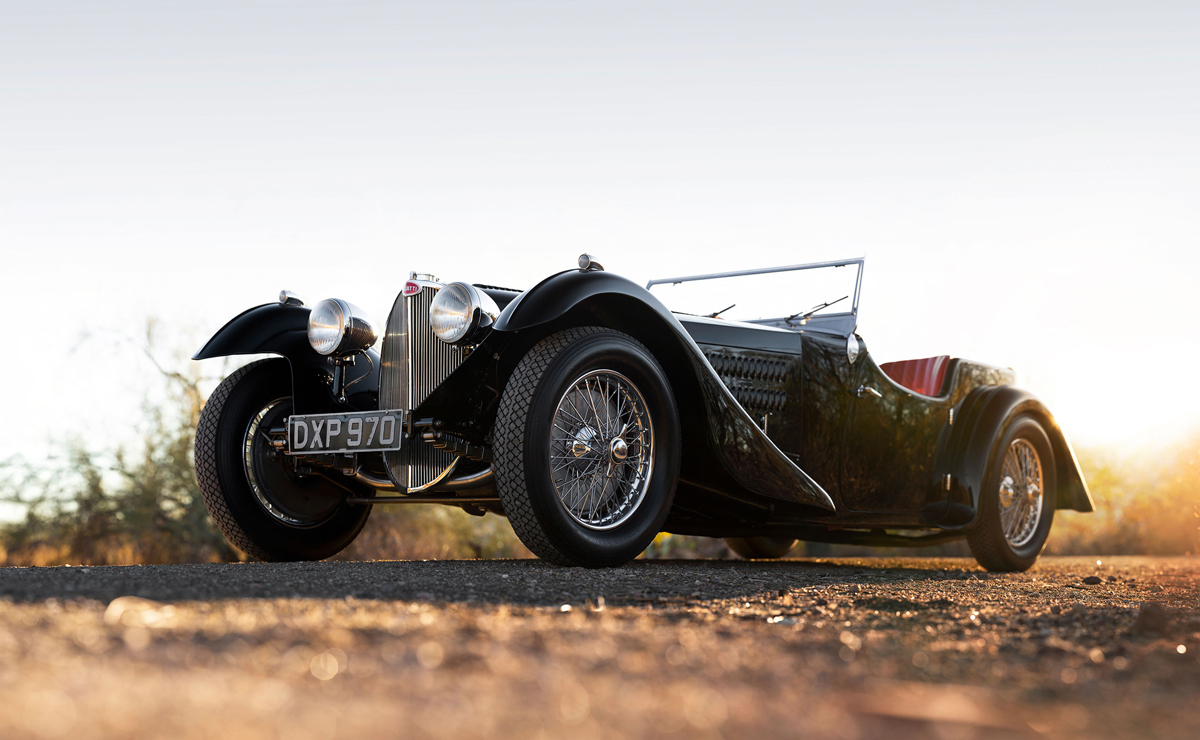 Connoisseurs of concours-worthy, pre-war classics like this Corsica-bodied Bugatti Type 57SC recognize the hand-made craftsmanship that went into this example. As Willbanks summarizes, the appeal of owning this example is the entry into an exclusive club: A coachbuilt Bugatti, unquestionably worthy of a Pebble Beach-quality restoration, ready to earn its new owner recognition and respect in the classic car world's most elite circles. And if its new owner cares more about the driving experience than any prestige associated with it, they can rest assured, it is still a Bugatti. A sculpture, supercharged.