Which specific qualities make a modern supercar "special" are in many ways individual for every auto enthusiast. For some, the uncommon choice of the "stripe-delete" option on the first-generation Ford GT shown above, perfectly embodies what it means to be unique. With the benefit of now having over a decade of hindsight, deleting the now-iconic multi-stripe livery on the blue-collar Blue Oval supercar allows for an even more outstanding presentation of its original Camilo Pardo design. Without a doubt, a modern classic.
The other selections on our list are certainly no less super and are all uniquely special. Worthy of recognition as pinnacle statement pieces of design and engineering, each of these supercars offer limited-production exclusivity paired with outsized performance, while wearing stunningly uncommon color combinations. All appearing at RM Sotheby's signature annual auction in Monterey, this year running from 12-14 August, here is the first part in a series about contemporary classics in the supercar category: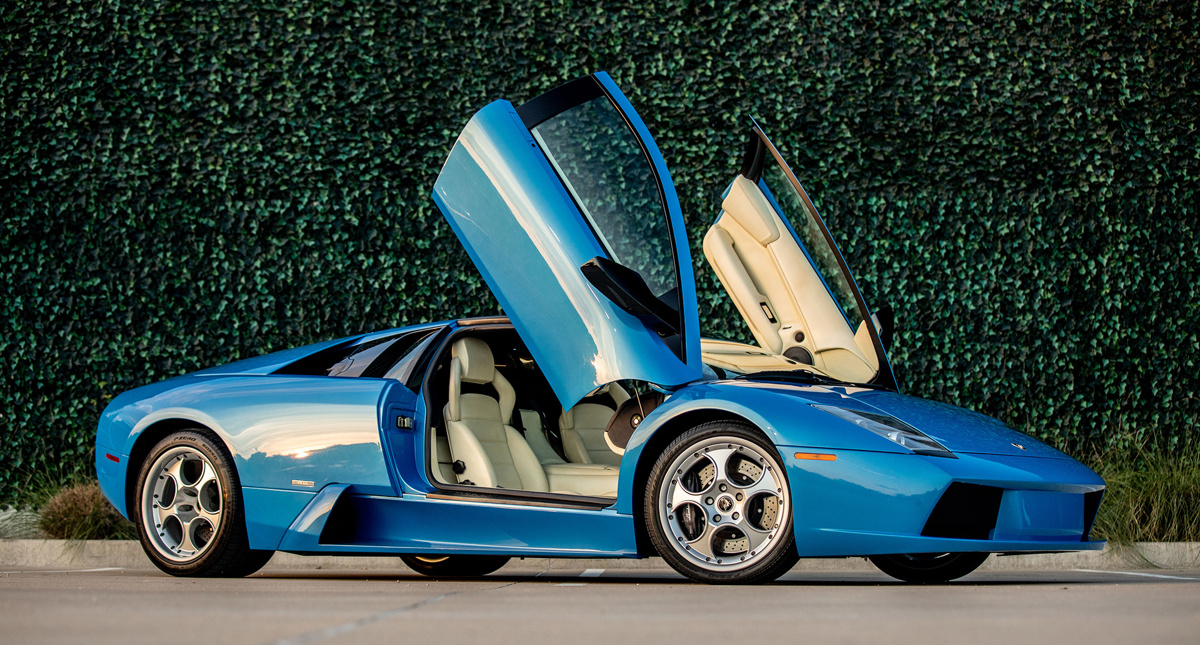 2003 Lamborghini Murciélago
Estimate: $225,000 - $275,000 | Offered Without Reserve
Kicking off our list of significant supercars, this tasteful, modern Lamborghini Murciélago is one of a mere 424 coupes built in 2003. Unfortunately, Lamborghini did not keep official records of the breakdown of Murciélago supercars by color, but the number of models made in this handsome shade of Blue Ely Metallic must be positively miniscule. Paired with a handsome blue-and-cream-colored leather interior with contrasting red stitching on the dashboard, this example features perhaps the most desirable option on any supercar, a gated six-speed manual transmission. At the time this Murciélago was released, Lamborghini did not offer an E-Gear option, so the legendary 6.2-liter, V-12 engine is operated by the driver, the ideal setup for any sports-oriented automobile. At the time of cataloguing, this well-kept example showed merely 14,050 miles.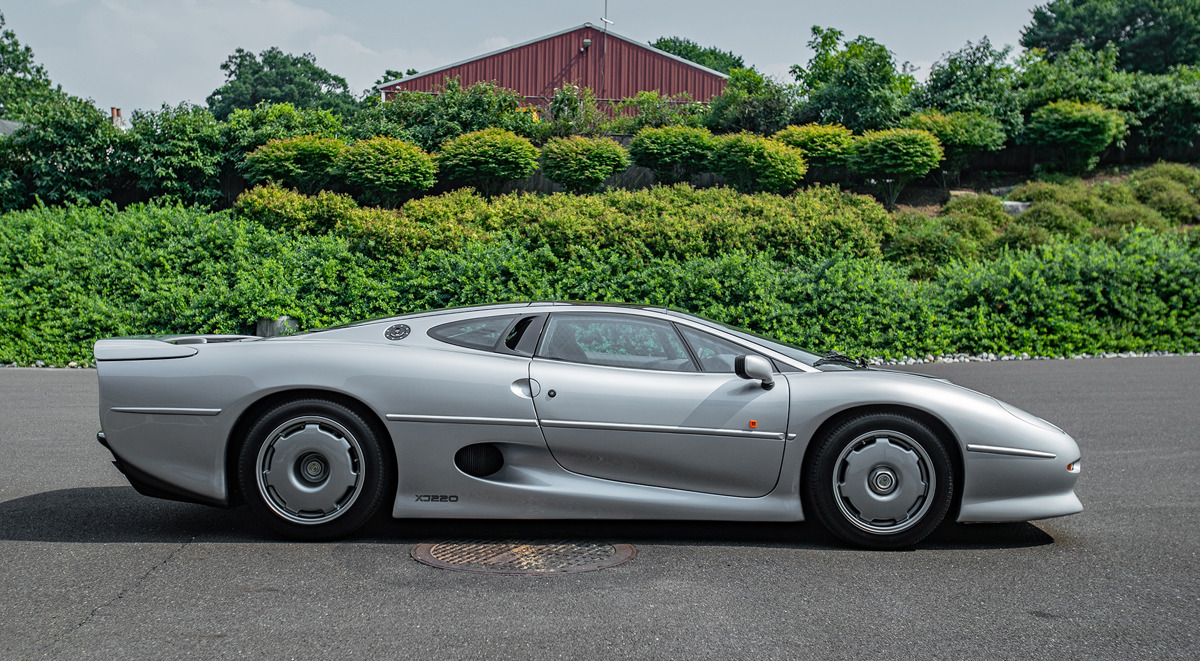 1993 Jaguar XJ220
Estimate: $450,000 - $550,000
Now, with nearly three decades since the debut of the British brand's last mid-engine halo vehicle, and the re-issuance of original-spec tires by Pirelli and Bridgestone, the Jaguar XJ220 can now be appreciated as both an exceptional leap of faith and a brilliant display of engineering. Once-derided by some critics as less-than-sufficient for supercar status, the 542-horsepower, Group B rally-derived all-alloy turbocharged V-6 that powers this shapely supercar was sufficient for a top speed in excess of 200 mph. Fewer than three hundred were built. Moreover, the in-period acceleration figures put the XJ220 above rival halo vehicles from Ferrari and Lamborghini; that modern supercars like the second-generation Ford GT have adopted a similar setup only adds more evidence to the XJ220's supercar status. Serviced and certified by Jaguar Heritage, this XJ220 example is one of a handful than can claim to be concours-ready. Showing under the equivalent of 4,250 miles at time of cataloguing, this low-mileage Jaguar currently wears a new set of Pirelli tires and is accompanied by the original set as well.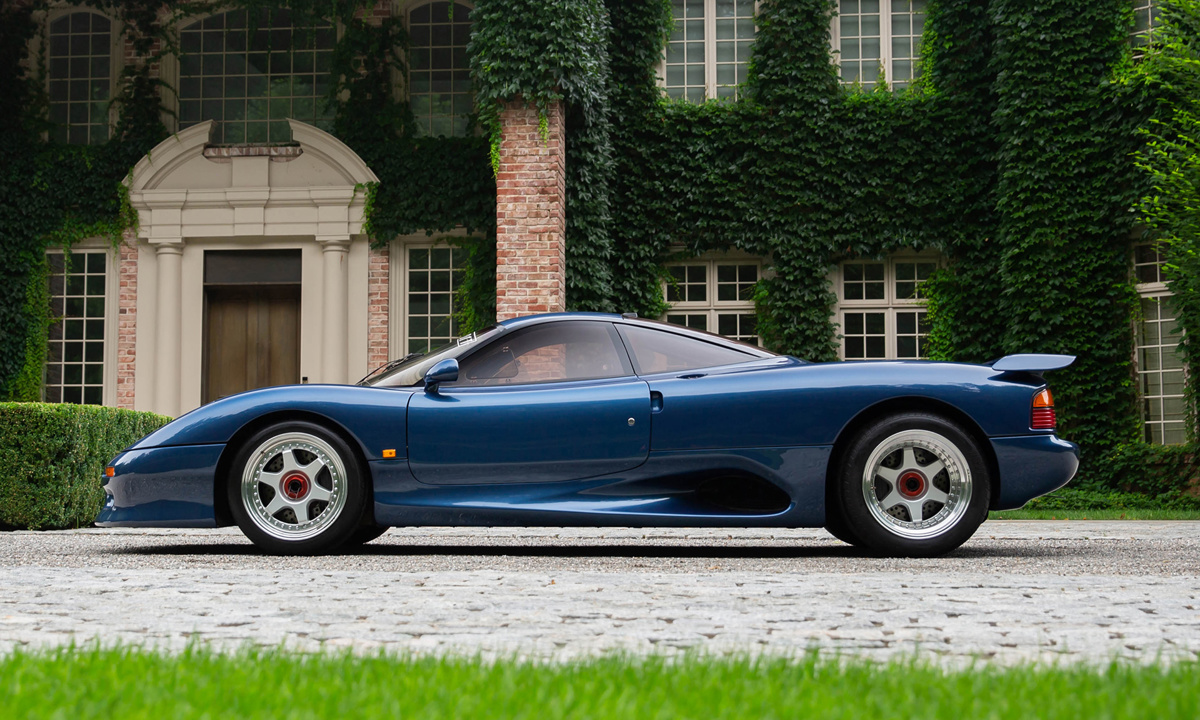 1991 Jaguar XJR-15
Estimate: $1,750,000 - $2,100,000
Of course, devoted Jaguar followers appreciate that XJ220 was not the only mid-engine machine to come out of the leaping cat brand in the 1990s. A more hardcore, race-oriented supercar called the XJR-15 debuted two years prior, with a more direct link to the brand's XJR-9 and XJR-12 models, which were then experiencing unparalleled success at WRC events and at the 24 Hours of Le Mans in 1988 and 1990. To better suit their newest motorsport-derived supercar for regular road driving, the XJR-15 was built with a bespoke carbon fiber body featuring a unique, book-matched weave, allowing for more headroom and easier access than either of the competition-focused models. Powered by a 6-liter, V-12 engine that acted as a stressed member of the chassis, paired with a TWR five-speed manual gearbox transaxle, this automobile showcased nearly every advanced motorsport technology from Jaguar's winning race team. This chassis, no. 028, was one of a mere 27 constructed for the road and received a comprehensive recommissioning from a US-based model expert as recently as 2021. A piece of well-preserved Jaguar history, this example's odometer showed a mere 78 miles at the time of cataloguing.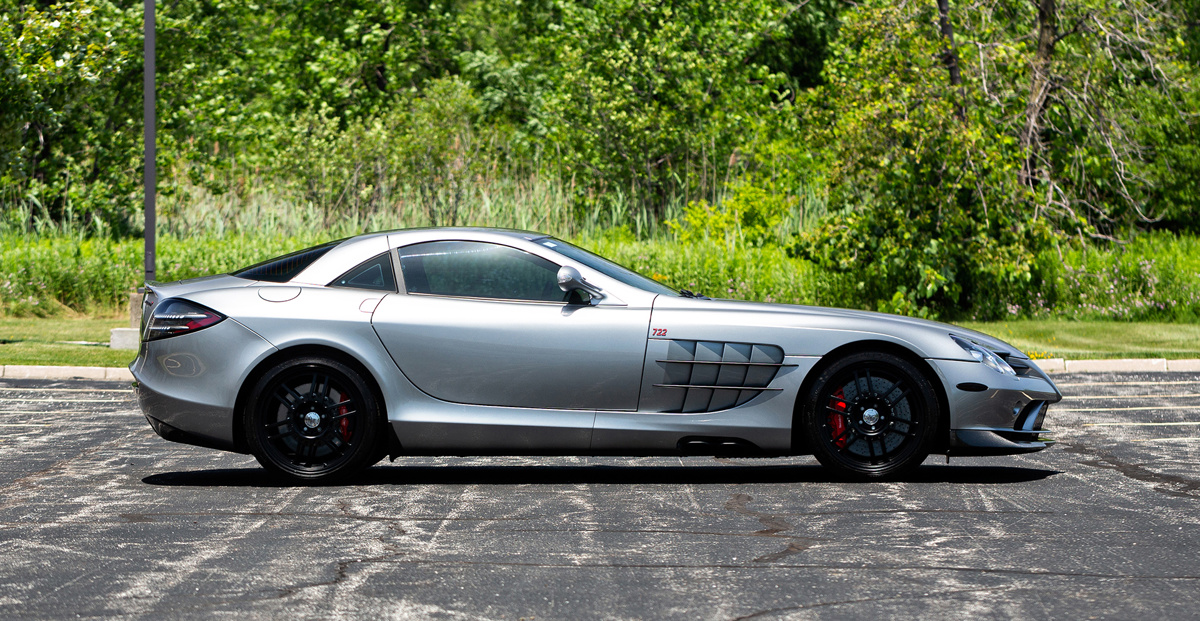 2007 Mercedes-Benz SLR McLaren 722 Edition
Estimate: $625,000 - $675,000
Another highly tasteful option, this top-tier Mercedes-Benz SLR McLaren 722, for many, represents the ultimate international supercar collaboration. Named in honor of the starting number worn by the original Mercedes-Benz 300 SLR racer, famously piloted to victory by Sir Stirling Moss at the Mille Miglia in 1955, this limited-edition variant saw a production run totaling a mere 150 examples. One of approximately twenty-five examples that were imported to North America, this represents the pinnacle performance variant of the only supercar wearing both McLaren and Mercedes-Benz badges. Not long after the debut of the late-model 722 Edition, McLaren began constructing supercars under its own nameplate. And eight years after this halo-level grand tourer was released, Mercedes-Benz and McLaren parted ways on the Formula One starting grid, with McLaren rekindling their relationship with Honda as an engine supplier. So, this well-kept, sparingly used example—showing fewer than 3,800 miles at time of cataloguing—marks a brief moment in time for both McLaren and Mercedes-Benz.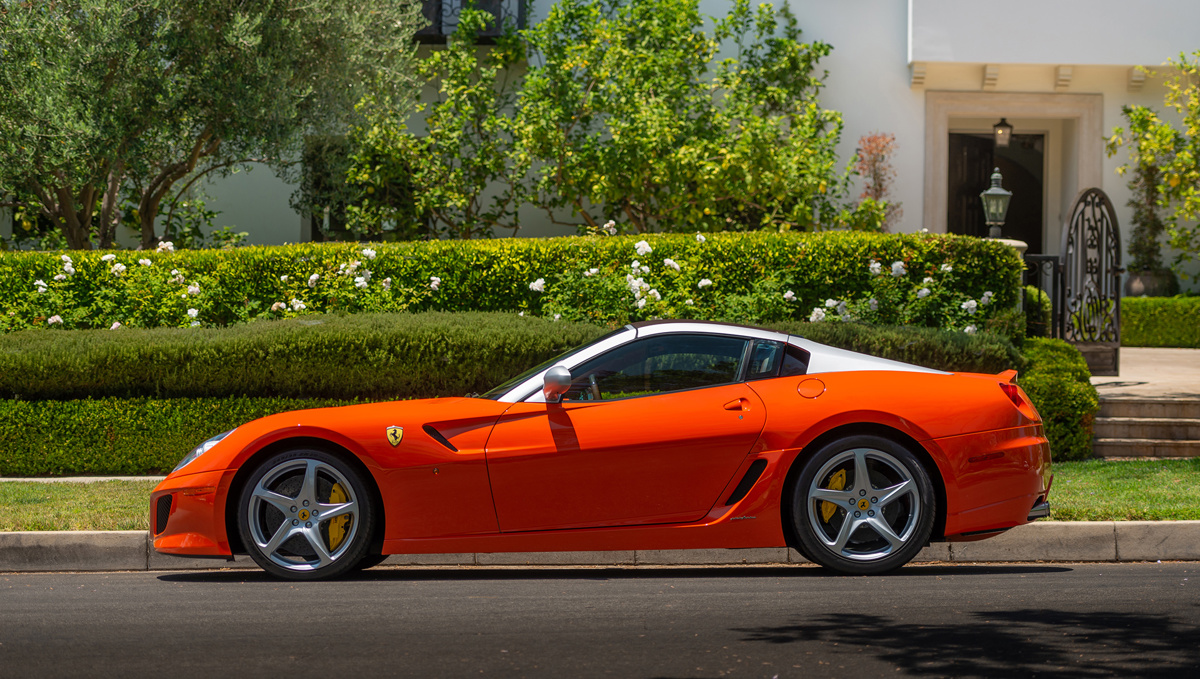 2011 Ferrari SA Aperta
Estimate: $1,200,000 - $1,350,000
If what you desire is a grand touring machine, made in a limited quantity under the auspices of a premium brand, with the ability to open the roof at a moment's notice, the Ferrari SA Aperta is worthy of careful consideration. Though this top-tier prancing horse shares some underlying components with the 599 GTB, figuring out how Ferrari engineers managed to stiffen this chassis while only sacrificing 37 lbs. compared to the closed coupe variant is a mystery worth solving. Carbon-fiber exterior roll hoops partly surmount this seemingly impossible weight disparity, while a lightweight canvas top in a tasteful shade of Marrone Scuro (dark brown) offers either open or closed driving experiences. With an assortment of exterior alterations including a steeper-raked windshield and a lower ride height courtesy of a revised suspension, the long hood, short deck silhouette of the SA Aperta is set apart from every other Ferrari of the era.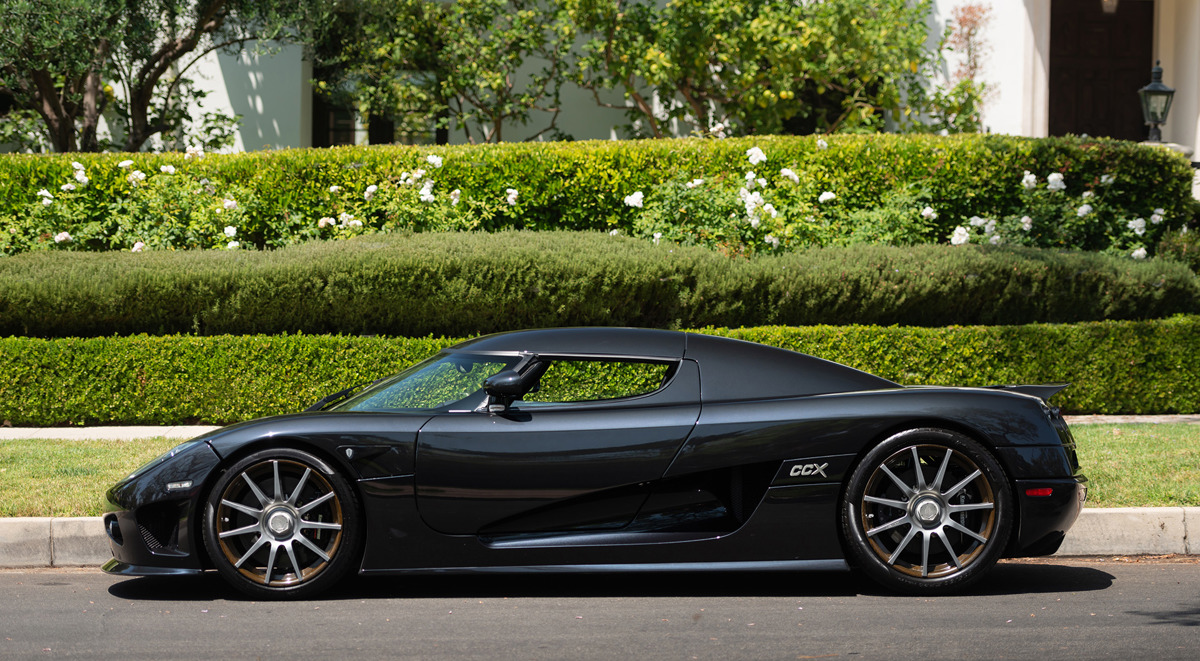 2008 Koenigsegg CCX
Estimate: $1,200,000 - $1,400,000
There exists a need for an even more extraordinary vehicle over and above the realm of the supercar, and Christian von Koenigsegg's eponymous company was created to deliver exactly that. Promising a "megacar," the CCX was an evolution on the CCR, which itself took the prize for maximum velocity away from the McLaren F1, becoming the fastest production automobile on sale worldwide. By all accounts, the CCX is even more extreme than its predecessor, with a streamlined, aerodynamic body shape crowned by a removable carbon fiber roof panel, and an advertised top speed of 250 mph. This example, serviced as recently as July 2020, shows fewer than 1,600 miles on its odometer, and is one of a handful of the already scarce group of 49 Koenigsegg CCX-based cars to be fitted from the factory with a six-speed manual transmission.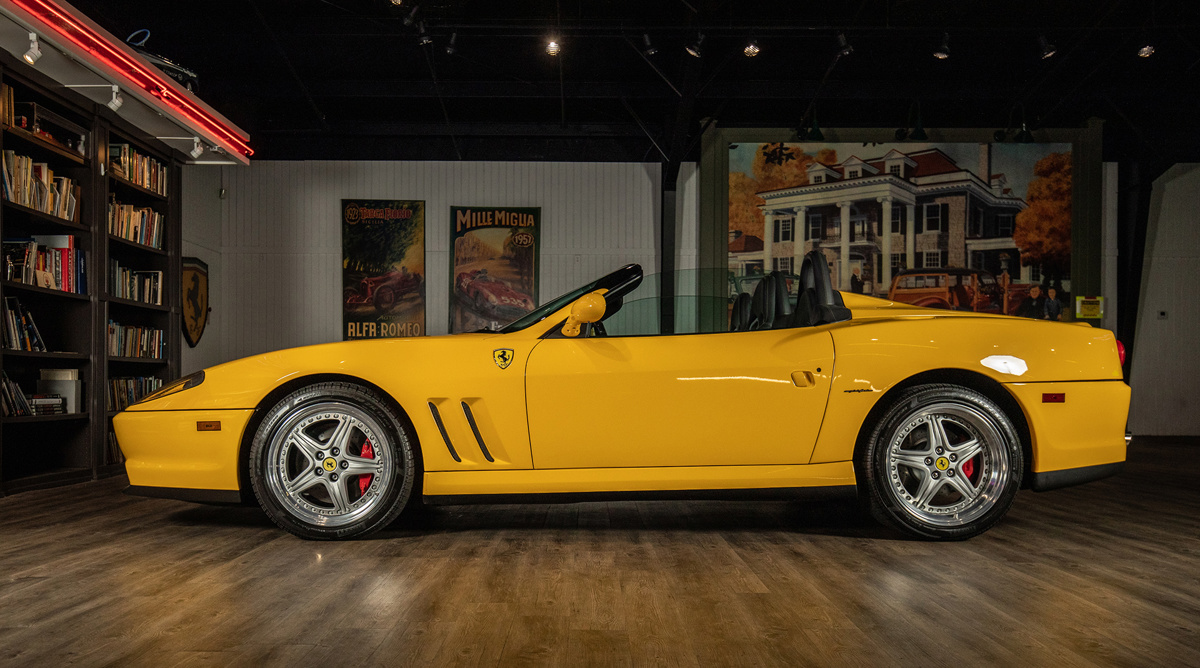 2001 Ferrari 550 Barchetta Pininfarina
Estimate: $325,000 - $375,000
Another iconic nameplate made even more desirable with a manual transmission, this limited-edition Ferrari was first intended to be built in a quantity of only 444 worldwide, making it more than twice as uncommon as a Ferrari F40. Tetraphobia (a dislike of the number four) in some major markets prevented this figure, leading Ferrari to revise production to 448 total. Power was delivered by a naturally aspirated V-12 producing 485 horsepower. Making this example more uncommon is a combination between its Classiche-certified color scheme (Giallo Modena over a Charcoal leather interior with Giallo inserts and stitching paired with red-painted Brembo brake calipers) and the rarely chosen optional handling package, which adds a larger diameter rear sway bar, bespoke springs and shock absorbers, and a revised program for the power steering.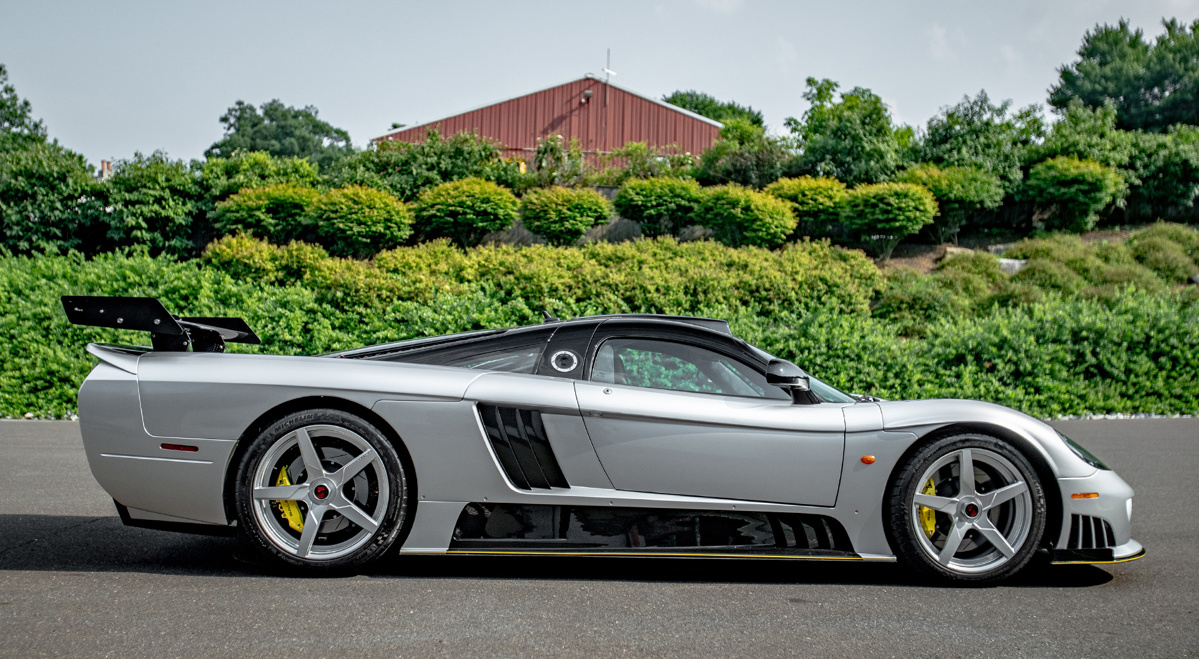 2007 Saleen S7 LM
Estimate: $800,000 - $1,000,000
A testament to the abilities of independent American manufacturers to deliver world-beating products, this upgraded example was meant to represent the genuine success that boutique automaker Saleen enjoyed at motorsport events as prestigious as the 24 Hours of Le Mans and the 12 Hours of Sebring. With the "LM" spec edition of his already outlandish supercar promising even more performance, a total of three lucky buyers of company founder Steve Saleen's original S7 returned to the factory for a thorough modernization of their cars between 2017 and 2019. With a revised turbocharger setup fed by an endurance race-style, roof-mounted intake plenum, the LM produced a stated power output between 1,000 and 1,300 horsepower, depending on owner preference, tune setup, and the octane rating of the gasoline used. A serious motorcar, especially when all the power is delivered via a driver-controlled six-speed manual transaxle.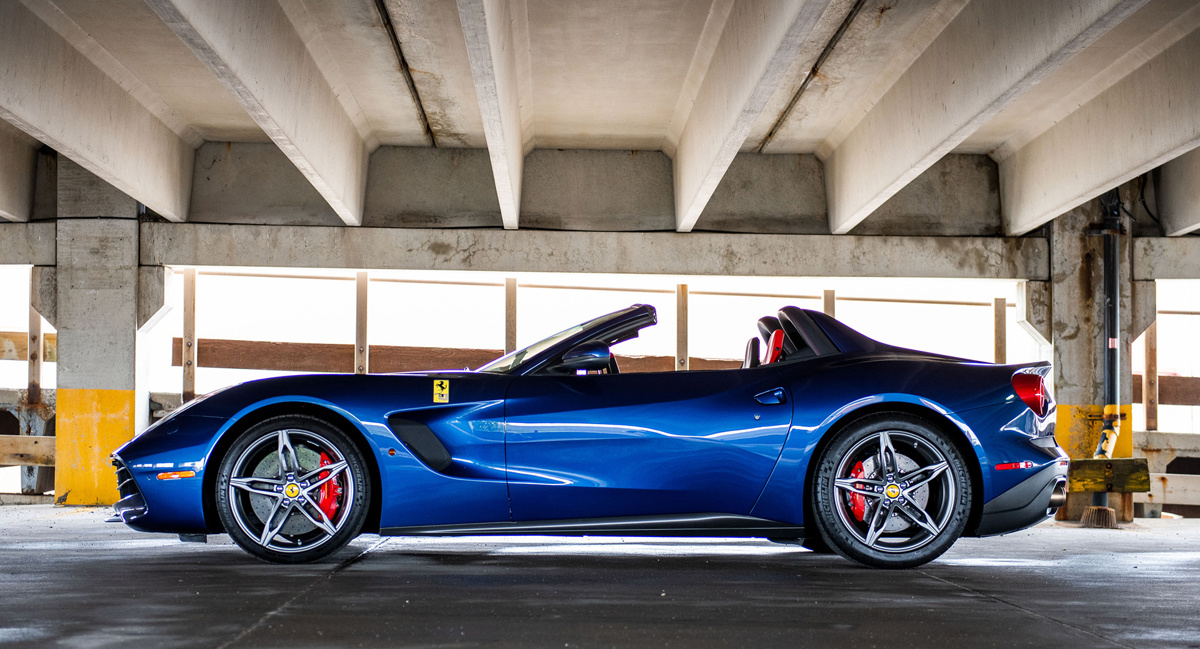 2016 Ferrari F60 America
Estimate: $3,500,000 - $4,500,000
While the supercars on our list so far all share a relative rarity, this special-edition, open-top Ferrari is one of the only examples that required a personal relationship with the factory to purchase new. Made to celebrate sixty years of Ferrari sports cars being sold in North America, the announcement of the Ferrari F60 America's debut was almost immediately followed by the news that all ten examples were already sold-out. Open-top Ferrari cars with cab-rearward designs are typically the connoisseur's choice, and with the limited production run, desirability among the tifosi was practically off-the-scale. With bespoke badging to reflect the U.S.-founded NART racing team, the driver's choice of either a stowable fabric top or a carbon-fiber roof with its own custom storage case, and an absolutely wild interior with an asymmetric colorway, this is perhaps the pinnacle of modern, limited-edition, open-top Ferrari supercars.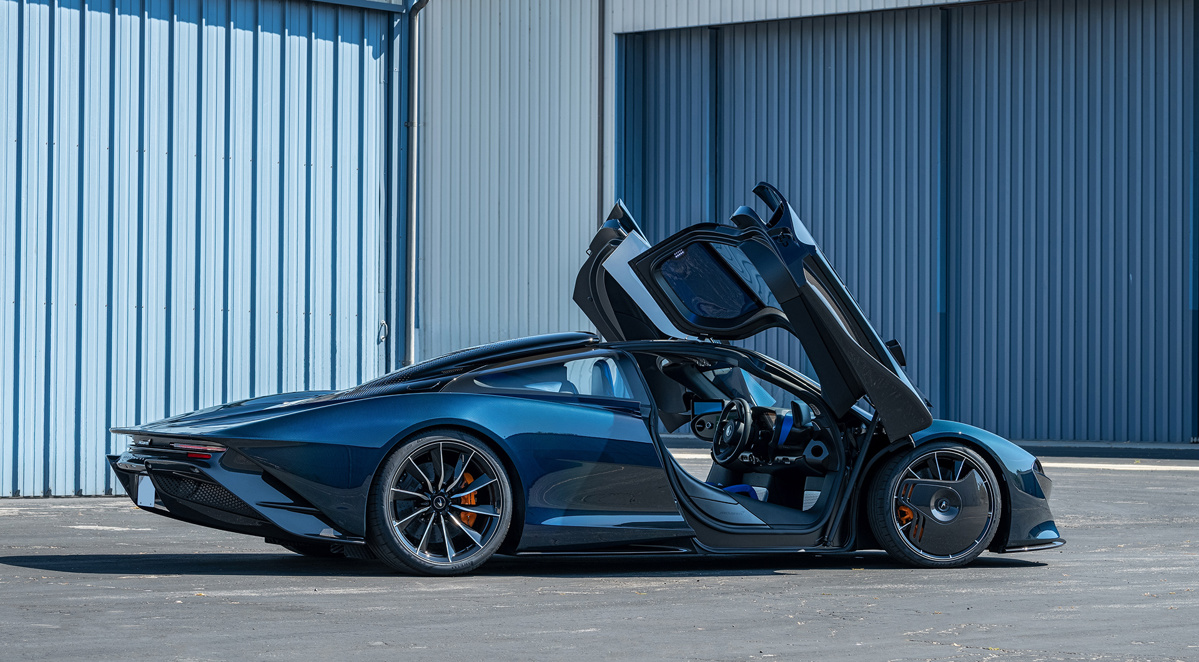 2020 McLaren Speedtail
Estimate: $3,000,000 - $3,500,000
Another supercar which needs minimal introduction; one look inside the cabin of the McLaren Speedtail shows the radical departure from nearly any other car on the road. Built around a central driving position, an echo of McLaren's world-famous F1 road car, the Speedtail was made to maximize total miles-per-hour. With its distinctive long-tail design making for extreme aerodynamic efficiency at high velocities, the prototype Speedtail achieved 250 mph over thirty times in a row during testing. This example, Speedtail number 81 of 106 total, was fitted with approximately $539,540 in optional extras courtesy of the McLaren Special Operations department, including its iconic, roof-mounted, carbon fiber air intake, similar in ethos to the motorsport-derived McLaren F1 GTR. Due to all the highly advanced engineering, the Speedtail was only ever imported to the United States under a strict "show or display" edict; yet, due to their limited production figures, it is highly likely the next owner will be the only one driving a Speedtail to their local car meetup.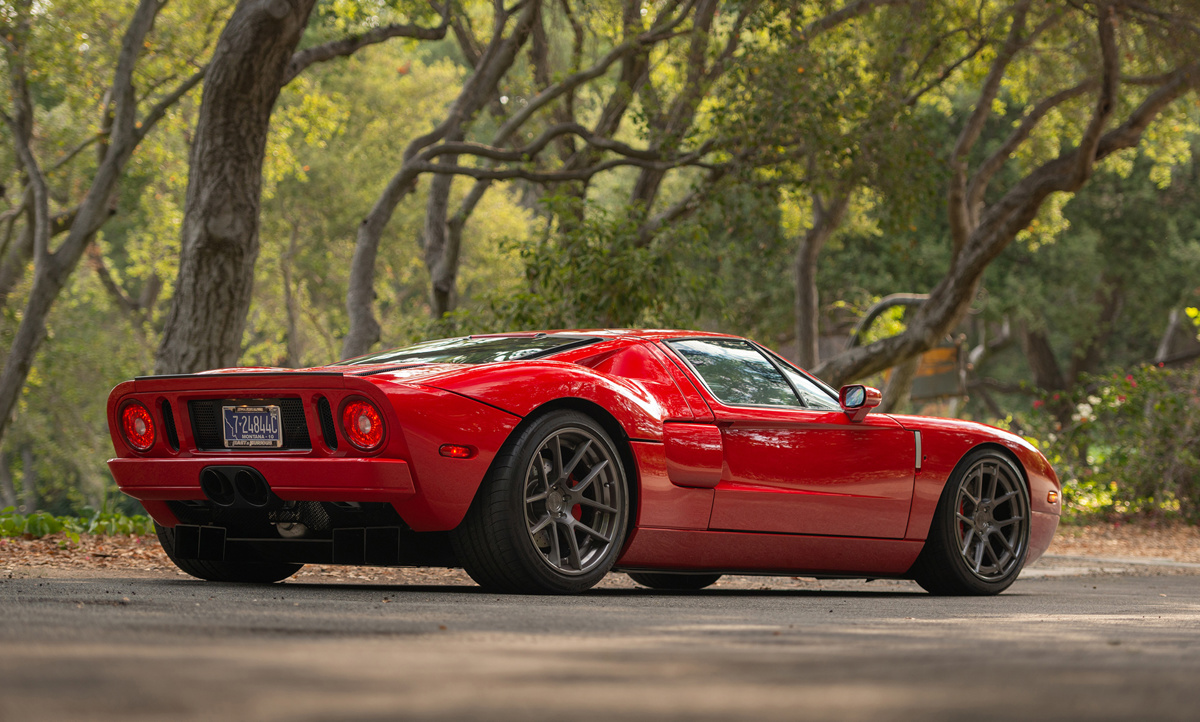 2005 Ford GT
Estimate: $450,000 - $650,000
Finishing right where we started, this first-generation Ford GT was a statement piece upon its debut for the potential of American engineering. As is well-known, the Ford GT was designed by Camilo Pardo to be a refinement of the original GT40 race car, which won a string of victories at the 24 Hours of Le Mans in the late 1960s. The striking exterior paint on this example, a shade called Mk IV Red, was made to evoke the classic Ford GT40 Mk IV, piloted to victory at Le Mans in 1967 by none other than Ken Miles. Unlike that famous race car, the original owner of this example opted against putting a white-striped livery on their modern supercar, reportedly one of a mere 14 originally optioned with a similarly clean, all-red exterior. Acquired by Paul Walker and Roger Rodas' Always Evolving collection, based in Santa Clarita, CA, in 2011, this example can be said to have been deemed worthy by a true supercar enthusiast. Accompanied by modern ADV.1 wheels wrapped in Michelin tires, as well as its original factory-optional forged alloy BBS wheels, this carefully kept "three-option" Ford GT shows a healthy 2,556 miles on its odometer at the time of cataloguing and it is certainly a supercar worthy of your consideration.