Since its inception the automobile has afforded both drivers and passengers the ability to travel in comfort and privacy, as opposed to alternative means of transportation. As the automobile evolved from a simple motorized carriage to the modern vehicle we are familiar with today, a number of body styles emerged, from sporting coupes and roadsters to great sedans and station wagons capable of comfortably accommodating numerous passengers and accompanying luggage. The expansion of the road networks in the 1930s through the 1950s lent motorists the opportunity to travel throughout the country not only strictly for commuting, but for recreation as well. For those who chose to vacation by road, larger sedans and station wagons were the ideal choice for the journey.
Scroll down to explore ten road-trip-worthy classic automobiles offered during RM Auctions' Auburn Fall collector car auction that are sure to bring you and your passengers to your destination in both style and comfort.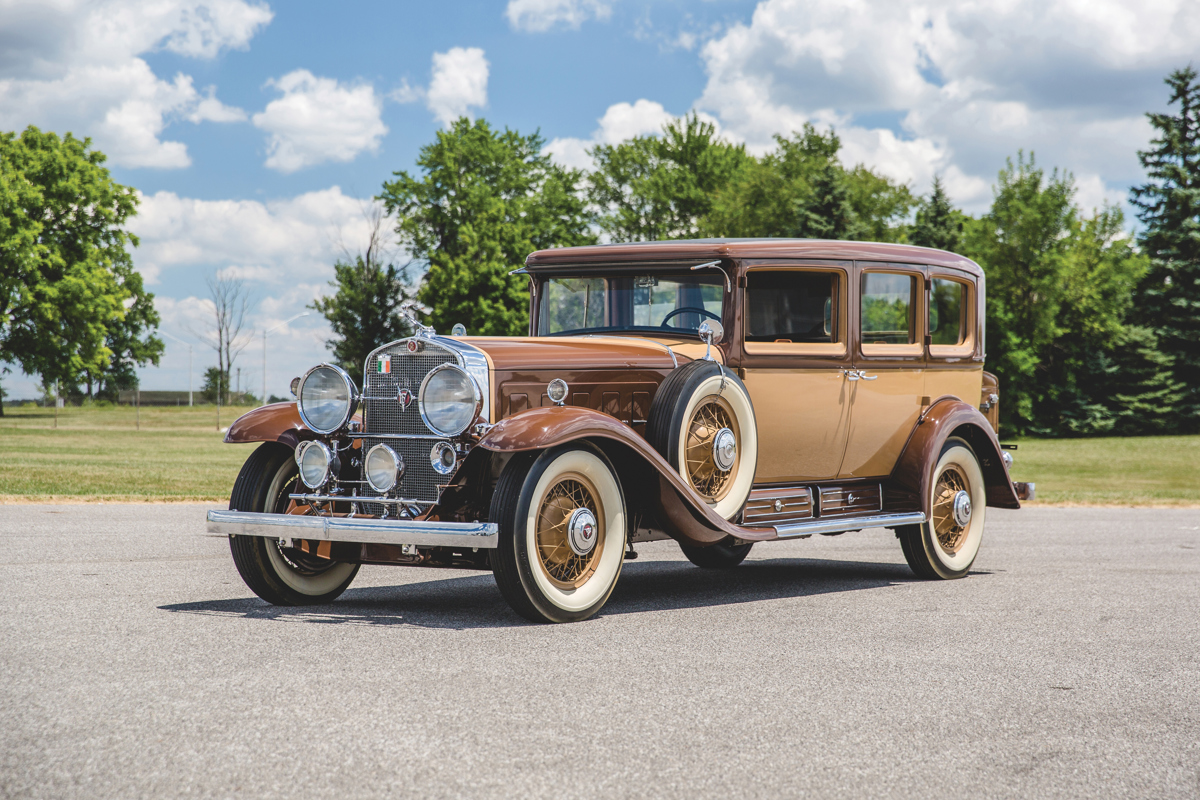 1931 Cadillac V-16 Seven-Passenger Imperial Sedan by Fleetwood
Estimate: $120,000 - $140,000 USD
This wonderfully preserved example of Cadillac's flagship V-16 sedan represented the pinnacle of luxury and engineering in 1931. It features its original engine, chassis, and body and was restored from the ground up in 1974 by Regal Restorations in its original color scheme of Matisse Brown and Ravenswood Brown. It remains in superb condition and would be an ideal candidate for the CCCA CARavan and other classic car touring events.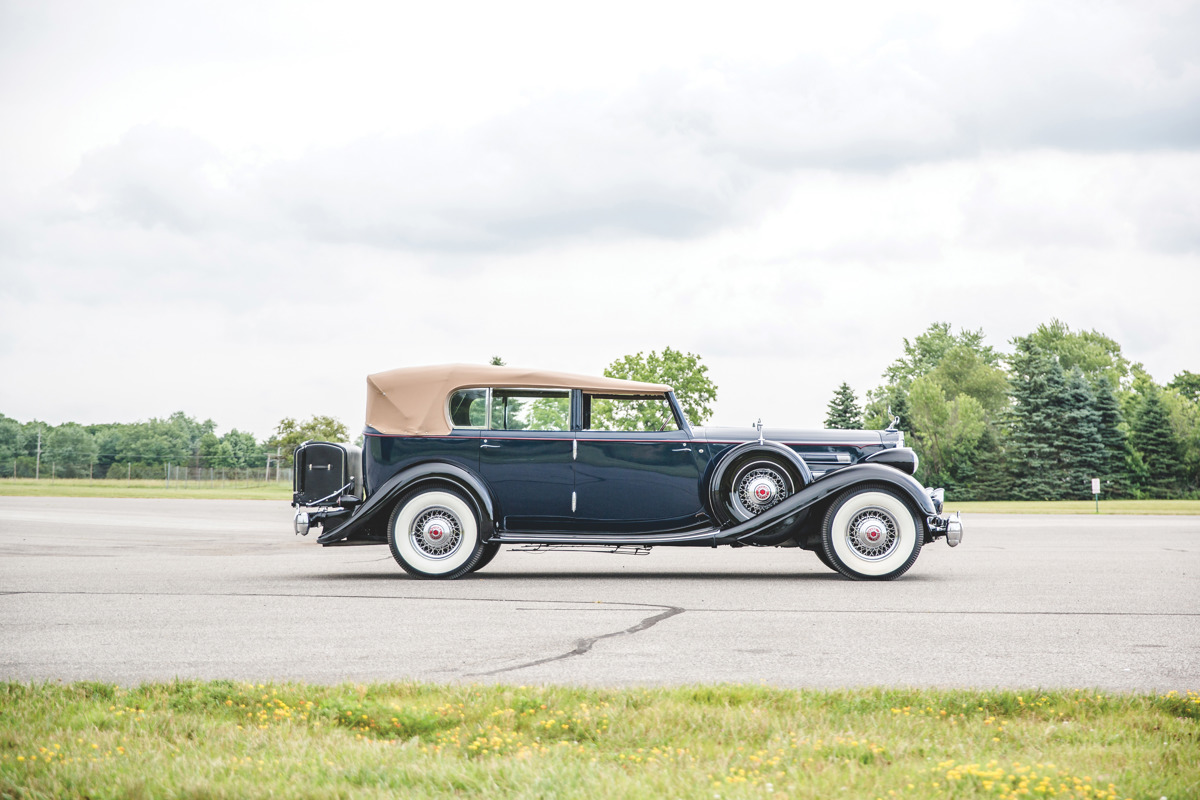 1935 Packard Twelve Convertible Sedan by Rollston
Estimate: $175,000 - $225,000 USD


For those fortunate enough to have retained their wealth during the Great Depression of the 1930s, the Packard Twelve convertible sedan offered incredible performance with unparalleled luxury appointments. This convertible sedan was ordered with a custom Rollston body, which carried a price tag of roughly $7,500 and is believed to be the only of its kind built. It presents today in impeccable condition and has recently undergone a full repaint prior to being displayed in the 2018 Concours d'Elegance of America at St. John's, Michigan.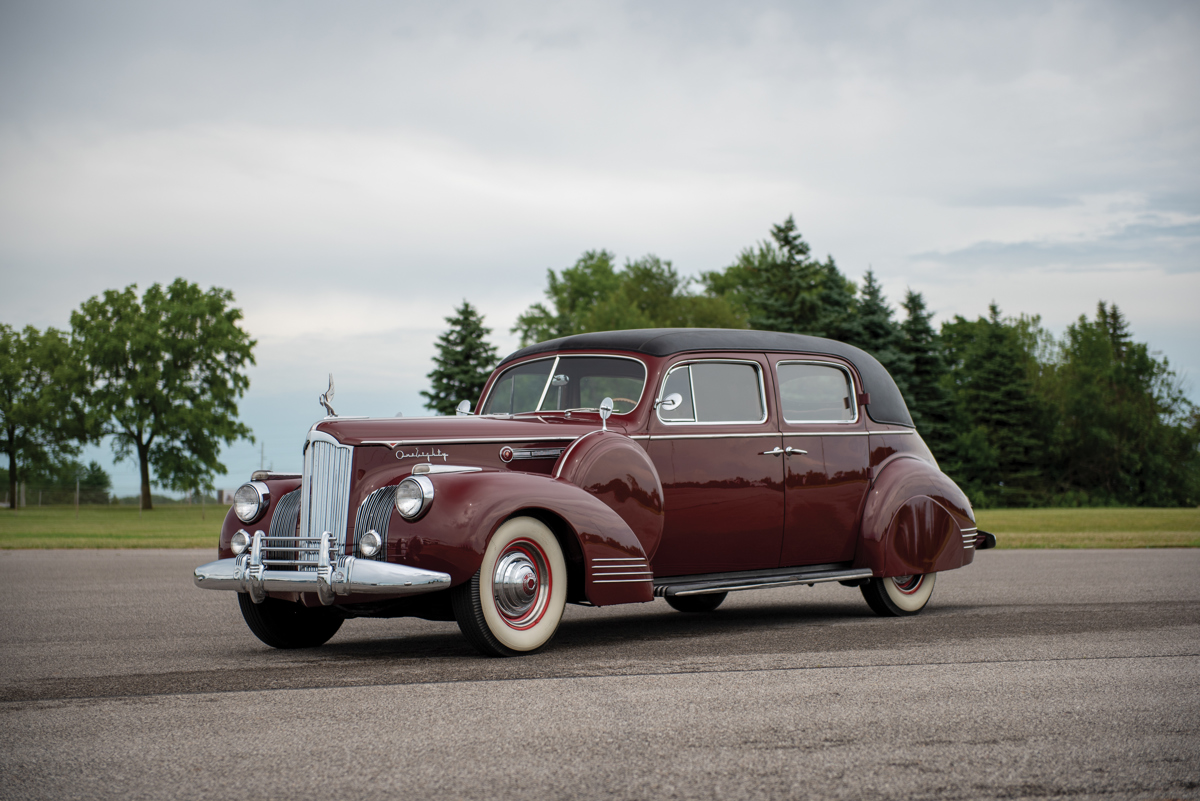 1941 Packard Super Eight One Eighty Formal Sedan
Estimate: $30,000 - $40,000 USD | Offered Without Reserve
Packard introduced the One Eighty in 1940. It was their top­-of-the-line offering and served as a replacement for their V-12 automobiles of previous years. The One Eighty received a 160-horsepower V-8, which Packard proudly claimed was the most powerful 8-cylinder on the market. The One Eighty Formal Sedan was finished with the most exquisite interior detailing with beautiful wood trim and vanities, plus superior fabrics and plush carpeting selected.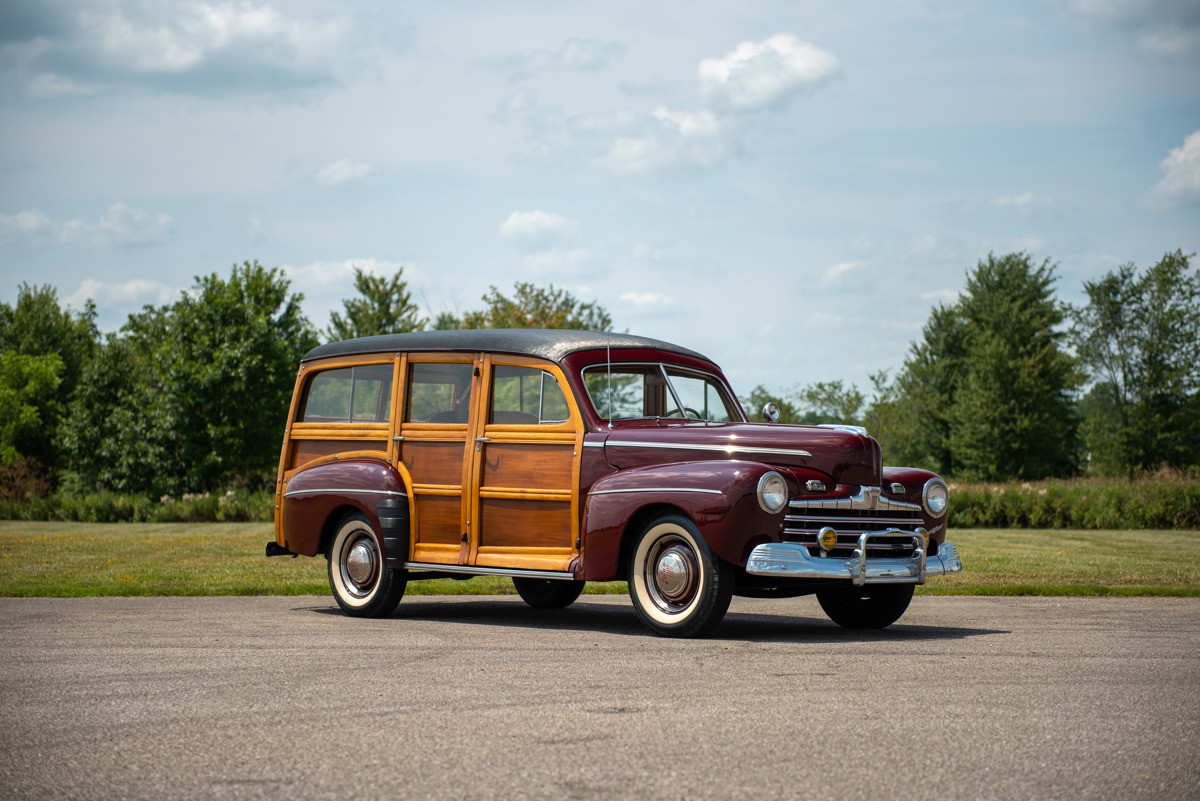 1946 Ford Super Deluxe Station Wagon
Estimate: $45,000 - $60,000 USD | Offered Without Reserve
Following the Second World War, Ford was the first automaker to resume production of passenger vehicles. With the number of families on the rise, Ford saw an increase in the number of station wagons being sold. Among the most popular was the Ford Woody, shown here in their top-of-the-line Super Deluxe trim. Experts from the boating and furniture-building industries were hired to ensure the best finishes, tightest joinery, and overall the finest product that could be had. With its beautiful paintwork and excellent woodwork, this example is very well preserved throughout.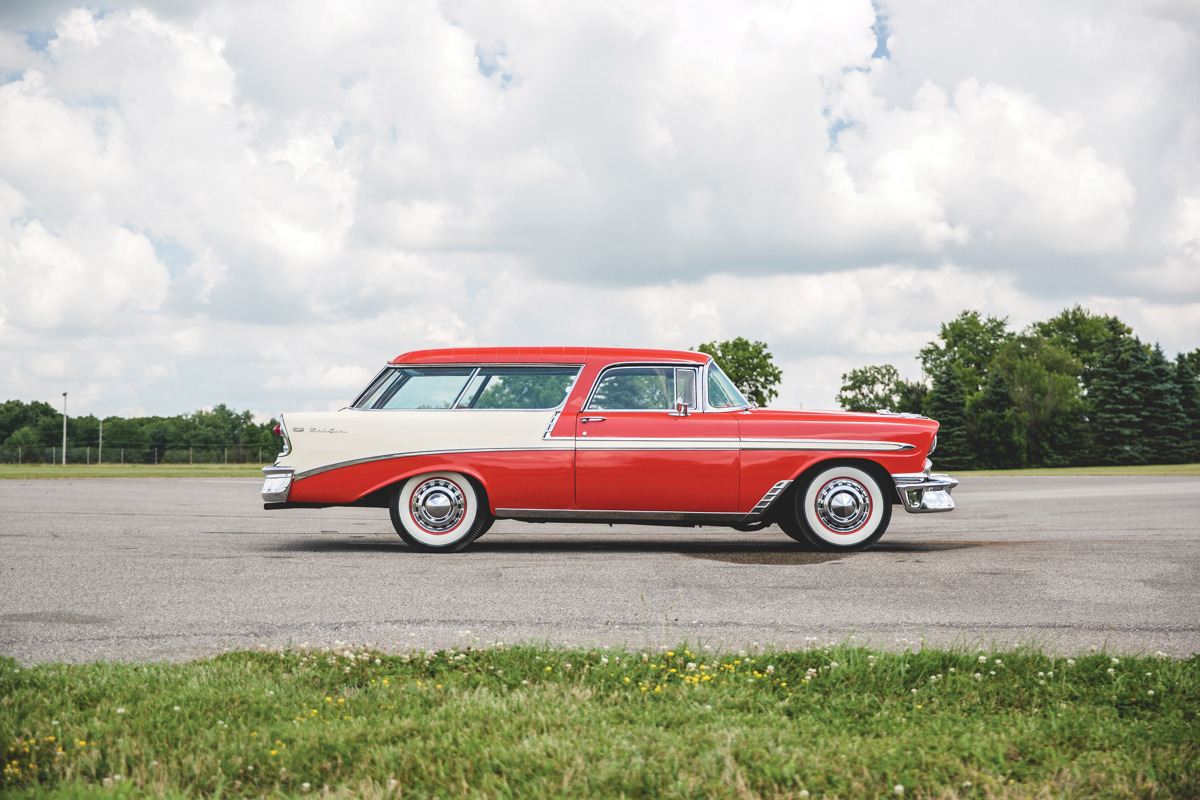 1956 Chevrolet Bel Air Nomad
Estimate: $40,000 - $50,000 USD | Offered Without Reserve
For 1956, Chevrolet gave its two-door Nomad a face-lift, giving it a more conventional full-width grille and Bel-Air rear wheel sheet metal, along with the same interior as other Bel-Air models. Its side trim mirrored the forward-slant door windows, making it distinctive from other models of the same year. This wonderful example of Chevrolet's iconic Nomad is finished in the correct Matador Red over Dune Beige color scheme, and features factory air-conditioning and power steering.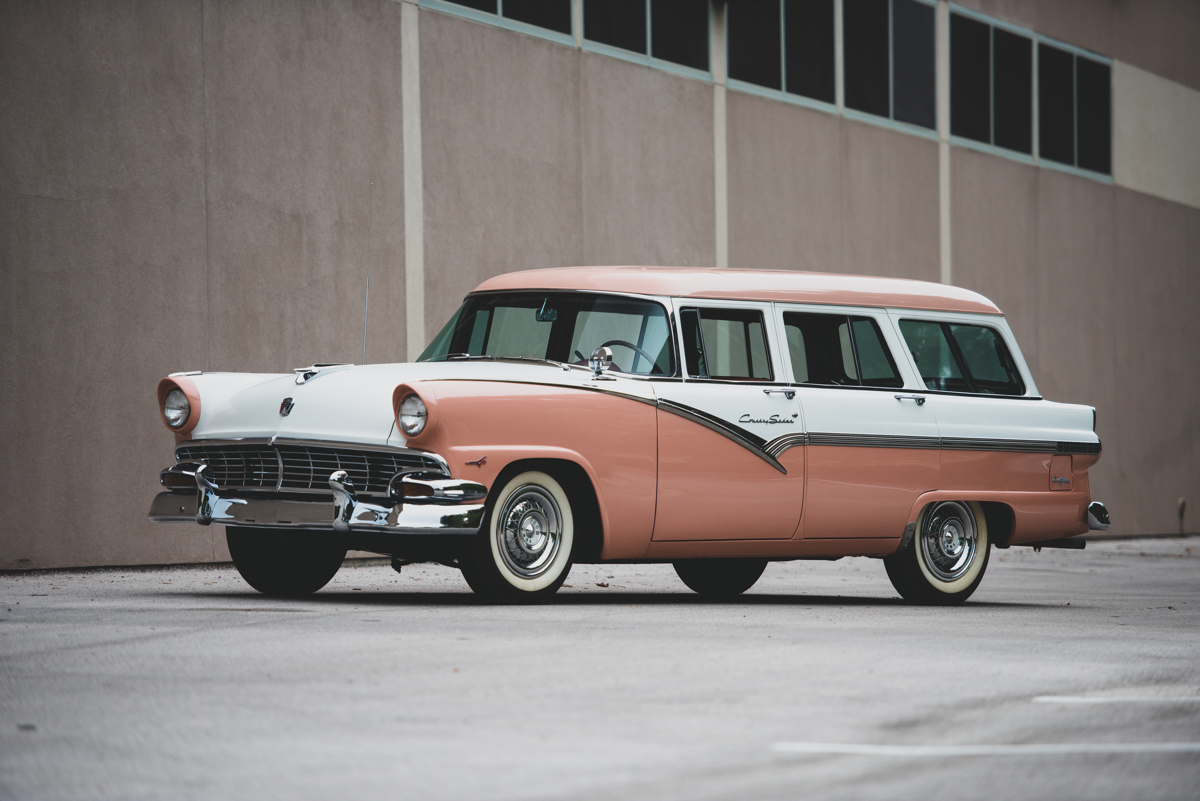 1956 Ford Eight-Passenger Country Sedan
Estimate: $35,000 - $45,000 USD | Offered Without Reserve
This special example of Ford's popular Country station-wagon line features a 312-cubic-inch, 225-horsepower Thunderbird Special engine rarely installed in wagons. Ordered new and delivered to Texas, the interior features a special-order Buckskin tan, coral and white leather, and light and dark brown inlays with a cattle-brand motif on the seats, appropriate for a Lone Star State wagon. This unique and charming station wagon is highly original and presents very well both inside and out, having been driven fewer than 80,000 miles. Proceeds from the sale of this special wagon will benefit the Missoula Catholic Schools Foundation.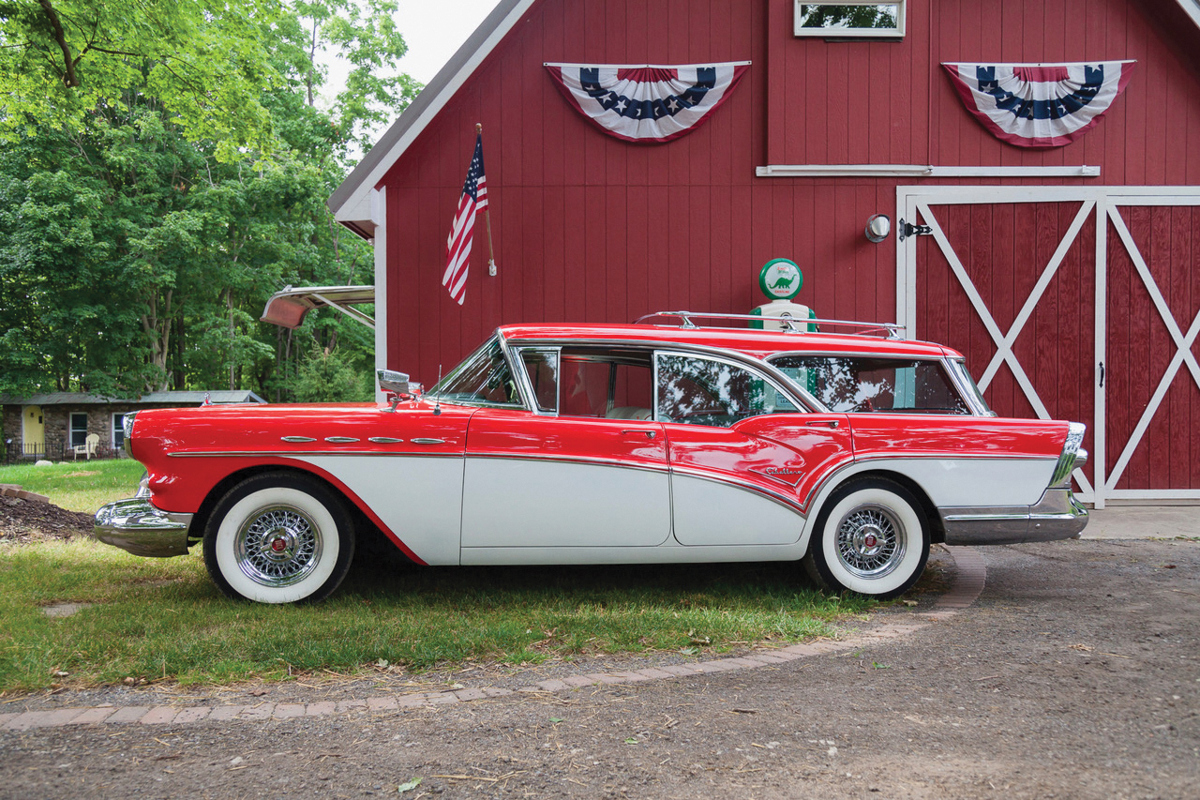 1957 Buick Caballero Estate Wagon
Estimate: $70,000 - $80,000 USD
The Caballero wagon was produced for only two years due to the high costs incurred to construct them, resulting in a total of approximately 14,000 being built. With gorgeous, highly stylized 1950s Art Deco styling, the unique pillarless wagon was breezy, practical, and best of all—stylish. This example is finished in a lovely red-and-white two-tone paint scheme, which is mirrored by the interior, while the 364-cubic-inch V-8 engine has been rebuilt and was paired to a Dynaflow two-speed automatic transmission. Aftermarket power steering and brakes were added for drivability, and a matching Vespa scooter with transport rack is included, making this wagon a prime choice for a weekend getaway vehicle.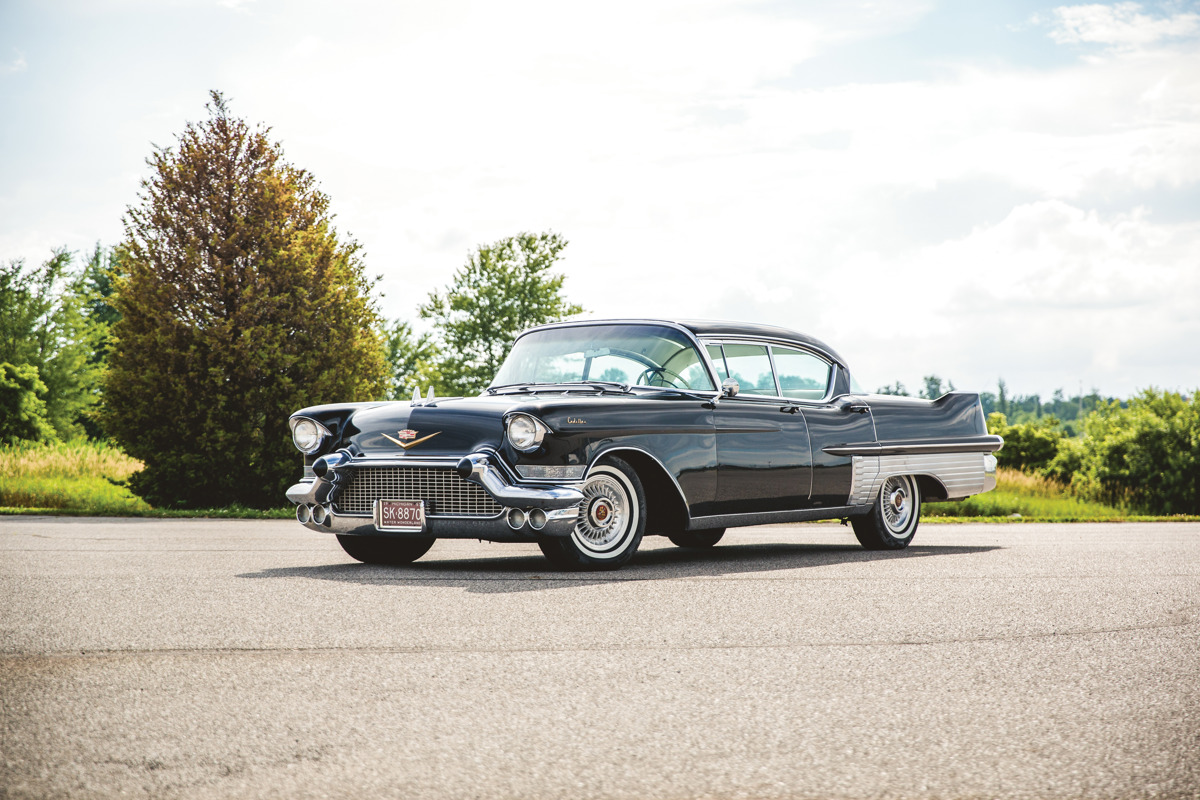 1957 Cadillac Series Sixty Special Fleetwood
Estimate: $30,000 - $40,000 USD | Offered Without Reserve
Cadillac's line was completely re-engineered and restyled for 1957 in Harley Earl's iconic design language, resulting in longer, lower, streamlined, and highly detailed designs. The Series Sixty Special Fleetwood was built upon its own unique 133-inch wheelbase. A completely redesigned chassis resulted in improved torsional rigidity, allowing Cadillac to employ a pillarless design in all but one of their models. The Series Sixty Special shared a number of styling elements with the Eldorado Brougham, including the ribbed chrome accents along the lower edge of the rear fenders. Beautifully preserved, this example embodies the pinnacle of Cadillac's styling, power, and luxury.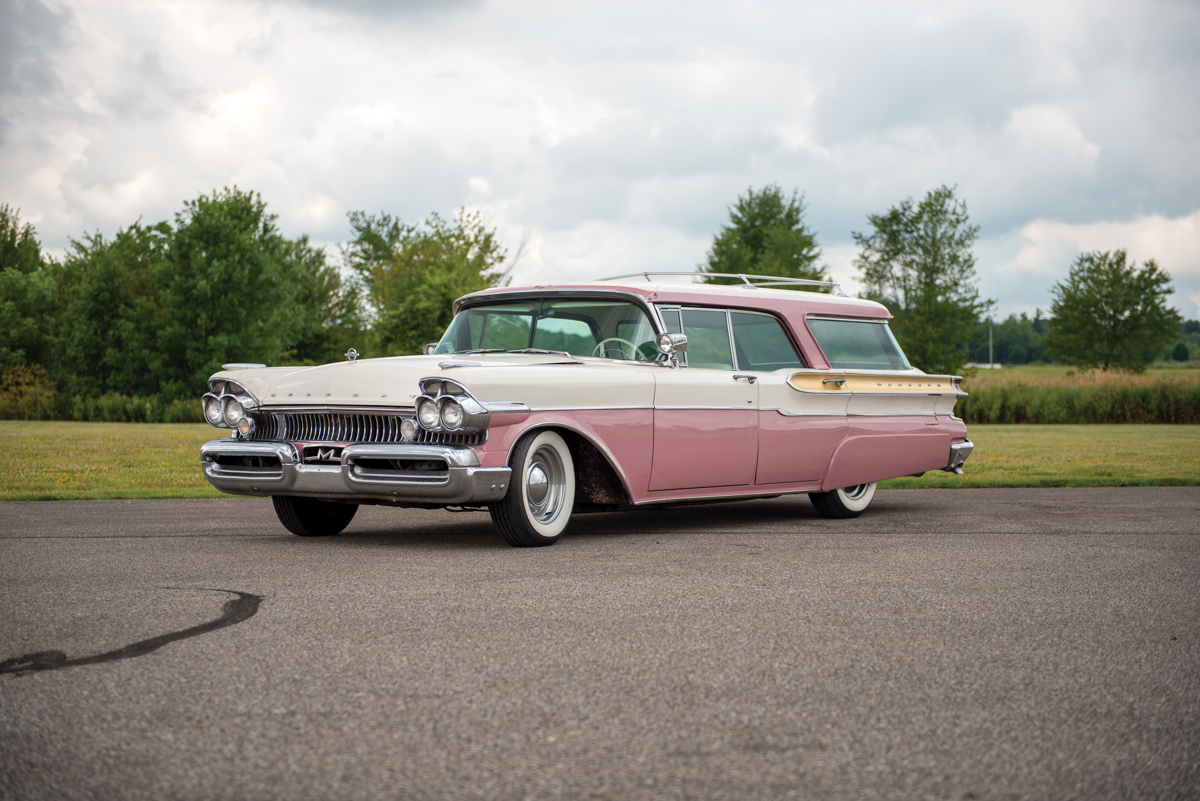 1957 Mercury Commuter Station Wagon
Estimate: $25,000 - $35,000 USD | Offered Without Reserve
Mercury's full-size station wagon is incredibly ornate, with generous application of chrome and Art Deco design throughout. It offered comfortable seating for six passengers and accompanying cargo. This example is powered by the optional Turnpike Cruiser V-8 engine and three-speed Merc-O-Matic push-button automatic transmission. Additionally, it features factory air-conditioning, power rear window, steering, and brakes.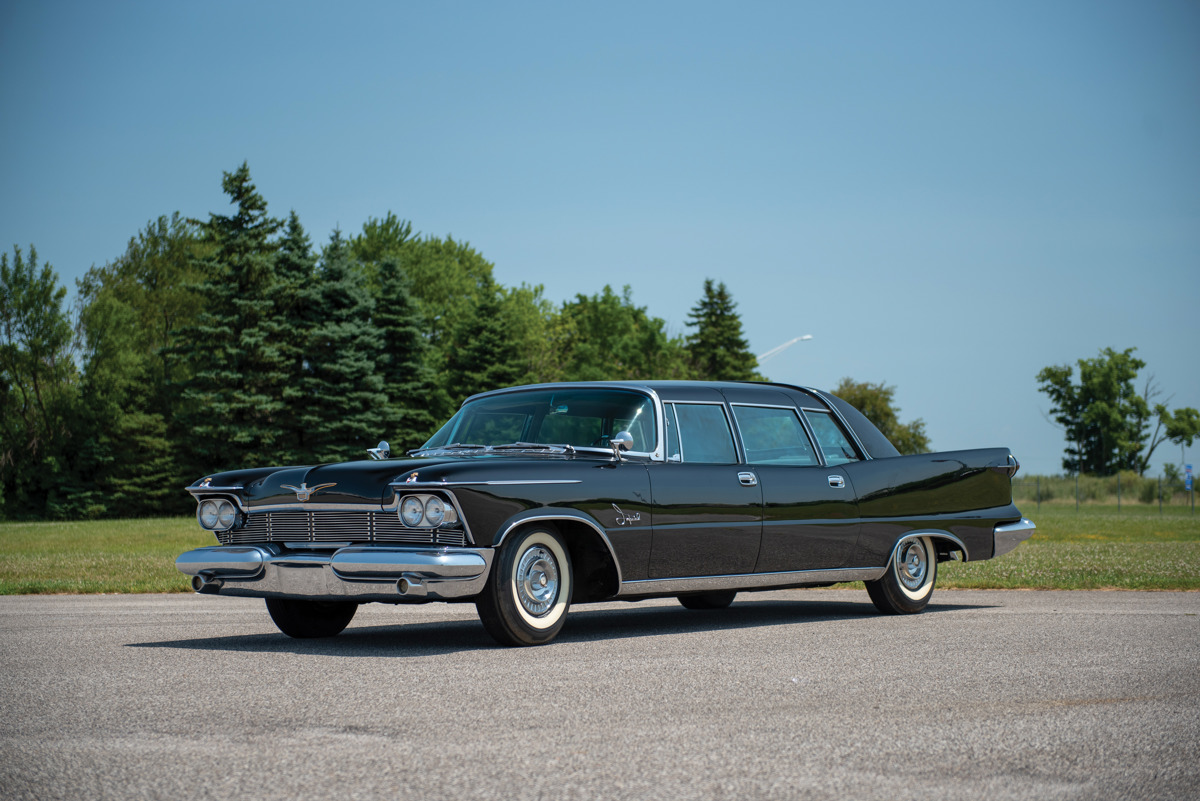 1958 Imperial Crown Limousine by Ghia
Estimate: $80,000 - $120,000 USD
Led by Chrysler's lead designer, Virgil Exner, partially assembled Imperial hardtop coupes were sent to Carrozzeria Ghia in Turin, Italy, to complete the construction of the Imperial Crown Limousines. Ghia performed extensive modifications to the chassis before creating the shapely bodies and luxurious interiors. Across a nine-year production span, only 132 examples were produced and only 31 completed for the 1958 model year. This example is the only known survivor and was used primarily to chauffeur Queen Elizabeth II during formal events on her trip to the 1959 Royal Fair. It has undergone an extensive exterior restoration and retains its original interior.