It was the early 2000s and Porsche had a problem of perception. As hard as it is to imagine now, the storied Stuttgart brand's sports car offerings were almost more associated with managing a mid-life crisis rather than motorsport (a first-season episode of Malcolm in the Middle, where Bryan Cranston experiences exactly this, did not help much). Ardent defenders of the brand's dedication to air-cooled powerplants were incensed at the 996 generation's move to water-based cooling. Even before the announcement of their Cayenne SUV, some purists were offended at the German company's hiring of former Toyota executives to streamline production methods.
In short, Porsche needed some image assistance. But like many effective makeovers, the impetus to change had to start from an external intervention. Enter: Magnus Walker and his merry band of "urban outlaw" 911s garaged in downtown Los Angeles. For an interpretation taken a bit more upscale, there was another English-born ex-pat living in Southern California, Rob Dickinson's Singer. And for perhaps the ultimate expression in pushing the Porsche aesthetic into a more radical direction, one could hire Akira Nakai and commission the most personal, hands-on application of one-off customization seen anywhere this side of a hot rod shop: Full RWB treatment.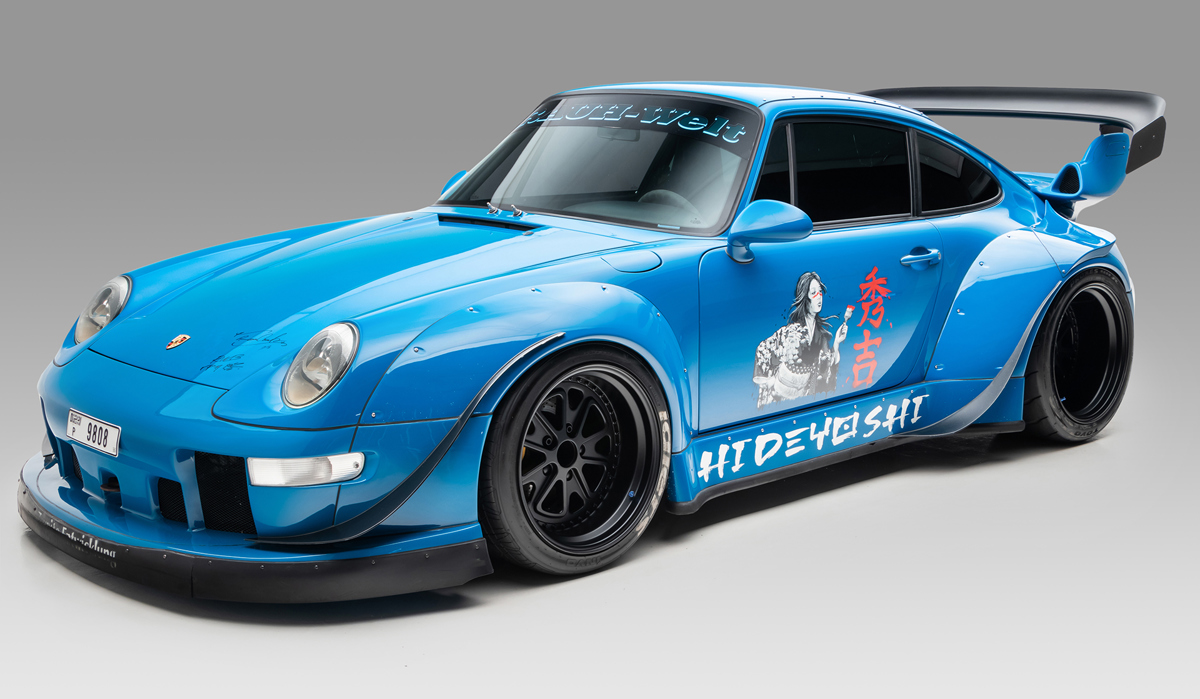 1995 Porsche 911 Carrera Coupé by RWB
Estimate: $175,000 - $225,000 USD
Looking at this customized Carrera Coupé with a romantic eye, it is difficult to avoid making overblown pronouncements about its creator, Nakai-san. Certainly, his life appears, from the outside, to be as close to a modern-day samurai as possible, with Nakai boarding a plane nearly every week to visit a new locale to slice up a sports car for eager owners. The overwhelming work of transforming an air-cooled Porsche into one of Nakai's "Rauh-Welt BEGRIFF" creations is done in-person and on the spot by Nakai himself, lending the customization sessions the air of a one-man band, or a piece of performance art.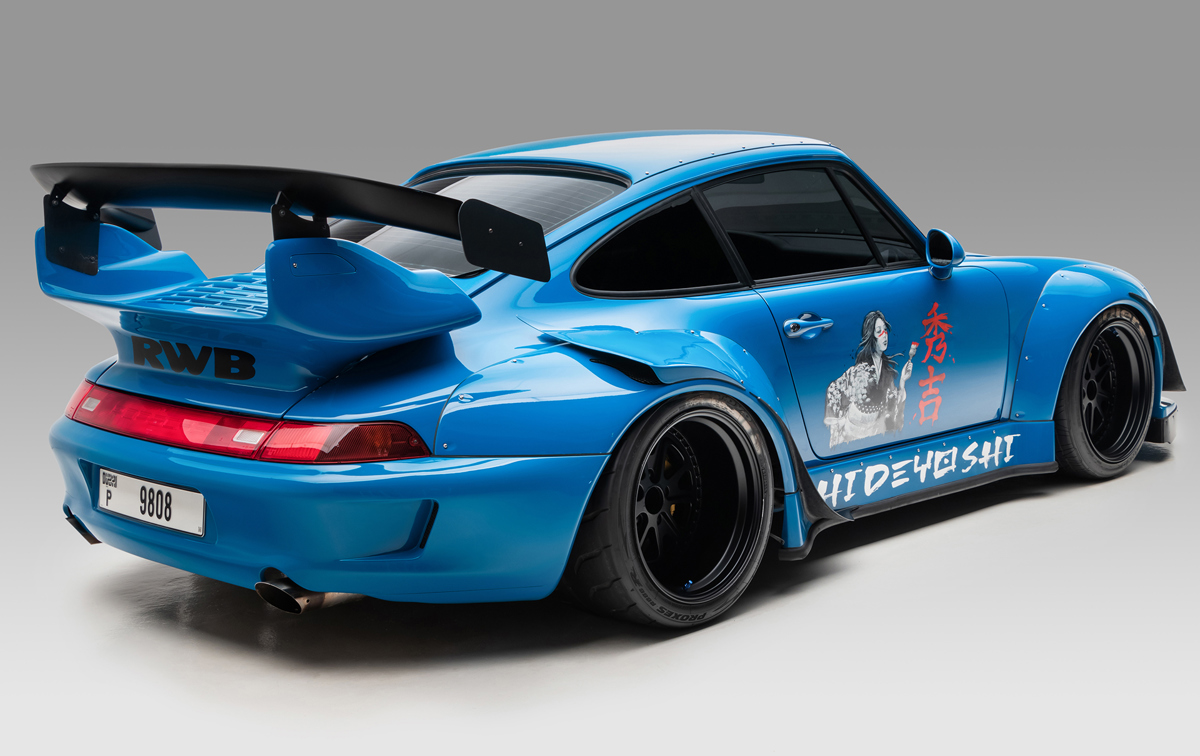 Videos of Nakai going through the process of customization have themselves gone viral, racking up hundreds of thousands of views. Though the ultimate goal of Nakai's efforts is to achieve a finished design that is relatively reminiscent of a 993-era GT2, with wide, bolt-on style arches and an expansive rear wing, part of the magic inherent in all of his RWB creations is that they are all essentially unique. Nakai does not strictly measure any of the fenders before cutting, but rather makes adjustments based on the local tools provided, the car in question, and even the temperature and barometric pressure of the locale. "I cut based on feeling," he says, a true artist.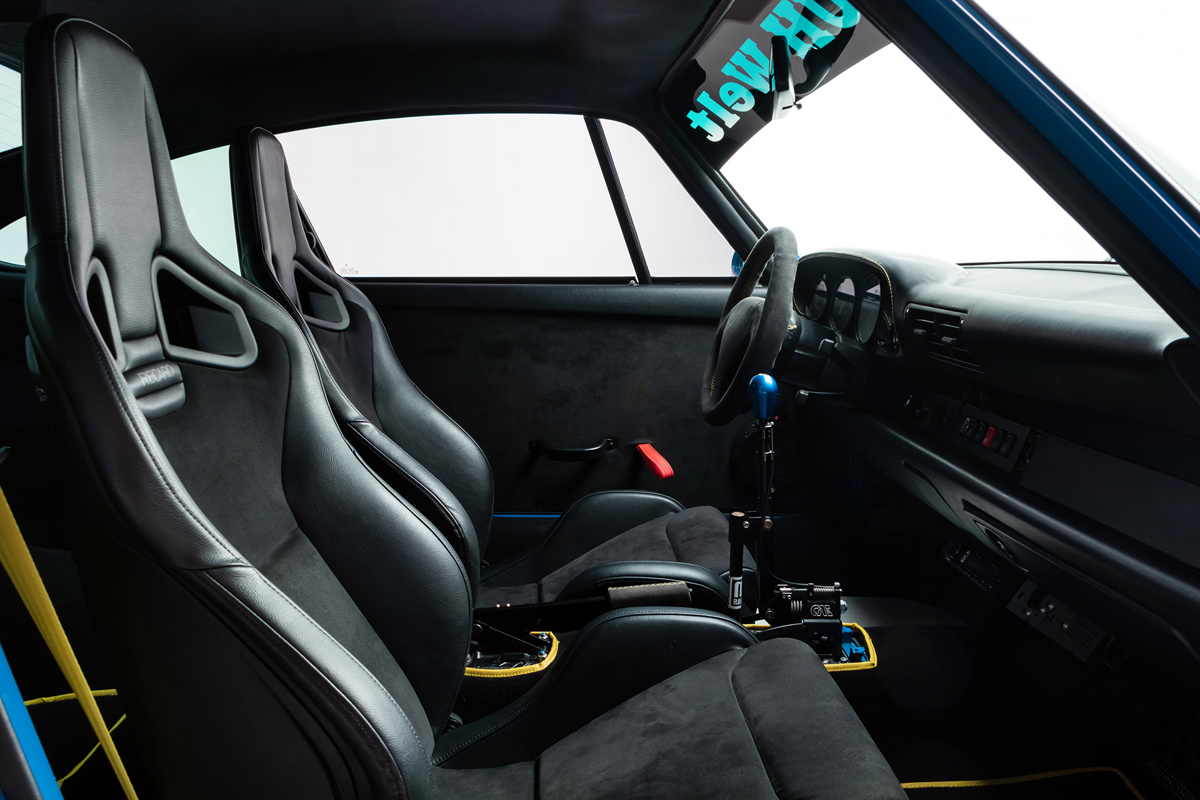 After an average of two days of hard effort, Nakai's RWB creations roar into life. The finished customizations are lower, wider, and far more menacing than a standard 993, with personal touches adding up to far more than a typical modified Porsche. This example, finished in a Mexico Blue with its interior finished in black leather and Alcantara with Recaro seats, is perhaps one of the more refined RWB builds. The cockpit is crowned with a six-speed synchronized CAE Ultra Shifter, finished in the same shade of blue as the exterior.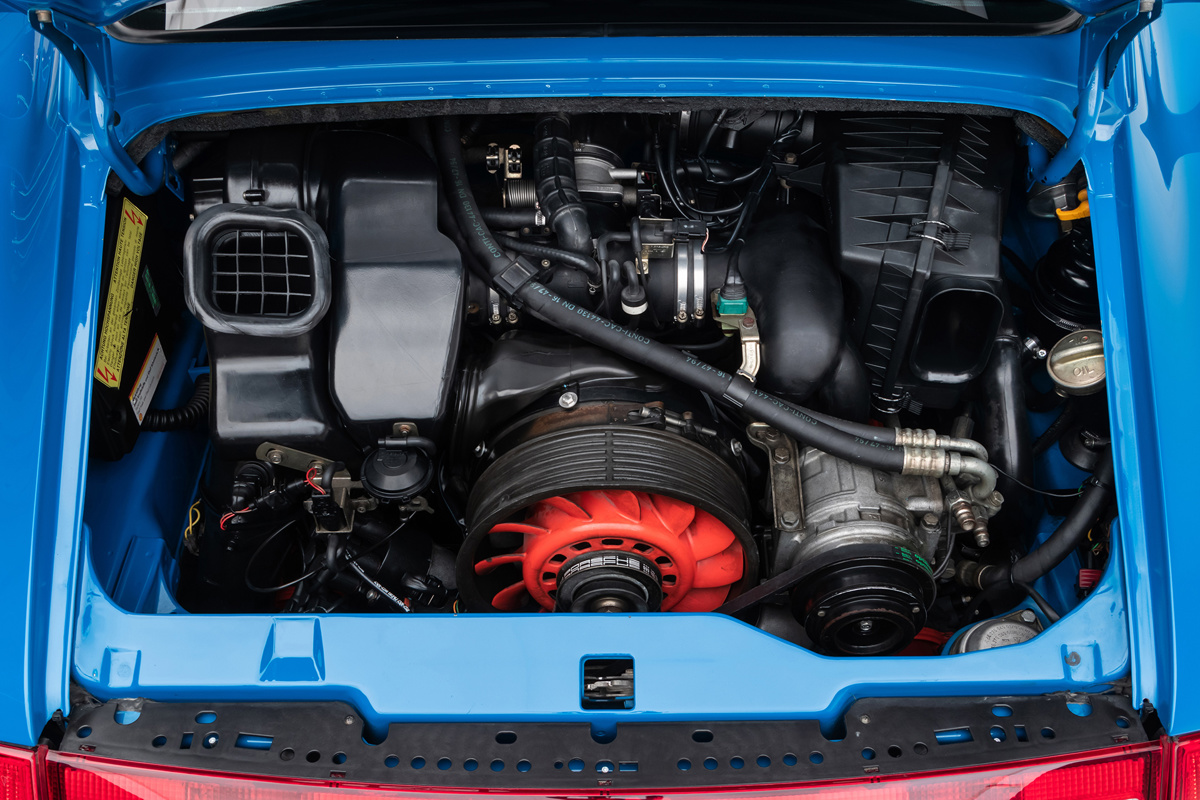 Befitting Nakai-san's appreciation of a challenge, this Mexico Blue example was constructed as part of a triple build, with three 993-era cars getting the full RWB treatment in a mere six days at the Dubai Autodrome in 2016. The build itself was documented, naturally, and makes for fascinating watching, as Nakai's skillful incisions made for a thorough transformation of the three examples. Best of all, the proximity to a world-class race circuit meant that Nakai-san's suspension customizations could be tested on-track throughout the build process.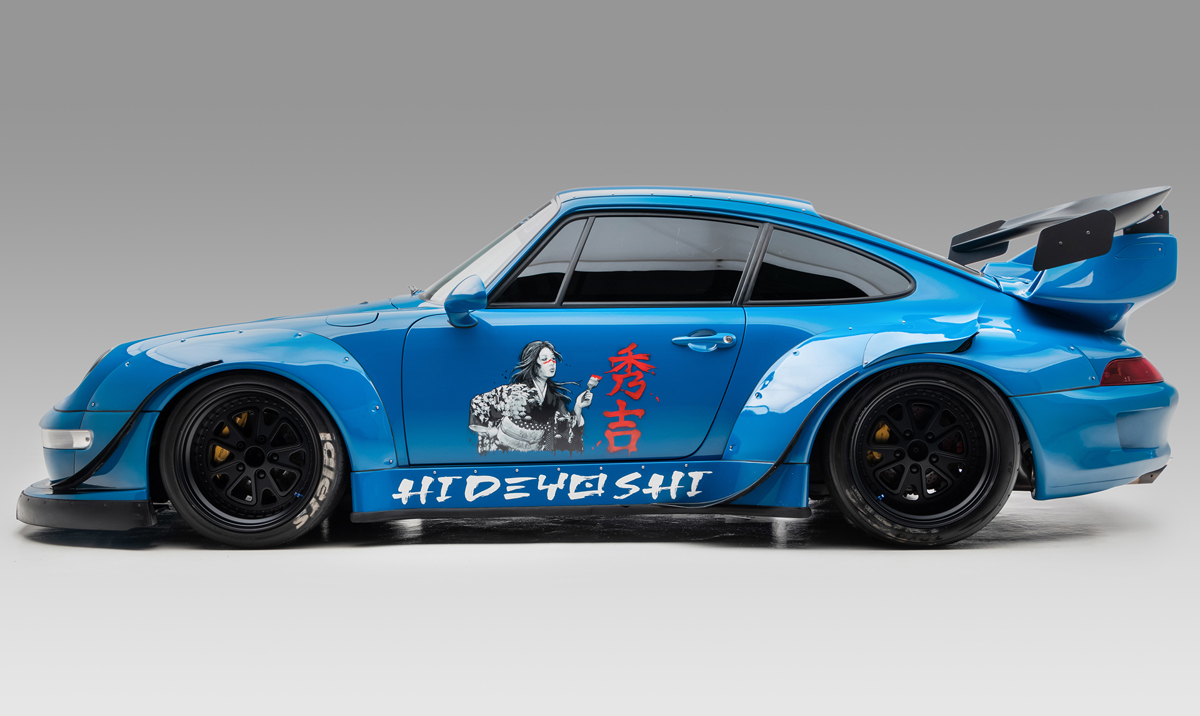 In a final flourish, like all the RWB-branded creations, all three examples were given evocative names. This example, with its dramatic rear spoiler and extended side winglets, earned its nickname of Hideyoshi from Toyotomi Hideyoshi, a 16th century samurai who ascended to the rank of military ruler, briefly bringing unity to feudal Japan. The evocative nickname was cemented even further by the modern Japanese street artist Ryo Ogawa, or RoamCouch, who lent his considerable stencil skills to graphics on the doors and side sills. Ogawa's work frequently incorporates classic vehicles, similar to Banksy's work, only using a wider color palate.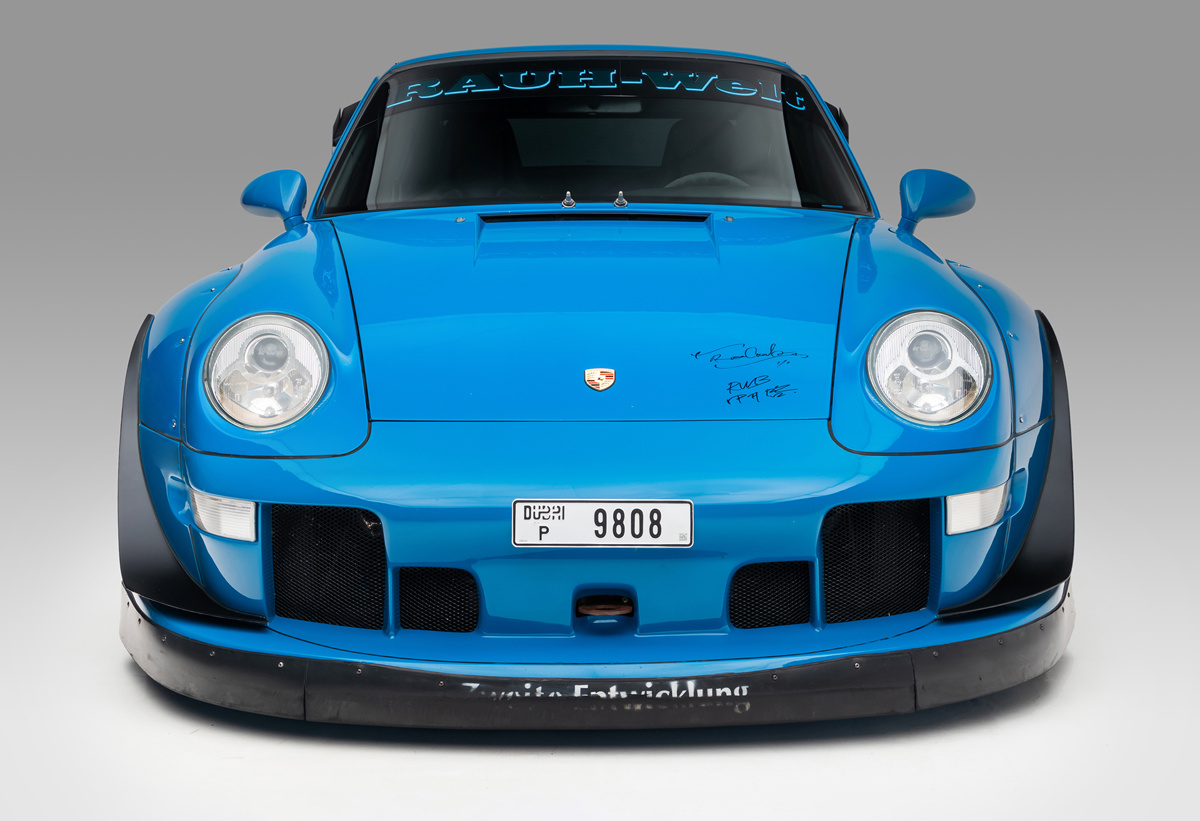 With a signature from Nakai-san still showing proudly on its front hood, the finished RWB customization is elevated far above the sum of its parts. With each of these pieces essentially existing as one-off creations, handmade by a lone visionary, there is little wonder that Porsche sports cars wearing the badge of RWB are becoming highly desirable among collectors. Today, the wait list for Nakai-san to customize a client's air-cooled Porsche averages between one and one-and-a-half years. For those who appreciate the killer aesthetics of a no-compromise Porsche customization but do not wish to wait that long, this Hideyoshi-branded Carrera Coupé provides a tantalizing option, available for bids starting 16 February as part of RM Sotheby's Open Roads, February auction.
The art of customization, like many things in the classic car world, is a deeply personal process. Whether this is to your taste or not, it is undeniable that the Porsche brand benefitted from expanding its audience. What do you think, is this RWB Porsche 911 your style of air-cooled artwork?