Though the world-renowned assortment of automotive events in early October have, from their onset, earned their reputation largely as focusing on offerings built before WWII, by no means are pre-war American classics the only category of cars on offer in Hershey. As the official auction of the AACA Eastern Division Fall Meet, RM Sotheby's is proud to exist at the center of such a prestigious annual tradition. Today, what makes a car a "classic" has, by definition, expanded with age.
Our Cardinal Red cover car is perhaps the perfect example. The sumptuous styling of the E-Type earned it a place in the hearts of all automobile aficionados, even one as fickle and brand-loyal as Enzo Ferrari, who famously deemed the Jaguar to be "the most beautiful car in the world" upon its debut. In the decade after the end of WWII, the crossover between classic and sport became even more of a true union, with mid-century examples still possessing all their original desirability today. Extraordinary in terms of engineering and design, these examples tell a story about how their respective makers and nations rebuilt after World War II. All artifacts of history, these examples will thrill next week as the 2021 edition of RM Sotheby's Hershey Fall auction opens: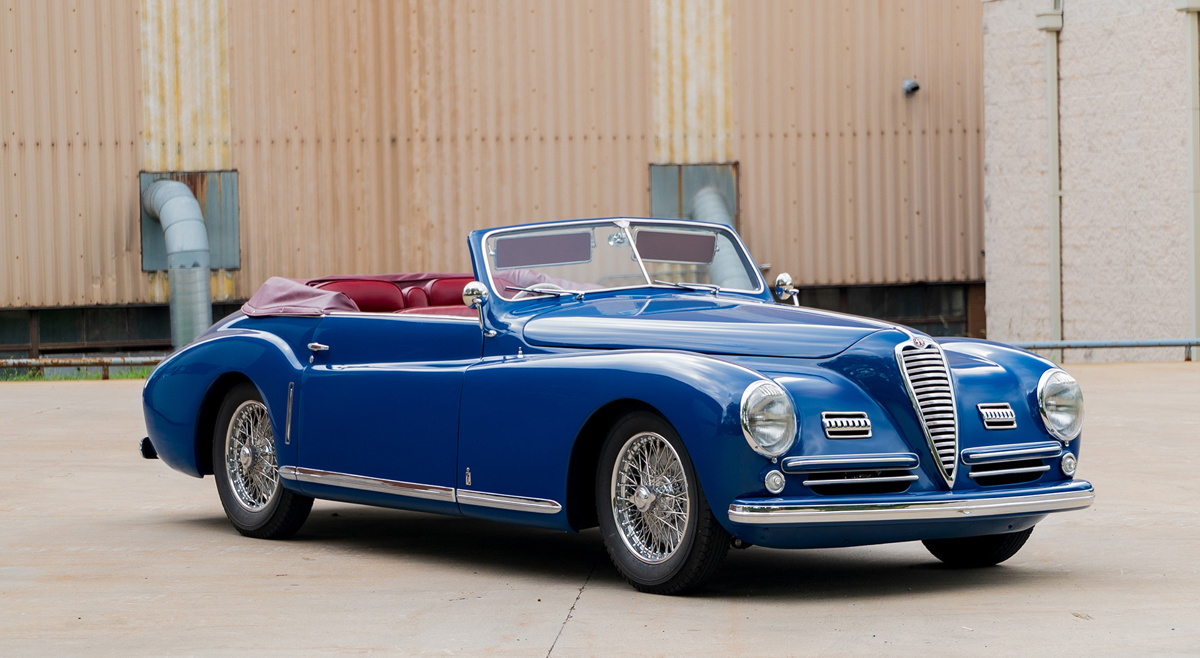 1948 Alfa Romeo 6C 2500 Sport Cabriolet by Pinin Farina
Estimate: $275,000 - $325,000 USD
In the wake of WWII, many automakers returned to pre-war designs, specifications, and methods of construction in an effort to restart their factories as quickly as possible. With Alfa Romeo, this meant the continuation of their legendary 6C lineage and a brief resurgence of a model considered by marque devotees to be the "Last Great Alfa." Powered by a 2.5-litre DOHC inline six-cylinder engine producing a respectable 95-brake horsepower, this Sport Cabriolet example is made all the more handsome for its Pinin Farina-styled bodywork. Destined for export and delivered new to Buenos Aires, Argentina, this uncommon example of post-war coachbuilding shows that, for a few special examples, sports car construction could be considered truly timeless.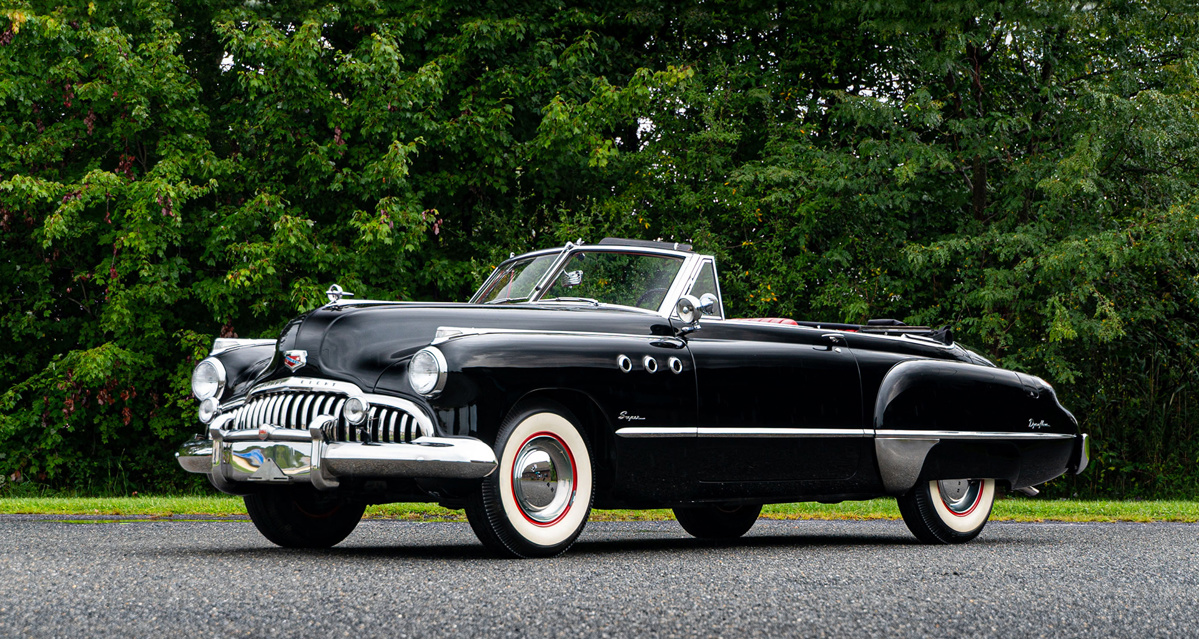 1949 Buick Super Convertible
Estimate: $70,000 - $90,000 USD
Straddling the line between sports and classic, this late 1940s Buick Super Convertible presents an ideal place in which we can start our history of mid-century sports cars. Launched as an all-new body in conjunction with the Roadmaster series, this drop-top Buick Super still exhibited many of the pre-war styling cues that made it a distinguished American sporting model. And yet, perhaps the most iconic of these cues remained unavailable during wartime: Chrome trim. Because steel (and especially chromed steel) were valuable commodities during WWII, the major automakers produced models with so-called "blackout" or "Victory Trim," which sometimes encompassed body-colored panels, and sometimes even painted wooden "bumpers." After the war was over, the truly victorious automakers returned to chrome steel as the ultimate accessory. Buick's distinctive VentiPorts were an OEM adaptation of an innovation taken in part from post-war customizers and equally inspired by the side-mounted exhausts on front-engine fighter planes, combining to create an evocative aesthetic.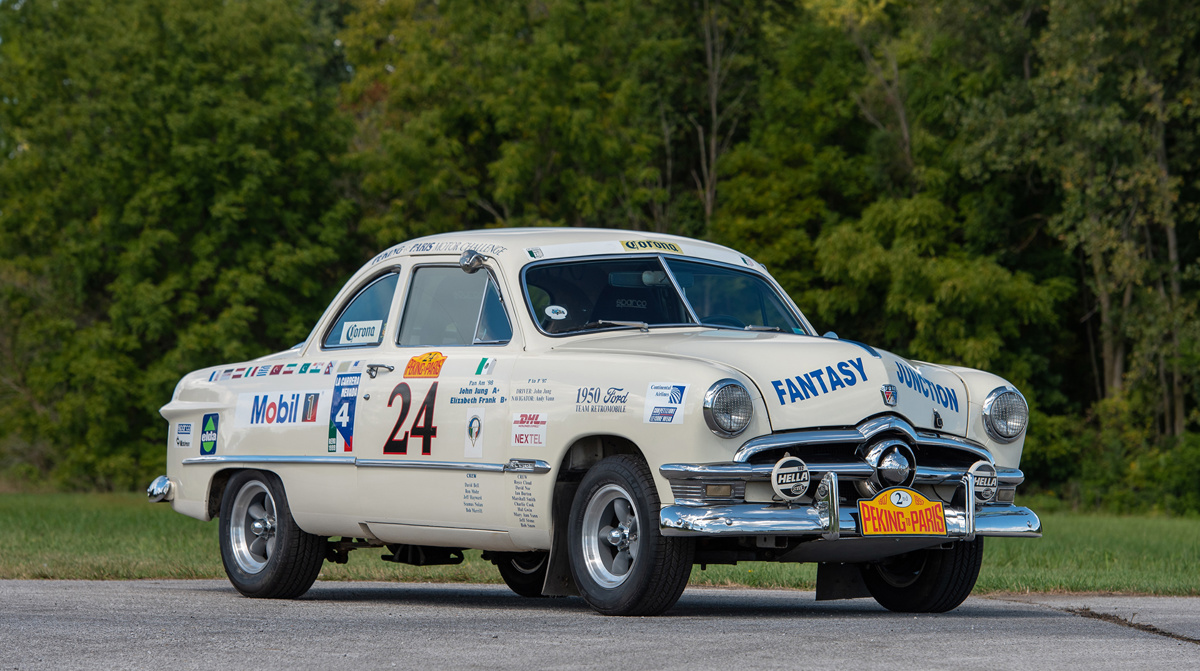 1950 Ford Custom Club Coupe Rally Car
Estimate: $35,000 - $45,000 USD
By the time the first truly post-war design was released in America, the idea of any brand-new car built from the ground-up was enough to thrill eager automotive buyers. And while the production 1949 Ford was not necessarily designed with motorsport in mind, soon after its debut, enterprising enthusiasts challenged this economy car with an endurance race unlike any other: Mexico's Carrera Panamericana. Impressively, three V-8 Ford coupes survived the 2,100-mile race, a testament to the model's unsung capabilities. Nearly five decades after Ford's impressive showing at the Carrera Panamericana, this example was commissioned as a professional-grade rally car, completed with a 239-cubic-inch "flathead" V-8, blueprinted and built by Motor City Flatheads of Dundee, Michigan. Having shown respectably in its opening excursion, the 1997 Peking to Paris Motor Challenge, where it earned a noteworthy 4th overall and 2nd-in-class, as well as further impressive finishes at the 1998 Carrera Panamericana Revival and 1999 La Carrera Nevada, this example has proven itself to be a worthy tribute to period-built American performance.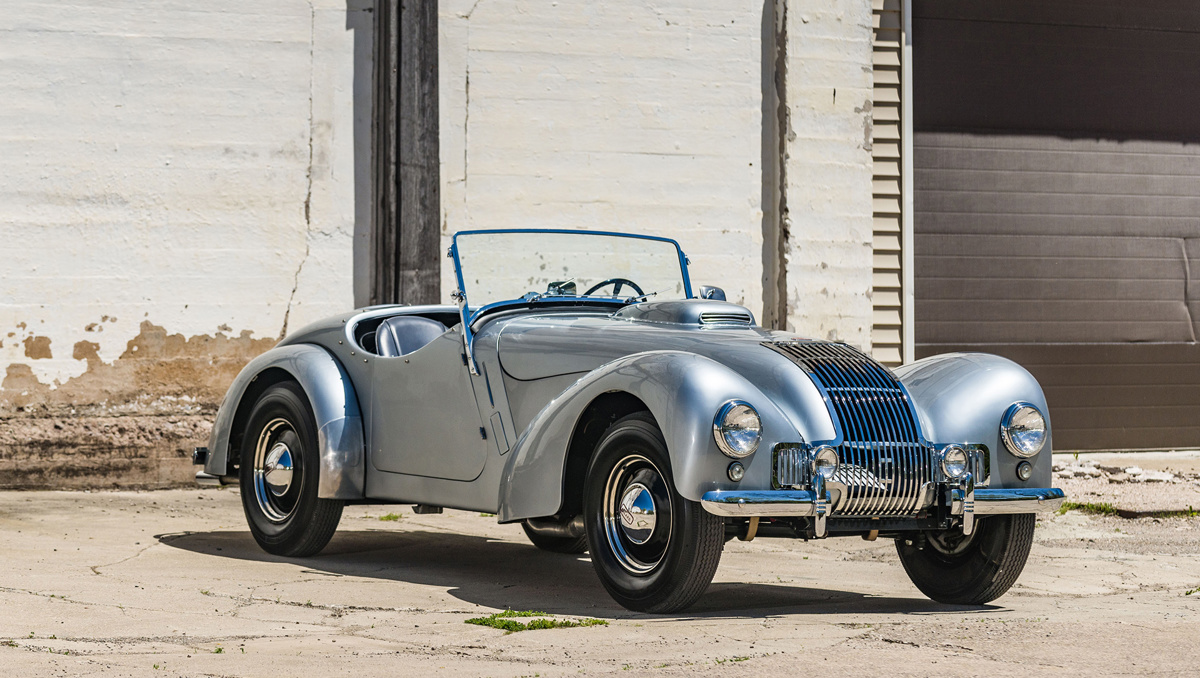 1950 Allard K1/2 Two-Seater
Estimate: $90,000 - $110,000 USD
Meanwhile, in contrast to the larger American automotive manufacturers, which all needed considerable time to re-tool after war production ceased, smaller, boutique British marques proved to adapt quickly to the world of post-war performance. Sydney Allard's self-titled firm had a head-start on producing pre-war sports cars, completing about a dozen "specials" before the outbreak of war, all powered by various engines of American manufacture. By the time of armistice, Allard had amassed not only the know-how to produce chassis of his own design, but also a valuable cache of Ford performance parts and powerplants. By 1946, Allard announced the K1, featuring a Ford "flathead" V-8 powering a stamped steel chassis made by Thomsons of Wolverton. When Allard revealed the subsequent K2, with coil-spring front suspension and a revised dashboard layout, the original owner of this example decided he preferred the outgoing K1, and specified the factory install the outgoing body style be installed on the new chassis. A classic design even from new, this continental sports car presaged many international automaking innovations spanning into the 1960s and beyond.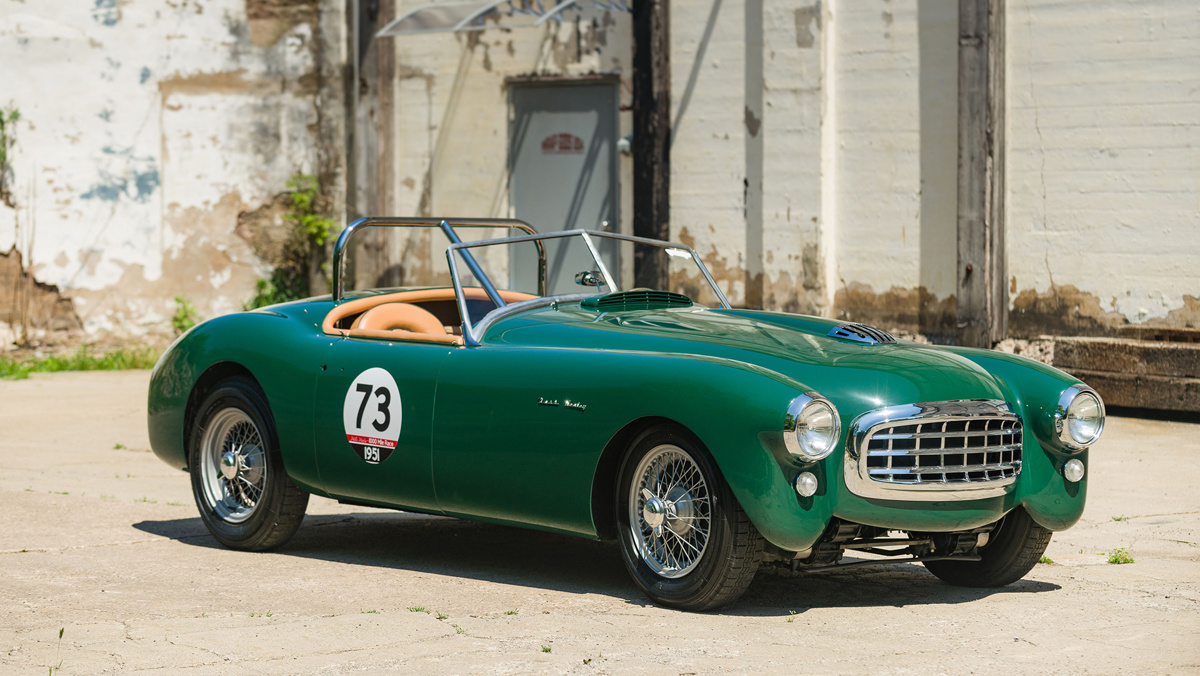 1951 Nash-Healey Roadster
Estimate: $90,000 - $110,000 USD
When American sports car enthusiasts are asked to pinpoint their nation's entry point into the field of performance engineering, the Corvette is typically held up as an early example. And yet, debuting two years prior to the launch of Chevorlet's signature performance icon, the Nash-Healey proved that American power could credibly extend to nimble sports cars. In this uncommon first-year example, the power in question is a Nash 3.85-liter inline-six equipped with a very rare Healey factory racing aluminum head breathing through triple SU carburetors. In a nod to British experience in terms of handcraftsmanship and lightweight engineering ideas, the minimalist aluminum body shell was accomplished by Panelcraft Sheet Metal of Birmingham, U.K., with each panel expertly rolled, old-school style, on a tool known as the English Wheel. Purchased by renowned artist and sculptor Wendell Castle, this example is one of a mere 104 built in the first year of production and shows the promise of performance available when international companies collaborate, combining their areas of expertise.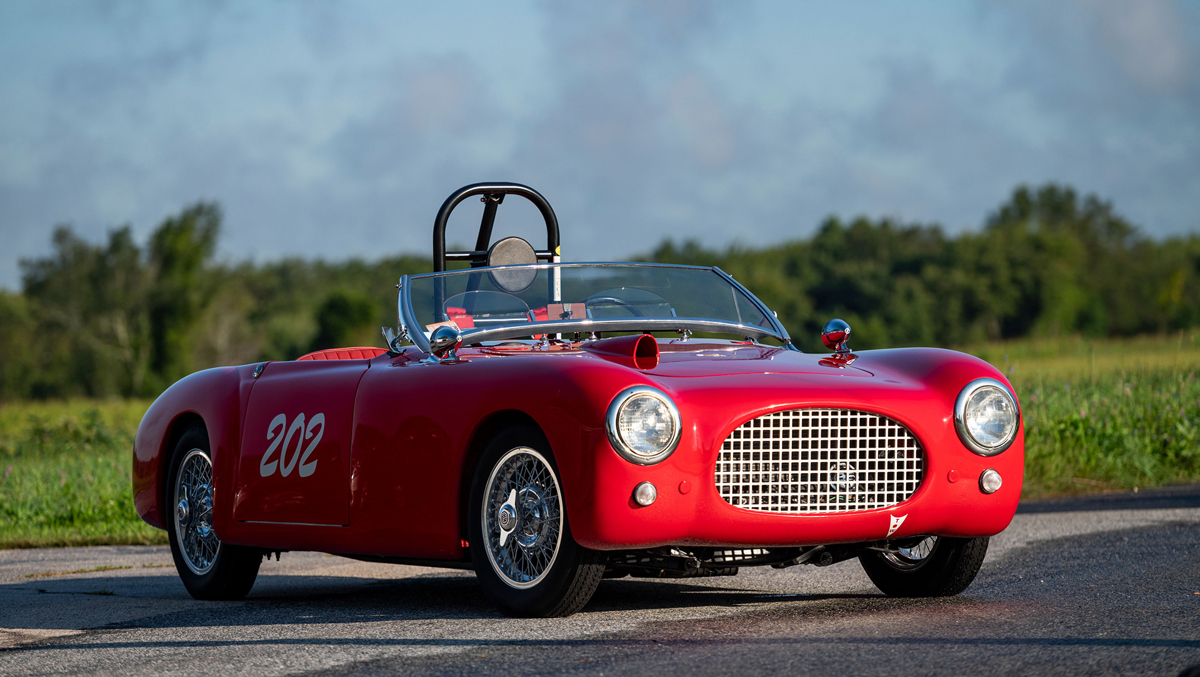 1952 MG "Cisitalia" Special by Allied
Estimate: $60,000 - $70,000 USD
Another collaboration between two legendary sports car manufacturers, though the manufacturers in question were not completely cognizant of their partnership. The story touches on our theme of post-war innovation, when two influential members of the L.A.-based hot-rodding scene, Mickey Thompson and "Belly tank" racer Bill Burke conspired to copy the design of a car owned by one of the scene's founding fathers, Robert E. Petersen. The car in question was a Cisitalia 202 coupe, purchased to be shown in one of Petersen's well-attended Motorama events. Meticulously restored for motorsport, including seven integrated roll bars and race-equipped engine, this is a "Special" in the truest sense.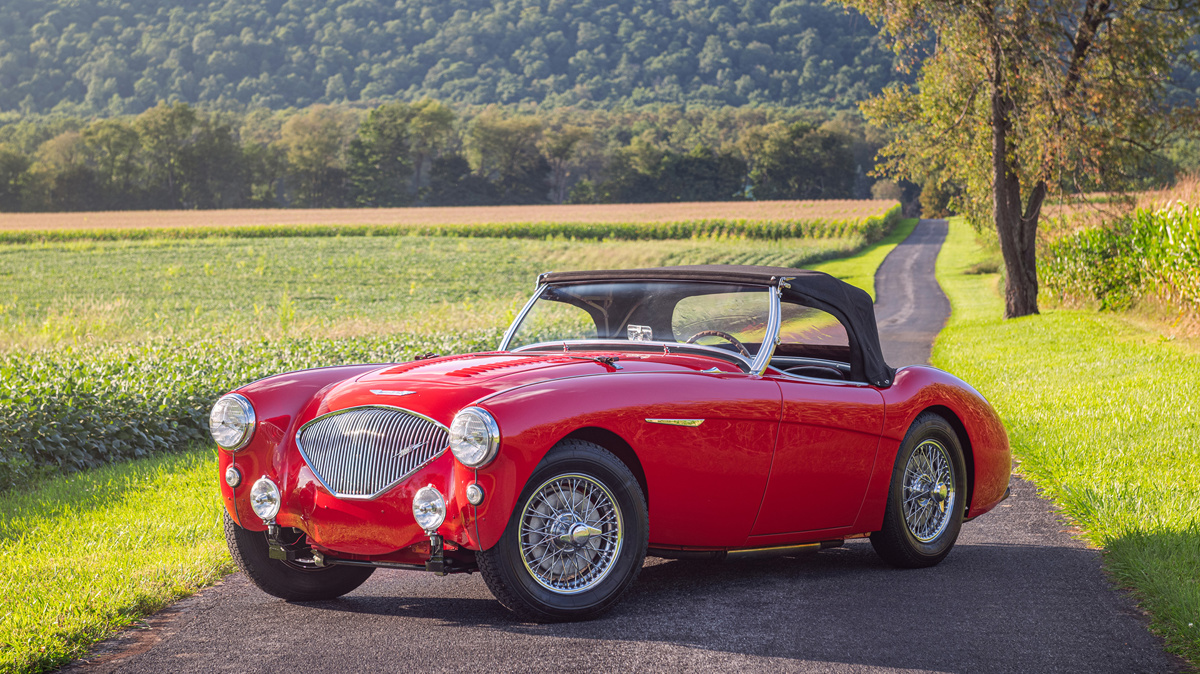 1954 Austin-Healey 100-4 BN1 'Le Mans'
Estimate: $75,000 - $100,000 USD | Offered Without Reserve
Performance gains were so common in the post-war era that some enterprising sports car companies marketed and even offered to ship upgrade kits to their customers who wanted to extract the most out of their new purchases. The Austin-Healey company, fresh off an impressive showing at the 24 Hours of Le Mans endurance race the previous year, offered a package extending similar motorsport-inspired upgrades to their BN1 customers. The kits could be either dealer or owner-installed and offered a louvered bonnet, leather bonnet straps, larger carburetors, aluminum air box, high-lift camshaft, and high-compression pistons, all giving the Austin-Healey its important 'Le Mans' designation and a total output of approximately 100 horsepower. Though the upgrades on this example were believed to have been executed early in its lifespan, it is not known if they were dealer-installed. However, according to its British Motor Industry Heritage Trust certificate, this example features a numbers-matching engine and wears a red-over-black restoration that proudly represents its sporting nature.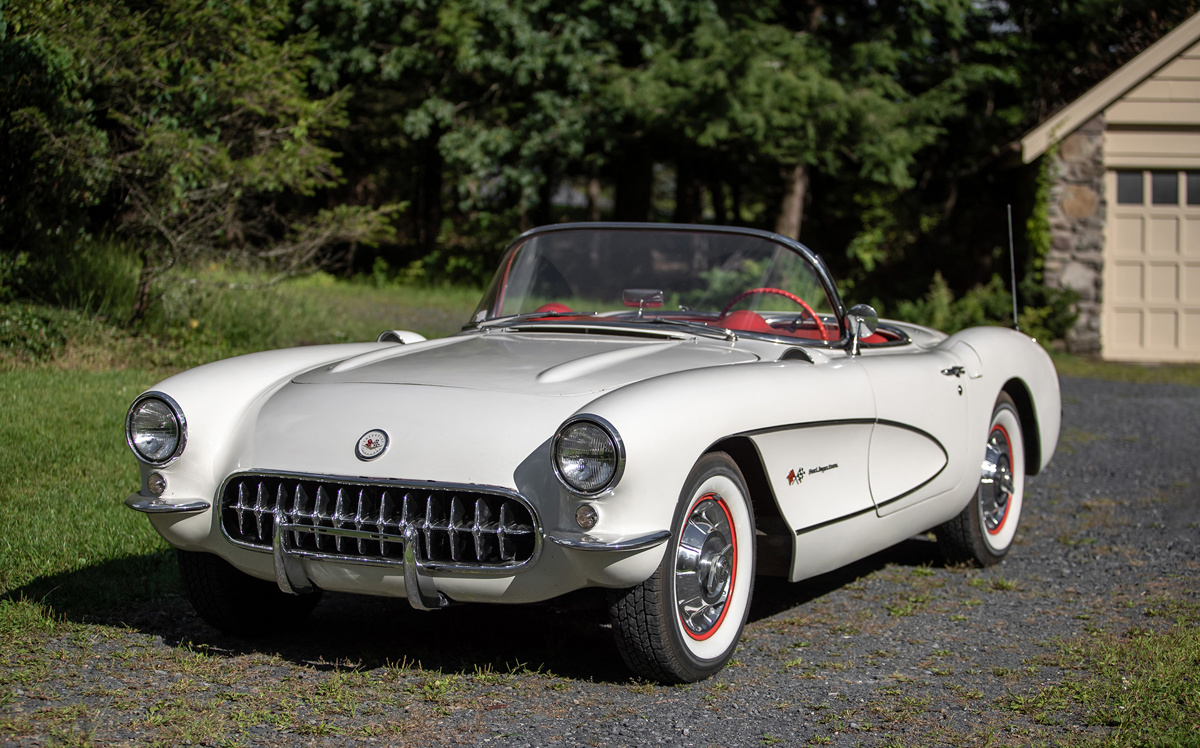 1957 Chevrolet Corvette 'Fuel-Injected'
Estimate: $70,000 - $90,000 USD
The pride of American sports car performance, by 1957 (itself a singular year in the timeline of U.S. automotive output), the engineering team behind the Corvette had achieved advancements in engine technology that their European counterparts would not equal anytime soon. Led by innovative engineer Zora Arkus-Duntov, who received an education in European racing as part of Allard's Le Mans team, the Corvette team pulled off a genuine coup in terms of power output, with their all-new 250 hp, 283 cu. in. fuel-injected V-8 engine earning its status as the fastest American car produced that year. Few so-called "Fuelie" Corvettes were built. Befitting their top-of-the-line status, this example is one of a mere 182 produced with similar stats. With its iconic Polo White exterior and matching factory hardtop, this fuel-injected example is an American sports car worth boasting about.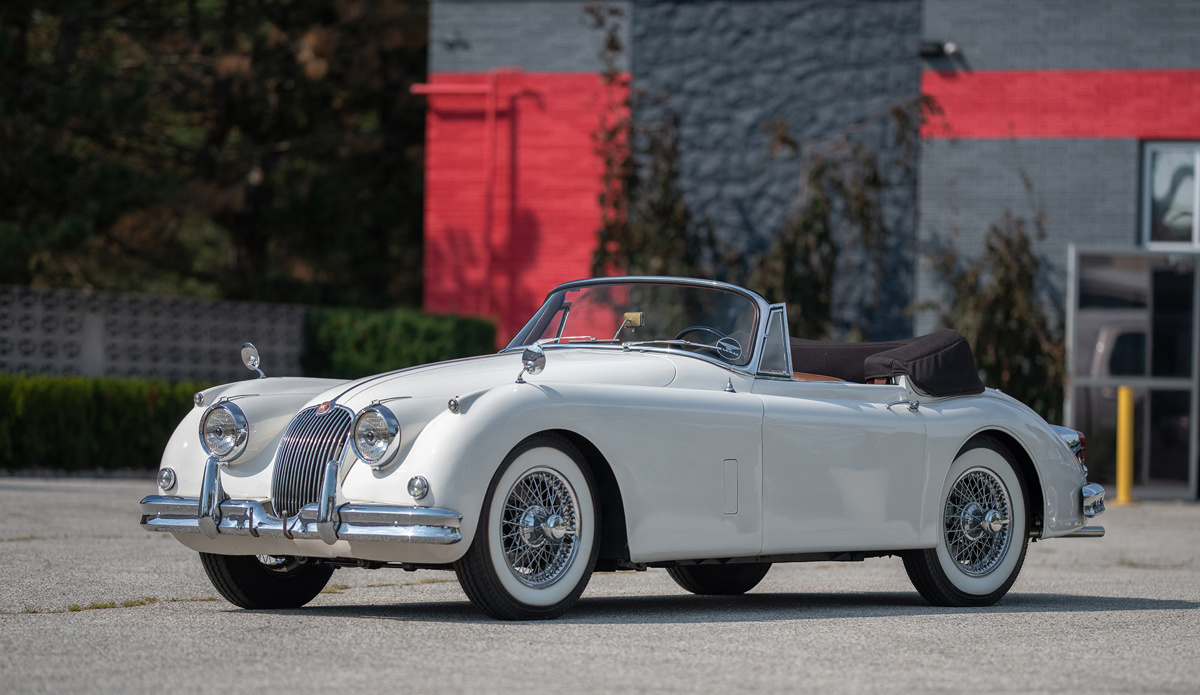 1960 Jaguar XK 150 3.8 Drophead Coupe
Estimate: $115,000 - $135,000 USD
As the 1950s shifted into the 1960s, the classic forms of mid-century sports cars reached their ultimate evolution. Jaguar displayed a prime example of spending over a decade on refinement, taking their XK120, which initially launched in 1948, and steadily upgrading its capabilities until the XK150 debuted in 1957 as a 1958 model. This continuous improvement included a modern one-piece, curved windshield and disc brakes installed on both front and rear wheels as standard. The standard spec for engine output increased as well, with an all-new 3.8-litre powerplant debuting in 1959 and offering 220 bhp. Equipped with dual S.U. carburetors and a four-speed transmission, this example is the last of its breed, a roadster that has had the benefit of years of development work, and rides with a nicely kept older restoration that still shows off this Jaguar's mid-century curves.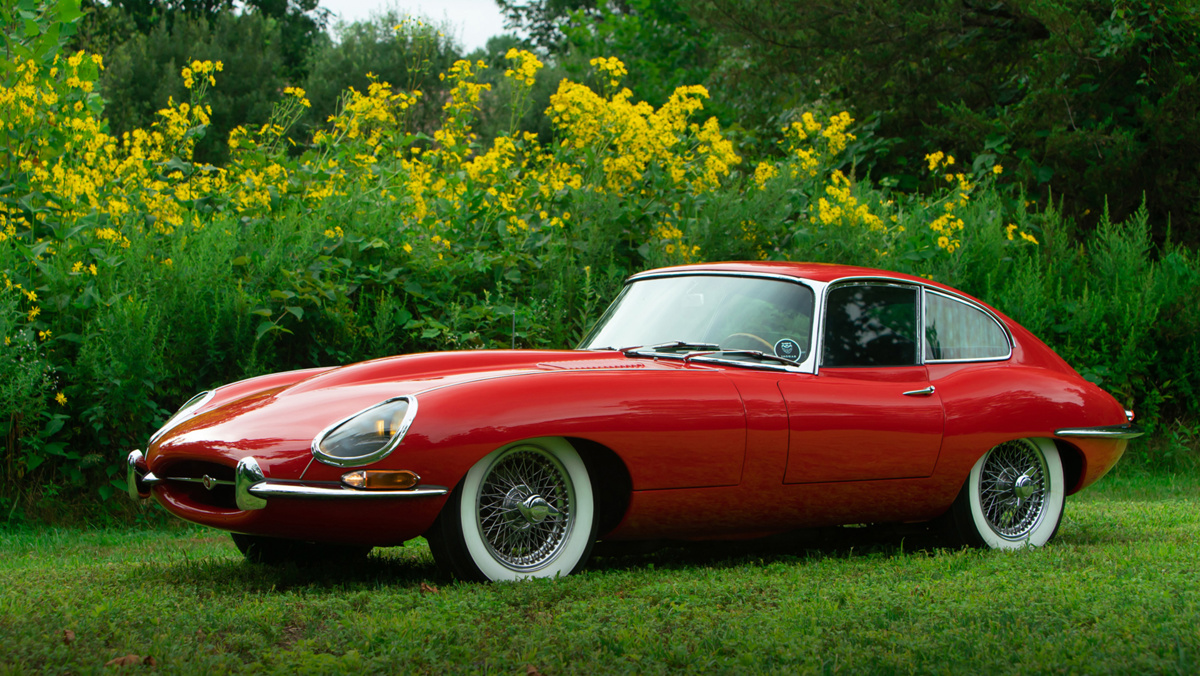 1963 Jaguar E-Type Series 1 3.8-Litre Fixed Head Coupe
Estimate: $90,000 - $110,000 USD
In terms of Jaguar curves, there are few examples more sensuous than the Series 1 E-Type. An example worthy of gracing the cover of our piece highlighting the sports cars of Hershey, the E-Type is also a fitting finale for our theme of mid-century performance car development. The reason exists underneath the hood, or bonnet, as anyone who has been lucky enough to open the one-piece clamshell cover and see the glorious straight-six that lives underneath. Though Jaguar upgraded the E-Type's powerplant several times over the course of its lifespan, purists value the original 3.8-litre unit for its nonplussed performance and superior weight distribution. Gazing beyond the engine, one can appreciate the monocoque chassis and suspension setup that was derived from Jaguar's victorious D-Type Le Mans racers. With some notable advancements in materials (carbon fiber being the principle one), many supercars today are built on a similar foundation. Of course, this Fixed Head Coupe example features a numbers-matching engine and has recently been fitted with $6,500 of refreshed equipment including a new clutch slave cylinder, oil feed pipe, oil pressure gauge, and sending unit, as well as a new brake master cylinder. With its triple S.U. carburetors also receiving a recent rebuild, this Cardinal Red-over-black example is sure to inspire auctiongoers at RM Sotheby's classic Hershey Fall event, set this year for 7-8 of October 2021. Echoing Enzo Ferrari, perhaps they will consider this first-series E-Type to be the world's most beautiful car.