Since its inception in the late 1800s, the world has long been fascinated with the capabilities of the automobile. With every passing year those abilities grew as engineers sought to improve upon every aspect through constant design and material innovations. As the sheer number of vehicles being produced grew, naturally, manufacturers and enthusiasts alike began to pit their vehicles against one another to test their speed and handling prowess.  No matter the discipline, motorsport pushes the potential of the automobile to its absolute limits- from forcing the development and incorporation of new materials or adapting those from aviation and aerospace, to radical new concepts in chassis designs in the pursuit of speed and agility.
RM Sotheby's biennial Villa Erba sale will be held on the 25th of May, 2019 during the illustrious Concorso D'Eleganza Villa D'Este along the alluring shoreline of Lake Como, Italy. Among the incredible blue chip vehicles being offered are four distinctive racers with proven competition history.

1954 Ferrari 500 Mondial Spider by Pinin Farina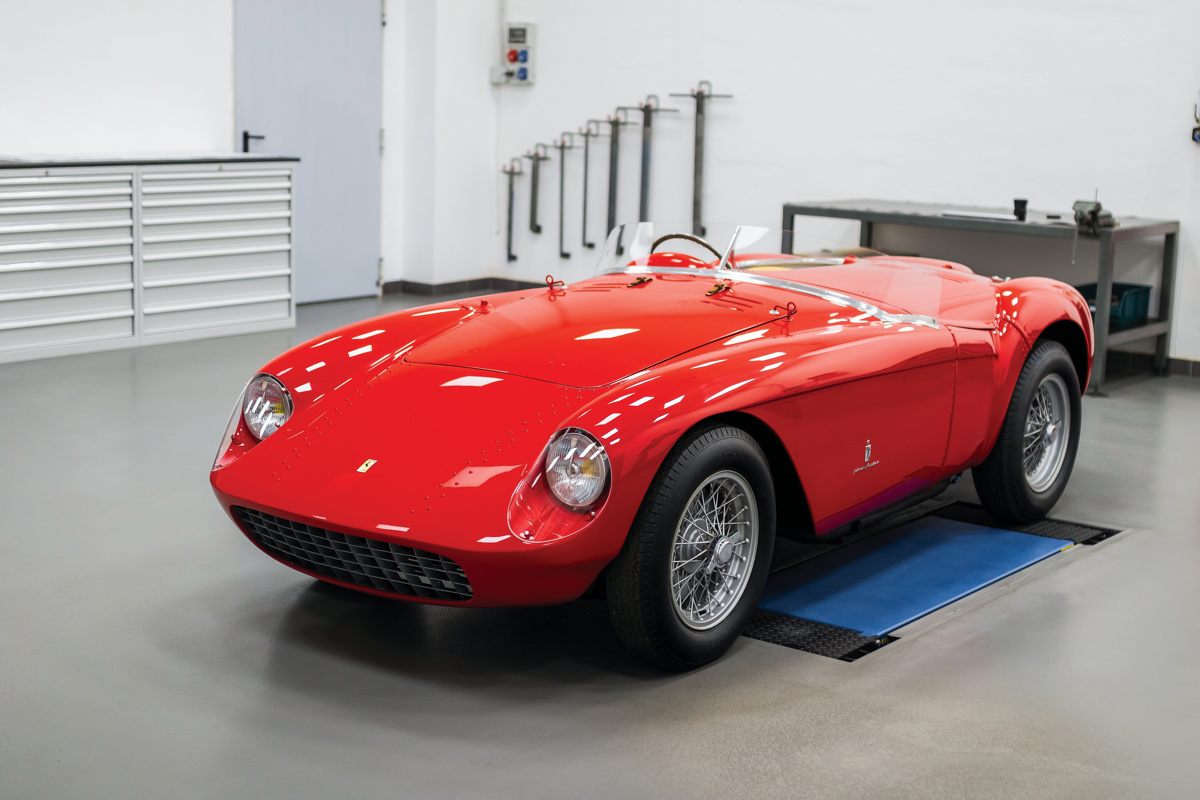 Chassis 0488 MD, following a comprehensive cosmetic restoration as part of Ferrari Classiche's red-book certification.


Chassis number 0448 MD was completed by the factory in October of 1954, one of only five Pinin Farina Spiders ever built with "covered headlight" body work available only on the first few cars from the initial production run. The 500 Mondial featured a detuned version of the 2.0-litre Lampredi designed dual overhead camshaft, twin plug ignition equipped, inline four-cylinder engine developed for Formula Two racing use. Despite the reduction in horsepower, Lampredi's four-cylinder produced a stout 170 horsepower, plenty of power to be highly competitive when paired with the svelte lightweight body and advanced suspension system.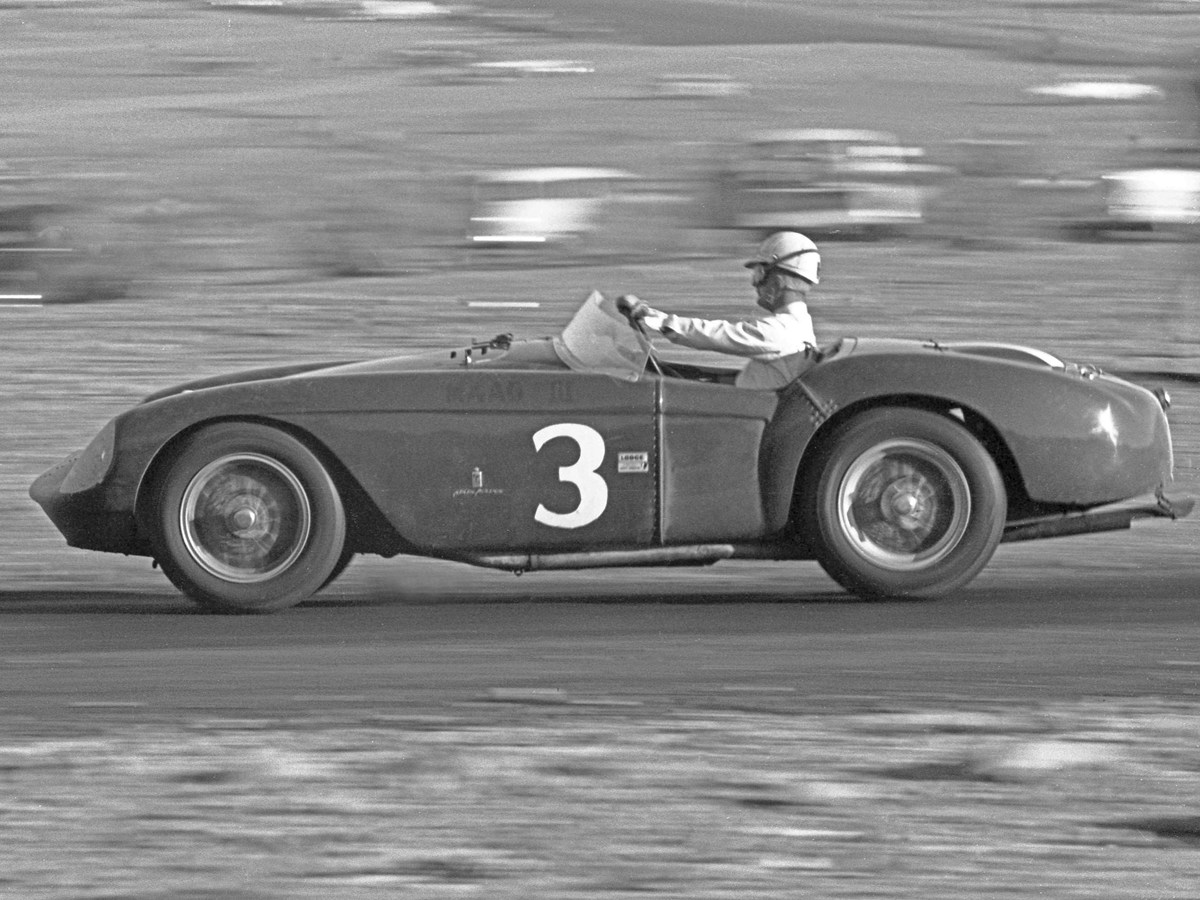 Pat O'Connor piloting chassis 0448 MD at Willow Springs, March 1956.


Chassis 0448 MD made its racing debut in 1955 at Willow Springs raceway with Bob Drake at the wheel for Scuderia Parravano, placing 4th overall and first in its class. Bruce Kessler piloted the racer the following month at Palm Springs raceway however faced mechanical issues and was forced to retire from the race early. A similar fate would arise while being raced in Santa Barbara, CA, but at the hands of Pat O'Connor in March of 1956 where he took a 3rd place finish in the Formula Libre race. Chassis 0448 MD was then purchased by Javier Valesquez, director and organizer of the Mexican Grand Prix. Valesquez entered the 500 Mondial in the Carrera Presidential race near Mexico City in 1962, where Manolo Corte drove the vehicle to an overall 4th place finish on race number 4.
1957 Porsche 550A Spyder by Wendler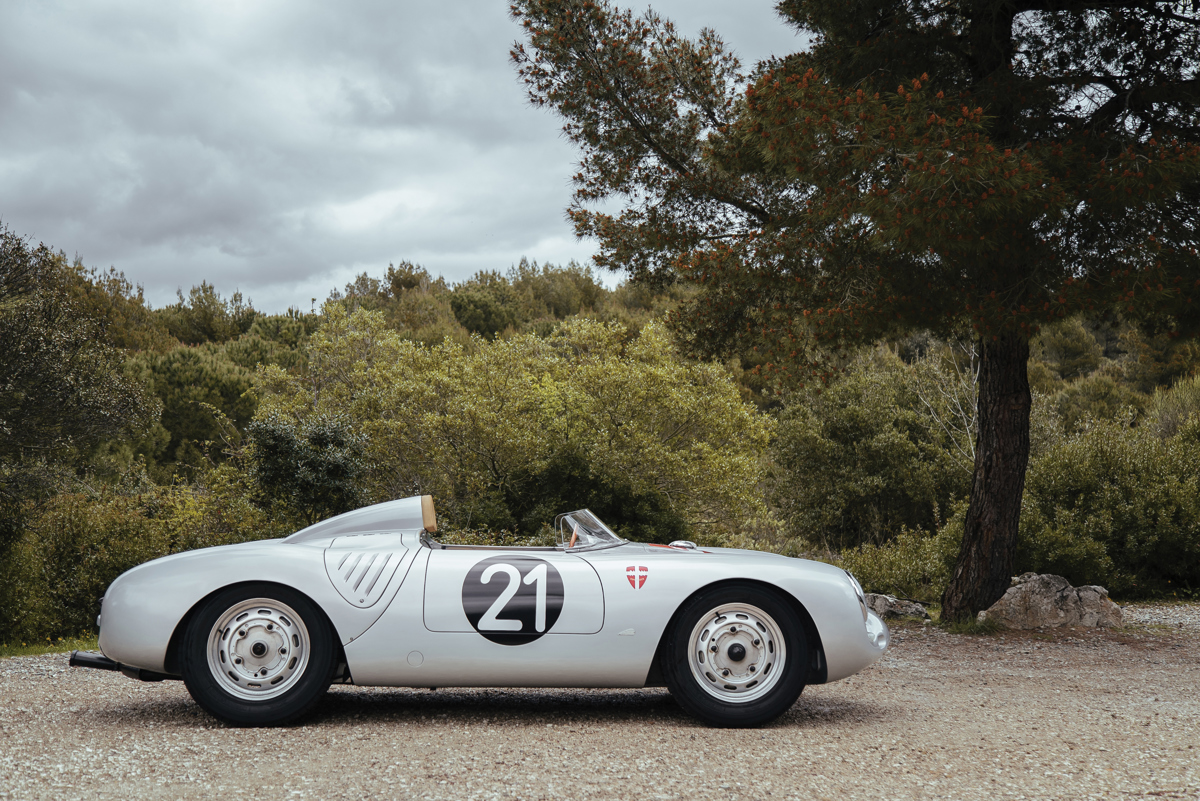 Chassis 0121 in its present state, following a comprehensive four-year restoration using correct factory tools and techniques where necessary.


Based on Porsche's first purpose built race car, the mid-engined RS 550 Spyder, the 550A Spyder utilized a light and rigid full tube space frame and rear supportive cross members in place of the heavier sheet metal structure of its predecessor. The rear suspension was updated with a swing axle that featured a low pivot point and an anti-roll bar at the front axle. The updated suspension, 27 kg weight reduction and chassis that was overall five times more rigid than that of the previous ladder style frame allowed for precise, predictable handling. The 550A's 1.5-litre four-cam boxer four-cylinder engine was tuned to 135 horsepower at 7,200 rpm with the compression ratio increased to 9.8.1 from the previous 9.5, and the addition of Weber 40 twin-choke downdraft carburetors.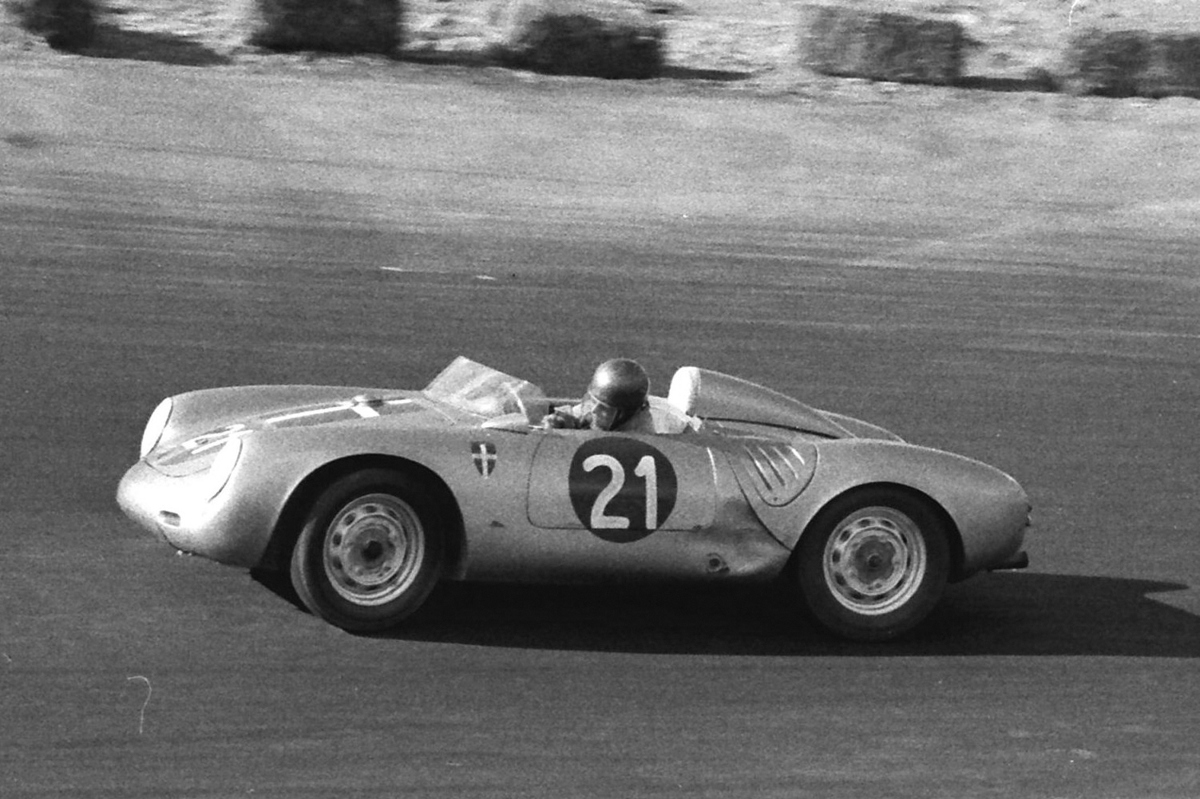 Chassis 0121 at the Midsummer Races in Roskilde, Denmark .


Chassis 0121 is the 15th 550A chassis built, completed in late March of 1957 and was the only example destined for Denmark. The principal of Scuderia Palan, Preben Andersen, purchased the 550A and entrusted local racing legend Julius Voigt-Neilsen to pilot the racer to victory in its first outing at the Roskilde Ring in late April of the same year, claiming two additional victories in June and August, and two 3rd place finishes to end the season. In 1958, chassis 0121 was sold to a British racing driver named John Manussis, who was residing in Kenya and through an unrelated accident would be left unable to drive. His navigator, Lucille Cardwell piloted the 550A and twice claimed victory at the Nakuru Park Motor Circuit in December 1961. Mrs. Cardwell and her husband continued to race the 550A from their home in Tanzania before selling the car to a dealer in Nairobi, who continued to enter the car in local events. Nearly a decade later, it would land in the hands of an Italian collector, Giuseppe Freschi who continued to race the spyder in the Mille Miglia, up until as recently as 2010.
1936 Delahaye 135 S Compétition Court in the style of Chappe Frères



The 135 S in its present state, with coachwork by Carroserie Bonnefoy identical to that of the racer's 1939 body.


The Delahaye 135 utilized a 3,557 cc inline six-cylinder engine with triple Solex carburetors, with an engine block that featured additional cooling passages, and a lighter, more well balanced crankshaft that was capable of higher RPMS. The cylinder head featured a modified valve gear and a high lift cam, in total producing approximately 160 horsepower and paired to a four-speed racing gearbox. To accommodate the powerful new engine, Delahaye engineer Jean François developed a new chassis, particularly advanced for its time, with boxed rectangular chassis rails, a central cross-member, and a welded in floor for exceptional stiffness and rigidity. The independent front suspension utilized a transverse elliptical leaf spring as its lower control arm.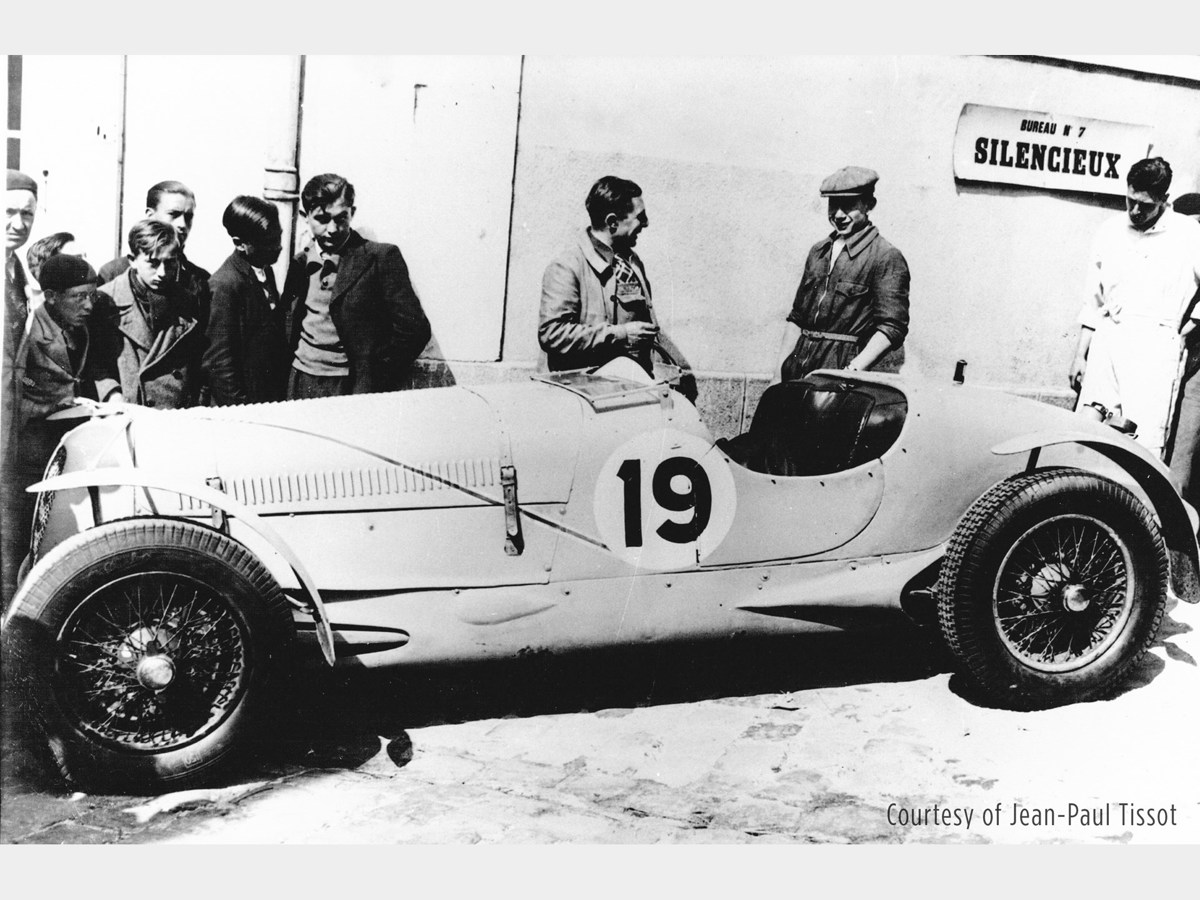 Chassis no. 46810 prior to the 1939 24 Hours of Le Mans race.


Chassis 46810 was purchased in November of 1935 by Irish-American race car driver Lucy Schell, who spent most of her life in France operating the L'Ecurie Bleu privateer racing team with her husband Laury. Lucy especially invested heavily in Delahaye, at one point owning six of twelve Delahayes in the team. This chassis would later be sold to Marseille race driver Réne Carrière, who kept it as part of Schel's L'Ecurie Bleu. The Delahaye 135 S race cars, chassis 46810 included, made their debut to the race circuit in the 3 hours of Marseille on May 23, 1936. Later that year, it was also entered into the Comminges Grand Prix, the Tourist-Trophy in Belfast and the Donington Grand Prix. Delahaye's management later appointed Laury and Lucy to manage the factory race team under the banner of L'Ecurie Blue and provided the factory's technical assistance. At the beginning of the 1939 racing season, three 135 S were commissioned to be rebodied by the Chappes Frères to include body panels which were more aerodynamic than the originals. Prior to World War II in 1939, Eugéne Chaboud would be the last owner to compete with the Delahaye, participating in races in a number of locations including Pau, Montlhéry, and the 24 Hours of Le Mans.
1931 Aston Martin 1.5 Litre International 'LM5'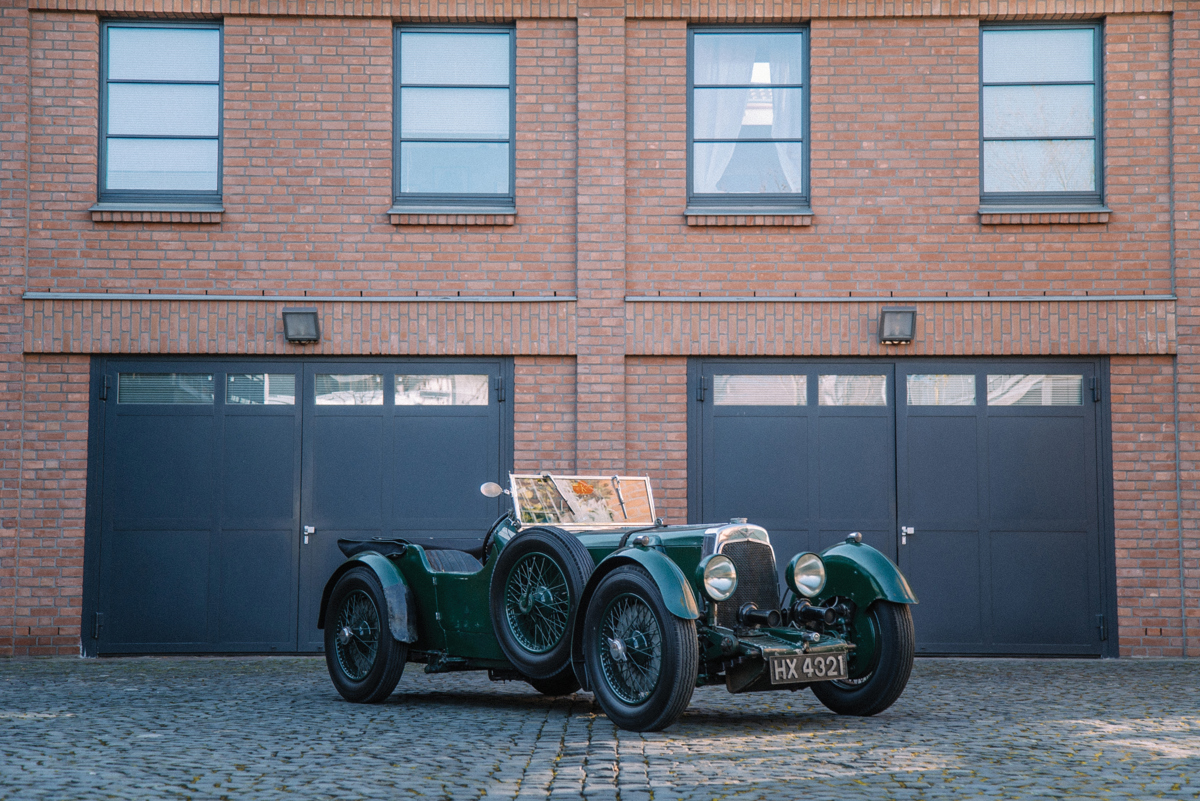 The 1931 Aston Martin 1.5 Litre International 'LM5' in its current form, largely original from when it left the Works in 1932.


Chassis LM5 was the first of the 1931 Works cars produced, and was the most highly developed of the Internationals built by A.C. Bertelli. For the first time, all of Aston Martin's Works team were fitted with nearly identical bodies. They featured lowered radiators, large cowled scuttles, doorless cut-away sides and round, sloping tails. The Renwick and Bertelli 1.5-litre overhead camshaft engine featured a dry sump, twin classic British 1" SU side draft carburettors, twin Autopulse fuel pumps, and produced 60 horsepower at 4,750 rpm and 55 ft/lb of torque, allowing the international to run at speeds well over 90 mph.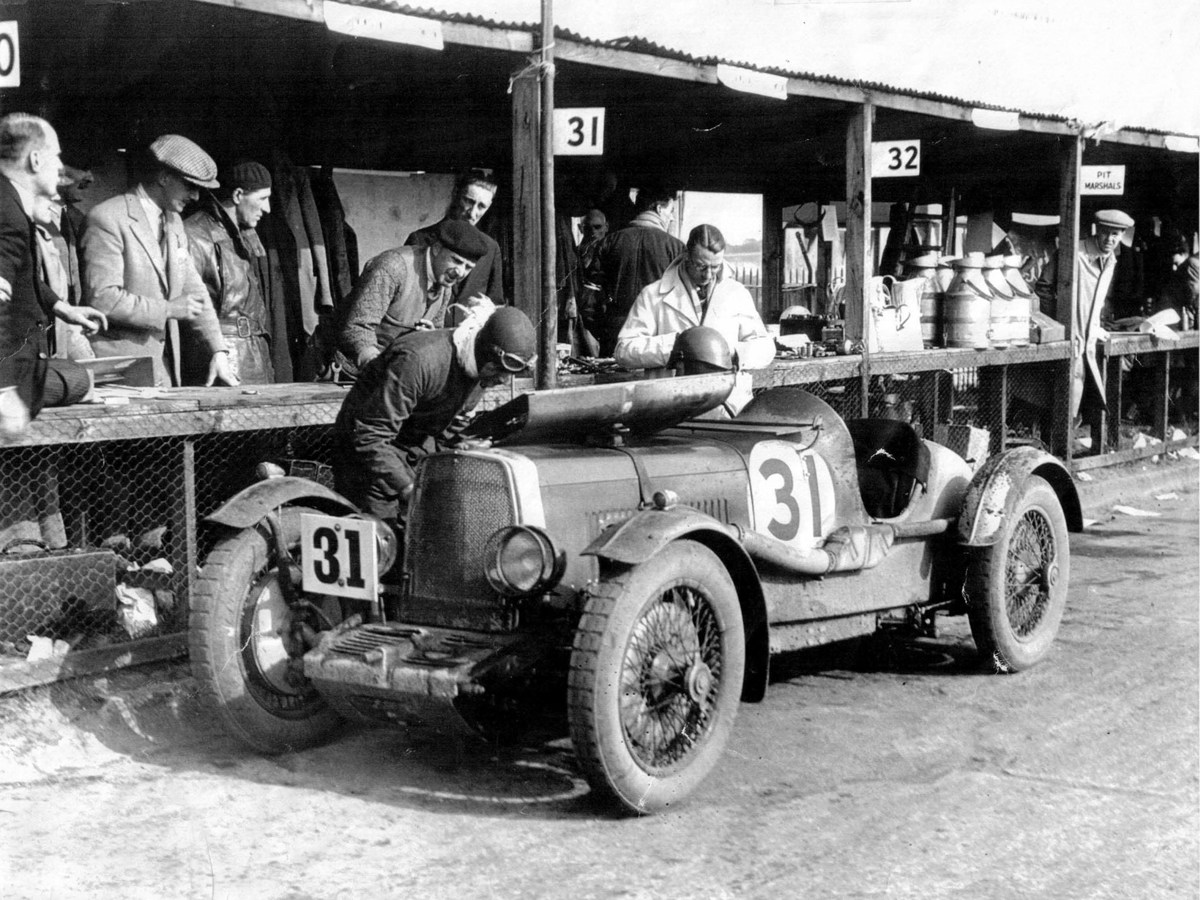 Chassis LM5 at its debut at the 1931 Brooklands Double 12.


LM5 made its debut at the Brooklands Double 12 with 'Bentley Boy' Clive Gallop and L. Cushman. Despite detestable weather conditions and tire punctures throughout the race, LM5 managed to secure a second-place finish in its class behind chassis LM6. The team entered Le Mans later that same year, but after 126 laps, LM5 was forced to retire with all but six of the original entrants. Despite the setback, C.M. Harvey piloted LM5 at the RAC Tourist Trophy race, finishing first in its class and 14th overall. Combined with LM6 and LM7s victories, 1931 had been the most successful season yet for the team- enough for A.C. Bertelli to gain financial backing and safeguard future production and escape the financial peril the company was in at the beginning of the year.