Some automotive designs are so groundbreaking, so sufficiently modern that even ten years after their debut, you can still observe their impact. Franco Scaglione's triptych of aerodynamic brilliance, otherwise known as Alfa Romeo B.A.T. 5, 7, and 9d, are far too extreme to have any direct parallels in terms of actual production cars, but the surplus of innovative ideas exhibited by Scaglione were too numerous, too novel, to not echo across the auto industry. While the B.A.T.s' Jet Age influence can perhaps be seen most clearly on concept cars like GM's Firebird II and Pontiac Club de Mer, let's take a leisurely journey through some cars that one could actually buy, whether offered by Bertone's competitors or by global contemporaries, that may have drawn inspiration from Scaglione's unforgettable trio: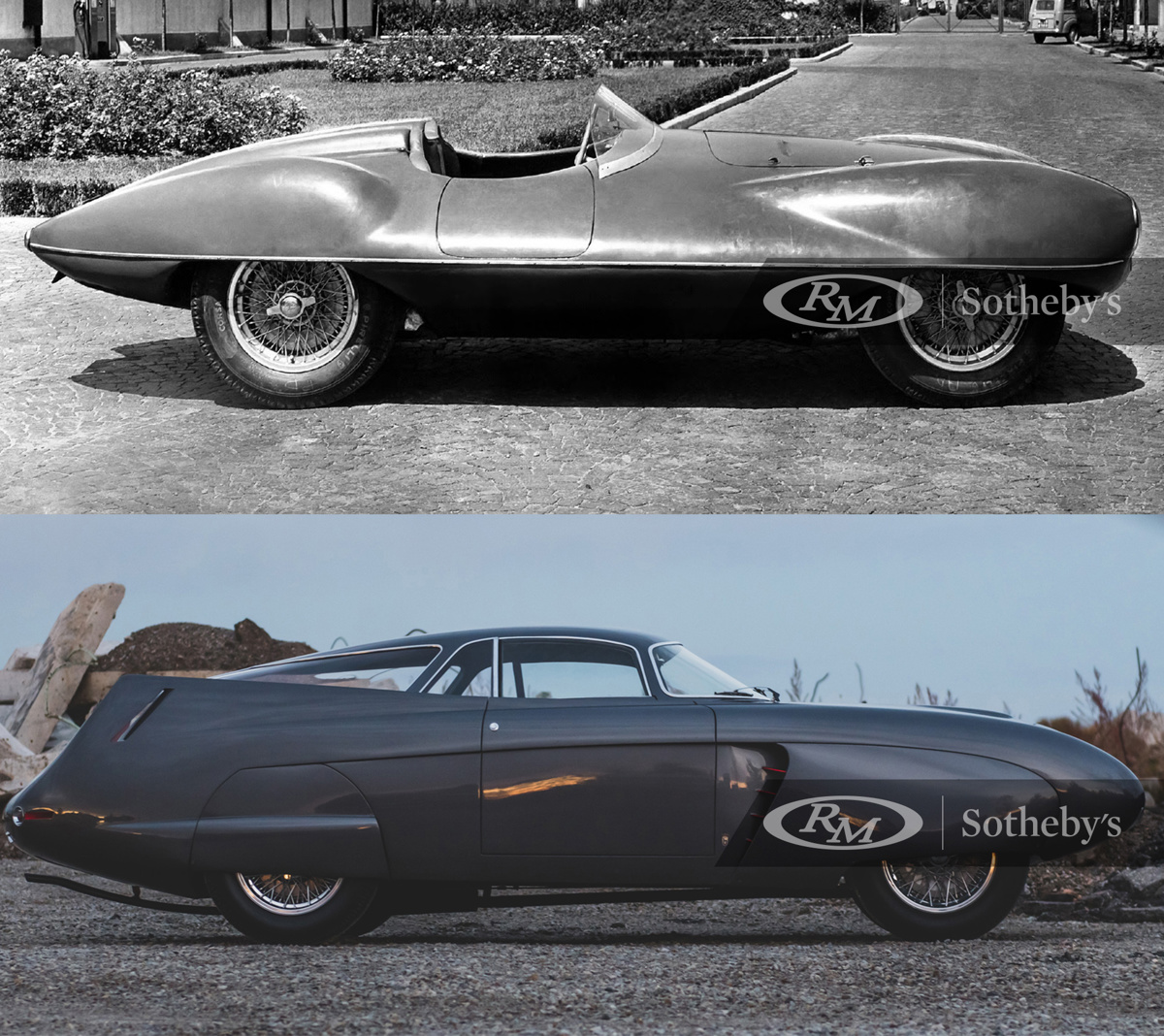 Born from Competition
It's clear to see what made the B.A.T. series so advanced when viewing their main rival. Above is an in-period press image of the Alfa Romeo Disco Volante by Carrozzeria Touring, a lithe sports racer that slightly resembles a Jaguar E-Type—widely regarded as one of the most beautiful cars ever made—that debuted more than a decade before the Jag debuted. While the Disco Volante was undeniably elegant, its teardrop shape actually spoiled the aerodynamic efficiency of the car. While traveling at high speeds, air would flow over the shapely bonnet and push down the teardrop-shaped rear end, decreasing front wheel grip and leading to frightening handling. This was the initial design brief for Scaglione and Bertone: Resolve the Disco Volante's shape and beat Touring in the process.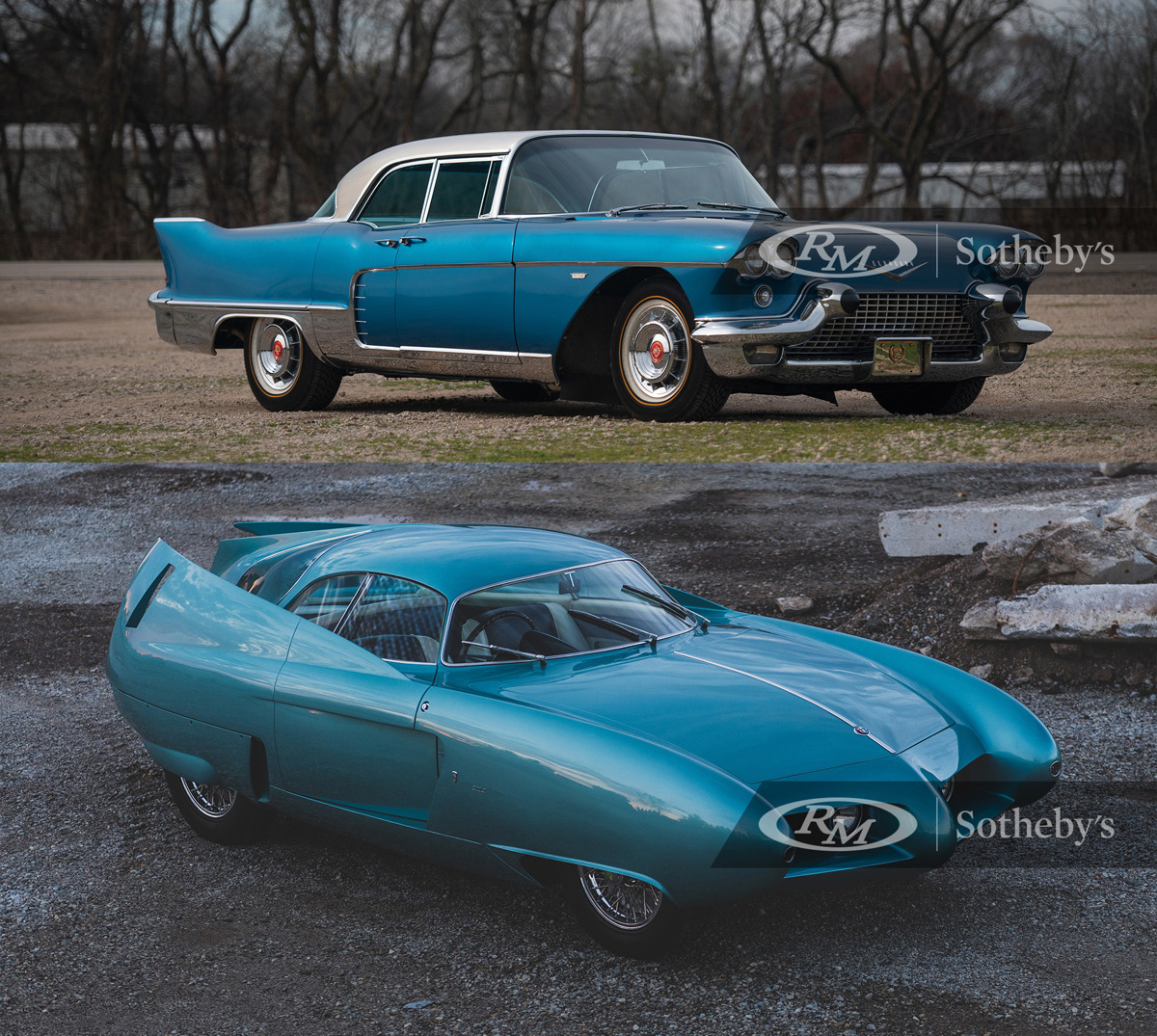 The First Fin
By the time B.A.T. 7 debuted in 1954, car designers from around the world were beginning to incorporate Jet Age aesthetics into their lineups. While Cadillac claimed to have kicked off the tail fin craze in 1948, with the upturned rear fenders of their Series 61 and 62, to the eye of this observer, they more resemble the fins of a propeller plane than the angular wings of a jet. It wasn't until 1957 that Cadillac's tail fins began to sharpen—three years after the B.A.T. 7. At least in terms of production vehicles, the iconic 1959 Cadillac tailfins are likely as close as any automaker came to achieving what Scaglione accomplished.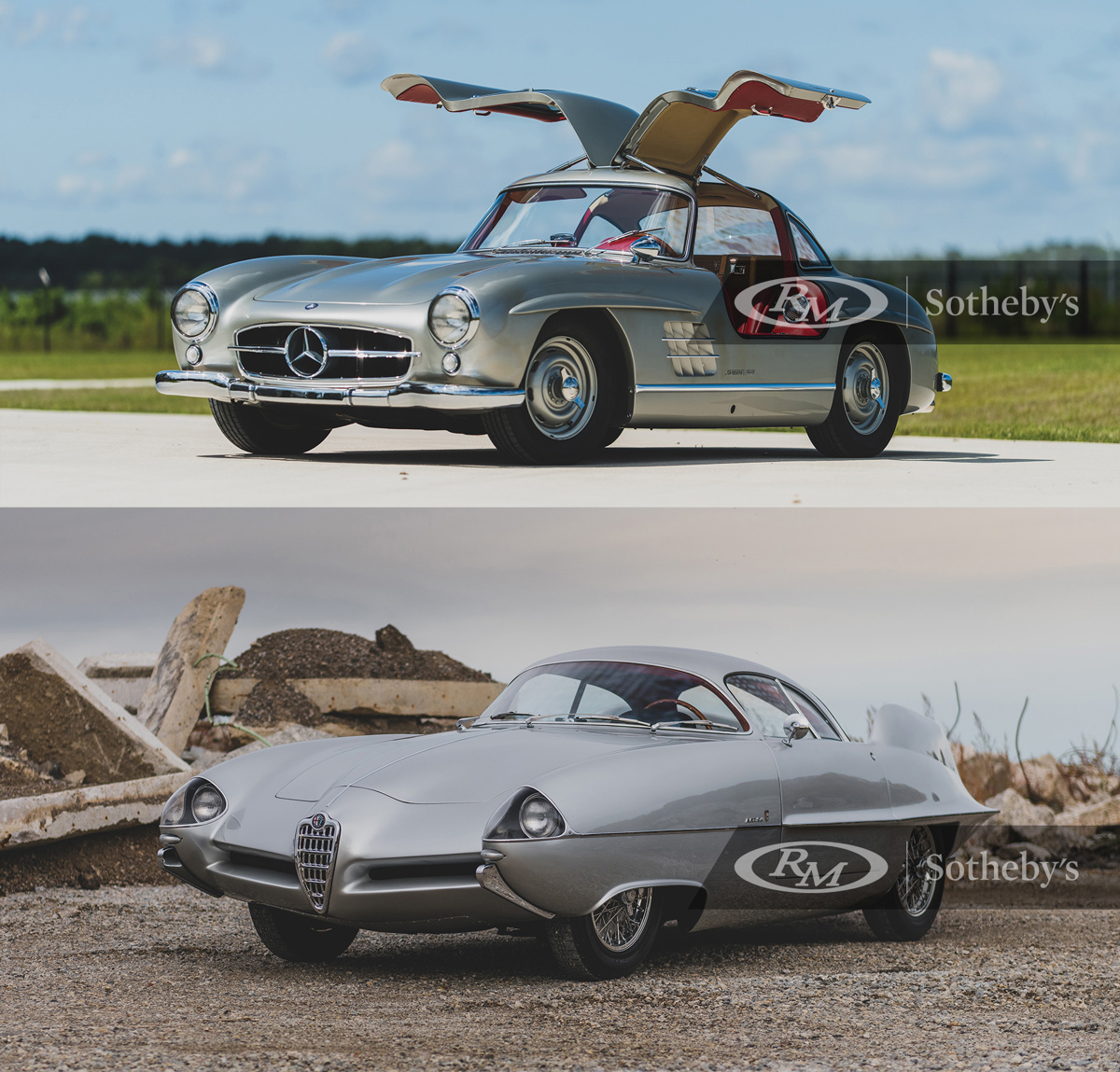 Wings Around the World
Perhaps it is unfair to compare the B.A.T. series against any car built in series production. And yet, this 1955 Mercedes-Benz 300 SL Gullwing may provide a decent comparison to the 1955 Alfa Romeo B.A.T. 9d. Production of the first 300 SL and the first B.A.T. happened in the same year, 1953, and both have a winged reputation. Though the iconic "Gullwing" doors found on the 300 SL were obviously not meant to be opened while driving, their sculpted shapes helped Mercedes-Benz increase the "tumblehome" of the greenhouse, moving away from the slab-sided design popular in the period. With vents to channel hot air away from the front brakes and a hood that was sculpted to sit beneath the front headlights, the Mercedes-Benz 300 SL shows that Scaglione's contemporaries were attempting different strategies to achieve similar aerodynamics.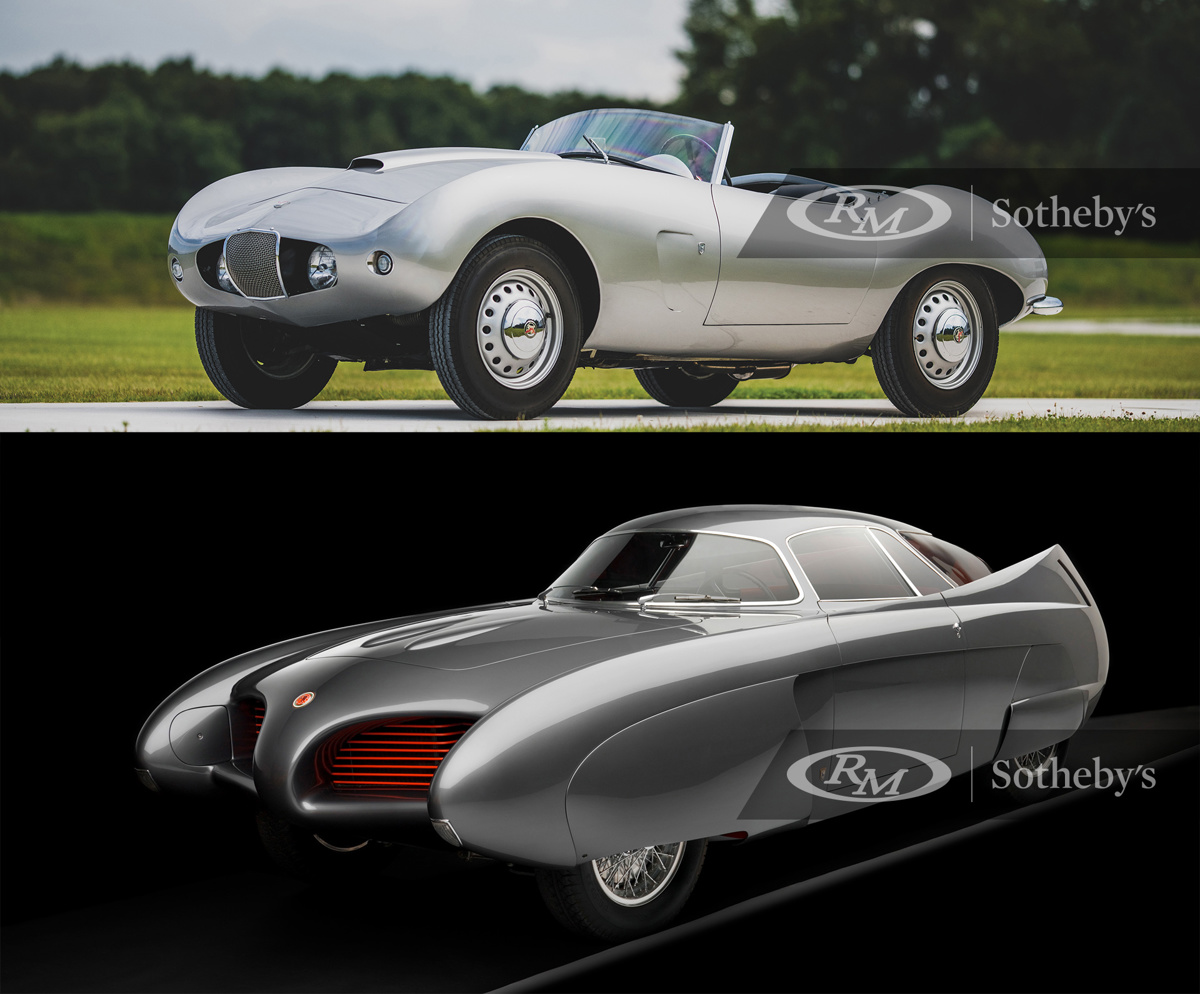 Scaglione vs. Scaglione
Sometimes, artists are so unique, they can only be compared to themselves. Scaglione's career had many highlights, but this 1956 Arnolt-Bristol Deluxe Roadster is one of his most celebrated efforts. While the wild sculpting seen in the B.A.T. series was toned down slightly for this series-production roadster, it's still easy to see Scaglione's expertise in sports car packaging on display. Modern designers refer to this as "shrink wrap" styling, with the curves of the car cutting as tight as possible to the internal components. The Arnolt-Bristol's hood scoop was designed to clear the tall Bristol motor, while the winged fenders drew the eye away from this high point. Scaglione at his most subtle.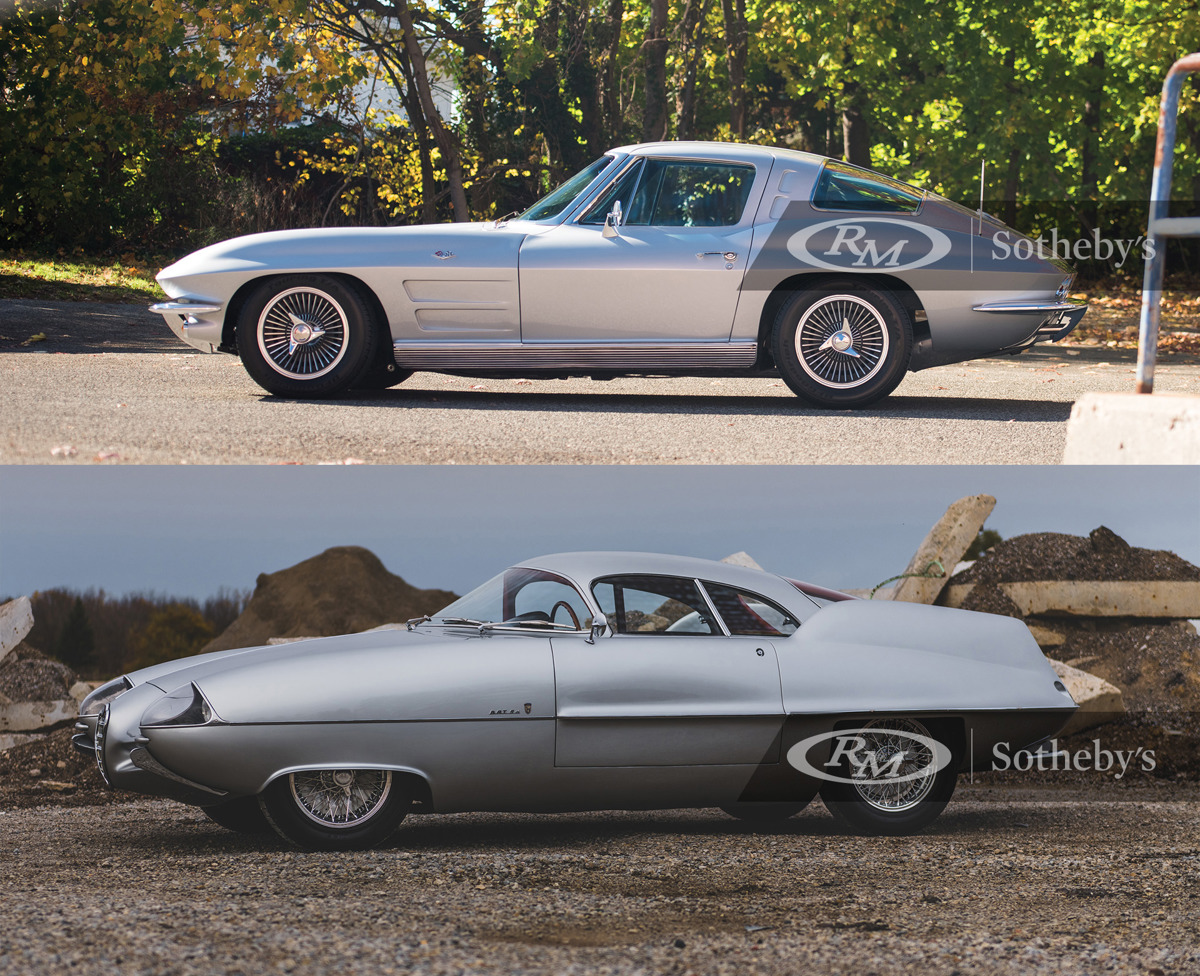 Split-Window
Providing the title of this piece and perhaps the most often-cited parallel between the B.A.T. concepts and regular production cars is the equally iconic "Split-Window" Chevrolet Corvette Sting Ray. Built for only one year, 1963, the "Split-Window" is regarded as the high point of mid-century American sports car design, with nearly every panel decorated with what GM Design Chief Bill Mitchell called "surface entertainment." Though the B.A.T. series are no doubt entertaining to behold, the important thing to remember about Scaglione's creases, wings, and inlets is that their shapes are all purposeful. No mere entertainment here.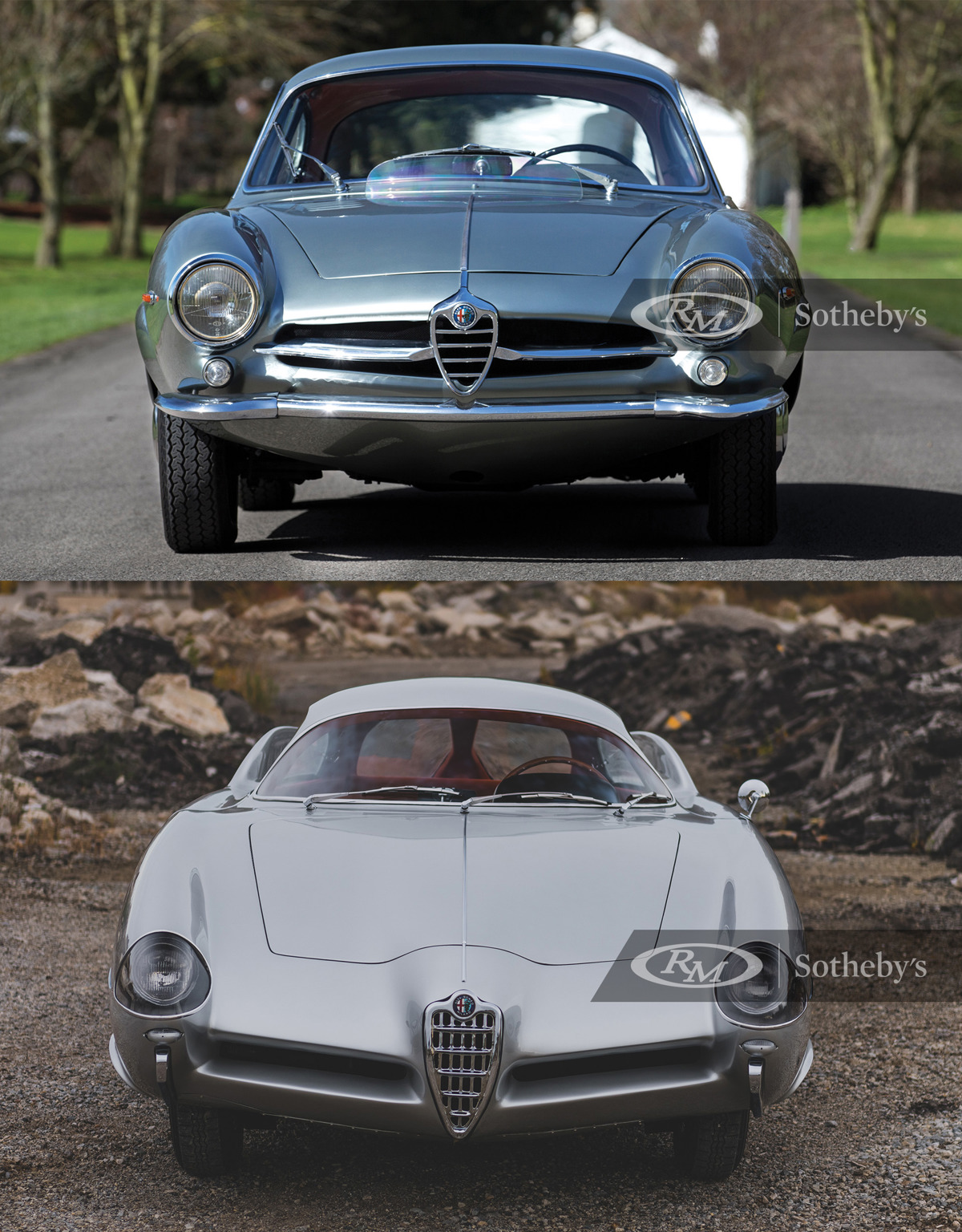 B.A.T. By Another Name
By the time that B.A.T. 9d debuted in 1955, Alfa Romeo was keen to leverage the interest on their extraordinary concept cars to sell their "regular" production models. This led to the integration of the famous heart-shaped grille on the front of B.A.T. 9d, and a tie-in with a series production model, the Giulia Sprint Speciale (or "SS"), which debuted in 1963. By then, the extreme lines of the B.A.T. series had been made more subtle, as if the essence of Scaglione's aerodynamic teachings had been distilled. For this critic at least, the similarities between the two cars only emphasize how the original B.A.T. series was truly ahead of their time. Tonight, as part of the Contemporary Art Evening Auction presented by RM Sotheby's, all three B.A.T. cars will be available for bidding; A triptych of unparalleled significance, indeed.