What brand of car best suits a racing driver born in Monaco? Famous for piloting a Bugatti (and winning) in his first-ever race in 1926, Louis Chiron went on to drive for works teams including Mercedes and Ferrari. With his close friend and fellow motorsport star Rudolf Caracciola, Chiron founded a driver-led team dubbed Scuderia CC in 1933 and ran a pair of Alfa Romeo Monza racers. Having announced his official retirement from competition first in 1936 and again in 1938, and escaped from combat during the second world war, Chiron did what any motorsport veteran would do: He got back on the grid.
In 1947, during the first post-war running of Grand Prix de l'Automobile Club de France, driving a Talbot-Lago, Chiron reignited his racing career with a first-place finish. Reading the list of entrants for the French Grand Prix that year reveals Chiron's achievement: Alberto Ascari, Luigi Chinetti, and Charles Pozzi were also on the grid, but could not best the skill of the Monegasque champion. Still the recordholder for the most motorsport wins by any Bugatti factory driver, Chiron is perhaps most famous today for having a modern hypercar made in his honor by the reborn automaker. But when it came time for Chiron to choose a sports car for himself, as he was plotting his post-war return to motorsport, he selected this Delahaye. Next month, on 14 May, this unrepeatable example will cross the block at RM Sotheby's Monaco 2022 auction, representing a spiritual homecoming of Chiron's Delahaye: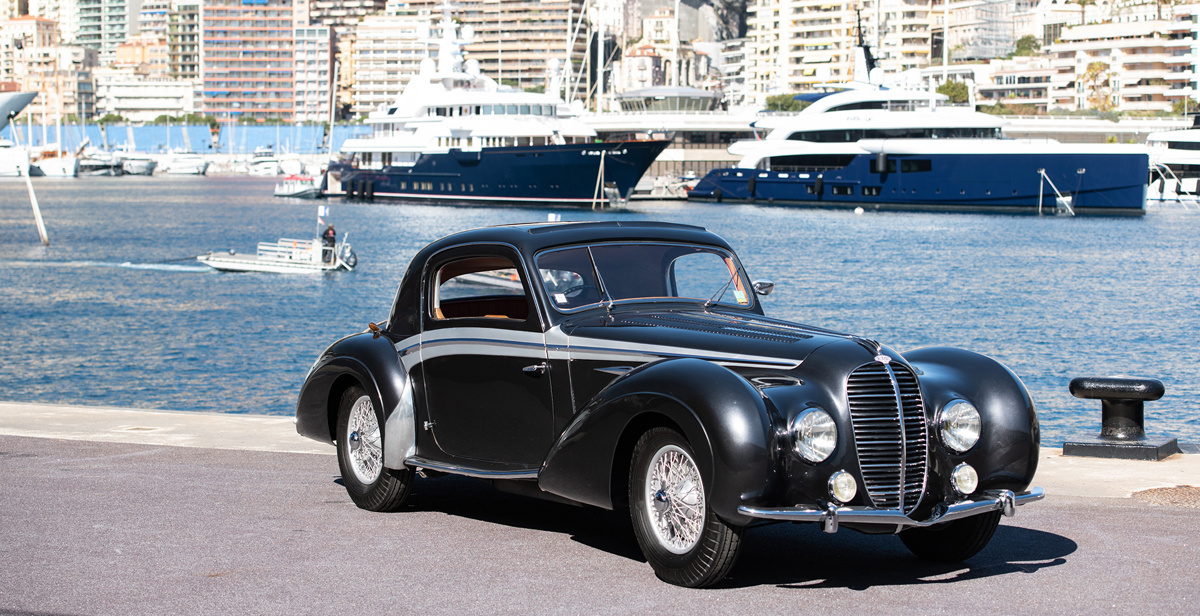 1947 Delahaye 135 MS Sport Coupé by Chapron
Estimate: €325,000 - €375,000 EUR
Why did Chiron purchase a Delahaye during a time in which he was still driving for Talbot-Lago? Ordered shortly after the end of World War II, period correspondence shows the interest that Chiron paid to the selection of his new sporting Coupé. Starting with the coachbuilder, Chiron chose to clothe his sporting French chassis with coachwork made in the outskirts of Paris, in the atelier of Henri Chapron. Perhaps most known for creating distinctive, drop-top "Décapotable" models from Citroën DS chassis, Chapron's firm was one of the last surviving French coachbuilders. In the early post-war period, though (along with rivals Saoutchik, Franay, and Figoni et Falaschi), Chapron produced peak French style.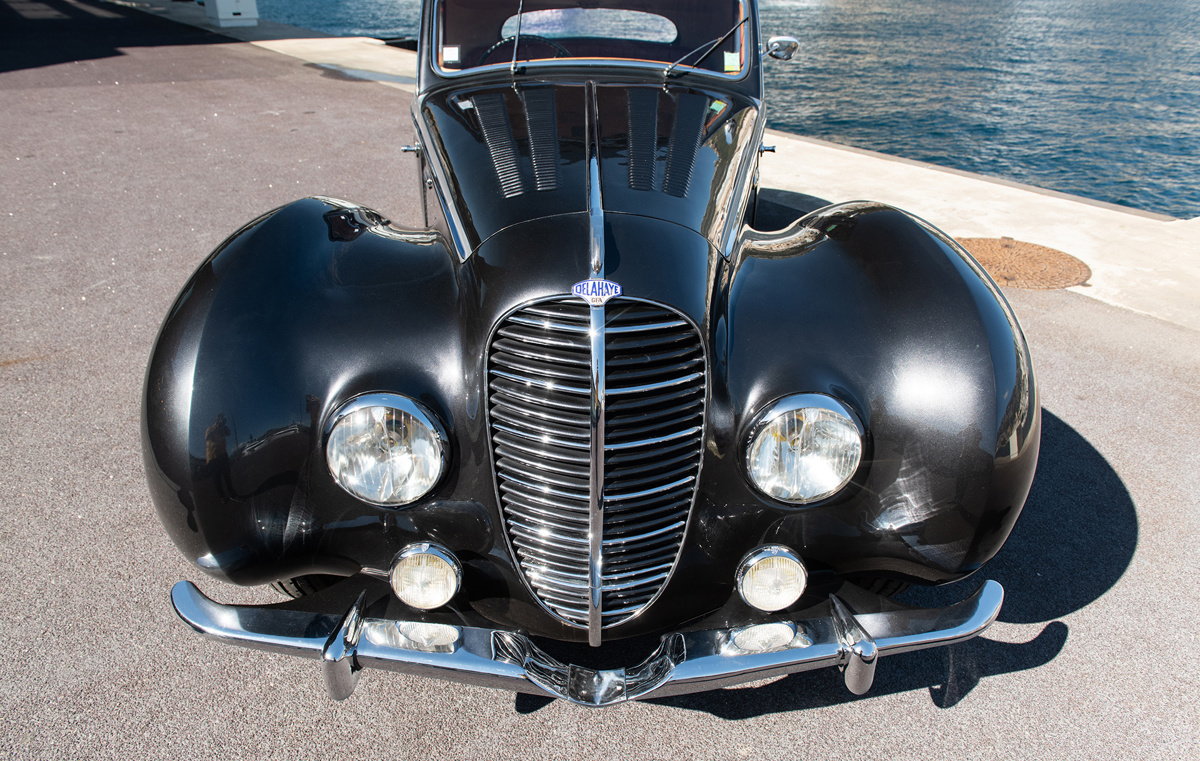 While Chiron prepared to face his fellow racers on-track, a similar artistic competition was taking place in terms of post-war French coachbuilders working on French chassis. The challenge, at least in part, was that the Delahaye 135 was fundamentally a pre-war design, debuting in 1934. With its low-slung chassis and strong, 3.2-litre, inline-six-cylinder motor, the Delahaye could achieve 100 miles per hour in Type 135 MS specification. Select customers in the post-war period preferred the swooping, so-called "French Curves" of the models made before the war. Today, collectors certainly agree. Comparing this Chapron Delahaye to a Talbot-Lago by Graber released the same year, one can see the influence of post-war, slab-sided design. Chiron must have been a traditionalist at heart, hence this Delahaye by Chapron.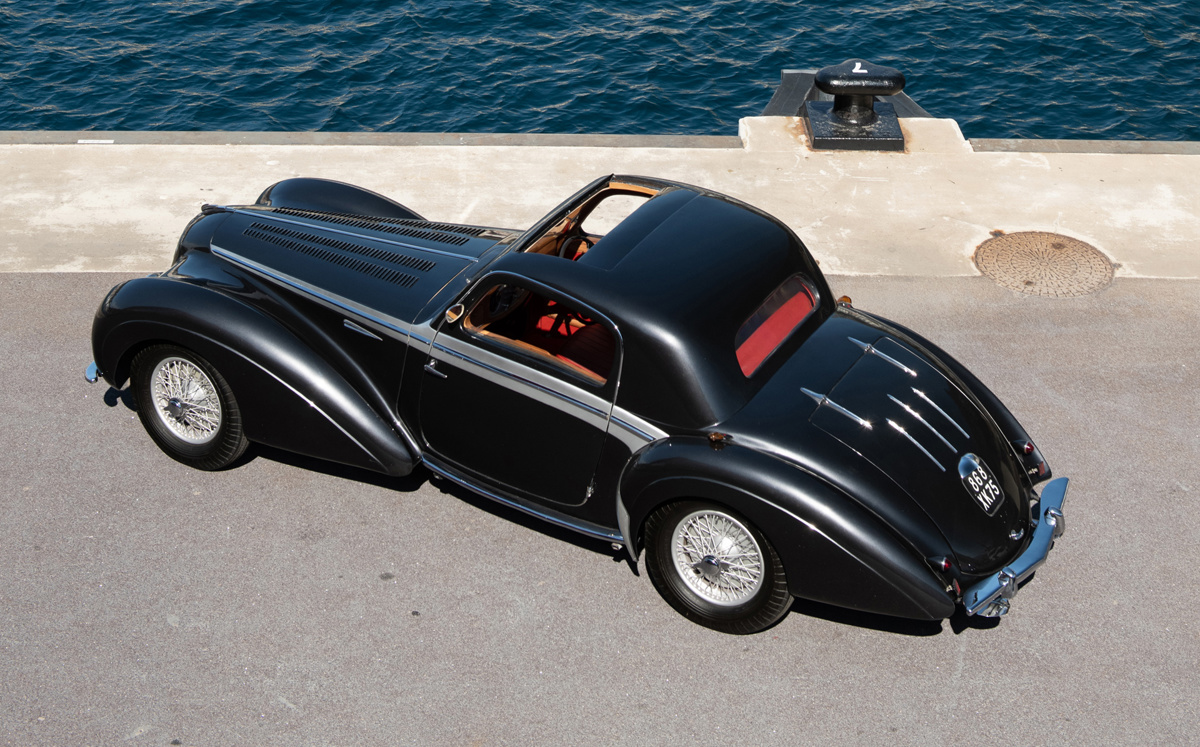 Zooming out, one can appreciate the three-dimensional shape of the "torpedo wings" specified by Chiron in his original order for this example. According to correspondence on-file, Chiron approved of the design proposals sent by Chapron's team on 2 November 1946, and requested that if any further changes were necessary, that they be discussed in-person in Paris. With Chrion's experience driving many miles on French highways to test new Bugatti models and deliver them new to the Riviera, this request was not a mere suggestion, but a promise.
Image courtesy of Jean-Paul Tissot
In the summer of 1947, Chiron finally received his finished Delahaye, painted in a striking, two-tone "bleu ciel" over blue Miami color scheme. By all accounts, Chiron was pleased with his selection, and wasted little time in taking it to his beloved Monaco in time for a Grand Prix, as seen in the above archival photograph from the late 1940s. There must have been more than a hint of personal pride for Chiron; while he grew up in Monaco, his family was not wealthy. Chiron's father served as the Maître d'Hotel at the high-end Hotel de Paris in Monte Carlo. In a manner of speaking, Chiron also began his career at this same resort, as a dancing companion in the hotel ballroom after World War I. A chance encounter with a wealthy heiress gave Chiron his first opportunity to drive a competition Bugatti in 1925. It is not enough to say, "the rest is history," as Chiron's hard work and talent earned this post-war prize.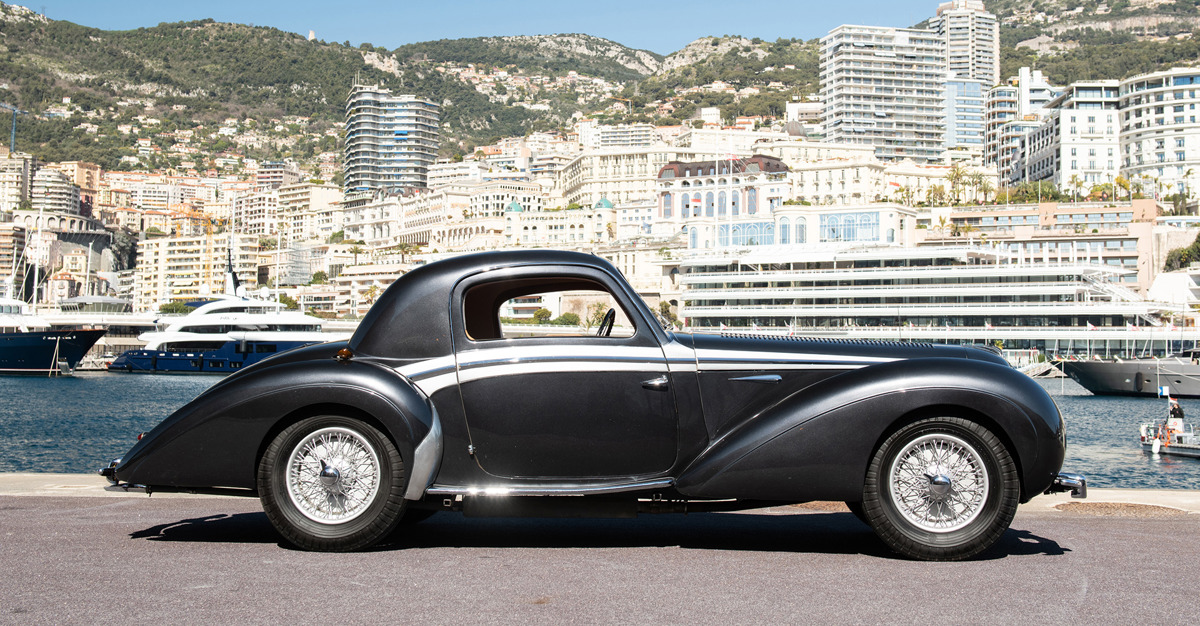 Today, featuring a recent restoration completed in 2012 by Delahaye experts Paillet, this example is prime to take center stage in Monaco once again. Starting with separating the frame from body, the technicians at Paillet did not overlook any details, even replacing the original wooden framework from Chapron's post-war workshop. Certainly, Chiron himself would have appreciated a refreshed and more robust chassis. The extensive restoration was fully documented and finished with this strong and subtle, two-tone dark metallic blue paint scheme with silver accents. Perfectly suited to complement the modern superyachts of Monaco.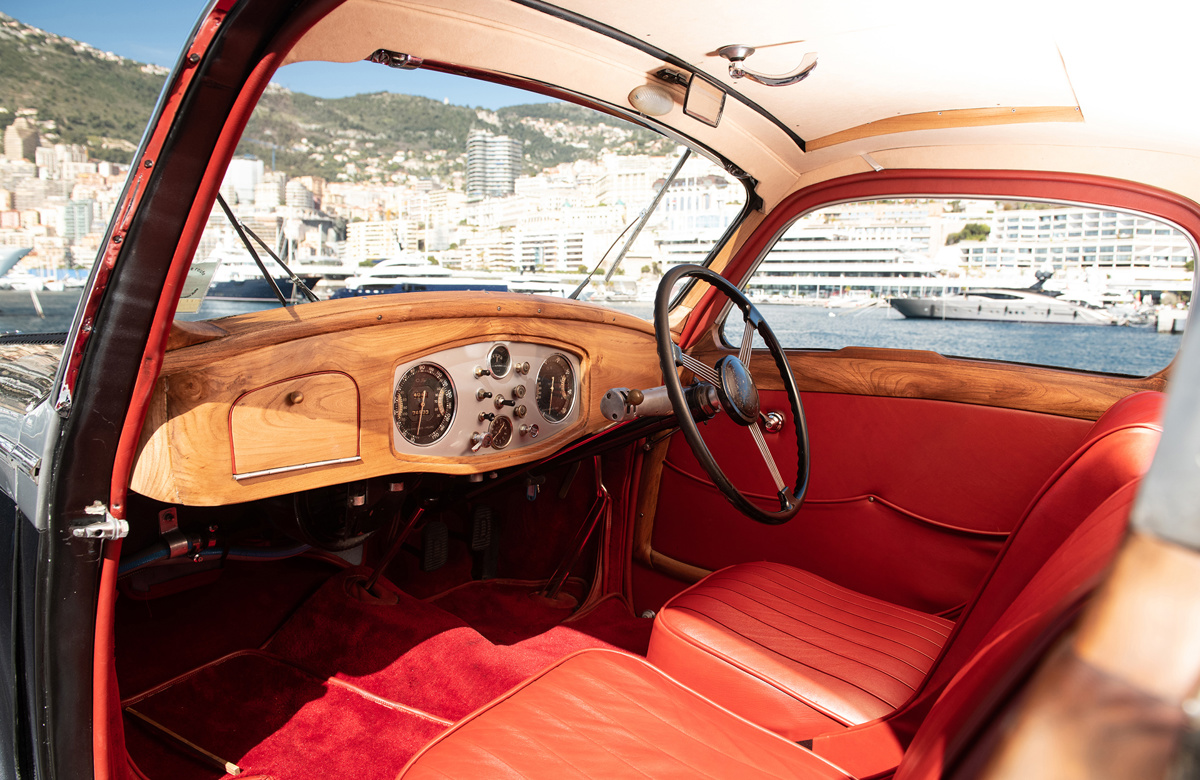 Inside, passengers and driver alike are treated with a luxurious cabin upholstered in red leather complemented by a natural dashboard hewn from a single piece of light wood. Coupled with the expansive sliding sunroof and four-speed Cotal pre-selector gearbox, this coachbuilt example provided one of the more modern driving experiences of its era.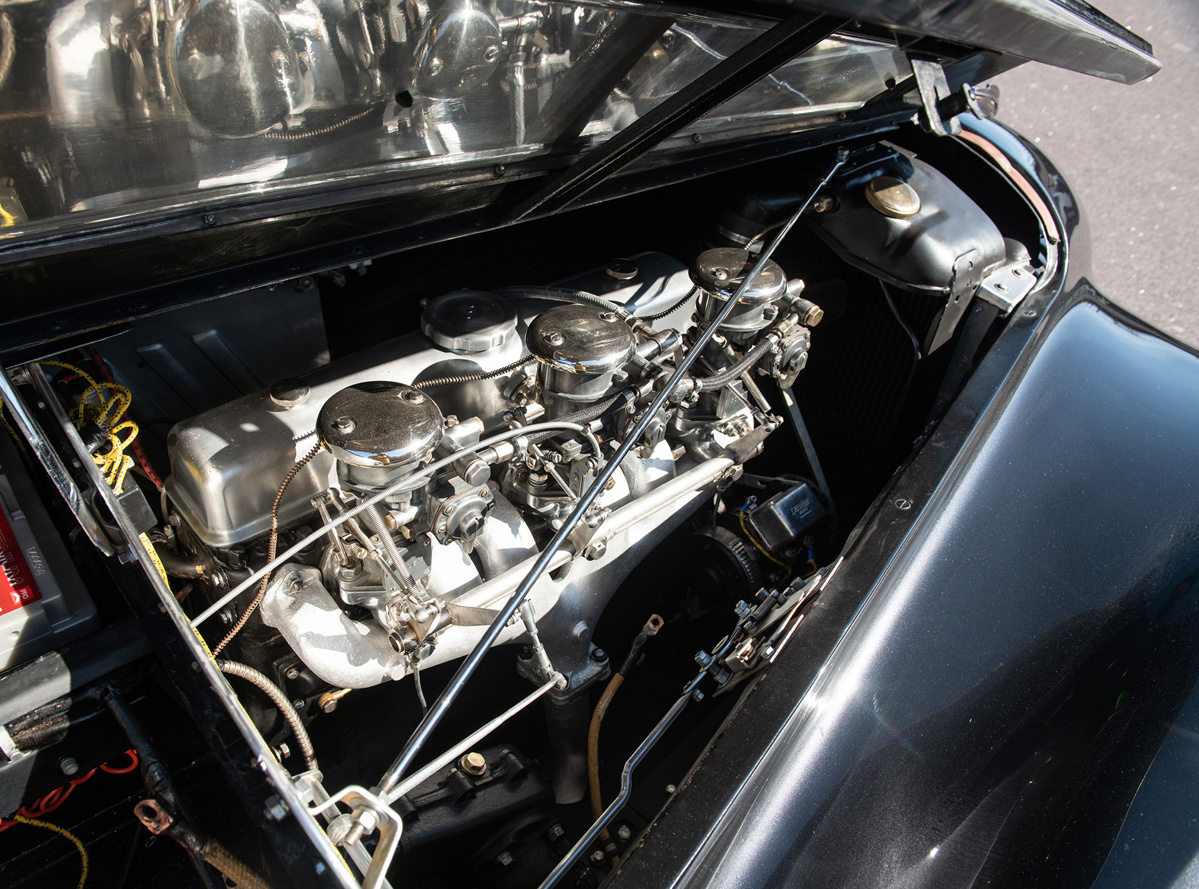 Though the six-cylinder, triple-carbureted engine on the 135 MS models does not quite match the horsepower output of the Bugatti Chiron, this motor is undeniably handsomely appointed. Delahaye reported a range of 120-160 horsepower in terms of engine output, with cars featuring the triple carburetor setup. Showing well beneath the butterfly doors of the expansive, vented hood, the engine is a testament to the current consignor's ownership, which spans fifty years in total.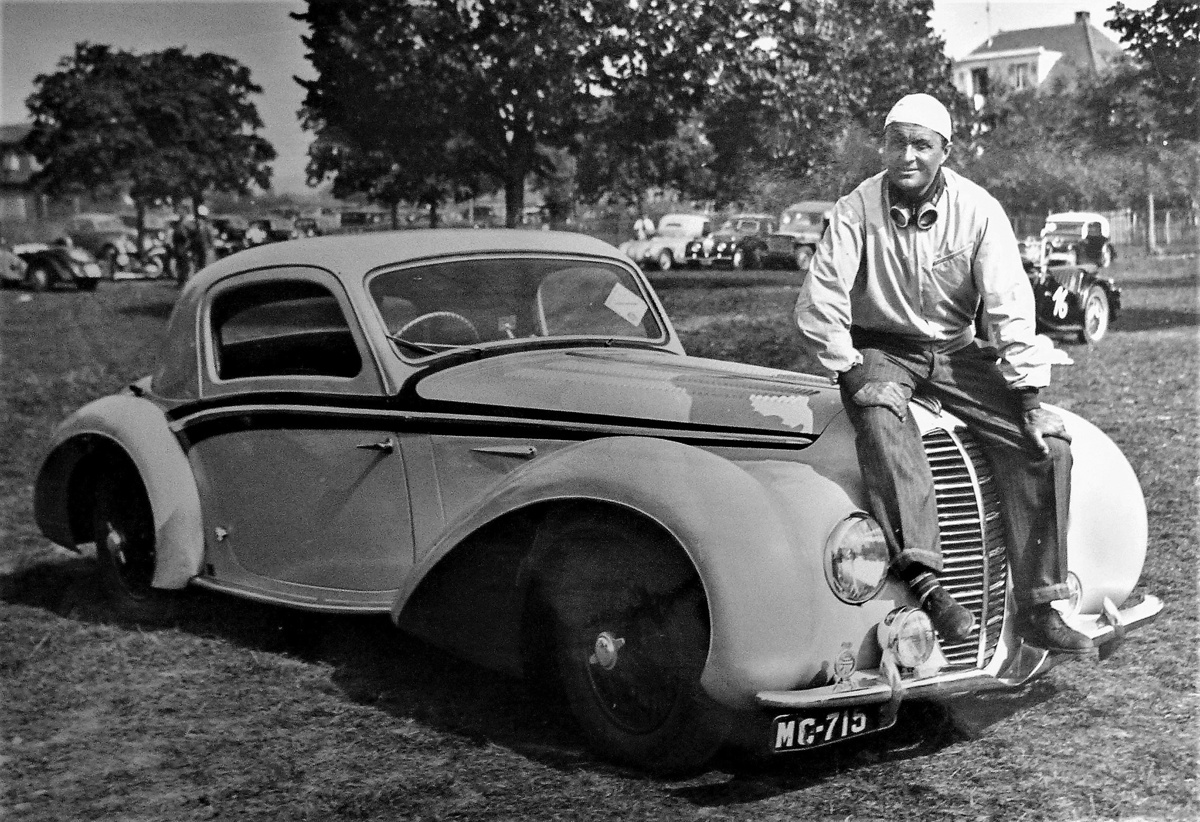 Image courtesy of Jean-Paul Tissot
Ultimately, the objects that we own are merely the sum of a lifetime of human experiences. The spirit of Louis Chiron was sufficient to take him from dancing in a hotel in Monte Carlo in 1925 to the top of the Monaco Grand Prix podium in 1931. A serious veteran with a career that extended long after his surprise comeback in 1947, Chiron will forever go down in history as the oldest driver to enter into a Formula One race, aged 58, at his beloved Monaco Grand Prix in 1958. A champion until the end.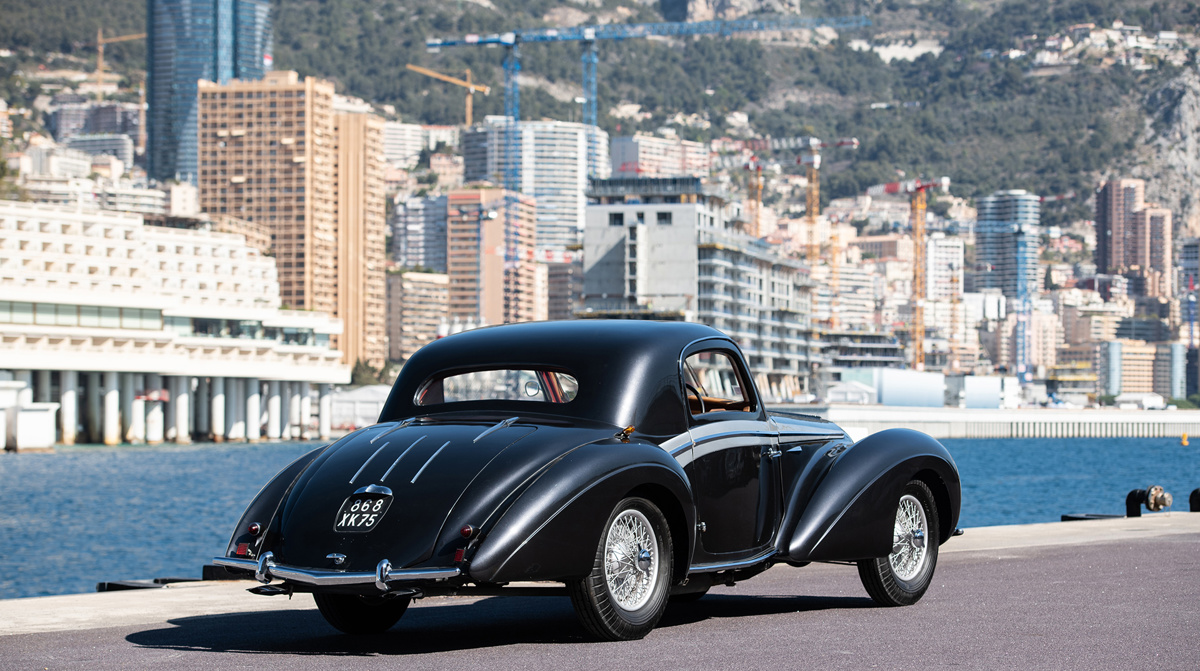 Looking forward, it is difficult to imagine what Louis Chiron would think of modern-day Monaco. An unadorned statue to him still exists at a prime place overlooking the harbor, not far away from the racing chicanes around the aquatic center that were named in his honor. Tougher, still, to picture what Chiron would have thought of his namesake hypercar. One glance, though, at the timeless lines on this hand-built Chapron body and it is immediately clear that Chiron would have been proud of his choice.
Watch as Louis Chiron's Delahaye 135 MS by Chapron makes its triumphant return to Monte Carlo at the Grimaldi Forum on 14 May 2022 during RM Sotheby's Monaco 2022 auction.