Just before he died, while touring on a victory lap through Europe, jazz legend John Coltrane described the evolution of his live performance: "I played all the notes I could play, I played all the chords I could play. I better start singing." And though it may seem like an odd analogy, for vintage car fans, one flip through the digital catalogue for RM Sotheby's upcoming Elkhart Collection will leave you with the same impression—seemingly every single corner of car culture is represented, from microcars to hypercars, Willys Jeeps to "Jolly"-style Renaults and everything in-between. An epic arrangement, hitting all the notes.
Clearly, we need a trained eye to help highlight the best examples, so we turned to RM Sotheby's team of Specialists—here are their top picks from one of our most encyclopedic auctions to date: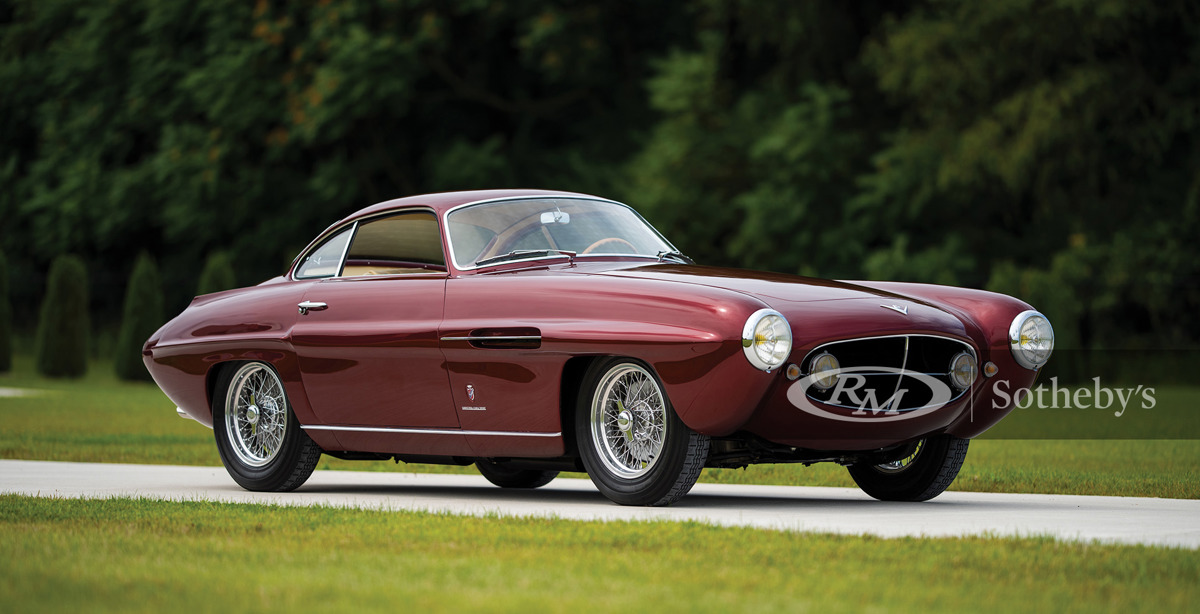 1953 Fiat 8V Supersonic by Ghia
Estimate: $1,750,000 - $2,200,000. Offered Without Reserve.
May as well start off with the ultimate specialist—RM Sotheby's namesake founder and current Chairman & CEO, Rob Myers. The Jet-Age, Savonuzzi-styled, Supersonic was his choice. Why? "Because of my past," Myers said, then recounted a trip 25 years ago, when an anonymous collector opened the door of his collection in Switzerland and Myers encountered one of the rare Ghia-built specials in person for the first time. The memory stuck with Myers: "This beautiful car has always intrigued me. It's got fantastic styling and shape."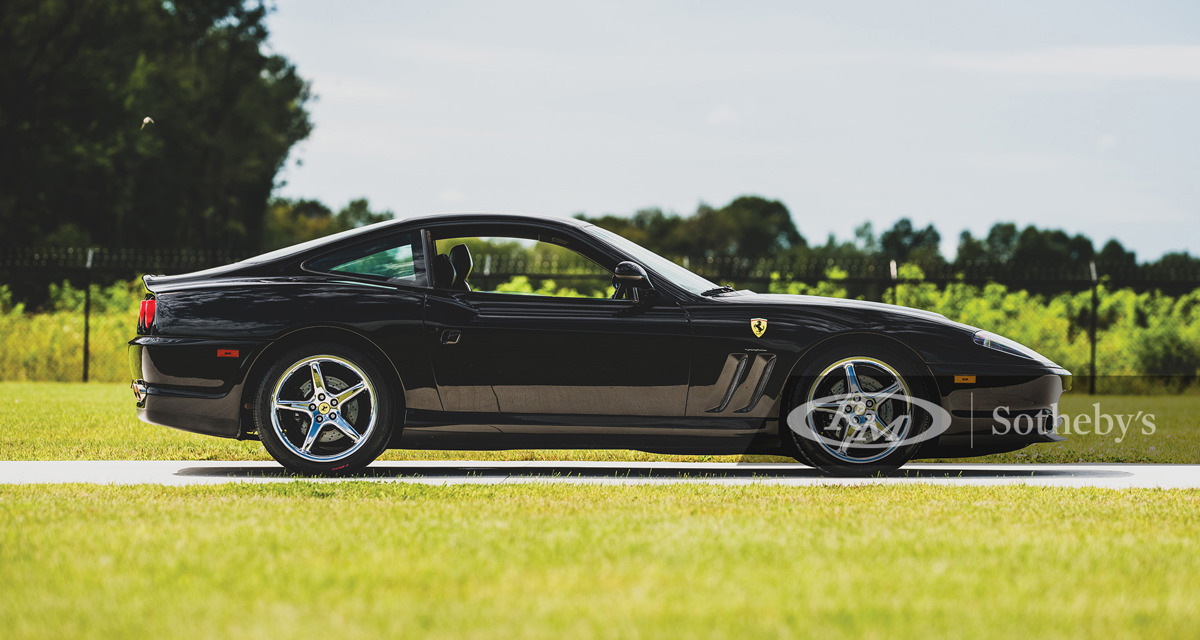 1998 Ferrari 550 Maranello
Estimate: $100,000 - $125,000. Offered Without Reserve.
Jarrett Rothmeier, Head of RM's Financial Services, and our in-house Ferrari expert had this choice: "The late 1990s was a very important time for Ferrari, with the recent arrival of Michael Schumacher in Formula One and the golden age of Luca di Montezemolo nearing its peak. The 550 Maranello, being the last front-engine V-12 only available with a manual transmission, proved to be one of the best-engineered products out of Maranello in that era and has become an important collector car that is still known globally for its reliability and performance. Additionally, the very first Ferrari I was ever given a ride in, around the age of 15, was a 550 Maranello. That ride set in motion a life-long passion with Ferrari, and my goal is to one day have one in my personal garage."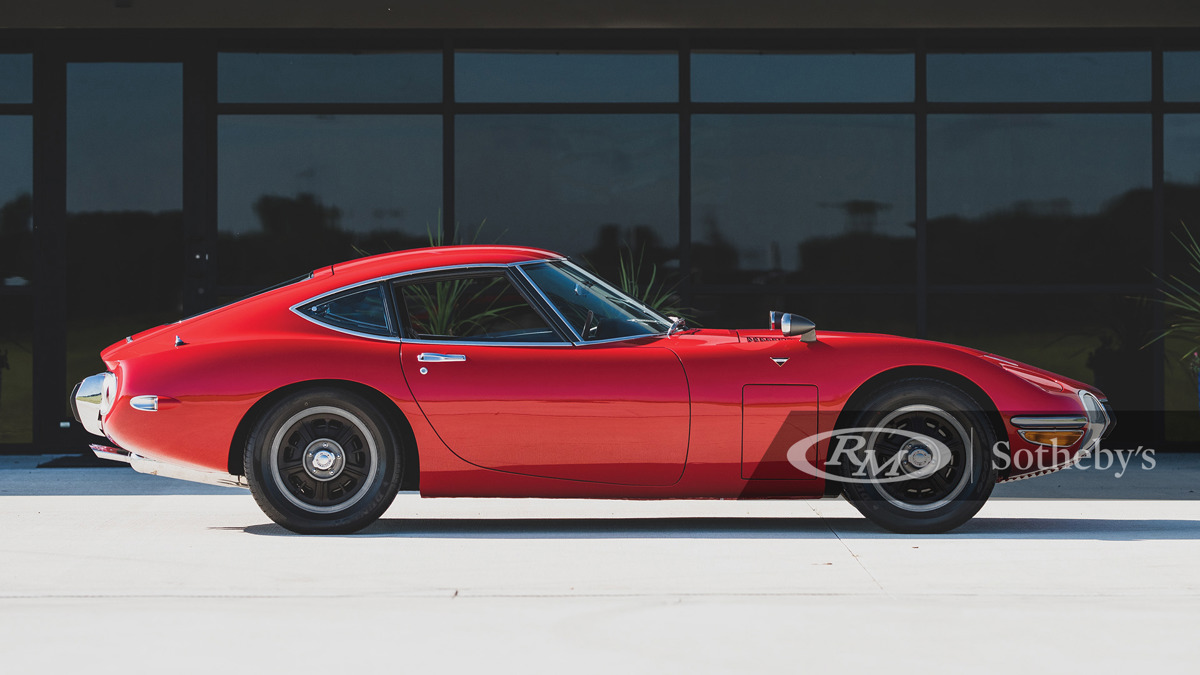 1967 Toyota 2000GT
Estimate: $700,000 - $850,000. Offered Without Reserve.
Our next highlight is from an unlikely source—a Japanese supercar selected by RM Sotheby's man in the Netherlands, Tonnie Van der Velden, who grew up in a passionate car family. He relates this story, "When I was eight years old, my mother came home with a Toyota 1000, and I was so upset because a Japanese car in the family was absolutely a no go." Over time, Van der Velden's opinion matured, "Actually the car was not that bad, and she enjoyed it for a few years. Sixteen years later, I bought a Renault Turbo I. While talking with the seller, he mentioned that the scrapyard down the road had a Toyota 2000GT—an all original, untouched Belgian car—and said the owner offered to sell it that week."
Naturally, Van der Velden didn't wait long, "So I went there with him and bought the car. The quality of that car and other 2000GT I have seen since are without equal. Every time I see one, I am impressed how nicely they are built…"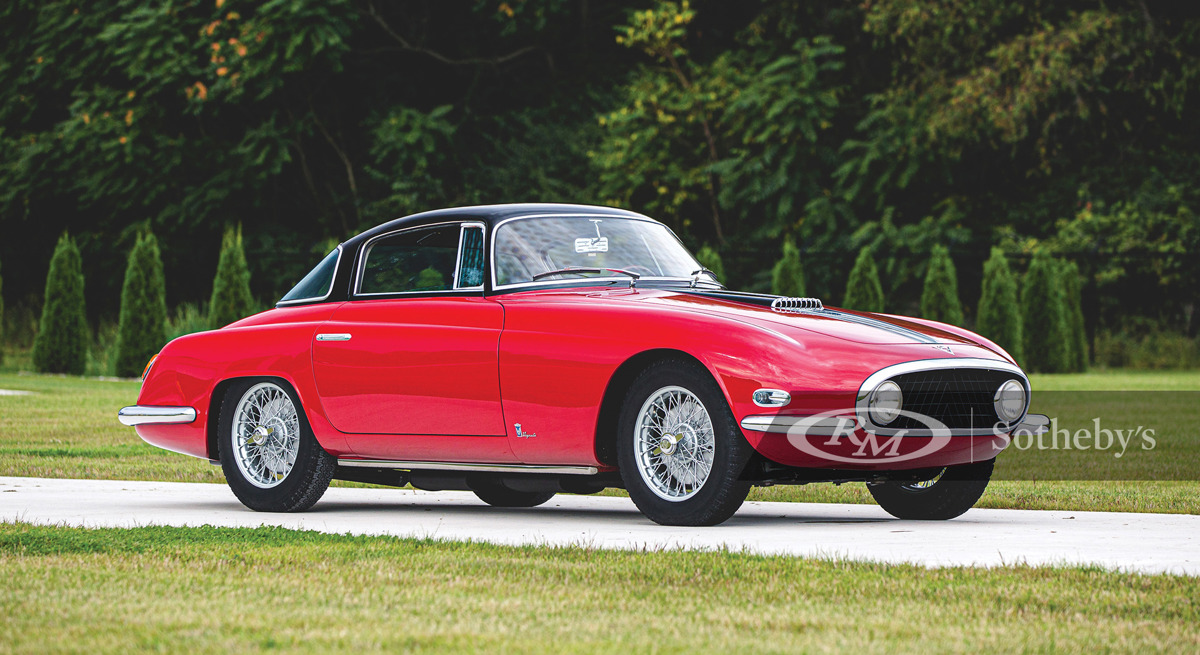 1954 Fiat 8V Coupe by Vignale
Estimate: $1,400,000 - $1,650,000. Offered Without Reserve.
Moving from Europe to California, RM Sotheby's San Francisco-based expert David Swig has an alternate take on the 8V, in case someone has already snagged the Supersonic: "I have always admired the Fiat 8V and the other models (for example the Siata 208), that received the 8V motor. Lot 2238, the 8V Vignale, is arguably one of Vignale's better-looking creations of the 1950s, and it's so weird and unique, but also breathtaking, I don't think I'd ever get tired of looking at it. The 8V is also eligible for most any car event I'd want to do. A fine example of one-off Italian coachbuilding of the mid-1950s. I love it!"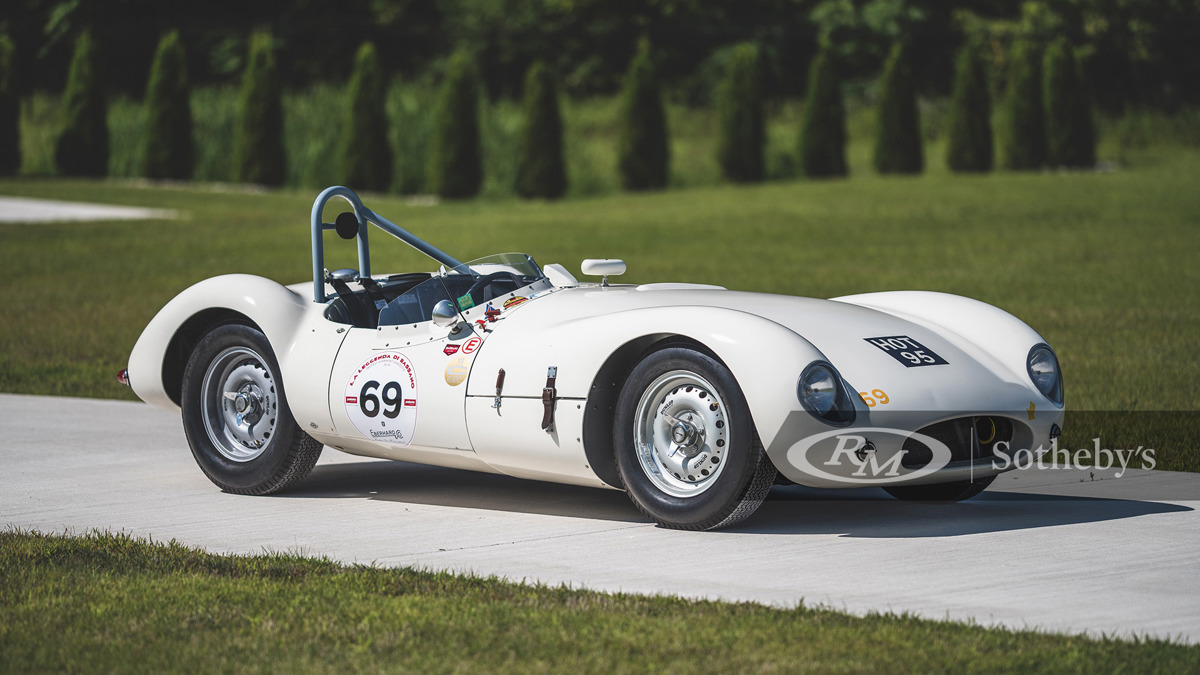 1955 Cooper-Jaguar T38 Mk II
Estimate: $2,000,000 - $2,500,000. Offered Without Reserve.
A leap back across the pond, to RM Sotheby's U.K. division and vintage racing Specialist Michael Squire, with this race-ready pick: "John Cooper didn't intend to build the Cooper-Jaguar until Jaguar's own Works driver, Peter Whitehead, was so impressed by his engineering that he thought Cooper could do a better job than Jaguar! You are roughly twenty times more likely to see a D-Type than a T38 like 'HOT 95,' and it has many of the innovative components that made the D-Type so brilliant. Not only is it searingly quick, but it has one of the prettiest bodies to appear at a race meeting during the 1950s. This T38 has a lovely period history with Sir Patrick Head's father, and it has been restored and maintained by some of the best workshops in England. The sister car has spent the last few years embarrassing everyone in historic racing over here, so it would be great to see 'HOT 95' attempting to do this too!"
If that was not enough to convince you, this Cooper was also the pick of consigning specialist and avid racer Donnie Gould, who surveyed the entire collection and also circled back to this rare race car:  "One of three cars built by this famous chassis designer. Sold new to Michael Head, father of F-1 guru Sir Patrick Head from Team Williams. A potent, Jaguar D-Type-powered, OTS race-spec or rally car restored to perfection and dialed-in for the next caretaker. Provenance galore and eligible for most any of the top events."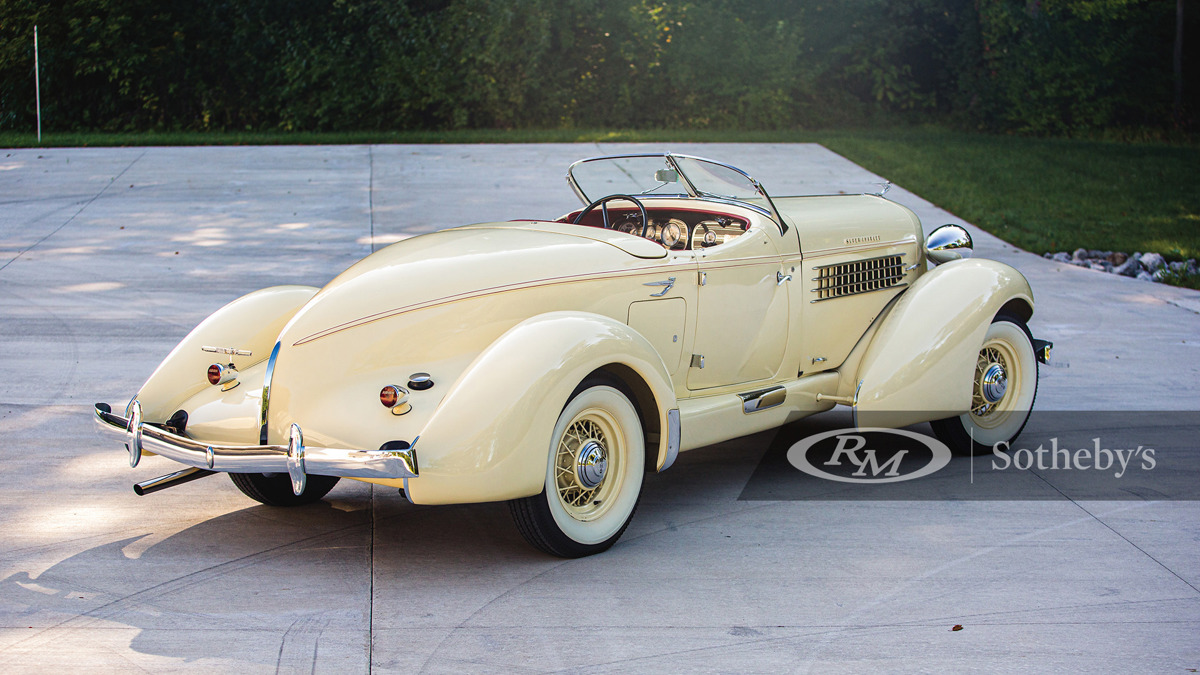 1935 Auburn Eight Supercharged Speedster
Estimate: $700,000 - $800,000. Offered Without Reserve.
No stranger to classic cars or Concours, Colorado-based RM Sotheby's Specialist Roger Willbanks had this highlight: "Gordon Buehrig conceived one of the greatest automotive designs in history with the 1935-1936 Auburn Speedster. The shape of this car is both flawless and timeless, and one that I fell in love with when I first saw it as a youngster. No detail was overlooked, from the shapely pontoon fenders that expose dramatic supercharged exhaust flex-pipes, the steeply raked Vee-windshield and grille provide the illusion of speed even when standing still, the curvature of the dash as it sweeps down into the doors, a fully disappearing top, and finished off with a streamlined boattail shape matched to tapered and lengthened rear fenders. And to top it all off, an 851/852 Supercharged Auburn Speedster drives as good as it looks!"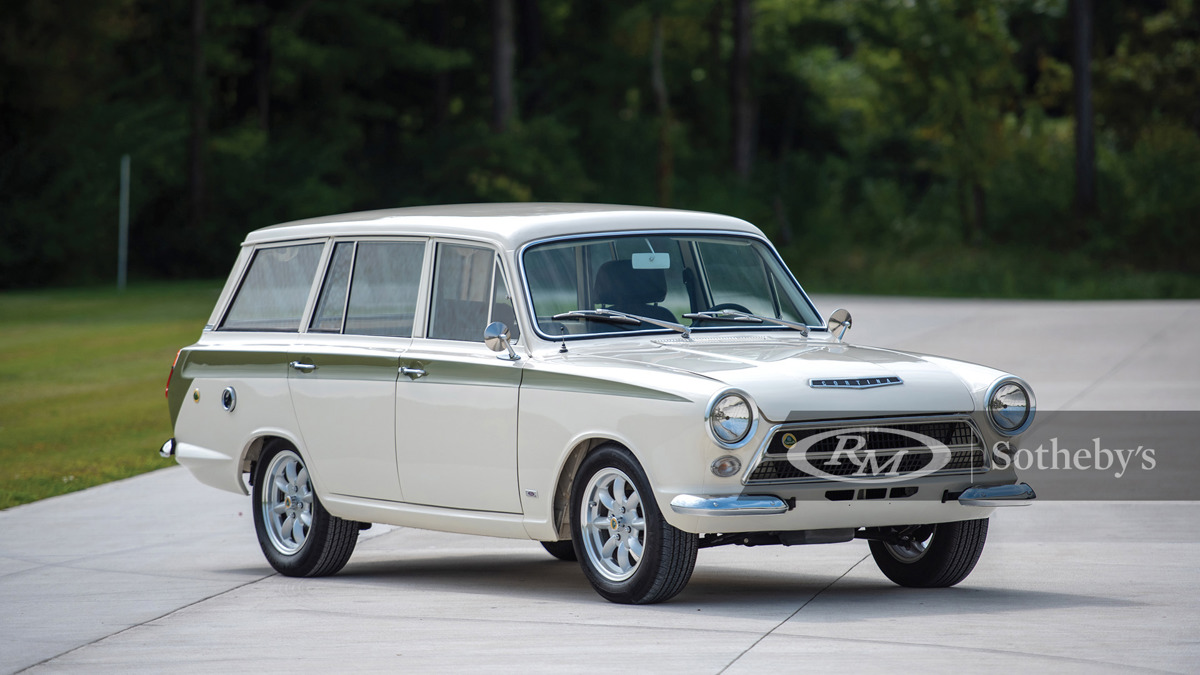 1965 Ford Cortina Lotus Mk 1 Estate Custom
Estimate: $35,000 - $50,000. Offered Without Reserve.
Our final selection for today comes courtesy of Savannah, GA-based Ramsey Potts, RM Sotheby's most colorful Specialist: "This extremely well crafted Estate shows how far talent and tools can take one of the most-admired sports cars of its day and make a statement that shouts fun!  At its core, the Cortina legend was born as a "mashup," with Ford and Lotus combining style and engineering to create a small, lithe sedan that was as effective at winning races on track as it was at winning the hearts of enthusiasts on the road. This is a very special opportunity to own a different kind of mashup...a British "Outlaw" build. This unique Estate has thorough history and documentation to support its custom construction and will undoubtedly offer more "toss about" fun than most Cortina models. All the while, the Cortina's new caretaker will confidently arrive at any classic car show with the only example. When I first saw it, I could not stop grinning from ear to ear...isn't that what our favorite cars should always do for us?"
Eagle-eyed auctiongoers will also note that RM is offering no less than three other Cortina variants in Elkhart, including this two-door saloon and two transformed into race cars, a 1966 example with a full roll cage and a 1967 example built for rally driving. Quite a four-car, all-Ford garage—playing all the notes, indeed.