The road to Amelia Island, for cars and car fans alike, is the perfect setting to show off some American muscle. With gentle curves winding underneath old oak tree growth, the roads surrounding the Ritz-Carlton Amelia Island resort are similarly spa-like for American cars. Both beachfront and marsh vistas can be viewed from Amelia Island bridges and roundabouts. US-1 is mere miles away, with four dedicated lanes of motoring freedom which will take you on a lovely route north to the beguiling city of Savannah, GA, or as far south as the Florida Keys. The possibilities are truly unlimited when driving an American muscle car.
With selections varying from top-of-the-line luxury broughams by Cadillac to track-ready Boss Mustangs, and our elegant Corvette cover car, RM Sotheby's Amelia Island auction is fully stocked with plenty of American-made metal. Thanks to their condition, quality, and relative rarity, these carefully curated choices are elevated far above the offerings one would typically see at a blockbuster classic car auction. Join us as we travel through these well-considered muscle car choices, all appearing later this month on the sun-kissed coast of Florida.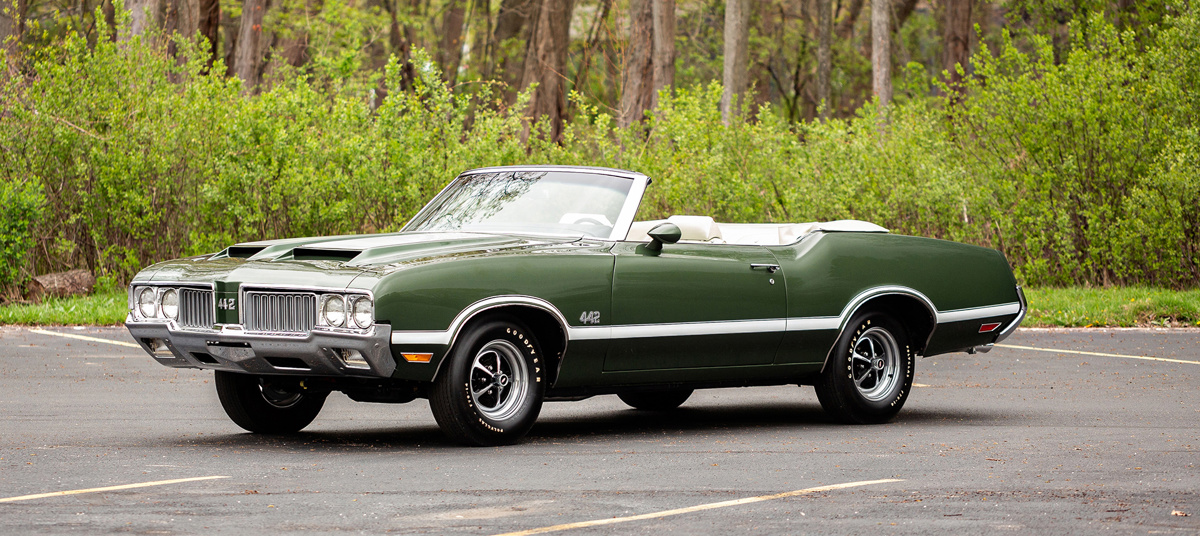 1970 Oldsmobile 442 Convertible
Estimate: $90,000 - $100,000 USD |
Offered Without Reserve
Geniuses, as they say, tend to prefer green cars. In that same vein, among classic muscle cars, connoisseurs tend to gravitate towards Oldsmobile. Part of the reason is the pedigree—Oldsmobile can credibly claim a contribution to the start of the muscle car craze with their V-8 powered Rocket-88 from 1949. When GM's oldest car brand received their turn two decades later to feature a V-8 engine in a smaller car, then, it was the completion of a circle. Muscle car enthusiasts of all allegiances can respect the combination of generous displacement (455 cu. in.) of Oldsmobile's effort, as well as the relative rarity. This handsome Sherwood Green-over-Parchment example is a tasteful choice, and appropriately uncommon: Only 2,933 examples were built that year.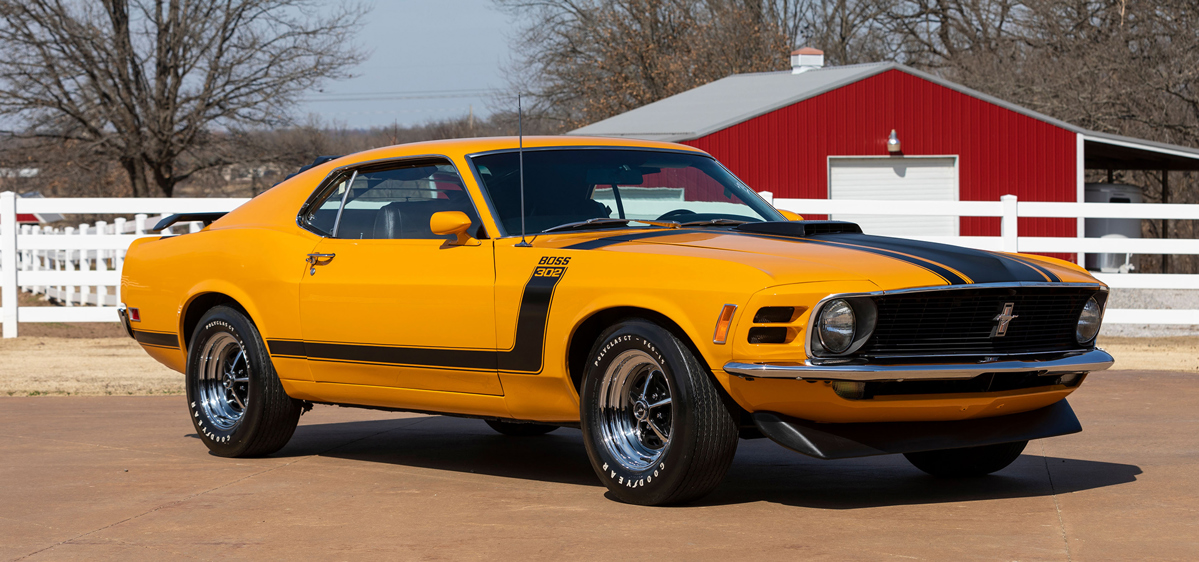 1970 Ford Mustang Boss 302
Estimate: $75,000 - $85,000 USD |
Offered Without Reserve
Meanwhile, across town at the Ford Motor Company, product planners had a different take on the typical all-out acceleration celebrated by muscle cars of all stripes. Ford's unique approach was to take their pony car, endow it with additional roadholding abilities, and take it racing via the SCCA. The finished product, with its handling-focused suspension and quicker steering, is far from your typical muscle car. 1970 marked the year that Ford's investment paid off, with the Boss 302 taking home the Manufacturer's Championship in the SCCA's high-displacement class that year. With iconic aesthetics designed by L.A.-born legend Larry Shinoda, the Boss 302 is Detroit muscle, built to shine in Southern California, no matter the competition.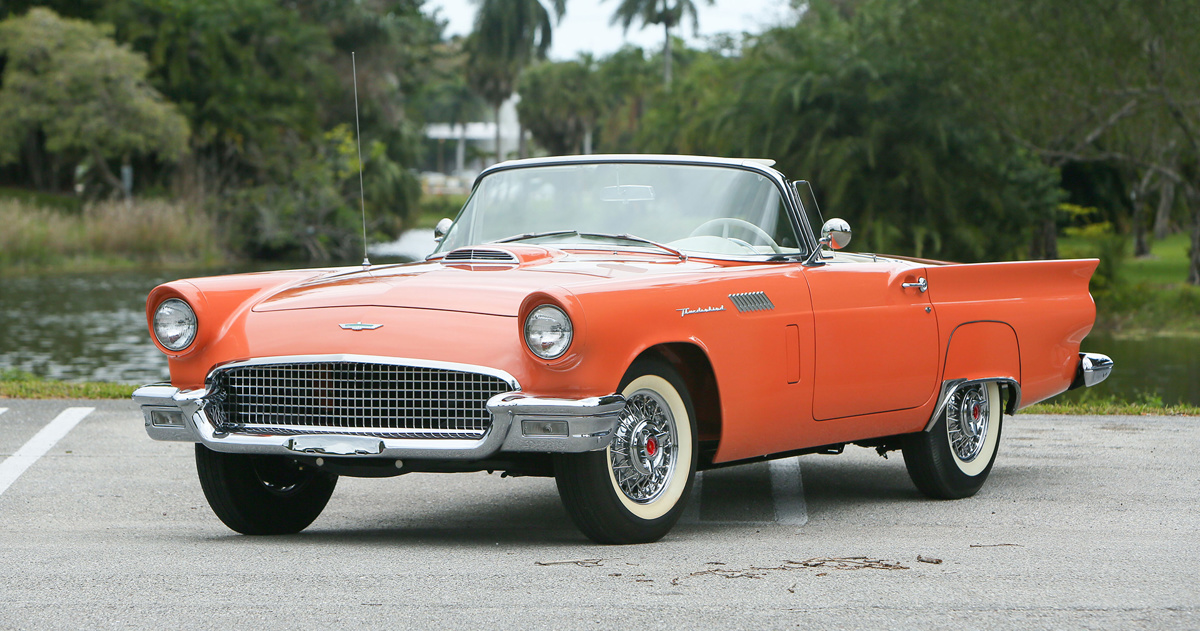 1957 Ford Thunderbird 'E-Code'
Estimate: $75,000 - $100,000 USD |
Offered Without Reserve
With high-displacement machines like the Boss redefining Ford's performance long after the 1970s, it is tempting to overlook the years between the revolutionary 1949 Ford and the 1964 ½ Mustang as a sort of dark ages of enthusiasm. However, the spark of lively motoring was still alive within Ford during this period, hidden within their most popular personal luxury car, if the prospective buyer knew the code. Unlocking the "E-Code" on the Thunderbird's build sheet meant that this striking Coral Sand-colored example packed a 312-cubic-inch V-8 underneath its shapely hood. The motor produced an impressive 270 horsepower and featured dual four-barrel Holley carburetors. The relative rarity of examples like this Thunderbird is part of what makes it desirable today—a mere 1,449 were built in 1957.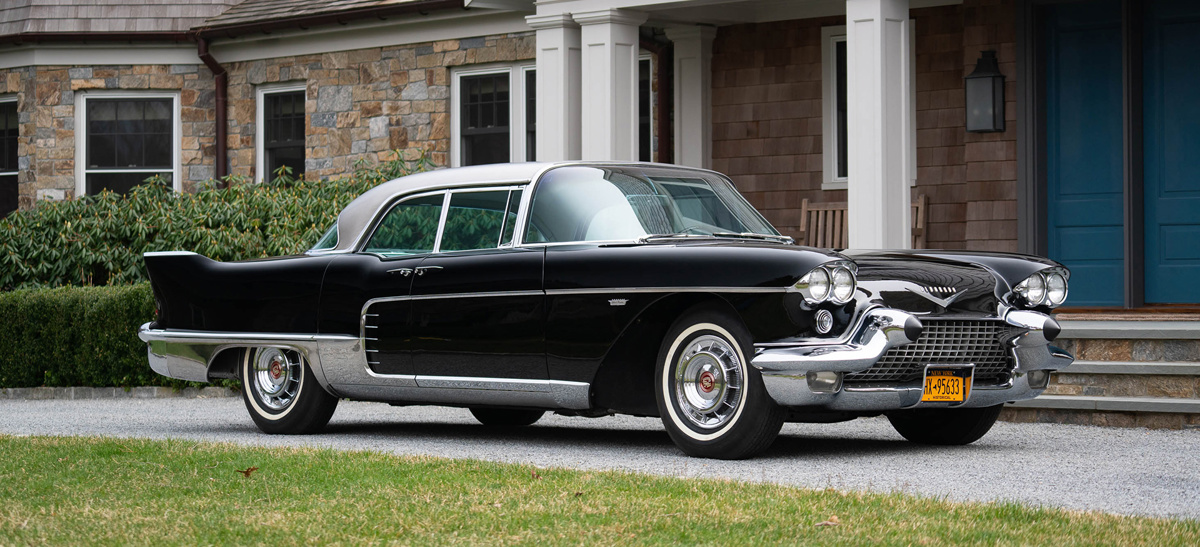 1958 Cadillac Eldorado Brougham
Estimate: $160,000 - $200,000 USD
Of course, Cadillac had plenty to say when the topic came to "personal luxury." A venerable entry in a remarkable run of upmarket Eldorado variants, 1958 denoted the penultimate year of Cadillac's signature styling innovation. Though the following year, 1959, is well-known as the year Cadillac tailfins topped out in terms of height, this 1958 example's tailfins are an elegance in jet-age subtlety. GM enthusiasts will know 1958 as the year Harley J. Earl retired as head of the corporation's Design and Styling department. In many ways, the push for advanced materials (like the forged aluminum wheels and brushed stainless steel top on this example) reflect the power that Earl had within the company before his retirement. A scant 304 Eldorado Brougham examples were ordered in 1958, a figure far too small for manufacturers to justify today, making well-preserved cars like this one all the more desirable.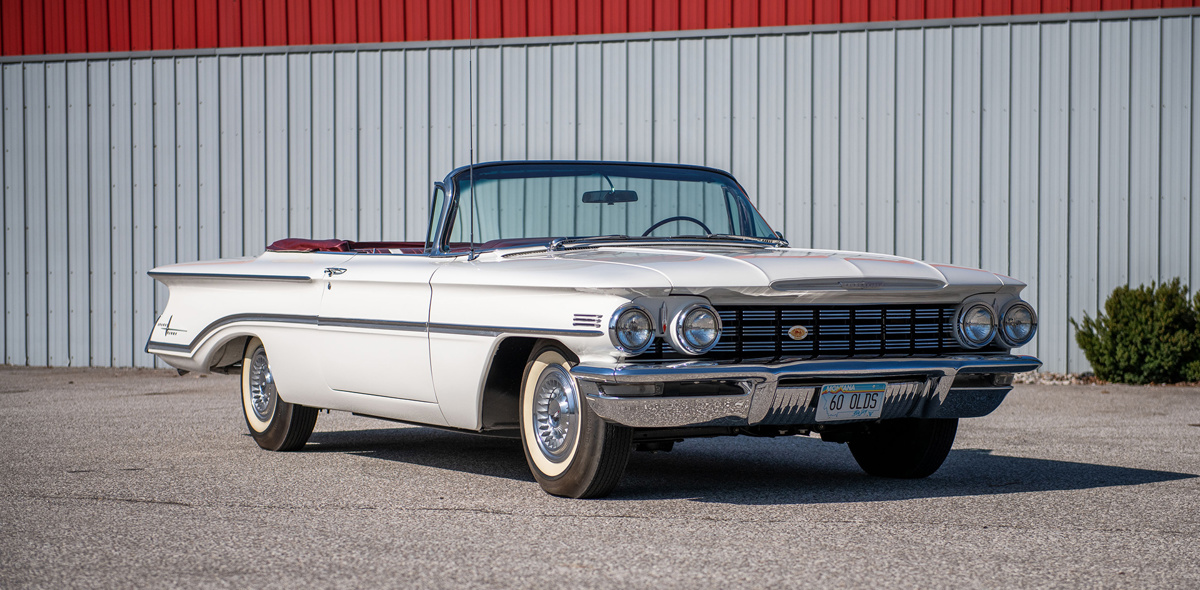 1960 Oldsmobile Ninety-Eight Convertible
Estimate: $75,000 - $100,000 USD |
Offered Without Reserve
Still the pride of Lansing, Michigan, GM's Oldsmobile brand stood for power in the nineteen-sixties. Powered by the now-famous 394-cubic-inch "Rocket" V-8 engine, before the muscle car era swung into full gear, Oldsmobile was positioned within GM's ladder of brands to deliver both stout performance with well-appointed interiors and accessories. In this restored example, a factory-correct Provincial White exterior combines with a white top over a polychrome red interior to create a completely unique environment from which to view the road. The tasteful combination must have appealed to the judges of the Antique Automobile Club of America, who awarded this example with their coveted AACA National First Prize award in 2014.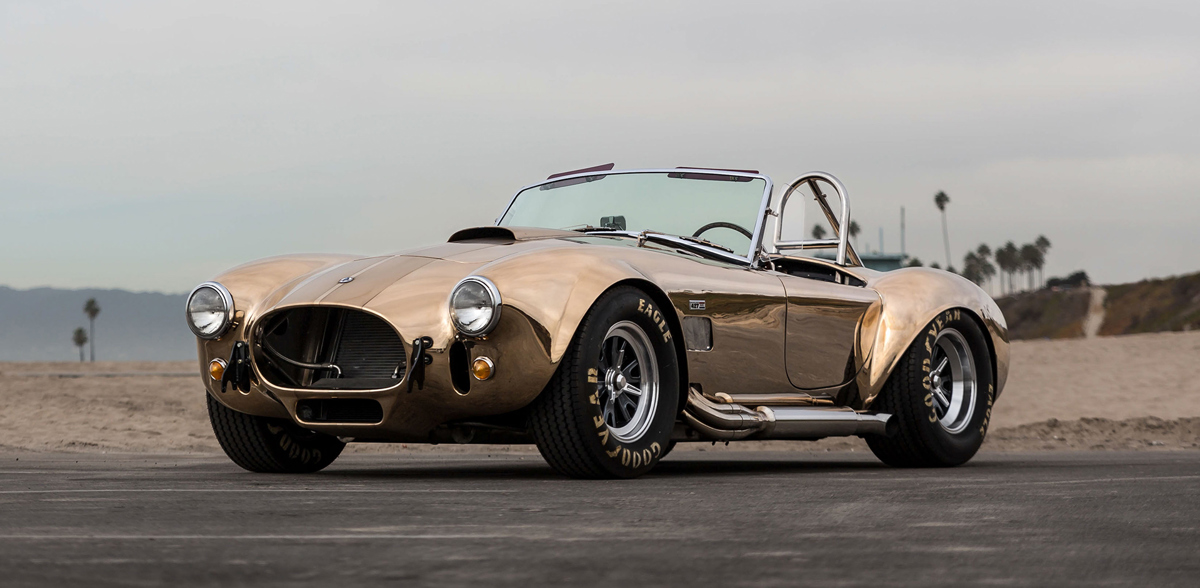 1965 Shelby 427 S/C Cobra "CSX 4600"
Estimate: $375,000 - $450,000 USD
Executed by the talented craftspeople at Utah-based Kirkham Motorsports, the jewel-like finish on this example extends to the engine bay. The lightweight, heat-resistant properties of aluminum make them well-adapted to motorsport applications; the "Big Block" 427 FE V-8 powerplant in this example, made by the Carroll Shelby Engine Company, turns out over 650 horsepower with the aid of fuel injection and a Holley Hardcore 850HP Double Pumper carburetor. All that prodigious power is channeled through a five-speed gearbox and controlled through new Goodyear Eagle "billboard" tires. With timeless beauty down to its bronze skin, this classic Cobra provides performance that can only be described as thoroughly modern.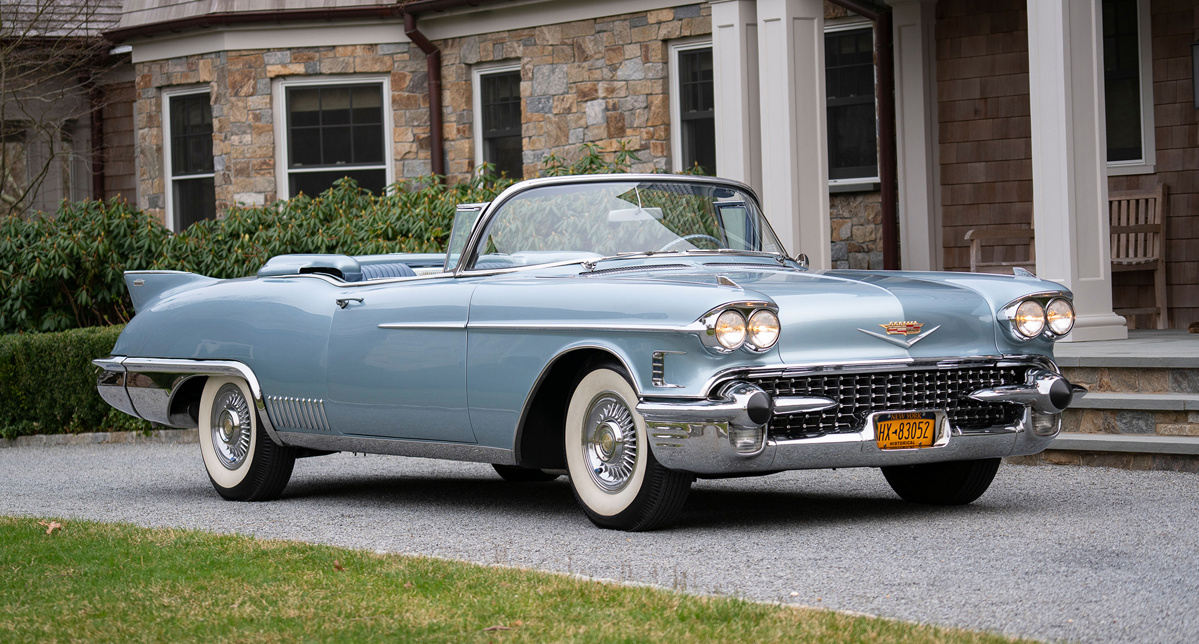 1958 Cadillac Eldorado Biarritz
Estimate: $175,000 - $225,000 USD
Another entry in the groundbreaking final year of Harley Earl's reign over GM's styling department, it is fascinating to compare this Eldorado Biarritz with the Eldorado Brougham we covered earlier. While some critics derided GM's parts and equipment sharing between models, sometimes it only serves to highlight the different styling cues and aesthetic accessories between models. This example's subtle tailfins, for instance, echo those of the four-door Brougham but exhibit even more sculpted subtlety. Aesthetically and mechanically overhauled thanks to an extensively documented, rotisserie-style restoration by marque expert Penn-Dutch Restoration Services, Inc., of Glen Rock, Pennsylvania, in 2018, this Biarritz sports an achingly beautiful Argyle Blue-over-blue interior color combination, perfectly capped by its dark blue convertible top.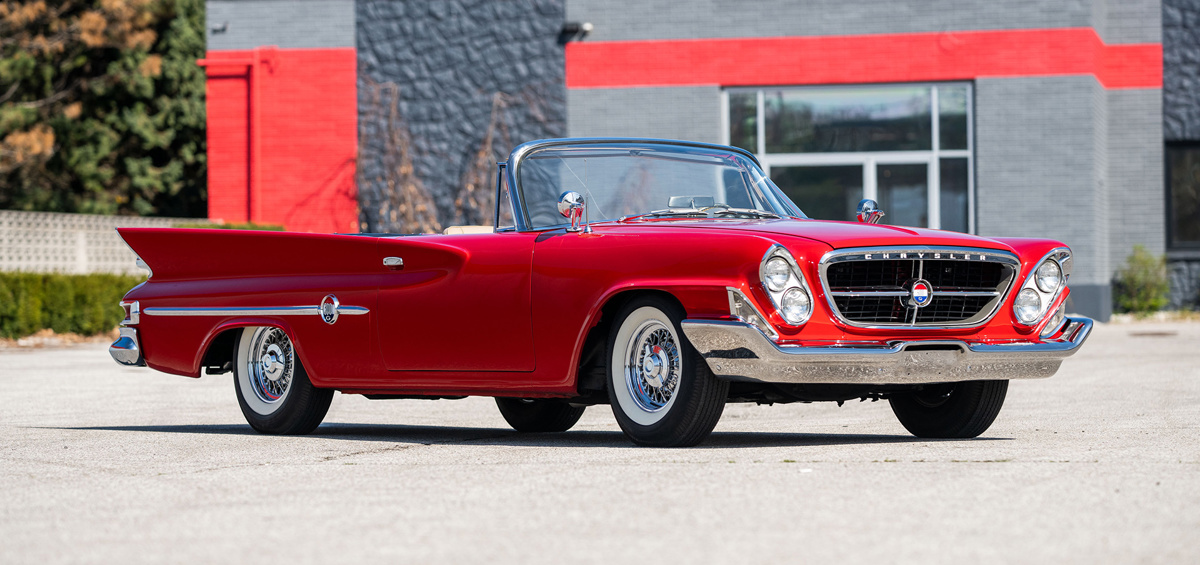 1961 Chrysler 300-G Convertible
Estimate: $125,000 - $150,000 USD |
Offered Without Reserve
The third member of Detroit's automaking trio did not remain silent during the performance period. But with premium-quality components (and price tags to match), muscle cars made by Chrysler were more prestigious in nature. Today, the production totals seem extremely small for a major automaker; a mere 337 examples of Chrysler's wedge-head V-8-powered 300-G Convertible were made in 1961. Today, examples like this Mardi Gras Red example, with its classic tan interior and futuristic Astra-dome dashboard, are much more than automotive also-rans; a well-designed vision of the future courtesy of Virgil Exner and Chrysler.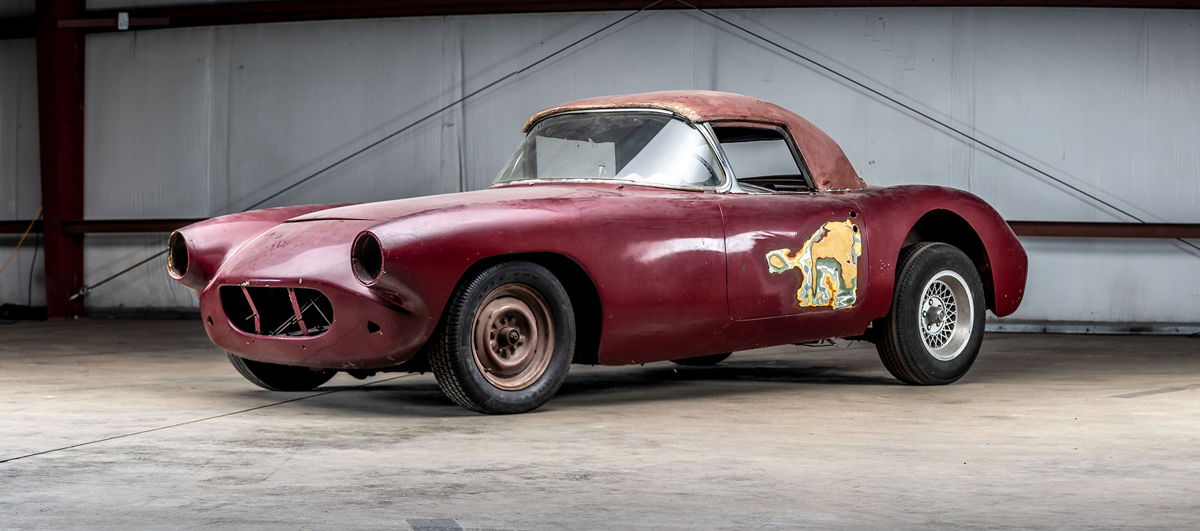 1960 Chevrolet Corvette LM
Estimate: $900,000 - $1,300,000 USD |
Offered Without Reserve
Much more than your typical muscle (or sports) car, this Chevrolet Corvette can credibly claim to be a piece of American motorsports history. We have covered this example in greater detail in a dedicated blog published previously; trying to summarize the meaning behind this Le Mans racer in one paragraph is nearly impossible. In sum, some cars deserve to be called icons; this endurance racing example proved the worth of American engineering on the world stage, establishing a tradition still upheld today by the Corvette Racing team. Available to the public for the first time, this Corvette is as much artifact as automobile.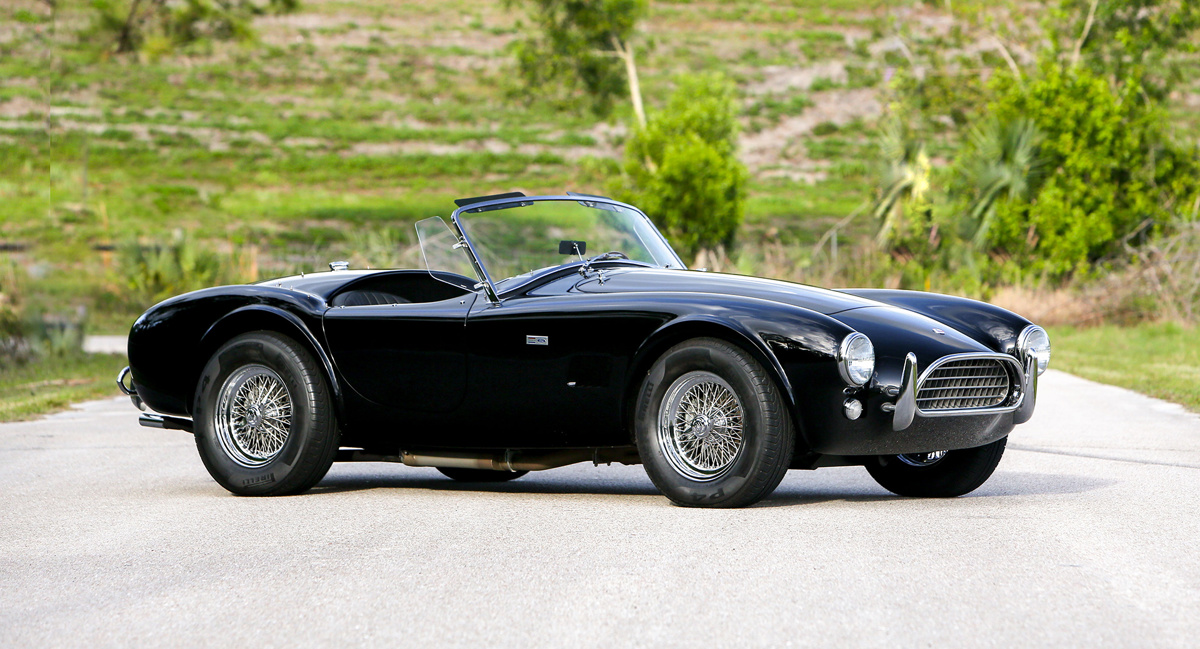 1965 Shelby 289 Cobra
Estimate: $850,000 - $950,000 USD
However iconic the Corvette LM can claim to be, there exists an equally iconic sports car brand that defined itself by standing apart from the Detroit automakers from the beginning. Carroll Shelby's Southern California-based firm prided itself on progressive engineering, having cracked the "big engine in a small car" formula long before the Big Three caught up. This example played a pivotal role in the founding of the Shelby brand, serving as a factory demonstrator for Shelby American between September of 1964 and January of 1965. With Shelby eternally etching his name into motorsports history with a first-place finish in the GT class at Le Mans in 1964, there is no doubt that this example, chassis no. CSX 2547, helped show eager customers what the outspoken Shelby could bring to a road car. Today, it stands as important proof that American sports and muscle cars have come with smart design since the beginning.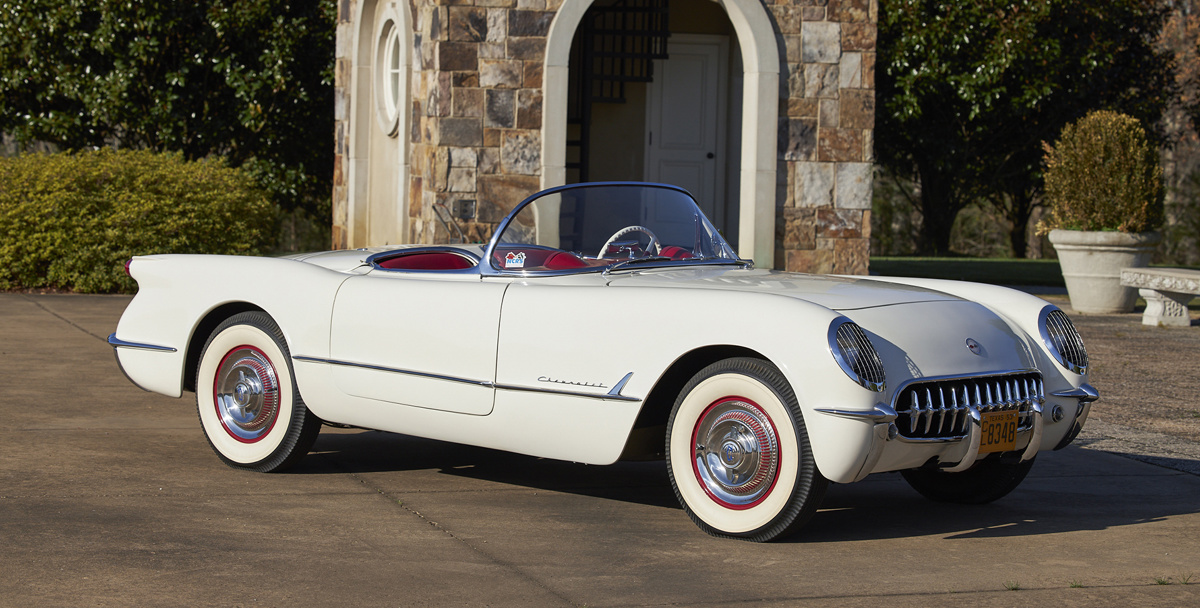 1953 Chevrolet Corvette
Estimate: $225,000 - $250,000 USD
But for the ultimate proof that mid-century American cars embodied intelligent performance, look no further than our gorgeous cover car, this 1953 Chevrolet Corvette. Built as the 227th of a mere 300 Corvette sports cars constructed by General Motors in its inaugural year of 1953, even the most ardent advocates of performance within the company could not have predicted the overwhelming success that the 'Vette achieved since then. From the genuinely impressive record of motorsport results in endurance racing to its current, supercar-like mid-engine configuration, Corvette has always pushed the boundaries of what is possible in a production car. With its sparse interior appointments and performance-oriented design, the oldest Corvette is perhaps the purest generation. Every Corvette collection needs an origin story; this C1 shows the roots of intelligent American performance truly do run deep.