"Scuderia," an Italian word simply meaning "team," accurately describes the group of Ferrari sports and supercars heading to Arizona in 2022. Gathering at the Biltmore Hotel in Phoenix, Arizona, this assemblage represents some of Maranello's finest offerings from multiple generations of production. Encompassing both a low-production, coachbuilt example from the 1960s, as well as a highly tuned, special edition Scuderia variant of one of the brand's modern supercars, the lineup at RM Sotheby's Arizona 2022 auction features a selection of what can credibly be described as Ferrari's finest.
We have already highlighted some truly spectacular examples of Ferrari history which are set to cross the auction block later this month in Arizona. The first is a true icon of open-top grand touring, a genuine Ferrari Daytona Spider. Next, we covered an intriguing single-owner collection of four very different Ferrari sports cars, all serving various functions for collectors. Our subjects today are neither last nor least. Eight different Ferrari options that span decades, all offering the pairing of premium driving experience and pure luxury that has made the Modenese brand world-famous. Here are the highlights, all crossing the block on 27 January: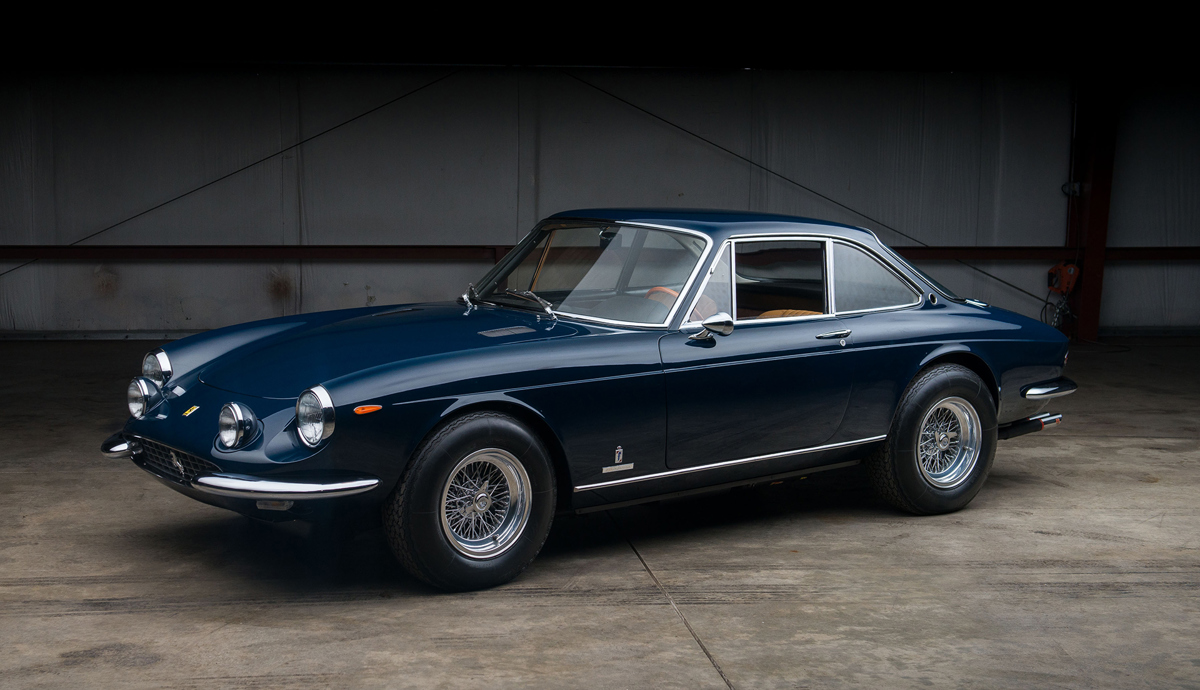 1966 Ferrari 330 GTC Speciale by Pininfarina
Estimate: $700,000 - $900,000 USD
One of a mere six ever made, this mid-century sports car is worthy of its Speciale surname. This example is the fourth 330 GTC model built and was retained from new by none other than Sergio Pininfarina, who used it for research into experimental interior and exterior upgrades. The most significant upgrade is immediately apparent from viewing the front of this numbers-matching Blu Scuro coupe: Pop-up fog lamps, a feature called "Supervis" (or "super vision") by Pininfarina. Originally designed by Aldo Brovarone for the Superfast I concept car, this feature was found in production only in the rare 365 California Spider. Along with numerous modifications for driver's comfort found in the interior, these features essentially make this car one-of-a-kind.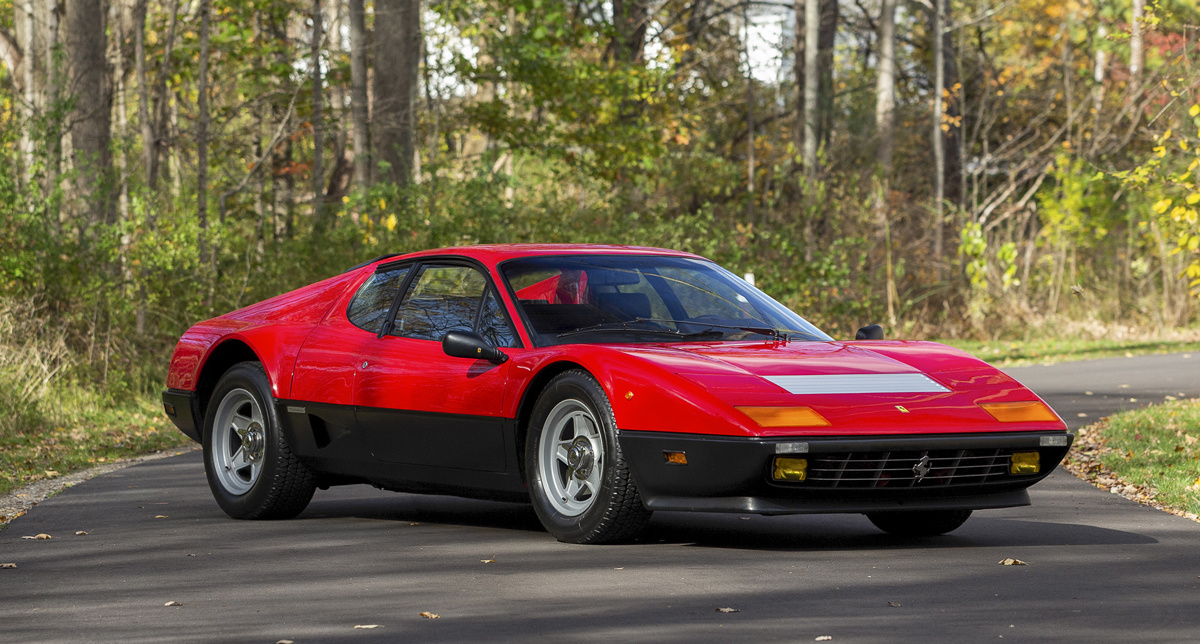 1982 Ferrari 512 BBi
Estimate: $275,000 - $325,000 USD
For three years, between 1981 and 1984, Ferrari offered its flagship mid-engine sports car with fuel injection. Though the technology had been seen in rival sports cars since the 1960s, Ferrari engineers were reluctant to give up their carbureted powerplants. But featured on the 4.9-liter flat-12 engine fitted in the 512 BBi, the fully developed fuel injection system helped this model outperform its predecessor to the tune of 20 additional pound-feet of torque, making for a more muscular car overall. This numbers-matching example is made even more upscale by its limited-edition "Ermenegildo Zegna" interior, with its plush, Nero-colored "Zegna" leather. Records show an engine-out belt service and full maintenance regimen undertaken by the consignor as recently as January 2019, with a mere 5,075 miles on its odometer. Used sparingly since.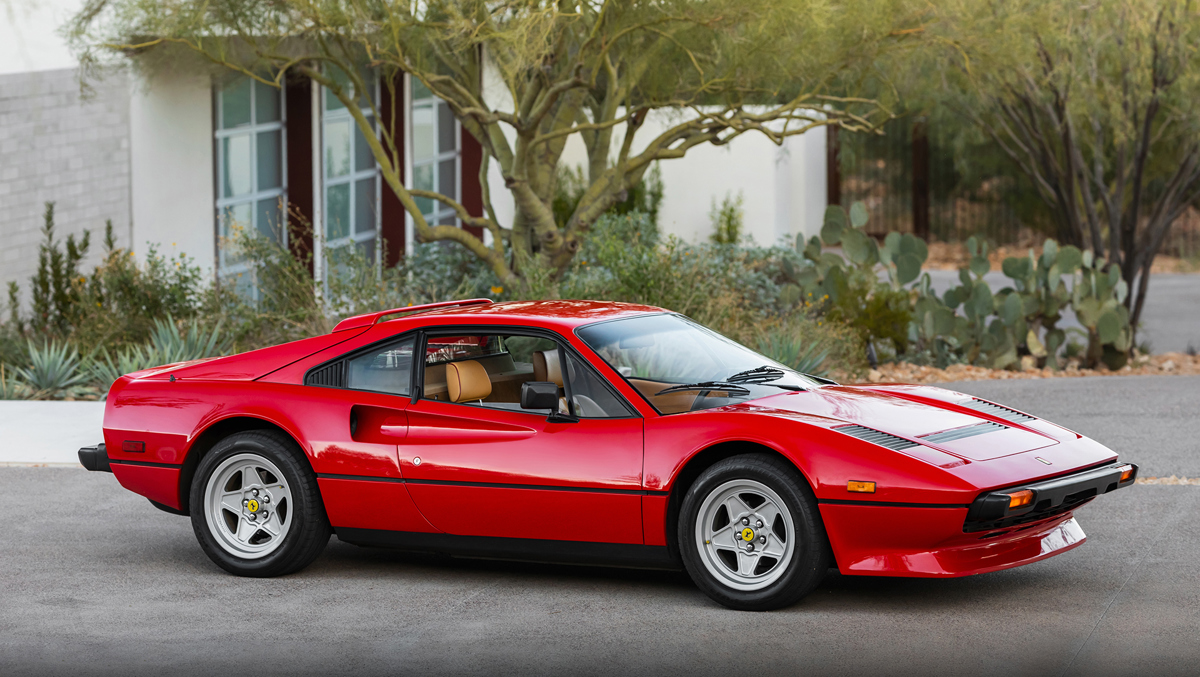 1985 Ferrari 308 GTB Quattrovalvole
Estimate: $70,000 - $110,000 USD | Offered Without Reserve
Another example in stunning condition, this uncommon, award-winning U.S.-spec 308 GTB was originally optioned with desirable rear airfoil and European front spoiler. With merely two owners in its history, this fabulously preserved Ferrari has twice been honored by the Ferrari Club of America as a National 1st Place example. Always a coveted model for Ferrari fans due to its expressive V-8 engine, famous for its four-valve-per-cylinder configuration, this numbers-matching example has enjoyed an engine-out service in preparation for this sale and showed a mere 27,200 miles on its odometer at the time of cataloguing.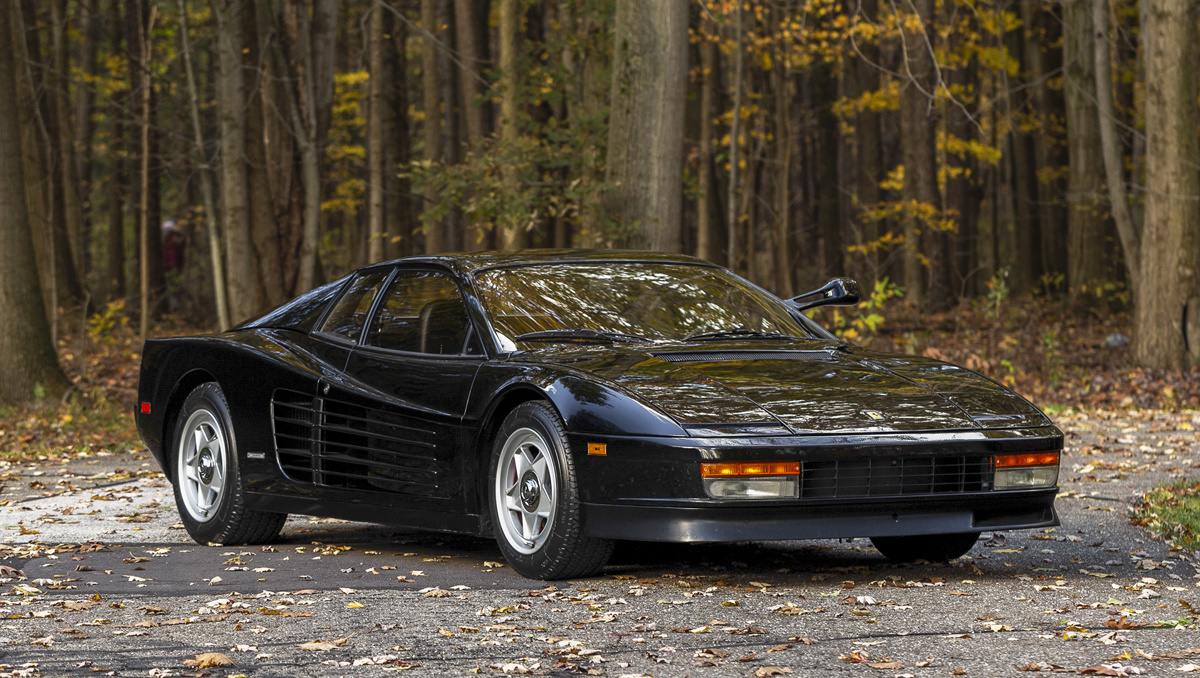 1986 Ferrari Testarossa
Estimate: $150,000 - $175,000 USD
Sometimes referred to as the "Monospecchio" due to its single, elevated wing mirror, the first versions of Ferrari's iconic Testarossa are especially coveted by the tifosi. Even the most newly initiated Ferrari fans will appreciate the engine note on this 5.0-liter flat-12, which has been thoughtfully tuned by an upgrade to a period-correct, stainless steel Tubi "street" exhaust system. Acquired by its current consignor in August 2021, this Nero-over-black Testarossa, one of a mere 300 imported to the U.S. in its model year, was treated to an engine-out service in preparation for this sale and showed only 31,000 miles at the time of cataloguing.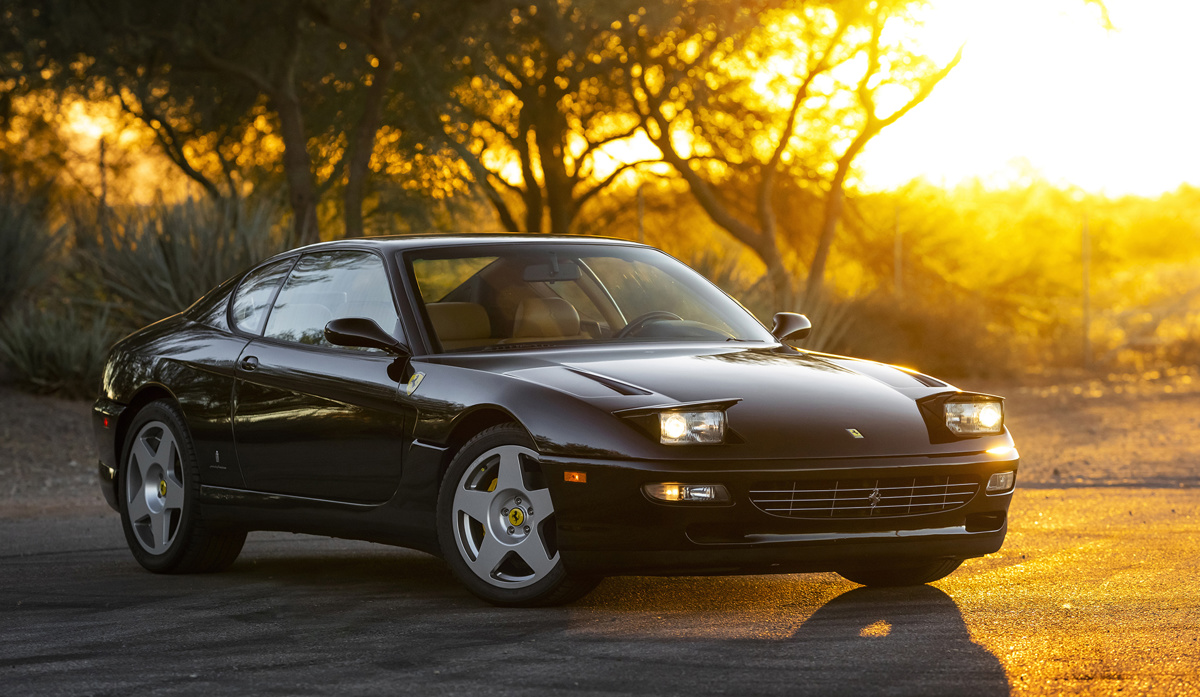 1995 Ferrari 456 GT
Estimate: $60,000 - $80,000 USD | Offered Without Reserve
Though Ferrari's foray into supercar territory in the 1990s deservedly commands much of the attention of enthusiasts, the brand still recognized its roots in delivering exhilarating grand performance machines with their flagship 456 GT. Producing a still-respectable 442 horsepower from its 5.5-liter, V-12 engine, the owner of this black-over-beige example will get to select their gear from a six-speed, open gated manual transmission. Benefitting from a full belt service completed in November 2019, along with a refurbishment of its signature pop-up headlight motors, intake manifold, radio, and throttle cable, this well-equipped example was then taken to British Motor Cars of Scottsdale, Arizona by the current consignor for even more refinement. Service receipts totaling $33,000 using all OEM parts were completed in preparation for this sale.
1995 Ferrari F512 M
Estimate: $425,000 - $475,000 USD
The "M" in this mid-1990s Ferrari sports car stood for "Modificata," an indication that the final evolution of the venerable Testarossa line went out in a powerful show. Ferrari engineers fitted titanium connecting rods along with other lightweight components to its already iconic flat-12 engine, making for a total output of 440 horsepower and a relatively scant total curb weight of 1,482 kg. This example, serial number 34 from a total production of only 75 for the U.S. market, shows less than 15,300 miles on its odometer at the time of cataloguing. Acquired by the current consignor in late 2021, this Nero-over-beige example was treated to an engine-out service in preparation for this sale, comprising of a complete belt and pulley service, including new spark plugs, a full fluid flush, and new filters. A chance to acquire the end of a glorious era for Ferrari.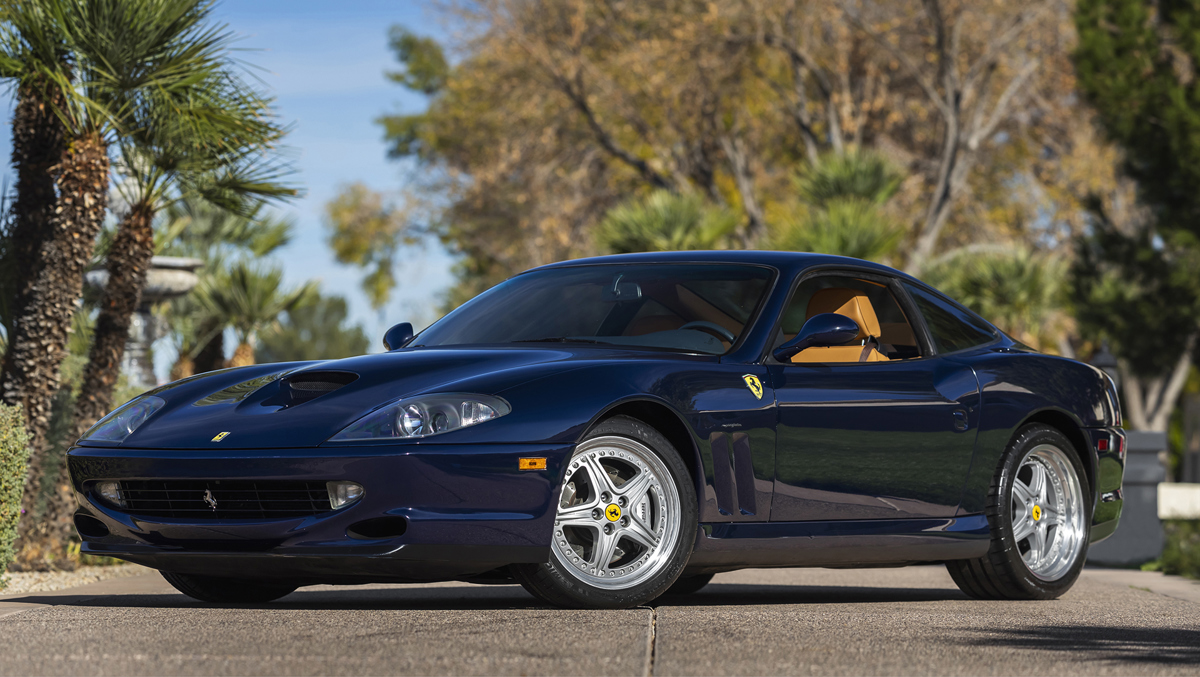 2001 Ferrari 550 Maranello
Estimate: $150,000 - $200,000 USD
At the twilight of the 1990s, Ferrari wished to release a newly modernized version of their front-engine V-12 grand tourer, and the 550 Maranello served as its flagship, bridging the brand into the following century. This attractive Pozzi Blue example featured a reference to some of the prancing horse marque's most iconic models, with its beige leather interior with contrasting seat inserts reminiscent of the classic Daytona. Optioned originally with its expressive modular wheels, a quilted rear deck, and inlaid Scuderia-style side shields, this elegant model has become popular for the only feature that was non-optional: Its six-speed, open gated manual transmission. With a full, engine-out rebuild accomplished in 2018 by Ferrari Motor Service in Fountain Hills, Arizona for a total of $25,402, this example comes accompanied by its service history dating back until 2006. A mere 29,029 miles showed on its odometer at the time of cataloguing.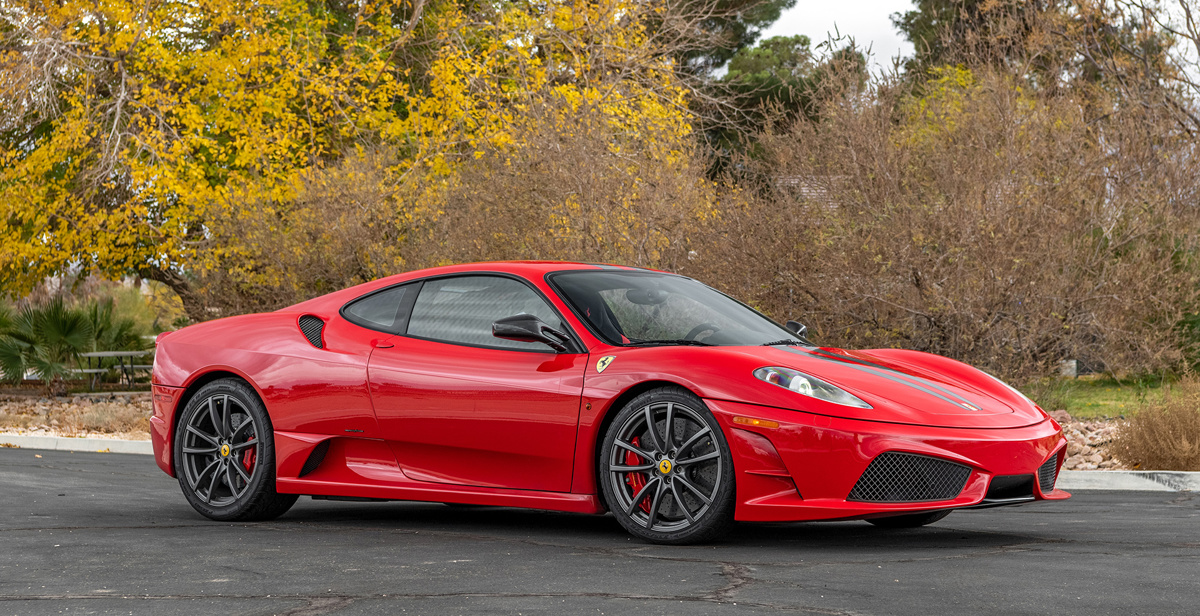 2009 Ferrari 430 Scuderia
Estimate: $250,000 - $300,000 USD
Today's tour through some noteworthy models from the timeline of Ferrari sports cars concludes with a modern example which can still impress today's enthusiasts. With its potent 4.3-liter V-8 engine tuned to produce 503 horsepower and 347 pound-feet of torque, the driver of this late-model, limited-edition supercar could boast 20 horsepower over the standard 430. With a lightening regime that started at its lightweight wheels and carbon fiber wing mirrors, the Scuderia variant weighed in at an impressive 221 pounds less than the regular model. This well-cared-for example, wearing its unmistakable Rosso Corsa paintwork with the optional, contrasting racing stripes, showed fewer than 4,500 miles at the time of cataloguing. Supercar collectors and fans of Ferrari history alike will no doubt be fascinated to see the results of this and all the other fine prancing horse models set to cross the block at the Arizona Biltmore on 27 January 2022. Don't miss it.