Some of the most famous names in motorsport have been made even more famous by their association with Ferrari. Recent news that Ferrari Driver Academy alumni Mick Schumacher has achieved his ultimate goal of racing in Formula 1 serves to underline his already legendary surname in Scuderia Ferrari history. Schumacher's teammate Charles Leclerc is another graduate of Ferrari's internal talent school, becoming the first from the Ferrari Driver Academy to earn a seat in a Ferrari Formula 1 car. Finally, team veteran Sebastian Vettel, celebrating his final year representing the prancing horse.
All these talented drivers have already received the ultimate opportunity, becoming a living piece of Ferrari's storied motorsport division. RM Sotheby's is proud to host a special auction, Once in a Millennium, in partnership with Ferrari, honoring some of the most famous names to race for the company today, tomorrow, and in the future.
Mick Schumacher Signed Racing Suit, 2020
Estimate: €10,000 - €15,000. Offered Without Reserve.
"My dream is F1," Schumacher said in a recent interview, "If I am not racing, I am thinking about racing." An undeniably driven person, Schumacher must be pleased at the speed with which his motorsport career has proceeded thus far. Even before he was selected to join the elite few of Formula 1 racers (one of only 20 drivers in the world), Schumacher was given the honor of driving a milestone in Ferrari history, 2020's F1 contender, the SF1000, on a parade lap during Scuderia Ferrari's 1000th Grand Prix Race. This signed racing suit is the very example worn by Schumacher on that historic day.

Mick Schumacher Signed Racing Gloves, 2020
Estimate: €2,500 - €3,000. Offered Without Reserve.
Likewise, these signed racing gloves were also the very pair used by Schumacher while driving the SF1000. As Ferrari is a brand conscious of both its place in history and the world, the gloves are highly technical, yet still sport the three colors of the Italian flag. To avoid any hint of favoritism, Schumacher began his karting career under an alias, "Mick Betsch," (his mother's maiden name). Now, with his consistent record of success through the different levels of motorsport —culminating in a dramatic battle for first place in this year's Formula 2 championship —Schumacher has silenced all critics; proving that he possesses formidable driving skills all his own. Certain to be a star of Formula 1 for years to come, these gloves are destined to be a piece of Ferrari memorabilia history.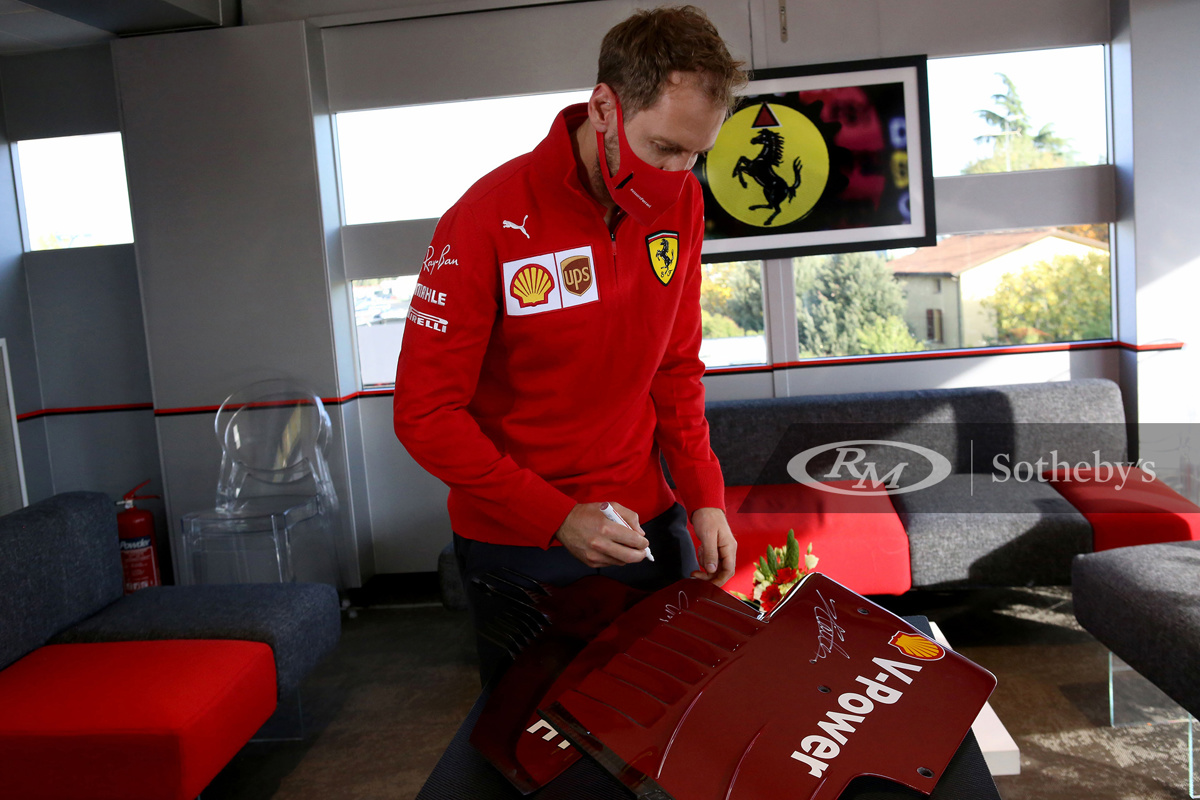 Ferrari SF1000 Signed Rear Wing Endplate, 2020
Estimate: €20,000 - €25,000. Offered Without Reserve.
For those in search of a more literal "piece of history," this endplate was not only signed by Sebastian Vettel and Charles Leclerc, but its served a role on the SF1000 itself, providing downforce on the Formula 1 car's rear wing during the 1000th Grand Prix Race in Tuscany. The paint scheme on the SF1000 may seem unfamiliar to those accustomed to seeing their Italian race cars painted Rosso Corsa, but in fact this maroon color scheme is a nod to the first race car to wear a Ferrari badge, the 125 from 1950.

Charles Leclerc Replica Racing Helmet, 2020
Estimate: €15,000 - €20,000. Offered Without Reserve.
Talking about respecting history, ending our list of significant signed memorabilia lots is another sign of how Ferrari pulled out the stops in 2020 to recognize its racing heritage. Though this helmet is not crash certified for motorsports, that gives even more reason to use it as intended—as a piece of sculpture, representing some of the greatest grand prix-winning, single-seat Ferrari race cars ever made. Like all of the lots in the Once in a Millennium auction, this racing helmet is offered without reserve, with online only bidding closing at 11 a.m. EST on Monday, December 14.