Follow along with auction listings and you will soon learn to spot a pattern. Catalogue descriptions, after all, are essentially five-paragraph essays defending the example in question, and they invariably conclude with their most salient points. If a car has been recently restored, the description will call out the name of the restorer, ideally pointing out photographs and receipts documenting the process. If the example was owned by someone famous, the final paragraph will probably reference an unforgettable image of that Hollywood star or starlet at the wheel of their equally well-known ride.
But what if the aim is to prove originality? Certainly, mileage is one way—a close-up shot of the odometer as near to "0000001" as possible—but when your example is competing with others in a worldwide marketplace, total mileage only gets you so far. Especially when the marque in question is Ferrari.
"At this point, the increasing premium collectors place on a vehicle's originality is a fairly well-established trend," states RM Sotheby's Managing Catalogue Editor Graham Kozak, "and while we tend to think of 'originality' in terms of big-ticket things like mechanical components or factory-applied finishes, ancillary items that came with the car are a part of the equation as well."
Not all cars are sufficiently lucky to retain every component included when new. But there is good news. If your prancing horse is missing a few parts, these original accessories, all available at RM Sotheby's upcoming Online Only: Open Roads, Fall auction can set your example above the herd.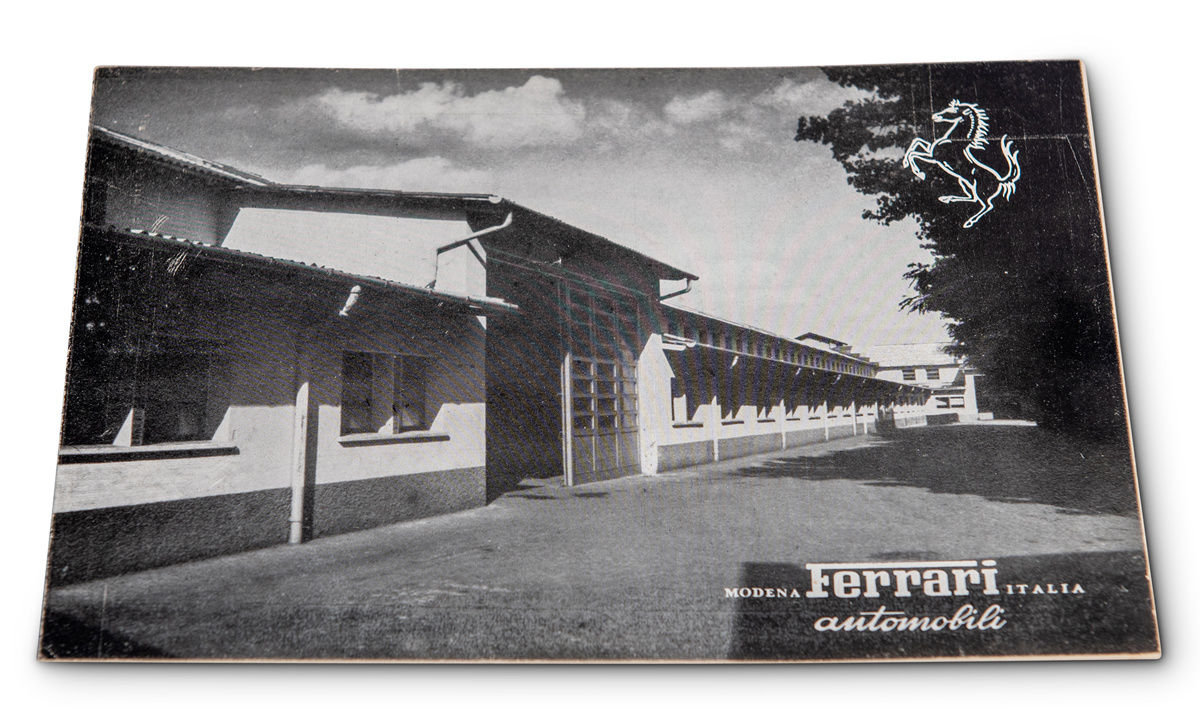 Ferrari 166 Inter Brochure, Italian
Estimate: $3,000 - $4,000 USD

 

|

 

Offered Without Reserve

 

Even if you don't own an Inter-era Ferrari like this one, early brochures and advertising material provide a fascinating glimpse into how the brand promoted itself in its infancy. From the beginning, we sense a strong sense of place: Modena is central to the Ferrari mythos. Inside, the 166 Inter is depicted in a photo cutout and line drawing, its V-12 motor looming overhead. On the back cover, a list of relevant races and the records won by now-legendary names like Luigi Chinetti and Giuseppe Farina. The first Ferrari purchased in America was a 166 Inter Barchetta, bought in Los Angeles in 1949. As Ferrari's first factory agent in the US, Chinetti himself was the distributor.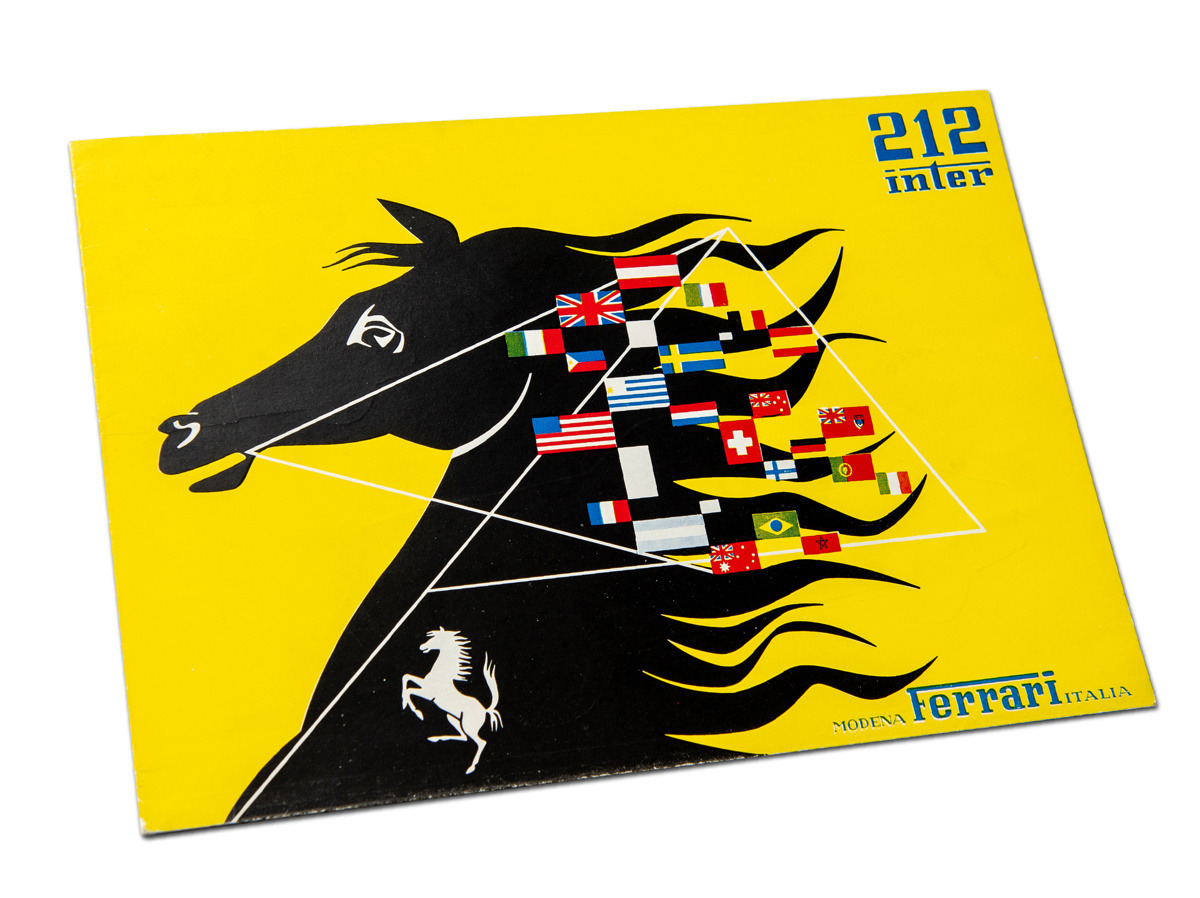 Ferrari 212 Inter Brochure, Italian
Estimate: $2,000 - $2,500 USD

 

|

 

Offered Without Reserve

 

Well-trodden prancing horse analogies aside, if you happen to own a 212 Inter, you already own a very unique breed of Ferrari indeed. Before Ford Vs. Ferrari, when Enzo Ferrari and Henry Ford II were still courting each other for a possible merger, "Il Commendatore" presented "The Deuce" with a very special variant of this model—0253/EU, a 1953 Ferrari 212/225 Inter Barchetta by Touring. While Henry Ford's Ferrari has long resided in museums, now you can own the original, full-color brochure advertising the car on which it was based. Ferrari's statement of purpose began with the cover, showing off the brand's intercontinental appeal.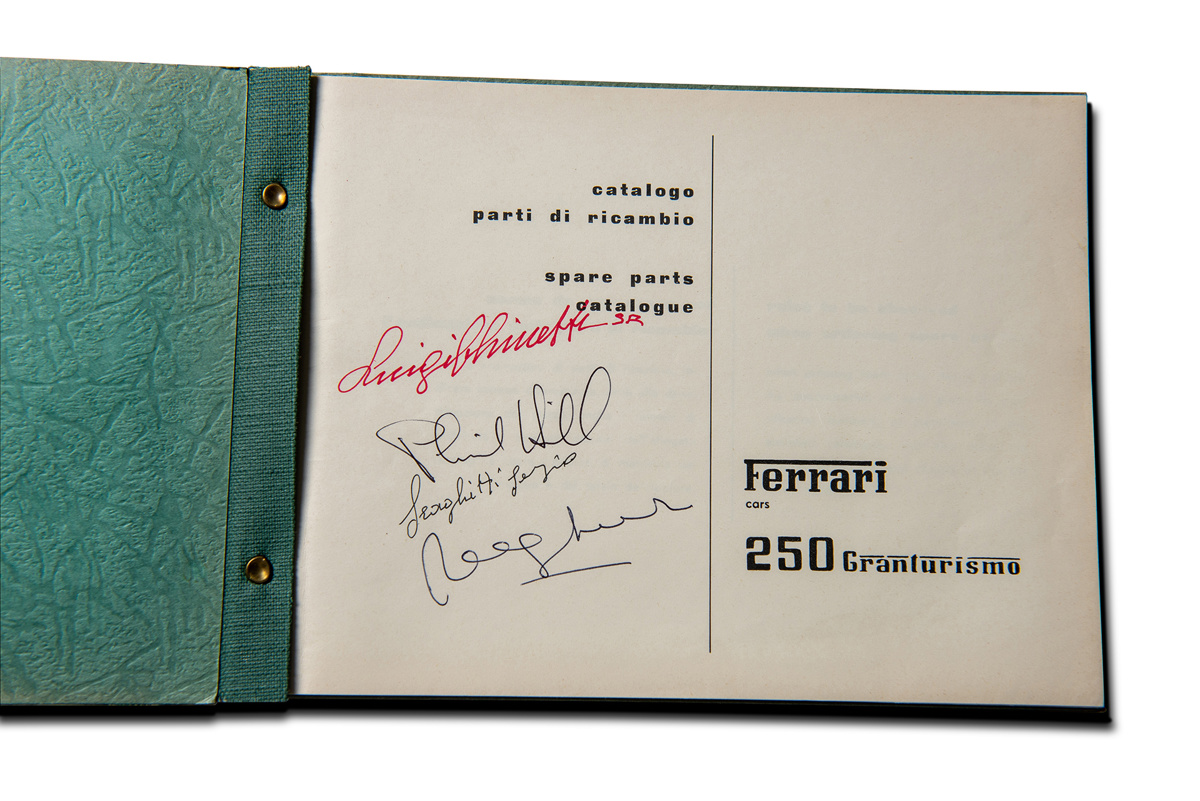 Ferrari 250 GT Owner's Manual Set with Folio, Signed
Estimate: $15,000 - $17,000 USD

 

|

 

Offered Without Reserve

 

The rarer and more valuable an automobile, the rarer and more valuable all the literature associated with it becomes. With each variant of Ferrari 250 offering different Ferrari fans equally insane degrees of desirability, the one owner's manual shared between them has taken on new levels of value. With an estimate comfortably higher than many entry-level cars, this signed owner's manual may seem overpriced. And then one observes the signatures: Legendary racers Phil Hill, Jacques Swatters, and Luigi Chinetti, as well as noted designer and Enzo's longtime collaborator Sergio Scaglietti. Not your ordinary owner's manual, but also not an ordinary car.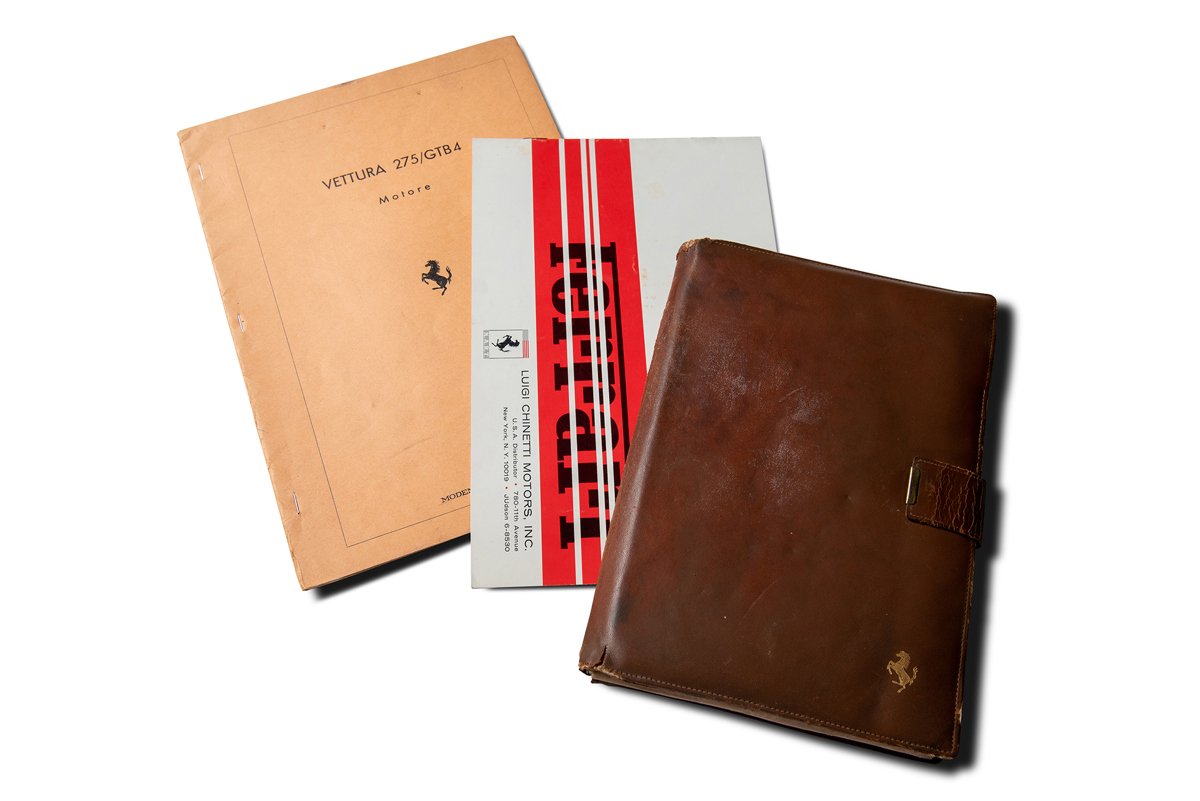 Ferrari 275 GTB/4 Owner's Manual Set with Folio
Estimate: $8,000 - $10,000 USD

 

|

 

Offered Without Reserve

 

By the mid-1960s, Luigi Chinetti had become a US citizen, operating a well-known dealership in Greenwich, Connecticut. His expertise first as a race driver, then team owner, allowed for an interesting relationship with the factory in Modena. Chinetti's suggestions for new models were oftentimes actually authorized by Ferrari himself, leading to special-edition examples like the NART Spider. This original owner's manual for the Ferrari 275 GTB/4, on which the NART Spider was based, still bears the 11th Avenue, New York, NY, address of Luigi Chinetti Motors, Inc.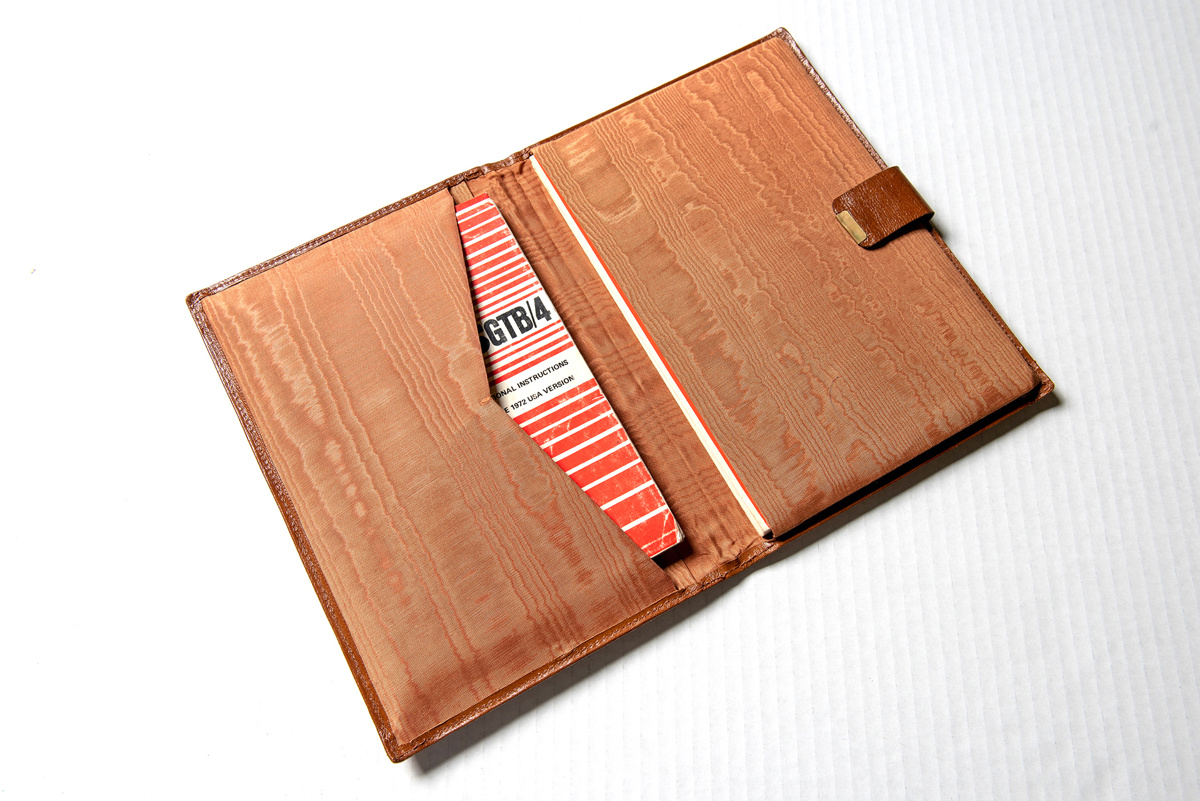 Ferrari 365 GTB/4 Daytona Owner's Manual Set with Folio
Estimate: $5,500 - $6,500

 USD 

|

 

Offered Without Reserve

 

As Ferrari became even more of an upscale brand throughout the 1970s, the quality of the accessories included increased as well. Though leather folios had been used previously to keep paperwork and owner's manuals together, by the time the 365 GTB/4 Daytona debuted, everything from the quality of the leather included to the graphic design and photography on the manuals had been considered with equal attention to the engineering of the automobile. As the Daytona was presented as a technologically advanced vehicle, this 1973 edition includes separate instructions on how to operate the seatbelt system.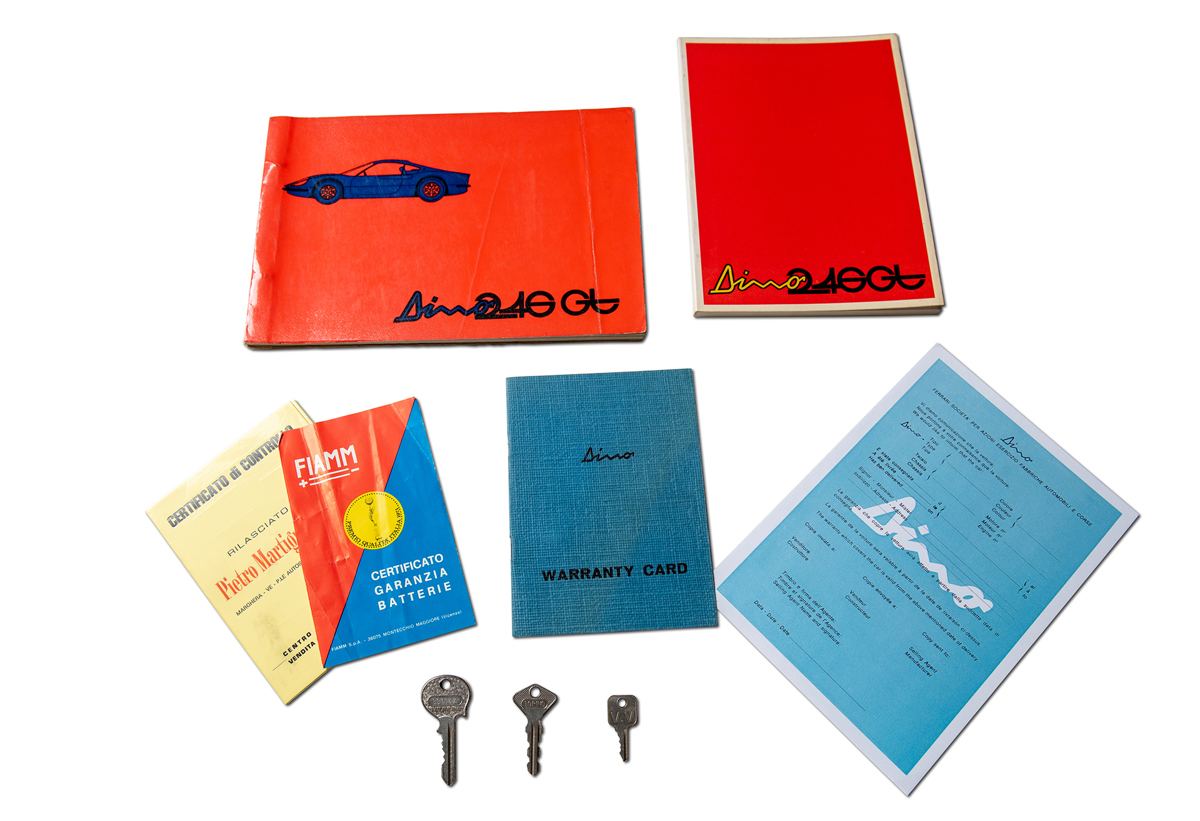 Ferrari Dino 246 GT Owner's Manual Set with Folio
Estimate: $8,000 - $10,000 USD

 

|

 

Offered Without Reserve

 

As Ferrari moved upmarket in the 1970s, a sub-brand, named for Enzo's beloved son Dino, was born. While some purists derided the Dino as inferior at the time, values of 246 GT examples today are commensurate with their Ferrari counterparts, and prices of the accessories included originally follow suit. The playful colors and iconic graphics of this Owner's Manual Set may be fun, but make no mistake, they all come stamped with the Ferrari logo and sport serious values to match.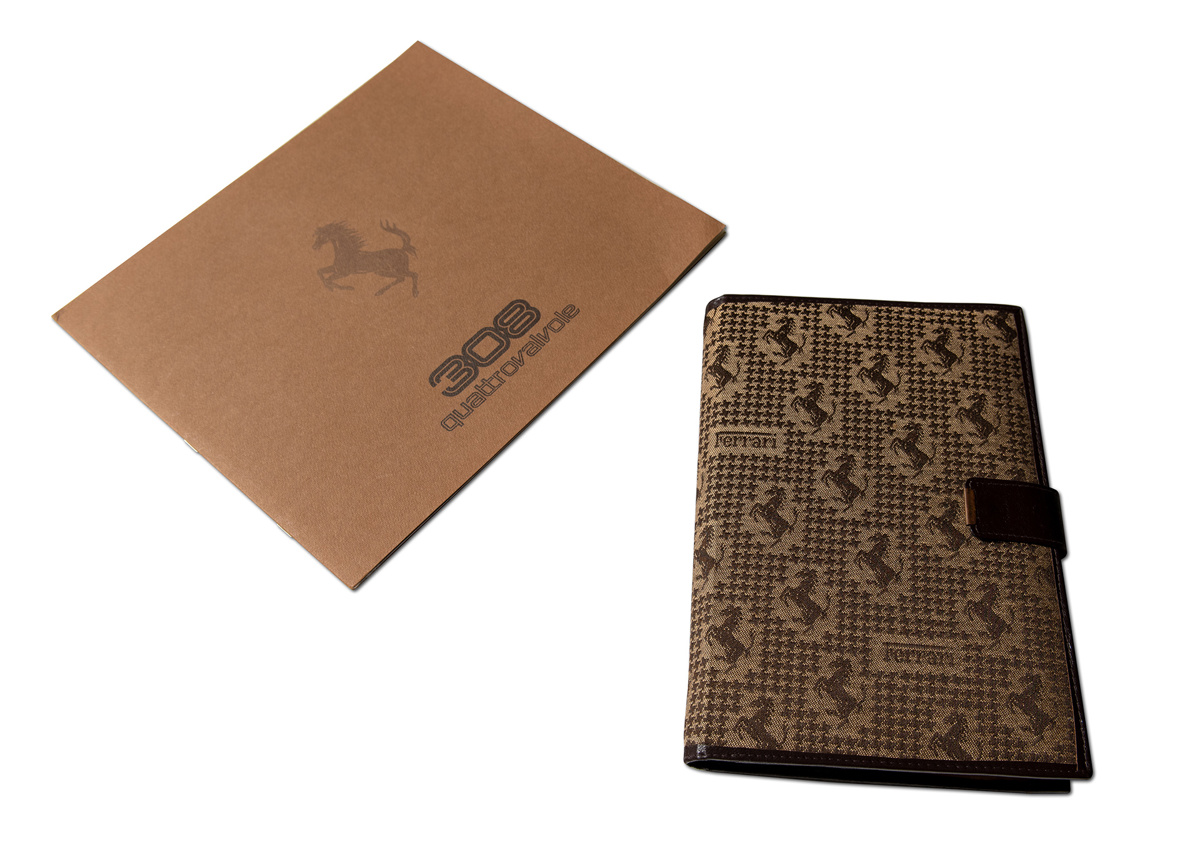 Ferrari 308 Quattrovalvole Owner's Manual Set with Folio, US Version, 1983
Estimate: $2,500 - $3,500 USD

 

|

 

Offered Without Reserve

 

Like many things in the 1980s, the aesthetics of the Ferrari Owner's Manuals and other associated literature became much more technical and data driven. One can almost imagine the mainframe computers, chugging away to produce the precise list of lubricants advised by Agip to use while servicing this 308 Quattrovalvole. Owner's manuals can themselves tell a story of previous owners. This Ferrari was first purchased in Royal Oak, Michigan, and no doubt existed as a counterpoint to all the Camaros and Corvettes cruising Woodward Ave in the early '80s. As Ferrari became a fashion brand, so too did its accessories—it's hard to overlook the Louis Vuitton-style print on this original-condition folio.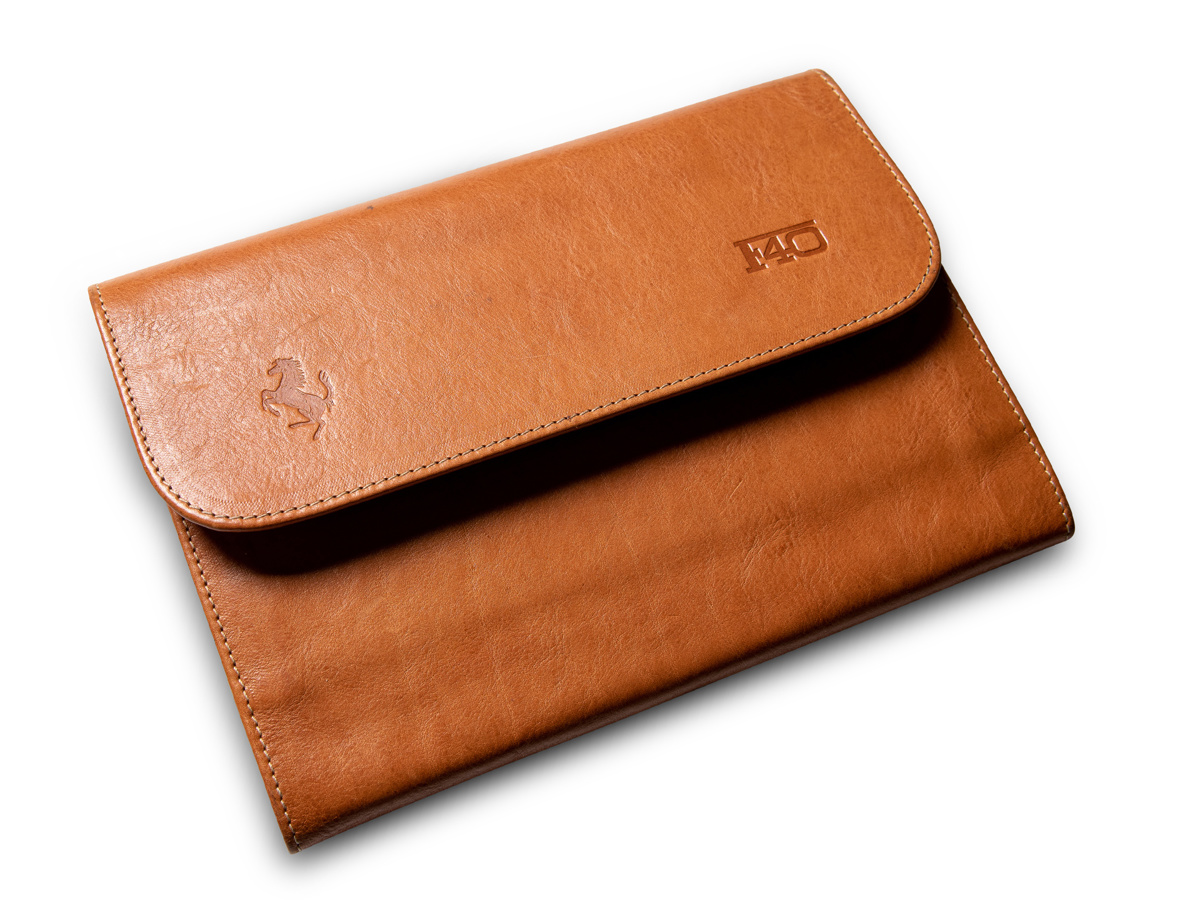 Ferrari F40 Owner's Manual Set with Folio, US Version, 1992
Estimate: $6,000 - $8,000 USD

 

|

 

Offered Without Reserve

 

Perhaps counter-intuitively, the literature for truly legendary cars (i.e. Porsche Type 550, Ferrari F40) can appear a bit spartan given their "halo-car" status. And yet, with cars as improbable and genre-defining as the Ferrari F40, every effort was focused on creating an all-new hypercar; all other details were secondary. And yet, that is not to say that included materials like the premium-quality Schedoni leather folio that protects this F40's service book, owner's manual, and warranty card, are in any way an afterthought. For the owner of Ferrari's ultimate road car, this is everything needed and nothing more.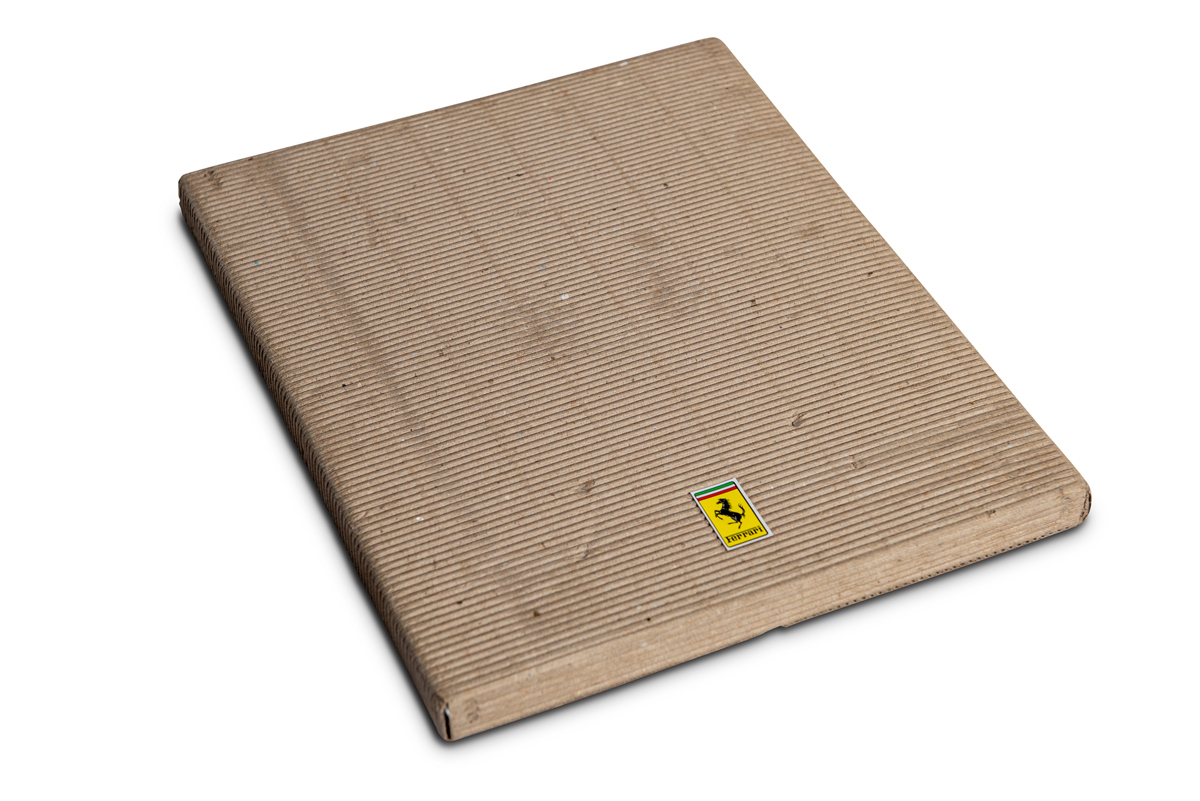 Ferrari F50 Presentation Book with Original Box, 1995
Estimate: $500 - $700 USD

 

|

 

Offered Without Reserve

 

By the time the F40's successor debuted in the mid-1990s, the hypercar was a statement piece—an expression of industrial art. The exquisite Presentation Book that accompanied each F50 was equally of its time; presented in an eco-conscious, biodegradable box made of undyed paper, finished with an inset Ferrari logo.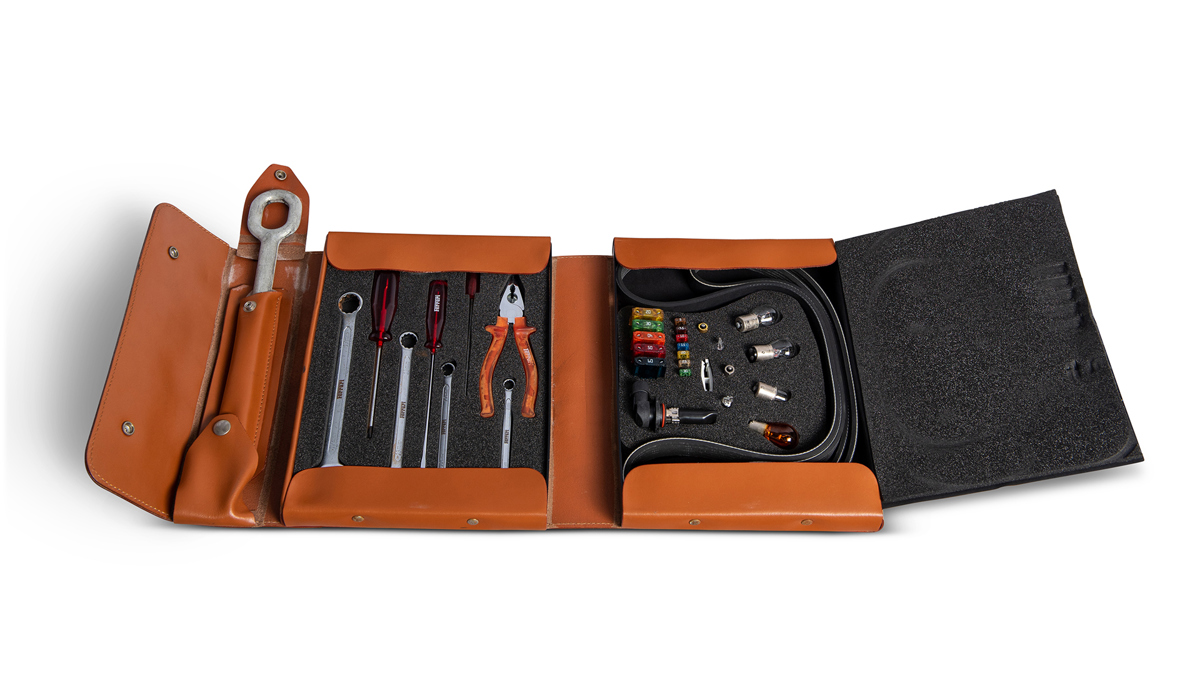 Ferrari 575 Tool Kit
Estimate: $500 - $700 USD

 

|

 

Offered Without Reserve

 

Two decades after the F40's debut, the Schedoni leather that provided a common touchpoint for Ferrari owners of all eras had even evolved to envelop the included tools. According to RM Sotheby's Managing Catalogue Editor Graham Kozak, even a mere modern tool kit can become a collectible object:

"A tool roll or accessories, or even something as seemingly simple as an owner's manual or warranty card, which may contain information about a car's provenance and early years, are worth having and highlighting. A simple way to think of it is: Does the item in question help tell the story of a car when it was new? If so, it is a desirable and noteworthy feature that can add value, especially compared to a similar vehicle missing those items."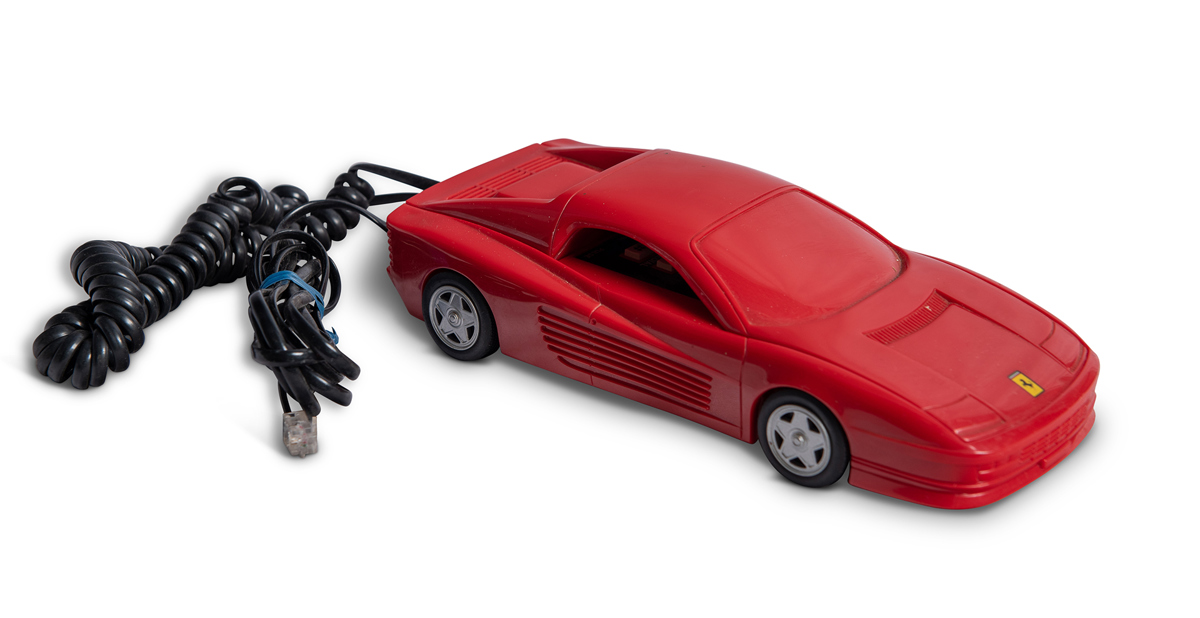 Ferrari Testarossa Phone, ca. 1985
Estimate: $100 - $150 USD

 

|

 

Offered Without Reserve

 

And while no Ferrari expert would claim this accessory to be factory, this author nonetheless believes that including this radical touch-tone phone in any advertisement for their Ferrari Testarossa is sure to increase its value. By $100-$150, at least…