Avant-garde and iconoclastic; Lamborghini is a brand born out of opposition. But from this alternate perspective came the freedom for reinvention; Lamborghini's focus on road-going automobiles allowed the brand to create its own design language from scratch, even between models. Though the Sant'Agata Bolognese brand made cars that were comfortable on any racetrack, the focus was always on pushing forward the very concept of what a road car could be. Eventually, this spirit of advancement led to the creation of the supercar itself. RM Sotheby's is pleased to announce this comprehensive, single-owner collection of superb sport and supercars from Lamborghini, all available at our eighth annual Paris sale, with a livestreamed auction set for 13 February 2021 and an online only, time-based sale following thereafter.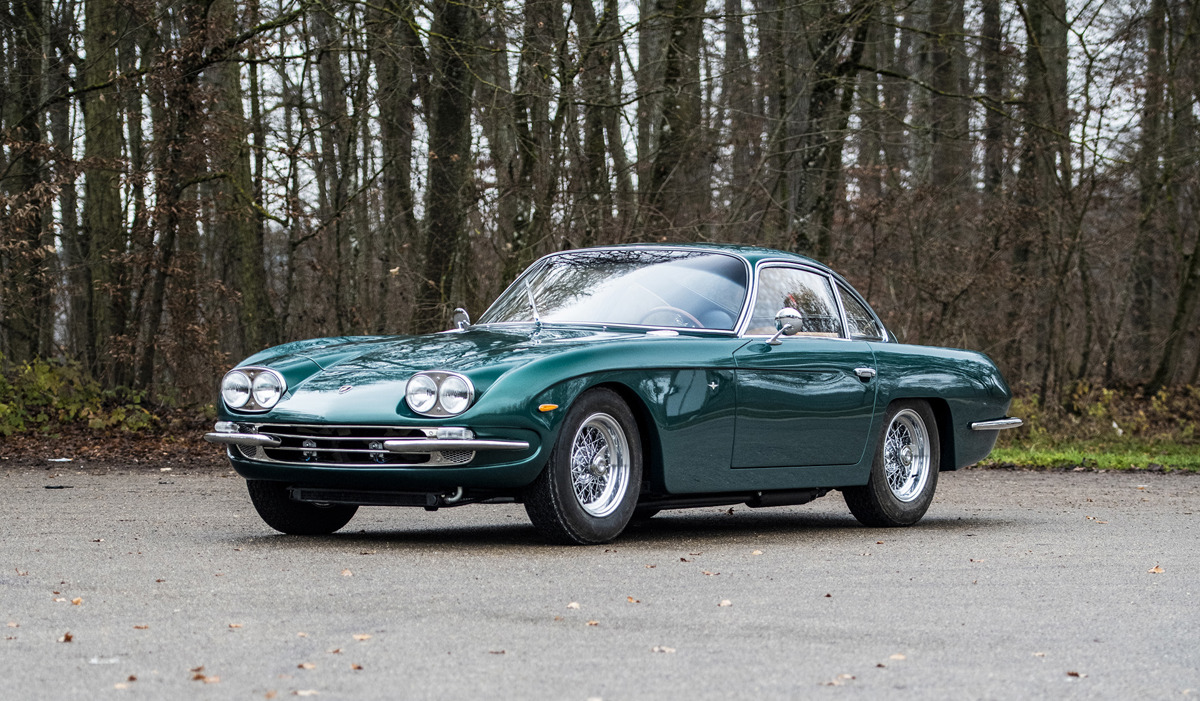 1967 Lamborghini 400 GT 2+2 by Touring
Estimate: €450,000 - €550,000 EUR
In many ways the genesis of Lamborghini's contrarian view on car construction. While period Ferrari flagships were descended from competition models, the 400 GT was free to forge its own identity as a grand touring car. An evolution of the groundbreaking 350 GT, Ferruccio's sophomore effort was no less of a revolution. Featuring a 4-Liter, V-12 engine designed by Giotto Bizzarrini, the motor powering the 400 GT sported dual overhead camshafts when Ferrari only offered single overhead camshafts on their road cars. The long-term build quality of the 400 GT became legendary in vintage Lamborghini circles after one example achieved 250,000 miles. Like all of the examples in this superb collection, this 400 GT comes with the most important accessory for any historic Lamborghini: Polo Storico certification from the company's heritage division, verifying the originality of this collection.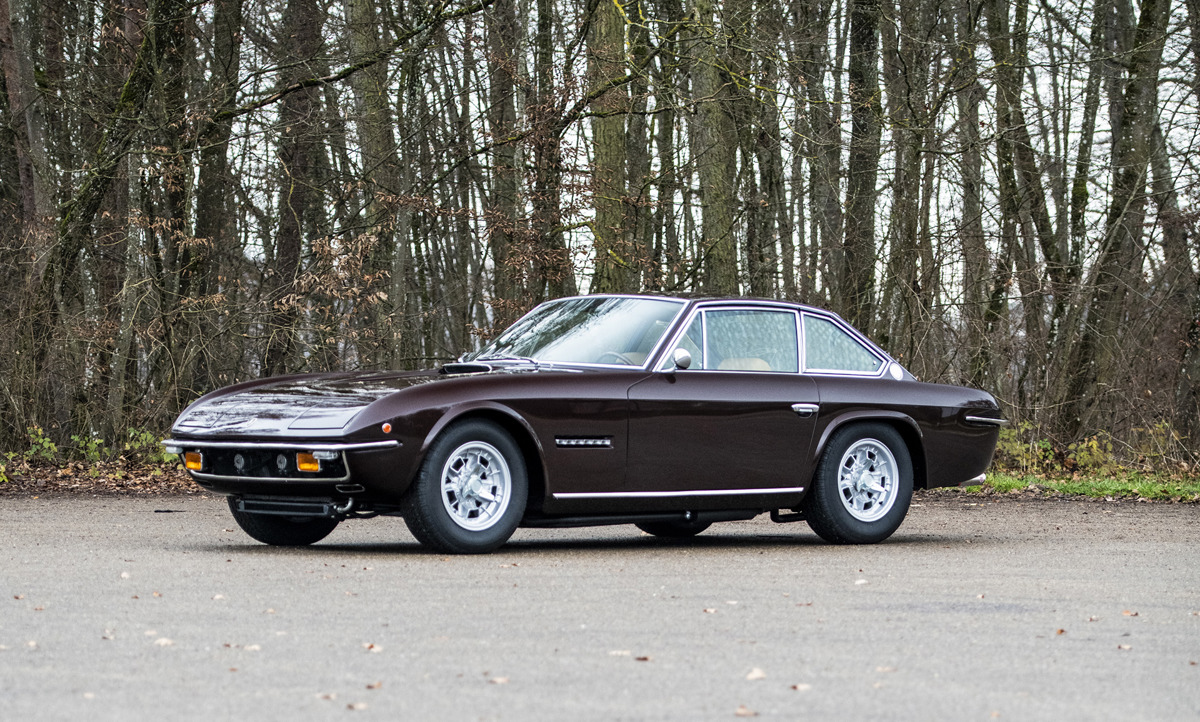 1969 Lamborghini Islero GTS
Estimate: €400,000 - €450,000 EUR
As the 1960s progressed, Lamborghini evolved with the era, refining their front-engined design ethos with the Islero. The new model featured aerodynamic flip-up headlights, and the beginning indications of the sharp, angular styling that would come to define the brand. The top-of-the-line Islero GTS was to be the last Lamborghini with a traditional, grand touring layout: A two-plus-two coupe with its twelve-cylinder, naturally aspirated engine mounted in front of its passengers. For the Islero S and GTS models, 1969 brought a revised rear suspension and an improved compression ratio in the engine, making for an even more potent tourer. The interior benefitted from a design revision and disc brakes increased in size. Both Ferruccio Lamborghini and his brother Edmondo proudly piloted Islero sports cars in-period. Only 225 Islero sports coupes were built in total, one hundred of which were Islero S and GTS models.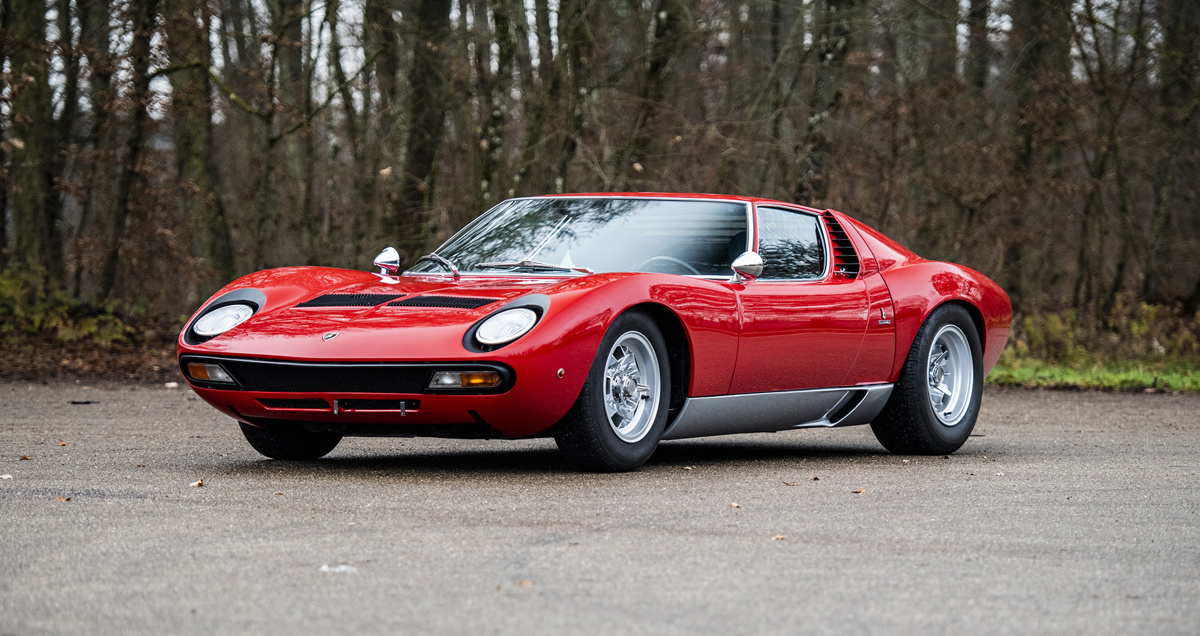 1971 Lamborghini Miura P400 SV by Bertone
Estimate: €2,100,000 - €2,500,000 EUR
Conceived by a young team within Lamborghini—all under 25 years of age—including American test driver Bob Wallace and Italian designer Marcello Gandini and chassis engineer Gian Paolo Dallara, many consider the Miura to mark the genesis of the supercar. This recent interview with Gandini, who vividly recalls that period of intense work, reveals that Ferruccio himself first saw the Miura's finished design on the stand at the Geneva Show in 1966, an incredible feat. Five years later, the follow-up was even more impressive. Most of the Miura SV's significant advancements took place under the skin. Advancements in tire technology in the early 1970s allowed the SV to achieve the sort of performance that Wallace directed and the muscular stance that Gandini had initially intended. Instead of the 370 horsepower that Lamborghini rated the Miura S, the SV managed 385 bhp from a reworked engine with revised cam-timing and higher-capacity carburetors. The final production figures for the SV are staggeringly low; this example is one of only seventy completed in 1971.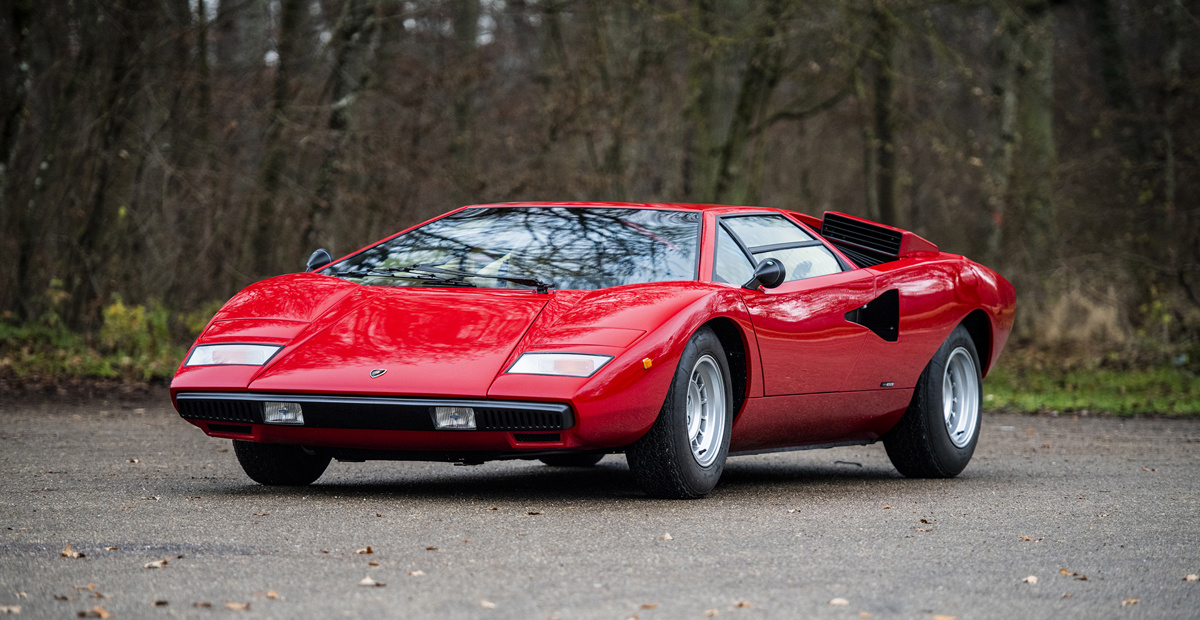 1977 Lamborghini Countach LP400 'Periscopio' by Bertone
Estimate: €750,000 - €900,000 EUR
Another new Lamborghini, another opportunity for revolution. Only five years after the debut of the Miura at the Geneva Motor Show, Bertone's star supercar designer Marcello Gandini again advanced the form of the automobile itself with 1971's prototype Countach. The early production run of 'Periscopio' examples remained most faithful to Gandini's original design, with the only exterior changes amounting to aerodynamic improvements and a few additional NACA air intakes to aid engine cooling. Its striking silhouette unspoiled by the giant rear wings that would come to define the Countach in later years, this first-year production LP400 is known for its Donnelly Mirrors-developed rear-view "Periscopio" system, concealed into the passenger roof. This example is one of a mere twenty-three built in 1977.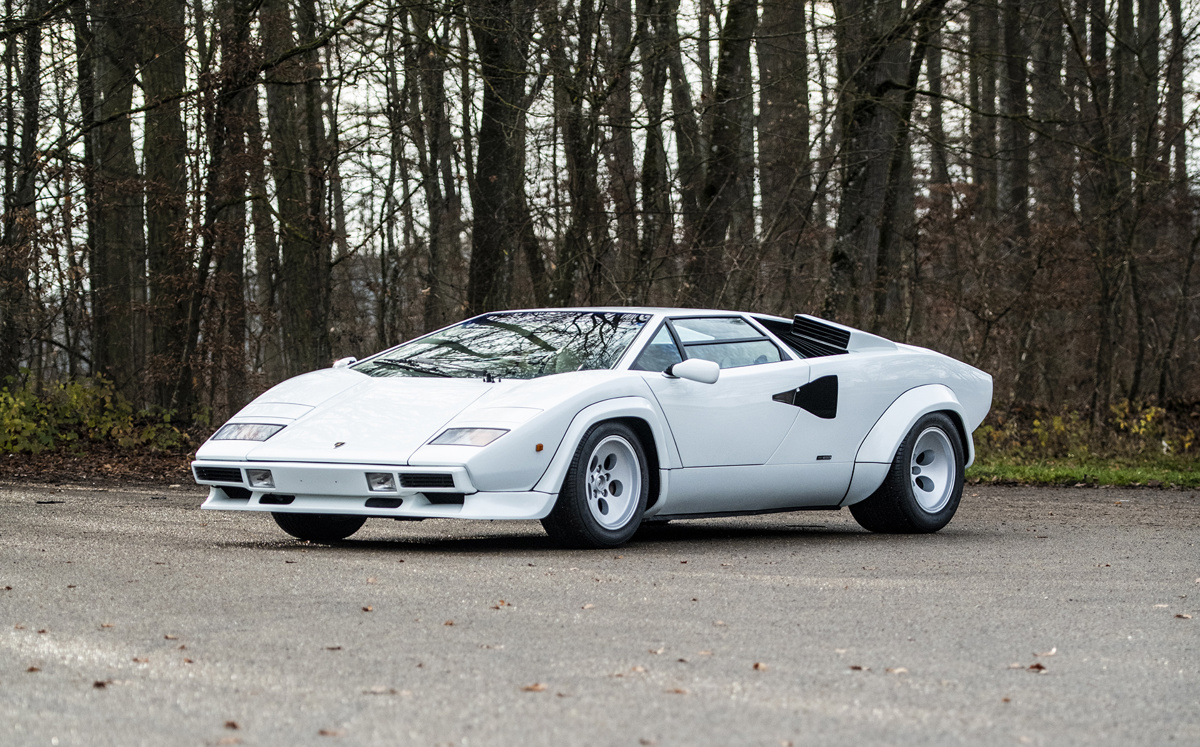 1984 Lamborghini Countach LP500 S by Bertone
Estimate: €300,000 - €350,000 EUR
So far ahead of its time upon its debut in the 1970s, by the middle of the following decade, the Countach had evolved into a poster car for an entire generation. The LP500 distinction indicated an upgrade in performance, with a newly revised, 4.8L V-12 putting out 375 horsepower and pushing the car to a top speed of 160 mph. A factory rear wing was offered, and the interior was updated for the new decade. The low roofline on the early Countach examples, which dissuaded many tall drivers from enjoying the wedge-shaped supercar, was improved after 1981, with interior headroom increased by two inches. This example is one of only 321 Countach LP500 S examples ever made by Lamborghini.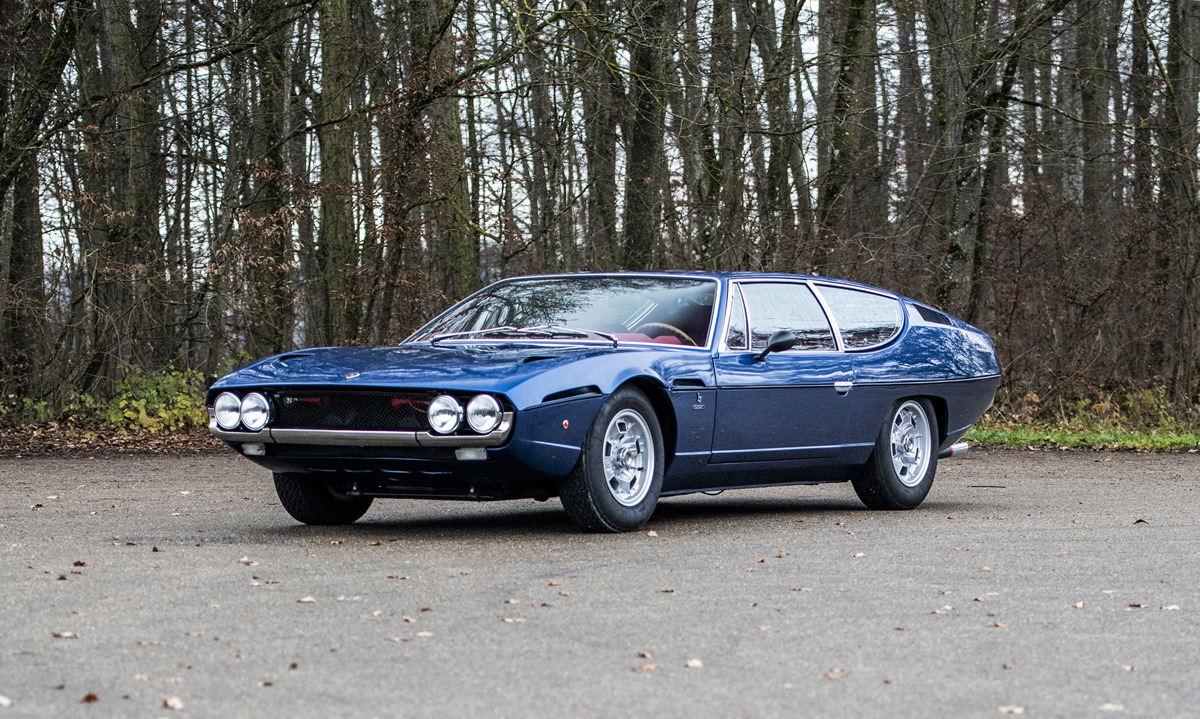 1968 Lamborghini Espada Series I by Bertone
Estimate: €180,000 - €220,000 EUR
While the Espada technically followed the front-engined, V-12 grand touring formula that made Lamborghini famous, there was nothing formulaic about this car. Its name meaning "sword," the Espada's Gandini-penned design was a direct descendant of one-off concept cars like the Lamborghini Marzal and Jaguar Pirana. Both Jay Leno and Harry Metcalfe have been enthusiastic Espada owners for years. Robert "Pete" Petersen, the founder of Hot Rod and MotorTrend magazines, called the Espada his favorite car design in the last interview before his death. Petersen took his Espada on hunting trips, using the Lamborghini's generous rear cabin a'la shooting break. Perhaps not a decision many would make today, with Metcalfe's Espada winning the Lamborghini class this year at the London Concours d'Elegance, but comforting to know that it is possible.
Wildly different in form, all sharing an unmistakable spirit, these extraordinary high points in the history of Lamborghini are all available for bidding at RM Sotheby's 2021 Paris auction.