Proudly representing Italy down to the red basecoats on their evocative liveries, Italian race cars are built with passion and precision in mind. The same statement, of course, could also be made about almost all automobiles made in Italy. And yet, the benefits from seeking out an Italian sports car that has been prepared for competitive driving are numerous and surprisingly practical. Endurance racing requires its participants to, quite literally, go the distance. Due to the rigorous demands of motorsport, fixtures, fittings, and components that would easily be approved for a production car have been re-engineered or replaced altogether with durability in mind. Roll cages and on-board safety equipment are de rigueur.
One more practical reason classic car collectors prefer racecars: The high cost of racing means few constructors fielding an even-more limited number of entrants, nearly always guaranteeing that motorsports-oriented variants of already collectible sports cars are even more rare than their regular-production counterparts. Once you reach the racetrack, of course, those heavy-duty components work together to create a more-thrilling ride than their ordinary counterparts as well. RM Sotheby's Milan sale may be set in the elegant environment of the historic Palazzo Serbelloni, but Monza (Italy's national racetrack) is only a thirty-minute drive away: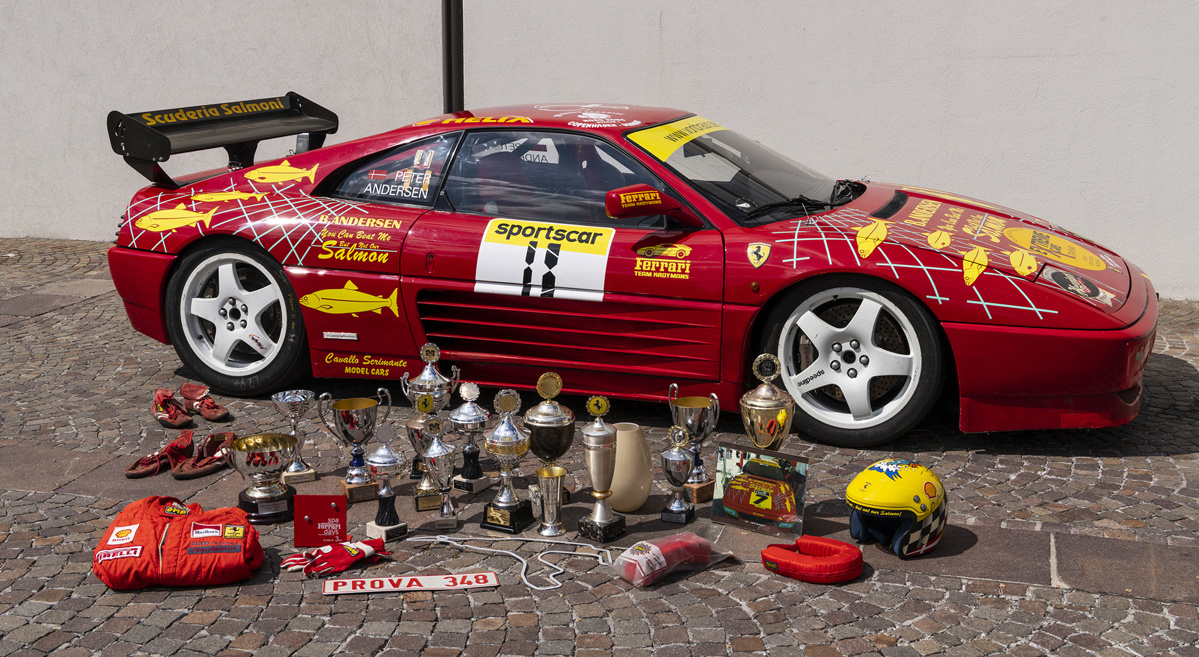 1994 Ferrari 348 GT Michelotto Competizione
Estimate: €260,000 - €360,000 EUR
As can immediately be observed in the above image, race-prepared cars come well-stocked with additional accessories. One of a mere eleven competition-grade Ferrari 348 GT sports cars modified by Michelotto, this example comes complete with a bevy of original accessories, from a customized matching race suit and helmet, and a selection of trophies earned over nearly a decade of competition in both marque-specific and Ferrari-Porsche Challenge racing events. The fully stocked package also includes a copy of the original factory build sheet, which hints at the all-out effort Michelotto expended to shave off 213 kilos from the standard Ferrari 348 sports car. With total horsepower output increased to 360 bhp and equipped with 15-inch brakes and driveshafts derived from the Ferrari F40, this 348 GT Michelotto Competizione defines "track-proven."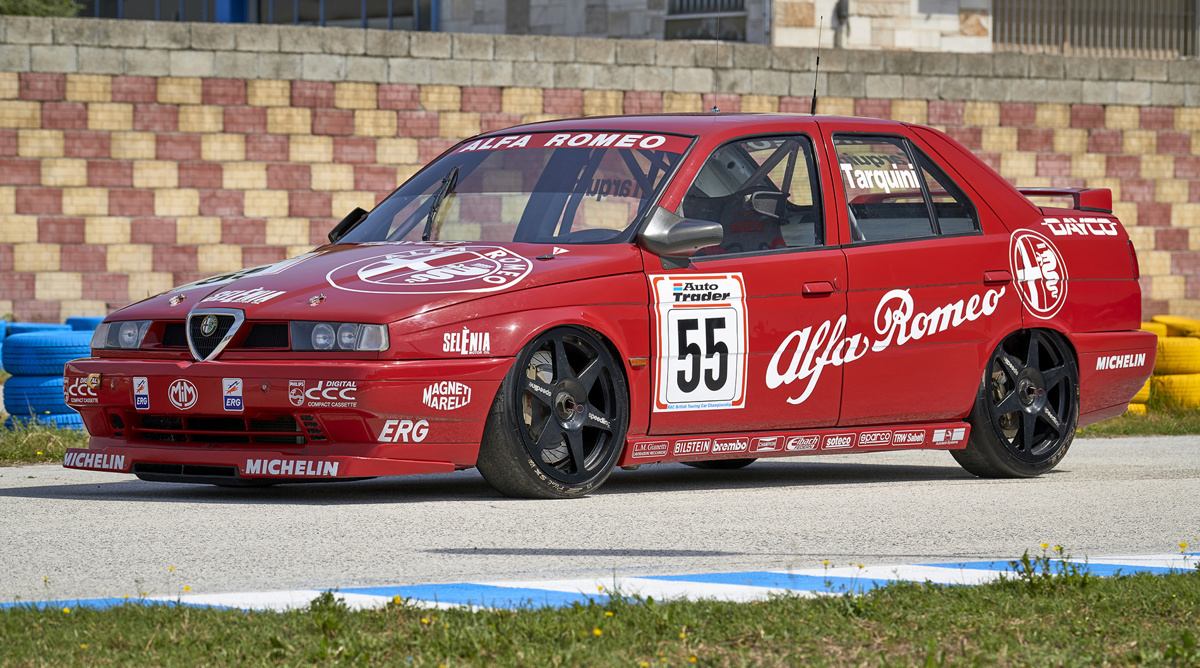 1994 Alfa Romeo 155 TS BTCC
Estimate: €300,000 - €400,000 EUR
It is very important to not view Italian race cars as a monolith. Any existing differences between manufacturers within Italy are only compounded by the various (and numerous) regulations required to enter any given race series. For the British Touring Car Championship, known as BTCC, each entrant had to supply a homologated saloon car by selling a not-insignificant number (2,500 in total) of non-racing examples to the general public. Constructed with a creative interpretation of these regulations, Alfa Corse, the Alfa Romeo factory racing team, built a special 'Silverstone Edition' of their 155 sedan, including an oversized rear wing and front splitter that could be customer-installed and adjusted. Critically, this addition allowed Alfa Corse the element of surprise when they appeared at the first race of the 1994 BTTC season with the full aerodynamic package attached. Though Alfa's rivals replied in protest, this motorsport-grade example still scored podium-place finishes for noted racer Gabriele Tarquini, who has driven and owned it since new.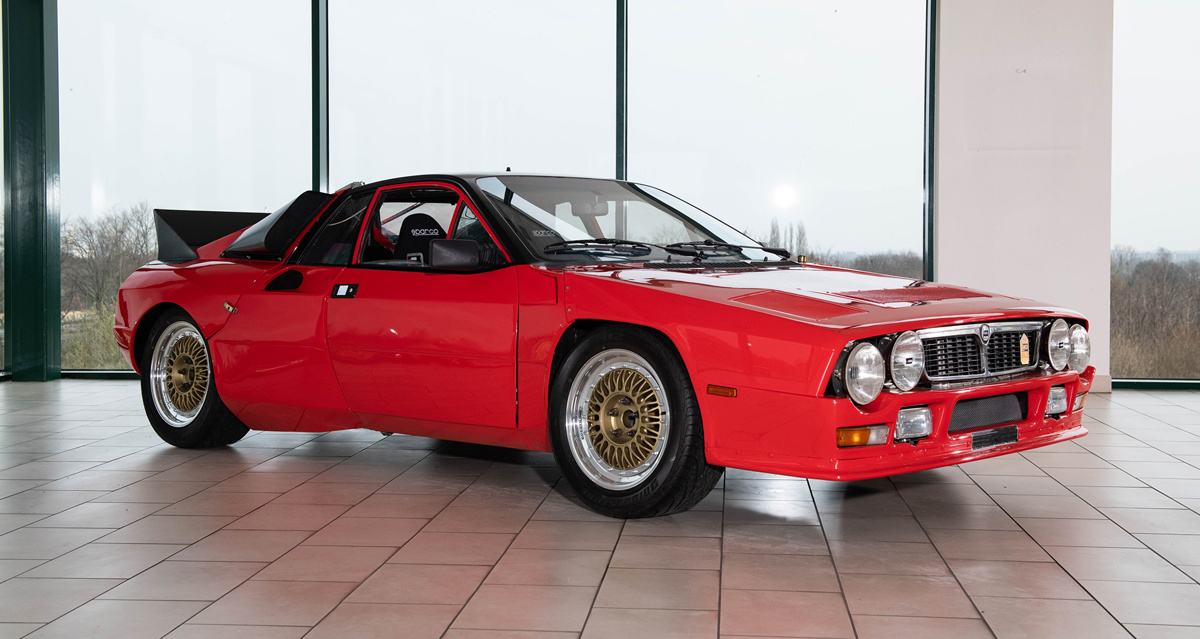 1980 Lancia Rally SE 037 Prototype
Estimate: €700,000 - €900,000 EUR
Following along with the theme of competition-grade car construction, the already rare creations of race engineers can typically be seen either competing on-track or sitting in the paddock, waiting to drive. In general, the public never gets to see the genesis of these cars: Development prototypes like this 1980 Lancia Rally SE 037 example. Hot on the heels of the iconic Stratos HF rally car, a team of talented engineers including Sergio Limone of Abarth committed to creating a follow-up to compete in the World Rally Championship's all-new Group B series starting in the 1982 season. This example, number SE037-001, was the first of a grand tradition of rear-wheel-drive, rally-focused Lancia sports cars, built on the strong foundation of its Giampaolo Dallara-designed chassis. An undeniable artifact, not only in terms of Italian racing history, but in the greater history of Group B itself, this example was saved from scheduled demolition by Limone himself, who purchased the prototype directly from Abarth in 1983, and painstakingly restored it to its original development configuration.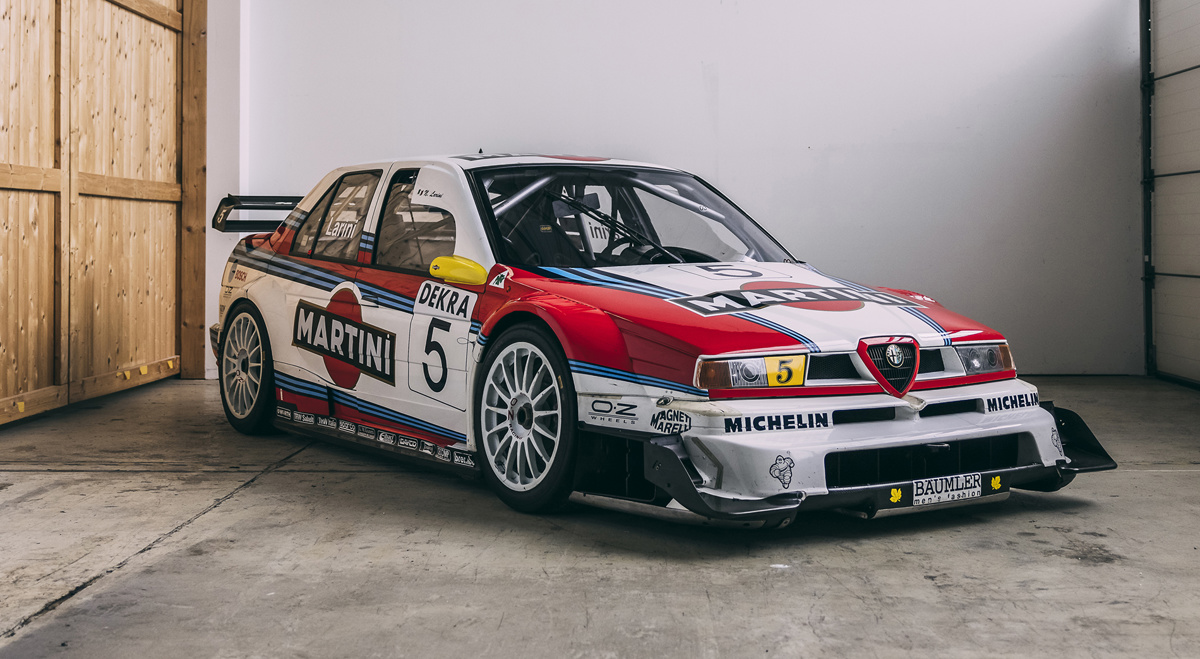 1996 Alfa Romeo 155 V6 TI ITC
Estimate: €700,000 - €800,000 EUR
Representing a quick aesthetic break from our list of all-red Italian racing cars, this 1996 Alfa Romeo 155 V6 TI ITC still wears its national identity with pride, with a red basecoat showing underneath the well-known, multicolored Martini Racing stripes. Prepared for the 1996 DTM-ITC touring car series, this example was powered by a 490 bhp, 2.5-liter V-6 engine code-named "690RC," paired with a six-speed semi-sequential transaxle. The combination proved potent, pushing Alfa Corse ahead of Mercedes-Benz in the Constructor's Championship that year, and putting driver Alessandro Nannini on the podium that year, claiming third place in the driver's championship. With two historic ITC wins on its resume courtesy of driver Nicola Larini in 1996, this example has seen continued use in the modern era, competing in the DTM Classics series in 2019, and even claiming a fourth place finish at the Lausitzring that year. Impressive in-period and no less potent today.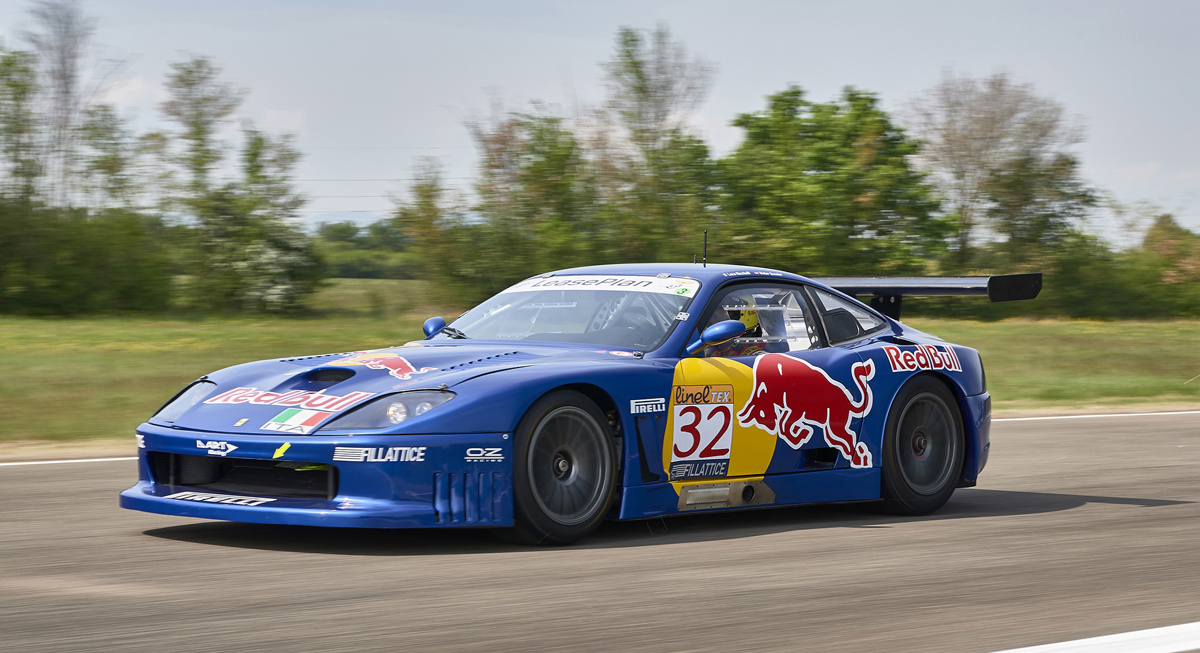 2000 Ferrari 550 GT1
Estimate: €1,800,000 - €2,200,000 EUR
We have covered this fabulous Ferrari 550 GT1 prepared for the 2010 FIA GT Championship in greater detail previously, but the rarity of any modern Ferrari sports car that has been prepped for motorsport nearly requires us to mention this example again. With its front-mounted, 6-liter V-12 powerplant built with advanced materials, this privateer-produced Ferrari is more akin to a piece of contemporary art rather than a mere piece of motorsport memorabilia. One of only four ever made, like any good piece of sporting automobilia, this Italtecnica-built Ferrari has been driven competitively by some of the greats, including Toto Wolff, Dieter Quester, Christian Pescatori, and Andrea Bertolini. Its best result occurred in 2004, when it was piloted to third place in the Italian GT Championship by Lorenzo Casè. A pure expression of Italian motorsports in the 21st century.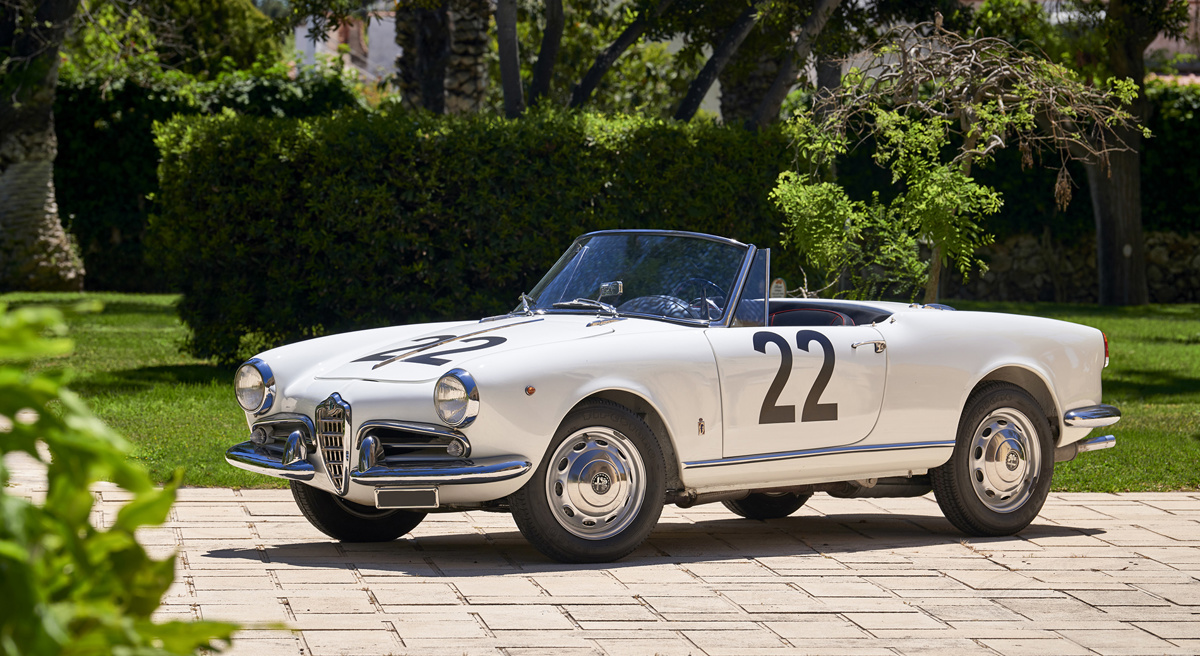 1959 Alfa Romeo Giulietta Spider by Pinin Farina
Estimate: €90,000 - €120,000 EUR
Our list of Italian racing cars would not be complete without a true classic from the 20th century: This lovely, Pinin Farina-designed 1959 Alfa Romeo Giulietta Spider. This example is noteworthy for its race history, having participated in the 45th running of Italy's world-famous rally race, the Targa Florio in 1961. Driven by Mario Tropia and Giuseppe Parla in that outing, this example has been carefully restored to its in-period race condition, down to the number "22" livery, which provides a purposeful accent to the Pinin Farina styling. With a diverse portfolio of historic racing series now operating worldwide, there are more opportunities than ever before to enjoy vintage sports cars like this Giulietta Spider. RM Sotheby's Milan Sale offers several race-worthy options for discerning collectors; now the future of these motorsport-grade examples is in your hands.