Picture, if you will, the periodic table of elements. To your extreme right stand the noble gasses, existing in complete stability, their outer electron levels completely satisfied. Bridging the gap between solid and gas are four elements that spell out "C" "N" "O" "F"—celebrated by organic chemists as the building blocks of life. Sprinkled within are the elements we are concerned with today. Made of either pure elements or out of a mixture—or alloy—metals have provided us the material with which we have made our tools, lent their strength to our shelters, and ultimately shaped human society itself.

Though the automobile may exist as a complex piece of technology, a unified sum of thousands of individual components, it nevertheless exists the same as any other treasure we humans have found and fashioned; dug out of the ground as pure carbon, cut and polished until it "becomes" a diamond. Thought of in this way, automobiles may be the ultimate expression of rare earth metals. Usually, valuable materials like aluminum, bronze, and copper are used merely as accents on automobiles; here, they form the iconic bodies of three Shelby Cobra sports cars, available for sale now from RM Sotheby's Private Sales Division:
Aluminum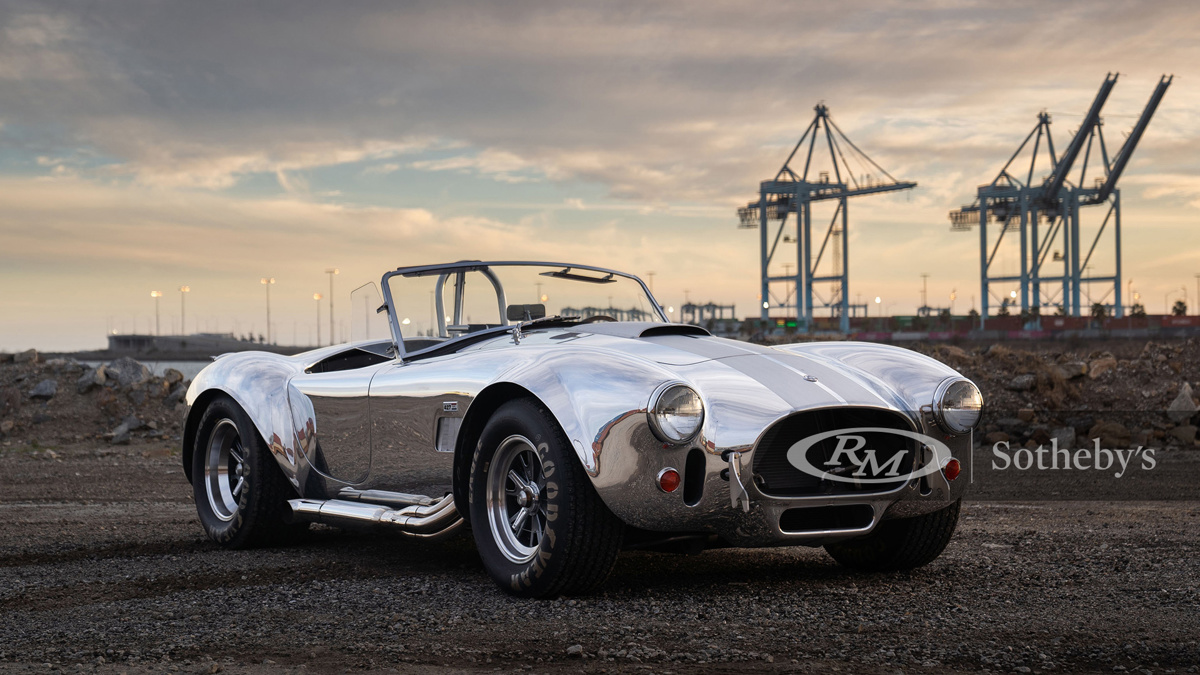 1965 Shelby 427 S/C Cobra "CSX 4428"
Chassis No. CSX 4428
$385,000 USD
Renowned for its lightweight qualities, aluminum is a magical material, the adoption of which has advanced the automotive industry almost by itself. Its density equivalent to 1/3rd of what a comparable amount of steel would total, aircraft-grade aluminum has been used in hand-formed, high-end sports cars since the sixties. Typically, the advanced material is covered in paint, to better blend in with the other cars on the road. Only in rare instances, like the jaw-dropping Ford GR-1 concept car are automobiles presented in bare aluminum. Shelby enthusiasts will no doubt know that the gorgeous GR-1 concept was co-developed with Carroll Shelby, one of the great Texan's final collaborations with Ford before he passed away in 2012.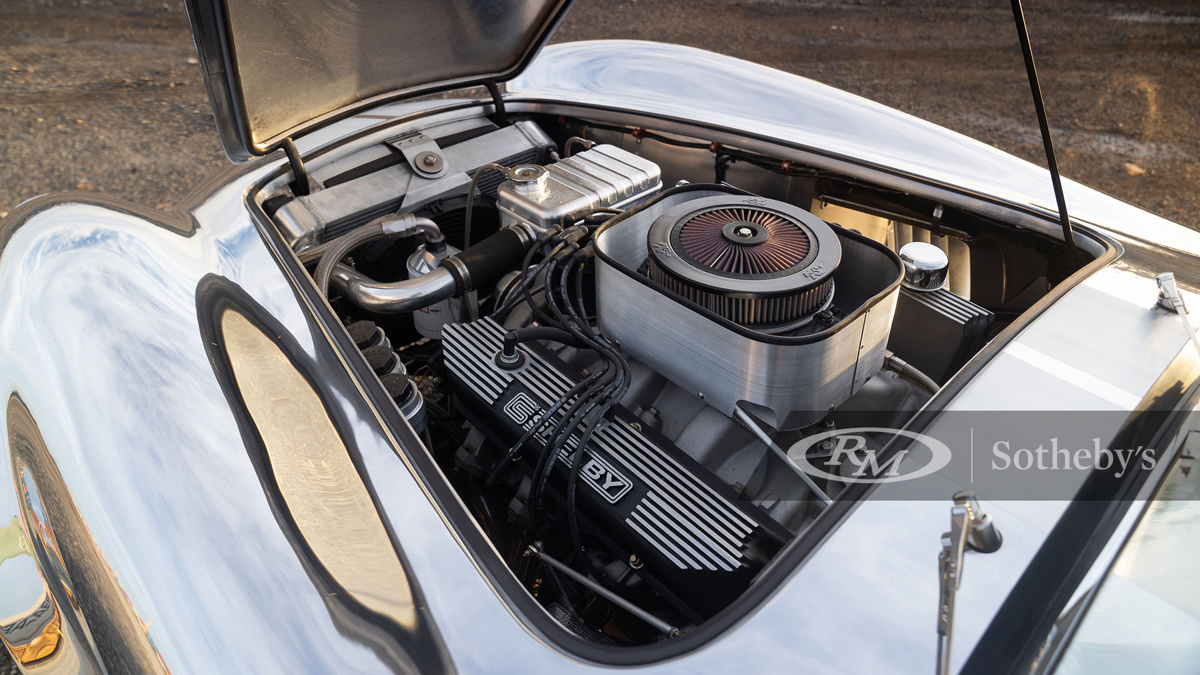 A work of automotive art made at least in part as a tribute to Shelby, the craftsman of the Provo, Utah-based firm Kirkham Motorsports built their reputation on executing aluminum-bodied Cobra sports cars with exacting quality and attention to detail. Composing its centerpiece, an aluminum-block "427 FE" V-8 made by the Carroll Shelby Engine Company, aluminum also makes up the Shelby-branded finned valve covers, air intake, high-flow water pump, and the heads themselves. Total output equals an impressive 550 horsepower. With its classic Cobra shape presented in polished aluminum with twin contrasting brushed "stripes" marking its centerline, the team at Kirkham have achieved a command of materials and fine finishing that would not look out of place in an art gallery or even a private museum. Perhaps the only thing missing is a signature.
Bronze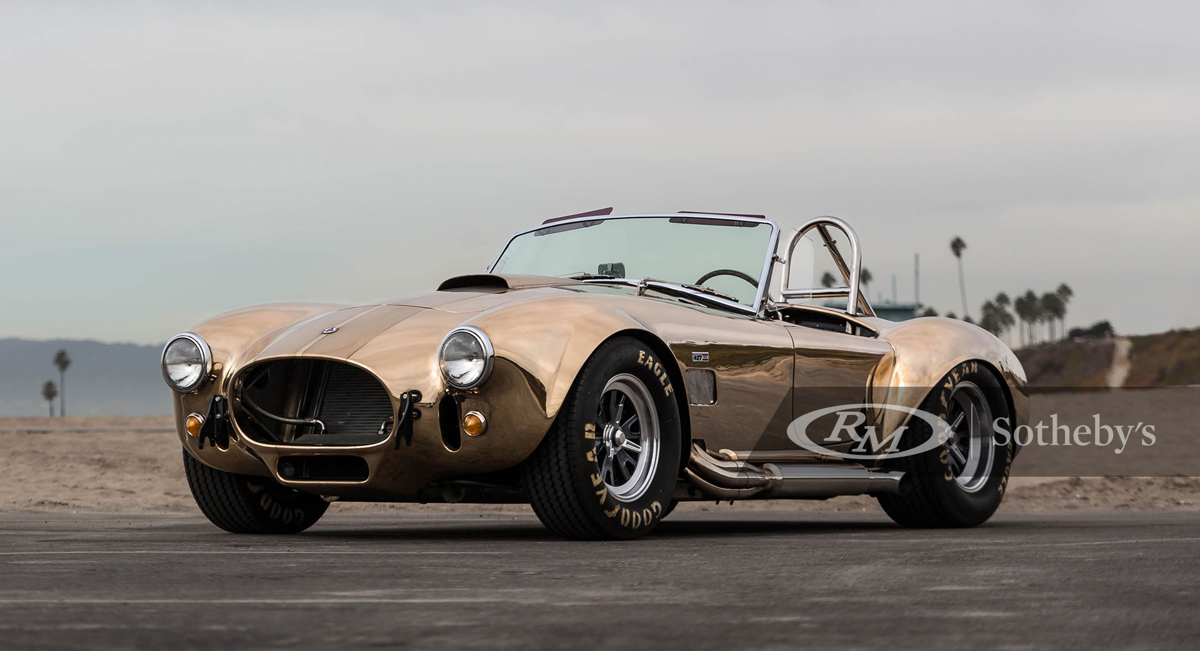 1965 Shelby 427 S/C Cobra "CSX 4600"
Chassis No. CSX 4600
$475,000 USD
Not a lone element, but an alloy made from copper and a range of various other metals, the reason why bronze kicked off an era of human culture in and of itself is as much for its beauty as the strength it provides. The Bronze Age marked a moment in history where one metal was not enough; the combination of elements supported one another and created swords and sculptures durable enough to last from the third millennium B.C. until today.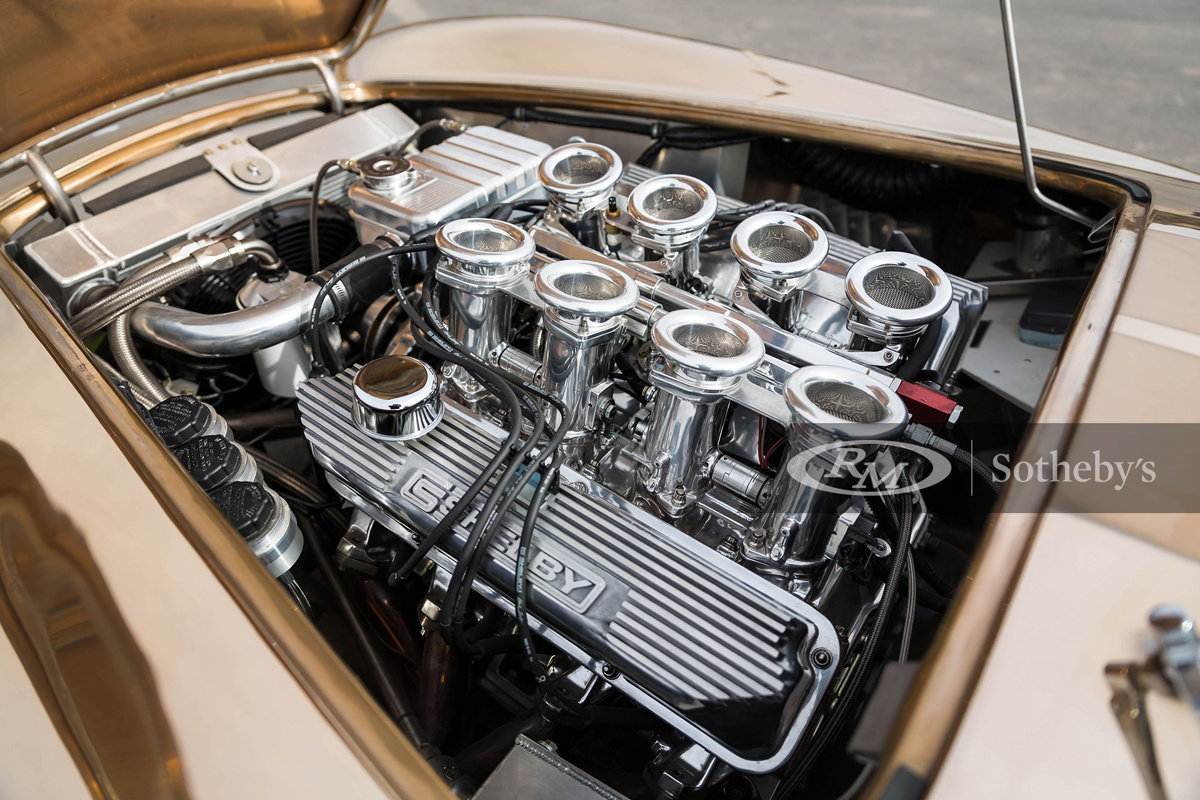 Also executed by the talented craftspeople at Kirkham, the jewel-like finish on this example extends to the engine bay. As seen in our previous example, the lightweight, heat-resistant properties of aluminum make them well-adapted to motorsport applications; the "Big Block" 427 FE V-8 powerplant in this example, made by the Carroll Shelby Engine Company, turns out over 650 horsepower with the aid of fuel injection and a Holley Hardcore 850HP Double Pumper carburetor. All that prodigious power is channeled through a five-speed gearbox and controlled through new Goodyear Eagle "billboard" tires. With timeless beauty down to its bronze skin, this Cobra provides a thoroughly modern performance.
Copper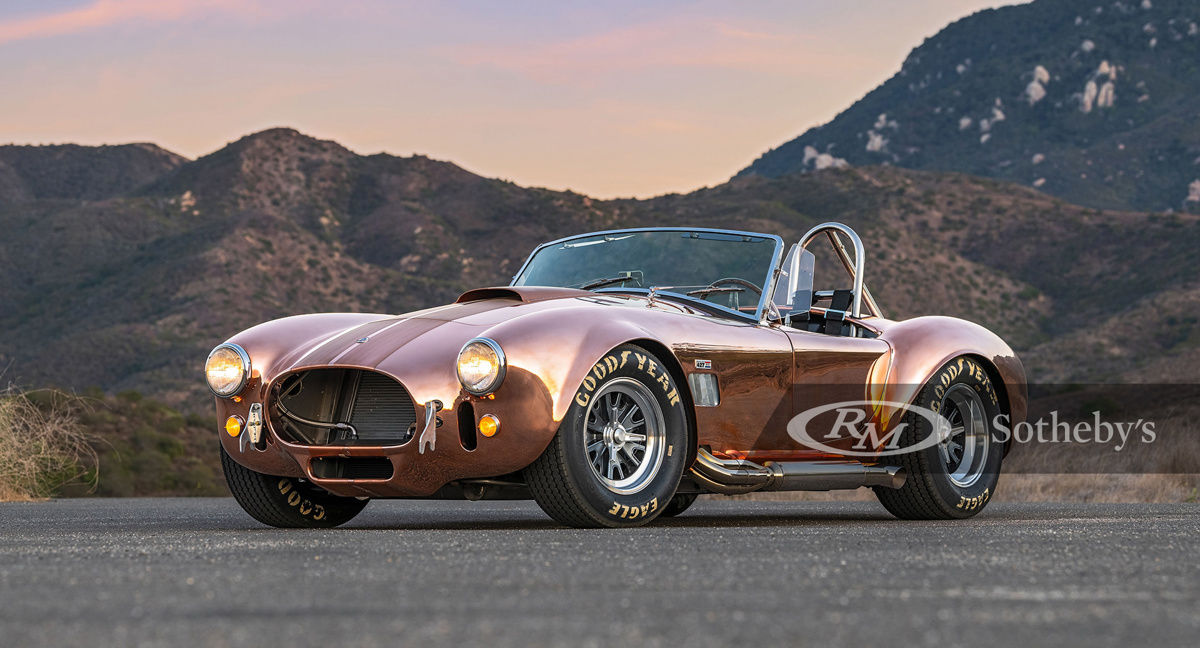 1965 Shelby 427 S/C Cobra "CSX 4602"
Chassis No. CSX 4602
$475,000
Our final lot is another example crafted of a pure element, copper, that can be found in coins and atop capital buildings. This example, with its copper exterior polished to a mirror-like finish and signature "brushed" Shelby stripes, shows that the familiar material looks positively spectacular on an automobile. In contrast to aluminum, cars made of bare, polished copper are exceedingly rare, in part because of how the material displays imperfections. Though this Shelby Cobra body is made from seventeen separate panels, hand-formed and joined by the team at Kirkham, the seams between the panels are invisible, even when viewed from below.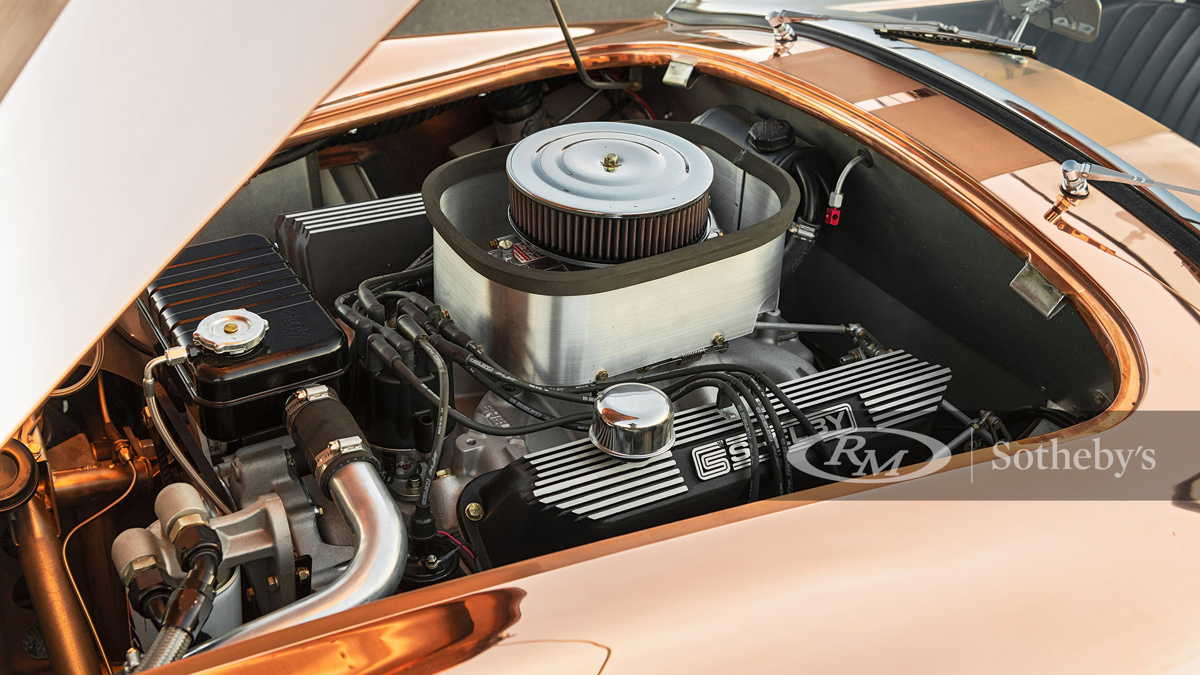 Powered by a 426-cubic-inch V-8 engine producing 550 horsepower, this copper Cobra packs sufficient motive force to comfortably cruise in modern traffic, and a chromed roll bar and fire suppression system to extend that comfort and safety to the racetrack, should the next owner desire.
All three of these Shelby sculptures present a similar philosophical question; undoubtedly works of art, they are nonetheless not a stationary sculpture. Unlike bronze subjects by Edward Degas or even the most free-flowing modern aluminum efforts by John Chamberlain, our trio of Cobra examples are all built on Shelby chassis and can still move, slide, and sprint accordingly. Art you can use, in other words.