Even though the classic car world is steadily becoming more inclusive than ever before, there still exists a need to distinguish between makes and models that are truly exceptional. Otherwise, the well-trod phrase gets trotted out yet again: "What a classic!" Indeed, all pre-war cars that have survived numerous scrap drives and modification trends deserve to be thought of as 'classic,' yet some examples are worthy of even more recognition.
For this reason, the Classic Car Club of America has designated a list of specific motorcars that can be called 'Full Classics,'— including only examples of automobiles that manage to distinguish themselves beyond their contemporaries through exceptional build quality, technological innovation, and top-tier price tags when new. As the CCCA's helpful list of approved classics states clearly, these cars are far from being "mass-produced." Some automakers (La Salle in particular) only managed to build 'Full Classics' in certain years, but the entry for Rolls-Royce is far easier to understand. From 1915 to 1948, all Rolls-Royce models are CCCA Full Classics. RM Sotheby's has gathered an extraordinary list of Rolls-Royce motorcars for an exciting upcoming auction, A Passion For Elegance, which offers both pre- and post-war models, as well as a selection of extraordinary Bentley motor cars. Join us as we explore some of the finest examples of pre-war Rolls-Royce motorcars, all certifiably classic: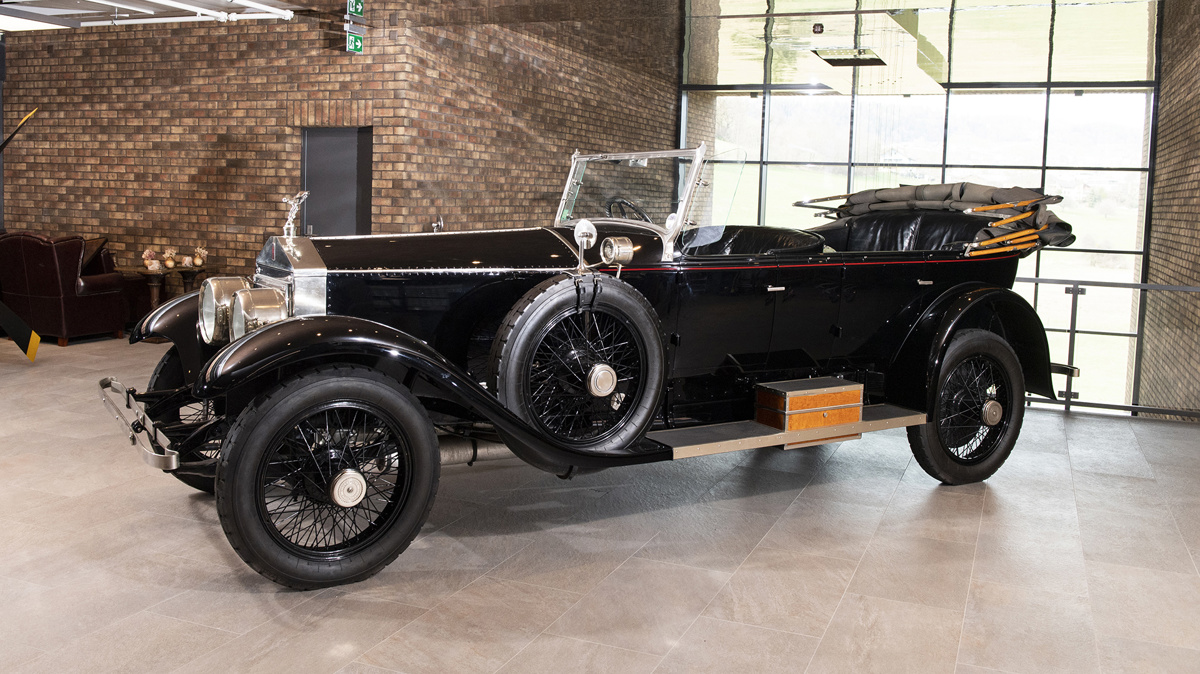 1920 Rolls-Royce Silver Ghost Pall Mall Tourer by Merrimac
Estimate: CHF175,000 - CHF220,000 |
Offered Without Reserve
After our introduction, one might wonder why any designation from an American car club would matter when it comes to such a thoroughly British brand as Rolls-Royce. And yet, students of the brand will quickly reply that, beginning in the early 1920s, Rolls-Royce established a Massachusetts-based branch to turn out Ghost models for the American market. Referred to today as "Springfield Rolls-Royces," the first few chassis built in this factory were actually made in Derby, U.K., and shipped across the sea, for final assembly in Springfield, MA, as a test of American labor, with various area coachbuilders sending their bespoke bodies to Rolls-Royce's new facilities for finishing. The most famous American passenger in this five-place, open-air tourer was none other than Hollywood star James Dean, appearing in his final film, Giant. Owned at the time by Warner Bros. Studios, this example could be said to co-star with Dean, as its backseat provided a background for the movie's original full-sheet poster.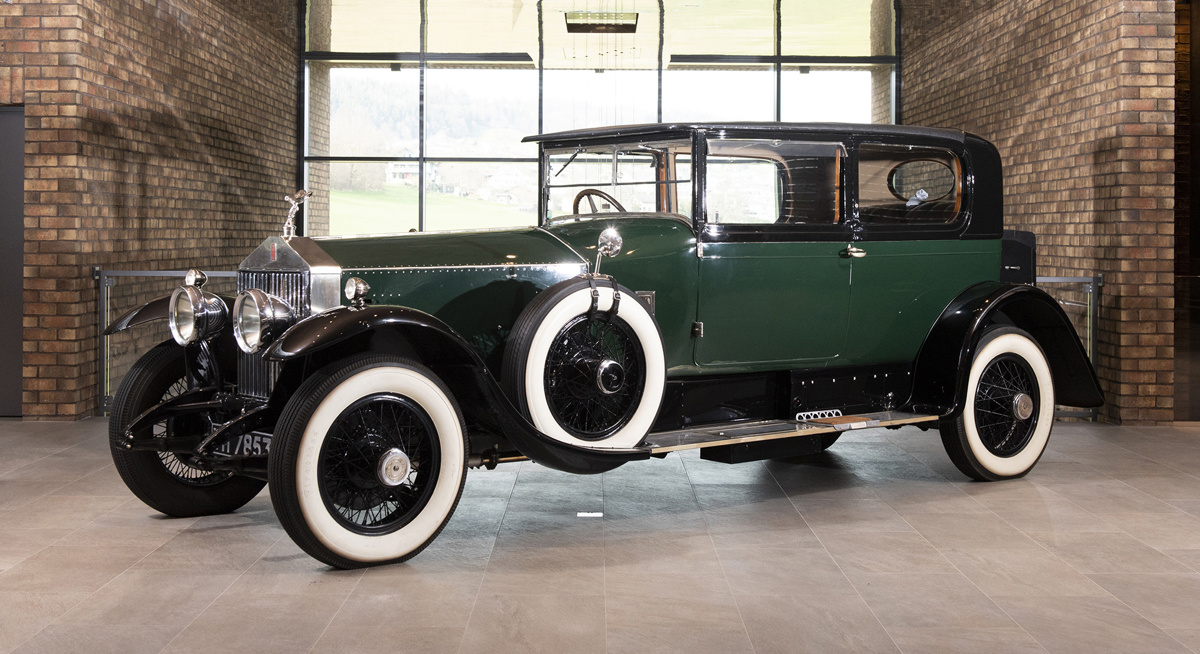 1925 Rolls-Royce Phantom I Sports Saloon by Maythorn
Estimate: CHF110,000 - CHF155,000 |
Offered Without Reserve
When discussing the history of a brand as well-known as Rolls-Royce, much work comes from simply dispelling the many myths that invariably attach themselves to any long-standing automaker. Unlike what many consider to be strictly a brand for chauffeurs to drive, Rolls-Royce built their reputation in part by offering adventuring owners the opportunity to operate their own automobiles, as this Phantom I Sports Saloon proves. Featuring a purposeful stance and well-considered coachwork by Maythorn & Son of London and Biggleswade, this right-hand-drive, closed-bodied tourer only appears more elegant from the driver's seat. Peering across the long hood of this Sports Tourer, directly beneath the Spirit of Ecstasy radiator mascot, one notices the object of a second persistent myth: The Rolls-Royce badge painted red instead of black. Though some insist the company changed the badge's background after founder Henry Royce died in 1933, this myth has been officially dispelled. The reason for the color change was much more basic, as black would match a range of body colors. And so, this vibrant Sports Saloon exists as an example of a red-badged Rolls, experienced best from the driver's seat.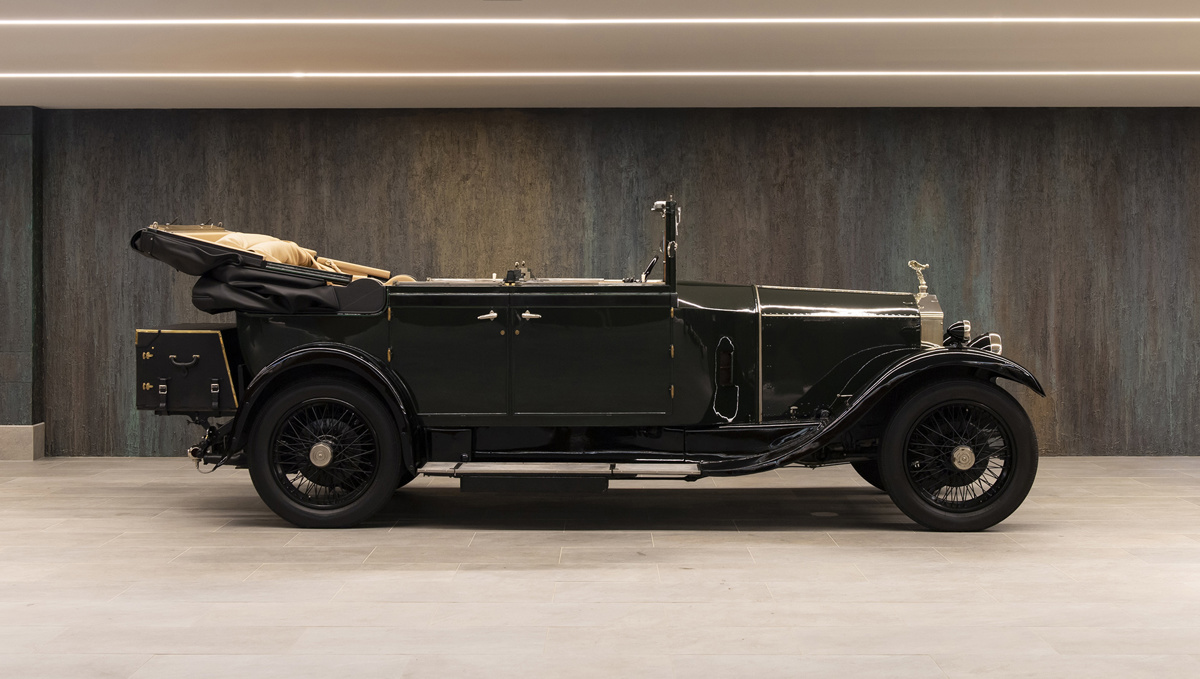 1929 Rolls-Royce 20 HP 'Prince of Wales' Three-Position Cabriolet by Barker
Estimate: CHF65,000 - CHF110,000 

|

 

Offered Without Reserve

 

Dropping our 'classic American' theme for a second, the made-in-Derby chassis and London-built body of this 1929 Rolls-Royce 20 HP are both made even more British by their association with the royal family. Handmade by the talented craftspeople of Barker & Co., Ltd., which could trace its roots back to the carriage-making era of the early 1700s, the firm was favored not only by the royal family but by C.S. Rolls himself, who declared in 1905 that all his products be fitted with Barker bodywork. His Royal Highness The Prince of Wales, the future King Edward VIII and Duke of Windsor must have enjoyed the varying options provided by this Three-Position Cabriolet body style, which equally allows for completely open-air touring as much as top-up privacy for its rear-seat passengers. With its tinted division glass raised and rear canopy secured, even true royalty would be comfortable in this Rolls-Royce, which even comes complete with a speaking tube to communicate with their loyal chauffeur.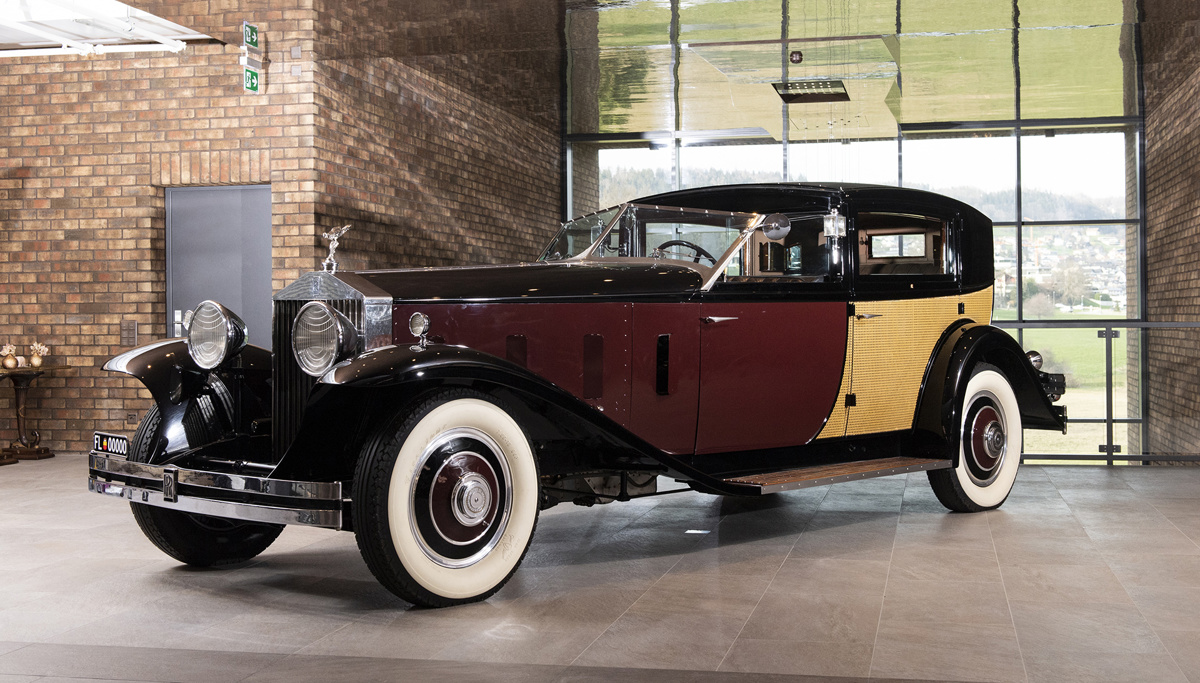 1933 Rolls-Royce Phantom II Special Brougham by Brewster
Estimate: CHF1,300,000 - CHF1,750,000
Another spectacular American-made Rolls-Royce, this Phantom II Special Brougham is arguably the star of RM Sotheby's A Passion For Elegance auction, with its show-stopping Brewster bodywork. We have explored this example in greater detail in an earlier post, highlighting the exquisite detailing executed by the New York-based Brewster & Co., first and foremost including the intricate canework overlaid onto its rear cabin. The epitome of what a Town Car can provide, this example's overall architecture was a collaboration between its owners, C. Matthews Dick and his wife, the former Garnett "Shirley" Crossan. With details like gold-plated metalwork, inlaid wood, and a sunken, step-down rear cabin, the effect achieved by Brewster can be likened to translating automotive dreams into reality. A pre-war Rolls-Royce unlike any other.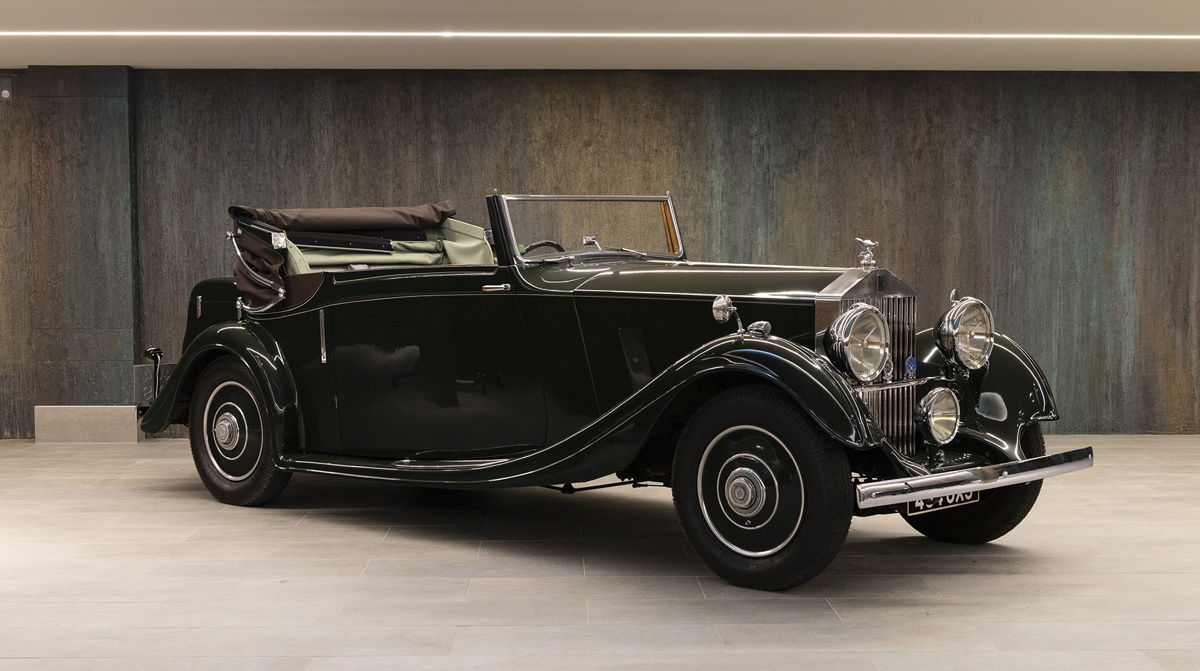 1935 Rolls-Royce 20/25 Drophead Sedanca Coupé by Gurney Nutting
Estimate: CHF130,000 - CHF175,000 

|

 

Offered Without Reserve

 

Another Rolls-Royce which proves its potential for driving rather than merely being chauffeured, this Sedanca Coupé was built on the most sporting 20/25 chassis, and is fitted with two, rear-hinged doors. Though there is a backseat for rear passengers, the point of this sporting Rolls-Royce is for owner enjoyment, whether with its handsome Sedanca-style Drophead top folded up or down. The most popular body style offered by the Chelsea, London-located J Gurney Nutting & Co., Ltd., at least in terms of aerodynamics, the flowing fender lines on this mid-1930s Rolls-Royce could credibly stand toe-to-toe with the output of any coachbuilder in the world. No wonder that the Kings Road-based firm received perhaps the ultimate compliment four years prior when the Prince of Wales decided to switch coachbuilding allegiances, honoring Gurney Nutting with a Royal Warrant for Motor Body Building in 1931.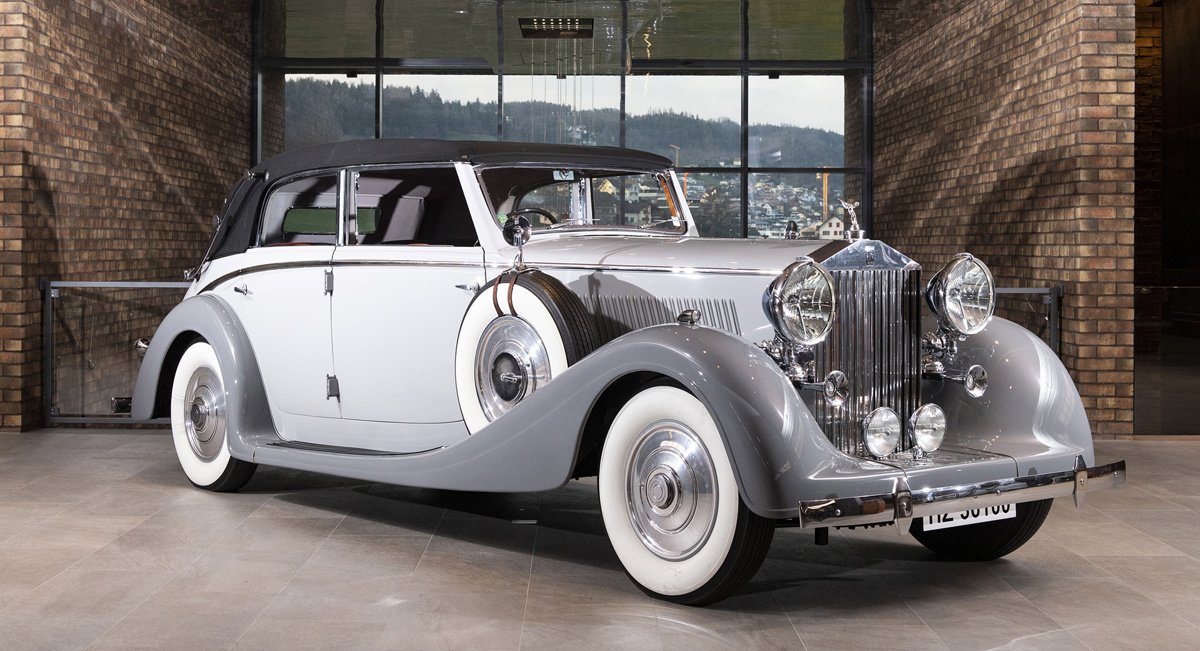 1937 Rolls-Royce Phantom III Four-Door Cabriolet by Voll & Ruhrbeck
Estimate: CHF260,000 - CHF350,000
Our international tour through the finest coachbuilders of the pre-war era is now arriving in Germany, with the graceful shapes of the Berlin-based Voll & Ruhrbeck firm incorporating seamlessly with the traditional British brand. Known for delivering larger-than-life bodywork on already-exclusive chassis (this pre-war Horch 853 Sport Cabriolet, well-known for its appearances at the Pebble Beach Concours d'Elegance and the Petersen Museum comes to mind), Voll & Ruhrbeck were ahead of their time in terms of aerodynamics, with incorporated front fenders as seen on this Four-Door Cabriolet, as well as a gradually sloping rear end, tapered like a teardrop. The overall effect is a fully-formed vehicle, much closer in ethos to post-war designs than the 1920-era examples which started our list. With the Voll & Ruhrbeck workshops destroyed during World War II, and coachbuilding itself mostly ceasing to exist in the post-war period, examples like this German-bodied British Phantom III have become appreciated for their genuine rarity.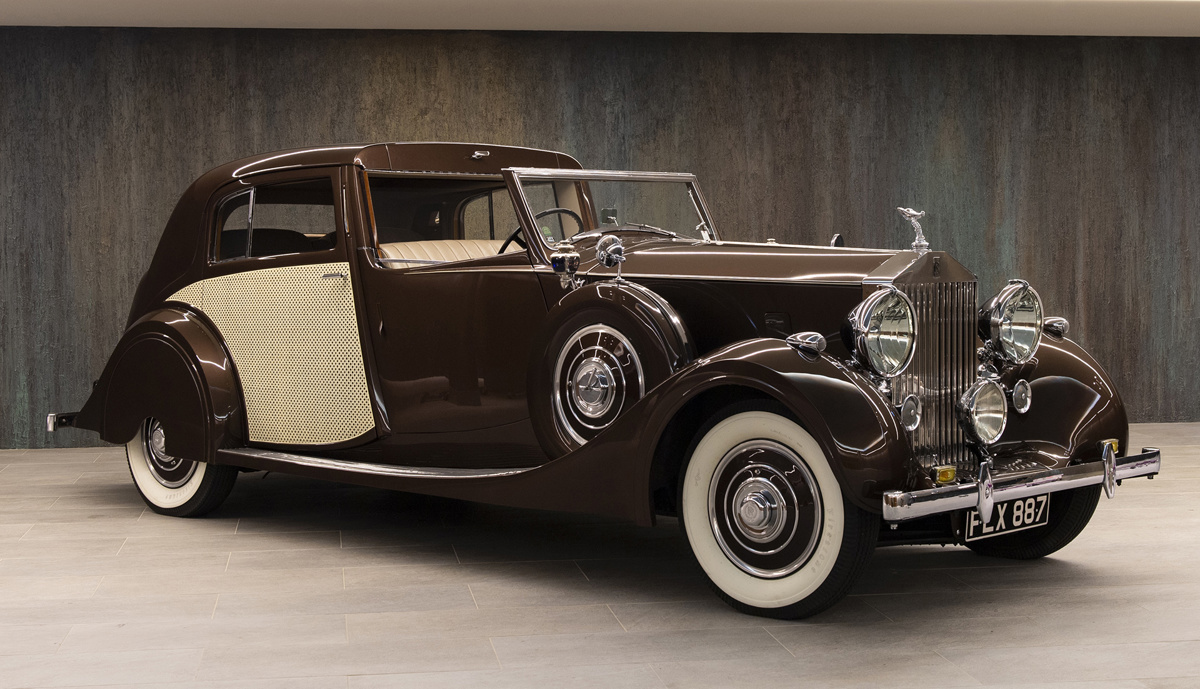 1938 Rolls-Royce Wraith Sedanca de Ville by Park Ward
Estimate: CHF260,000 - CHF350,000 

|

 

Offered Without Reserve

 

The final pre-war Rolls-Royce on our list is, for many, the quintessential body type for the ultra-premium marque. The Sedanca de Ville style, at least when delivered by renowned North London-based Park Ward, was finished by a patented hardtop, which could slide rearward to expose its driver to the elements and harken back to the classic, carriage-based Town Car format. Underneath the skin, the Park Ward body was built of lightweight aluminum, a futuristic material to match its streamlined styling. Far more significant to the history of Rolls-Royce than perhaps any other Wraith in-period, Rolls-Royce itself commissioned this Park Ward coachwork, and displayed it proudly on-stage at international auto shows in Geneva and Brussels in 1938. The only Wraith in existence to feature this Sedanca de Ville coachwork, this one-of-a-kind car is a worthy example with which to finish our list of pre-war Rolls-Royce examples, but it is not the final automobile in the company's history, nor this auction.

As RM Sotheby's A Passion For Elegance approaches on 19 June 2021, join us as we move into the post-war era, and highlight the in-house quality that continues with Rolls-Royce until the present day: A proud tradition of fully approved classics.